[Everyday, Jimbaux still says, you're dead and broken.]
I'd Rather Be Dead And Broken, Than Living In Your Dreams
Nope!  I'm not going to do it.  I don't care that "everybody" else does it; actually, that just makes me want to do it even less.  Yeah, it's Carnival time, but I don't care, and I feel no obligation – despite local culture trying its damndest to make me feel such an obligation – to participate in the foolishness.
It's Sunday, a holy day of obligation for Jimbaux, where he practices his faith of foaming, and he's on the farm yet again for a plethora of reasons, some of them personal and some professional.
Keep The Faith
I awoke late and wasn't up much for foaming, nor was I up much for reveling in Carnival that I'm apparently supposed to be doing, that most of you far-away-from-Louisiana folk think that I just must do.  I actually had had plenty of Guinness the night before out with some friends, and yet I couldn't avoid awakening at about dawn on Sunday.  After taking a walk and doing other chores, I guess that it was time for some foaming or something.  After all, it is Sunday, and it's time for a Sunday Sermon!
What To Do?
By the time I got moving, I was actually just planning on going to meet some friends who had invited me for lunch.  Okay.  In the meantime, I'll find a train.  Let's try the Benoit Crossing shot that I did for the first time in August!  I tried it again to a lesser effect a few days later, and I've only shot once there since then, a ground level shot last month that is not published.
Here's how the scene looks with all of the ties from the big tie-replacement project now under-way as we wait for the train.
Well, that's certainly not that entertaining.  How about we look down at the road to see what's happening there?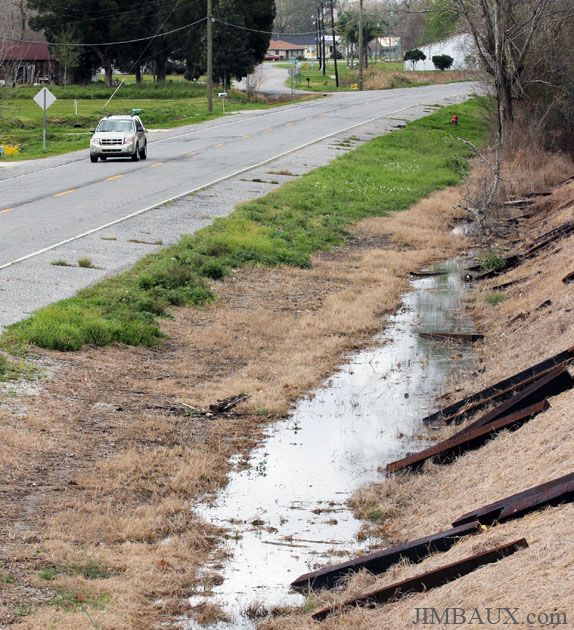 Yes, the intense rain of the previous two days was yet another reason why I was on the farm this weekend instead of in Woadieville.  Oh, and it seemed that all of my woadies were preoccupied with this Carnival stuff anyway.
Time To Move On
The sun came out, and that's bad.  As we learned the second time I did this shot, this a shot I should only do when it's cloudy, but where do I go?  Where's a decent mid-day eastbound shot this time of year?  Nowhere (except maybe Melodia, but I had done that shot a week before), so maybe it's time to do something new, something different.  Boy, that timely statement has a deeper meaning on so many levels for me right now, but we won't go there.
A New Shot?
I've shot in the other direction at Deadwood Road in Donner, but never for eastbounds, and it would be better closer to dawn.  My foam-boy Perry texted me that the eastbound Sunset Limited had left New Iberia just after 11:00.  Before it showed up, I got this typical scene of the area.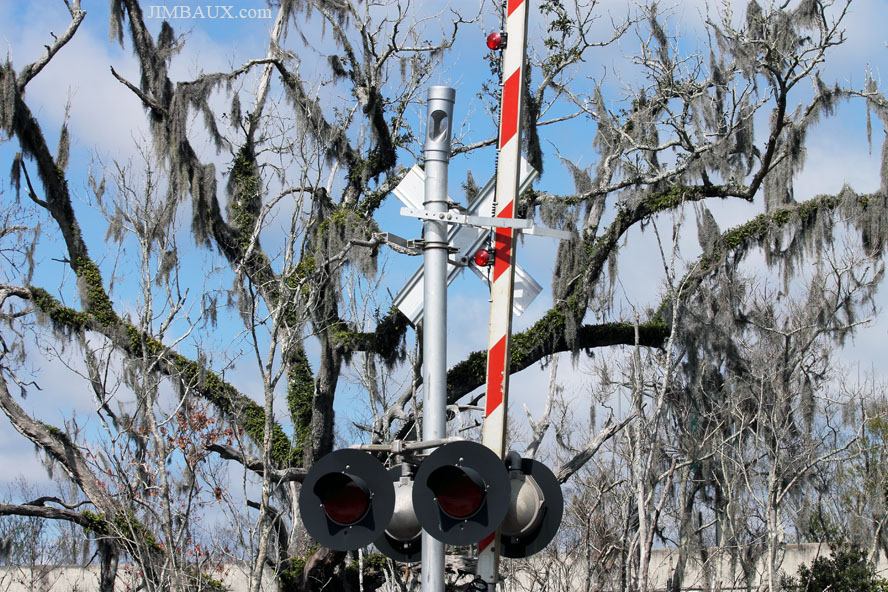 Yep, that's the swampy northwestern part of Terrebonne Parish!  I wish I could do a better job of photographically conveying the beauty of swamplands.  Any advice?
At 12:17, I called Julie to see where the #2 was.  She told me that he was estimated into Schriever at 12:33.  Since Schriever is at milepost 55, and since I'm at milepost 64.64, I figured that I'd see his headlight within a few minutes of hanging up, and sure enough . . . .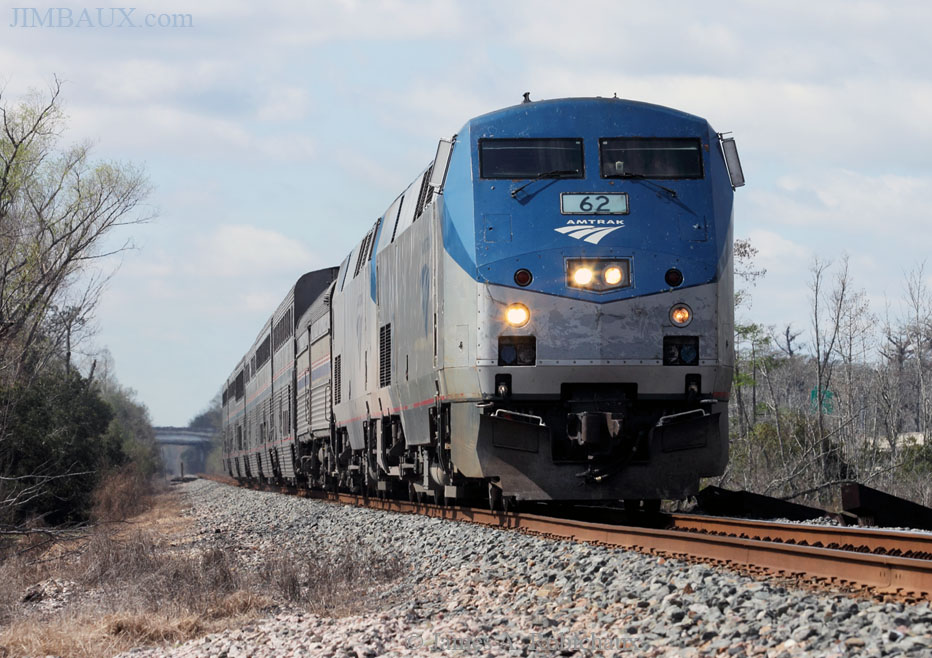 Well, it's not terrible.  It's not nearly as cool as my shot from last time, but at least it's something different than what you've seen here before, right?  I'm not sure I'll ever repeat it, though, at least not with Amtrak.
An Old Shot
The #2 was to meet a westbound BNSF train in the siding at Schriever, and I got there just as its head end was creeping into the west siding switch.  Not long after, I got this shot.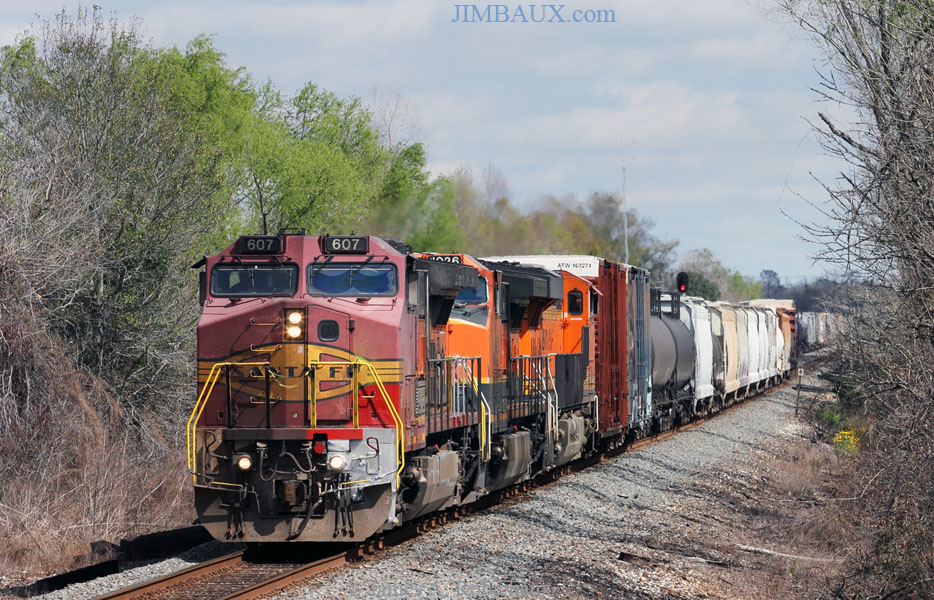 Warren Buffet, are you listening?  Would you please just rename the railroad "Santa Fe" and paint the locomotives red-and-silver?  Please?!?!?!?
Here's a going-away shot as he passes milepost 56.  Do you see all of those crossties?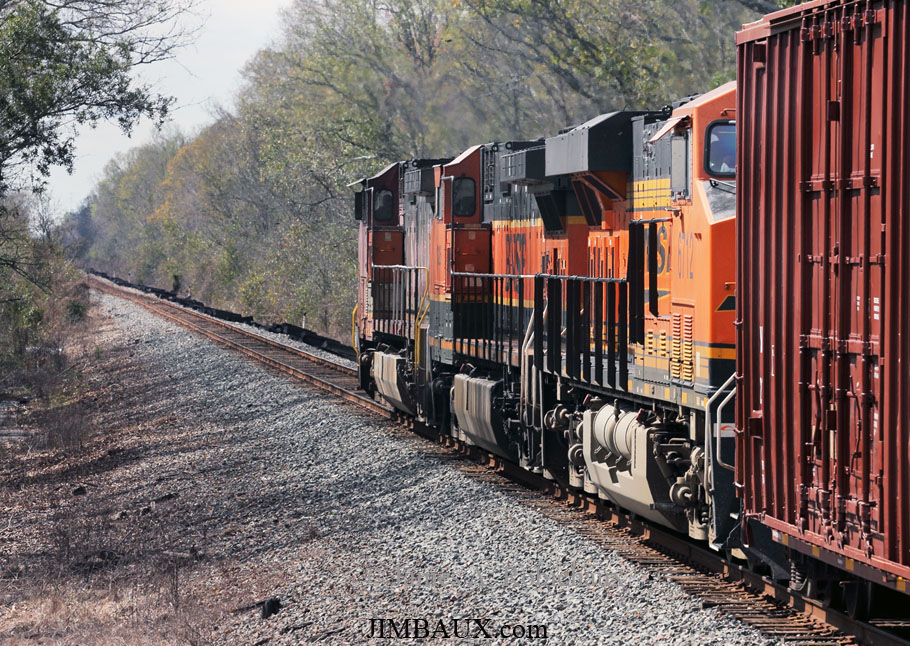 Yeah, those crusty, faded Superfleets are terrible.  I think that this train is the M-CSXLAL, but I'm really not sure.  Attention anyone working for BNSF who is reading this.  I need a new BNSF mole.  Most of mine have either left the company or dropped off the face of the Earth, and I need someone to help with train symbols and other stuff.  Jimbaux never reveals his sources unless they allow.  Don't believe me?  Check the archives!
No Carnival Parades For Jimbaux
Hell, no!  I've got a headache (a problem I've been having for the last two weeks and change), I have plenty on my mind, I have plenty to do, and I don't really care about silly parades and beads and crap anyway.  Nope.  I'm not going.
Now, I think I mentioned a little detail about some friends inviting me over for lunch earlier.  Here's a detail that I left out of that detail: they were gathering along a bayouland parade route.  No matter, as I'll conveniently time my arrival there right after the parade passes but before it passes back again on its way back.  There's one little problem with this plan: that gap of time really didn't exist.
No way, man!  Carnival Season reminds me of everything I detest about the human race, all this stupidity and superfluity.  There's no way I'm going to chose to go to . . . . . what's this?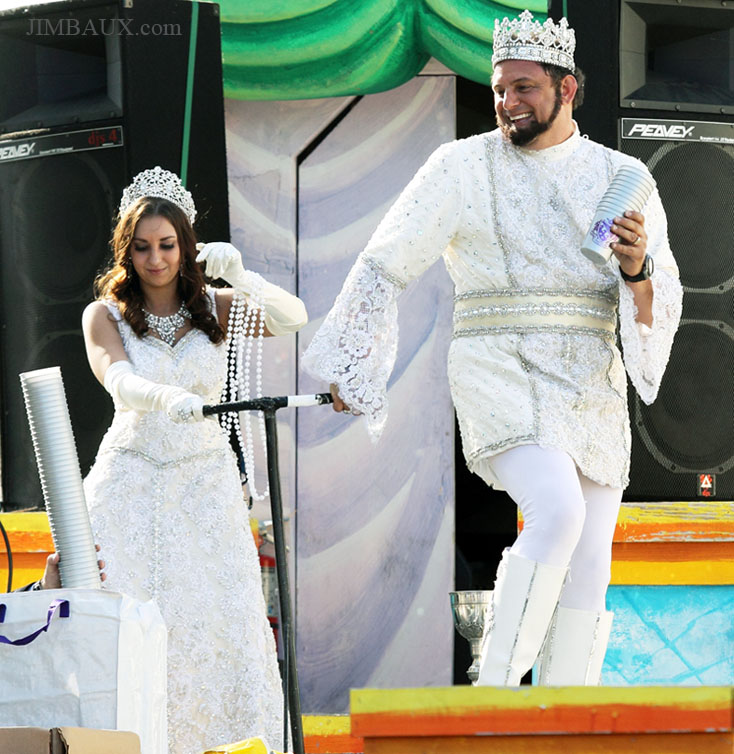 Umm.  Okay.  So, I'm actually at a parade, though only because of people I know there.  Still, I'm ever-so-slightly having fun.  WTF?
Anyway, right with the steeples of St. Joseph's Co-Cathedral in the background, this very Catholic of traditions plays out in the street in the foreground.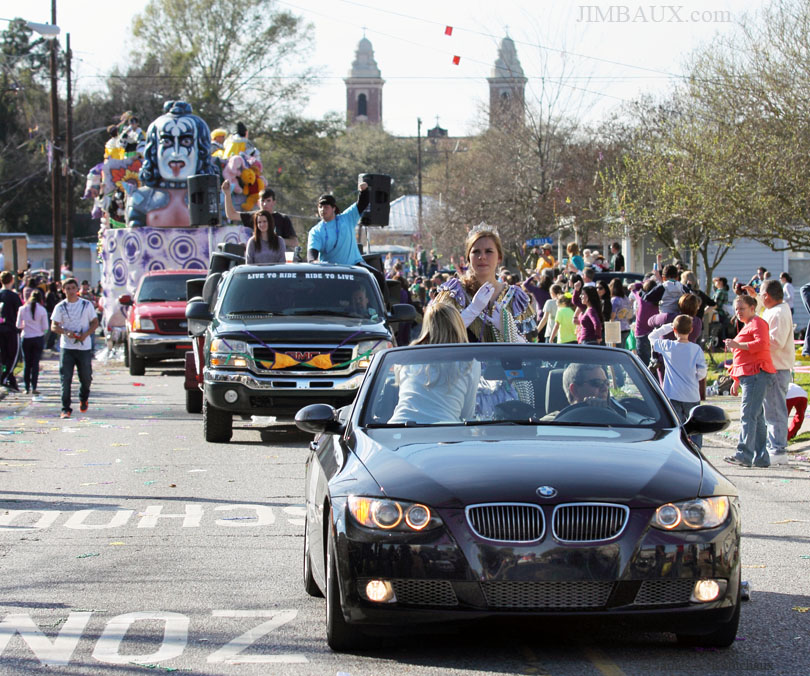 And, yes, while I did write that Mardi Gras involves everything that I despise about the human race, well, there are some beauties to Carnival season as well, as seen here . . .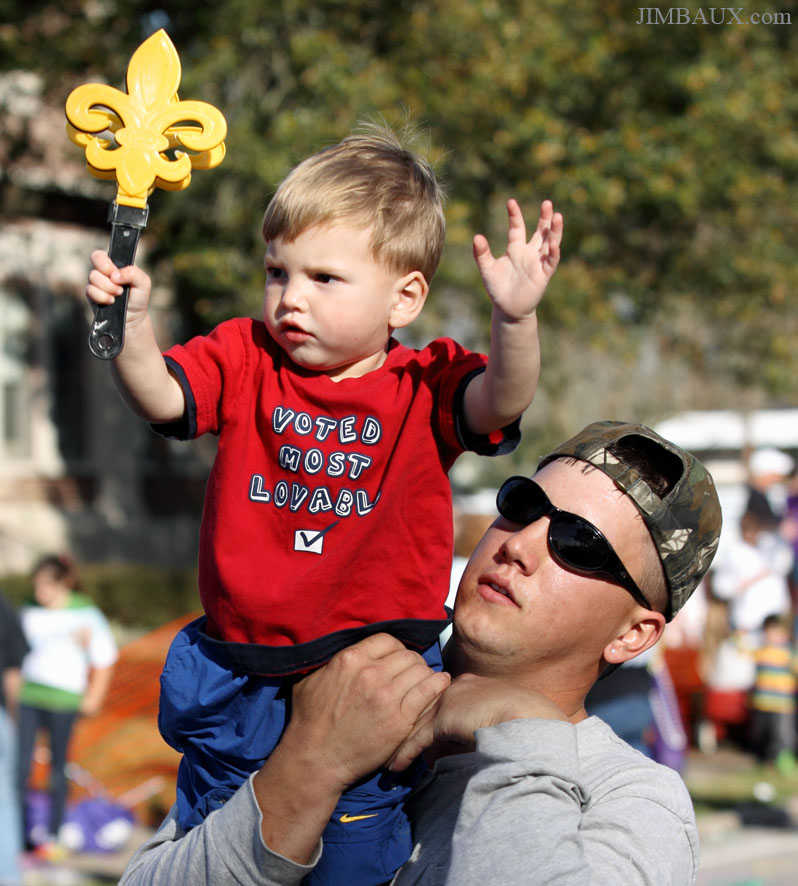 Well, that's not so terrible, is it?  You were expecting Union Pacific, or something?
We Hope You Have Enjoyed The Show
Well, isn't that nice?  And look at all the kiddies having fun over by McCulla Street.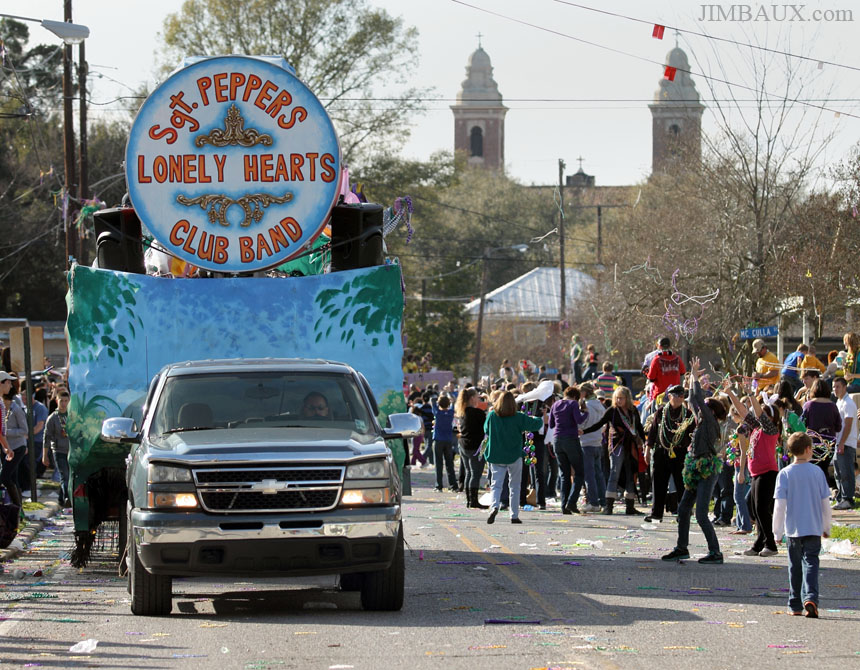 Well, that's entertaining, I guess, despite being crowded.
Familiar Faces
Well, look at this!  As he ducks under a power line, I see my old nilla Jay Rutter.  Until I saw him at a concert in October, I hadn't seen him since my college years.  Wow.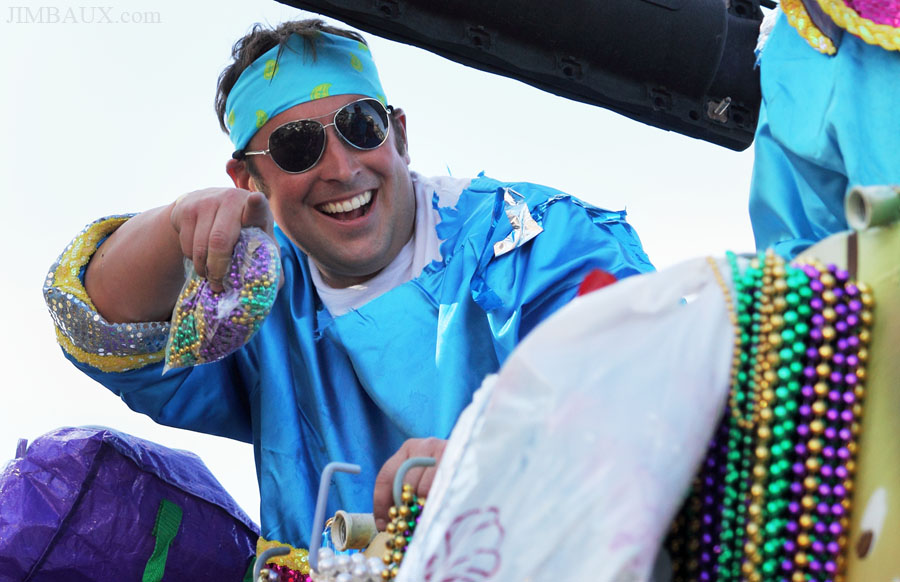 He's got his own construction company now, though I worked for his father years ago.  He sees me and tosses some foolishness at me!  My left arm wasn't quick enough, and you know that Jimbaux is all about getting the shot at the expense of everything else, right?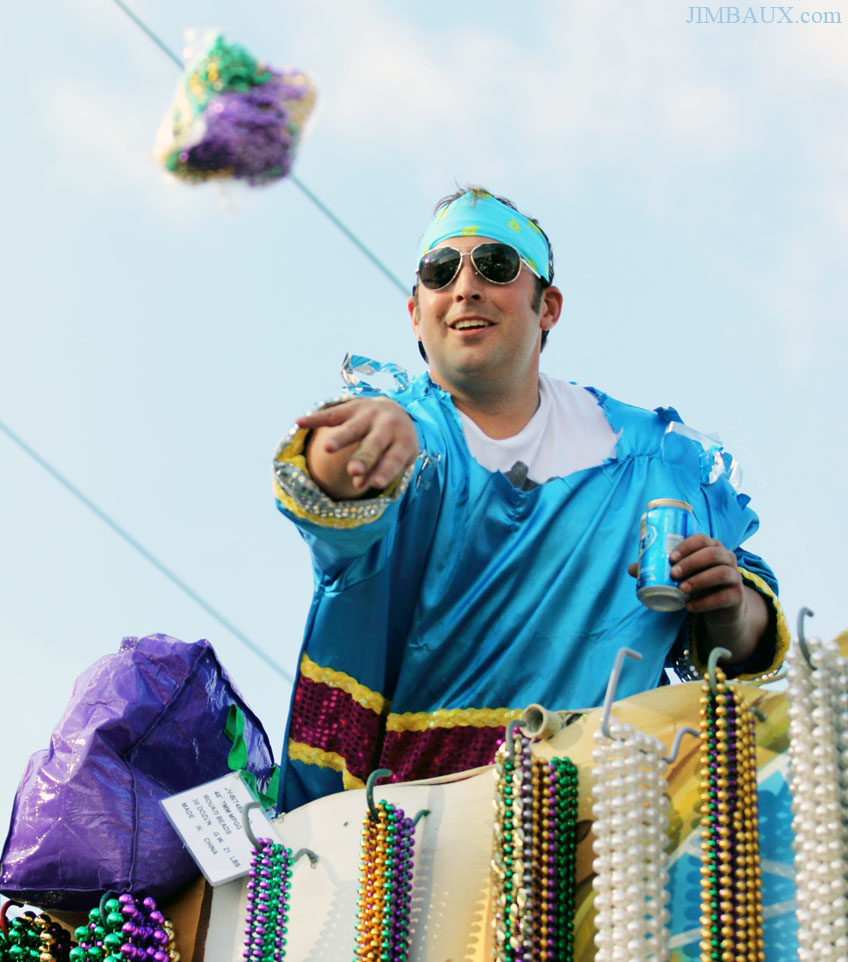 Well, that's almost enough of that.  Here's a little trailer toward the end of the parade where you can toss back your beads.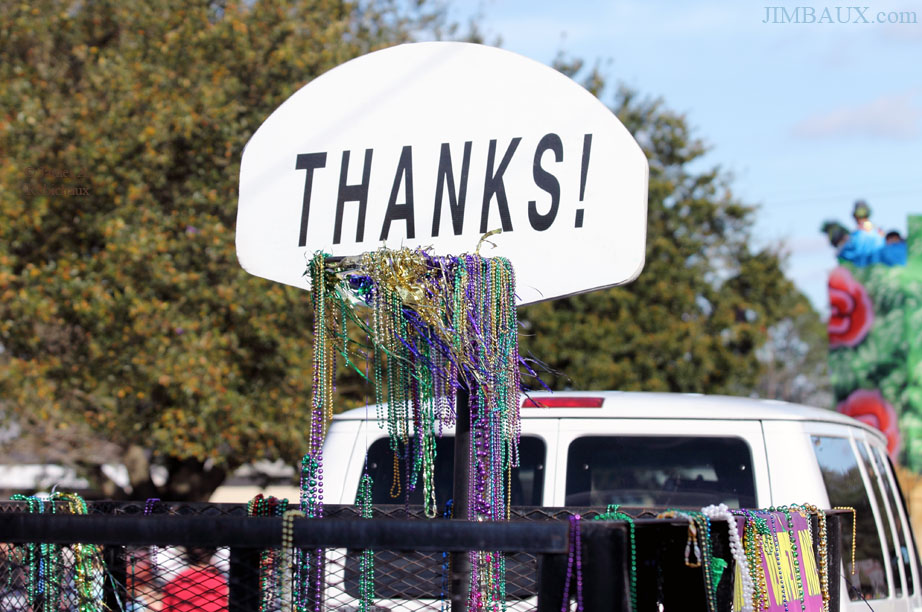 I tossed mine back.  Yes, I had caught some when I wasn't trying to get a picture.
Here's another look toward the church.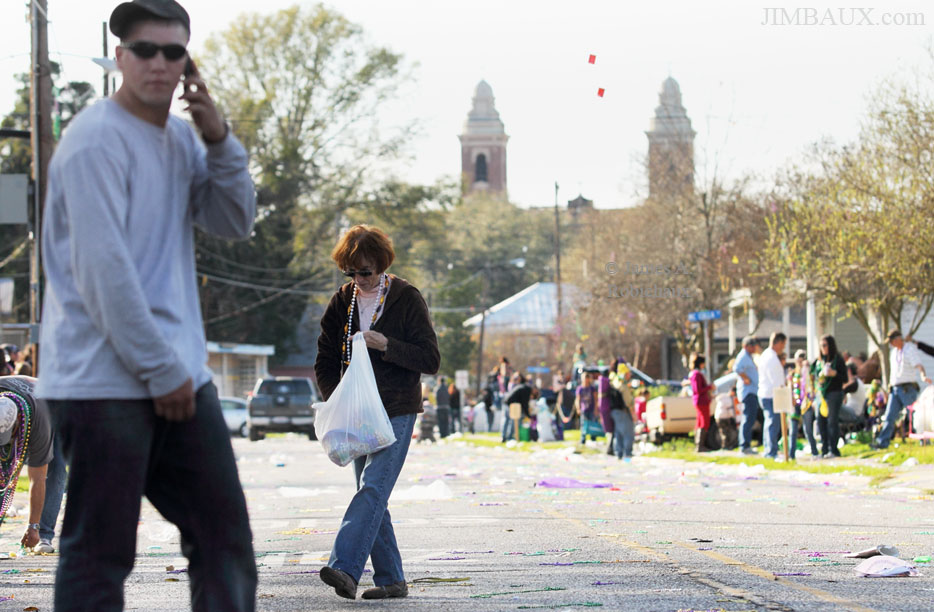 Recognize the young man with the telephone?  Scroll back a few pictures up if you don't.
Oh, well, I hope that you've enjoyed that foolishness, and there are more parade pictures if you want to see them.  After that, it was back to the pad of friends, eating, drinking a little bit of rum, socializing, etc.
That's a different Sunday worship service, isn't it?  It's different than the one the week before, and it's even more different than the one two weeks ago, where some commenter seemed to not get what I mean by Sunday Sermon!
Tidbits
My Canadian pal Matt – a fellow student in our ITESM days – shared an interesting article with me today.  While it's actually true that a rising currency value does hurt exports, I guess most of the rest of the arguments in the article do indeed have merit.
Also, while on the Amtrak theme, here's a good picture from one of the major websites.
Take care, and Happy Mardi Gras, or something.
Jimbaux