[Jimbaux does this so that he's not just like you.]
From looking at these pictures, you need not much of an explanation from me as to why I was not trackside on 2 January 2007.  I decided to visit Parque Chipinque, a mountain park essentially inside the city.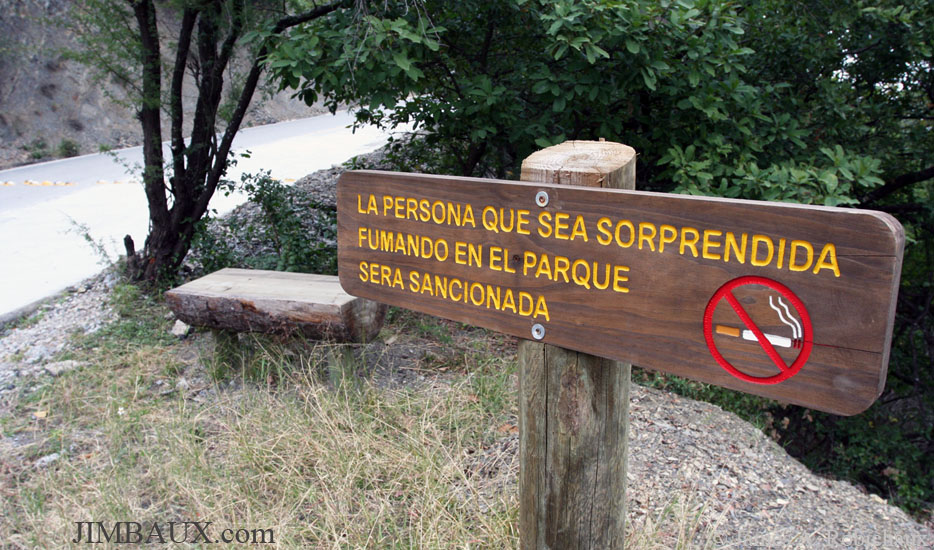 I came here on a group visit in the summer of 2004.  It wasn't this cloudy then.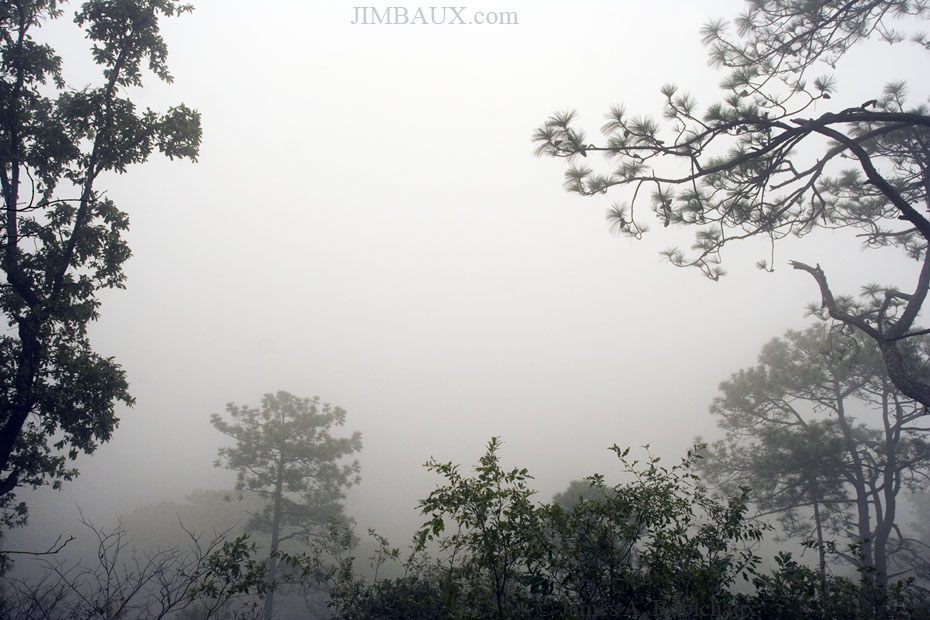 In the above picture, you're supposed to be able to see a city through the trees.
I was, as I recall, about the only visitor in the park this day.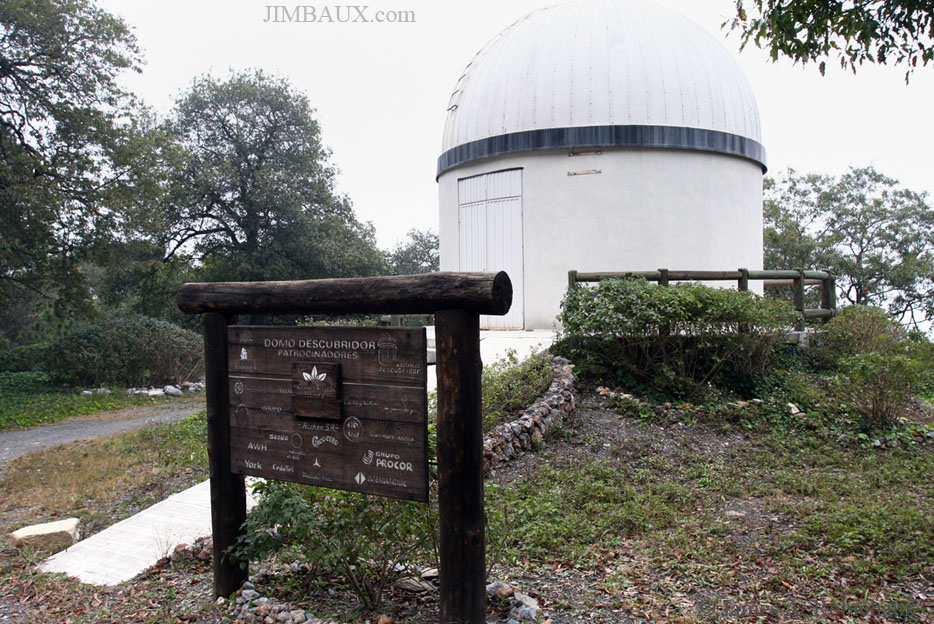 Here's some development happening below, a more glitzy area of town.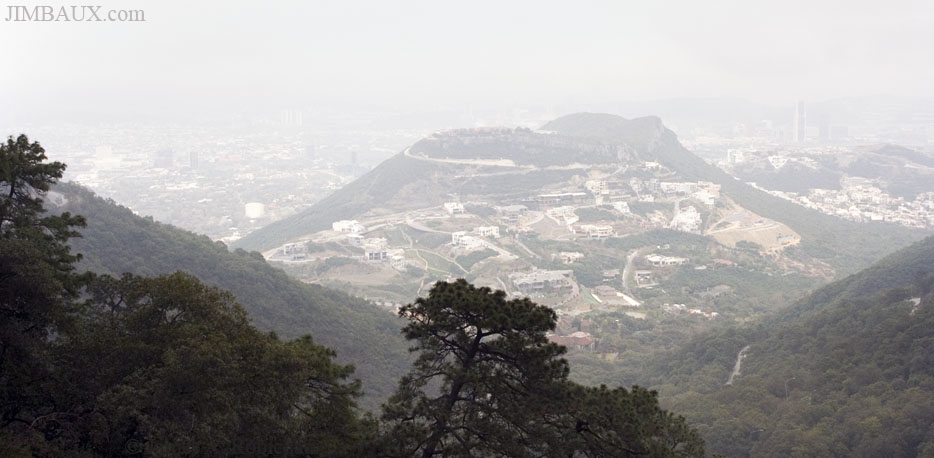 I forget the name or significance of that very tall building in the right background.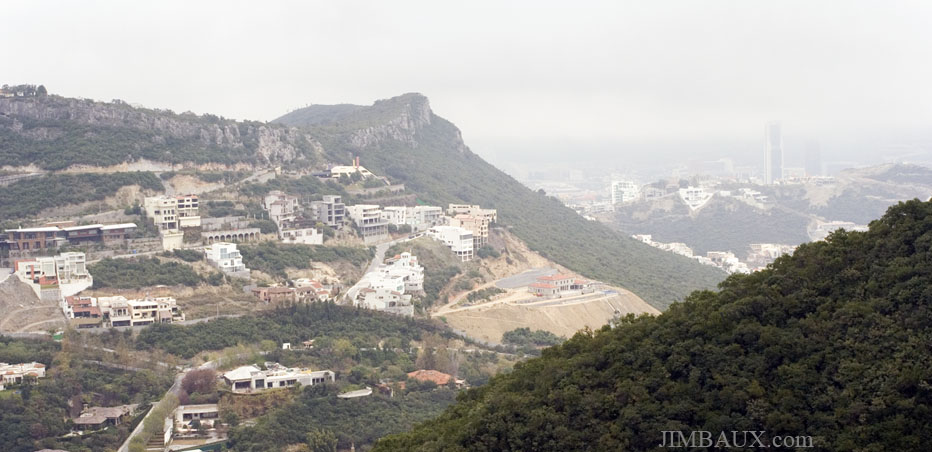 A substantial number of Lebanese have migrated to Mexico over the years, many of them Christians.  (Mexican Carlos Slim Helú, the richest man in the world, is of Lebanese descent.)  Apparently, the club pictured below is for Palestinians as much as for Lebanese.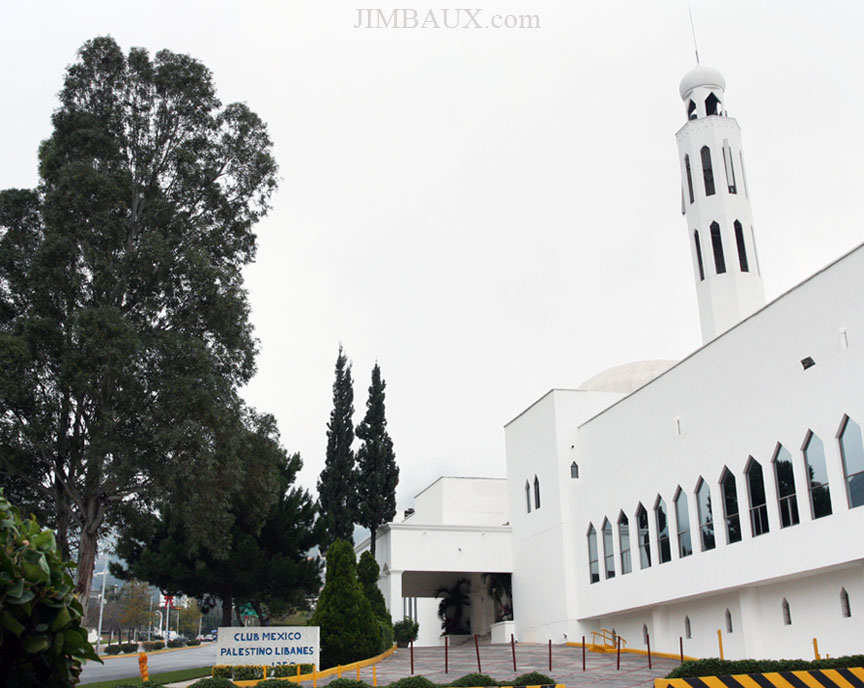 Notice the Arabic writing on the below statue.  I lack the time and the will right now to research any further, but, even with the quote from Kahlil Gibran, it may be a generic statue for immigrants from that area and not for a specific man.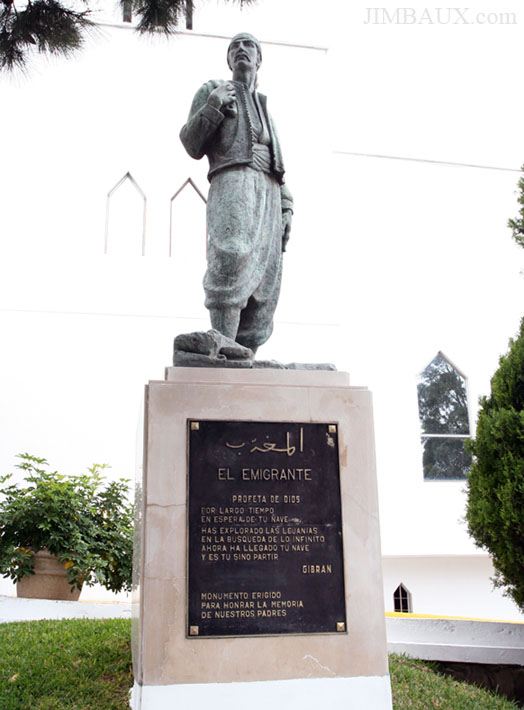 The push factor for at least some of the Arabs who came to Mexico was to avoid conscription into the Ottoman army.
Tec de Monterrey
So, with the opportunity, and with being trackside not being very attractive, I went visit the ITESM campus, but I was about the only non-security person on campus.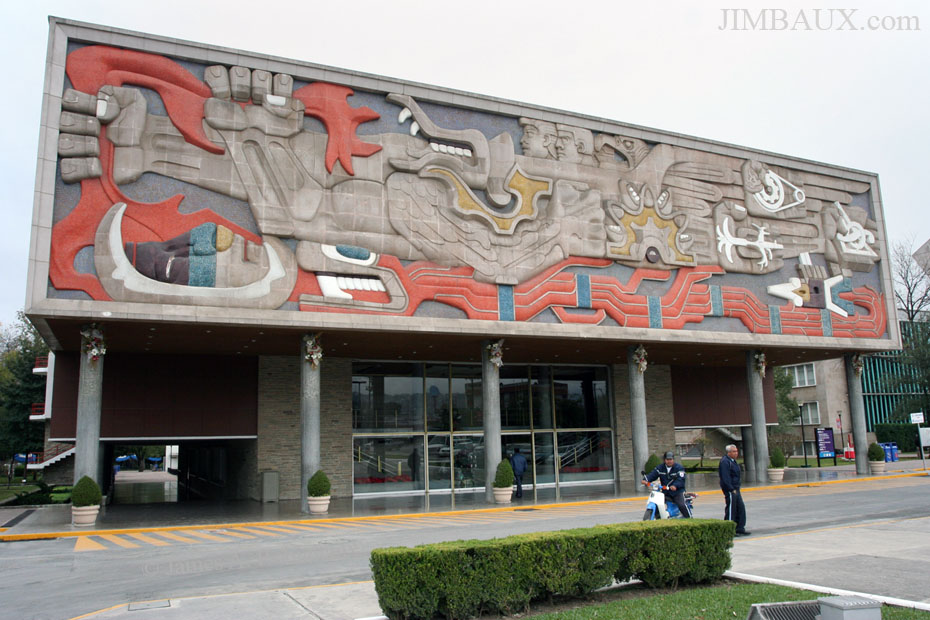 I had class in the below building, though I learned so much more than just Spanish in my time there!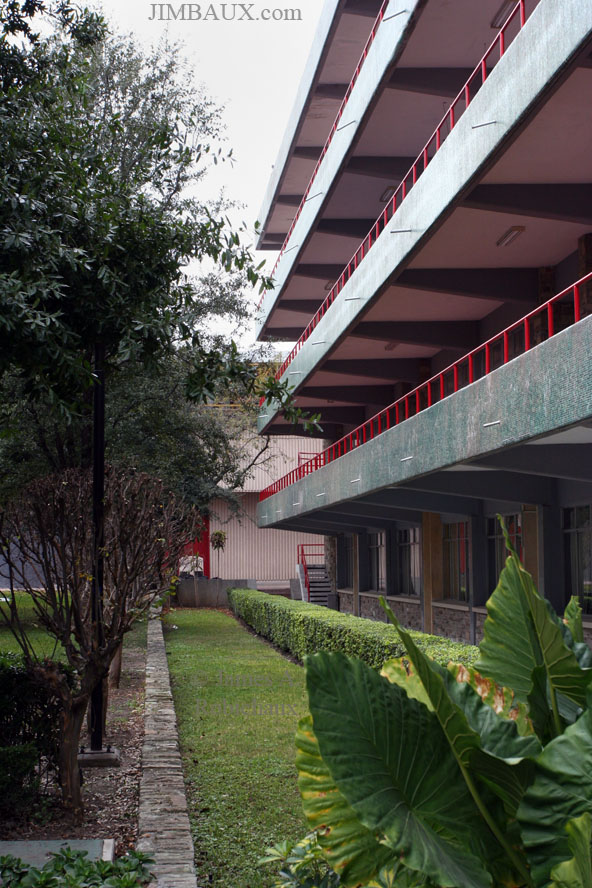 Oh, the peacocks!  Those things would scare the heck out of the unsuspecting student, including me!  There were also deer that roamed campus.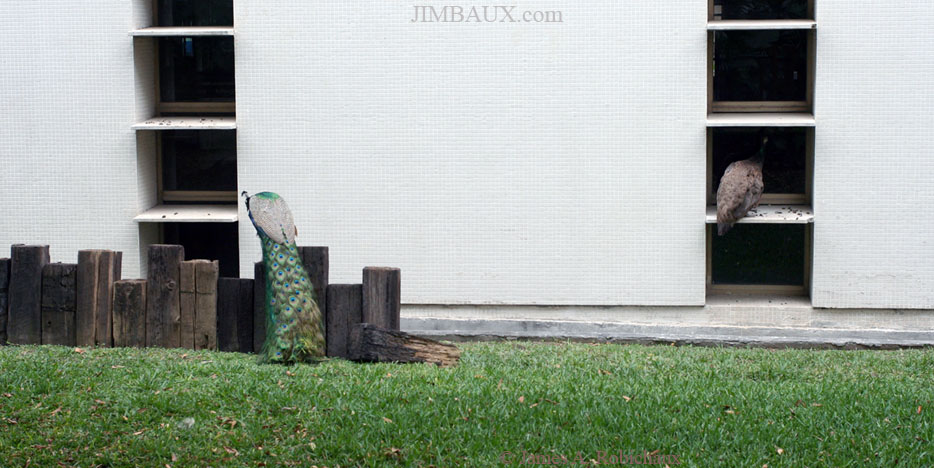 The building seen below is the tallest building on campus.  As I recall, it is primarily an administrative building, though I do remember working in a computer lab on the first floor.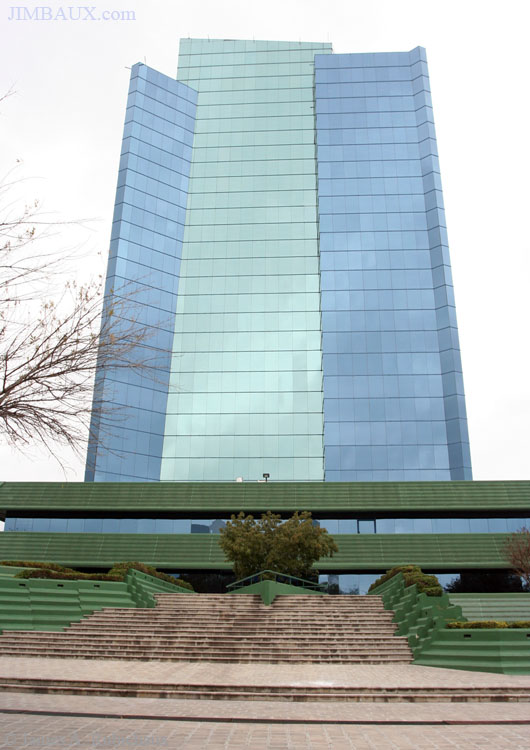 I'll tell a quick story involving the above building about the huge cultural differences between the English-speaking world and the Spanish-speaking world.  I seem to recall that someone who worked in an office in one of the middle floors of the building wanted a CD with some pictures from a trip that we took on it.  So, I just went there after class to deliver it to him, not knowing if he'd actually be there, but also not caring about that, since if he wasn't there, I'd just put the CD on his desk, put it in his box, or give it to someone in the office to give to him.
Well, the problem with this plan is that it was lunchtime, but not just that, since this plan would surely work in almost any American building of that size; it's lunchtime in Mexico.  What happened next would probably not happen in the United States.  I got into the lobby of the building – and you see how tall it is, how many people therefore probably work there – and encountered a security guard.  I told him whose office I was going to visit.  He told me that nobody was allowed in the building, that it was lunch.  I wondered how he'd know that a specific person in a building that large was not there.  I told him I really didn't need to see him, that I'd be fine with merely just dropping of the CD and then walking out.
You know that in the USA, for any big office building that you enter, you'll at least find one or two people there who can forward whatever you are dropping off there.  It makes me think that delivery companies like FedEx can't even deliver packages at this time of day!
All that I wanted to do was drop off something to someone at midday on a weekday in a building about 20 stories high, but I just had to come back later.
Oh, well.
Here's the main intersection of Av. Eugenio Garza Sada just outside the main entrance to campus.  I think that I visited that convenience store a few times in 2004!
The above and below pictures show something else, the new underpass with the traffic circle on top that began here in the late summer of 2004.  Prior to this, there was a traffic light, and any turning traffic still went through a traffic circle, but the lanes of Av. Eugenio Garza Sada were level with the other streets.
I spent plenty of time – in another computer lab – in the above building too.  The cloud-shrouded mountain in the distance is Cerro de la Silla, the icon of Monterrey.  In the summer of 2004, I lived at the base of that mountain, and you got a glimpse of that neighborhood a few days ago.
Caboose!
I went driving around in the center of town after that, and the only thing that makes this post railroad-related is this picture where the old passenger mainline was.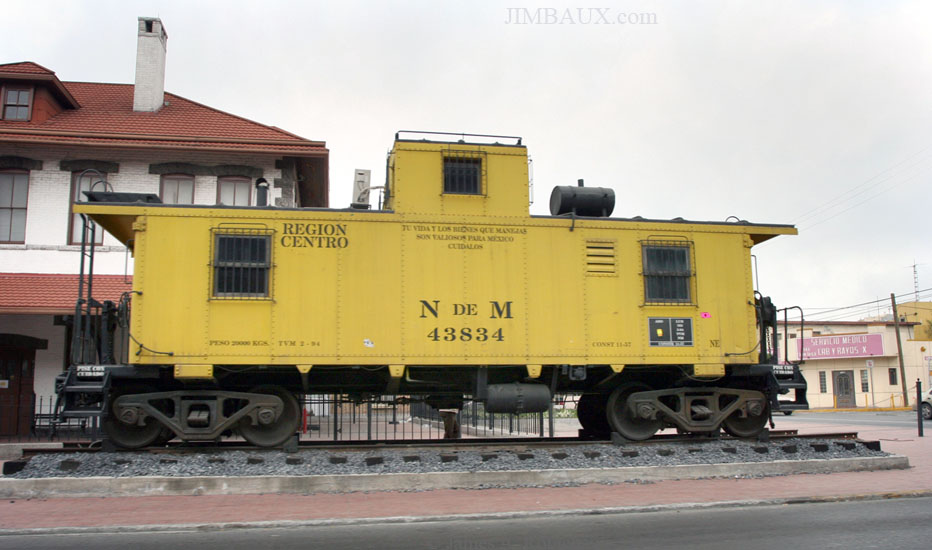 Just above that is one of the two lines of the Metrorrey, appropriately placed since the old passenger mainline was here, and you saw a picture of Metrorrey expansion a few days ago.
That, really, is enough.
Thank you.
Jimbaux