[Jimbaux is not making a shameful metaphor.]
Hey!  How's everybody doing?  It seems like it's been a really long time since the last post, but it's only been a few days.  I've just been so crazy busy.  I need to report now that we have had yet another threat to legal photography from public property in 2012 here in southern Louisiana; lies were told to me (that I couldn't take the pictures), and he attempted to intimidate me further, but I'll write more about that later (along with the pictures) when I get to it.  For now, let's take a look into the colorful past.
It's Chip!
Here's a picture taken on Saturday 13 January 2007 of the Union Pacific Railway train LLS51, the Morgan City Local – the "Chip Local" – working out of Avondale.  I caught it at Paradís as I was either on my way from Woadieville to Bayouland or on my way from Bayouland to Woadieville.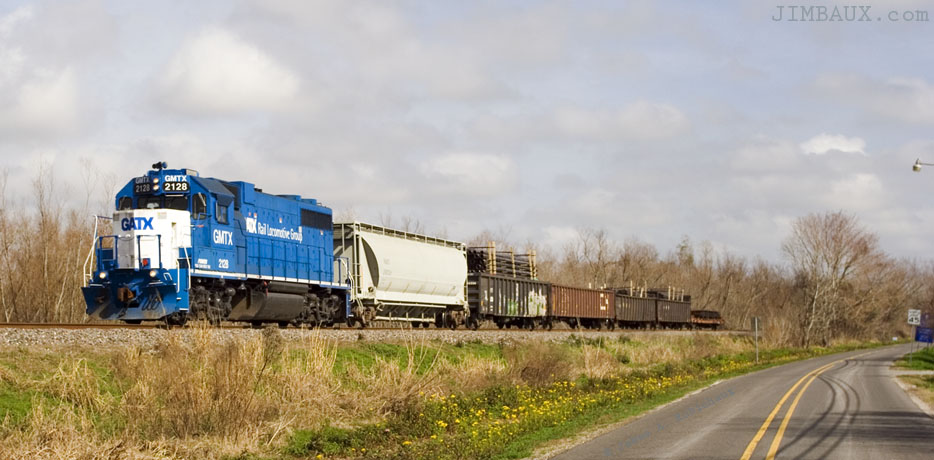 Yes, I like those blue lease units, don't you?  One week before I got this Saturday shot, I was south of the border in Monterrey taking some pictures there.
Philosophical Commentary
Here are some musings on two very different topics that are on my mind, one of them (the latter) forced upon my mind.  Those of you who come here just for the pictures (or, in this case the picture) can close the window and go do something else now.
Gifts, Morals, Talents, Sloth
Lately, I've been pondering the gifts that I have been given, the gifts of being able to see – since, afterall, as I recently wrote, photography is about how to see, not how to take pictures – and many other things too, how best to use them, how to sustain one's self with them, how to use them in a way that serves humanity as best I can, how much to focus on stuff like that while trying to put food in my belly as well.
Well, Grumpy wrote a great piece on these issues that encapsulated what I have been thinking far better than I have been able to say it.  Check it out, and let me know what you think?  For those of you who have paid attention to my work for awhile, you can probably understand why that piece really hit home with me!
Thoughts?
Panem Et Circenses, Louisiana Style!
So, some of you were shocked by what happened at the BCS title game Monday night in New Orleans?  I am not writing this to talk about football or this particular game at all, and the reason is simply that I did not and still do not care at all about it.  (I'd rather go foaming or go to a concert.)
Rather, what disgusts me is some of the reaction by my fellow Louisianians.  (Yes, there were a few nasty Alabamans too, but not only was that for different reasons than I'm about to describe, but they weren't "my" people doing stupid stuff, hence the fact that I don't feel the need to get involved in calling them out.)
What's so ridiculous and shameful is the hatred heaped upon one quarterback and a head coach so that these haters can cover up for the embarrassment they feel in putting so much emotion into a team, a team that was up against a team that was indeed better than the team it defeated.  (Again, I don't care at all to talk about Xs and Os; I'm talking about the hypocrisy of people's reactions, but I will say that a game that had only one touchdown at the end is not a sloppy game, just one with two very good defenses.)
The insults from Louisianians thrown at this "terrible coach" who "needs to be fired" for leading his team to a conference title and a 13-1 record are ridiculous!  The coach's own success with the team leading up to the game is paradoxically what led to people have such ridiculous expectations that some are now calling for his resignation.  That's silly!
Oh, he should have changed quarterbacks, you say?  Again, I'm not writing this to talk about the game at all.  The only thing he'd have accomplished by putting the backup quarterback in the game would have been to remove from his haters their ability to criticize him for not doing it.  Does that make sense?  That some of you don't admit what you deep down know, that a quarterback change would not have made a difference, are taking your denial and turning it into nastiness.
Those haters – and I'm getting sick of them with their incessant tweets and status updates – are just covering up for their own fault of creating too high expectations and for investing so much of their emotion into this game (which is why I totally don't do that) and their inability to admit that the winning team really was that good (and would have likely won the November game were it not for kicking woes.)  You're blaming a coach and a college student for your own misplaced emotion.  Yes, maybe both could have done better, but this is "college" sports, and all of these are essentially kids, for heck's sake!  The world has unloaded onto them a tremendous and unrealistic amount of pressure on them to perform.
By the way, that gets to the point of why I no longer care much for college sports (or just about any sport as a spectator event.)  I did care plenty some years ago, and, when I was in college, Saturdays would be spent in front of the TV all day watching football, but I don't think that the fact that I rather suddenly lost interest in these games – stopped seeing them as remotely significant, relevant, important, etc. – and the fact that that quick loss of interest occurred as soon as I was a few years older than any of the 18-22-year-old boys in the game is a coincidence!
All for now . . . .
Jimbaux