[Jimbaux gets by with a little help from his friends.]
Lend Me Your Eyes, And I'll Paint You A Picture
Or I'll let others do that.  In my call to glass for 2011/09/11, I asked that others get out and take pictures on this day.  I also asked that if anyone got a picture on Sunday, especially a railroad-related picture, and wanted me to publish it here, I would.  Although many people posted pictures online, only about three people actually e-mailed me attachments of pictures to put here, and all three were in Louisiana, one of whom I know personally, that being The RailGoat, who got this shot of the LDRR 1504 resting at Schriever.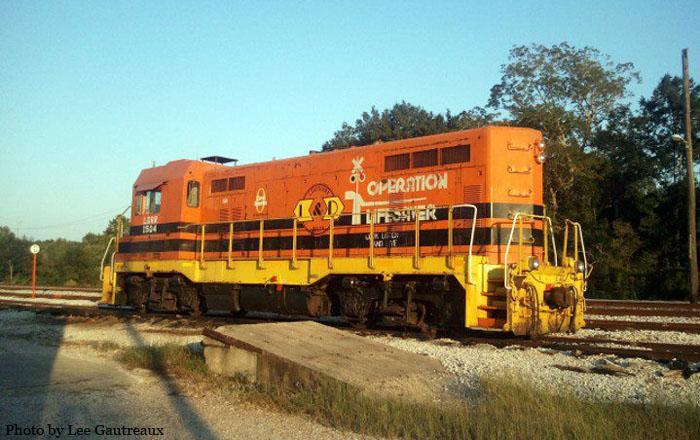 The RailGoat is a really smart guy, and he probably knows plenty about geometry since he's good at calculus, though it's obvious from this picture that the next time we get together with cameras, I need to teach him to shoot pictures with the optical axis perpendicular to the vertical lines of the object being photographed to avoid the nasty barrel distortion we see above, as it looks like the locomotive is falling over or being sucked into outer space.
Did I just fail in leaving well-enough alone?  I do seriously hate barrel distortion, and I seek to avoid it at almost all costs.
Judy B Missed Me
Had Judy B gotten to the Slidell depot when I was there earlier in the morning shooting the Crescent, she'd be now included amongst the people I know personally, but she got there a little later and got this view of the depot and the track.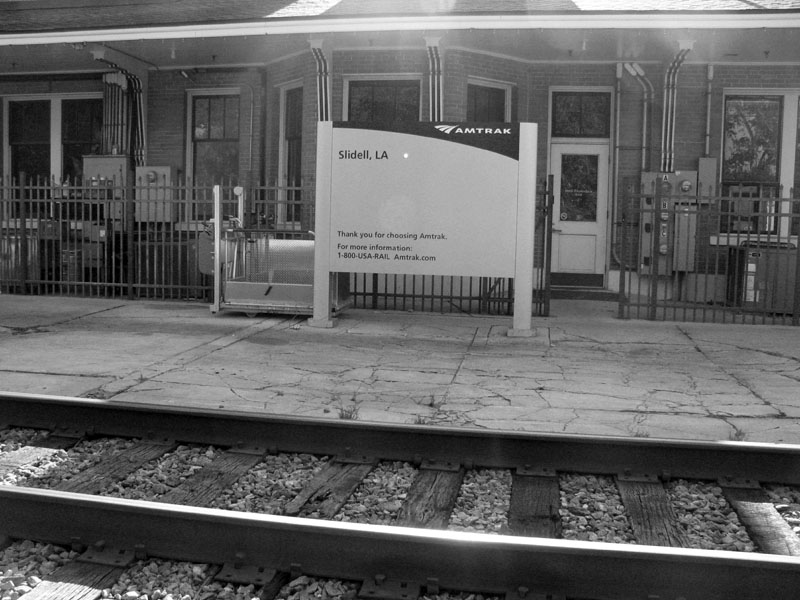 Well, that's a little different now, isn't it?  It seems that she broke the rule of not shooting into the sun at backlit stuff, but I somehow like the results.
An Action Shot From Donovan
"When I heard you were doing this, I told my girlfriend that we had to go out there and grab at least one picture. I was hoping for more but we only stayed for a short bit," Donovan Reed, who seems to get around to all corners of Louisiana (without ever running into Jimbaux), wrote to me when he sent me the below picture.
"This is the one picture I took on 9/11.  CSX is one of my favorites; so, having only CSX power made this train very nice," he said.  Donovan actually has this picture posted online.
Some Online Stuff
About the best picture taken on this year's 9/11 posted to rrpicturearchives.net was taken at a port, and a busy and sensitive one at that.  Also, it seems that while I was shooting pictures of trains (or taking a nap, judging by the lighting in his picture) in New Orleans that afternoon, a visitor from out-of-town was taking pictures just across the river at Avondale.  Well, it looks like both sides of the river were covered, eh?
If You Have Any Online Content From 9/11 . . .
. . . feel free to go ahead and post it in the comments section.  Someone wrote to me about a video of a train on 9/11 that he intended to upload on youtube, but I don't know if it ever got there.
All for now, mes amis.
Jimbaux