[Jimbaux knows that all we are is dust in the wind.]
This is Part 5 of 5 of Jimbaux's 9/11 photography project, inspired by the assault on American civil liberties, including the New Orleans Police Department's deprivation of Jimbaux's constitutional rights in April 2008, by our fellow Americans in the wake of the September 2001 terror attacks.  Part 1 included shots of Amtrak's northbound Crescent just after dawn in New Orleans and Slidell.  Part 2, which has generated an interesting discussion in the comments section, of which I may re-enter soon, focused primarily on another mode of transportation.  Part 3 showed Norfolk Southern Railway train 130 building itself at and near NS Oliver Yard in New Orleans, and Part 4 showed more action there, with three southbound NS trains, then a CSX yard job at Alvar Street, a stranded woman begging for help, and the southbound City of New Orleans from the top of Broad Street, where the nasty 2008 incident occurred, and that's where we resume the action as we begin Part 5.
Now Don't Hang On
At long last, kiddies, we're finally at the end of this craziness!  Aren't you glad it's almost over?  I am!  I really, really need a break from this, but I really hope you've been enjoying all of this too!
Nothin' Lasts Forever But The Earth And Sky
We continue atop the Broad Street overpass after the southbound City of New Orleans passed and Jimbaux is waiting on the eastbound Sunset Limited to arrive so that he can get some cold water and a nap.  Here's a shot of the new Falstaff brewery apartments.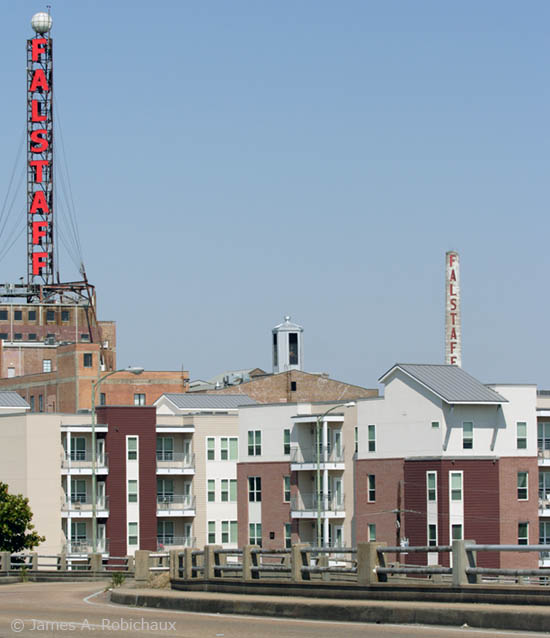 I seem to recall that my paternal grandfather was a big fan of Falstaff, though perhaps not as much Dixie beer, a beer that I once drank regularly.  (I'm sucking down some Guinness as I make this post, as I have done for plenty of posts recently.)
Anyway, here's the top of the Blue Plate mayonnaise place, which I think closed about a decade ago.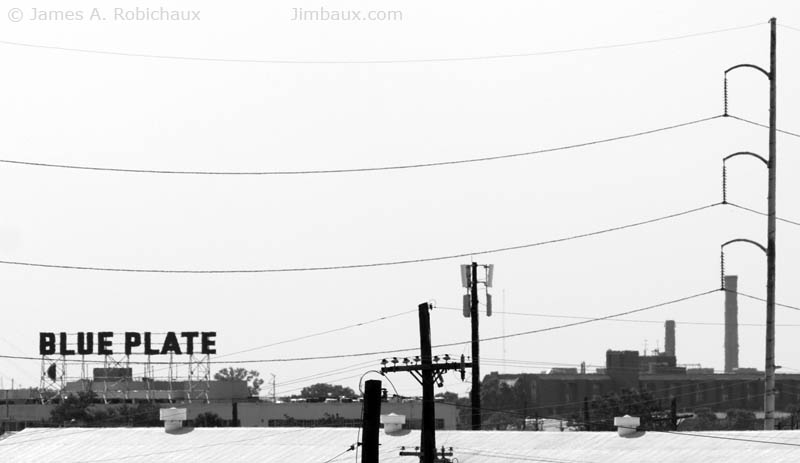 Well, we're not off to an intense start, are we?
The Scene Of The Crime
Yes, here are some shots of the scene of the crime committed against Jimbaux by the New Orleans Police Department in April 2008.  Here's a look to the north.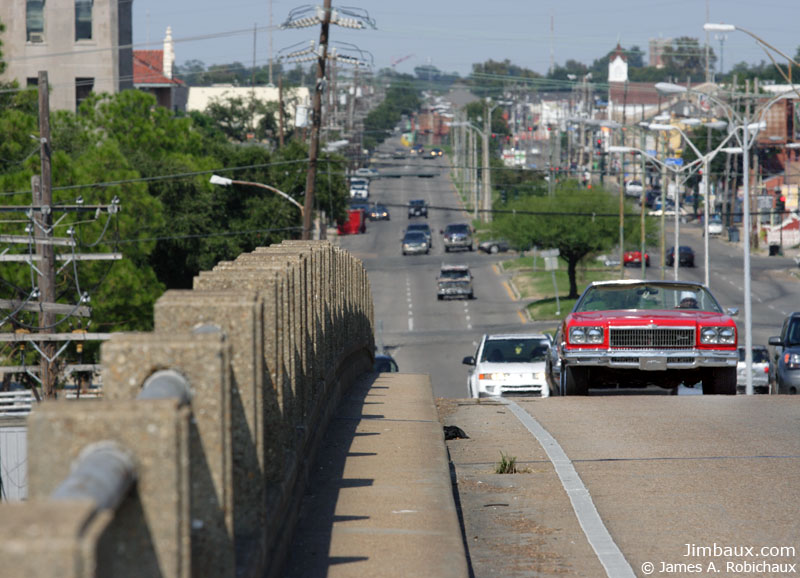 Yes, some police passed as I was up here.  Here's the view in the other direction toward Washington Avenue.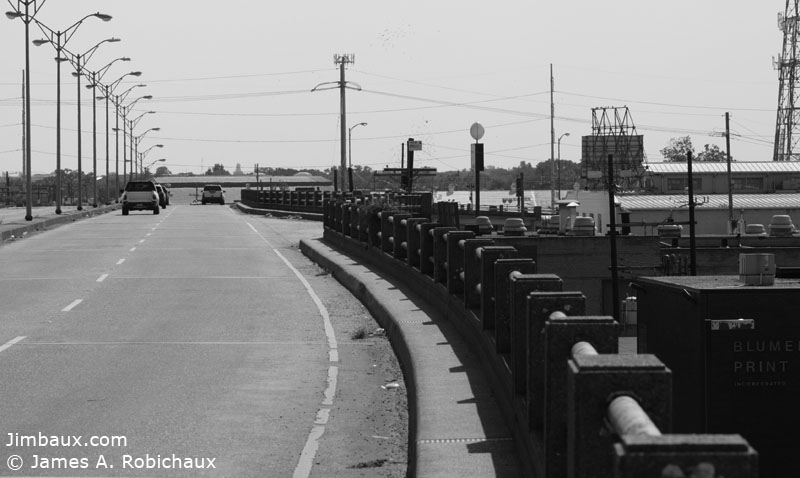 Looks like a terrorist platform, doesn't it?  Sheesh.
Here Comes The #2
I didn't have to wait long to see the eastbound Sunset Limited arrive, ending its long journey from Los Angeles.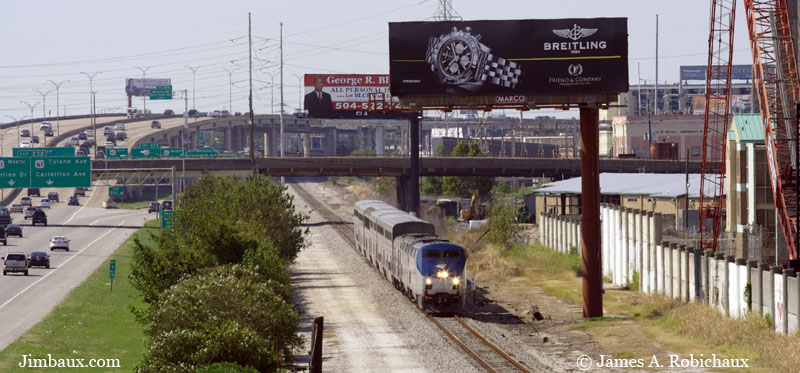 I have ridden this train only once, from New Orleans to Schriever on the return leg of a second grade field trip.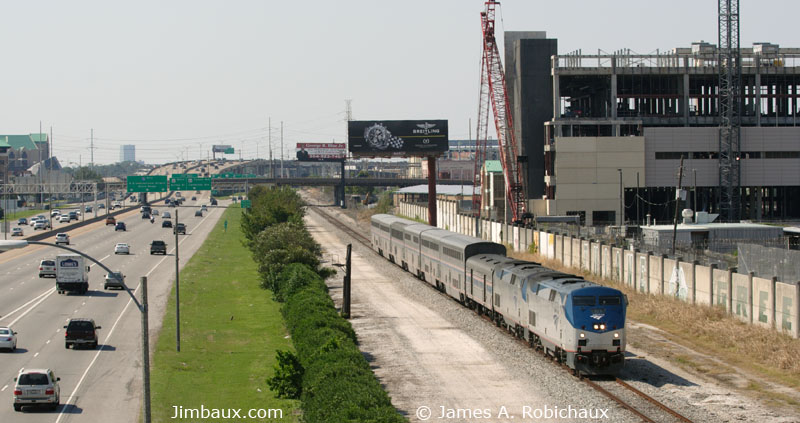 Since, once the above shot was taken, I no longer had any reason to be atop this bridge, I raced down and got in my truck and got in position to see him backing from the wye to NOUPT.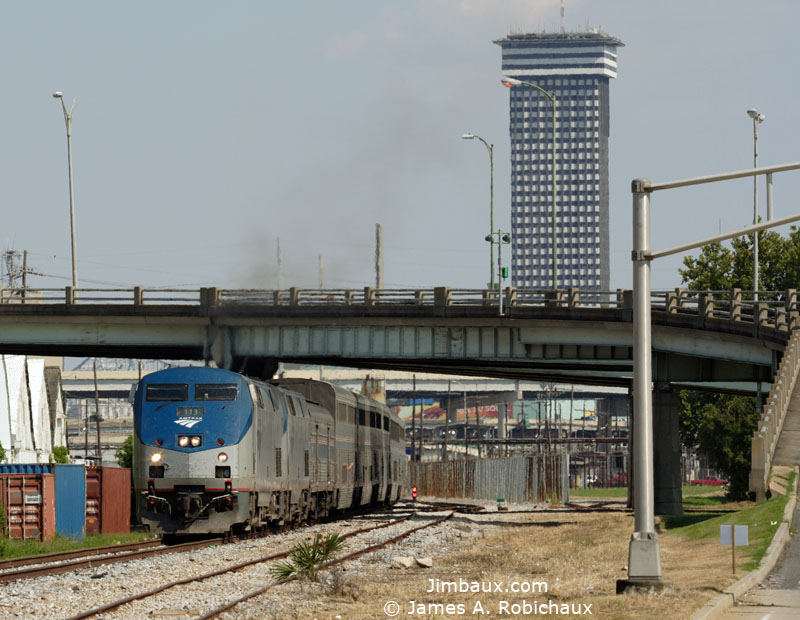 Yes, not only is this the place where, the last time I was here, I shot the beautiful KCS business train arriving for the Sugar Bowl in January, but this is also where, much more recently, you've seen parked wrecked Amtrak locomotives on flatcars.
Nap Time!
I was really tired.  As I wrote in Part 1, I had gotten little sleep the night before.  So, I made my way over to Saint Jude's love shack to get some air conditioning, some cold water, and some shut-eye for awhile.  I thought about completely calling it a day there.  Afterall, even though the light is getting better, there really aren't many good afternoon shots this time of year in the city.
Last Stand
By the time I got myself out again, it was nearly dark.  At East Bridge Junction, I found a westbound BNSF train preparing to climb the bridge.  So, I set up shop in a parking lot on Clearview, climbing atop the truck for only the second time on this day.

Hey, what's that restaurant off in the distance in the below shot?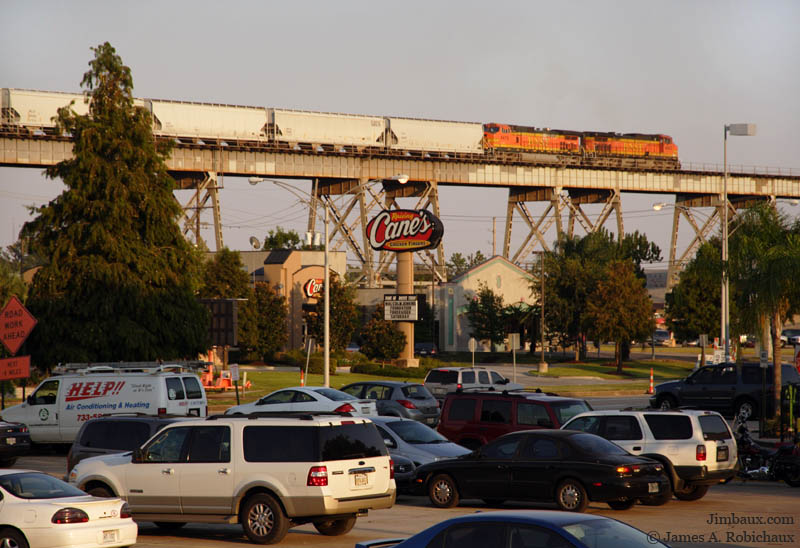 You know, I'm really hungry, and I hadn't been to this place in a long time.  Sadly, yes, I think I know where I'll be satiating my hunger on 9/11 as the sun sets, a place that actually secured my loyalty in the wake of another disaster, Hurricane Katrina.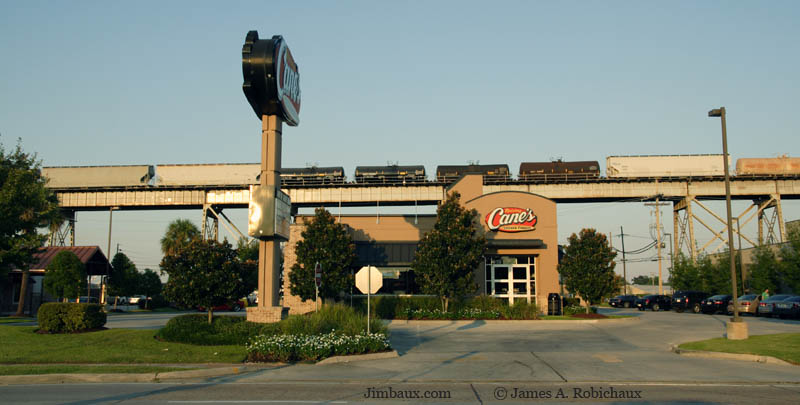 Some traditions never die.
Moonrise on the KCS, or The Not-So-Grande Finale
I quit.  I really quit this time.  I'm calling it a day.  I'm passing by the Kansas City Southern Railway yard to see what the heck is happening there.  Nothing; nothing, that is, except the moon rising over the former KCS locomotive shops there, now occupied by Pete Messina's passenger car restorati0n facility.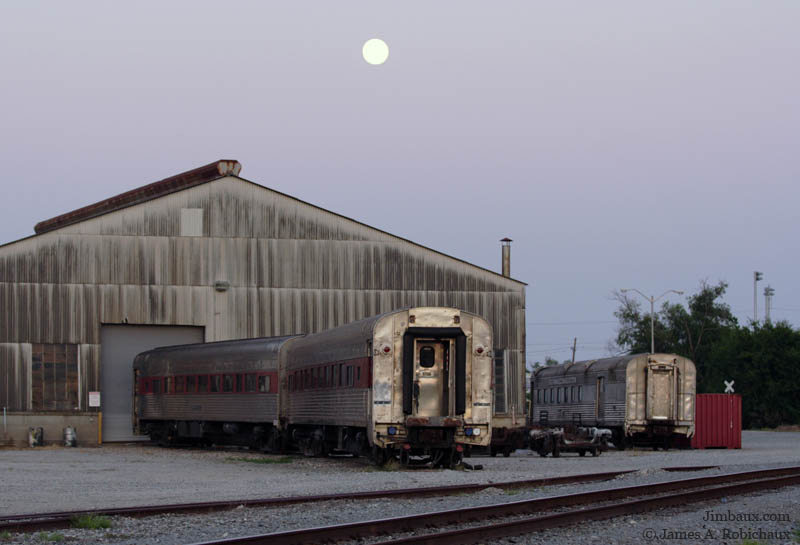 Well, that's that, I guess.  If you still want to send me a picture to put in a post including other people's 9/11 pictures, remember that you can send it here:

I hope that you've enjoyed all of this, that you've been both educated and entertained by it all, but I've really had enough.  Haven't you?
Jimbaux