[Jimbaux is just like crosstown traffic, so hard to get through to you.]
Whassup, my peeps!  How is y'all doin' out there in Jimbauxland, eh?  Y'all let me know, a'ight?  Jimbaux is in a pretty good mood tonight; so, you'd better watch out!
I'm Not The Only Soul Who's Accused . . . Of Hit And Run
What, you don't like Jimi Hendrix?  Anyway, here's what Wikipedia says about psychedelia:
A psychedelic experience is characterized by the perception of aspects of one's mind previously unknown, or by the creative exuberance of the mind liberated from its ostensibly ordinary fetters.
Well, that's certainly relevant!  I've surely been liberating my mind too, and it sure is good, mes amis!
So, now that we've gotten that out of the way, lets get the least psychedelic of tonight's five pictures out of the way.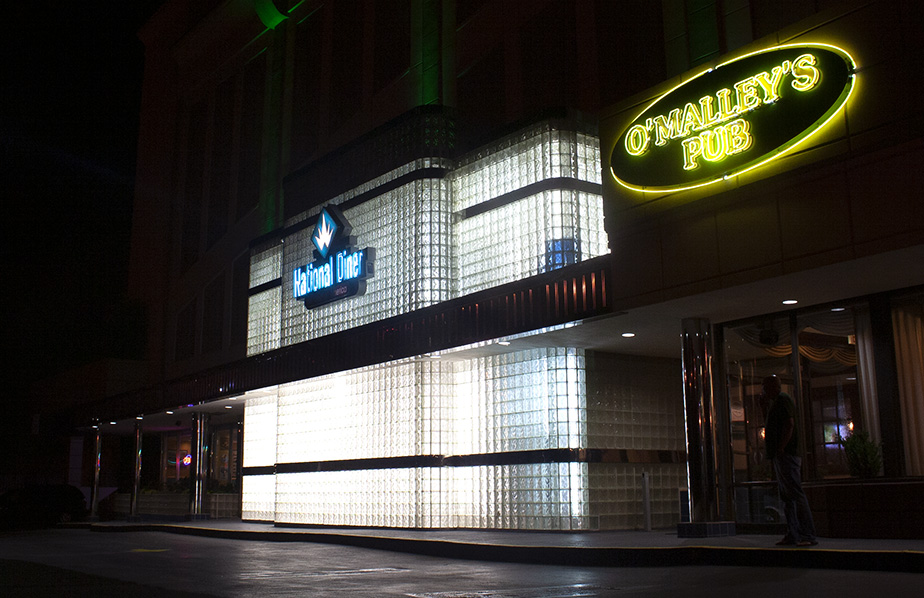 Well, that was certainly lame, but please compare it to the below picture.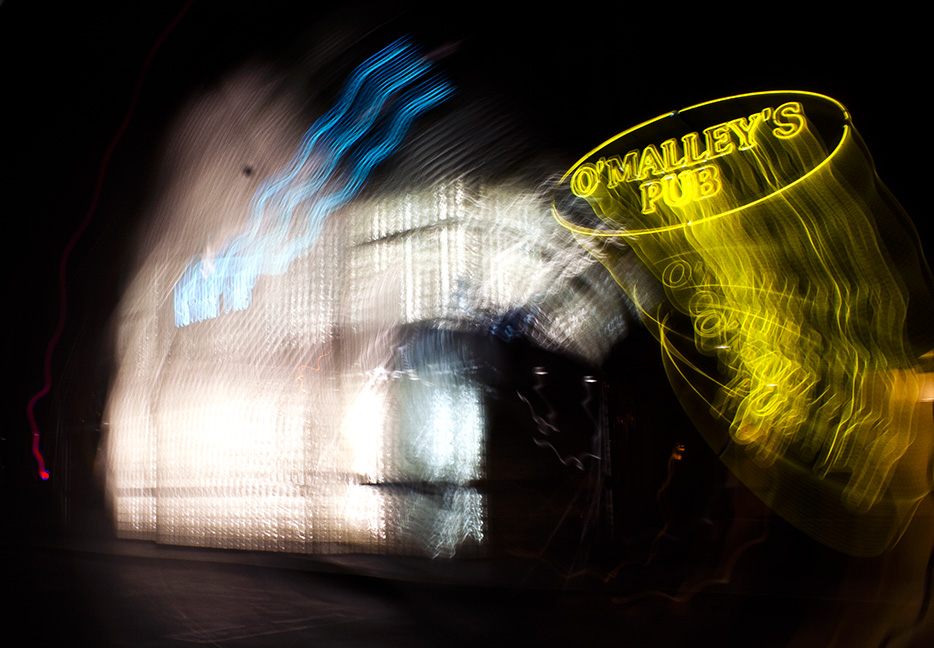 Neat, eh?  See, since the robbers didn't nab my tripod, I decided to bring it onto the scene tonight, only realizing then that the robbers did get my tripod collars, rending the tripod essentially useless until I can get a new collar.  Oh, well.  Ah, but I can practice my hand-holding turning techniques, and that's what you see here, my dear Jimbauxlings!
You're Just Like Crosstown Traffic
Anyway, put down your blunts and your booze and check out this shot of some southbound traffic through Crystal City this evening.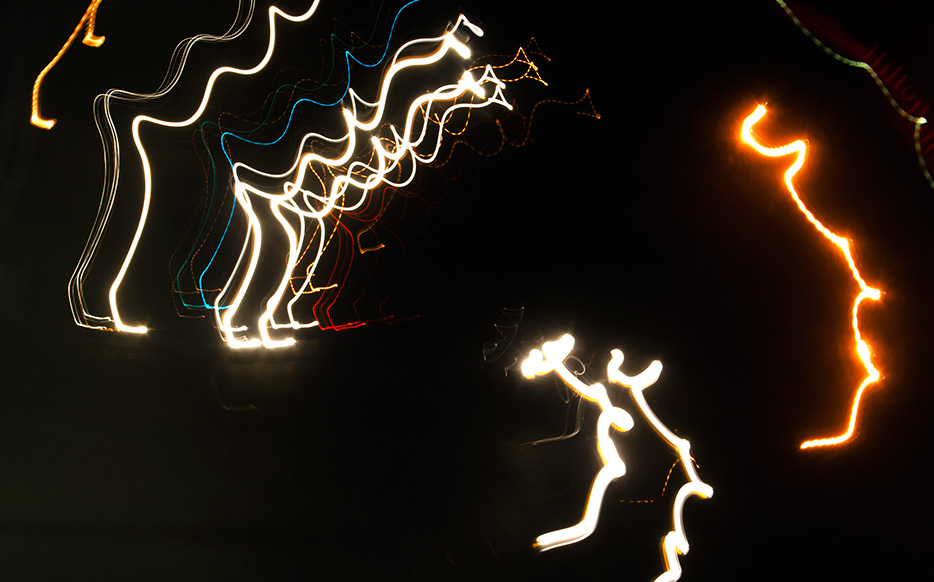 Neat, eh?  It just goes to show (once again) that you never know what to expect here on Jimbaux's Journal, ya hurd may!  Anyway, the above picture reminds me of that joke from Mitch Hedberg when he said, "Acid brought out my mind.  When I was on acid, I would see beams of light, and I would hear sounds that sounded an awful lot like car horns."  Yeah.  All right.
Supersize Me
Is the Big Mac the problem, or the problem the way that you perceive the Big Mac?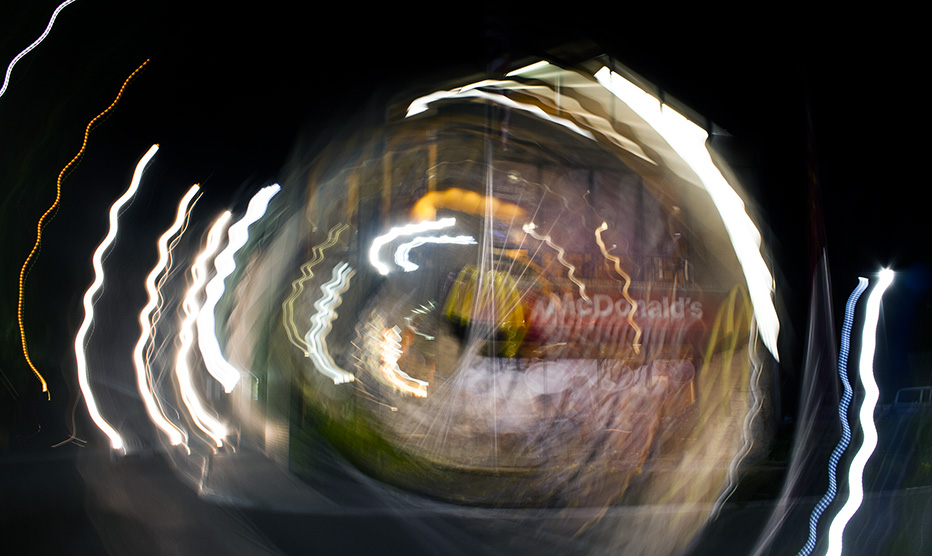 And while we're at it, here's one more shot, too lousy to even have my name on it but presented here nonetheless.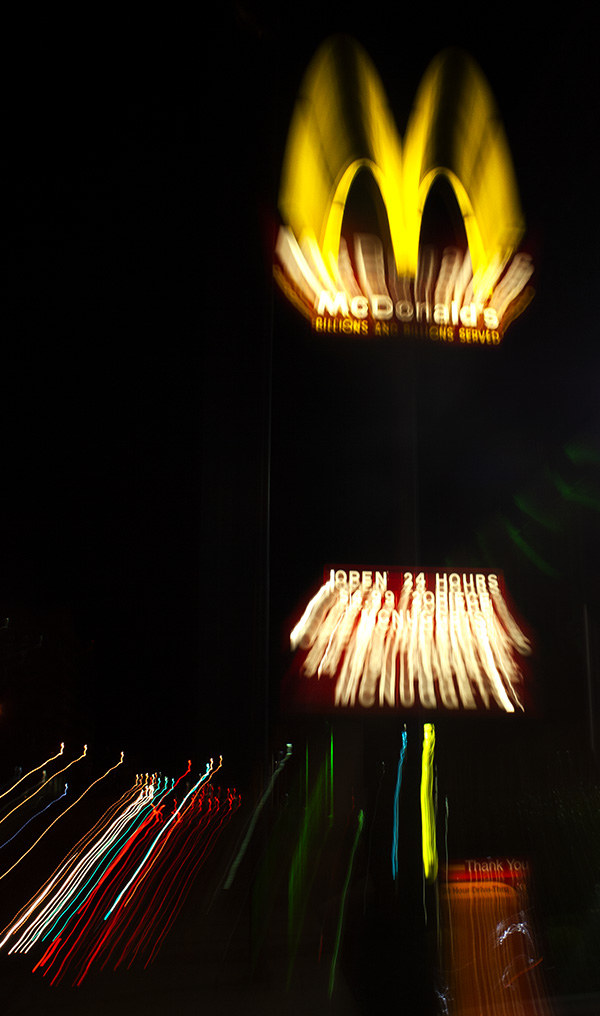 How did I do that?
I Really Need To Get Me A Nice Piece of Glass!
So, the pics you see here today were made with the 18-55mm/f3.5-5.6 kit lens with the loaner camera that my homie lent me, but I'm going to need some better glass.  In response to my inquiry about this in yesterday's post, here's what one of my whoadies wrote to me:
If I were looking at photojournalism and sports, I would look at a 7D instead of a 5D2; it's faster-focusing, better weather-sealed, and cheaper–and any lenses bought for the XTi would work, and work the same (field-of-view wise) with the 7D.
So what lenses? A good fast normal zoom is the most basic must, IMO. Given the budget issue, I would look at a Sigma 17-50mm f/2.8 OS HSM, or maybe the Tamron 17-50mm f/2.8 VC. These are both fairly new, and have image stabilizers. The Sigma has the added advantage of an ultrasonic focus motor.
After that, or also, a Canon 50mm f/1.8. Other nice-haves are the Canon 85mm f/1.8. I know before you had a Canon 70-200mm f/2.8. But to save money (and weight and bulk!), maybe this time go with a Canon 70-200mm f/4 IS?
Last but not least, I would not hesitate in the slightest to buy older lenses used from KEH. I've had nothing but good experiences with this classy Atlanta operation, and their "bargain" is what lots of people would call "excellent".
Thoughts, anyone?  Since the Rebel is a crop body, I think I'll definitely need something wider than a 50mm.  Also, I don't think that he's correct about the 7D having the same sized sensor as the Rebel, is he?
Oh, and by the way, in case anyone is wondering, I buy all of my glass used.
All for now, dudes!
Jimbaux