Greetings, and welcome to the October 2012 Sampler essay, which documents a time of loss and transition in my life. As told in the "September 2012 Sampler" essay, my paternal grandmother had just died, and the funeral would be in early October. I was actively pursuing a plan to get myself back to the New Orleans area and as a school teacher, even though I knew that my best days as a classroom school-teacher were behind me. It was the twilight of the Chip era and the twilight of my time working in Morgan City and environs. It was also a time in which I came to think that some aspects of professional journalism are dirty, and I would soon come to feel the same way about modern factory-model education in the digital era.
It was not a time of memorable photography. These pictures are not bad, but they are far from my best and don't stick out in my mind when I think of my good pictures from 2012 at all.
The Funeral
The visitation was the night of the 2nd, and the funeral was on the 3rd. As you would expect, it was a rather emotional experience for me, as it was for so many others, but the particular schedule of the stages of grief that I experienced over her death very much stands out in my mind. Until shortly before the funeral itself started, I may not have cried over her death. That might be strange for an emotional person like myself, especially considering what this grandmother meant to me and so many others, but I also knew that grief "hits" people at different times and in different ways, and maybe it just hadn't "hit me" yet.
It hit me just before the funeral started when Uncle Denis walked into the church. That's when I lost it. That's when the dam holding back the emotions burst, and that's when the tears started flowing.
Exactly why that particular incident was the incident when it hit me is something that I have never either told anyone or recorded on my own, and that has less to do with the intensely personal nature of it and more to do with the fact that it took me a while to figure out why the sight of Uncle Denis entering the church was the precipitate of the flood of emotions that came to me about my own grandmother's death, because it was not immediately obvious, and the answer has multiple layers that came in multiple waves.
I thought about explaining it all here, because there is not much to hide about it, but Jimbaux's Journal is not the right venue to express it, it would take plenty of time and space, and I want to get these sampler essays – which I create precisely because I don't have time to create full blog posts anyway – done!
The other thing from that day that sticks out in my mind was a ride with a cousin to the burial, what we discussed, and what it even meant that he and I were riding together to the funeral, as he had been such an influential part of my early life but had not been a part of my life and years (and still is not and is extremely unlikely to ever again be a part of it.)
Well, another thing that really sticks out in my mind is not so much that time or series of incidents but the huge differences among us that have become so painfully apparent since then, but that is by far the most difficult to discuss.
Okay, just writing all of that was difficult even if helpfully cathartic.
Thursday, The 4th
On the day after the funeral, I went with Nonc and Chel on a therapeutic ride to Baton Rouge, which was helpful given what we had experienced the day before. It was good, as I got to see parts of Baton Rouge with which I hadn't been familiar and met some of Chel's friends there.
Per my request, we rode briefly south of the Kansas City Southern Railway yard, allowing me to get this image.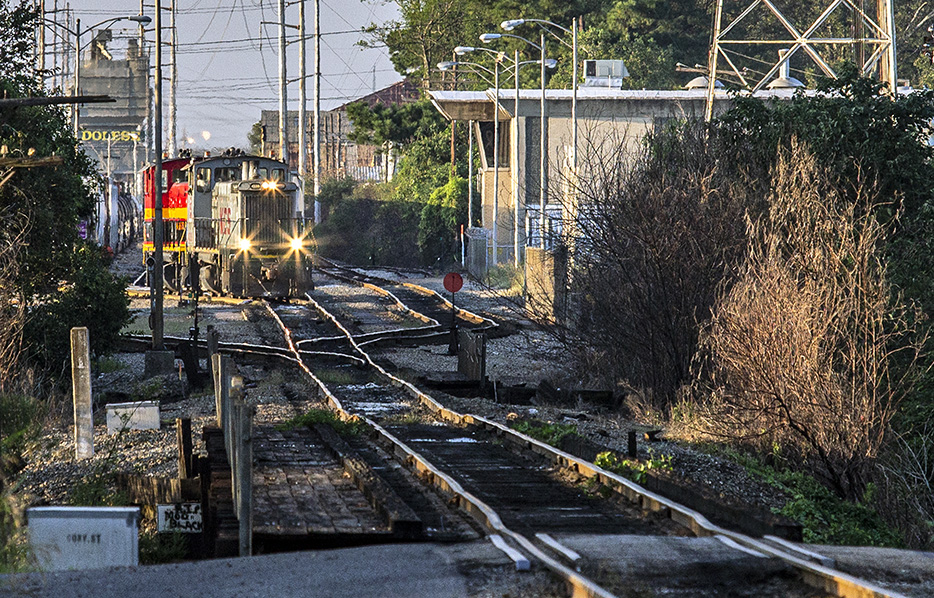 Earlier that day, on the way there on a somewhat circuitous route near the Mississippi River, because, like me, Nonc and Chel like to explore, we saw a Canadian National Railway train on the Valley Line.
It was a good day, and I am really glad that I went with them, because it was a good bookend to my experience of my grandmother's dying and death.
Friday, The 5th
On this day, I returned, for the first time since Monday, to work, to the job that I was secretly trying to quit (as if that is a big distinction), and what sticks out in my mind from this day is that I was given grief over not having some assignment done as soon as the editor wanted it done, even though my grandmother had just died and was buried! That added to the urgency of quitting that degrading job, and it was an addition of insult to the injury that was the loss that I had just experienced.
Of course, I have heard far worse stories about how employees are treated by employers.
With autumn upon us and the sun setting earlier, after work, I grabbed a shot of an eastbound BNSF Railway manifest train crossing the Atchafalaya River.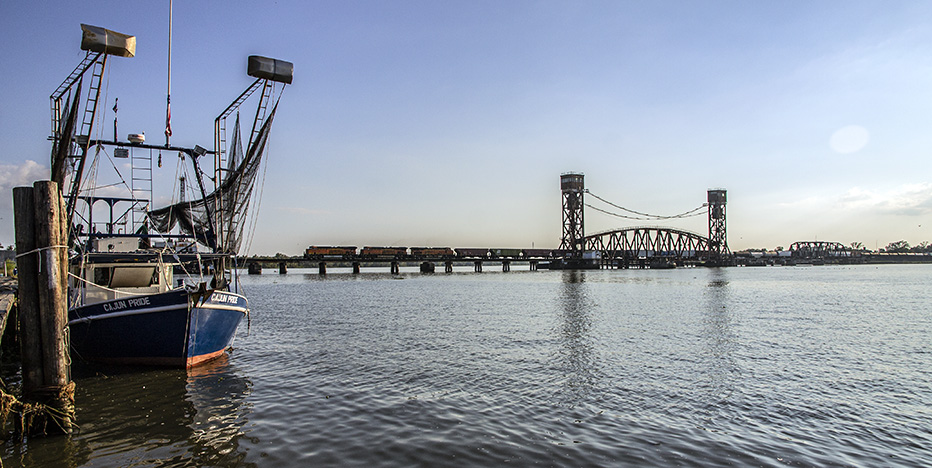 I had to go and photograph a football game afterward, which didn't excite me as it had done in the past. It's really not the same when you don't have any emotional connection to the players. Not only that, but I had to go and photograph a game way over in Franklin, which put me home really late.
Saturday, The 6th
On this day, I was returning to Whoadieland on a Saturday because of having to work late the night before, and I found the Chip local working at Paradís.
Engineer Boudreaux walks back to the locomotive, unseen at left, after restoring the west switch at Vallier to the normal position, and you can see Chip in the background at the east switch.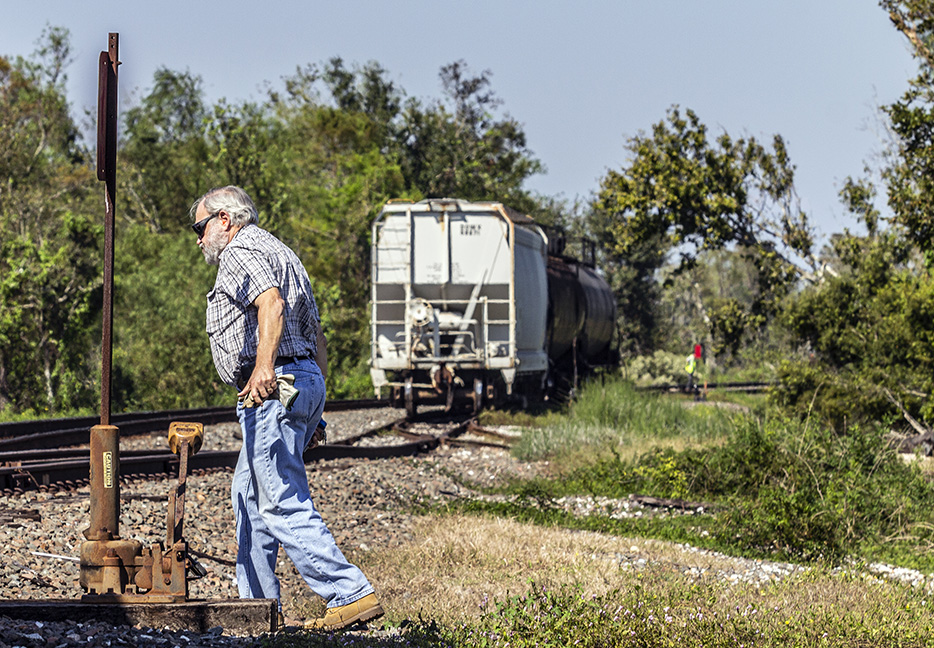 Chip then protected the shove of the move across the old highway and into the gas plant.
We are near the end of Chip's career, which would end at the end of the following month. Although I suspected that the end would be soon, I had no way of knowing that this would be the third-to-last day on which I photographed Chip.
Wednesday, The 10th
One week to the day after my grandmother's funeral, this was a day of death – of violent death – that really further soured me on the journalism profession, but I can't really share the details here.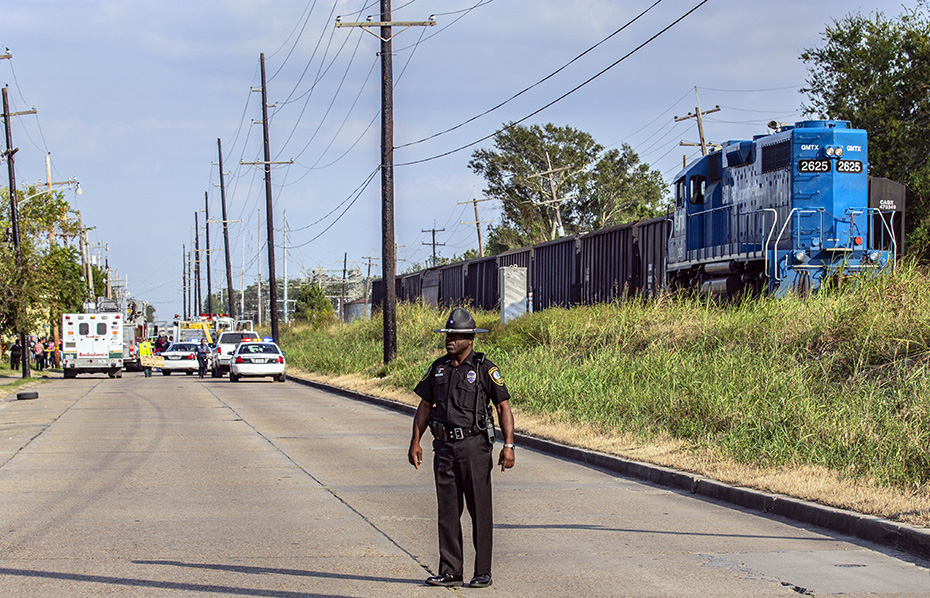 This is where my Jimbaux persona and my legal personal got too close to each other. All that I can say is that that's the Chip Local grabbing its pickup from the L&D – carbon black from the plants west of here – on this Wednesday afternoon, that I was not there to photograph the train, and that Chip himself may not have been working on this day, as I vaguely recall a different conductor working the ground.
Thursday, The 11th
The day after the violent death, on a day that I learned about people's cognitive dissonance, here comes – or here goes – a westbound BNSF Railway manifest train at about the same location.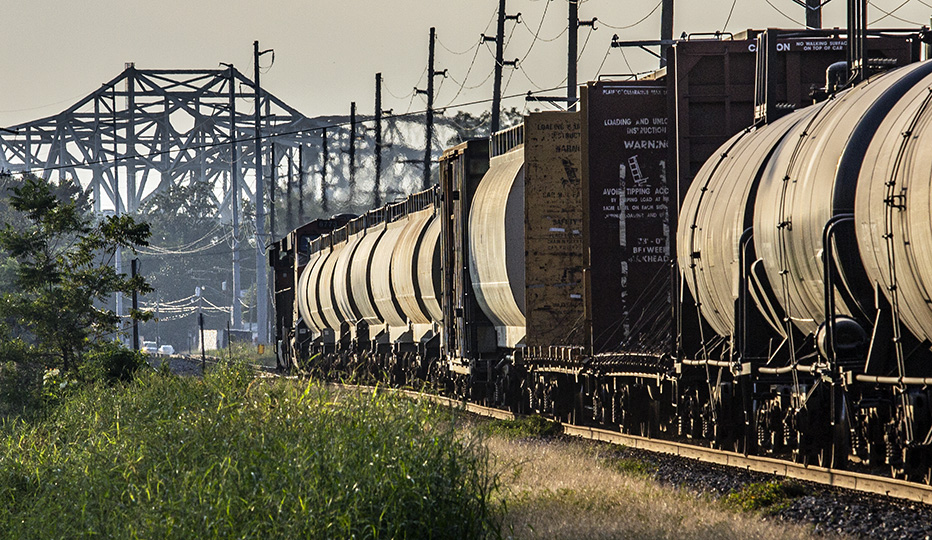 I'm glad that I am not there anymore, though I wish that I could have seen the action here in the SP days.
Tuesday, The 16th
I went exploring on my lunch break on this day.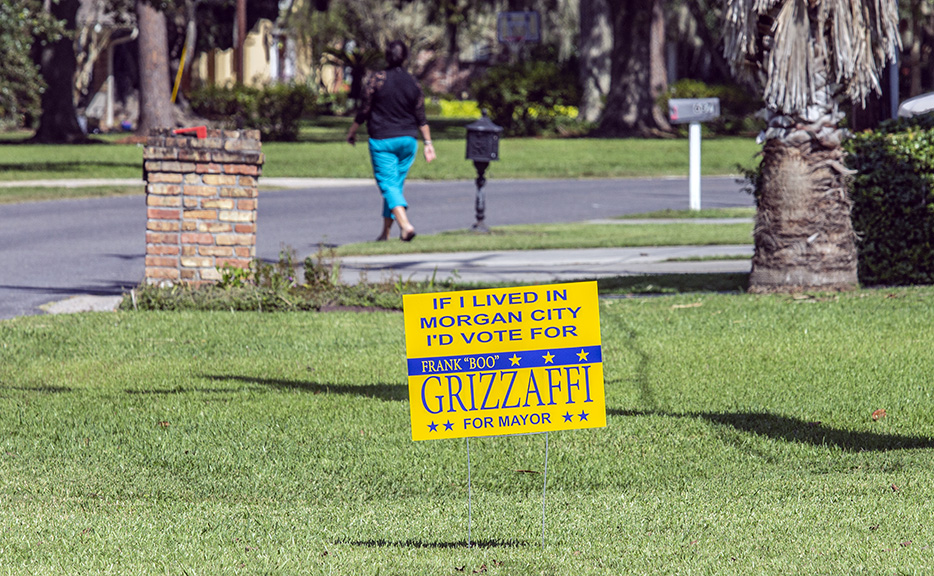 I was tired of the office and tired of being around here and wanted to explore before my escape from this job.
Friday, The 19th
Though I suspected that the end of Chip's career would be soon, I had no way of knowing that this would be the second-to-last day on which I photographed him railroading and the last time that I photographed him railroading in Morgan City or anywhere west of Paradís.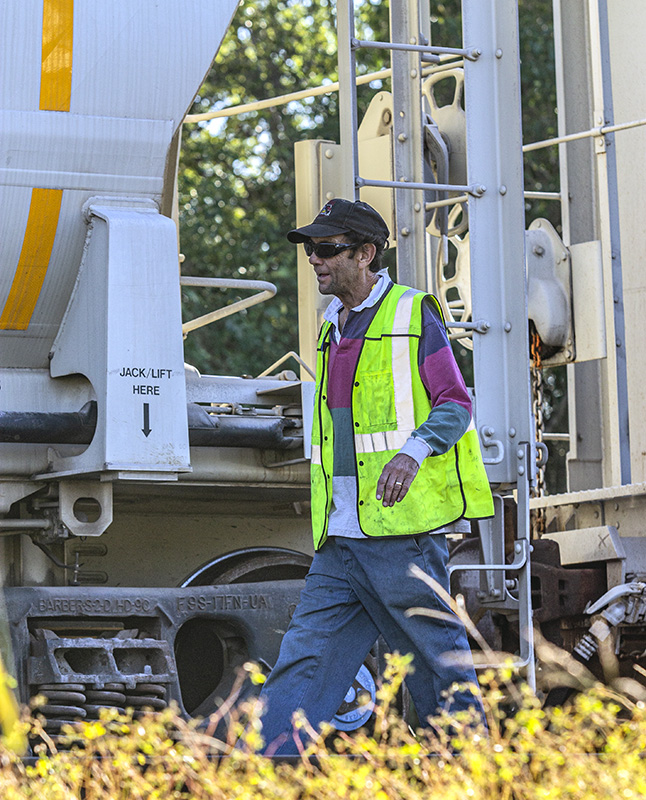 I remember that day.
Sunday, The 21st
It's not long after midnight on this Sunday 'morning,' and I got this shot of a lit under-renovation Huey P. Long Bridge.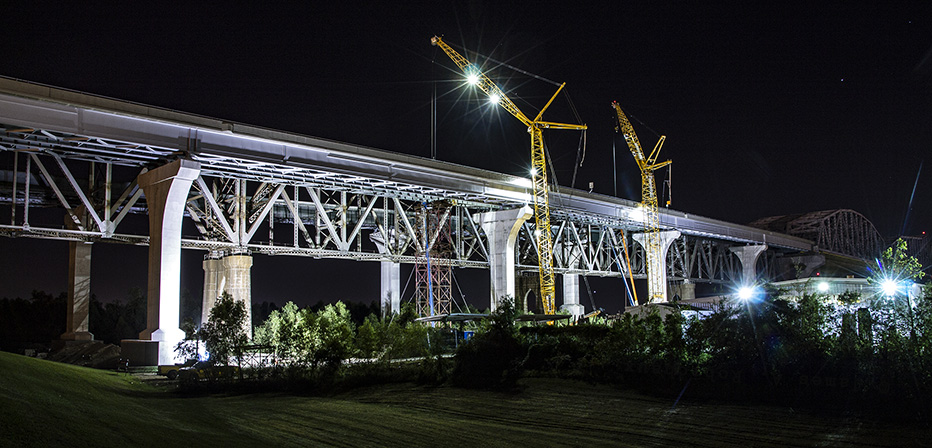 I vaguely remember this night.
I thought that the whole thing looked awesome, an engineering marvel.
Friday, The 26th
This was dumb.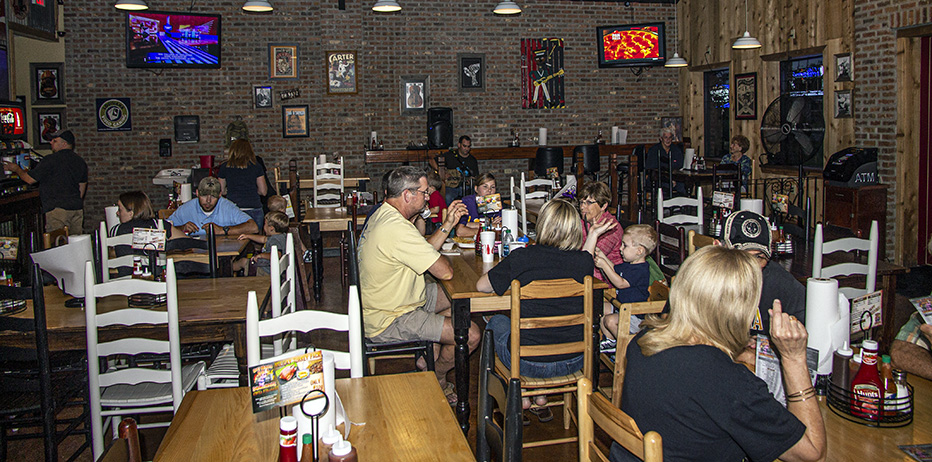 But it was hopeful.
Saturday, The 27th
I really don't know what to think about this phenomenon of railroad-track portraiture.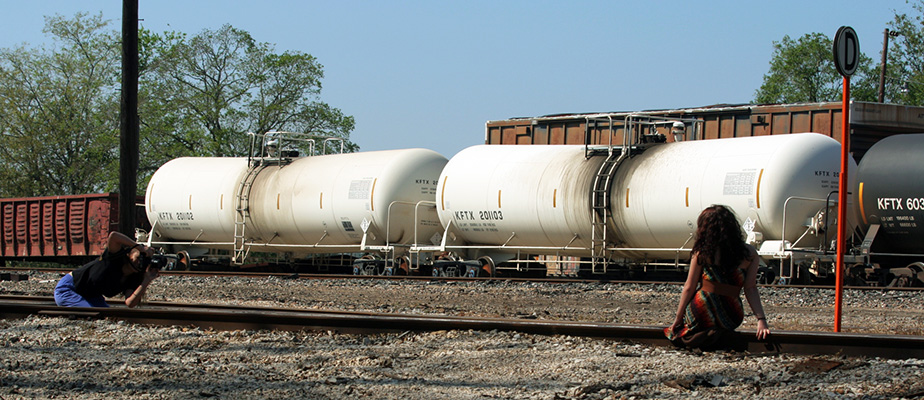 I still get to be annoyed by it, though.
Monday, The 29th
There was outrage over what I had witnessed on the 10th.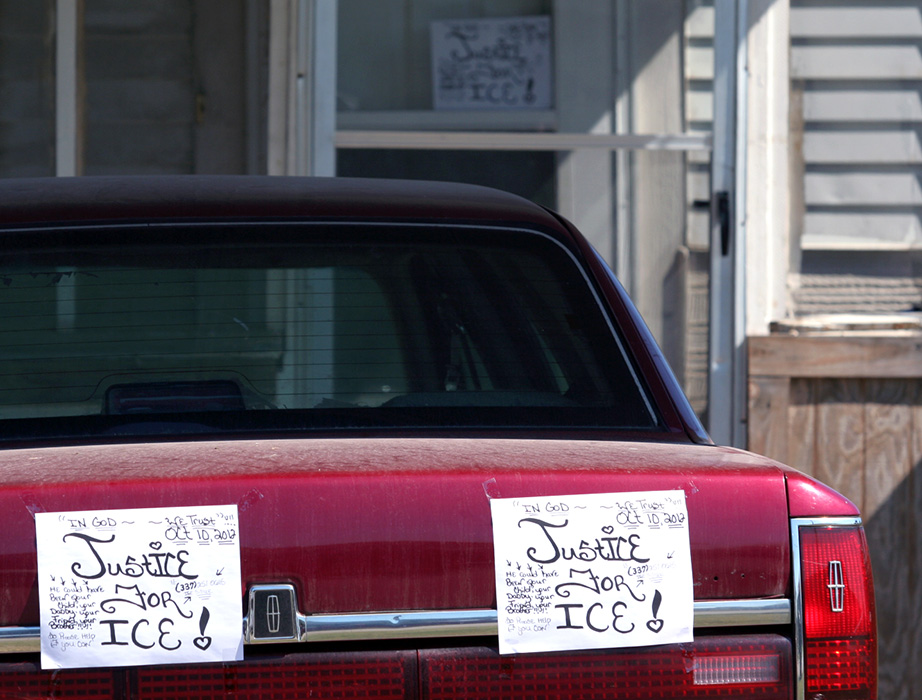 I don't know what to think of it, but the tension is a sign of a broader societal problem, that we are not a united nation, and we have to fix that.
So, that is all for the "October 2011 Sampler" essay; it was a time of transition that started with my grandmother's funeral, was my last full month in the job by the Atchafalaya River, and was the last full month of Chip foaming.
Next month, I would walk away from that job and return to Whoadieville, and we will see more about that in the upcoming sampler essays, not just of the remaining two months of 2012 but also of all of 2013, as I traded one problem for another better-paying problem and developed some serious back problems.
That's all for now.
Merci.
Jim