Greetings, and welcome to the September 2012 Sampler essay. As readers of the "August 2012 Sampler" essay would have seen, the defining story at the end of August 2012 was Tropical Storm or Hurricane Isaac, and it would be the story of the beginning of September 2012, too. The end of the month, however, was defined by a big personal loss. Maybe, however, it's all the same, because maybe the ravages of weather and climate are rhythmic with life and death.
With that in mind, we shall begin.
Saturday, The 1st
On this day, with electricity still out throughout most of the metropolitan New Orleans area, I went to the crib just to clean out the refrigerator and freezer and grab other things there. Here is what I saw on Central Avenue just south of Jefferson Highway.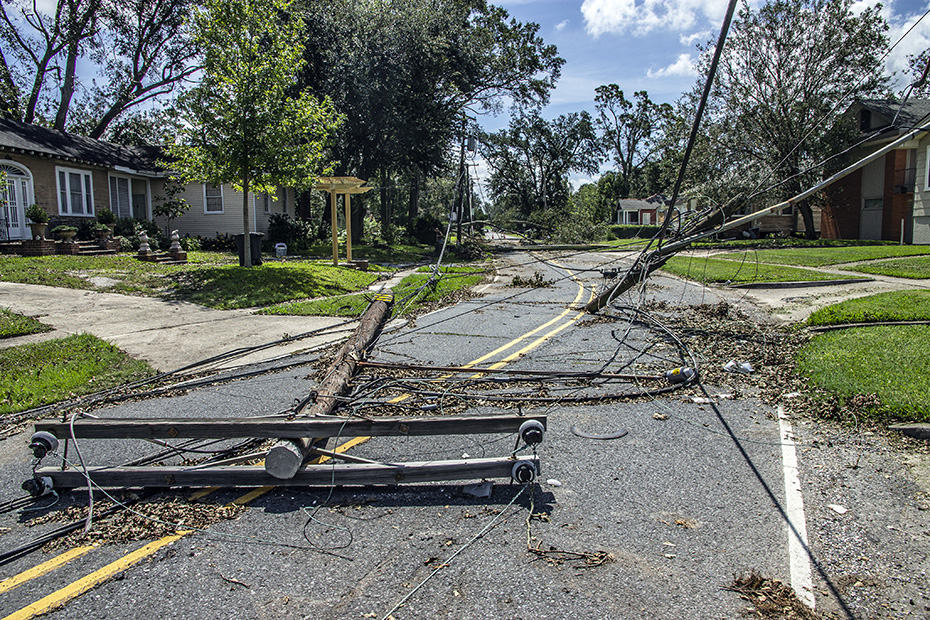 I vaguely recall talking to F.J. when I was there. I then photographed a train passing East Bridge Tower eastbound, and the operator was standing on the porch staring at me.
That was weird.
Sunday, The 2nd
I have no idea what I was doing as far west as Morgan City on Sunday. It's possible that I was doing newspaper work, though, but I just don't remember.
I photographed evidence that the water had recently risen onto the banks at the Oregon Street boat launch in Berwick.
This is the western bank of the Atchafalaya River.
It was cloudy.
Then, it wasn't, when I photographed the remains of an alligator on the ramp to the elevated portion of US Highway 90, which is another very unusual sight here and a sign that something like a big storm had just happened here.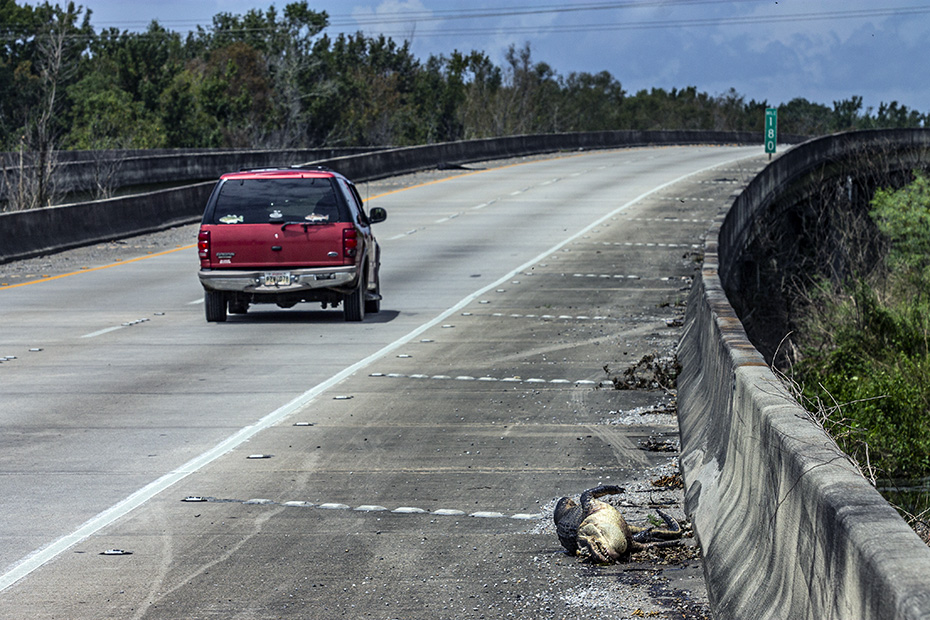 Then, at Chacahoula, I guess as I was heading back to the home that I would soon learn that I would lose, I caught a westbound BNSF Railway train at Chacahoula.
The midday light was harsh; it's still summer, even if late summer.
Wednesday, The 5th
Starting the month, we resume our usual Wednesday-and-Friday pattern of photographing Chip and his train, but this pattern would end this week, as, while I would photograph the Chip Local on other occasions until November 13, before Chip retired at the end of that month, this would be the last time that I'd get him on both the Wednesday and the Friday of one week.
The first thing that happened once I took the camera out is that I alerted Tory that one of the ditch lights on the LDRR 1709 was out, to which he signaled back to me that he was aware of the problem.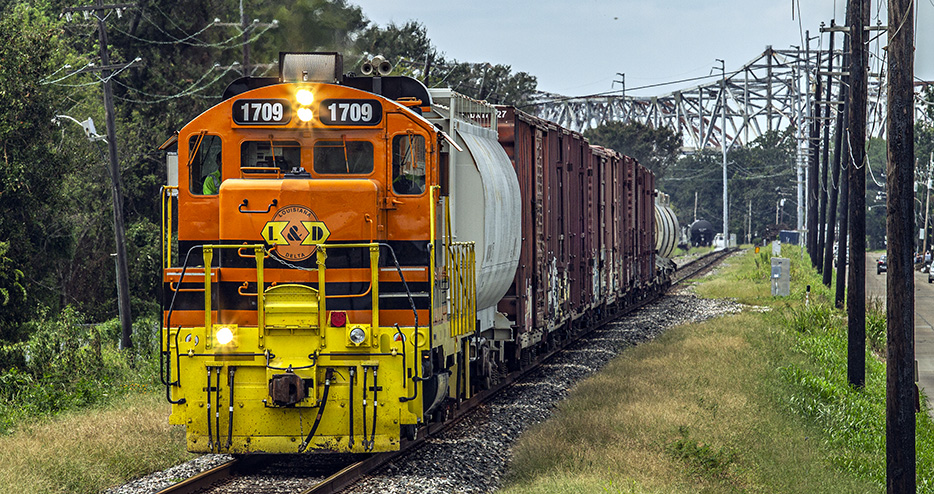 I must have been out to lunch when I saw that. It was unusual in this time that I'd see the L&D job working in Morgan City (or anywhere, really). After I got out of work, I saw Chip for the first time in nearly two weeks, for the first time since before Isaac. He moved the mysterious tank car in the Morgan City track and even asked me what it was doing there; Tory laughed his ass off when Chip told him that he asked me what the deal was with the tank car.
Anyway, Chip then arrived at Patterson Tubular with nine loaded gondola cars and with Engineer Boudreaux at the controls of the GMTX 2625.
They pulled the two empty gondola cars that they had delivered there on August 24, the last time that they had come this way, because of the storm.
Then, they worked North Boeuf.
I don't remember what happened after that.
Friday, The 7th
I caught Chip finishing his work at Patterson Tubular as he was putting the EOTD on an empty lumber car that I presume he had picked up in Schriever or Raceland.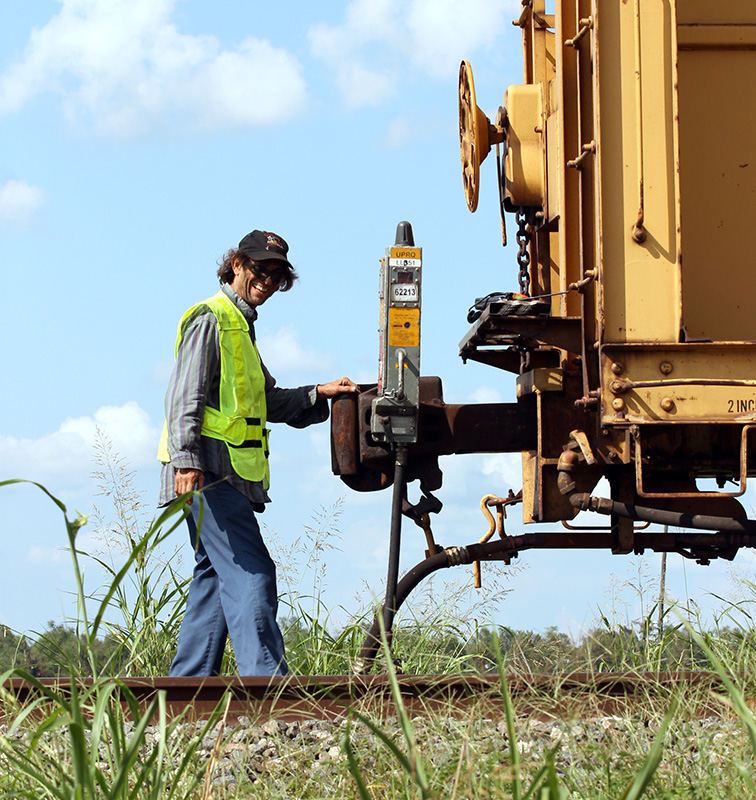 I then did my new shot at Lake Palourde Bypass Road.
So ended the Wednesday-and-Friday Chip routine for me, even though I had no way of knowing it at the time.
Saturday, The 8th
I don't know why I didn't head back to Whoadieland the night before, but here is a sign of some agricultural workers who are probably migrant workers near Kraemer Road east of Raceland.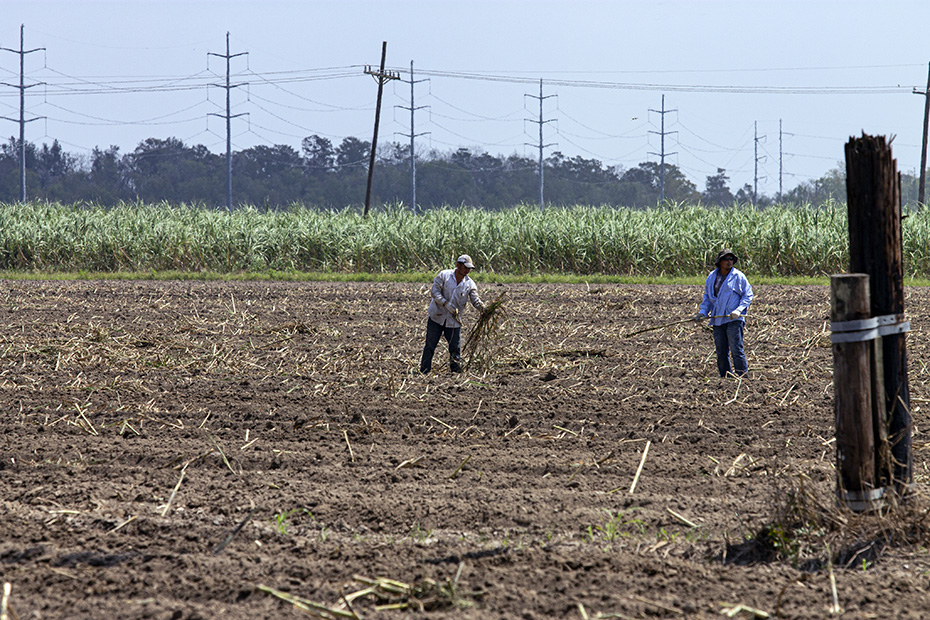 We need to work, man, all of us.
Anyway, that's sugarcane.
Sunday, The 9th
So, this was a bit of a "comeback" day after Isaac, and I recall the weather being decent – i.e., cool – on this morning.
I chased Amtrak's Crescent to Slidell, the first time that I had done that in a while, and, on the way back, I bagged two or three southbound Norfolk Southern Railway trains crossing Lake Pontchartrain.

This is a short NS train 355.
I would then get shots of the 22Q.
Tuesday, The 11th
Ha! This day, the 11th, was the eleventh anniversary of the "Nine Eleven" attacks, and I decided to, in my own way, be defiant of the security state that had developed since then, just like I had done one year to the day before.
I got out of work, and there was a BNSF Railway manifest train coming. There wasn't anything particularly unusual about that, but the train did have a long block of military tanks on flat cars at the head end!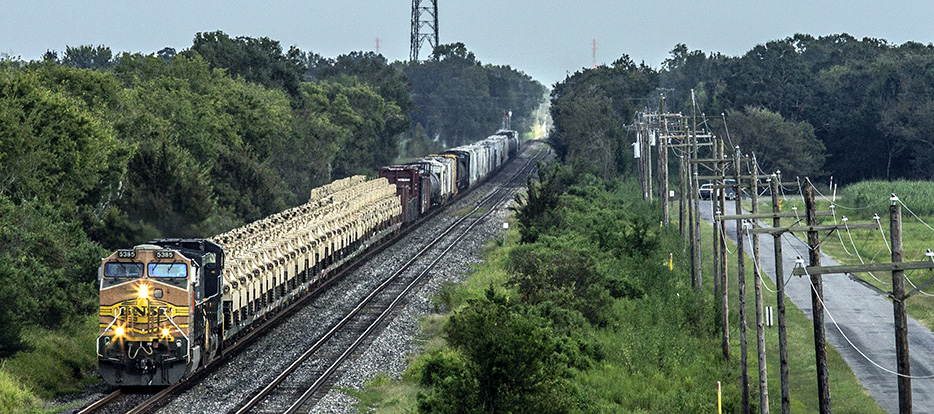 I beat it to Bayou Sale.
I chased it farther, basically to Baldwin.
At Baldwin, I also photographed the Union Pacific Railroad's MNSEW westbound with the L&D Schriever Job behind it light power.
That was too much.
Wednesday, The 12th
The Chip Local brought four loaded pipe gondola cars to Patterson Tubular on this day.
Engineer Boudreaux was at the controls.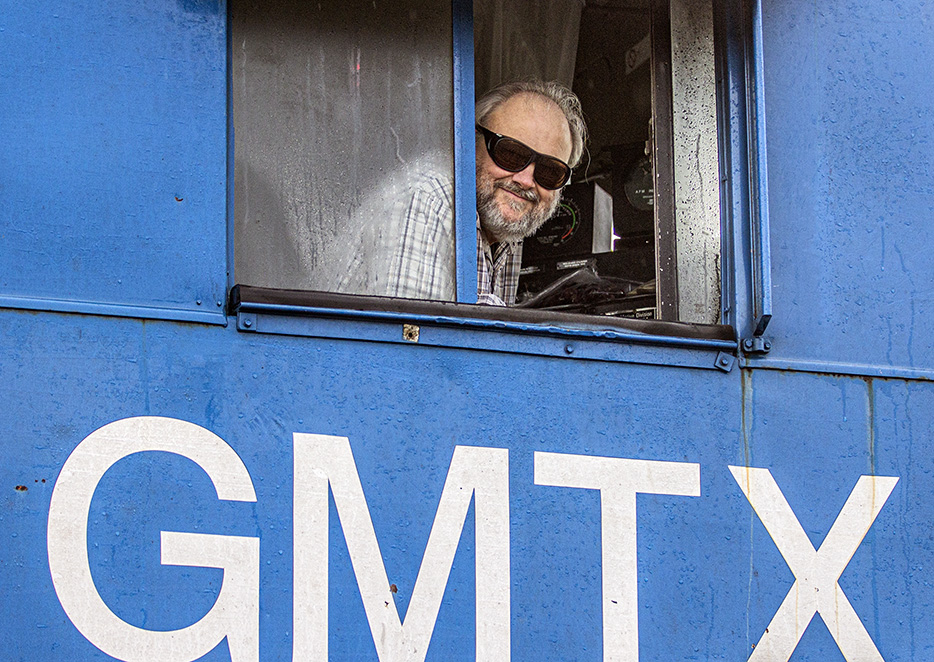 I am glad that I did my Chip foaming when I did, just like I did my Peartree foaming less than a decade later.
Thursday, The 13th
Let me tell you about the petty crap that happened on this day, something that really contributes to my misanthropy and my disdain for working in an office setting, even though there are many elements to that setting that I dislike.
Someone walked over to someone and whispered something in her ear. The recipient of this message acted all shocked and flabbergasted. Naturally, I wondered what the heck was going on. This may have happened again with another person in the office.
Anyway, what eventually got to me was that there was some problem with paychecks and how we would not be paid on the upcoming pay day. Naturally, this was a huge problem that really left me wondering how I would pay rent and other bills.
As it turns out, though, it was all a big prank.
I was actually way more pissed off at the prank than I was at the prospect that we would not be paid on pay day.
I was so pissed off that I couldn't stay in that office any longer, and I just didn't come back right away from lunch. After lunch, pissed off, I went ride around. I went ride all the way to the old North Bend Branch, going to some places that I had never been before.
I got my first-ever pictures of action on the North Bend Branch, a branch that I'll always associate with this stupid, petty office incident, on this day.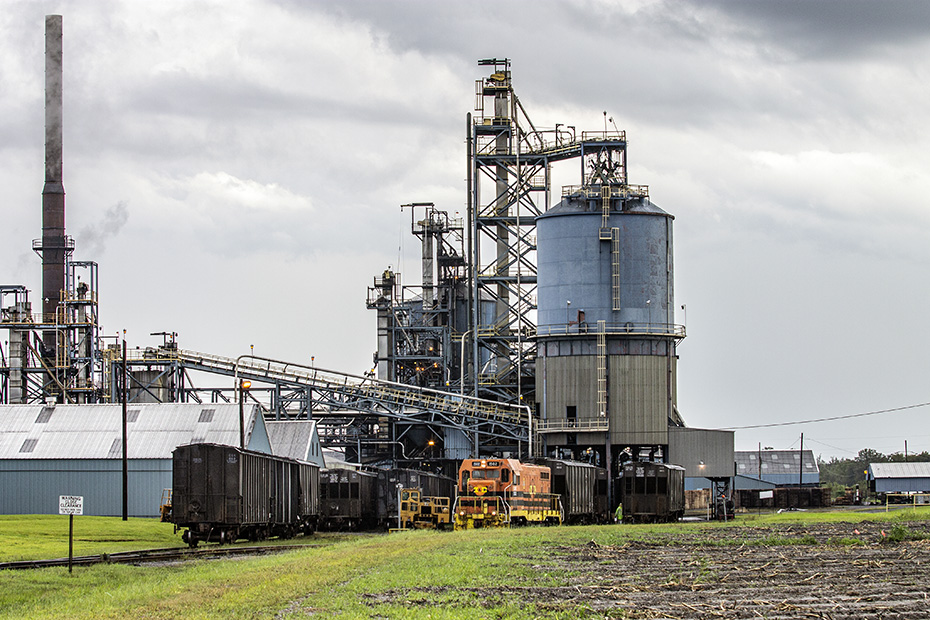 I didn't return to the office until it was almost knock-off time, and nobody questioned me about where I was or why I didn't return to the office at the usual time. I surmised that this meant that the bosses had learned about the incident and figured that I was justified in wanting to get the hell away from everyone for a while.
Two months later, I'd quit that job, and crap like that is a small part of why.
Friday, The 14th
There would be no Chip Local this afternoon. The only picture that I have is of this Canadian National Railway coal train in Saint Rose, and it's a really lame picture.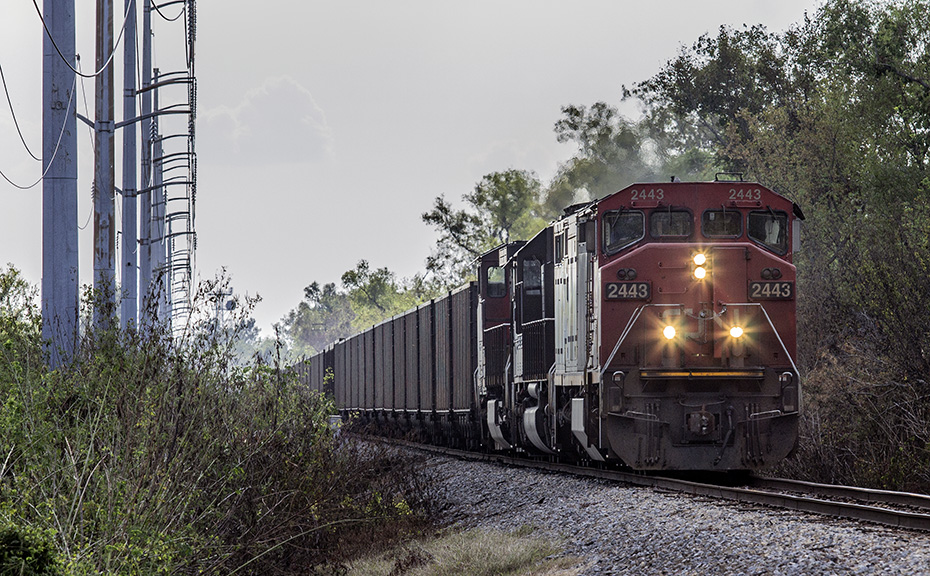 Apparently, I had crossed the river at Destrehan, instead of at Bridge City, on this particular Friday afternoon. Gosh, I am so glad that I am not doing that tired, unsustainable routine anymore.
Thursday, The 20th
This thing was loading fresh crossties into old hopper cars.
This is on what remains of the old loop track in Morgan City.
Saturday, The 22nd
Okay, this was weird.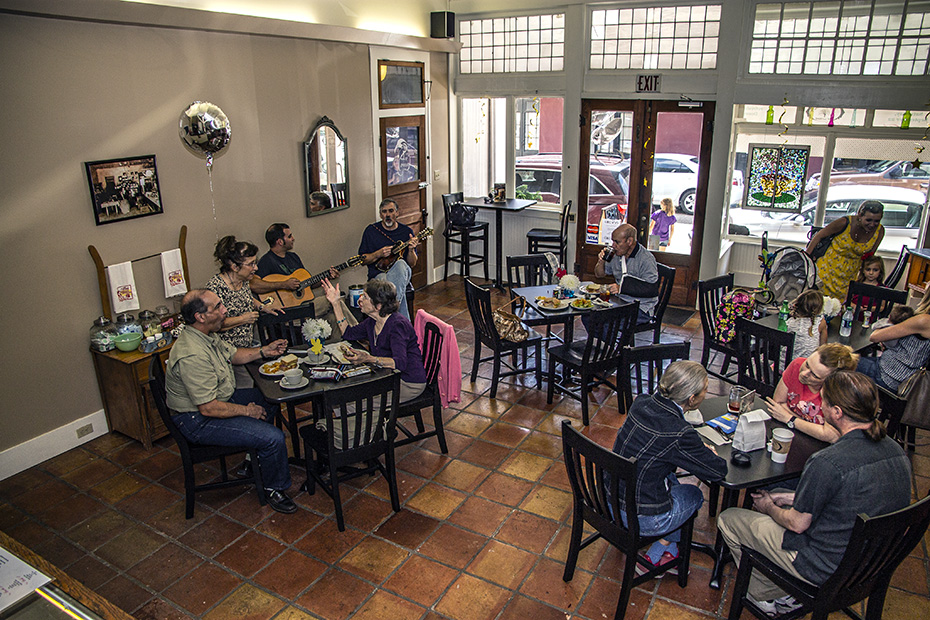 But it's weird because I am weird, or something like that.
Saturday, The 29th
Here is where and when things get sad and stupid. I guess that the reason that I was heading to Whoadieville on a Saturday instead of on a Friday afternoon is that I was asked to cover a football game on the Friday night, but I probably shouldn't have been going there at all. Regardless, I went, and I saw the IAVLB at Kraemer Road.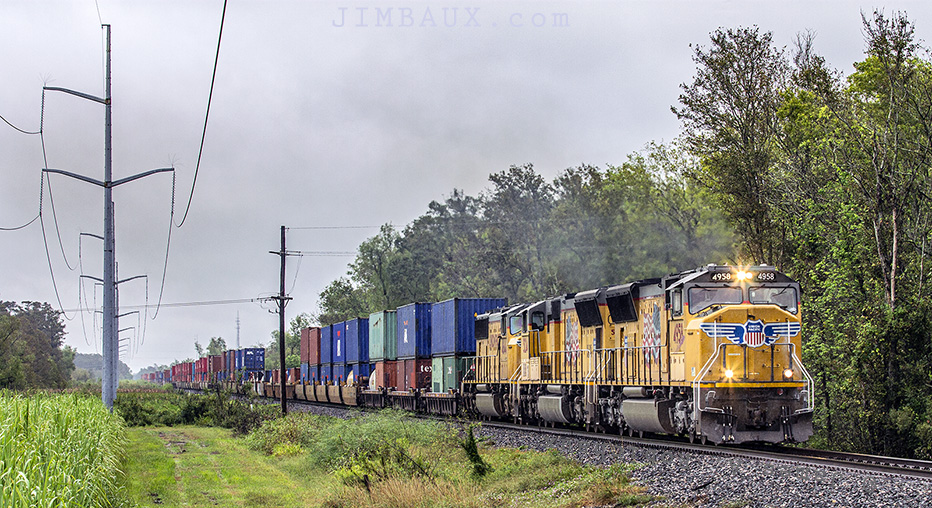 I also saw the Chip Local serving the gas plant at Paradís.
This would be one of the last times that I photographed Chip.
This would also be my paternal grandmother's last full day alive, and I was aware of that possibility.
Sunday, The 30th
That's why I should not have been doing this at all, even though her mind had already gone, apparently due to a stroke, a few months before.
Nonetheless, here I was at, you guessed it, Alvar Street on the morning that my grandmother died. This is actually somewhat embarrassing.
I think that she died right at around the time that I photographed a westbound military train coming through Old Metairie on the NS Back Belt.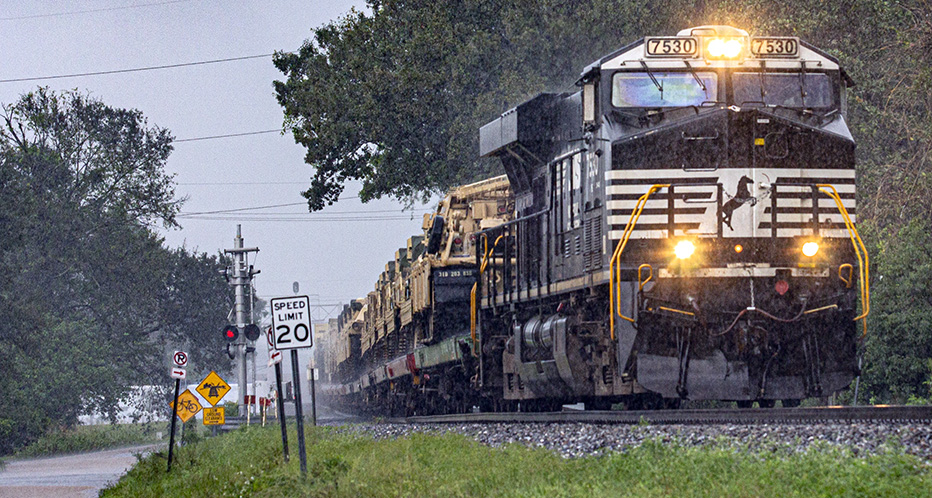 I felt so sad and so conflicted and so isolated.
I am actually very relieved that she wasn't around to see what started to happen three years later, but that's another story for other times, something that I ponder almost daily.
She was an incredible grandmother, and that is a sentiment shared by all of her grandchildren.
So ended the tumultuous September of 2012.
Jim