Jimbaux does have to live like a refugee.
Today was an emotional day, and this will be a long post with plenty of pictures. I went to the homeland. As I was driving back westbound to the homestead, I heard the song "Bitter Sweet Symphony" by The Verve, "Jumper" by Third Eye Blind played shortly after that, and, then, as I arrived back at the homestead at 21:00, I heard "Refugee" by Tom Petty. That is rather appropriate.
I also had a police encounter that really made me feel like an outsider in my own homeland.
Also, today is the day of the Endymion parade! I have all the feels today!
Reconnoitering The Trains And Reflecting On The News
At 08:57, I observed and eastbound BNSF Railway train emerging from the siding at Bayou sale. The lead locomotive was a BNSF GE in swoosh paint. The second and last locomotive was a Ferromex locomotive. The first car was a lease hopper car that had bad graffiti on the north side. I did not see a type of car other than hopper car or tank car in the train.
I then made the usual stop in Morgan City.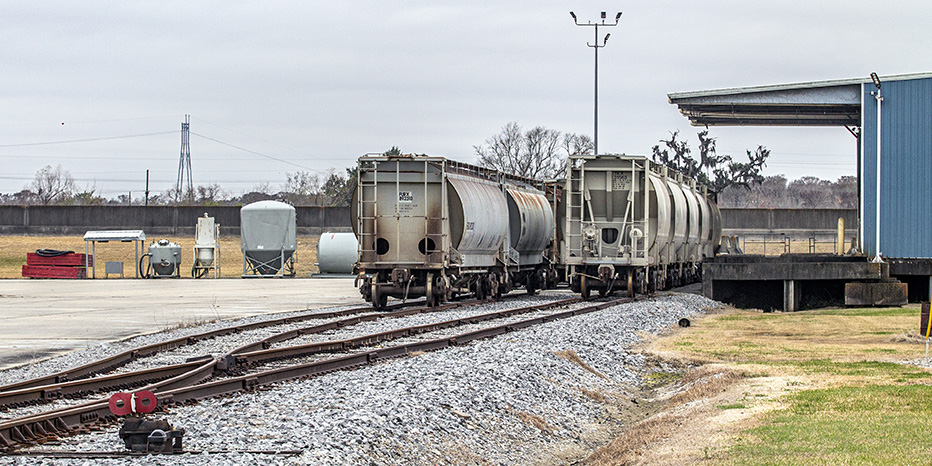 There is nothing new there!
Russian forces under the orders of Vladimir Putin have attacked and invaded Ukraine. I have been reading about demoralized Russian military forces. I have read that Twitter is very restricted in Russia today.
Arrival At The Sacred Place
It may be sacred, but there is some dirtbaggishness, too, about it.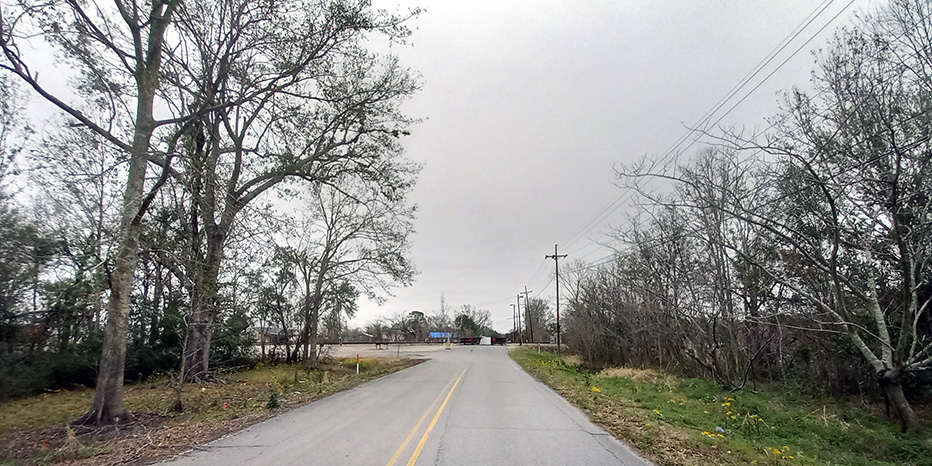 I have wondered, though, if dirtbaggishness is inevitable and, thus, even necessary.
Anyway, Amtrak's westbound Sunset Limited is supposed to be here soon.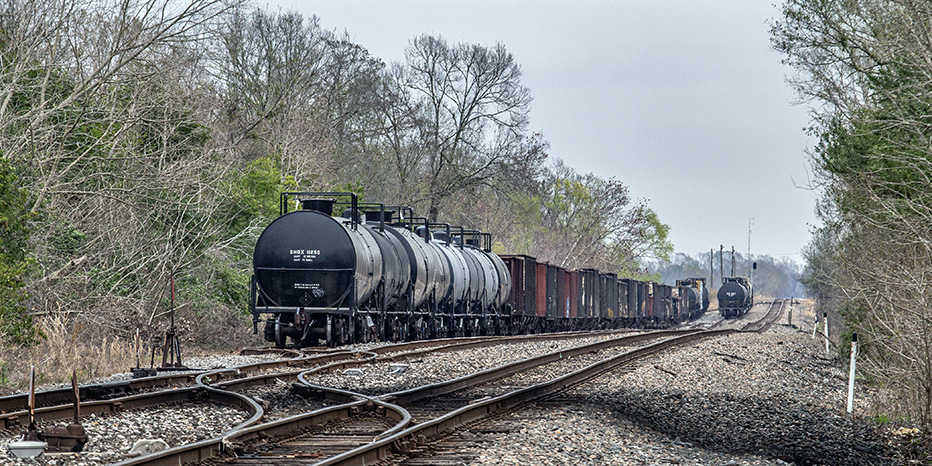 So, in the meantime, I'm just going to get some pictures.
There are a couple of centerbeam flatcars on the old Houma Branch.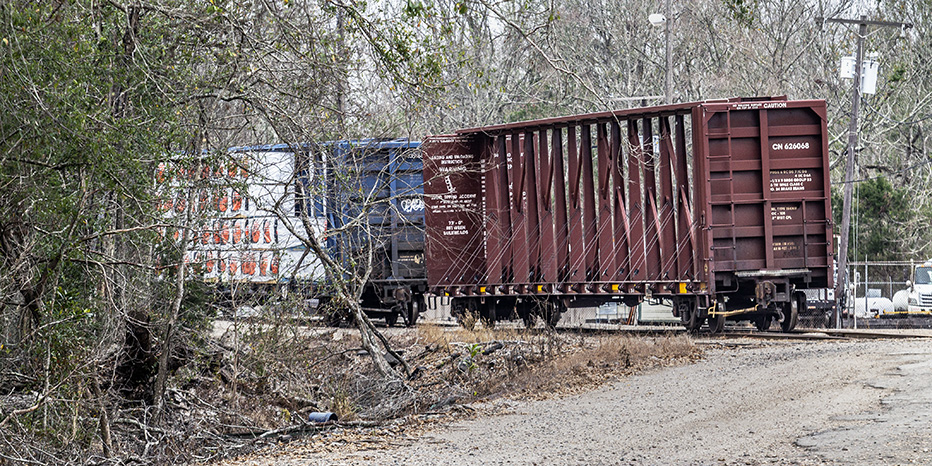 Wait, what is happening here?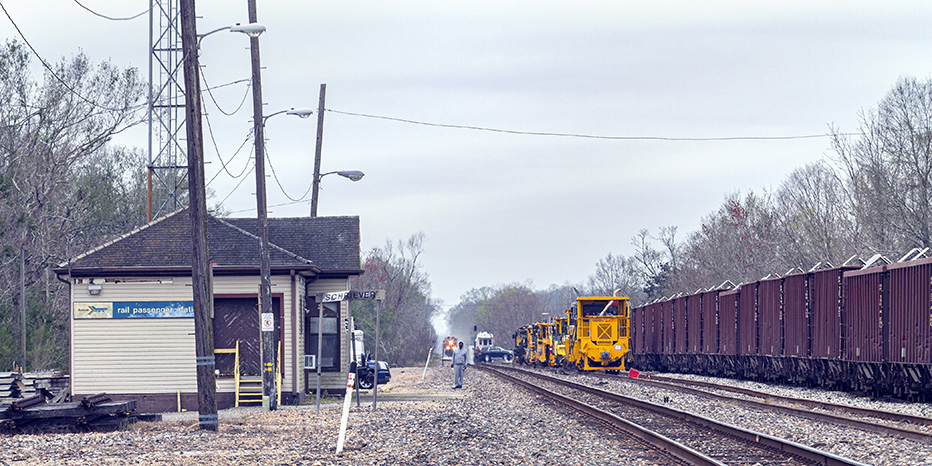 Yeah, there is a passenger waiting by the depot, but what is that behind him?
It's that eastbound train that I saw at Bayou Sale.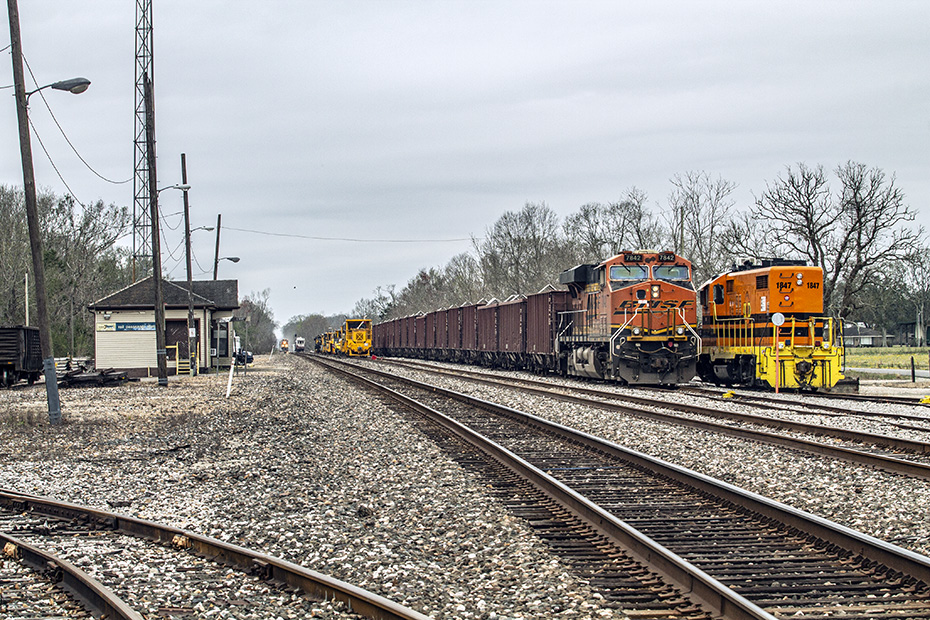 It's taking the siding to let the #1 pass, right?
No, it can't take the siding, because the siding is occupied by MofW stuff because there is a track gang working here!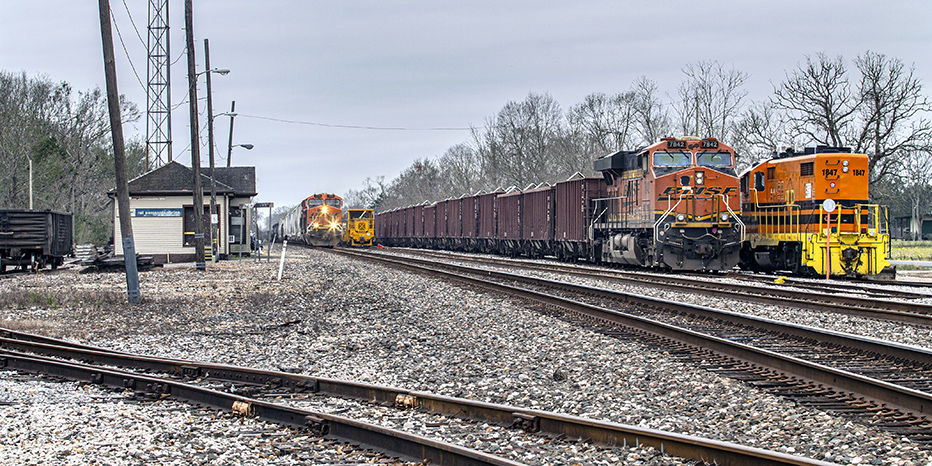 The train that I saw in Bayou Sale came through Schriever at the time that the #1 was supposed to pass, and I had thought that Julie told me that the #1 would be about on time today. The train had an ICG gondola car.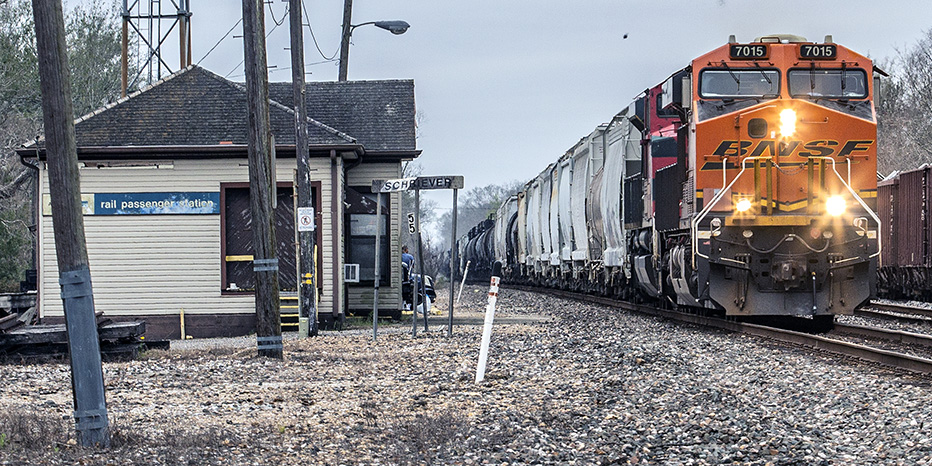 I guess this delay was due to a dispatcher error due to the siding being occupied by MofW stuff and the dispatcher not remembering that until it was too late.
Oh, well, let's have a look at the rear end of the train.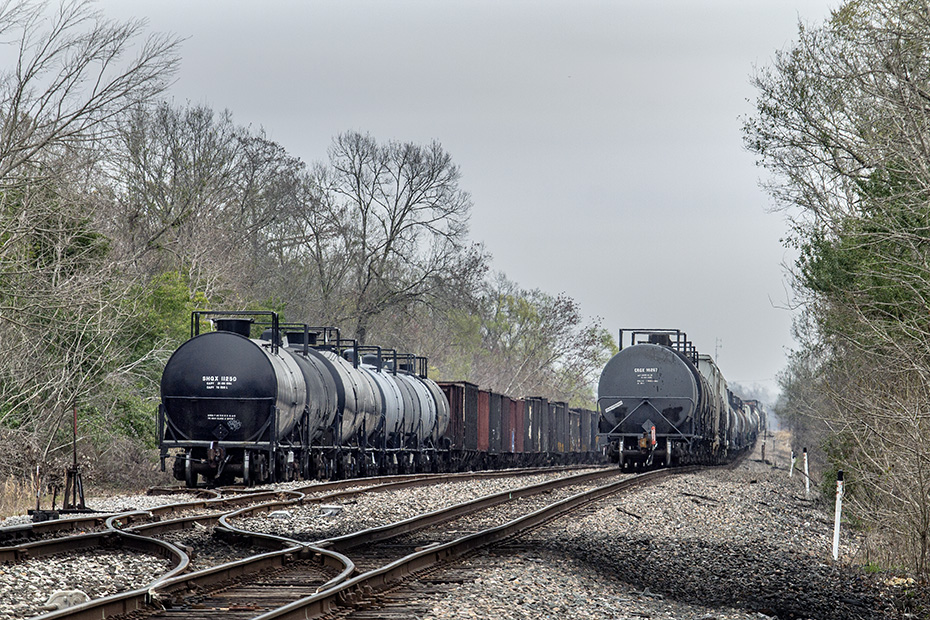 Okay, let's go get gasoline.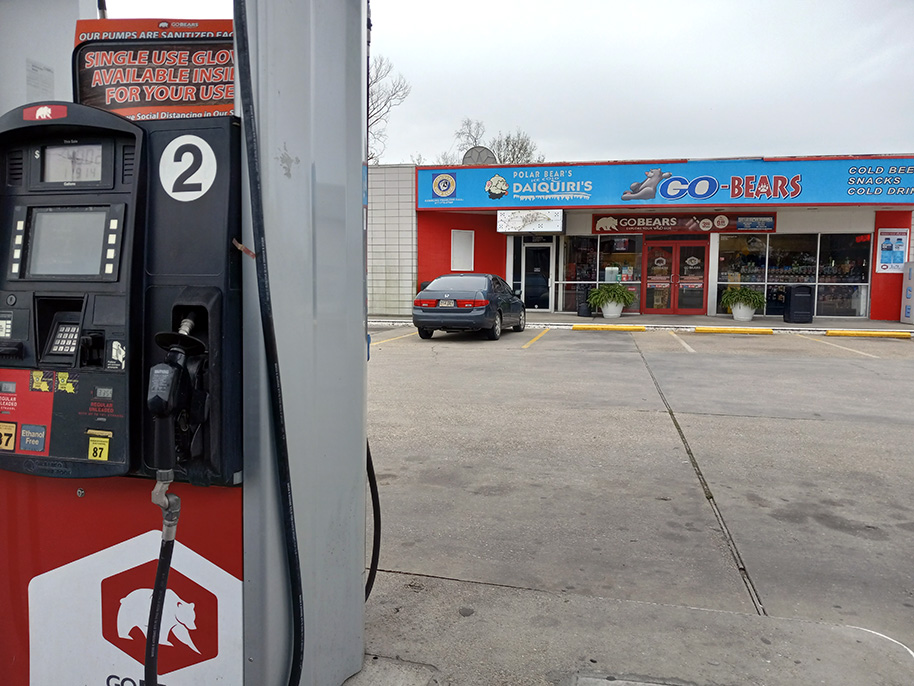 I bought plenty of gasoline at this place years ago.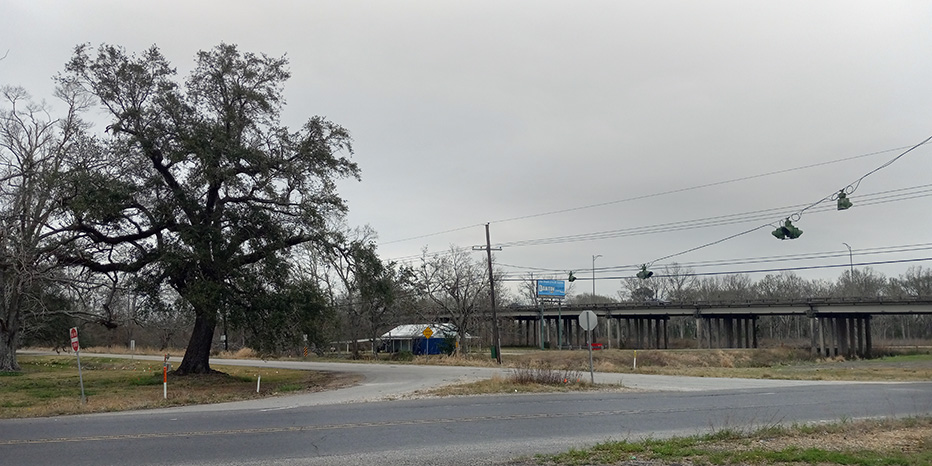 Why couldn't the eastbound train take the siding? This is why.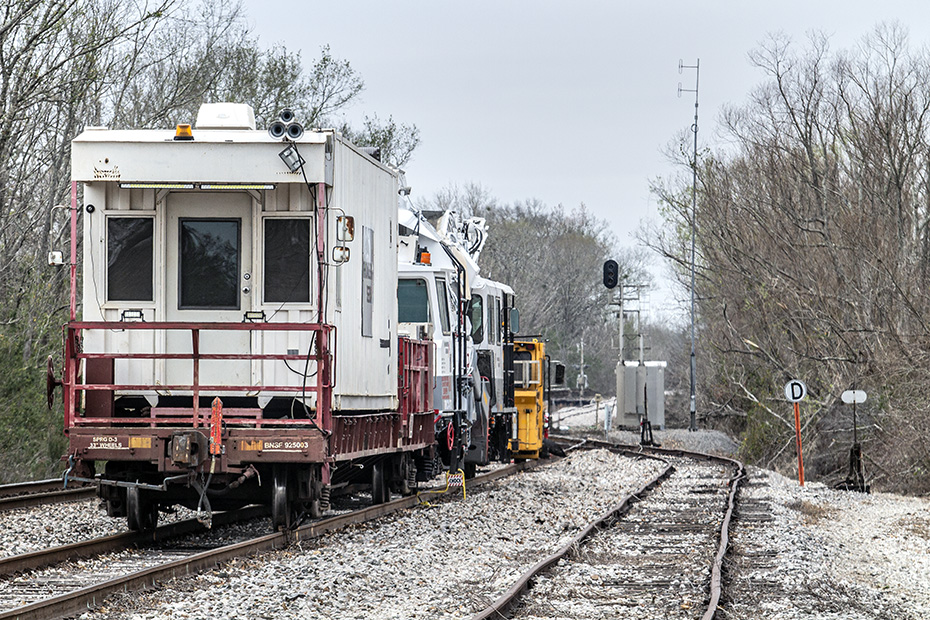 Like I said, there is a track gang working here (taking the weekend off, I guess), and I had been tipped off about this by someone working in this project.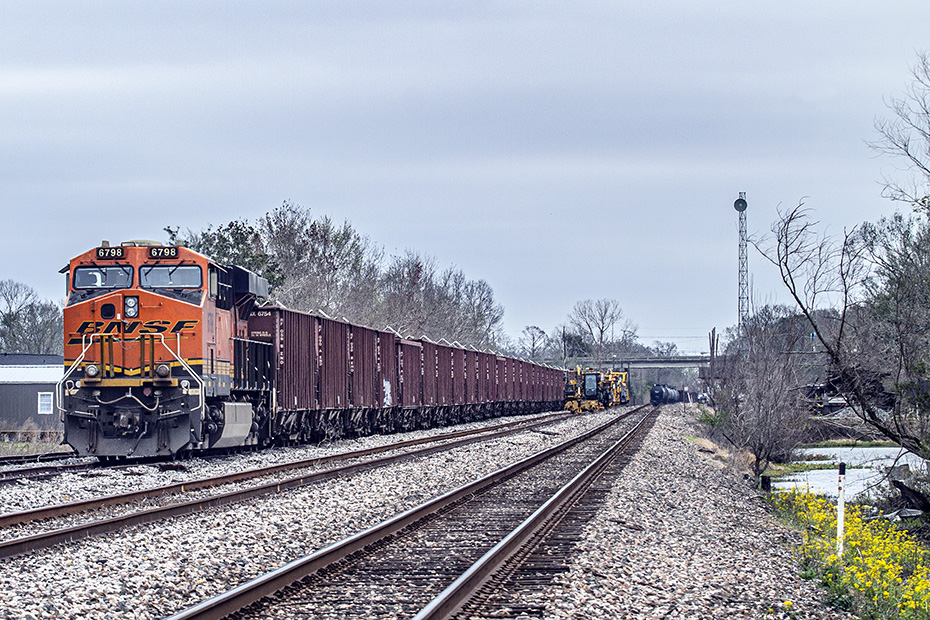 Facebook is neat, let's just say.
The Old Standby
Okay, anyway, here is the #1 at Chacahoula, and what's this?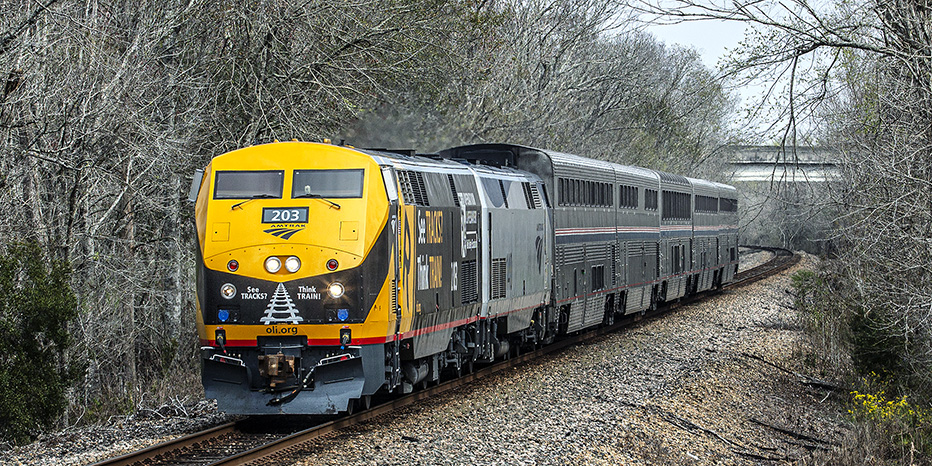 It's the newly-painted Operation Lifesaver locomotive.
Apparently, it was around here a few days earlier, too.
Hey, I am not the only one photographing trains on this line!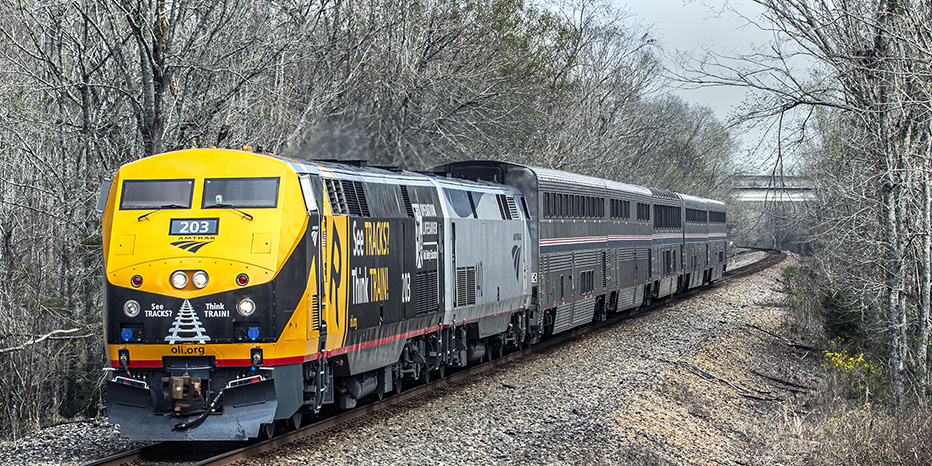 Well, that was neat, and it certainly added some color to this grey day, hence the title of today's post, though it is ultimately inspired by a song, I think a Christian song, that I remember from childhood but of which Google seems to offer no evidence. I texted Perry in New Iberia to let him know about this neat, colorful leader on a train approaching him.
Wow, I can't remember the last time that I did my classic shot at Chacahoula! I think that it was in October 2019 when I chased that patched SP GP60 leading the New Iberia Turn here.
Time To Go To Special Places
I took several pictures at a very special place that I am not sharing here.
I walked briefly around the original place.
I walked toward the Mom's Best Friend house but turned back, seeing what look like a Ford F-150 in the driveway, thinking of that was for her son. I wanted to visit, but I hadn't informed them ahead of time that I would be in the area, and I don't want to make it weird.
And I felt like I didn't have a whole lot to say anyway at least not good. So, it was weird.
It's a shame thing, really, and it's been that way for much of my life.
After that, I went to another special place, and I took a long walk in the process.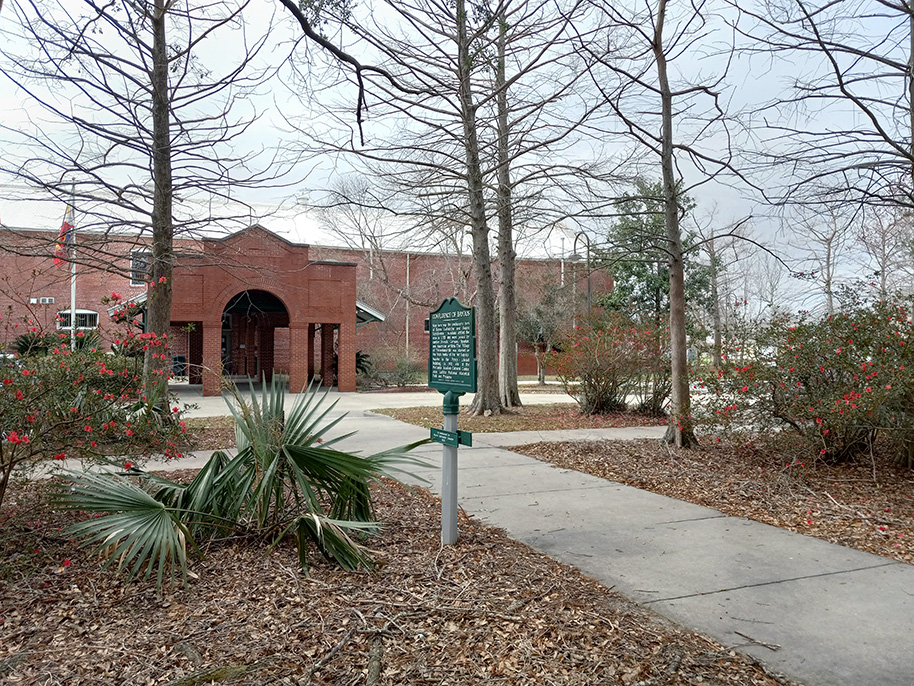 The Southern Pacific had a yard here, though that is not really the primary reason that this place is special to me.
This appears to be damage from Hurricane Ida, and I feel bad that I wasn't here to experience that.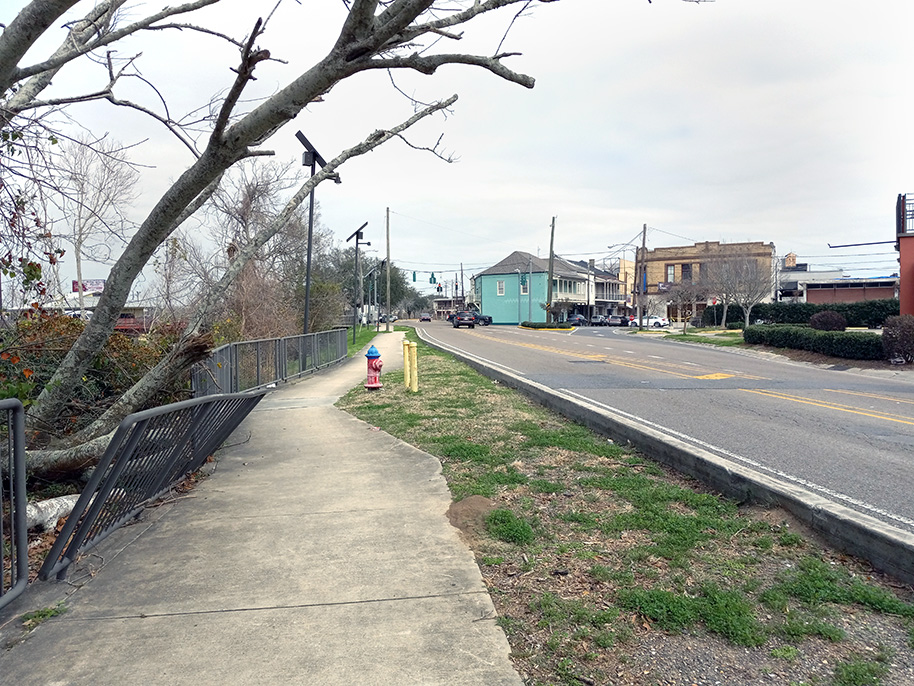 Had you been standing here 50 years ago, you would have seen a railroad track in the picture.
To the left is Bayou Lafourche, and an SP railroad track ran about where the edge of the road is and probably covered most or all of that area between the road and the sidewalk.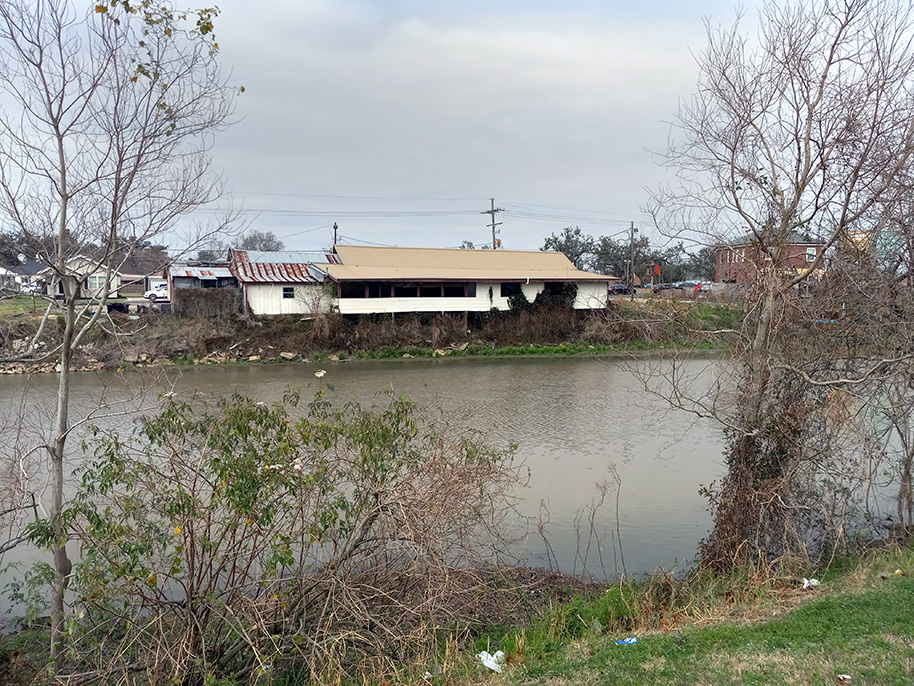 That is the old Bubba's or Bubba's II restaurant, a place that always gave me weird vibes.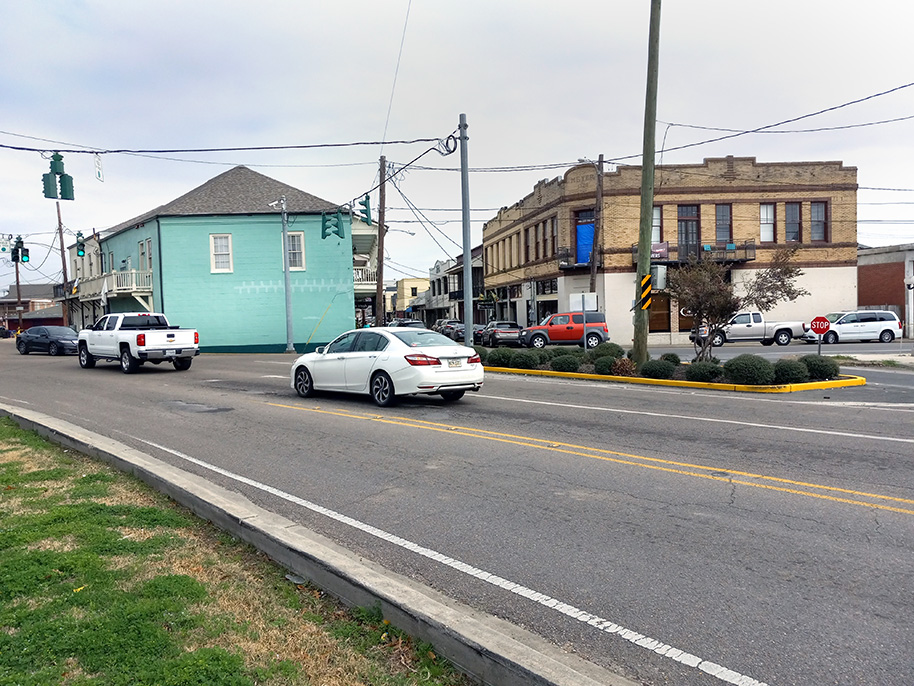 You can see the northwestern corner of downtown Thibodaux here.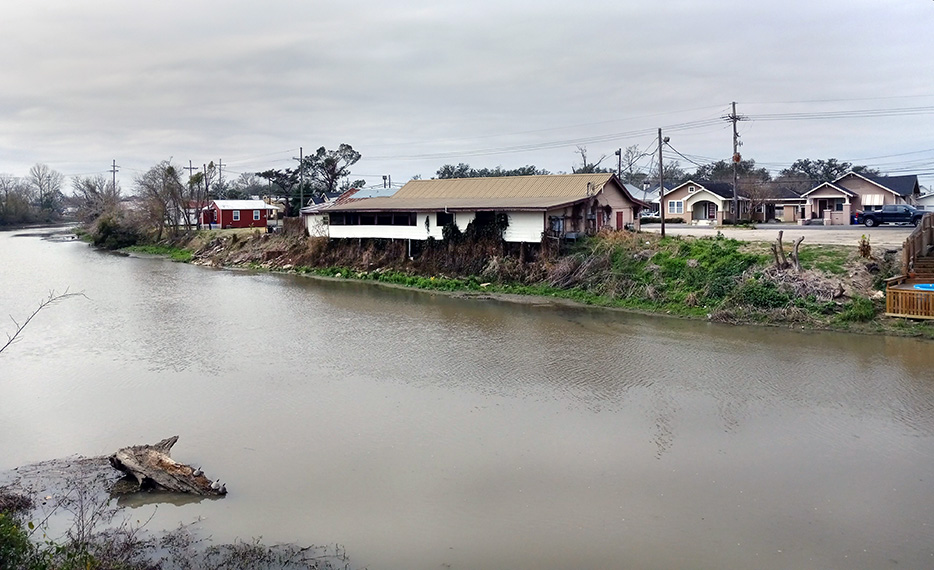 I am beginning to walk across Bayou Lafourche on the Jackson Street bridge here.
This structure, which has been there for as long as I can remember, appears to have been turned into a home.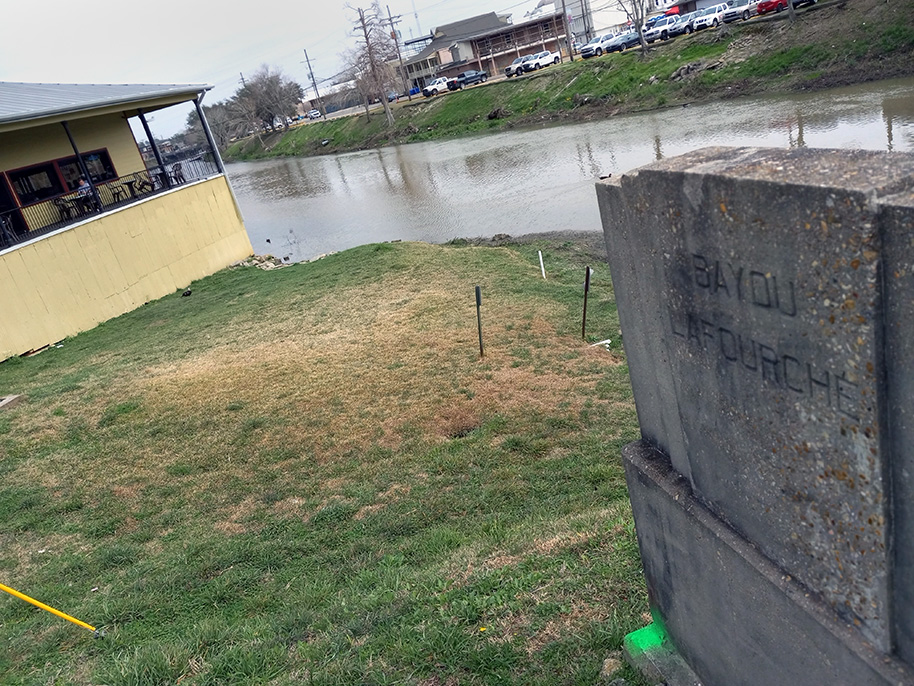 The end of the Texas & Pacific Railway's branch to Thibodaux from Donaldsonville was here.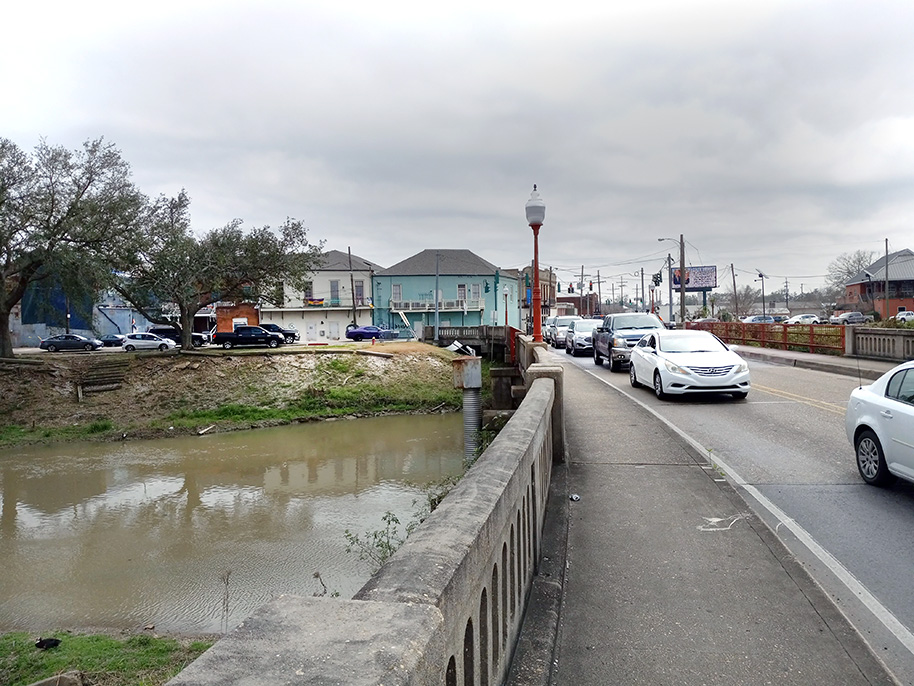 Yes, there were SP tracks a short walk across the bayou from T&P tracks, but the nearest place that they might have linked as up the bayou in Napoleonville, and maybe even just at a sugar mill.
Walking through downtown Thibodaux was special; I just feel so sad and so many ways.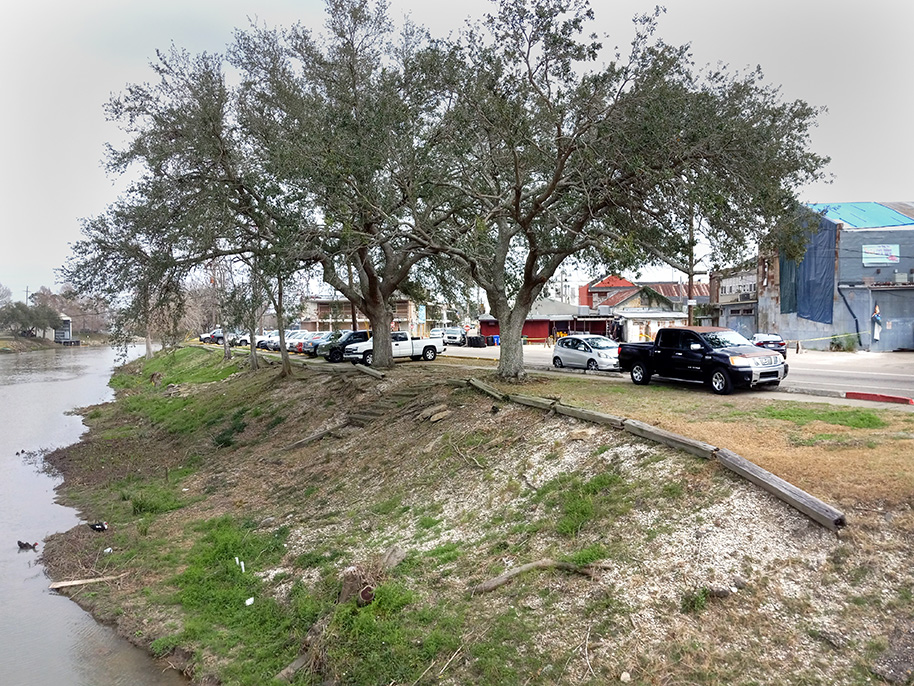 That view reminds me that learning that I was autistic helped me stop blaming my parents for plenty of things, which was very liberating.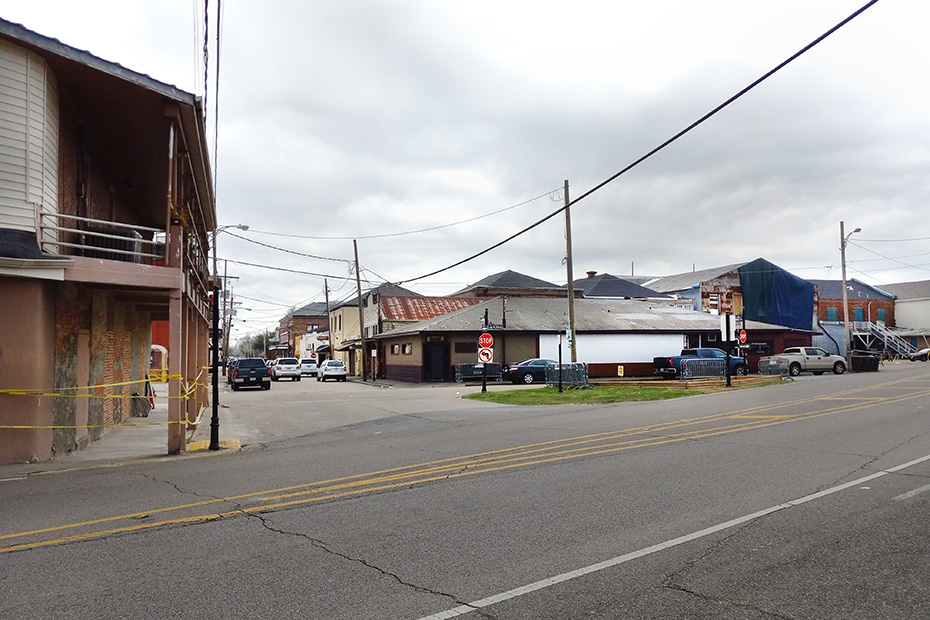 It's weird, looking at this scene all these years later, focusing on the 'objectness' of it all – It's not weird at all, actually!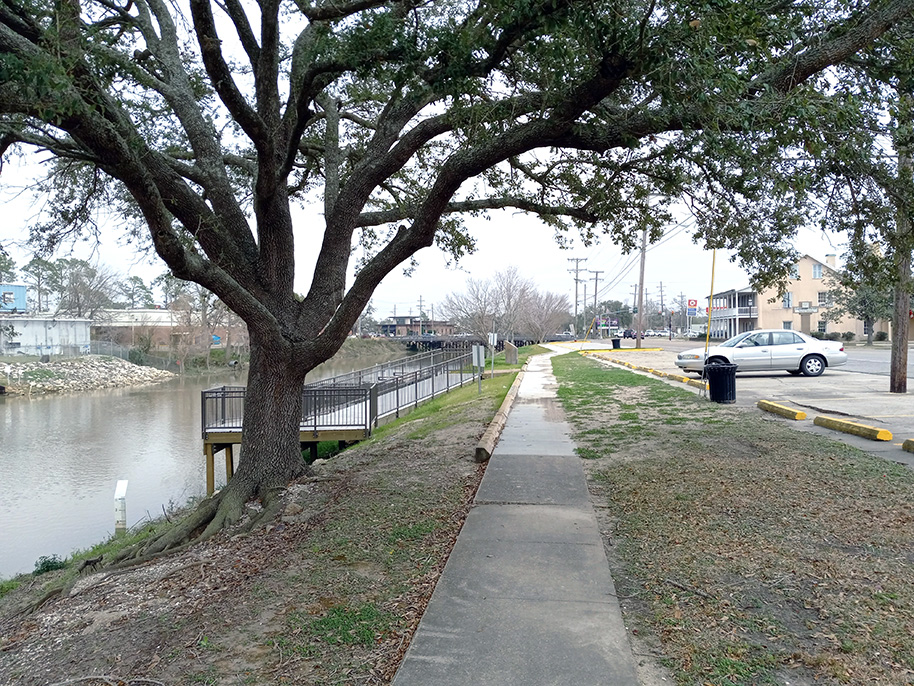 There is a new dock and boardwalk along the bayou, which would have been much higher in the steamship days.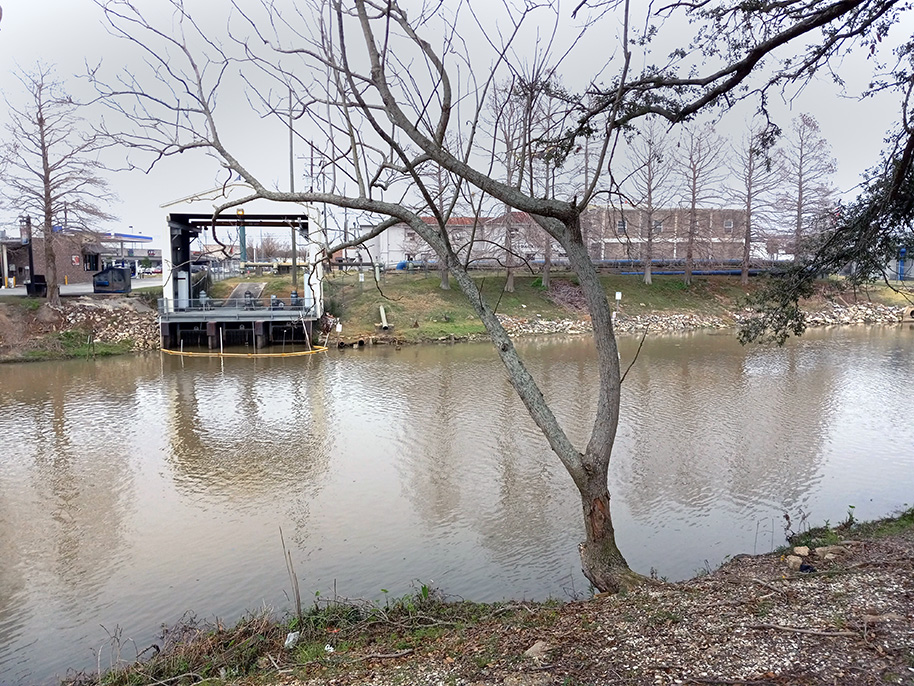 Looking at the pictures of the new dock and boardwalk and thinking about the importance of the water plant to my and everyone else's success, I think about how I could neither stay in this place or move to somewhere really cool. I think, then, about the wanderlust-is-a-vice-not-a-virtue article.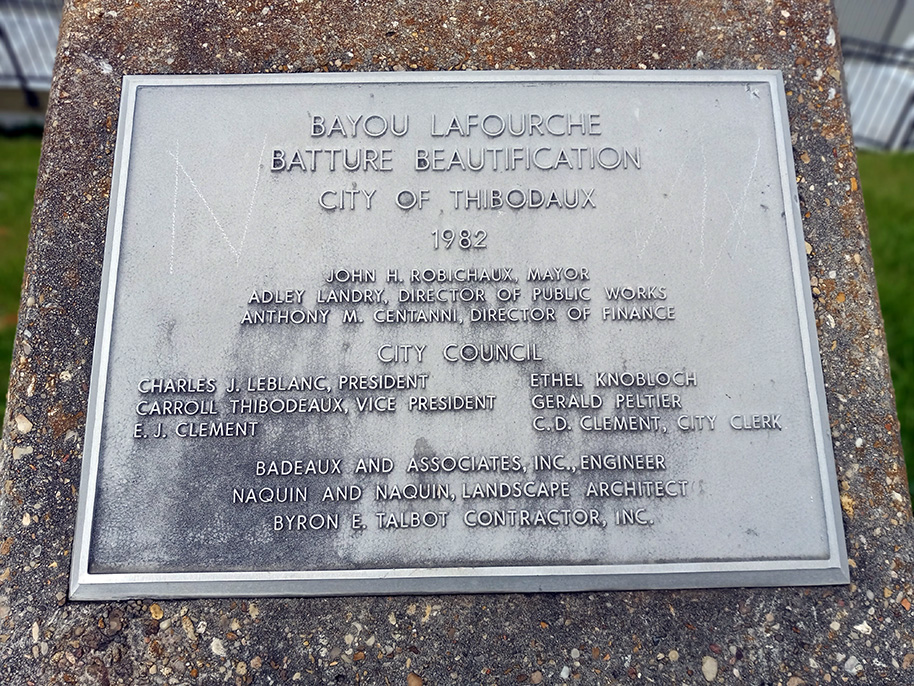 At one time, this was the location at which steamships would interchange freight with the railroad.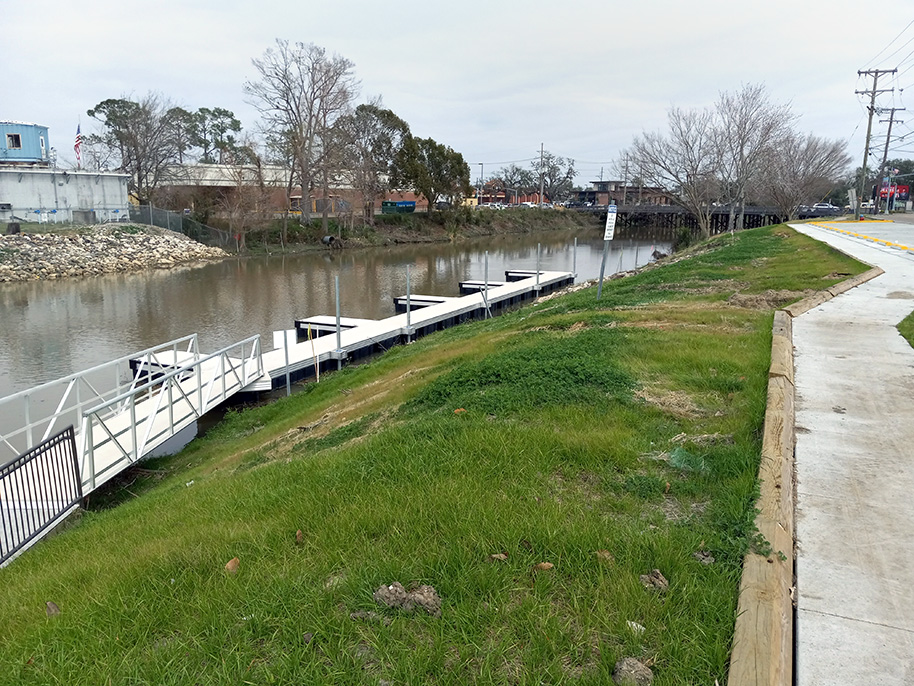 There were railroad tracks on the southern/western bank of Bayou Lafourche in Thibodaux as late as the 1960s, though I really do not know when they were removed; it's possible that they were removed before the Jackson Street bridge was built in 1940.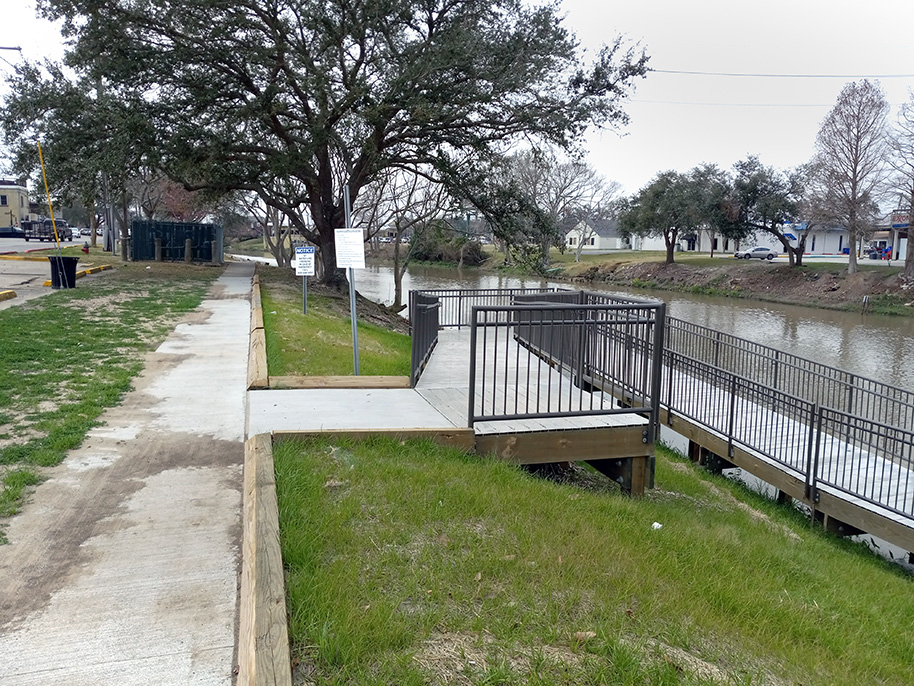 It would have been really neat to have seen some of that.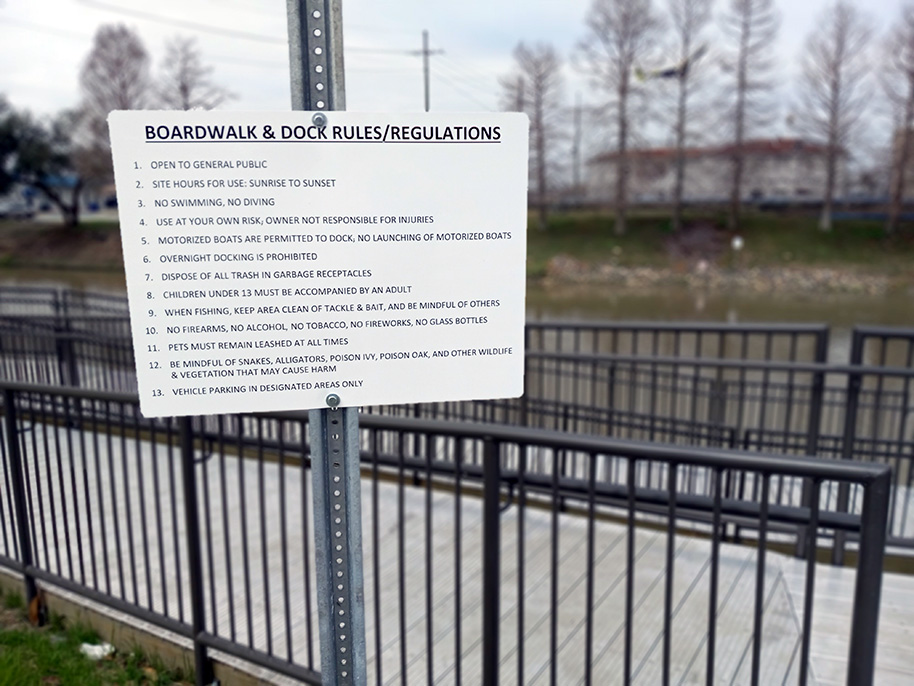 I like the tree effect here.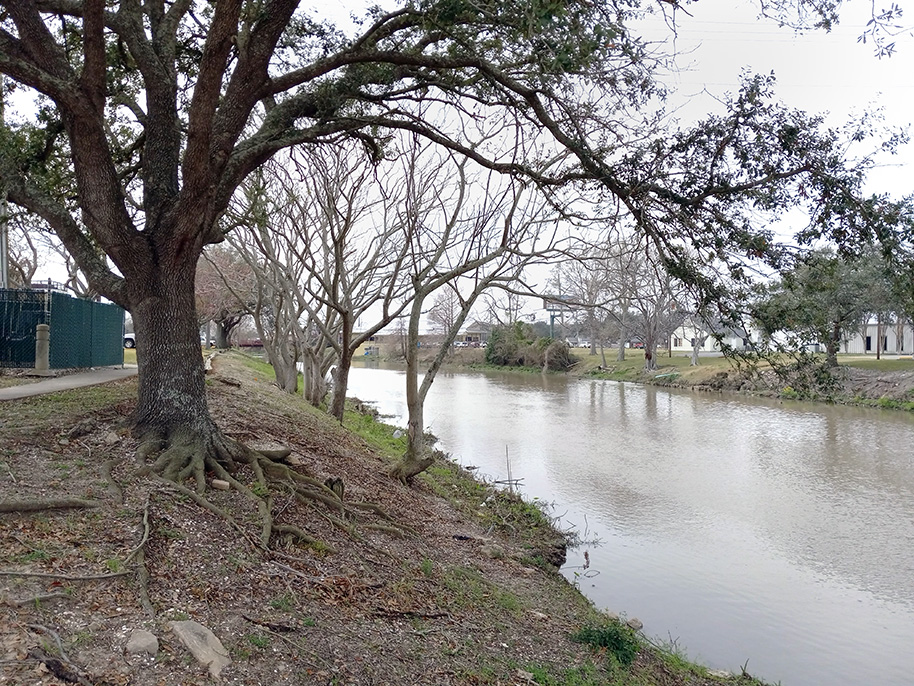 Let's walk down there and check this thing out.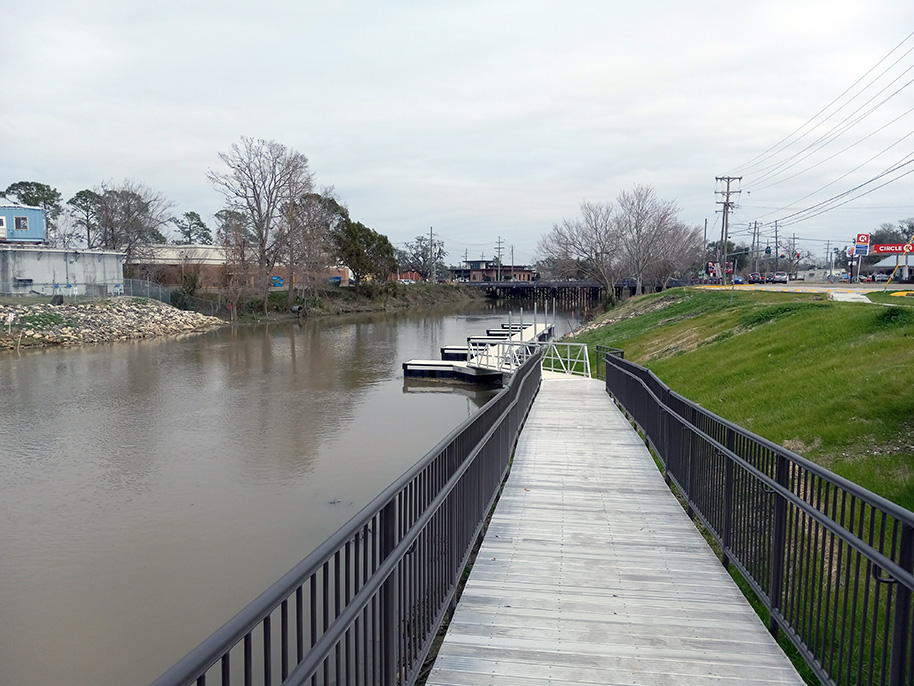 Where that Walgreens is was a Mr. Cook restaurant a long time ago.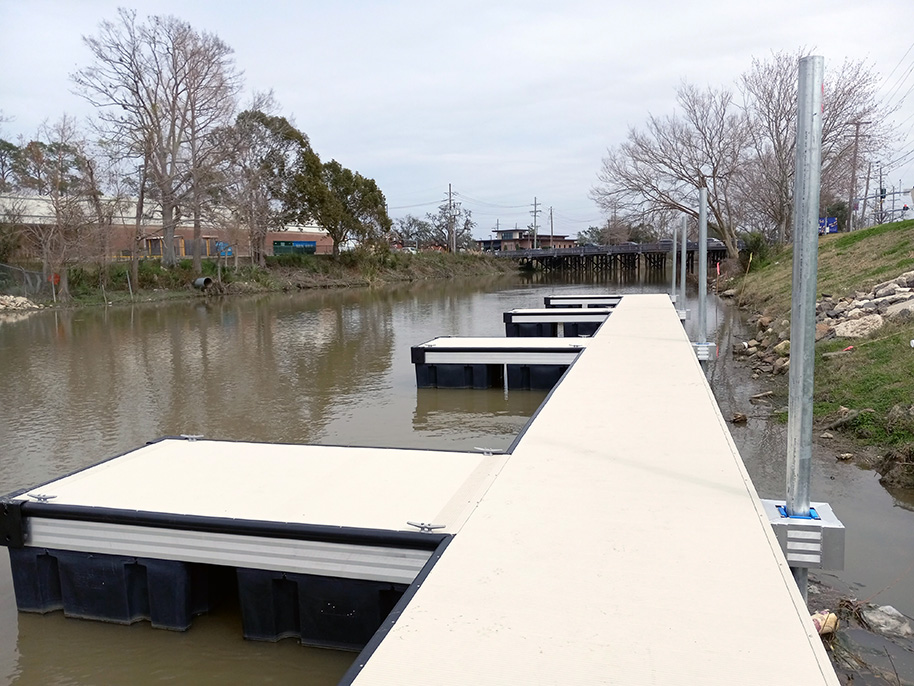 Apparently, that was some kind of chain? What happened to it?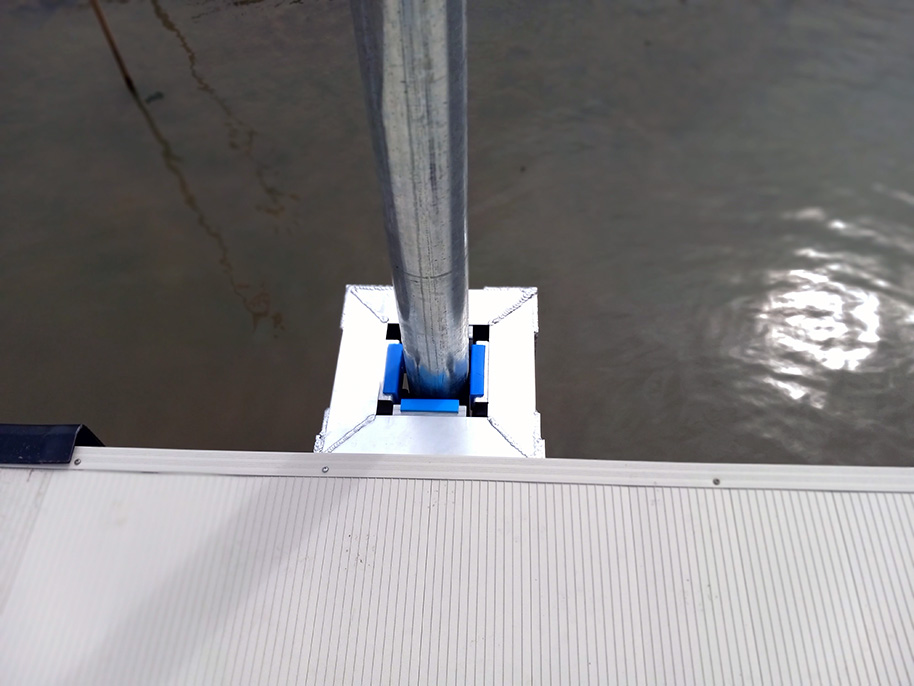 I really wish that I had a way and a reason to use this dock.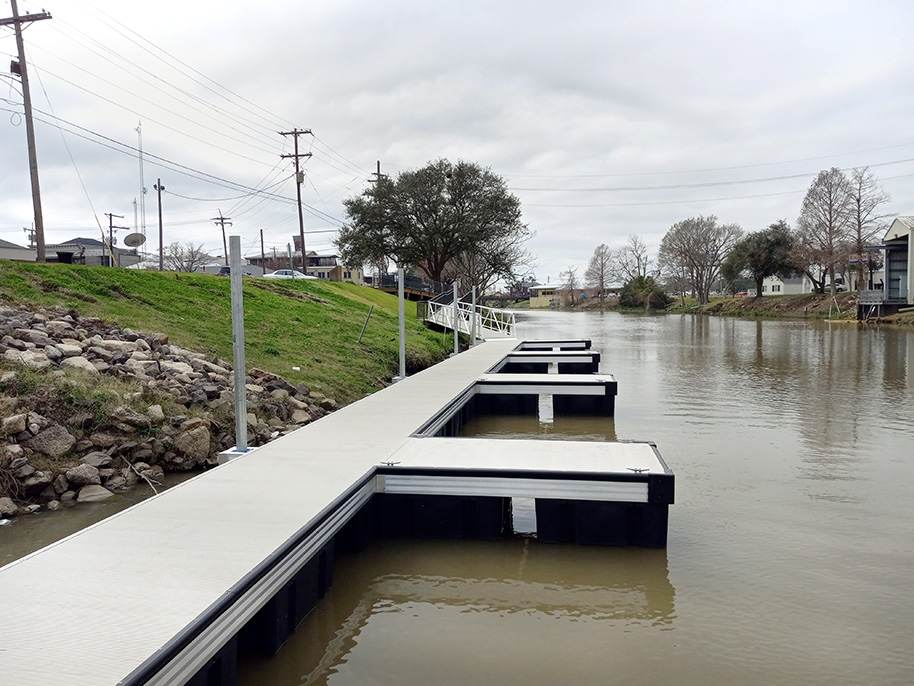 This building once served as the administrative office of what had been the port here.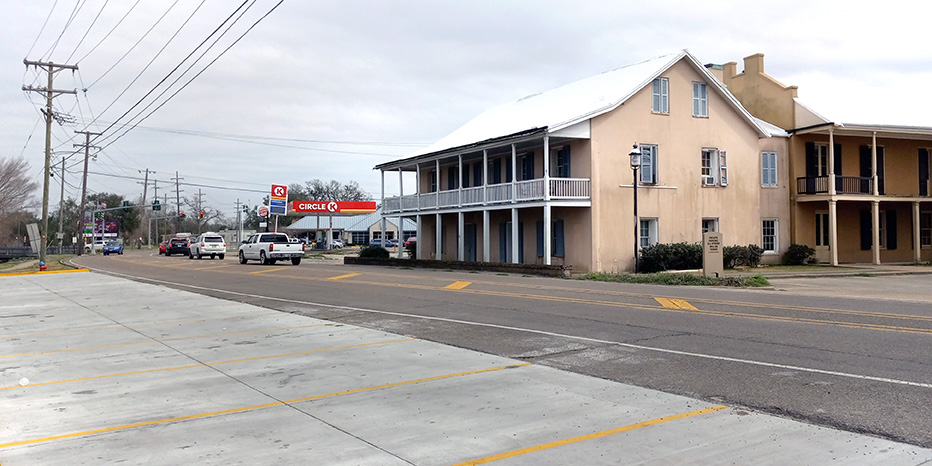 This is Canal Boulevard, and you can walk across the bayou here.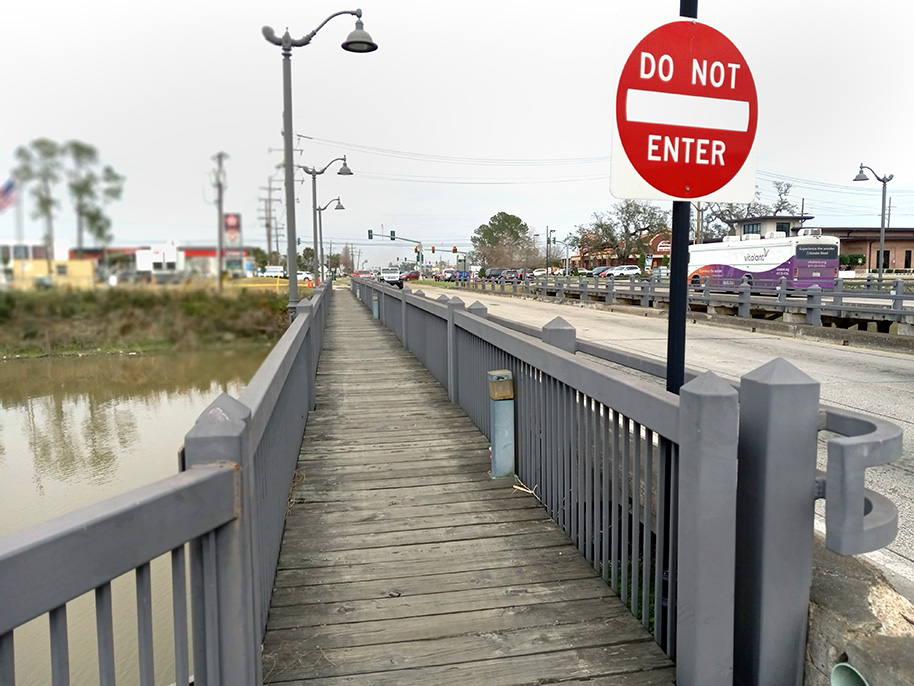 Let's look to the west before we go south.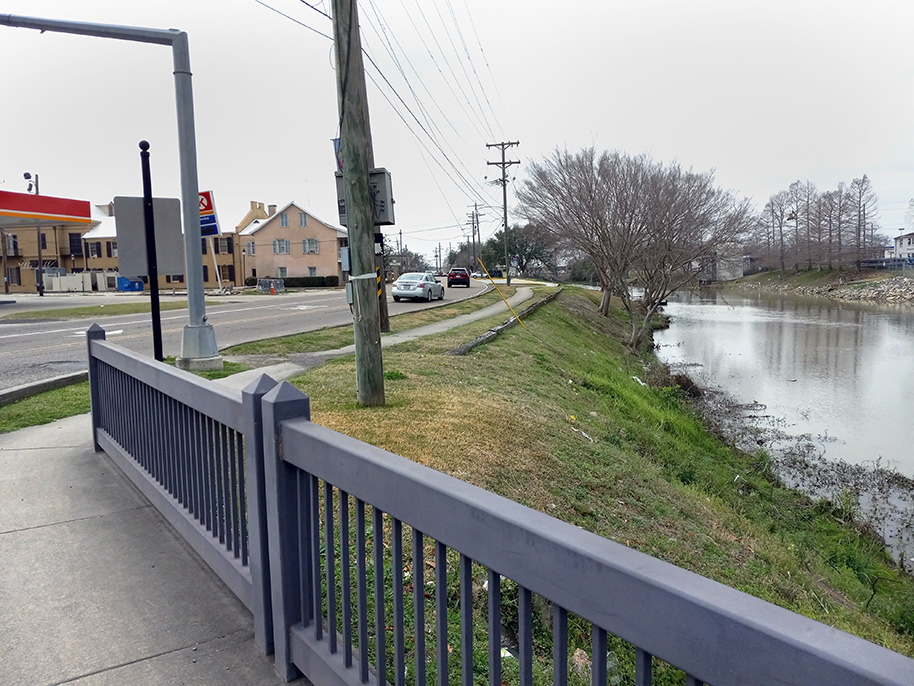 I am not sure what this building's function is now, but I think that it may have been a bank at one time, and I have memories of being inside of it.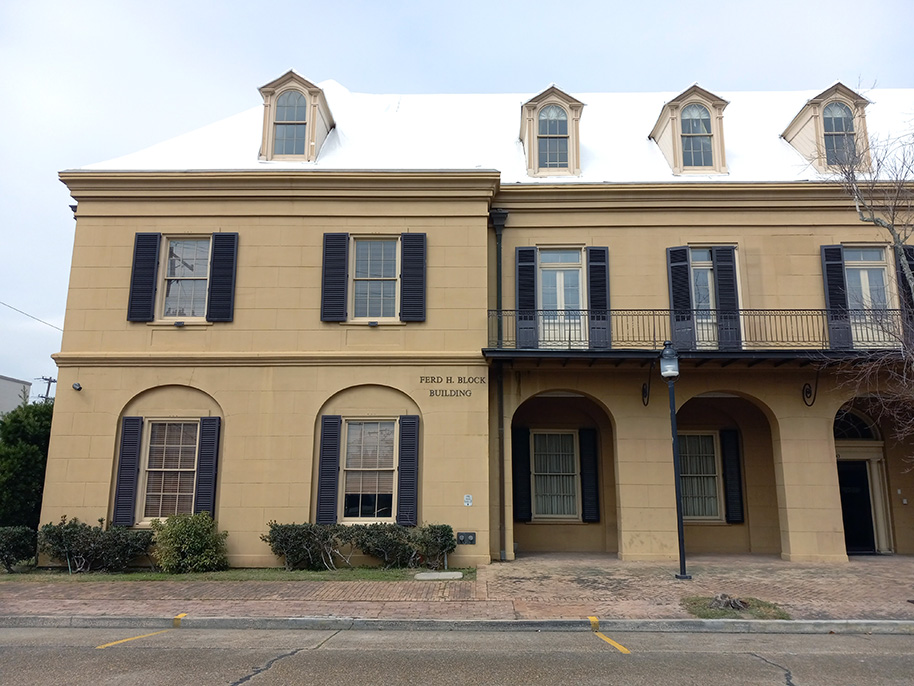 Those were different times!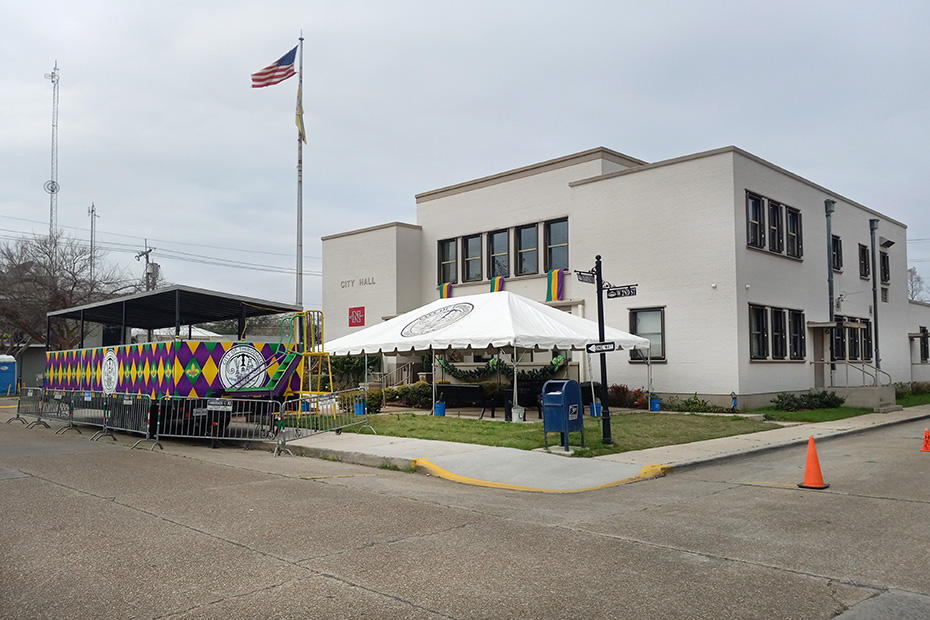 Yeah, Thibodaux is getting ready for the parade, which I think is tomorrow. There may be another one on Tuesday.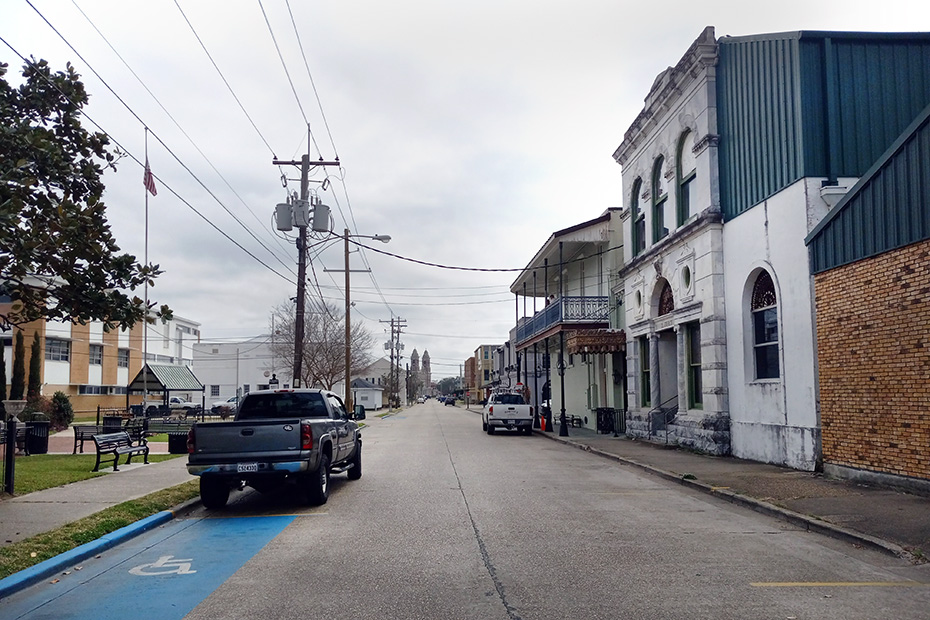 So, this is interesting. Green Street is known for the views of the spires of Saint Joseph Co-Cathedral right down the axis of the street.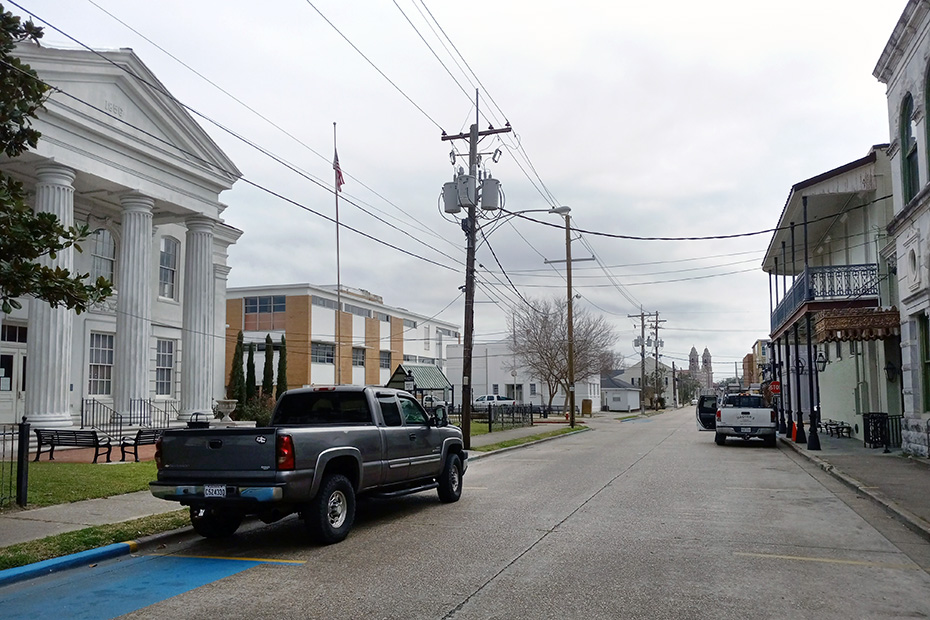 The above two pictures make me think of so many things, that feeling that everybody there is petty probably is not accurate, that real people have to do real interactions to get real things done, and that, even though I neither actively seek out and listen to nor inadvertently hear choral music, it still has a huge influence over who I am.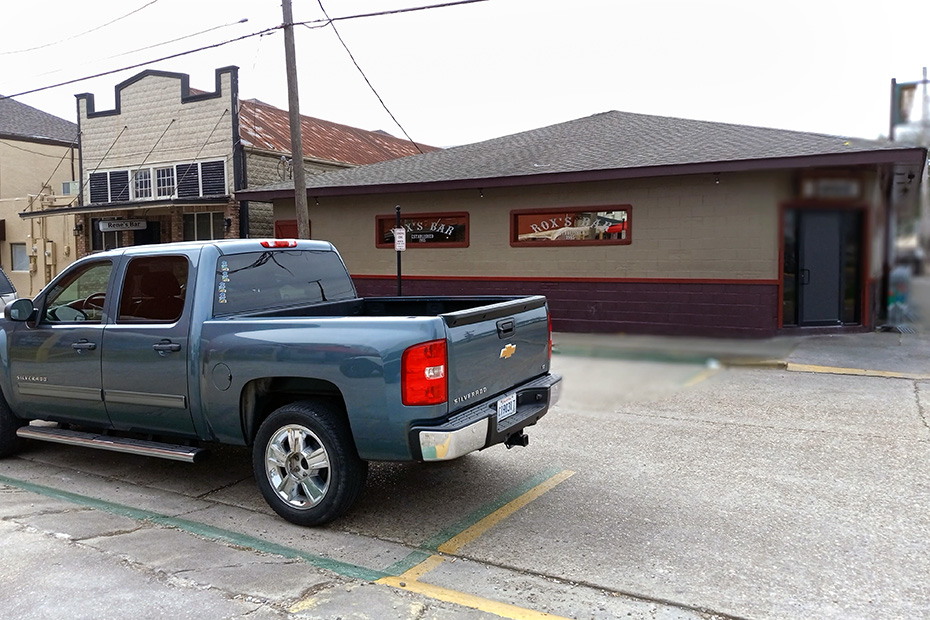 I told you, I am touched, but you already know.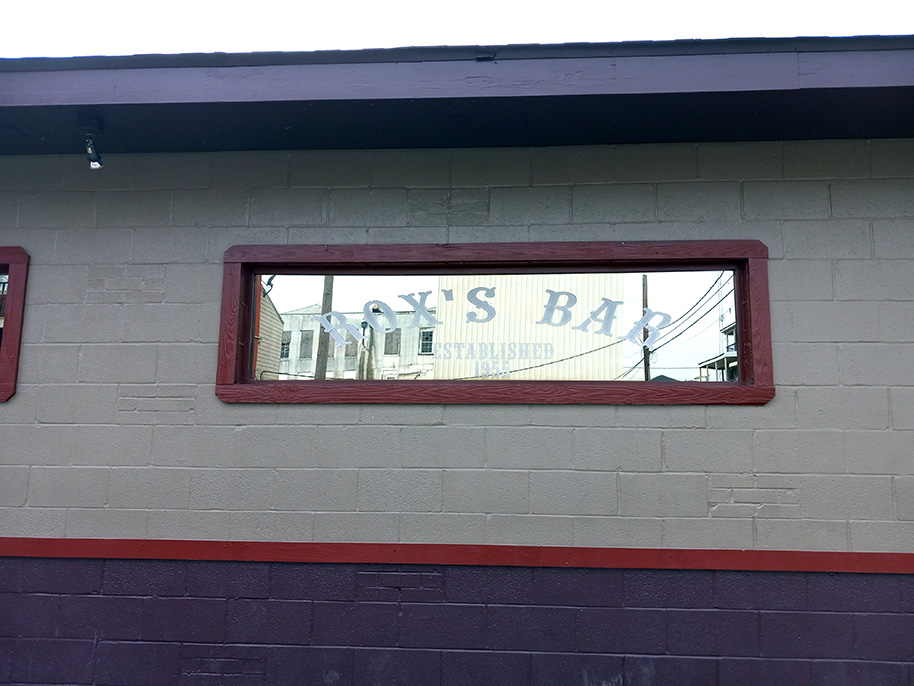 Let's just say that I spent plenty of time in this area, but not as much as plenty of other people – many of whom spent plenty more money per outing than I did – did.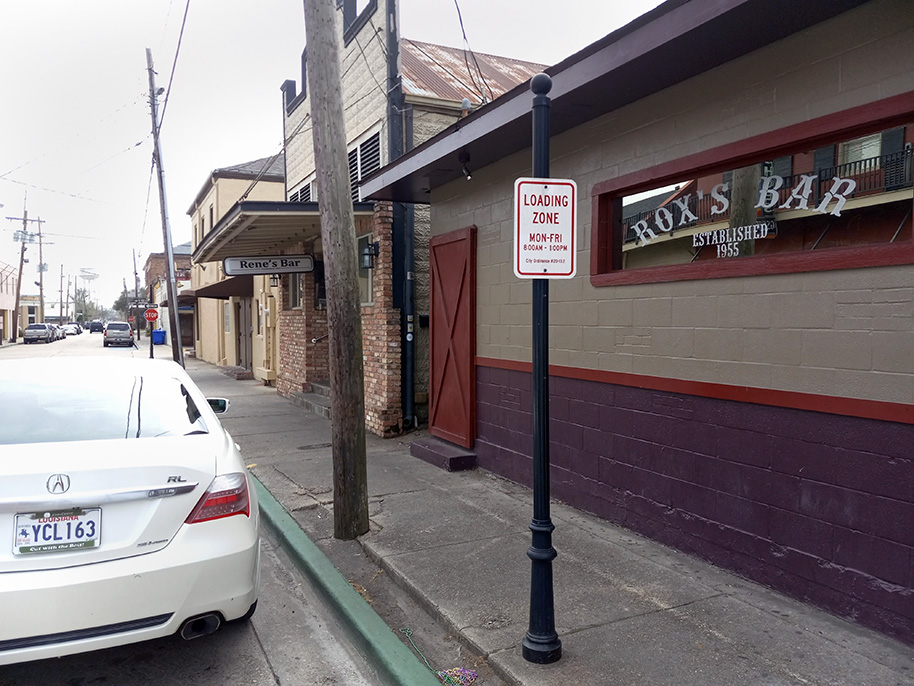 Being here makes me feel old and detached.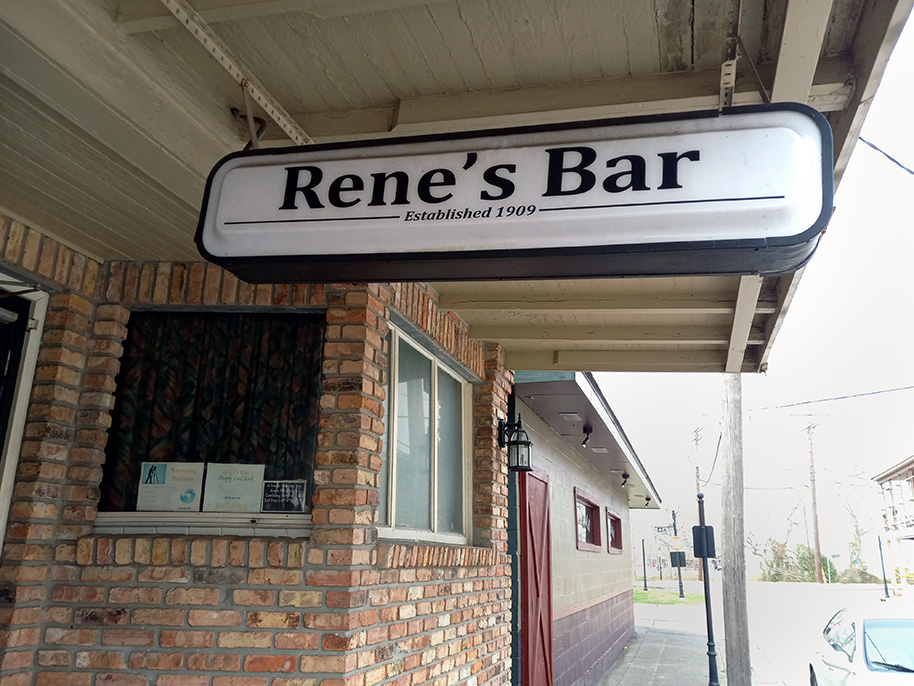 That brick was not there the last time that I went inside that place.
Furthermore, since I have last gone inside that place, I have gained a new reason to be terrified of ever re-entering it. It's a shame thing.
Man, it's really weird to be 'foaming' this area, like I am some tourist of my own past in places where I don't live anymore.
I don't know if I ever went inside of this place.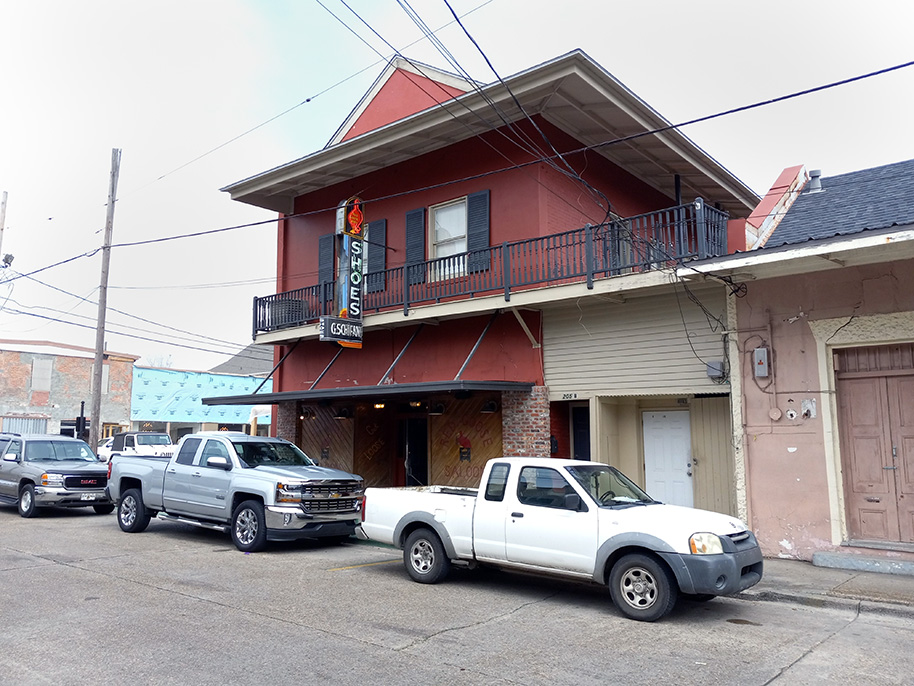 I get a "same old sh*t" feel here.
Okay, this place was actually very important to me.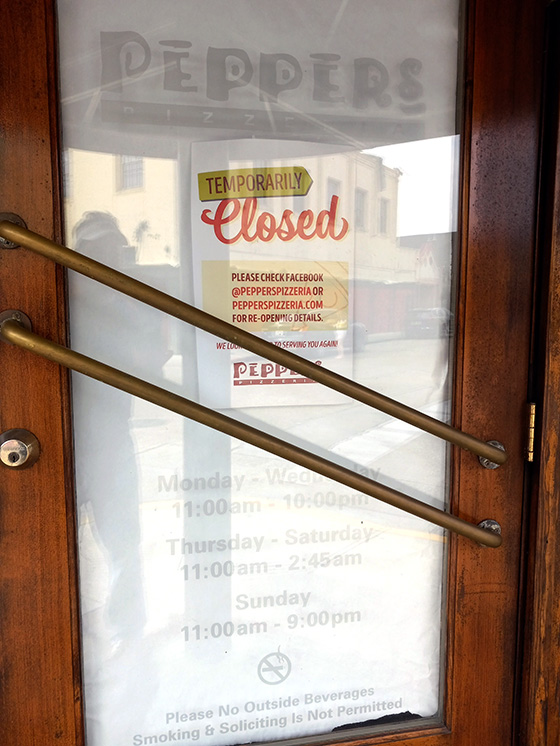 This is a place that was significant in a slightly-more-recent way.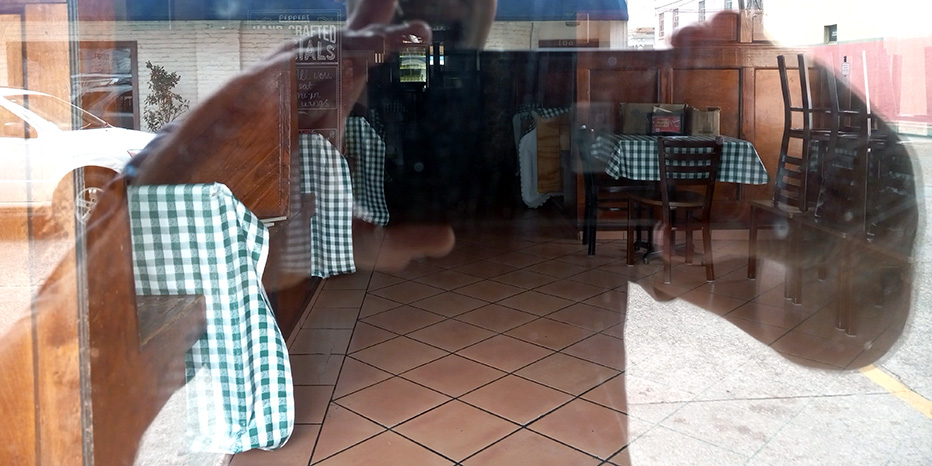 Damn, I feel old, which really hurts when you feel like you don't have much to show for it anymore.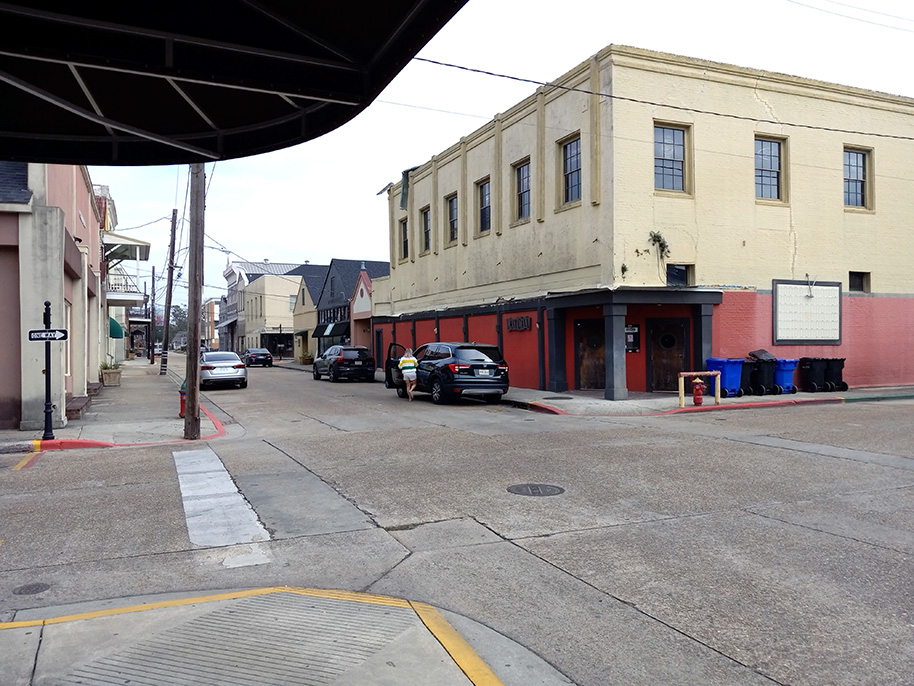 I deliberately intentionally left that concrete curb at the lower left in the picture because it is so significant.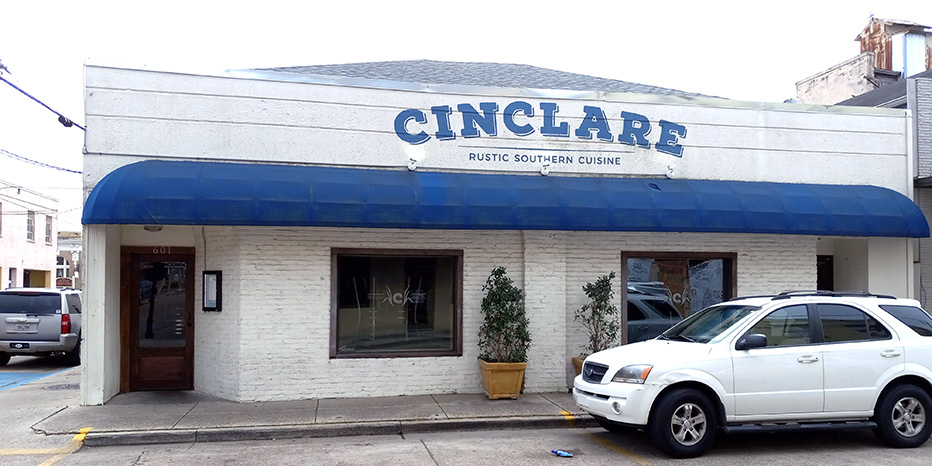 It's a bitter sweet symphony indeed. There was so much hope and joy at this street corner, so much history.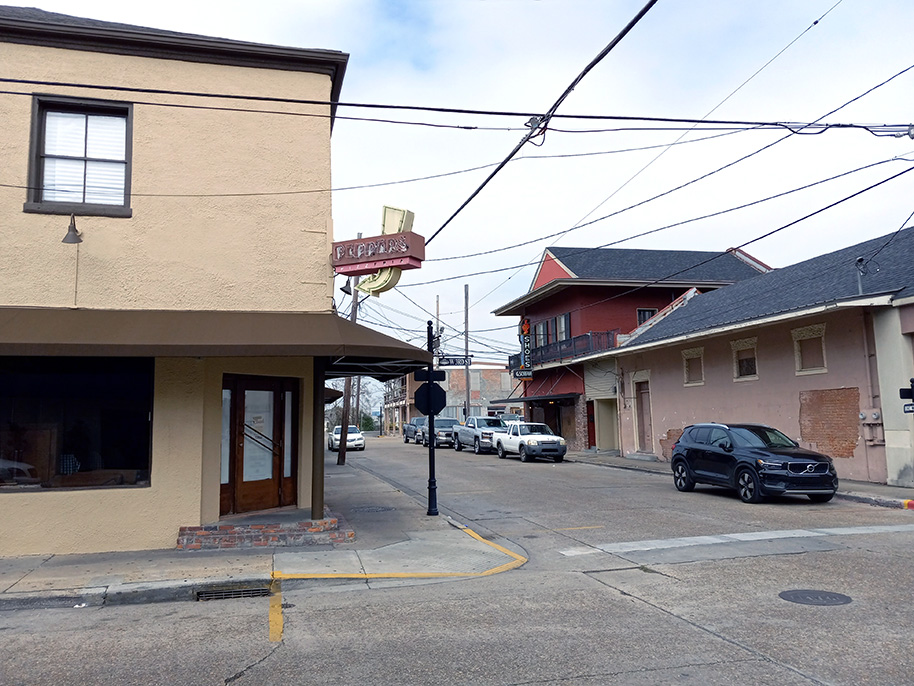 That picture is a bit of a self portrait, in more ways than all of these image are.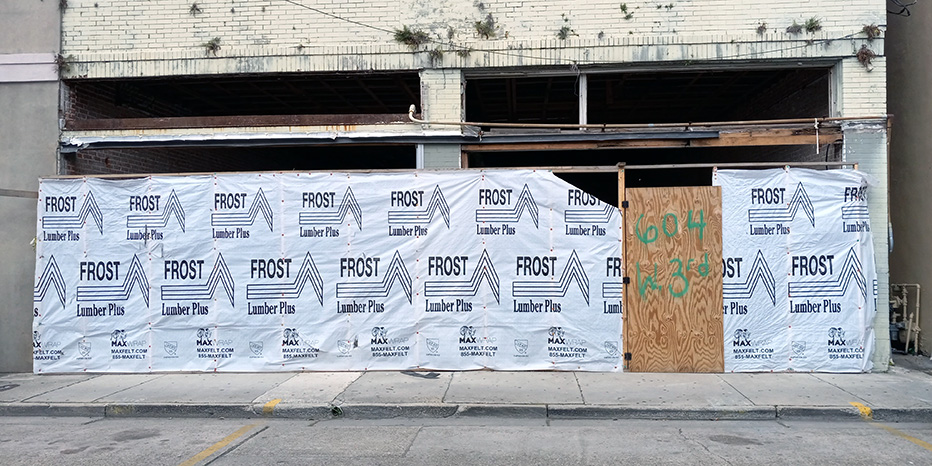 Walking through downtown was almost kind of special I just feel so sad and so many ways.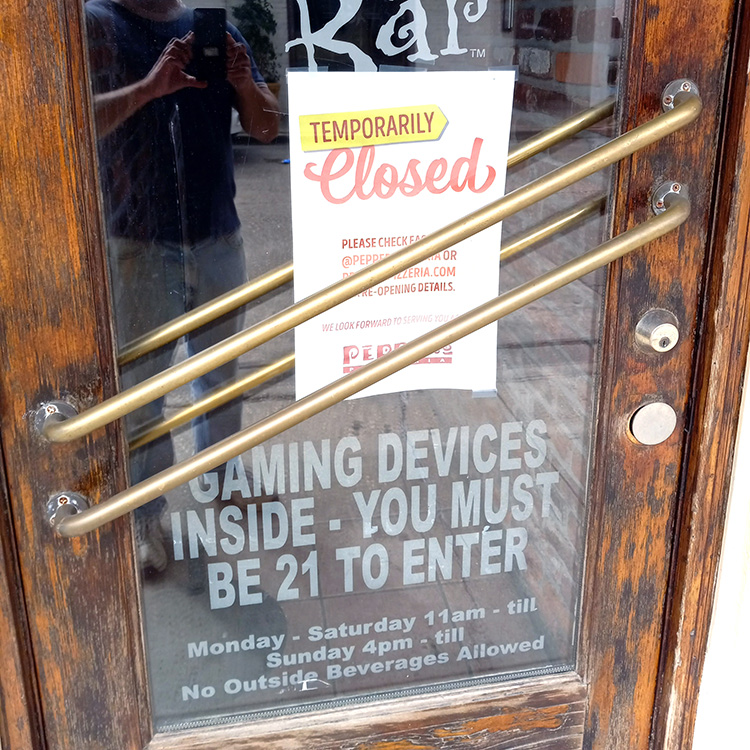 I get it now, that I'm autistic, that this is why I experience the world this way.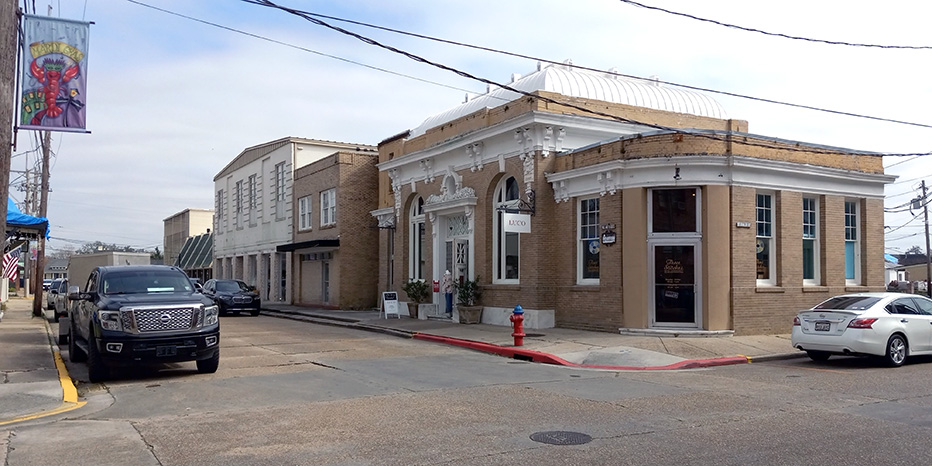 It's like being of a different species in your own home town.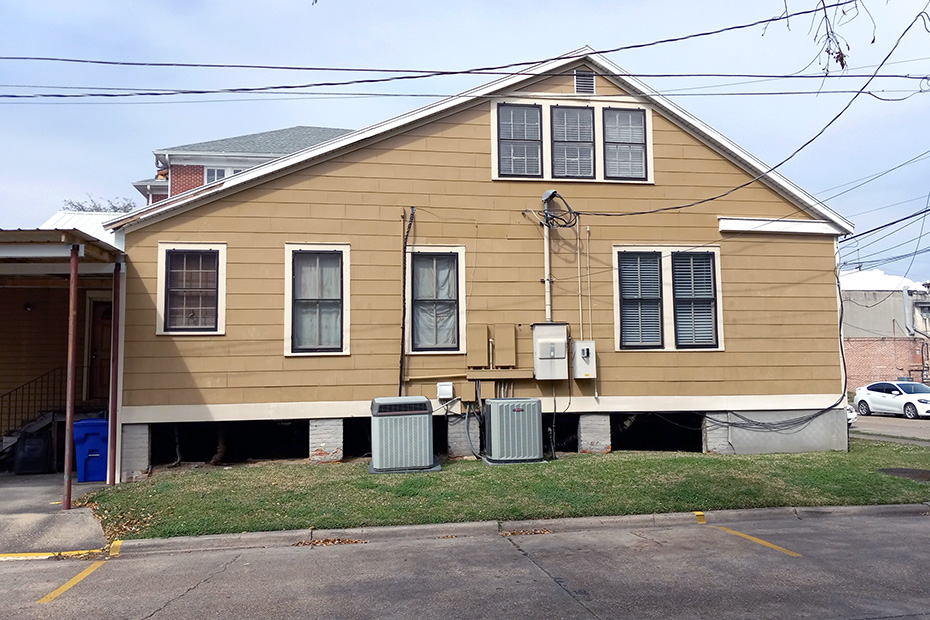 It's it explains why I've felt like I've never had a tribe, never really been part of a tribe.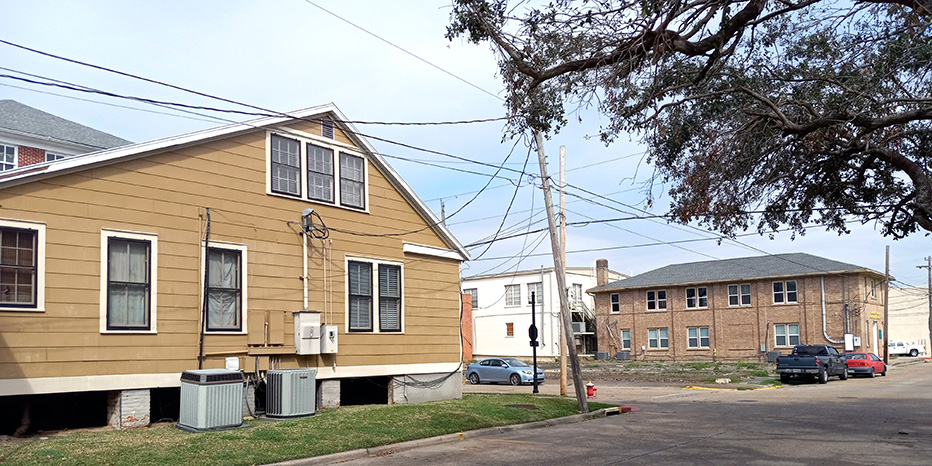 This structure also has significance in my history.
Anyway, almost back at the truck at the old library, I got a view down Church Street.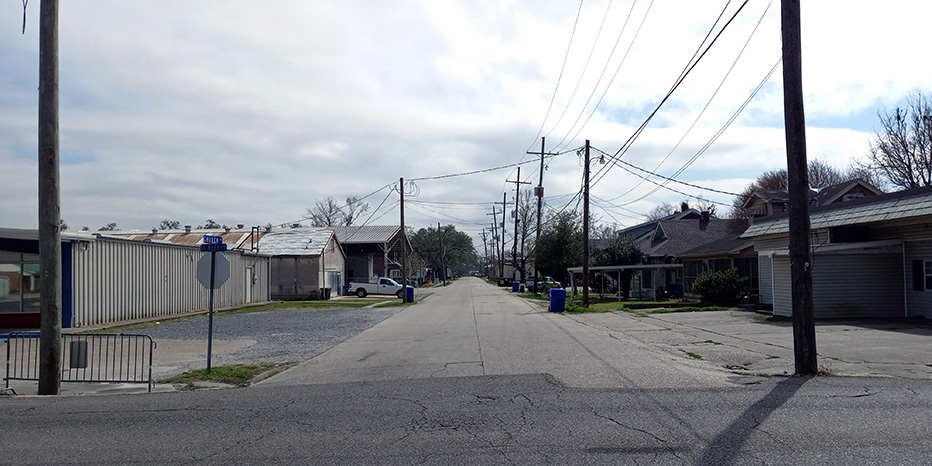 The Southern Pacific railroad line to the bayou ran down this street, but that was before I was born, and I have seen no pictures of the track here.
I got back in the truck and this time used it to get across the bayou to go eat at what is probably a safe place for me to eat alone in this town and is also relatively exotic to me, bringing back memories of my time in New Orleans.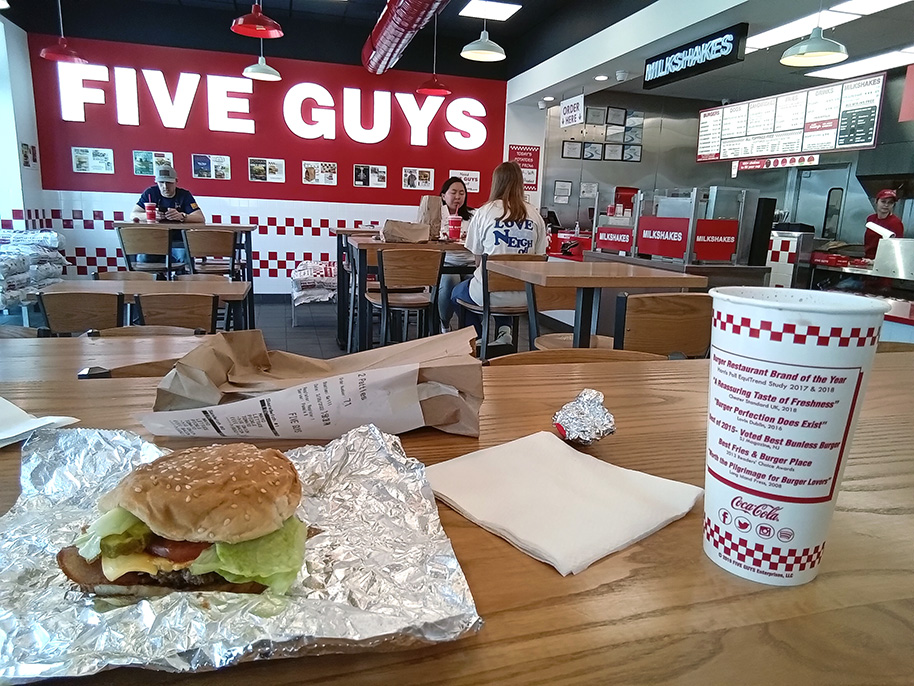 It was good!
The toughest part of the day is done.
Back To The Railroad
I don't even know why I made this outing today, but here I am back at Schriever, which supposedly owes its existence to the fact that, when the railroad was being built, the people of Thibodaux wanted railroad service but didn't want a railroad mainline and all of the problems associated with railroad mainlines in its town.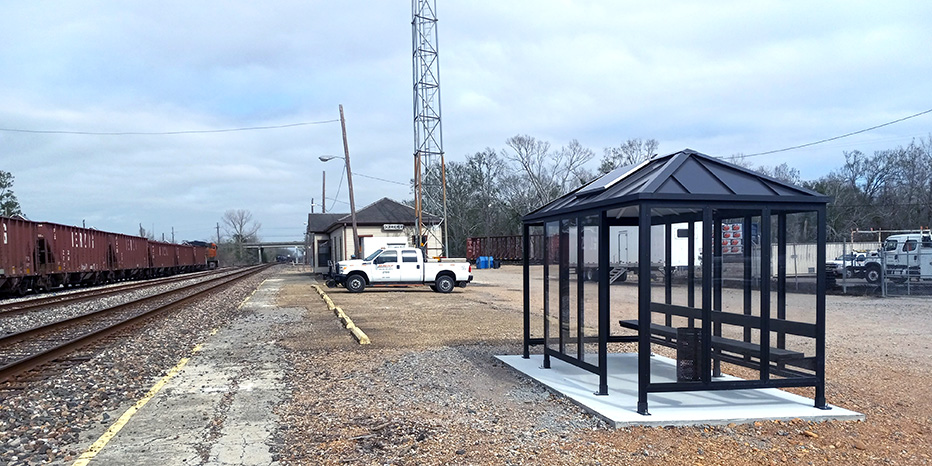 That's the new Amtrak passenger waiting area, and let's get the view from inside of it.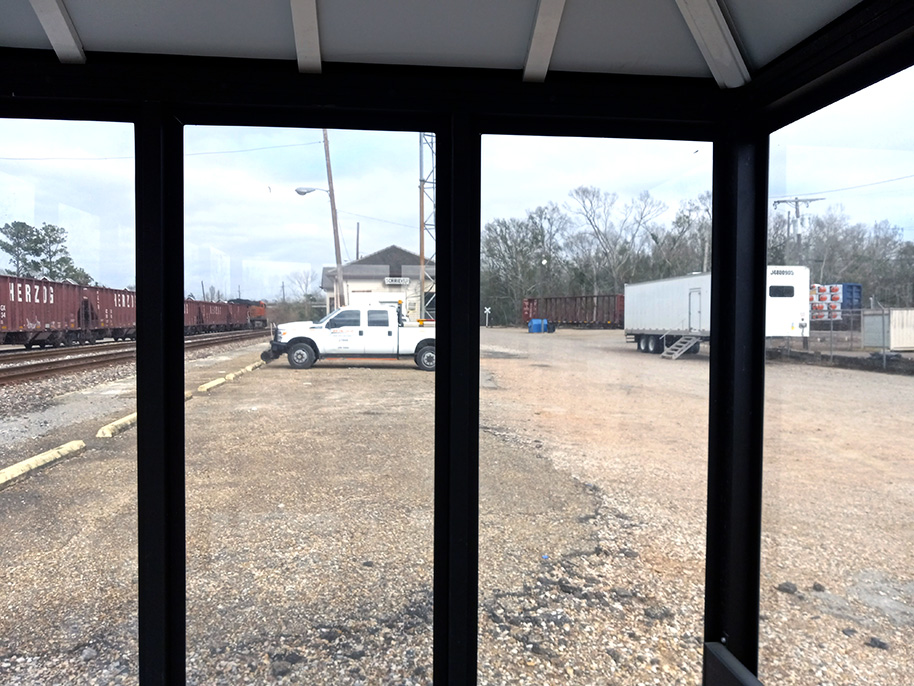 Here is a really iconic view for – and, really, of – me personally.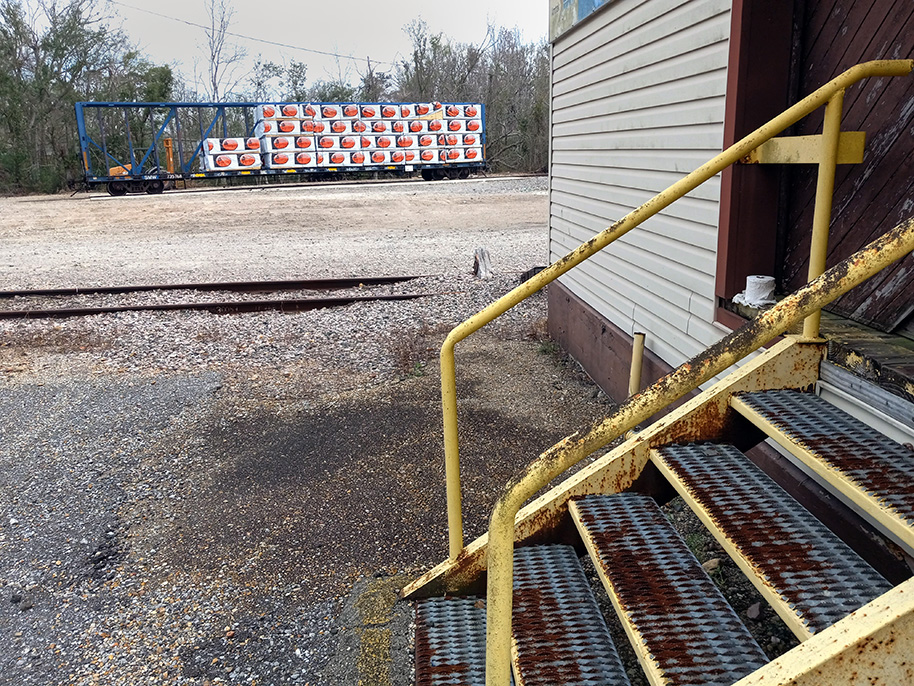 On that partially-unloaded SMW 735768 is some Sigurdson 2×4 studs.
So, I guess that what I am doing here is waiting around, pondering life and whatever, while waiting for the westbound Union Pacific New Iberia Turn.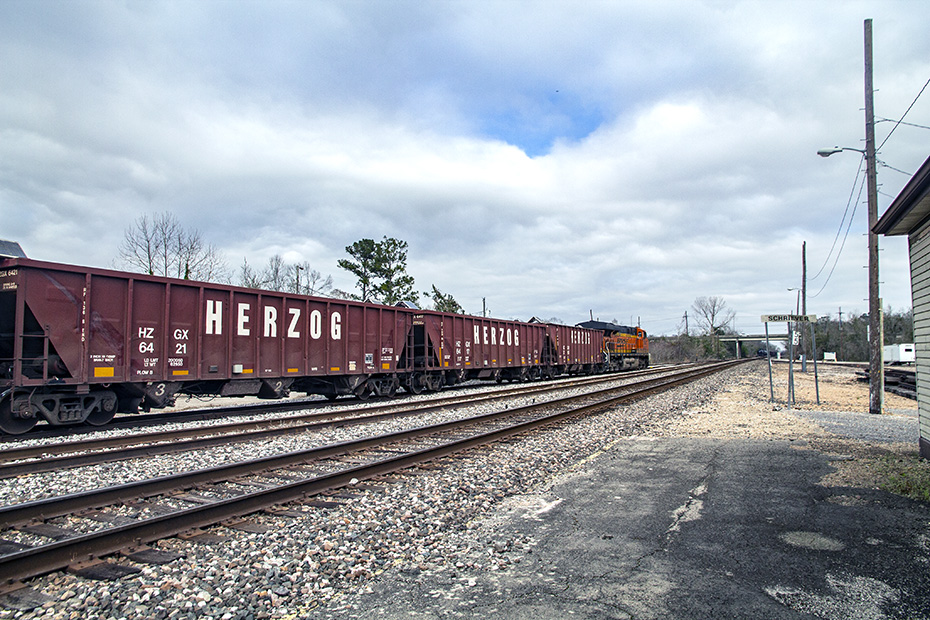 I would not see it, but I did not know that at the time that I took these pictures.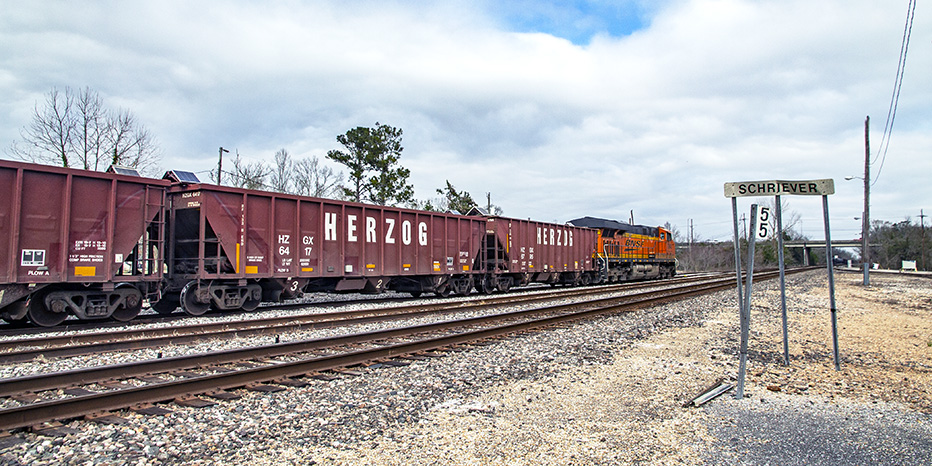 This is sacred ground for me.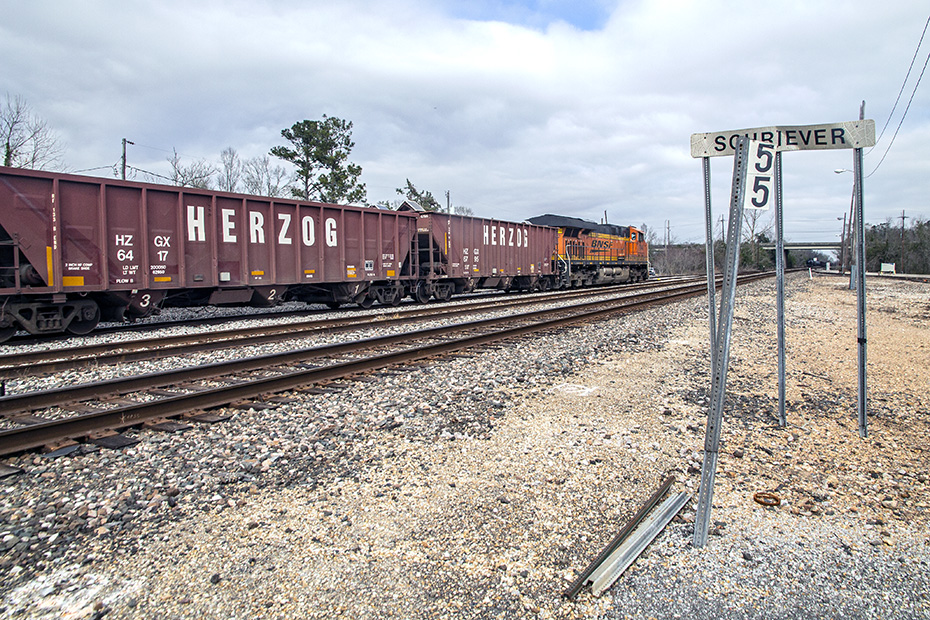 This is one of the crucibles of my imagination.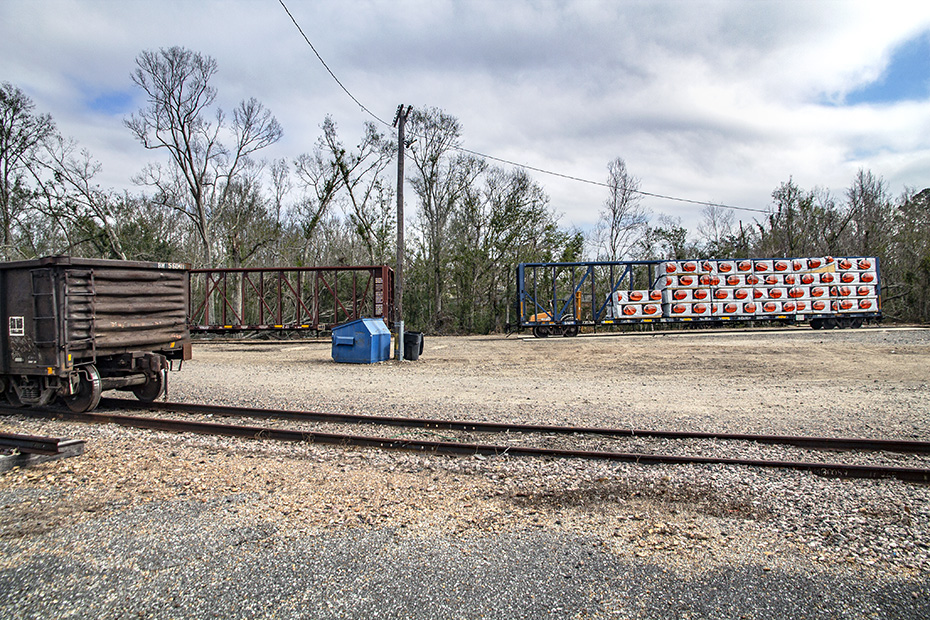 That is the new house track that replaced the old one that was sunk in the ground.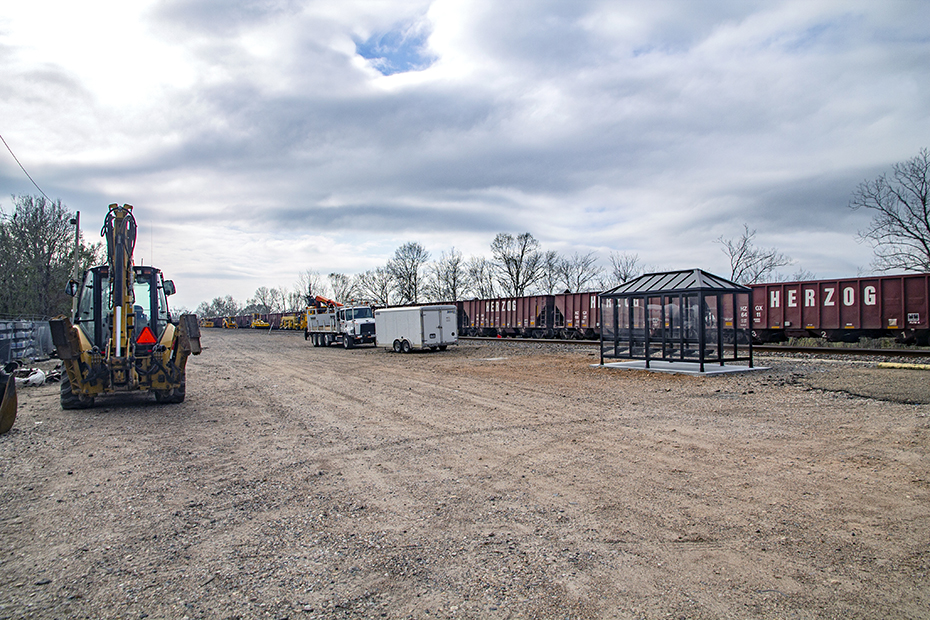 So, something is coming!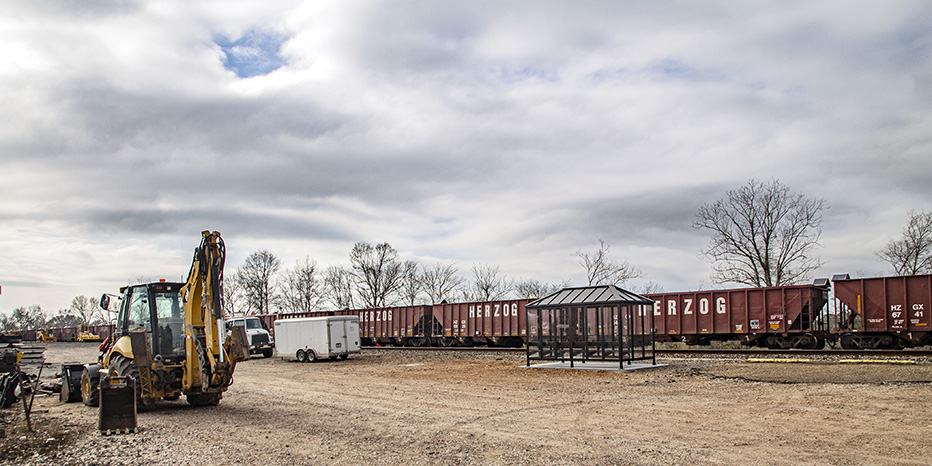 This is what is coming.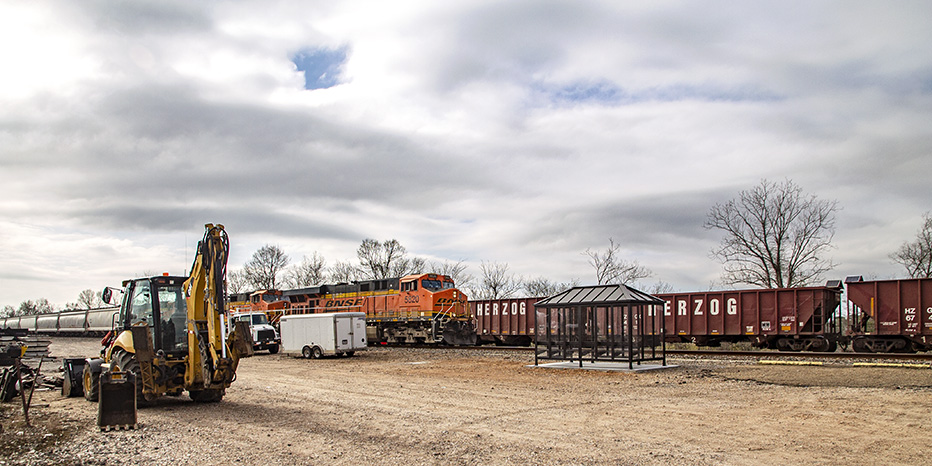 Yeah, it's not the UP local train, and it's making me think that I won't see that train today, because, unless the UP local train is about to pull into or has already pulled into the siding but is yet to reach my position, the next place that they could meet is Raceland.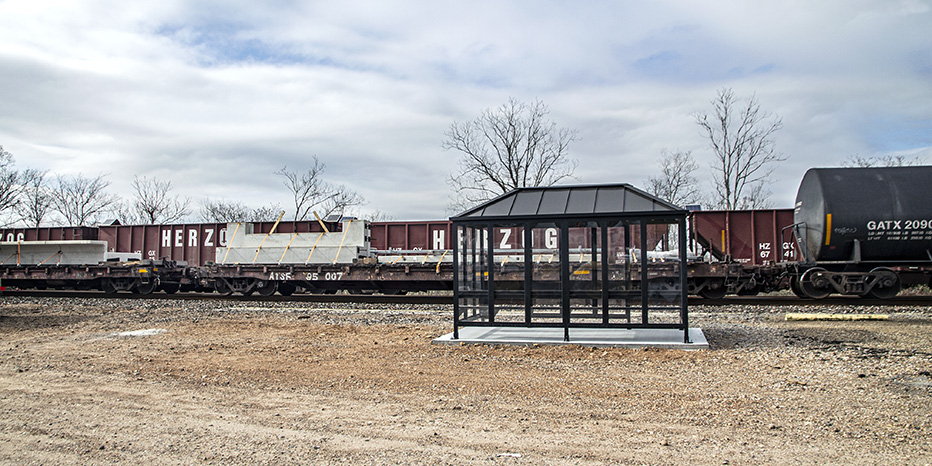 Anyway, these bridge members on this old Santa Fe flatcar are cool.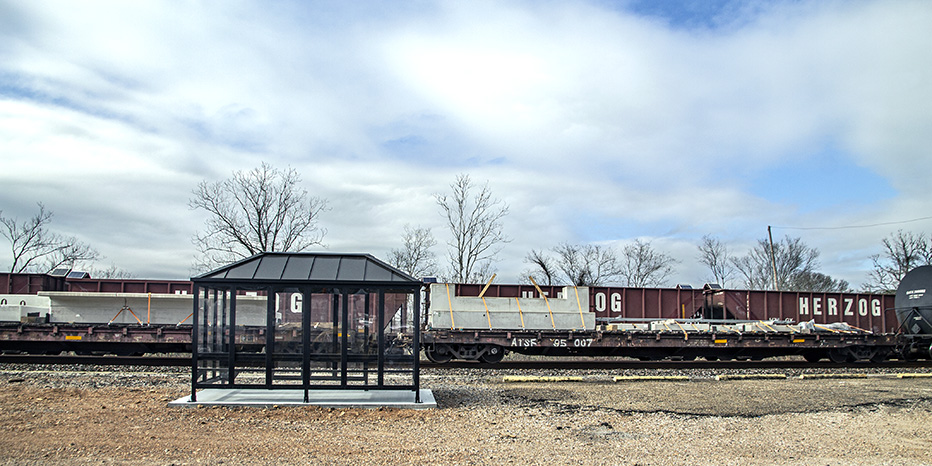 I wish that I didn't attach so much meaning to scenes like this, because I might have a better life if I didn't.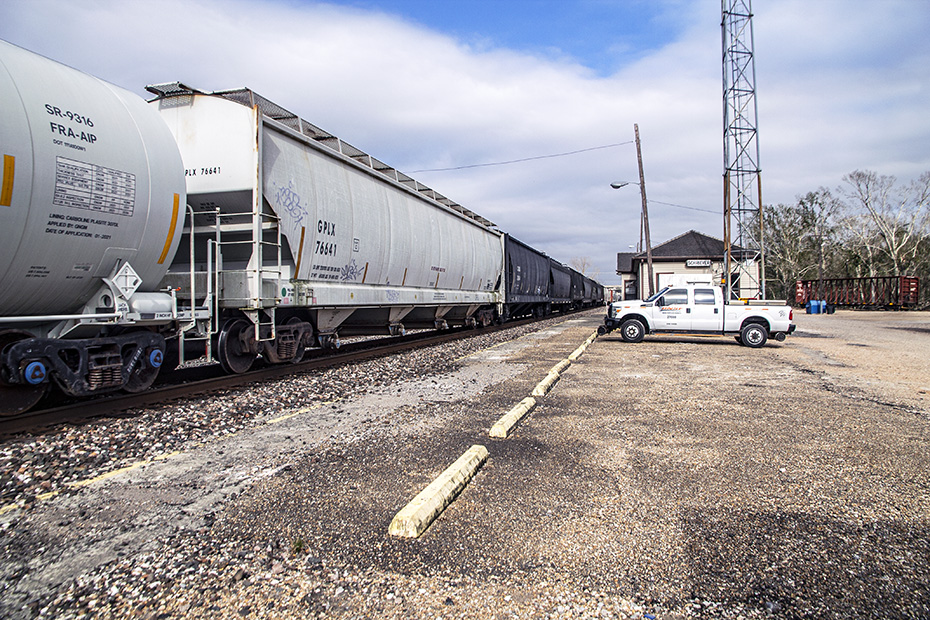 Let's do some low-shutter-speed, hi-aperture shots to show the motion.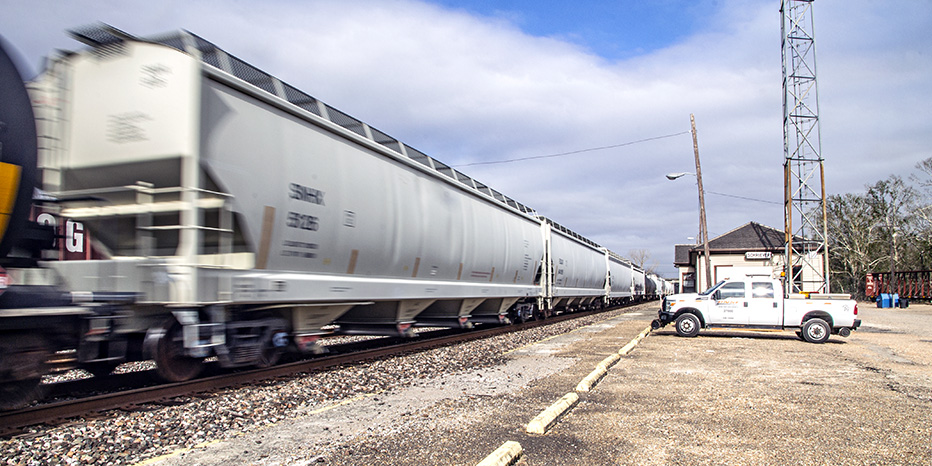 Okay, these new Norfolk Southern Railway hopper cars are somewhat cool.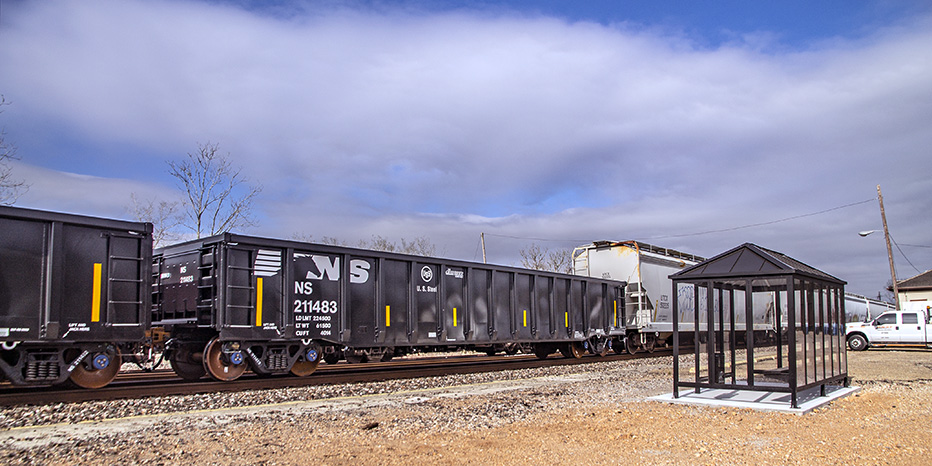 The train is stopped, though I can't imagine why except for a meet, which I don't recall happening.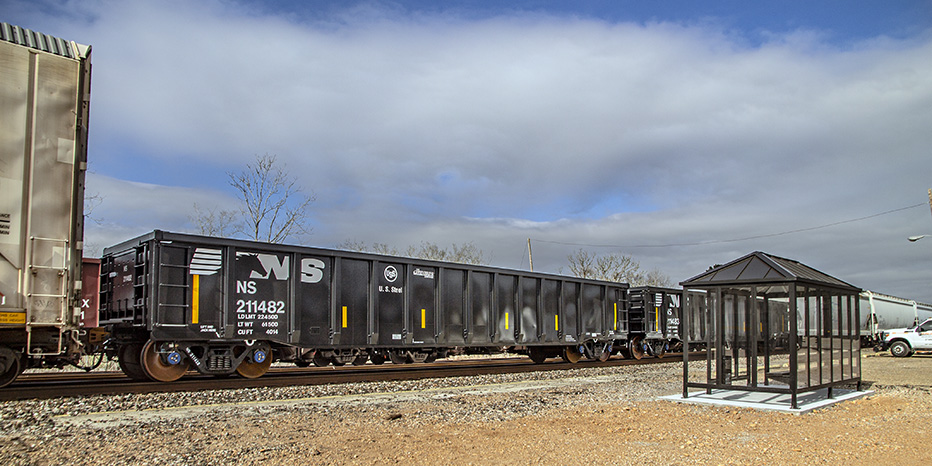 These gondola cars are cool, but they aren't as cool as those that had the curved end ribs like the old-school metal gondola cars and boxcars had.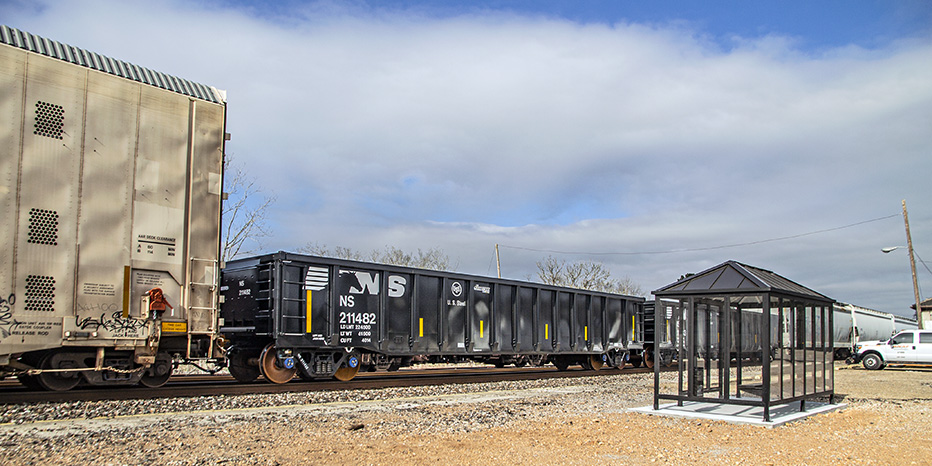 I appreciate that they were in the part of the train that meant that they stopped here by the depot where I could be!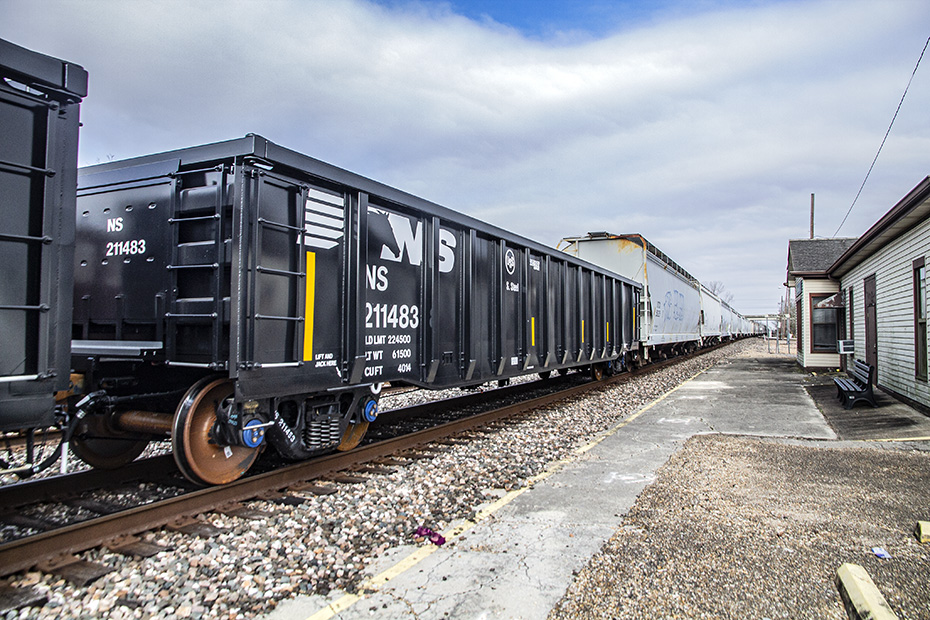 As you can see, too, I am getting better at Photoshop processing of these inadequately-lit shots, which makes me wonder if I should even question how adequate the lighting is, especially as I increasingly prefer cloudy skies.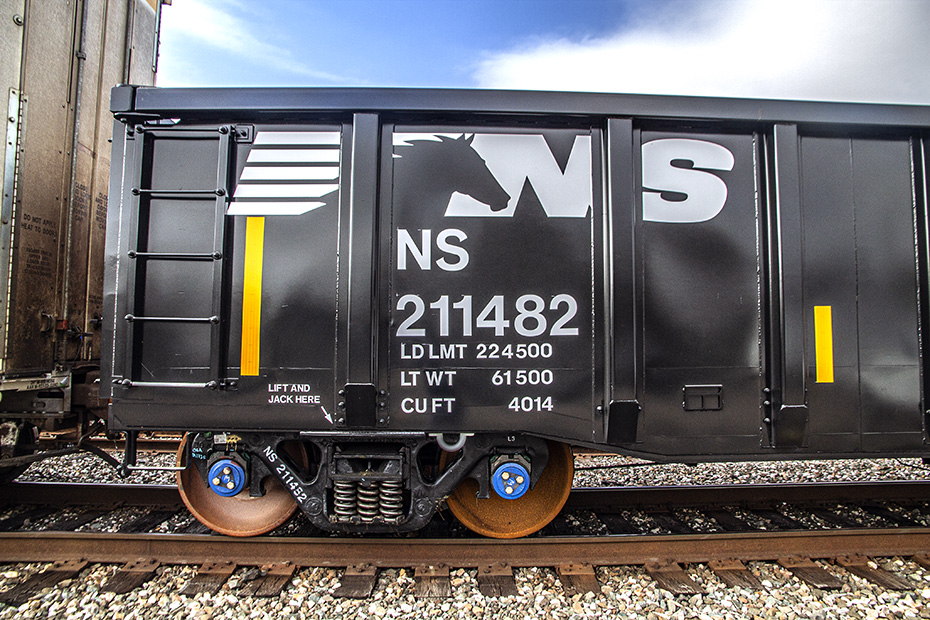 This improved photo processing is possible due to the DSLR cameras that I use having RAW mode as an option. The cameras in my Samsung mobile devices, with which I took the pictures from downtown shown earlier, don't have such a mode, which limits their quality greatly, and these next two images, too, Samsung-mobile-device images, these from my tablet computer, which is like a really large telephone, as I explained earlier this month.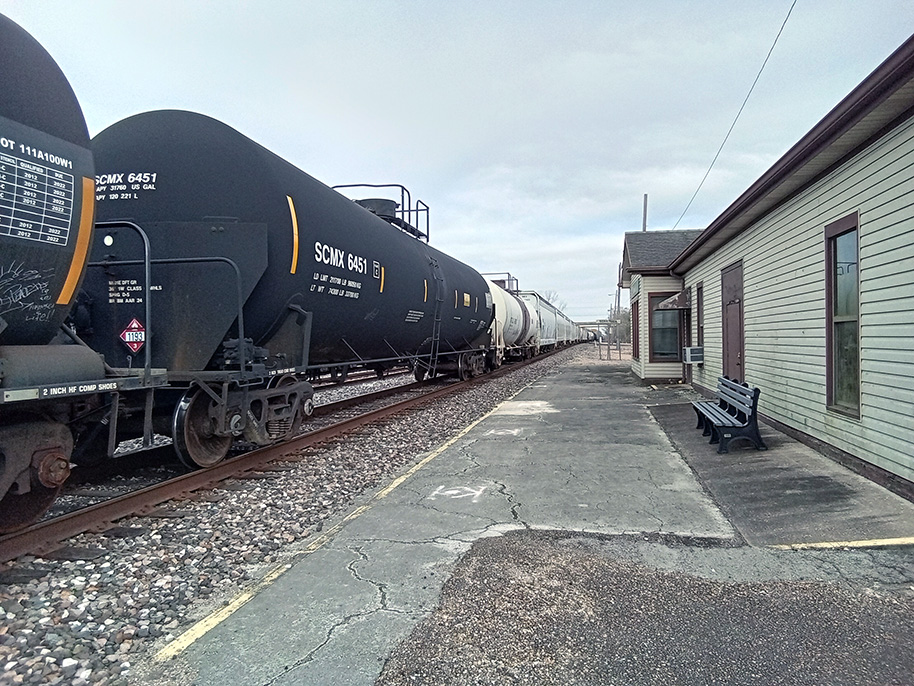 These are not bad, but I really should stick to the DSLR camera.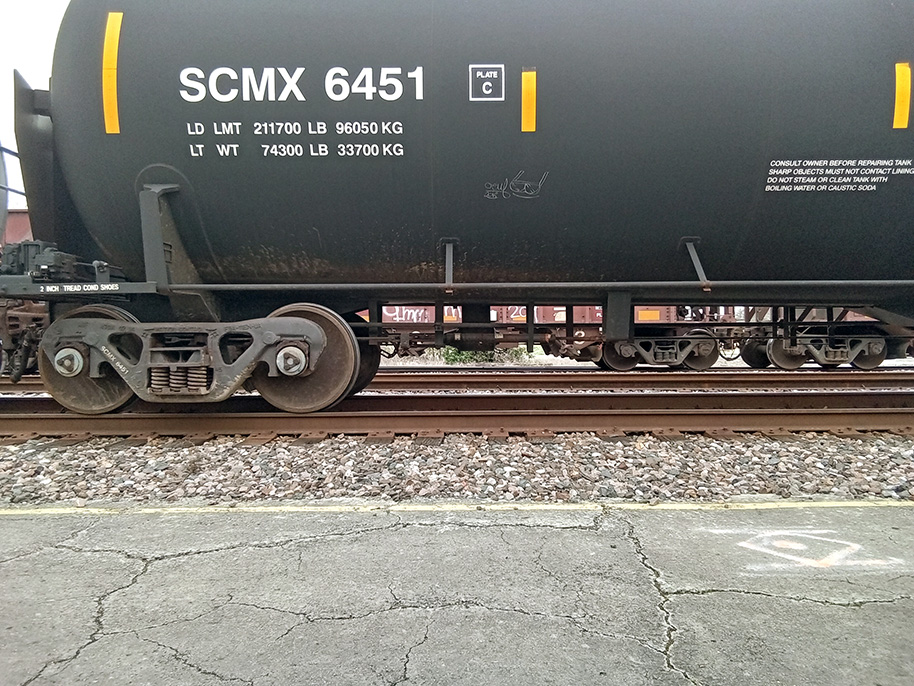 There is, however, a reason that I don't.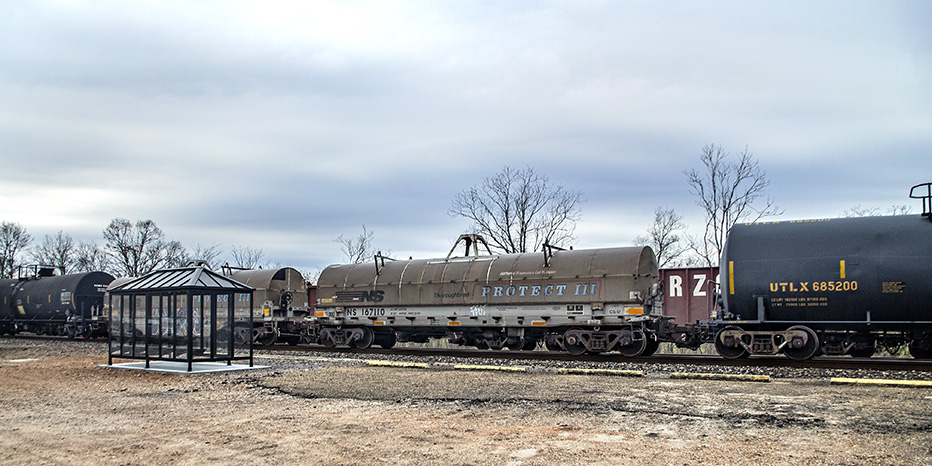 The reason that I don't is not apparent in the above image, which is made with the DSLR camera and the 18-55mm/f3.5-5.6 lens, but it is because there is something wrong with that lens.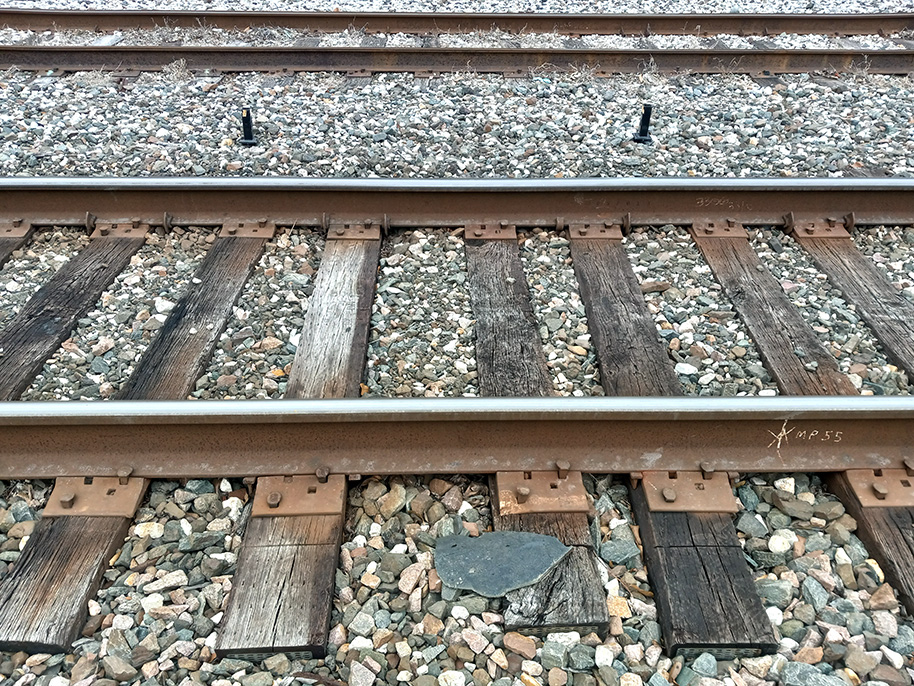 These two images were made with the cellular telephone.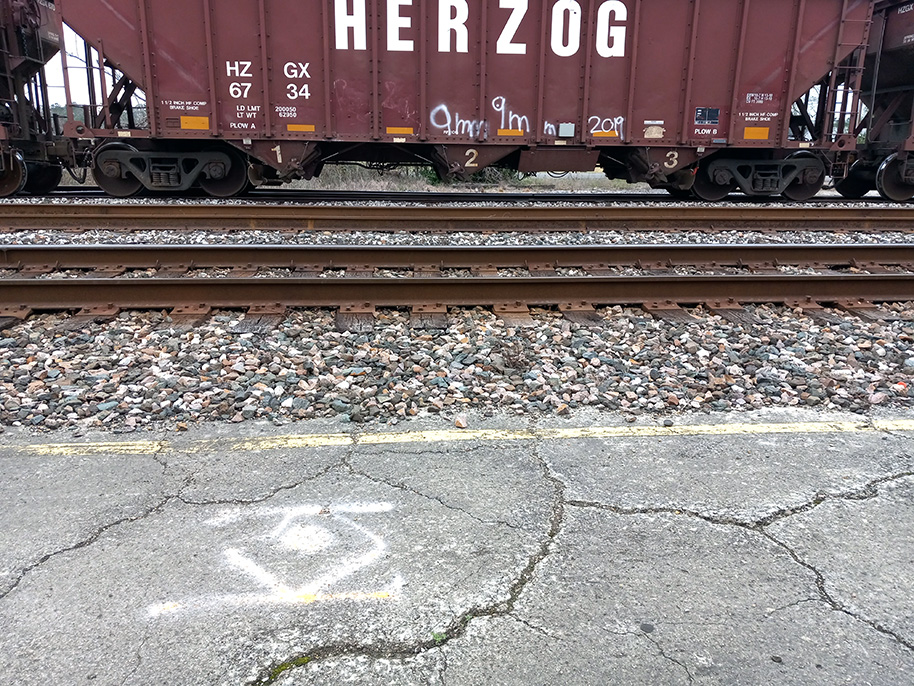 They are not bad! They are also the last images of the day made with the Samsung mobile devices. All of the remaining images are from my 2011 Canon EOS Rebel T3.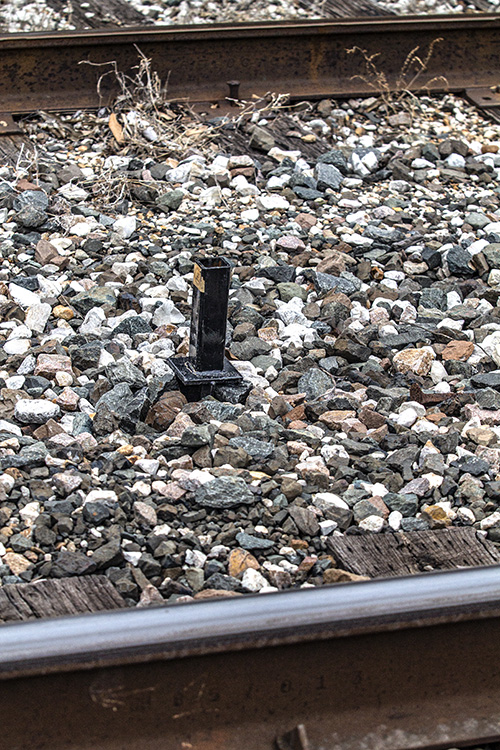 These are bases for the temporary red/yellow/green boards that the track gangs use.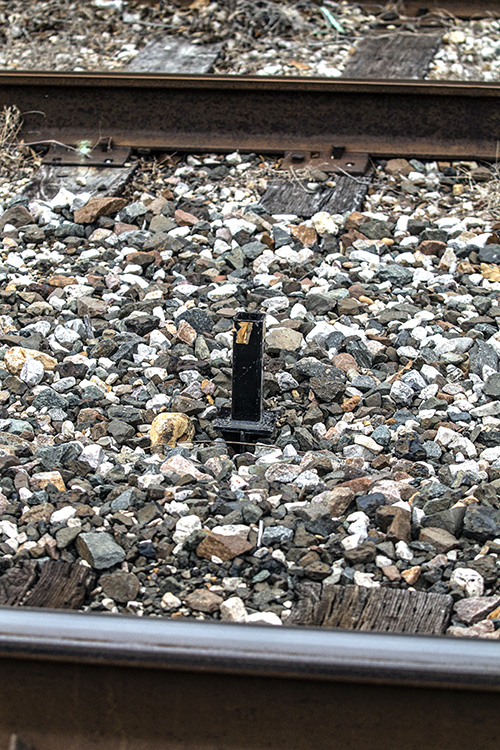 It's a tad bit jarring seeing them there by themselves!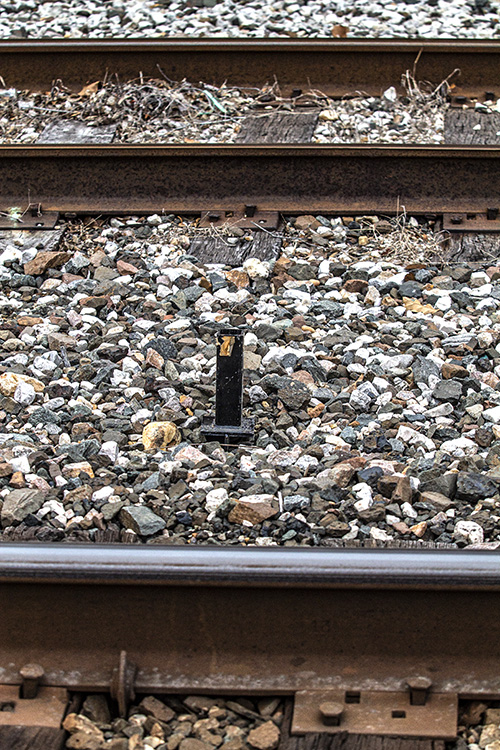 Actually, something seems to be wrong with my workhorse 70-200mm/f2.8 lens, too.
Here is a better view of the equipment that has been sitting in the siding since I got here today.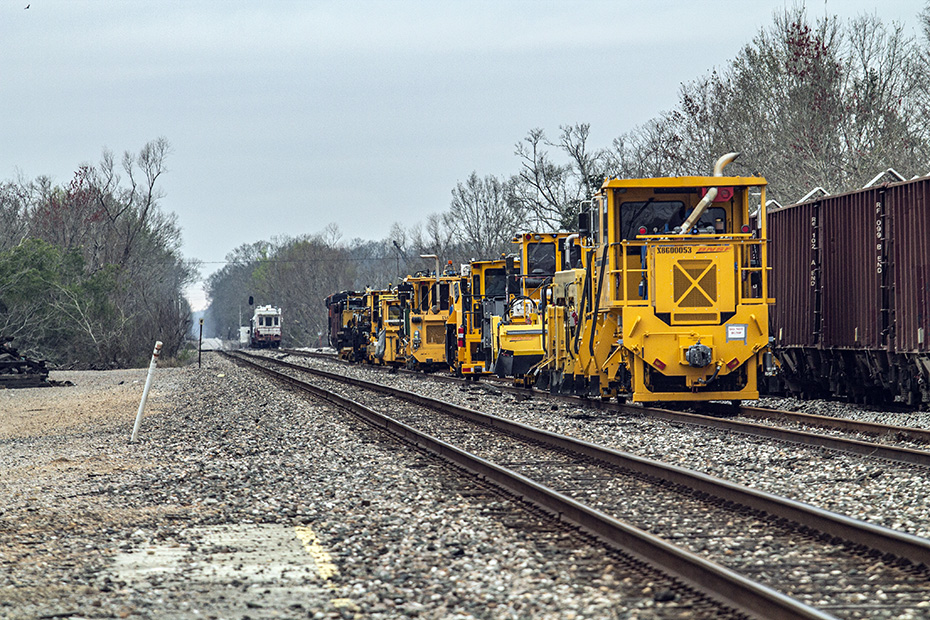 Oh, let me be repetitive?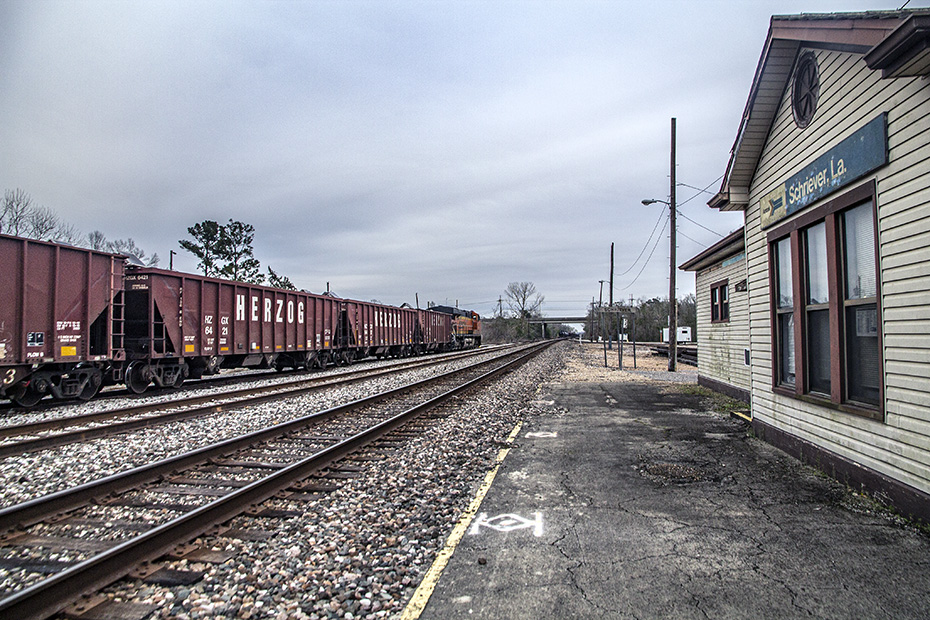 You have seen nothing yet!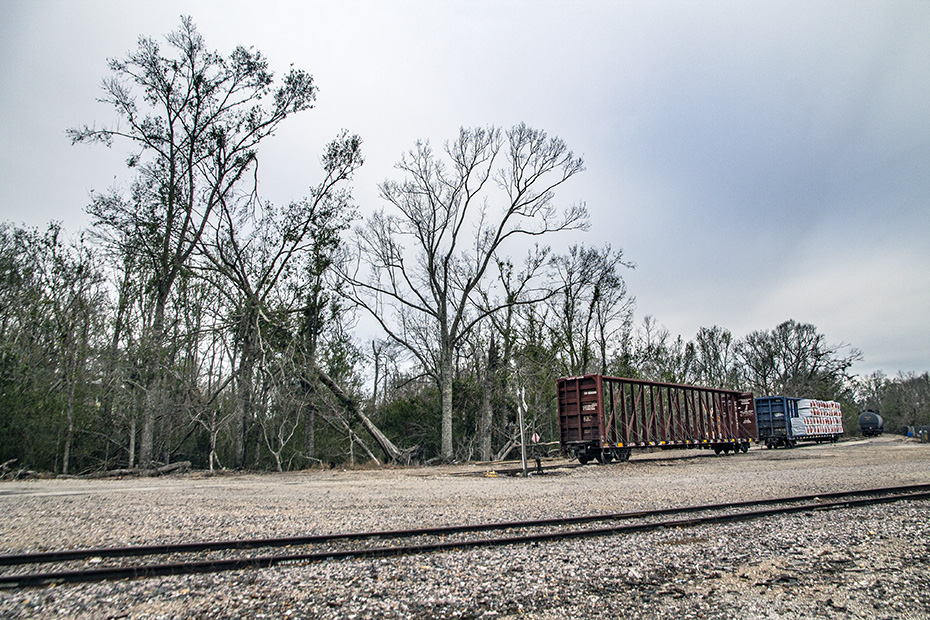 This scene, as insipid as it may seem to you, means plenty to me.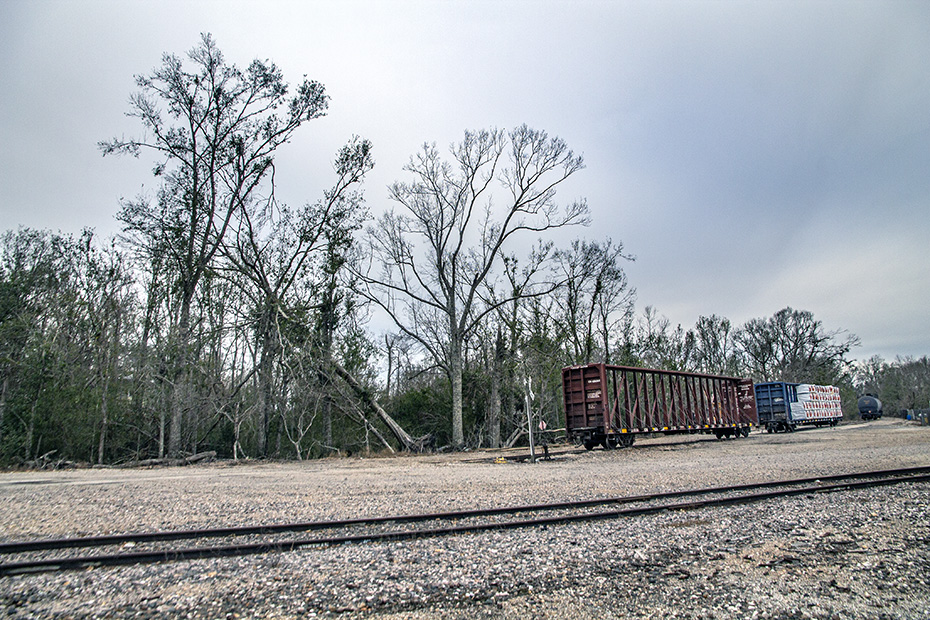 I barely notice the tank car!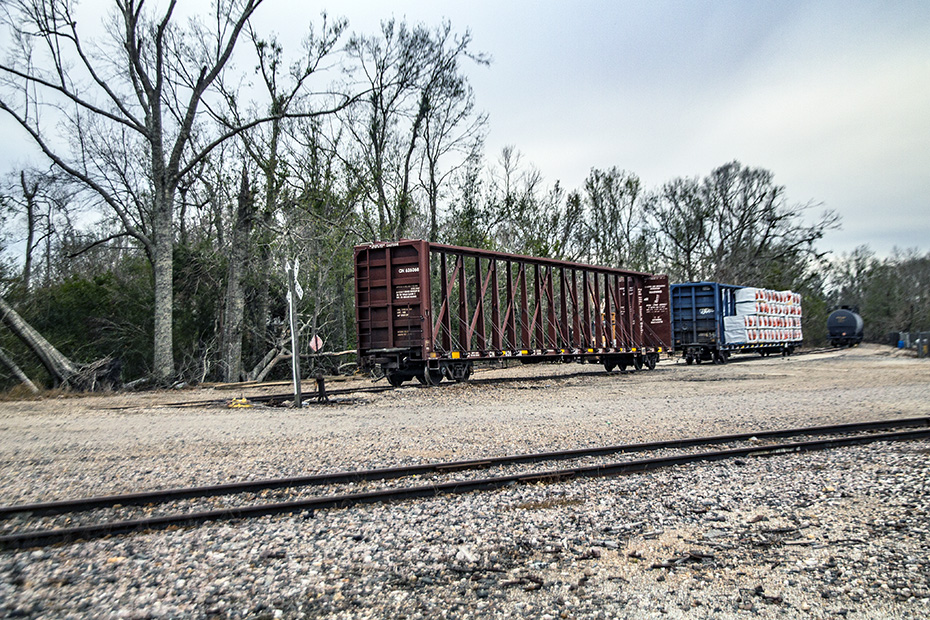 The tank car is significant to me, but it's not nearly as significant as the centerbeam cars are and the fact that this is the old Houma Branch – and the fact that that is the house track in the foreground.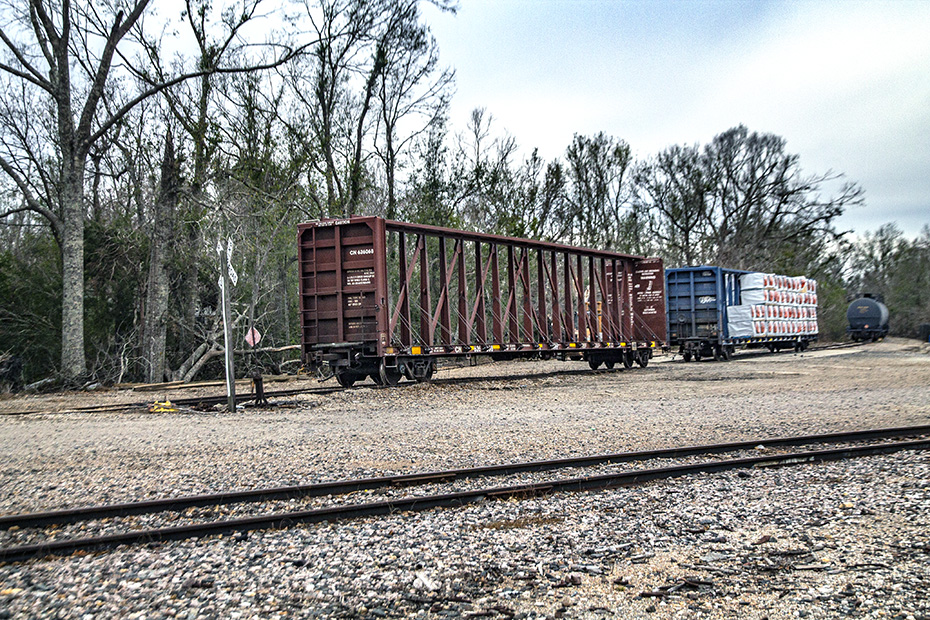 I don't just think of the past when I see this scene.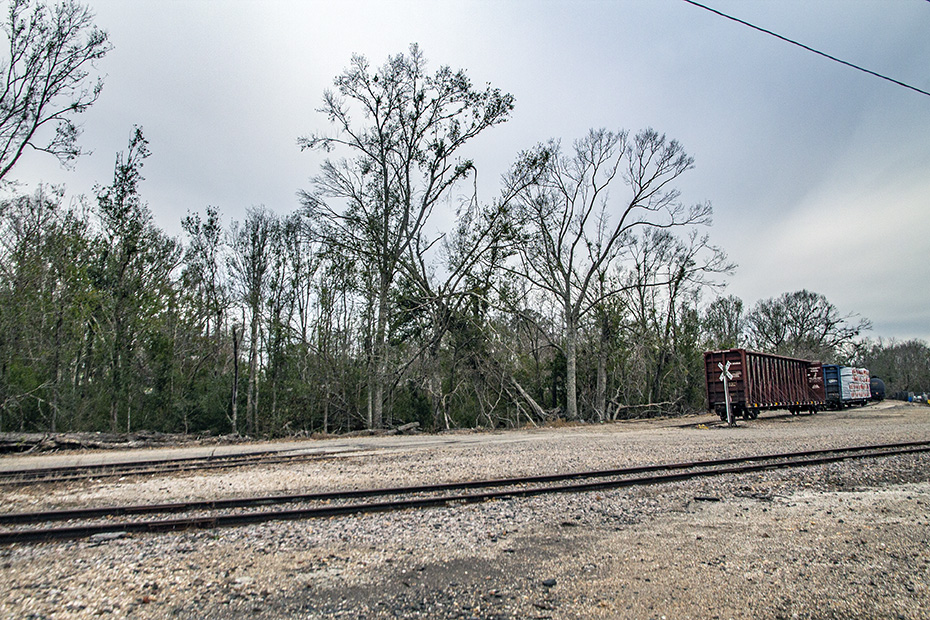 I actually do think of the future, and a business idea that I have!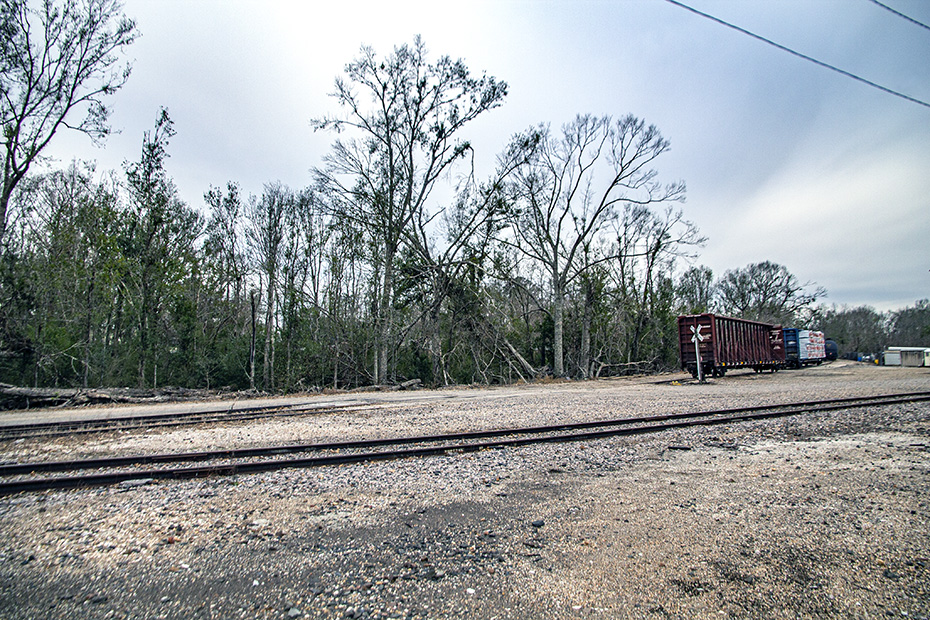 It's too bad that I'm probably too autistic-ADHD to make it a reality, though, sadly.
Well, I have the images, at least, and you have to look at them, at least.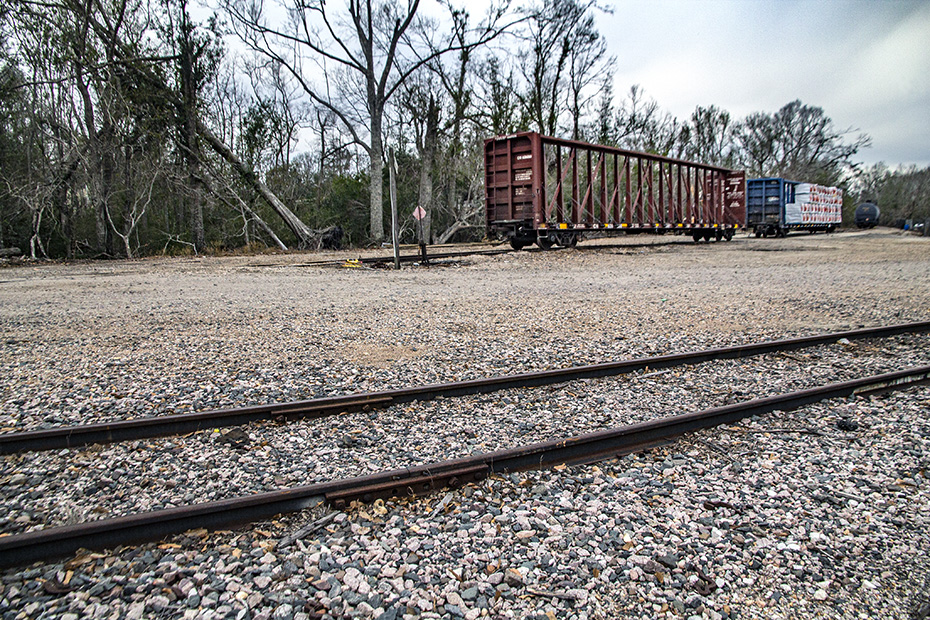 Wait, what's this? A train is coming?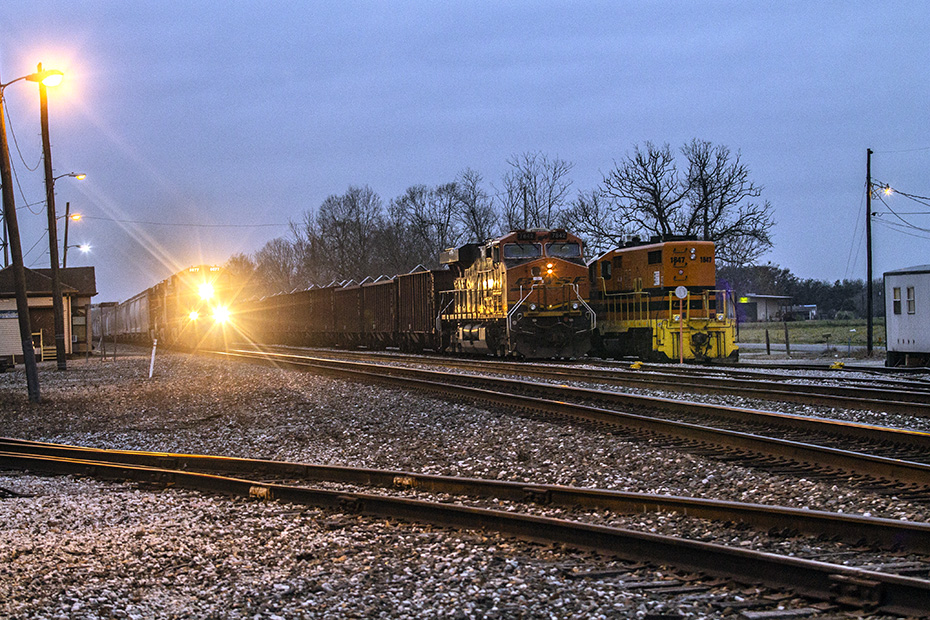 This is the third freight train that I photograph today.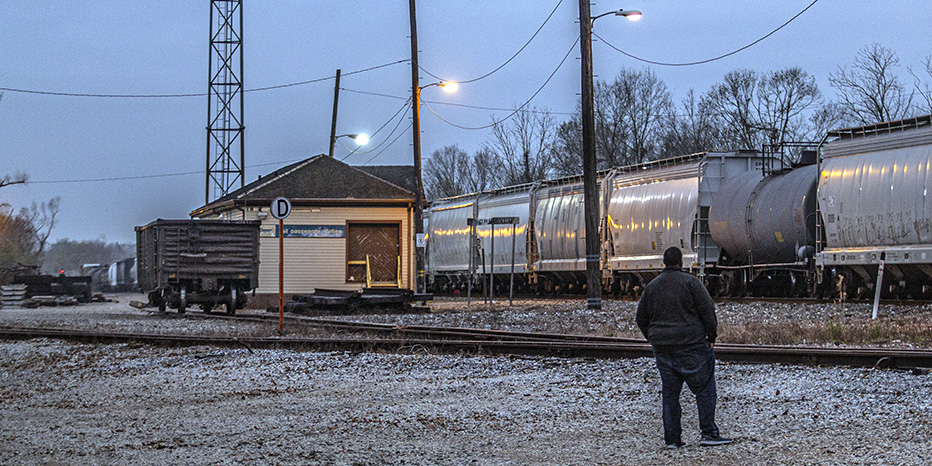 It's also the third eastbound BNSF Railway manifest train that I photograph today.
Wait, who is this?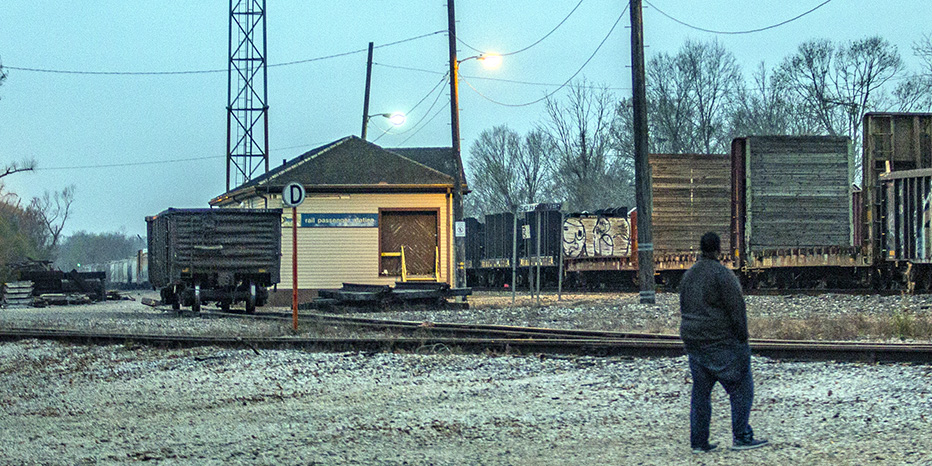 It's a fellow railroad enthusiast and also someone from my distant past!
It was good to see you, man, and, yeah, check out these neat cars.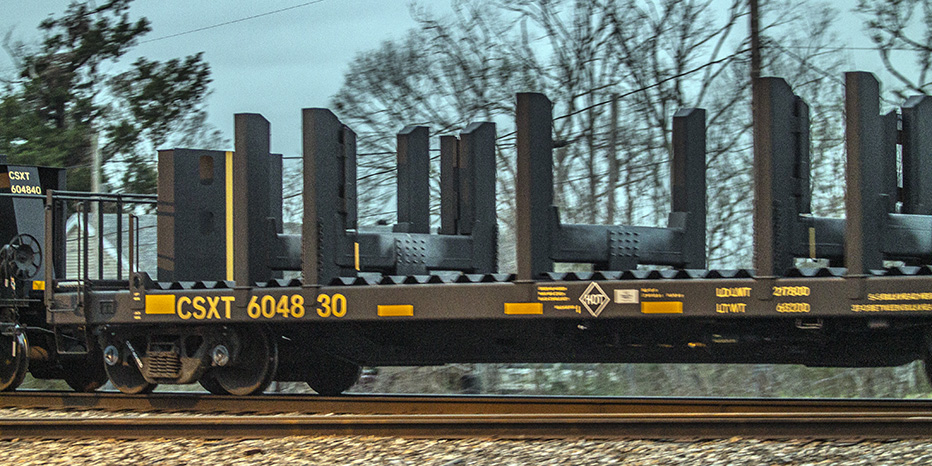 What are these things?
This is how the day ends right here, folks.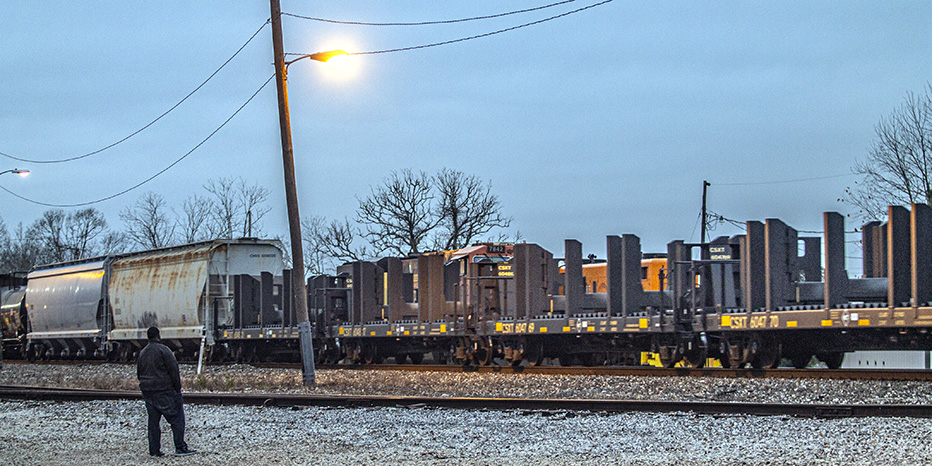 That's all for the pictures for the day, but the day has to end on an appropriately depressing note.
An Outsider In His Own Homeland
I took my last picture of the day at 18:08, as the train was passing. I prepared to leave the premises to head back west to the homestead, but then the thing happened.
A police officer came up behind me, because, apparently, the scene of me there at the pilings in my automobile at dusk looked suspicious to him. Stuff like this has, as longtime readers here now, happened to me at various other places before, but, in all of my decades of spending time at Schriever, it never happened to me here.
This was a completely uneventful encounter with the officer acting totally professionally and with total deference, but the incident bothered me for very personal reasons.
He didn't even ask me for my ID or anything like that, and he asked me if I needed help or anything, which is great, but the part that bothered me is that I heard my name and current place of residence said over the radio by the dispatcher, meaning that he had already run a license-plate check – which is not the part that bothered me. The part that bothered me is that this was like official confirmation – as if any was needed or as if any matters – that I am now an outsider here.
Adding insult to injury – or to insult – was that this officer, a caramel-colored black man, appeared to be younger than I am. I just feel like life has passed me by.
At 18:15, seven minutes after I had taken my last photograph as that last train was still passing, I departed Schriever; so, yes, that police encounter happened in that seven-minute span, and the span of time between my last picture and my departure probably would not have been nearly as long if not for the police encounter.
I never saw the UP local train – or any UP train – today.
Wow, that argument on NOLA Twitter between that drummer dude and that bipolar waitress lady seems terrible, and nobody actually wins it. Neither party seems totally innocent.
"Bitter Sweet Symphony" by The Verve of Verve Pipe or whatever it's called played as I was driving westward somewhere around where Saint Mary Parish meets Iberia Parish. I cannot hear that song without thinking of the lessons that the great anthropologist Brett Scott used it to teach.
Then, "Jumper" by Third Eye Blind played, and that was appropriate; that is a song of my youth with appropriate themes that I did not always understand.
I looked for the UP local train in New Iberia but did not find it.
I guess that that is a good analogy for life, or for my cursed life, or whatever. I guess that that is the end of this essay, and I guess that I do have to live like a refugee, because I have no tribe.
Oh, well. I hope that you appreciated the pictures and the stories.
That's all for now!
Jim