Happy new year. Let's hope 2021 is better than 2020 was. We still have a few weeks of a Trump Presidency left, but we'll be dealing with its effects for ages, Biden is kind of a loon and not all that trustworthy, and the planet is burning.
Just as I did six days ago, I went to DeQuincy, Louisiana, a junction on the Kansas City Southern Railway, today, but, today, I got there early, thinking that that might be the best time to get shots.
When I describe to people who aren't railroad enthusiasts the activities that a railroad enthusiast does out in the field, I often say that, sometimes, it's like hunting, and, sometimes, it's like fishing. Sometimes, like a hunter, particularly a hunter-gatherer hunter, you are actually chasing something from place to place, and there is not much 'chill' built into this process, except when you get yourself far ahead of your subject, which, actually, is often. At other times, like fishing, you just park yourself in one spot, catch whatever comes to that spot, and pass the time in between doing other things, and, that, if you don't catch anything or don't catch much, you often consider it a good day anyway, because you got to go out and ride in a boat or go and sit at some cool spot and relax and read and talk to people or pace around and get some exercise.
You will see that today's experience is, as the title says, less like hunting and more like fishing.
I suppose that there also is a "foraging" aspect to certain types of manifestations of field activity of railroad enthusiasts, but I lack the inclination to belabor that point now.
I took a shower early this morning, as if I was going to work or something, and was out of the shower by 05:50.
I left the Lake Charles house, bound for DeQuincy, and I had trouble on East McNeese Street because I couldn't see ahead of me because windshield was so fogged that I swerved a bit into the other lane. I went east to Highway 397 to go straight North to guess I just because I figure that's an easier way than going through traffic lights around on Gerstner. At 7:39, I turned left north onto Highway 397.
At 08:10, I saw long cut of cars in the storage track at Buhler. I can't imagine why that is other than maybe some drag-and-drop operation happening between KCS Mossville Yard and the local train out of Beaumont that supposedly comes here as little as once per week.
The crossing at Buhler Station Road is at milepost 728.56.
I arrived at CS Junction at 08:26.
I went to the old Missouri Pacific Railroad yard.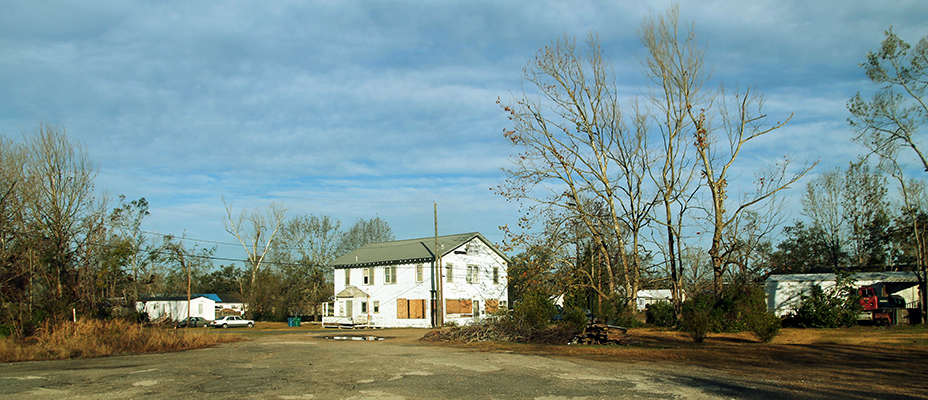 This is an interesting set of cars for 2021. I presume that they are just being stored, because I cannot imagine what industries around here would be using such cars or why they would be interchanged here.

You can see the milepost 508 there, signifying that we are 508 railroad miles from Brownsville, Texas, on the Mexican border, on the old Gulf Coast Lines system.
I then went east across the KCS Lake Charles Subdivision and went to South Grand Avenue, the main north-south highway, next to the UP mainline to seek something.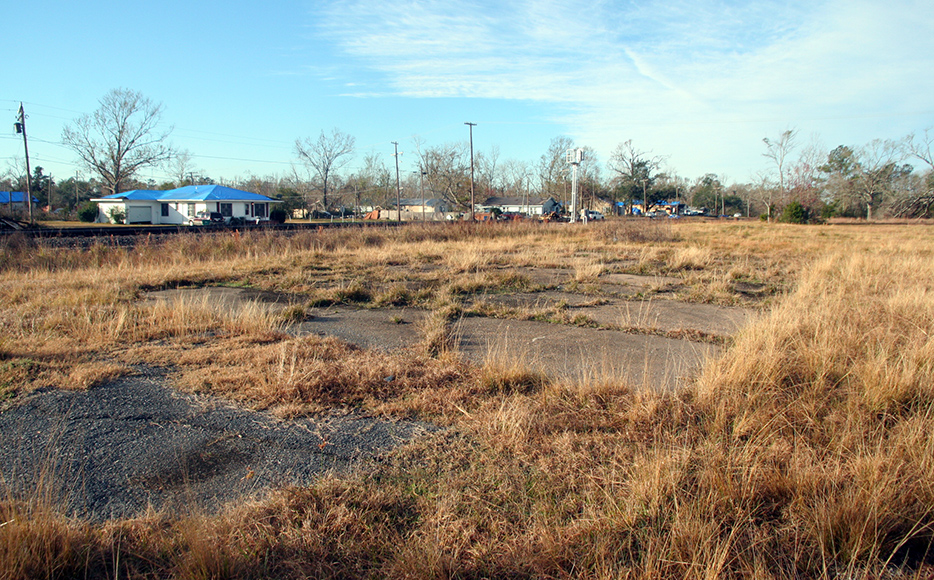 I found a foundation that may be for an old MoPac passenger depot and probably was for some railroad building.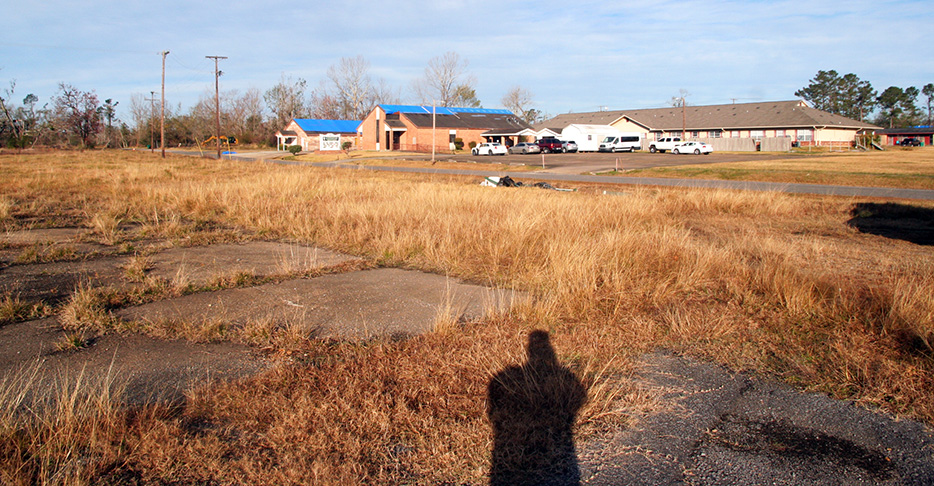 Evergreen Missionary Baptist Church is in the background, it's not even 09:00, and the place was emitting some obnoxiously loud noise that was poisoning the Sunday-morning peace.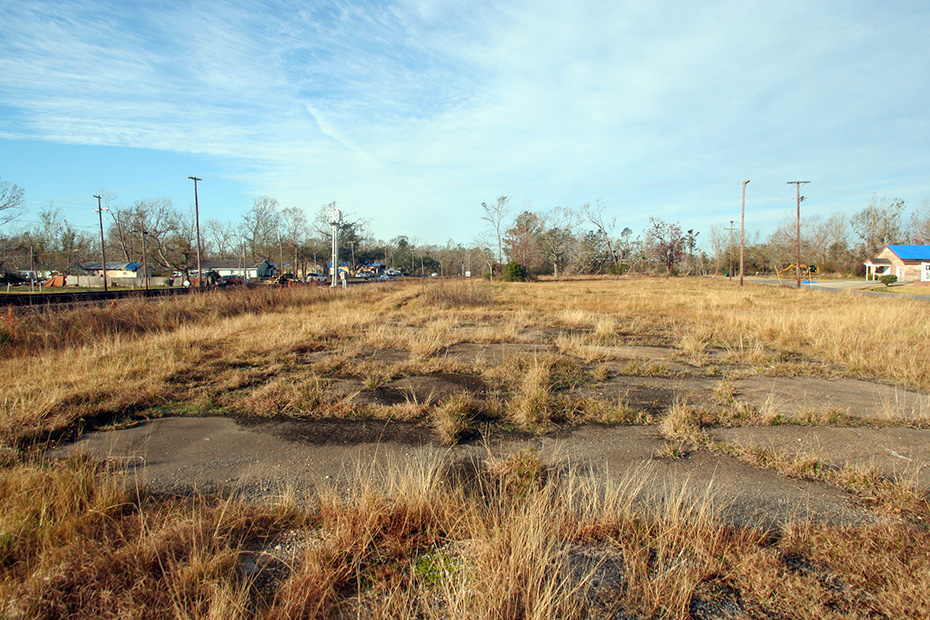 I then go back west a little bit, and I discovered evidence, mainly in the form of crossties, of a connection track in the northeastern quadrant of the KCS-UP diamond.
As I was emerging from Acme Street, I saw a pickup truck pulling a trailer carrying a four-wheeler and dead hog atop the four-wheeler southbound on the highway. Coincidentally, I typed that into my notes as I sat outside of McDonald's waiting on sausage biscuits.
I feel the need to go vegan or at least vegetarian, but I just can't do it. I am addicted to meat.
The people next to me at McDonald's were playing loud music.
I can't remember if this trip to this parking lot happened before or after the trip to McDonald's.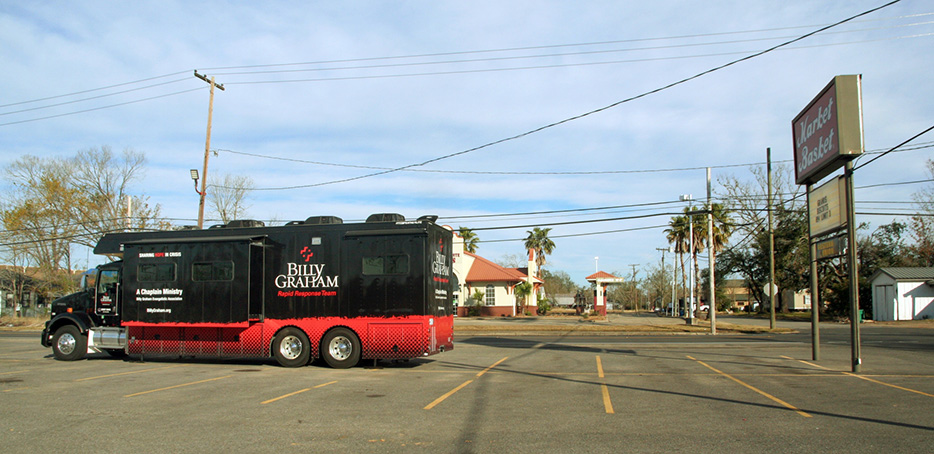 Anyhow, this is a Billy Graham Rapid Response Team truck in the parking lot of a hollowed out Market Basket location, perhaps hollowed out by Hurricane Laura, across the street from a bank building that seems to be built to resemble the railroad depot.

I like it!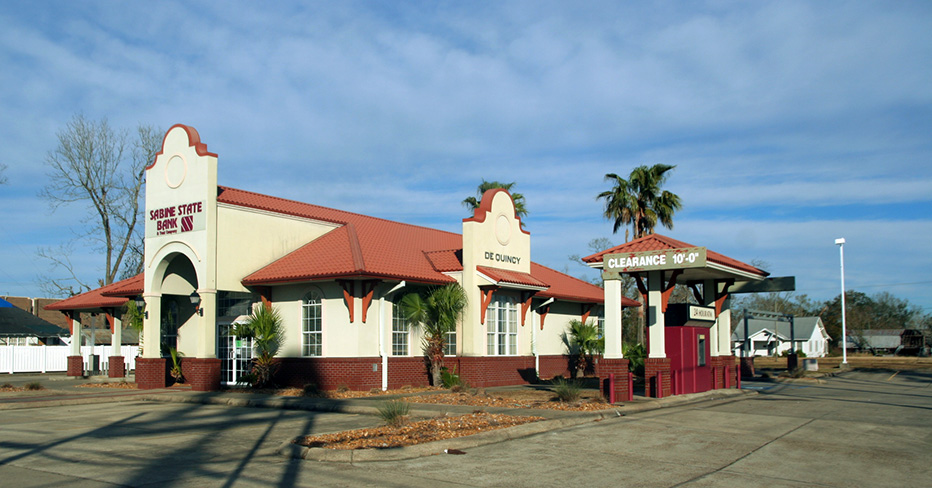 I am curious about the story of the truck being here.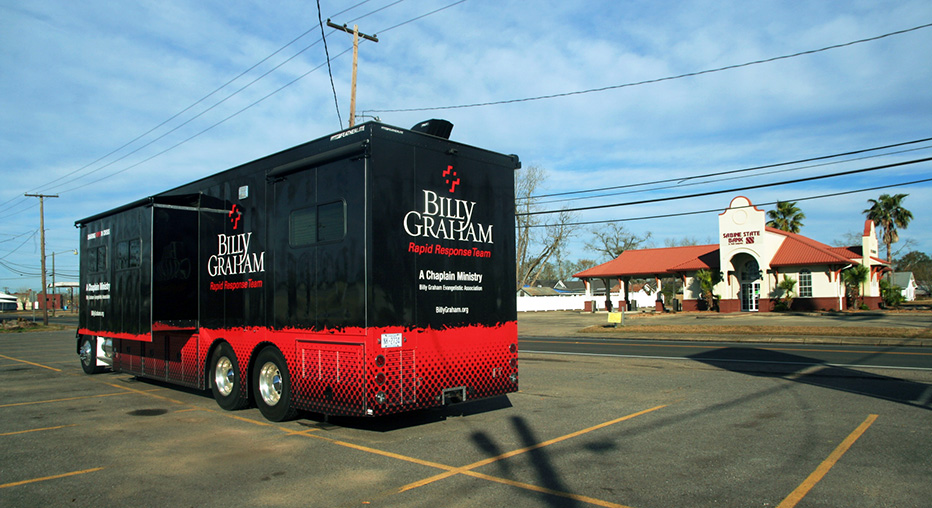 So, I approach the wye area.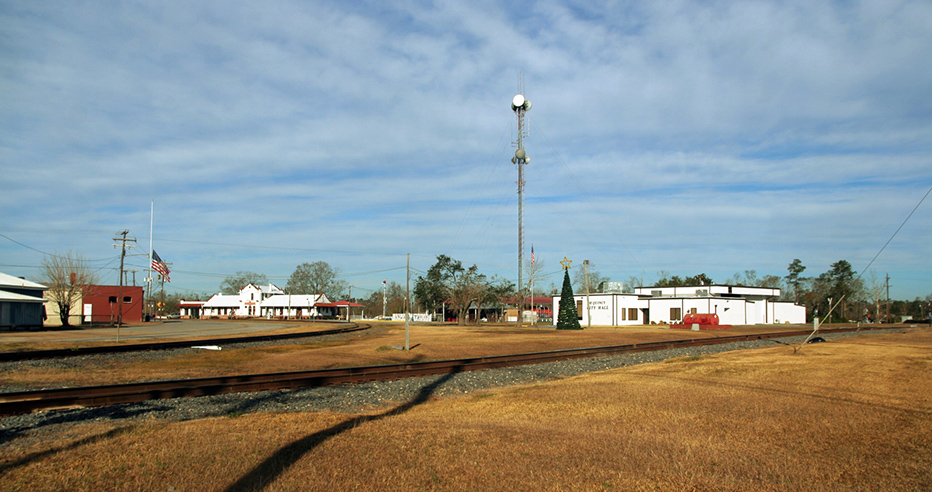 More than an hour later, at about 10:34, as I was perched in the park under trees east of the depot, near some adults and little kids who had a van labeled for the Oretta Pentecostal Church van, I was surprised by a train.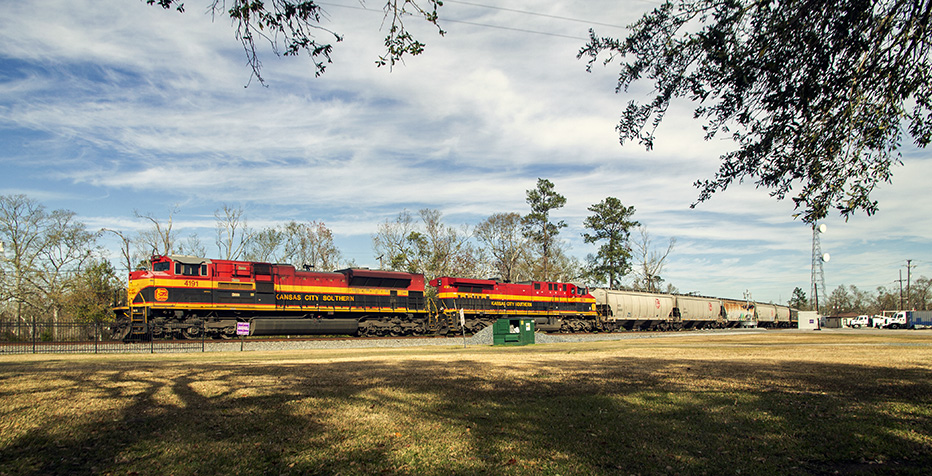 That's really the best that I could do, and it's also the best that I could have done if I could have gotten ahead of the train.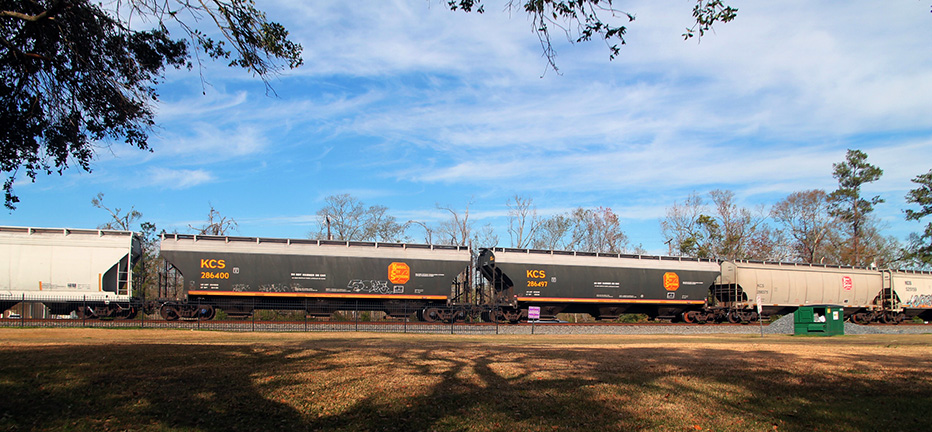 This is a southbound loaded unit grain train.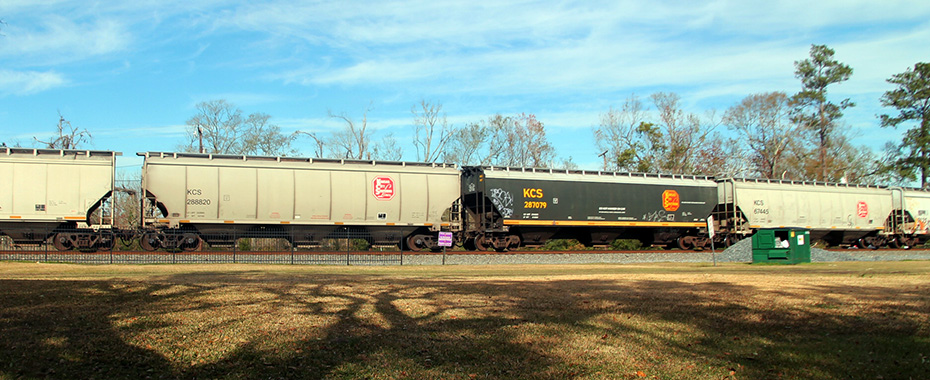 I like these hopper cars.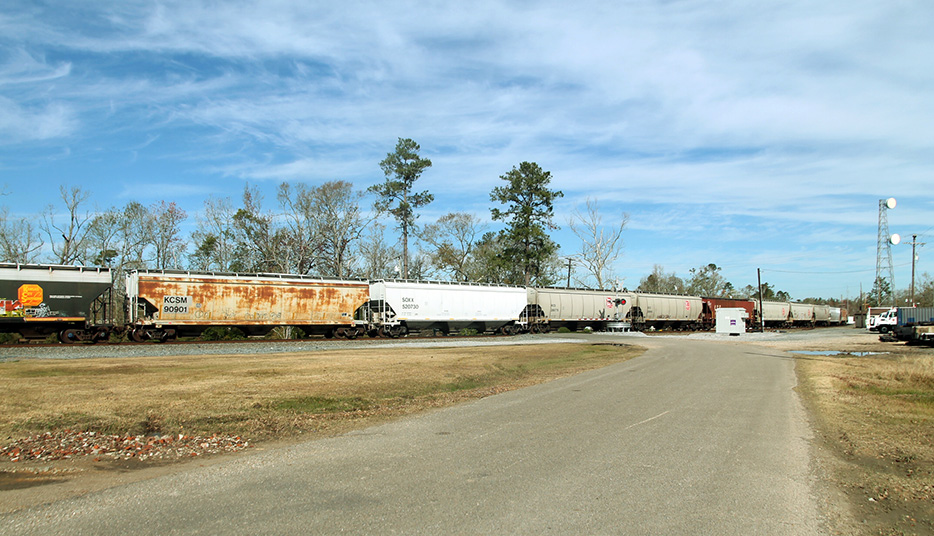 It's a unmatched assortment of KCS hopper cars!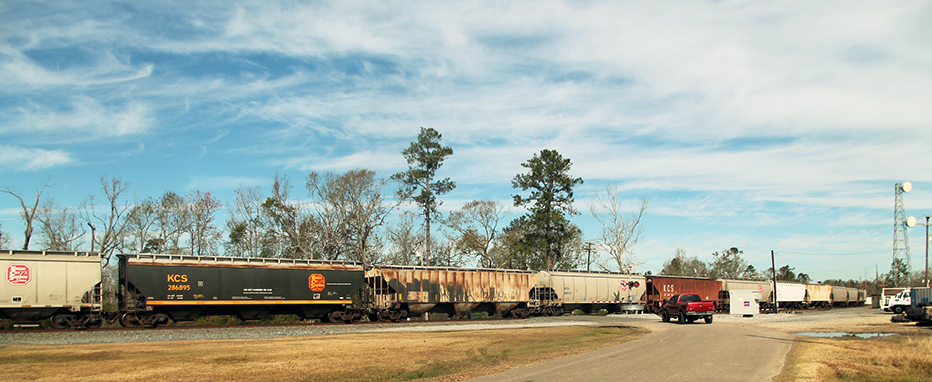 That dude in the truck at the crossing started spinning his wheels in place, and I thought to myself what a jerk he must be.
Here is the rear-end DPU.

In the next view, as I had turned the camera to the west, you can see the park and museum area, and I had hanging out and reading under the trees at left.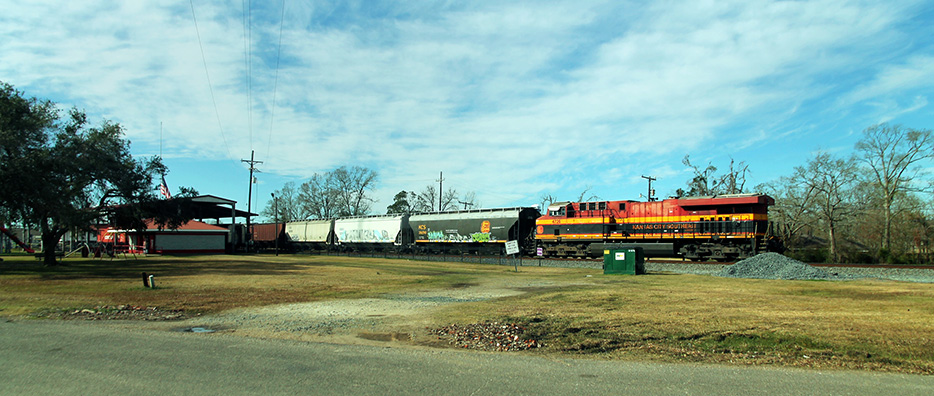 Here is the playground by the museum.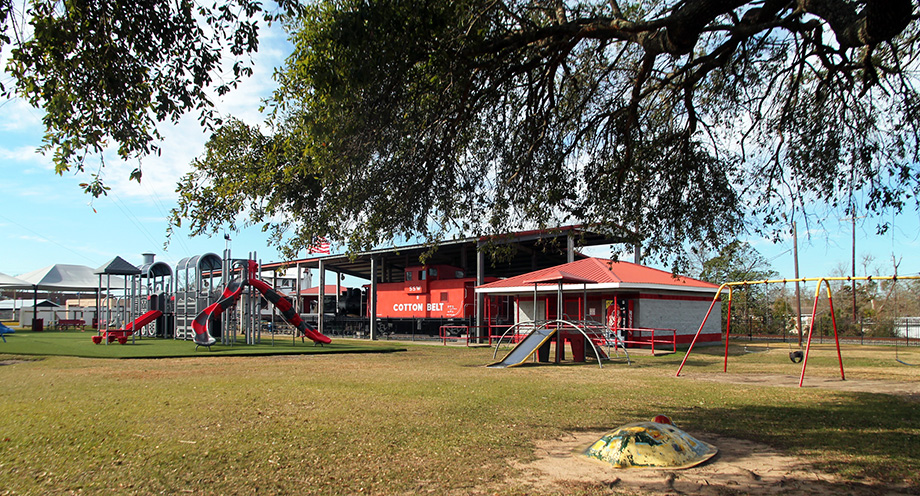 I really think that this place is neat.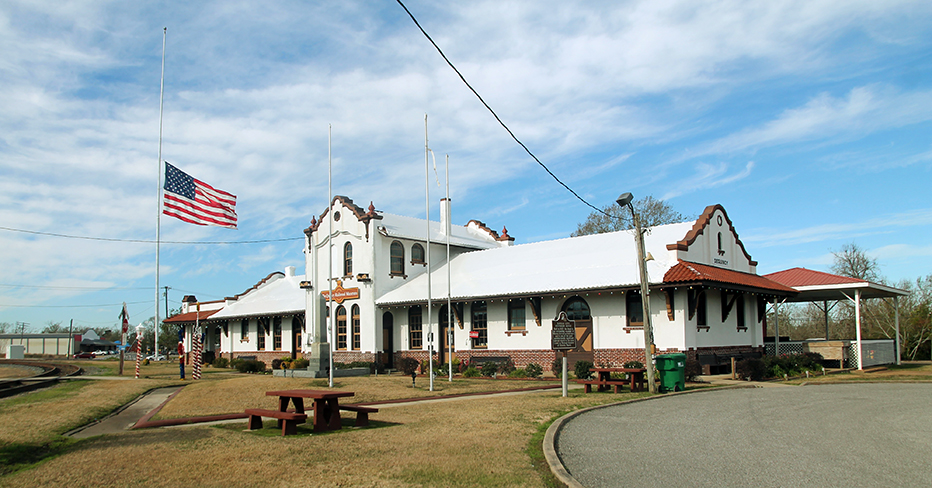 The white on the roof is covering due to damage from Hurricane Laura.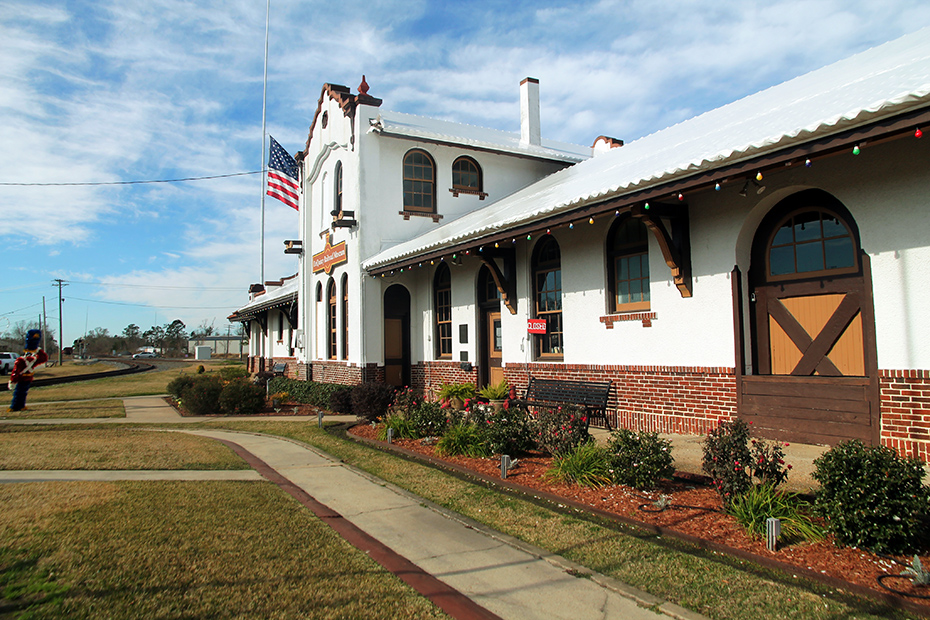 Here is the view southwest from the outdoor waiting area at the depot.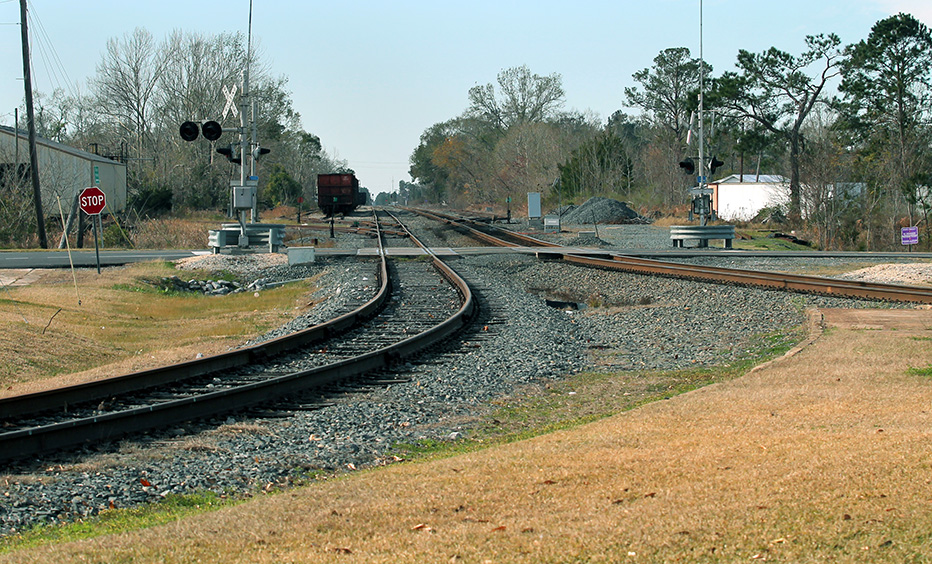 These are the views that a passenger waiting for a northbound passenger train would have seen of the train as it approached.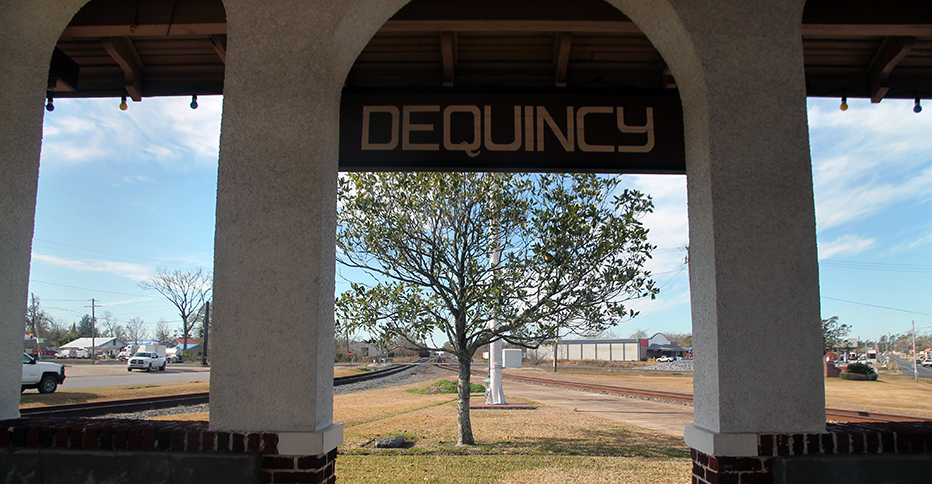 I think that this is neat, don't you?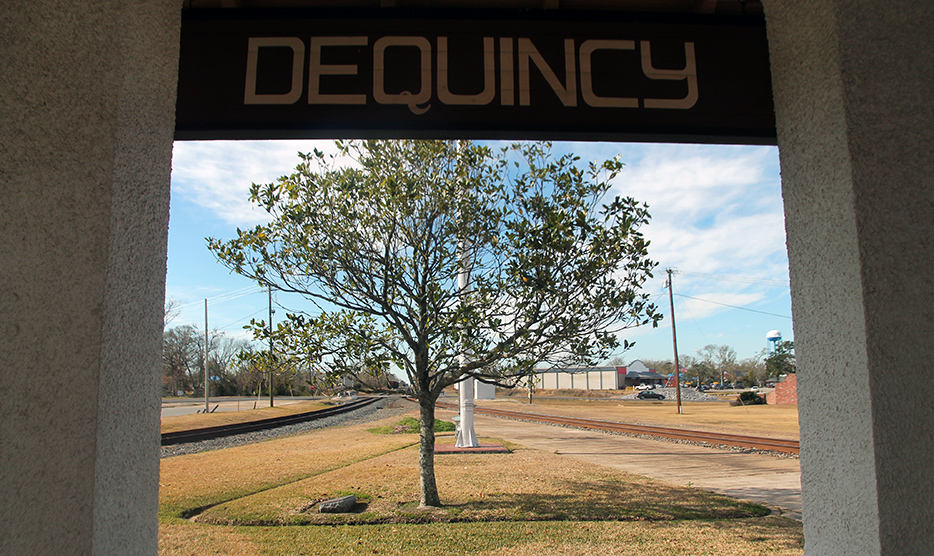 It would be neat if there were passenger trains here again.
I think about this place's neat past, and I think about this potential future if we can get a better passenger rail system in America going.
I was, at this time, feeling very bloated, after eating that McDonald's food, and I'm wondering if there are good vegan and vegetarian snacks for being on the road. I got two sausage biscuits, a hash brown, and one of those iced mocha frappe things, and I'm wondering if I've been better off just getting one of the sausage biscuits. If I had more oranges and such, I would have brought that. I remember when I used to bring carrots and celery to places. That was back when I would go places, like workplaces, often enough to where I knew I had to plan for things like that! I should do it again precisely for this purpose next time I go foaming for a day like this in the future, maybe bring an ice chest with some celery and carrots over here, in addition to oranges.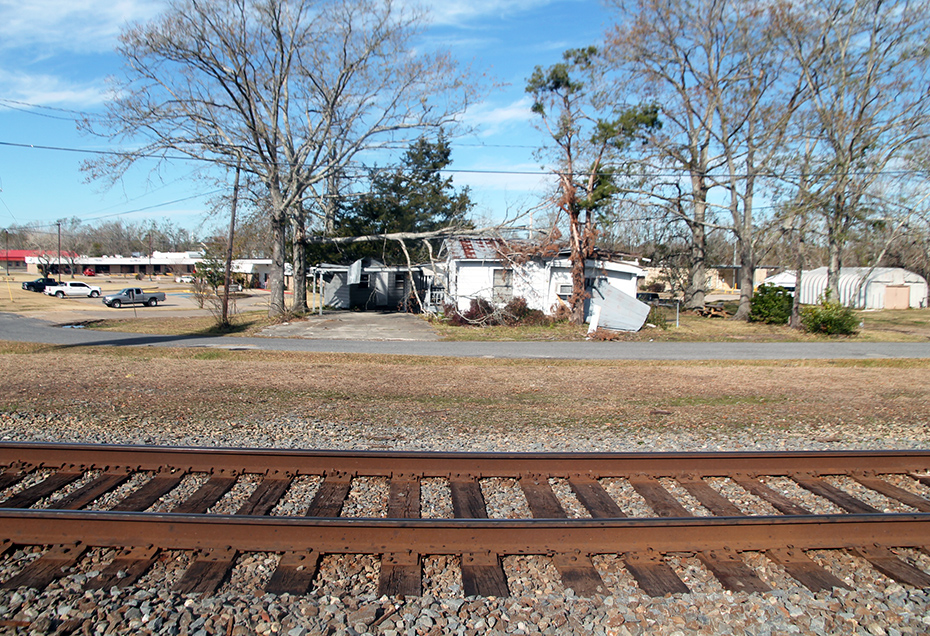 An hour later, at 11:53, I was sitting on a bench in the shade on the eastern side, eastern wall, of the DeQuincy Depot. The next four images were made with my electronic-communication tablet, the only four images in this post made with it.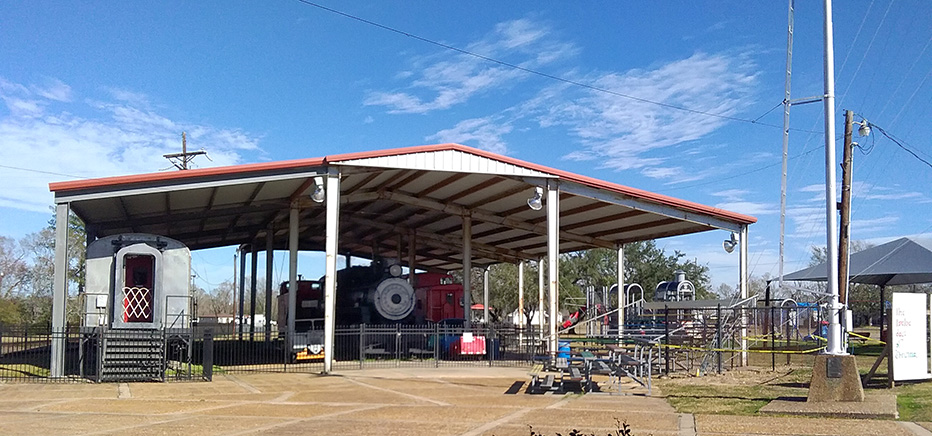 In my field of vision, I could see all three tracks, parts of all three tracks, that comprise the wye that surrounds the depot and the museum displays and park area and City Hall; I could see the Lake Charles line, and I could see the Shreveport to Beaumont line, a little part of it. It was a quiet experience.
There is a music stage here.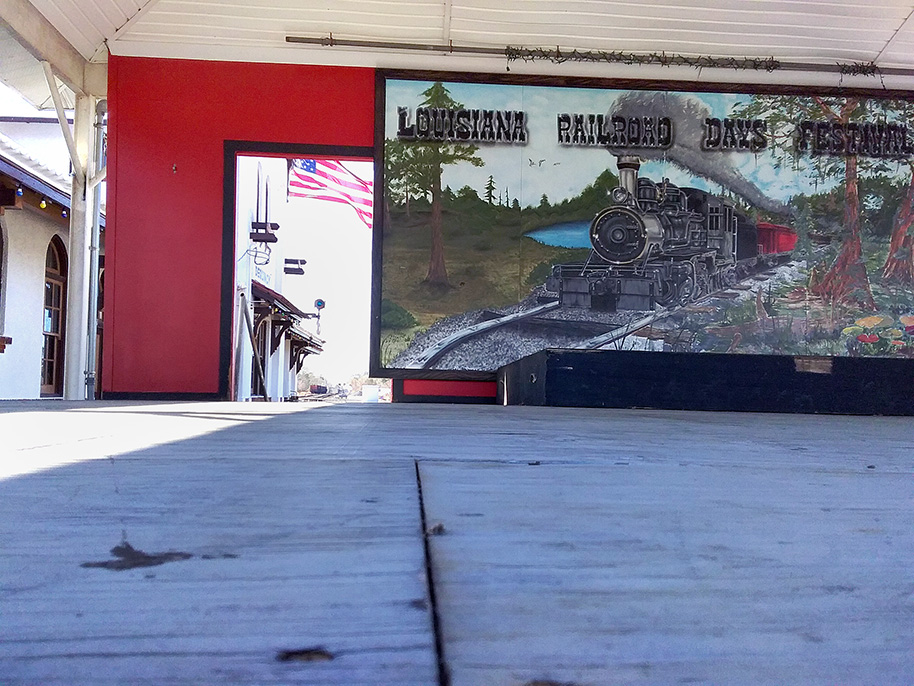 I paced around, back to the western side of the depot.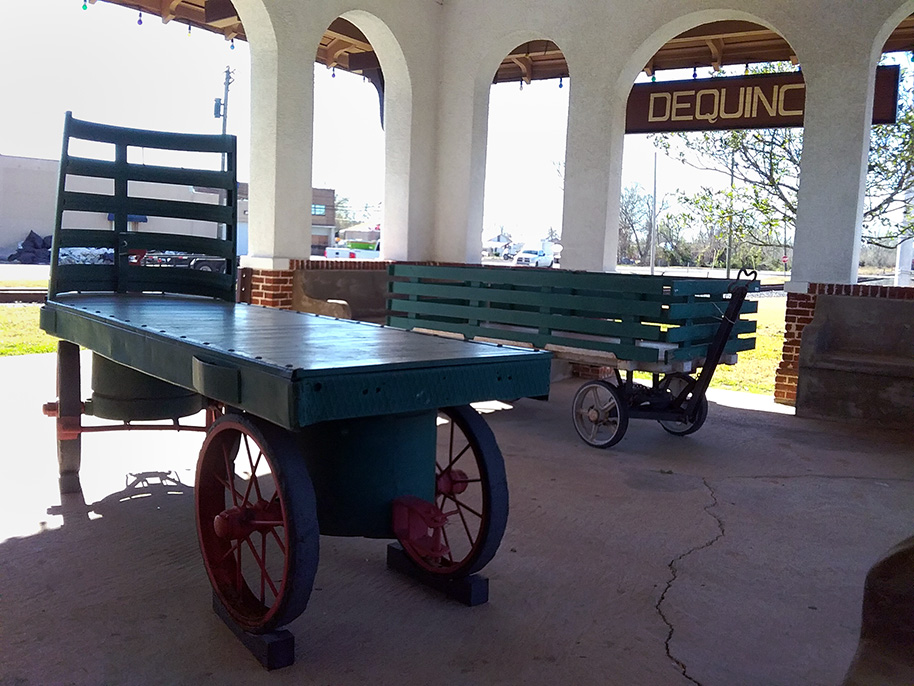 Then, I went back to the east and chilled some more.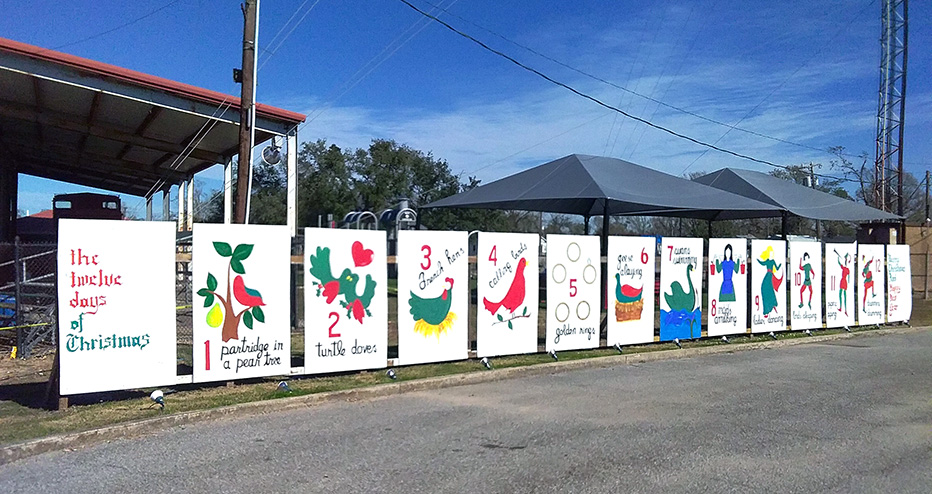 At around 15:00, I was back by the little treed area east of the playground area, and this is a view eastward.

You can't see it in the above image, but the Lake Charles Subdivision line is between the foremost foreground and the houses.
Turning southward, we see City Hall and some other structures.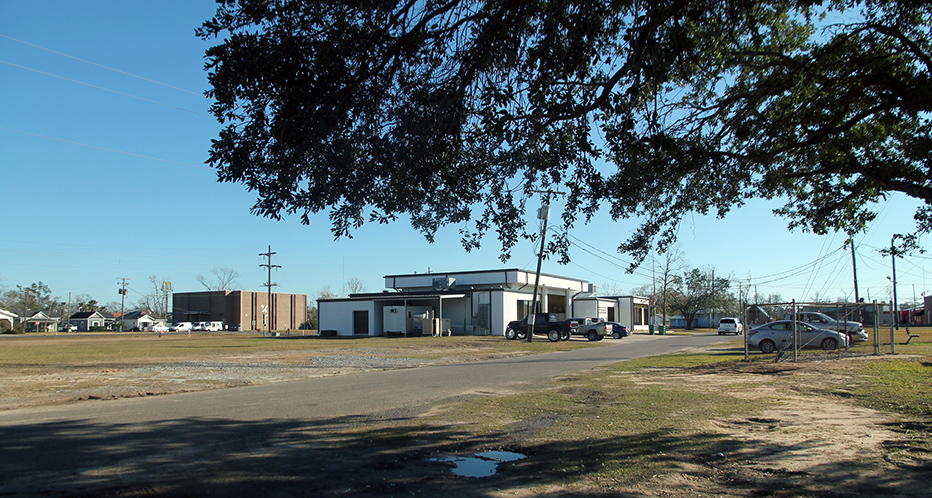 There just wasn't much happening, and I tried to view that as a reason to relax.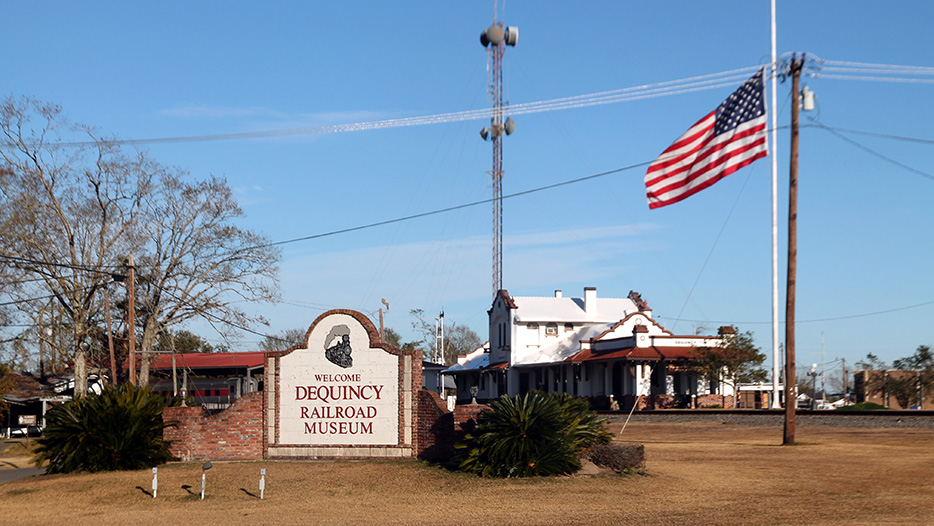 So, I just got plenty of shots of the depot.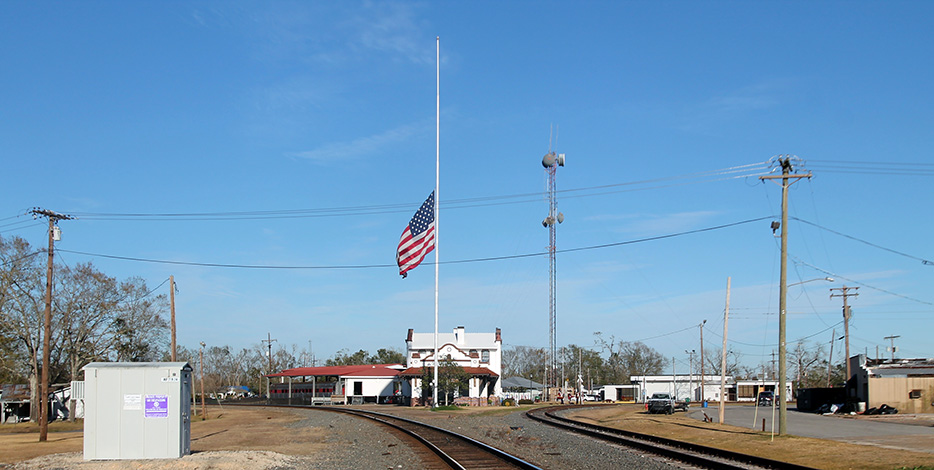 Perhaps you can see why I describe DeQuincy as conceptually interesting but problematic for good train photographs.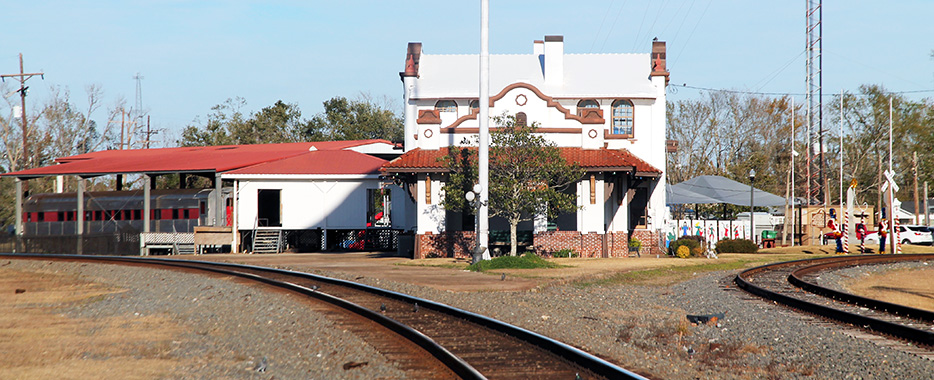 The presence of a junction for a secondary line accessed in both directions with a passenger depot in the middle of the wye makes it conceptually interesting, but it's those very same factors that make photography difficult, since the depot being on the outside of all curves makes getting shots that show the depot plus any appreciable length of train almost impossible.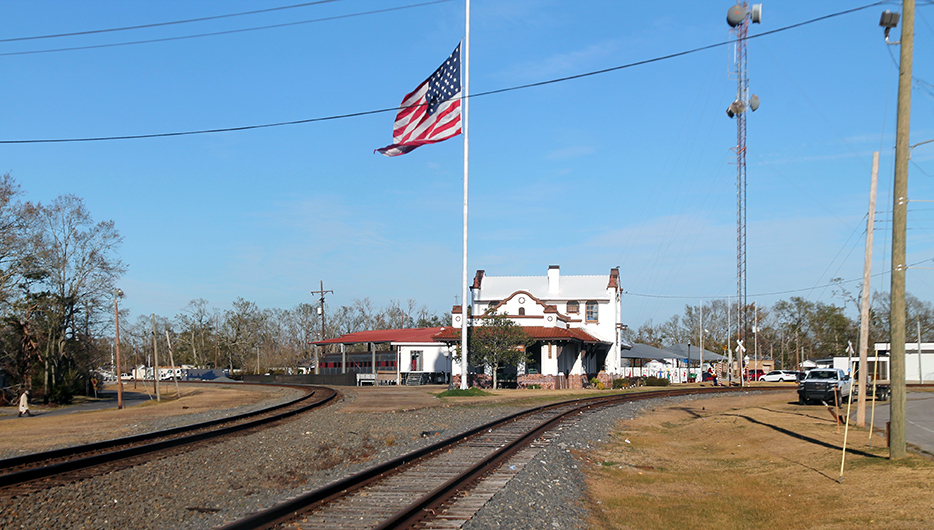 Drones could do some work here, but even the amount that they could do would be limited, especially since the busiest of the three legs of the wye is the one on the northern side of the depot.
There is some war memorial accessed via the parking lot of a grocery store.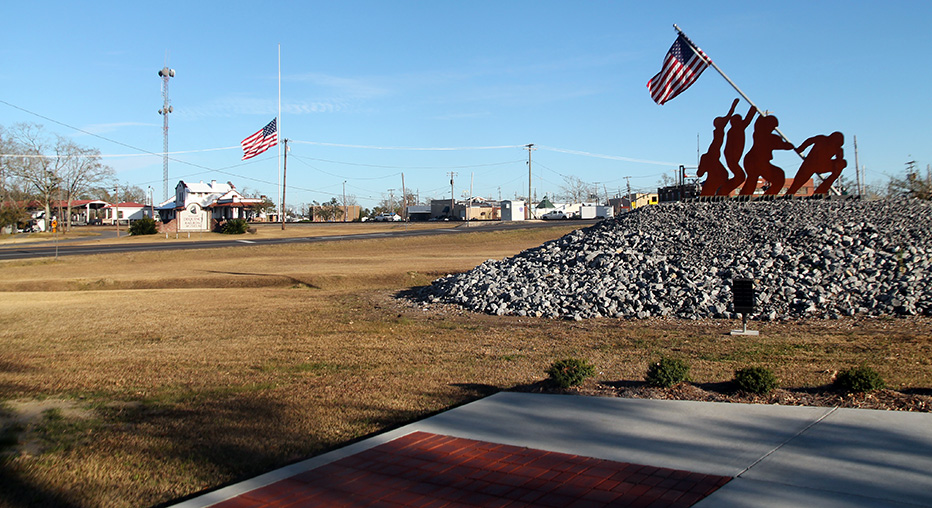 I returned to the depot, and, shortly thereafter, at 16:07, a northbound manifest train frame led by KCS 4181, as the sole power on the head of the train, rounded the curve by the depot. There were Norfolk Southern cushion coil cars, plenty CSXT and NS big box cars, a GTW cushion coil car, a BNSF boxcar, several KCS hopper cars in different blocks, and I think I saw some CN family stuff at the front of the train, while the first car was an empty centerbeam flatcar. There was also a semibulkhead flatcar with some rail wheels and axles together on it.
Unwilling to chase this thing northward, and figuring that that train occupying the blocks north of here for a way meant no more trains worth photographing here today, but still wanting to explore the area more, I went west along the mainline to the community of Starks.
There's a signing called Lucas. There does not appear to be much in the way of shot possibilities in this area, which helps to explain why I haven't seen many pictures from this area. That's a real bummer. Oh well.
Starks was interesting but also just a completely normal village for its size. I could have just returned to Lake Charles from there, going south to I-10 without returning to DeQuncy, and it would have been shorter, but I wanted to explore that same path that I had just taken with the sun at my back and everything that I saw frontlit instead of the sun in my face and everything that I saw backlit.
I stopped at the Southwestern Graphite place, where I had seen a couple of Union Pacific hopper cars along the way.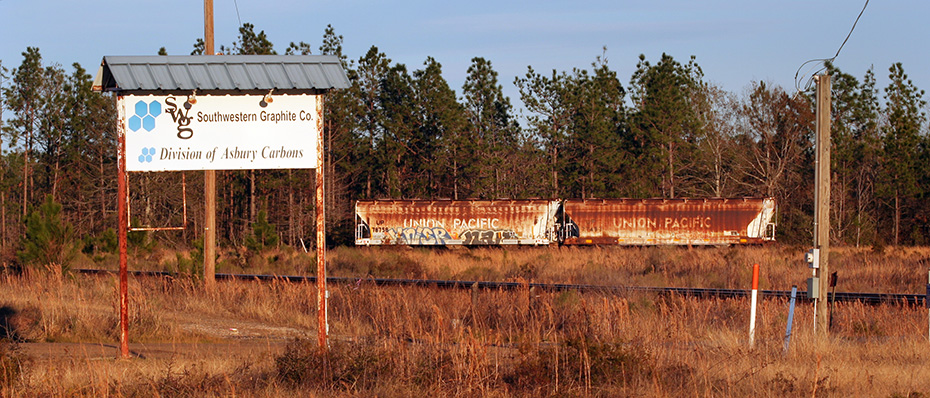 Is this place active? Does the UP local train in Kinder serve this customer?
I returned to DeQuincy just before dusk.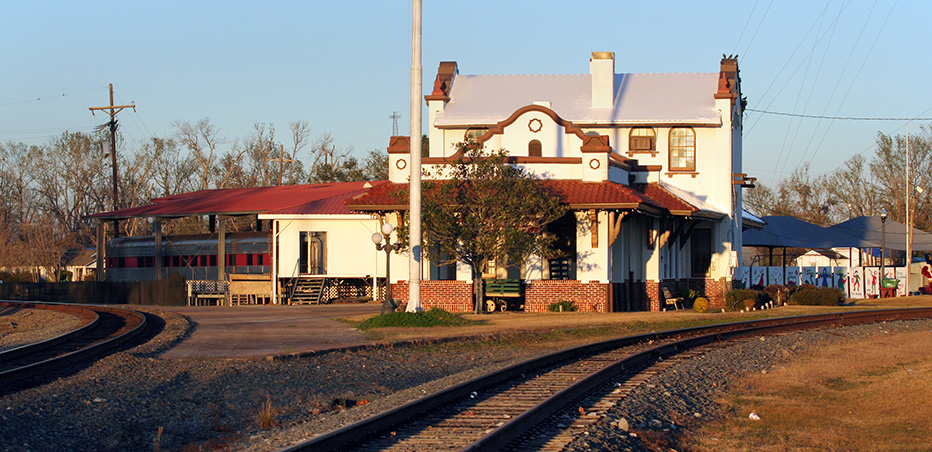 This glint view of the KCS yard at dusk is decent.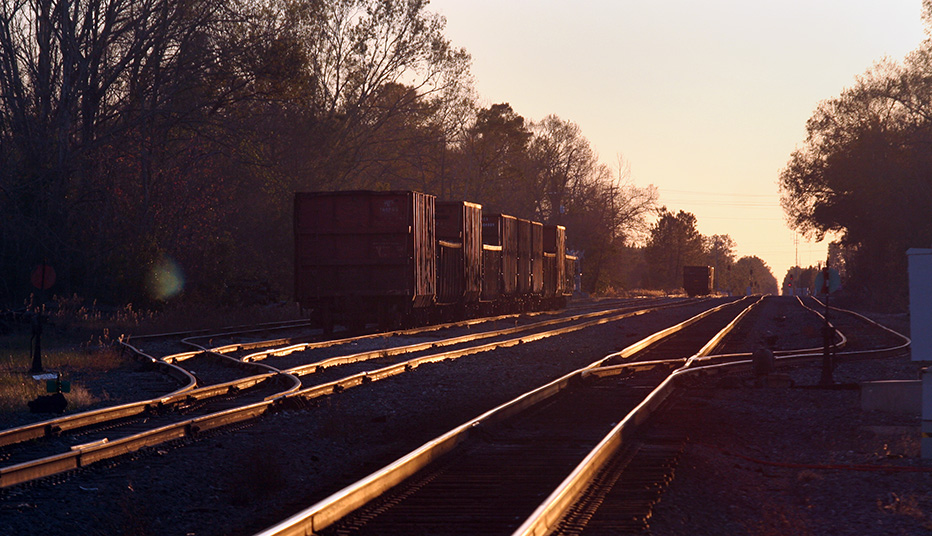 Oh, well, this was at least a good learning experience.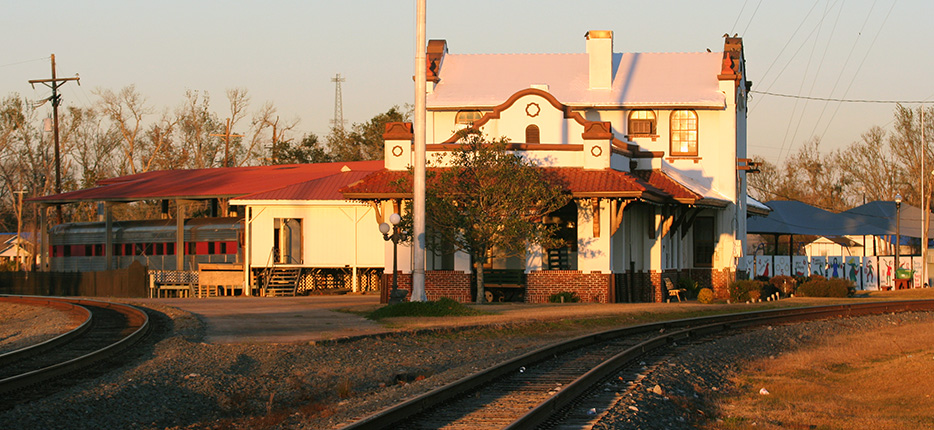 Continuing with the theme of exploring new territory, instead of taking Louisiana Highway 27 and then Louisiana Highway 379 via Westlake to Lake Charles, I went east-northeast to Ragley, which was not new territory, and then south on US Highway 171 via Moss Bluff, which was new territory for me. I arrived back at the Lake Charles house at 18:12.
That's all. Again, happy new year.
Jim