After the delightful surprise two nights ago when I witnessed a job of the Kansas City Southern Railway switching the Port Of Gulfport after my day in Mobile, I decided to return to Gulfport just in an afternoon, just to try to get that same port action again, this time with a tripod and also getting what I could get there in daylight before, making this my probably-last-ever trip to the KCS in Gulfport.
So, that means that I had plenty of time for my usually-usual morning walk in New Orleans.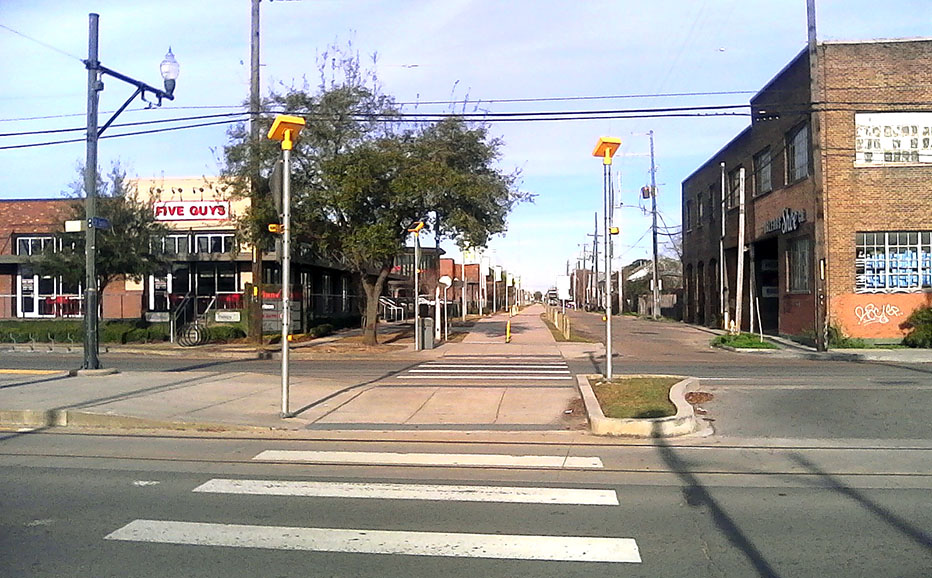 Yes, of course, I am on the Lafitte Greenway, the old Southern Railway Bernadotte Line, and, while, I am, above, at South Carrollton Avenue, where there are no longer tracks, I am, below, at North Alexander Street, where the Bernadotte Line now ends at Masonry Products, which seems to be getting much fewer railroad shipments, where these automobiles may be fouling the rarely-used track.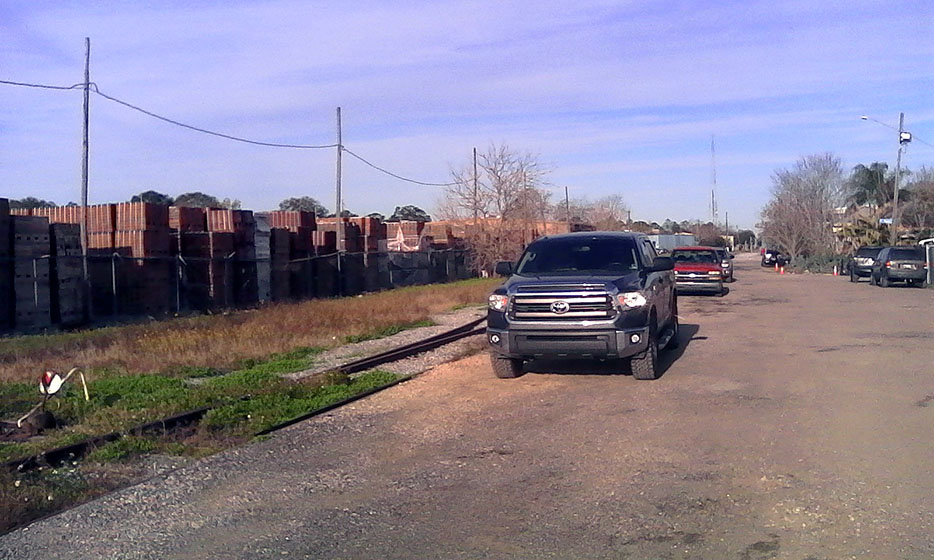 It ain't what it was, and it will never again be that.
At 12:05, I left the crib in Mid-City for Gulfport, exited Interstate Highway 10 to get gasoline in Slidell, reentered I-10 after getting gasoline, entered the state of Mississippi at 12:58, and exited I-10 at US Highway 49 in Gulfport at 13:26. I think that I went to Whataburger soon thereafter, but I probably scouted out the KCS yard soon after arriving in town, too.
I found a spot in the northern part of town to await the southbound return trip of the Hattiesburg Local.

I waited there for more than an hour and a half, during which some cordial and professional Gulfport Police Department officers visited me due to some nearby nervous white people who called them, and, then, at 16:16, I got the train coming through.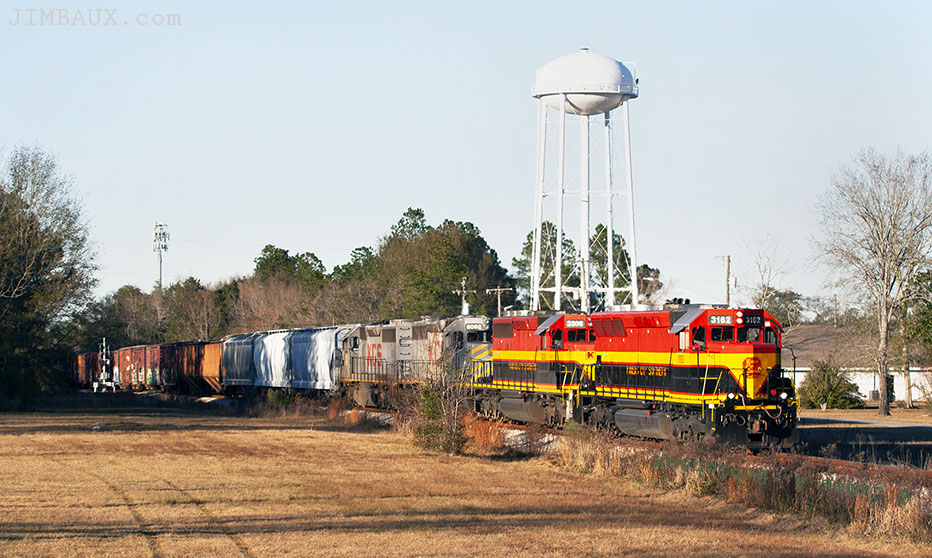 That is a neat site, and I wish that I could see something like this daily.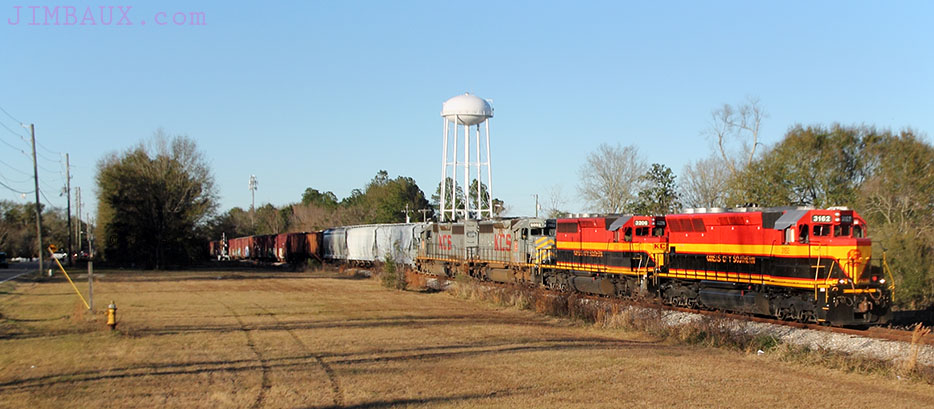 That's too many locomotives, and I imagine that some of them are being shuttled, but I like them!

It's 2020, and you can still see SD40-2s on a Class I railroad's trains!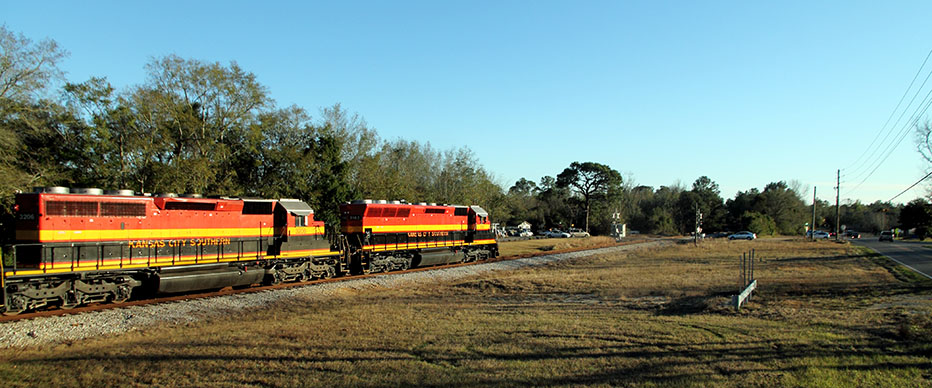 Even after the 2011-2012 upgrade, but not as much as since before the upgrade, the Gulfport Subdivision still has a branchline feel to it.


I like it!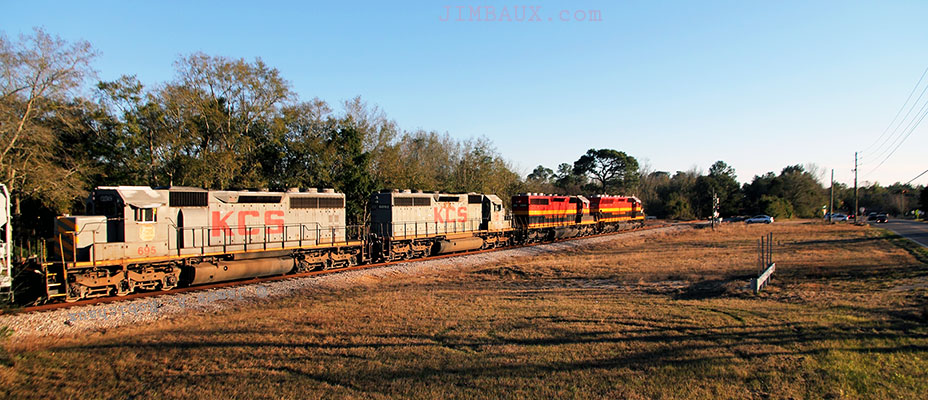 Let's have a look at what this train looks like.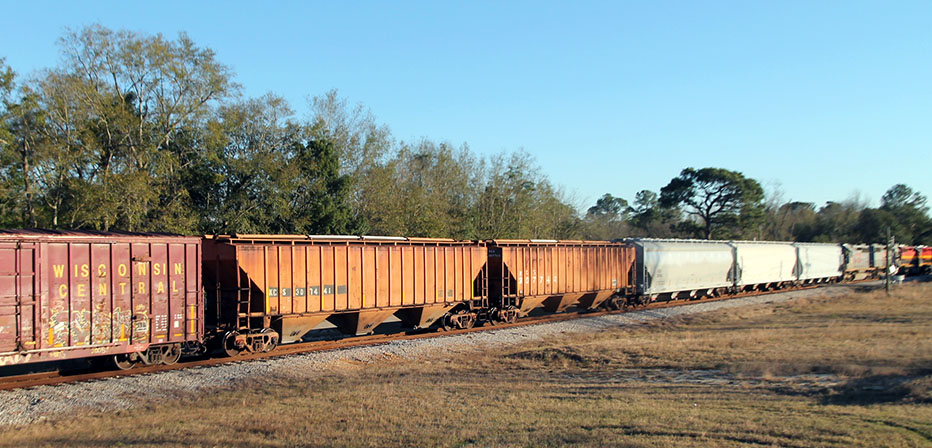 I love the old boxcars; I hate the graffiti.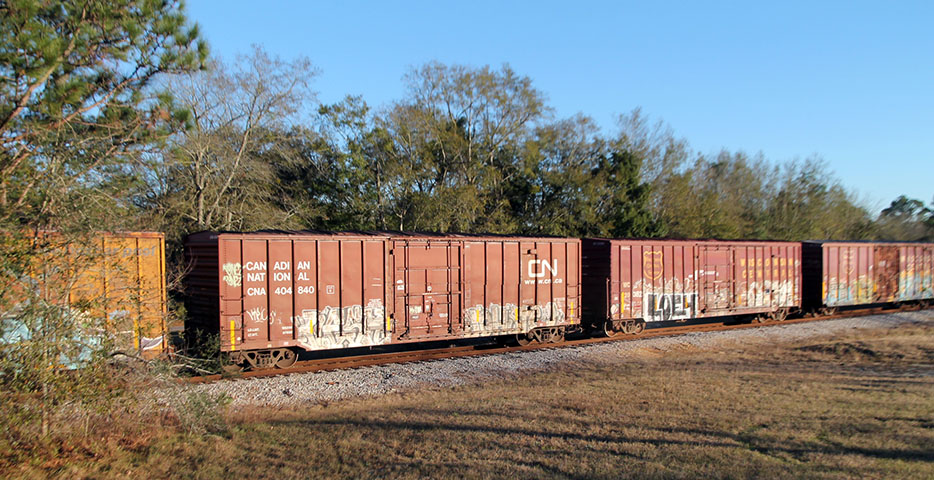 I love CN family boxcars; I hate the graffiti.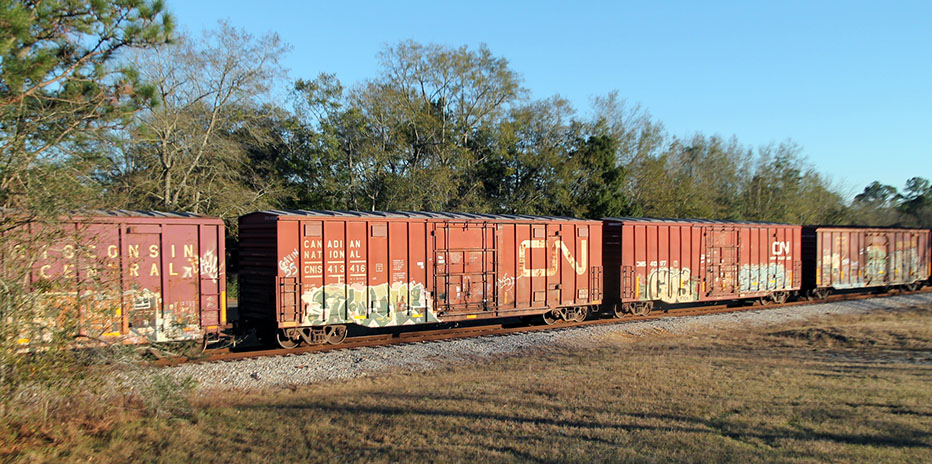 I would love to know what these other cars are carrying.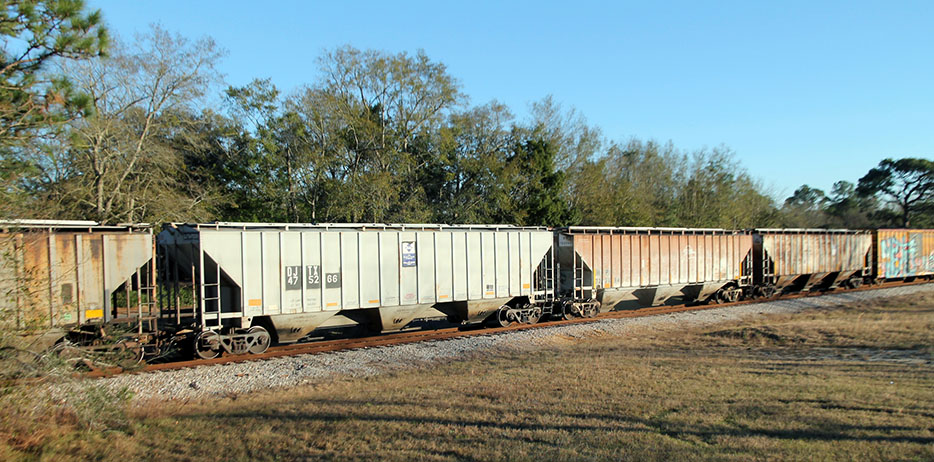 Look, there are CNW and UP hopper cars!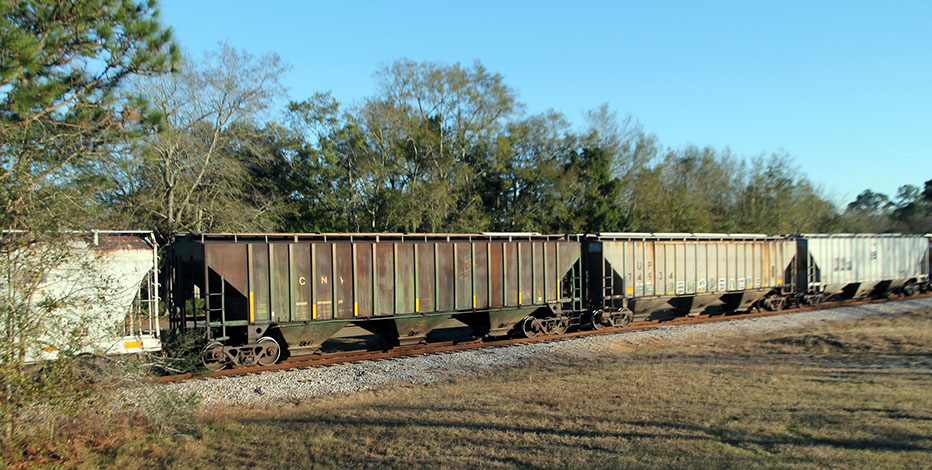 Okay, here come those neat grey HOKX tank cars.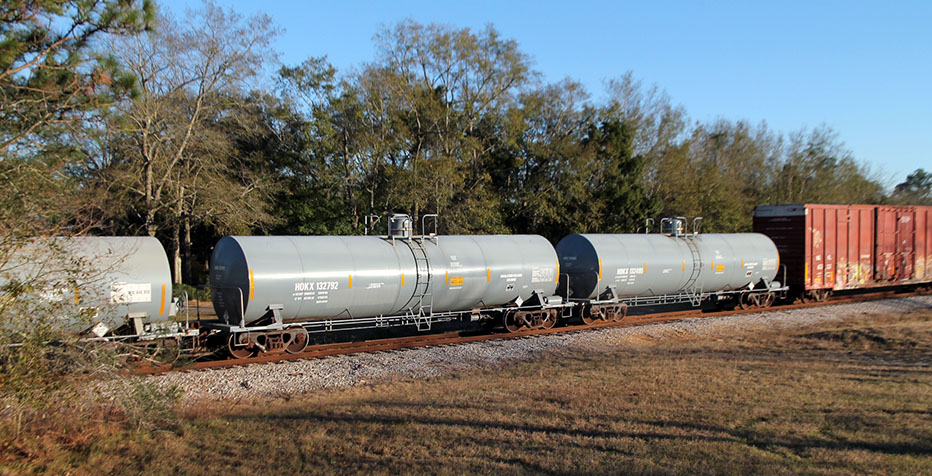 I think that they are going to the DuPont facility at Delisle, the facility that is one of the main reasons that KCS keeps this line.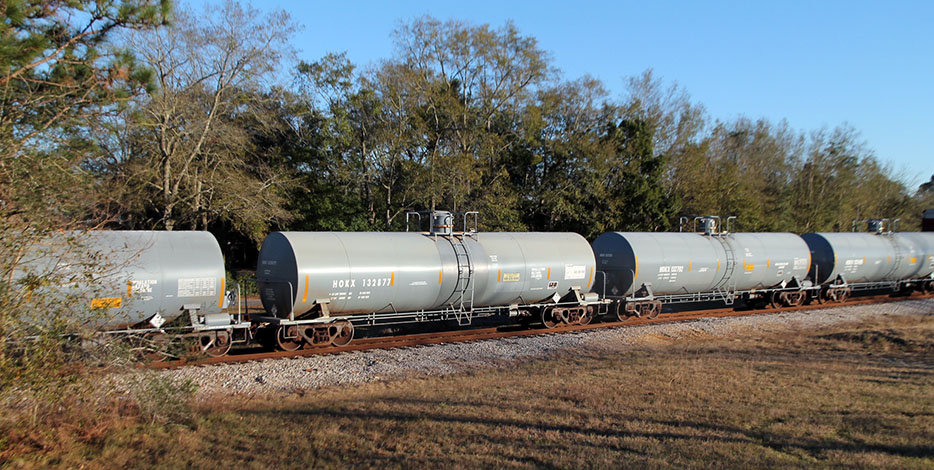 I never got to see action on that branch, and I never even scouted out the line, and, now, I guess that I never will.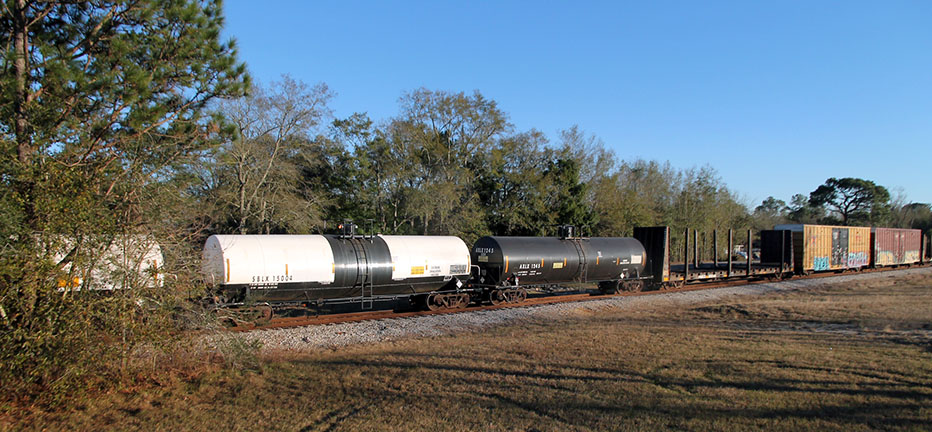 These are chlorine tank cars.
I am not a big fan of tank cars, but, as far as tank cars go, I do like the white tank car with the black middles and undersides, or are they black tank cars with white top-middle ends?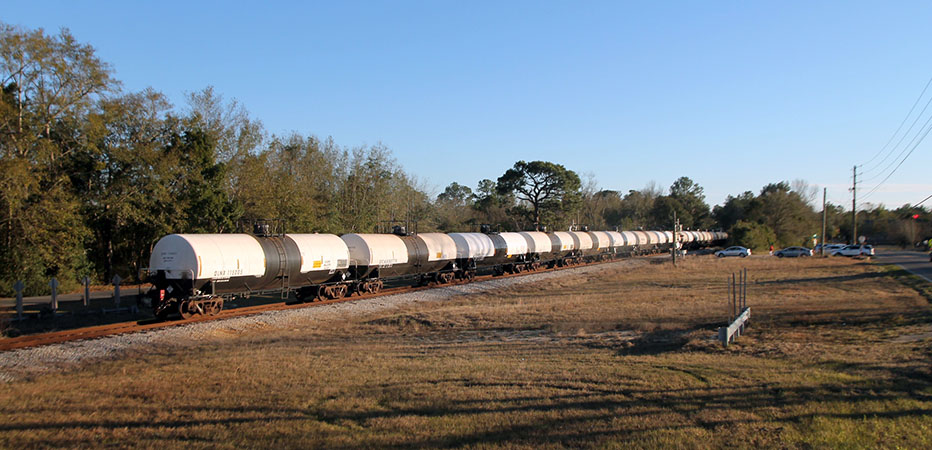 I got to the yard, possibly after (another) trip to Whataburger, and there is some action happening here.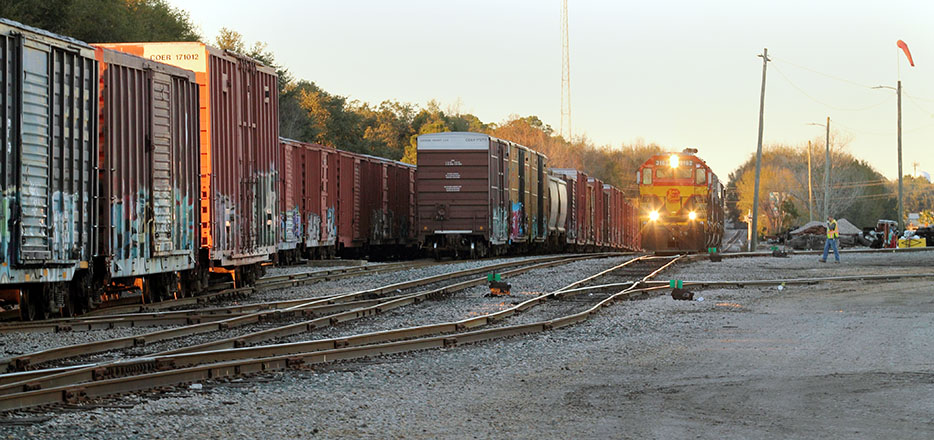 That is the power set of the Hattiesburg Train, the train that we just saw, breaking off of the train and going to the locomotive tracks.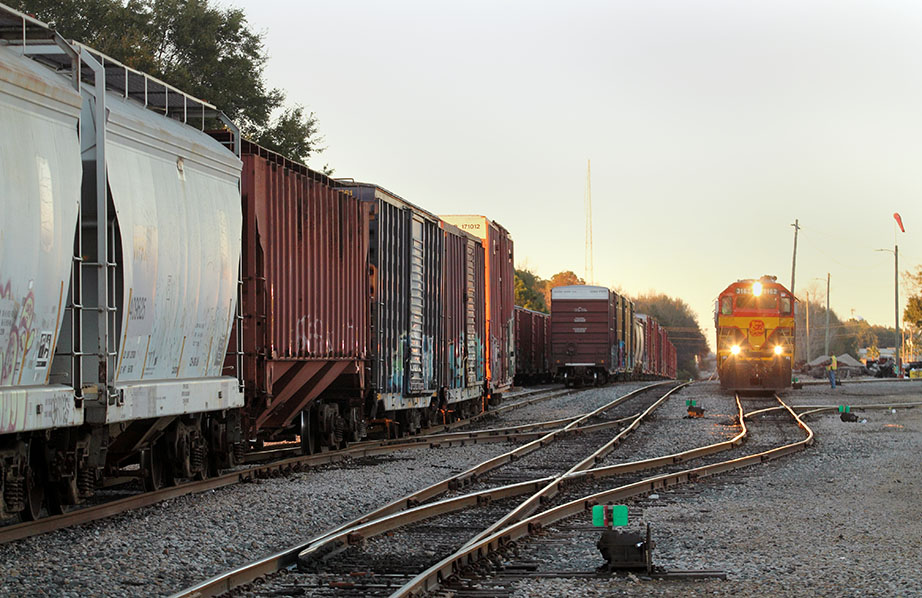 Yes, the lighting is terrible here, and, normally, I wouldn't post pictures like these at all, but they are an important-enough part of the story that I am trying to tell today.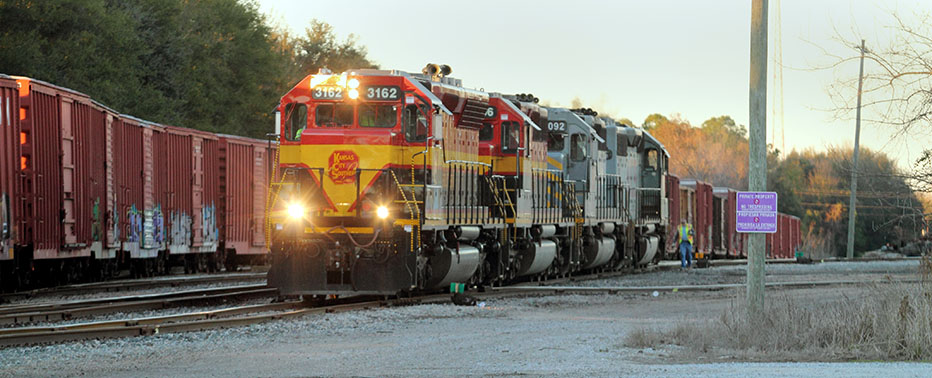 So, the Hattiesburg Local's power is being put away, while, at left, a long string of boxcars is moving southward to the port!

Okay, this is interesting!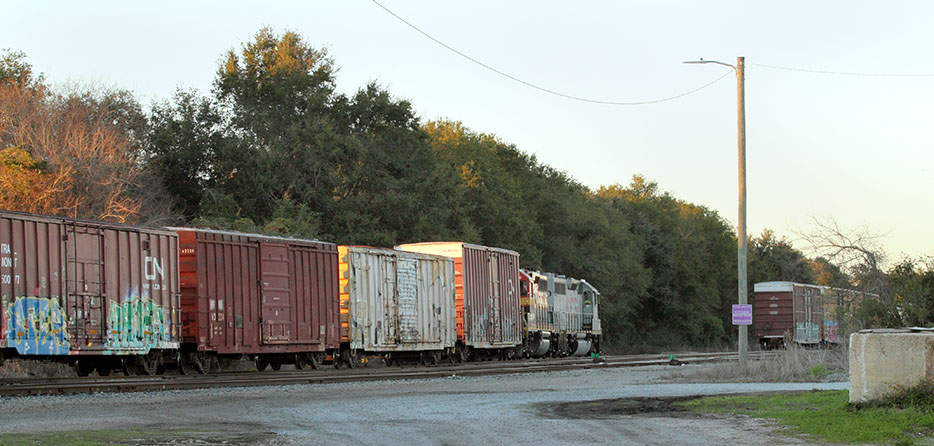 The locomotives are shoving the boxcars to the port!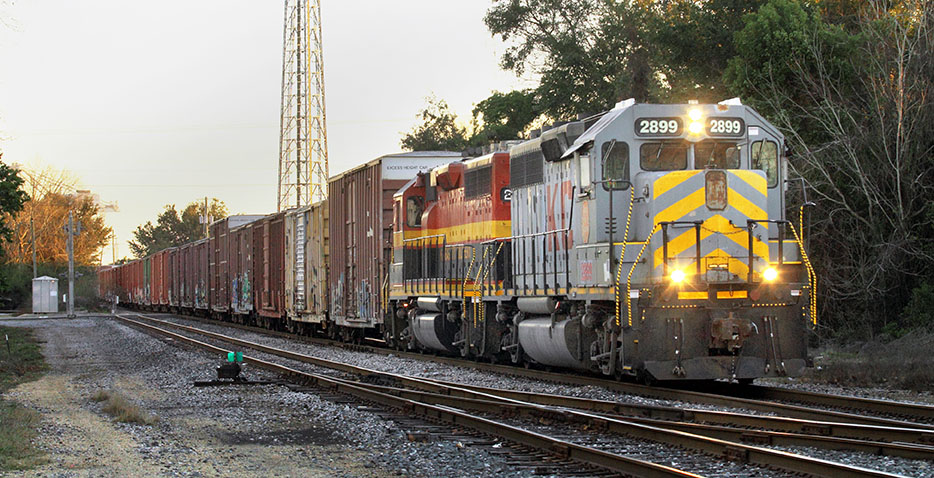 So, here I am again at the port.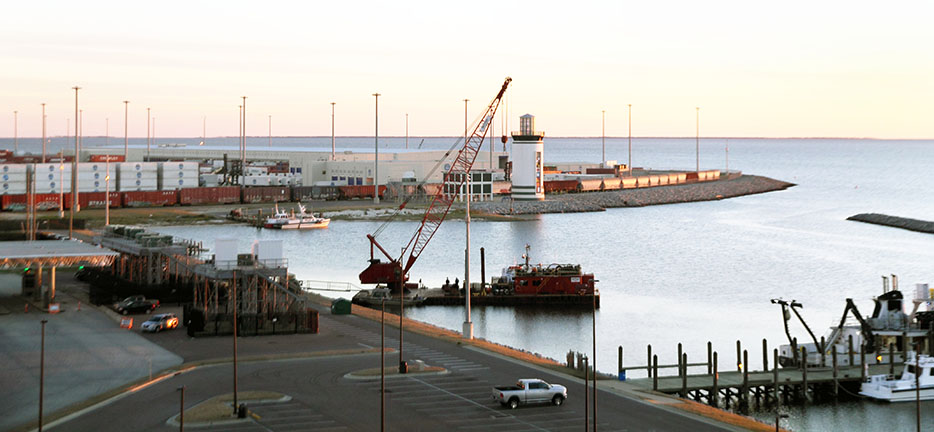 This time, I brought a tripod!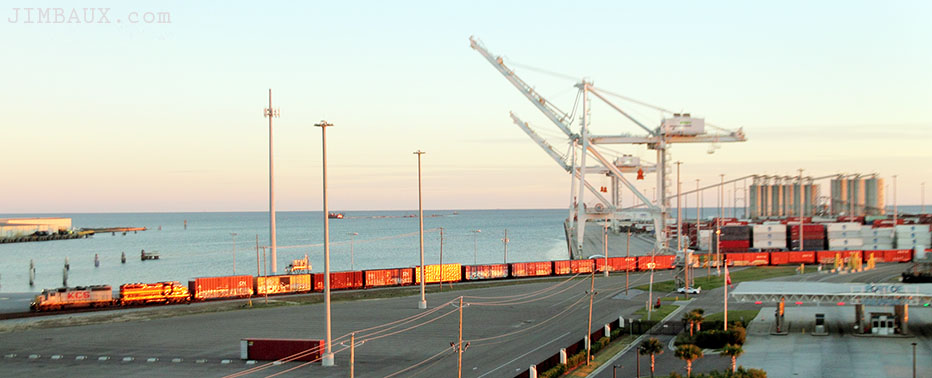 I didn't start using it yet, but I soon would.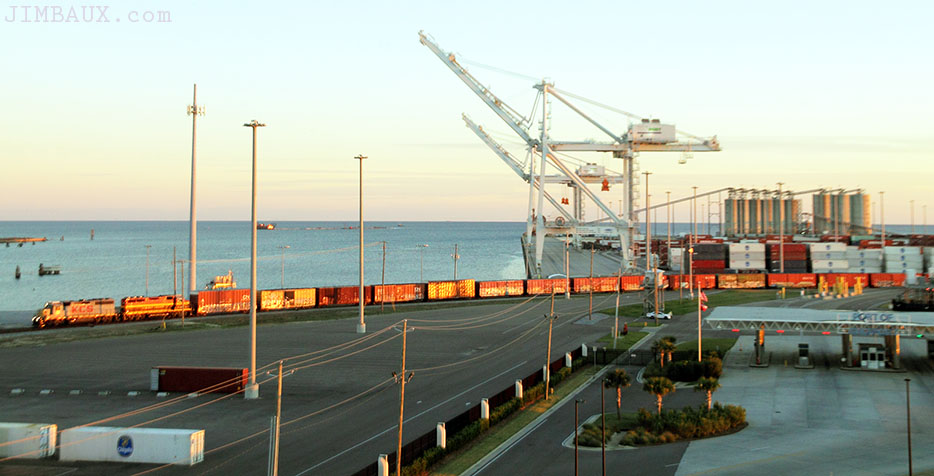 Isn't that neat? If I lived around here, I'd come to this location often.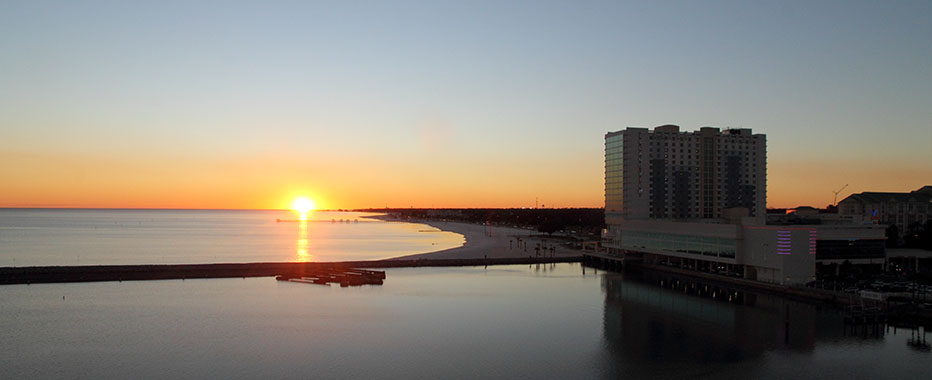 The sun sets over the shoreline of the Mississippi Sound.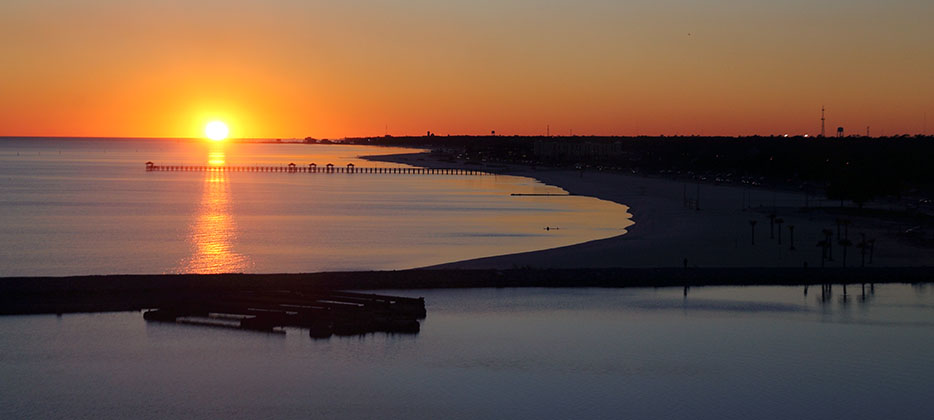 I think that the boxcars are for exported paper.
This is the southeastern corner of the Kansas City Southern Railway.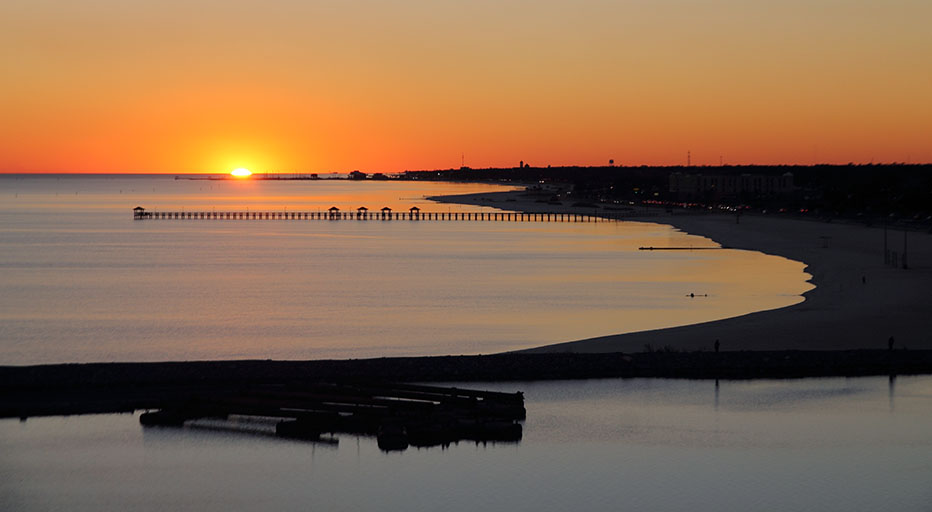 This is, I guess, a fitting way of closing my coverage of this line.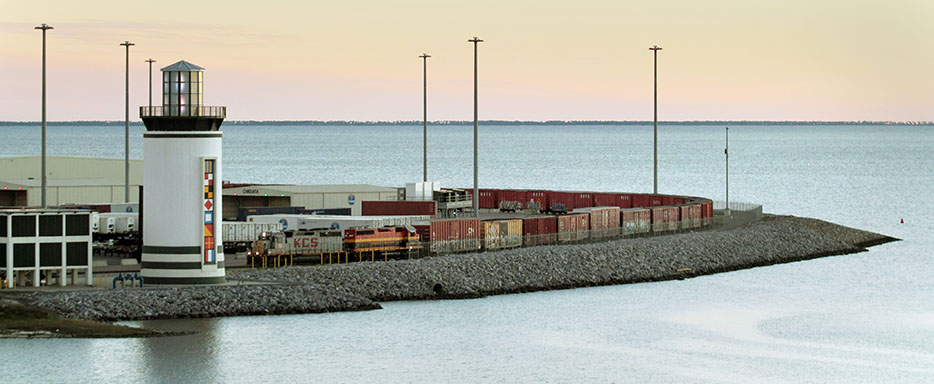 Check out those big cranes.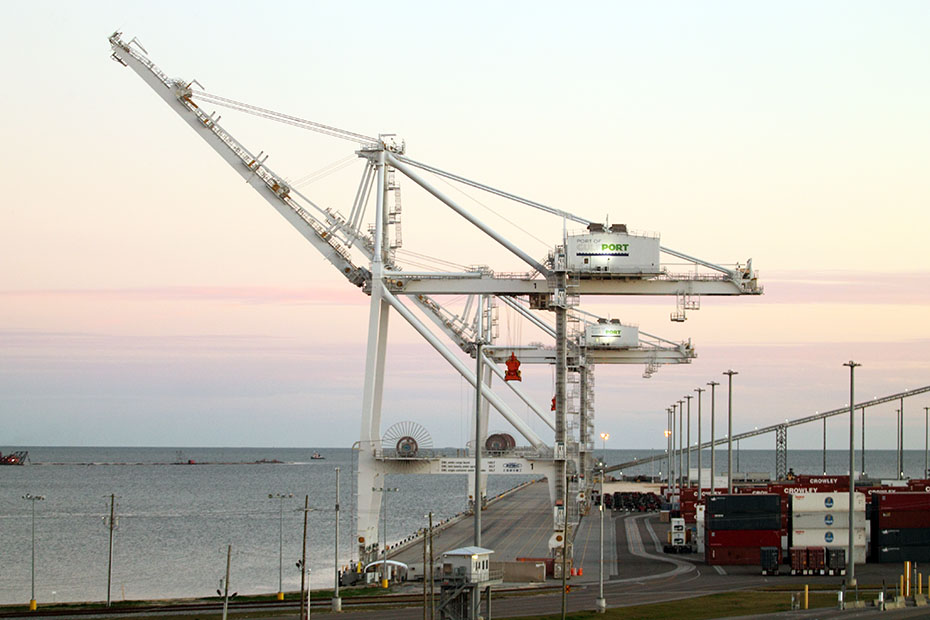 I don't care for the casinos.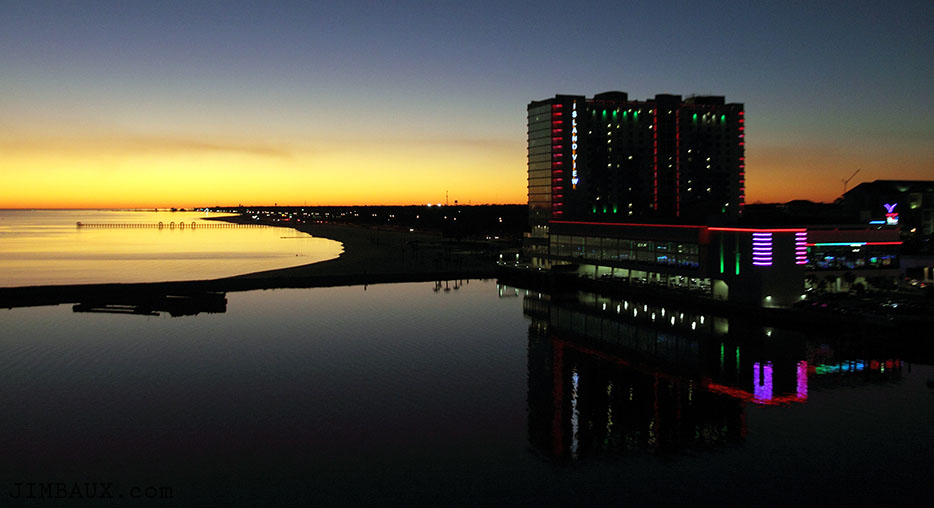 I think that society would be better off without them, which is to say that I think that society would be better off if a significant percentage of the populace didn't find that silliness entertaining.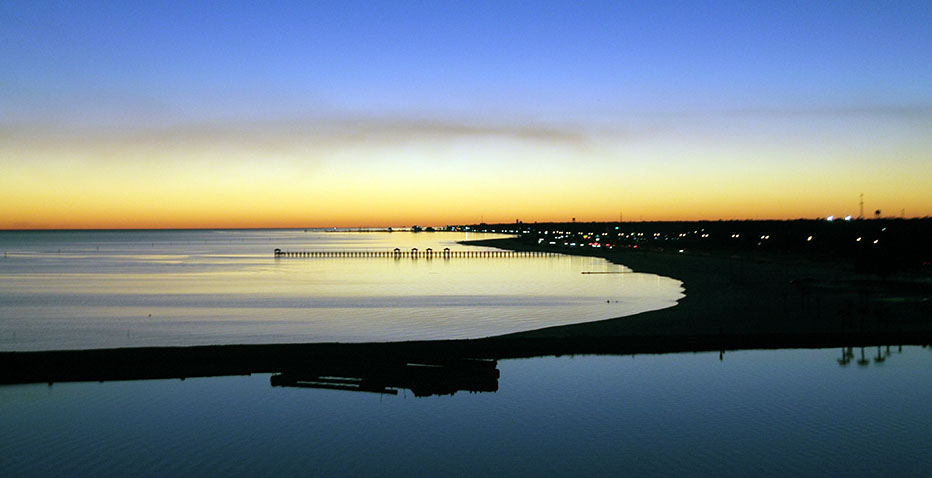 Local firefighters are training here.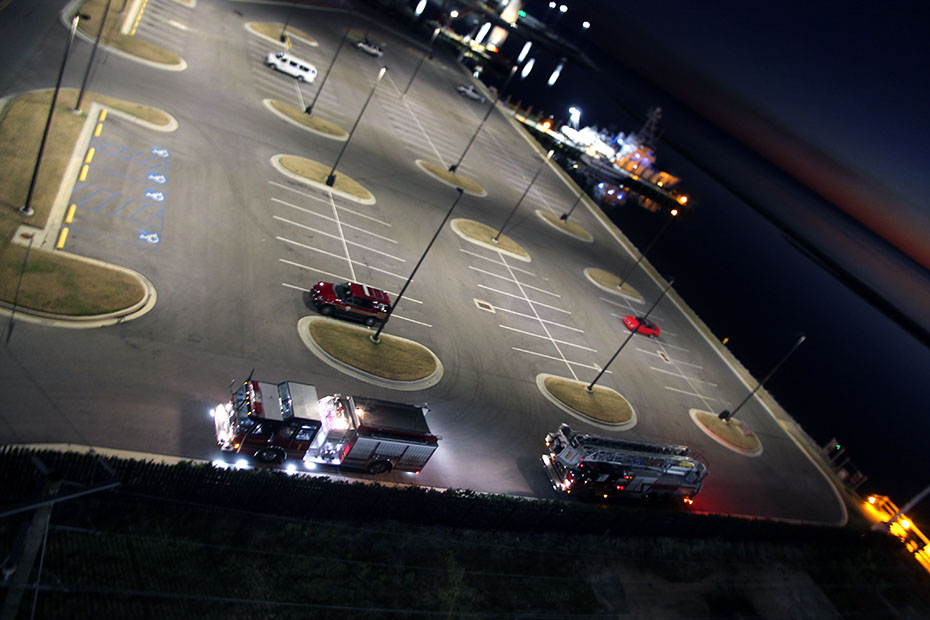 Here is a cell phone picture.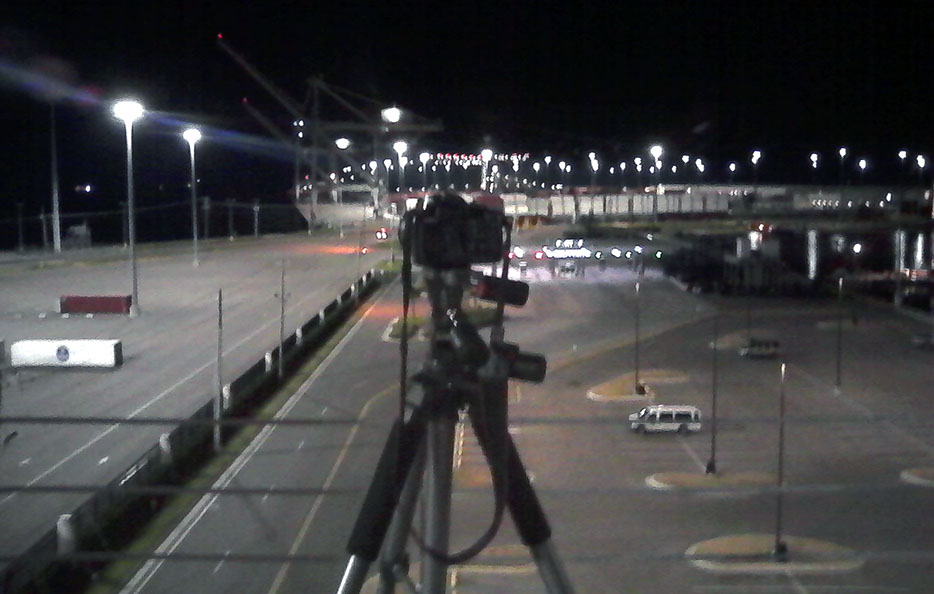 Here is another cell-phone picture.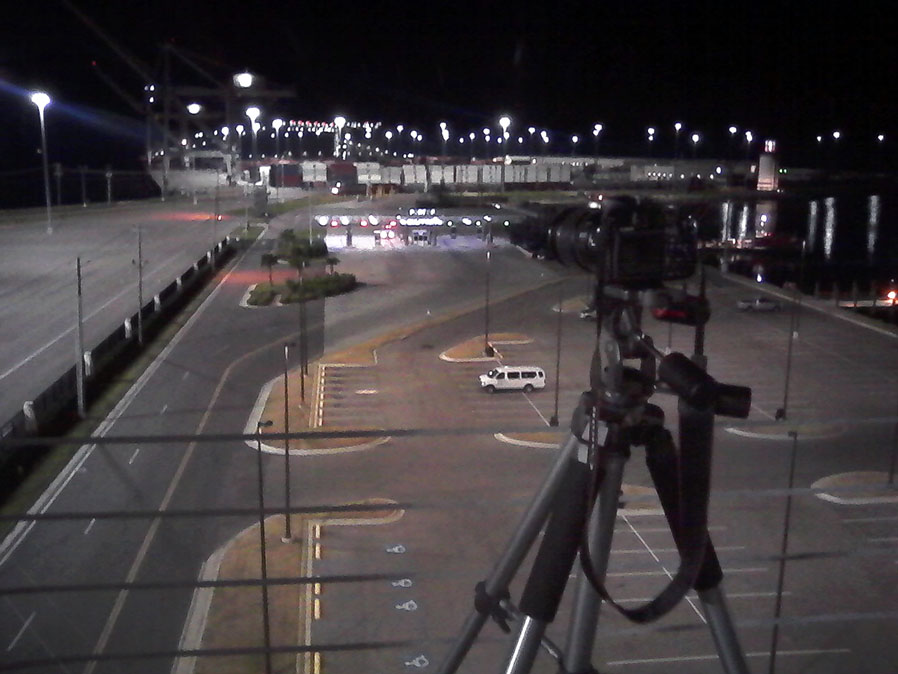 Dole has a big presence here, and this is where many bananas enter the United States of America.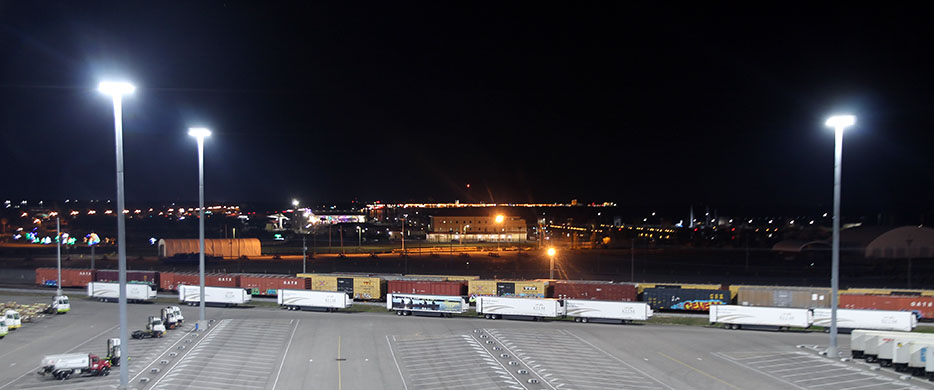 Do you see the locomotives in the background in front of the containers in the below picture?
The locomotives then break off to go and grab another cut of cars in the port yard.
Finally, here are the locomotives shoving the next cut to the dock tracks.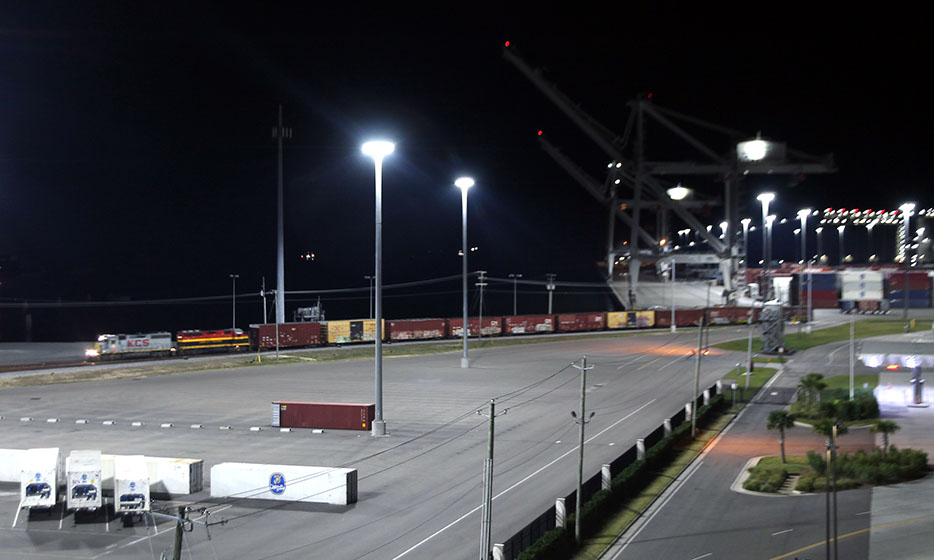 I leave the port and return to the yard, to the locomotive tracks, where, after making an emergency visit to some nearby trees, I shot the power set on our Hattiesburg train from earlier today.
Yes, I am being repetitive here.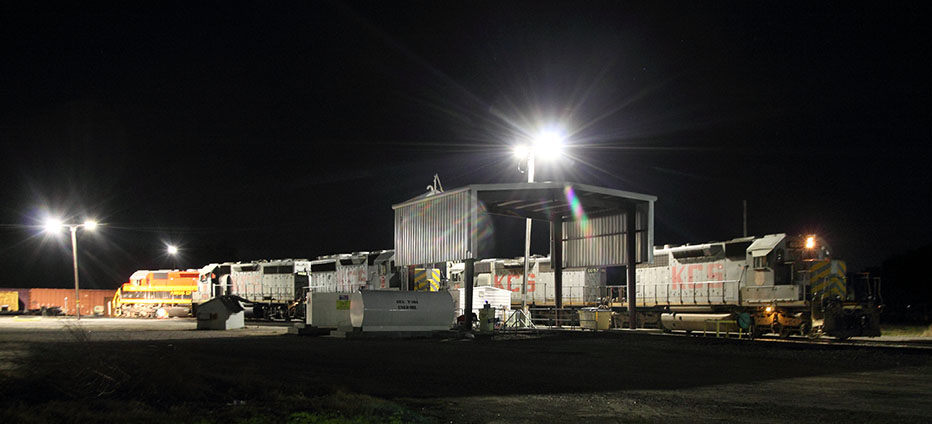 Now, let's move over a bit so that we can see the part of the string of boxcars north of the locomotives.

The thing that I like about this place is that it looks like railroads looked back in the 1990s.
Anyway, it's time to head to Zaxby's, my first time at the Gulfport Zaxby's.
Alexia at Zaxby's was very nice, but this experience wasn't as cool as I thought that it would be, which means that it wasn't as cool as it was a decade ago.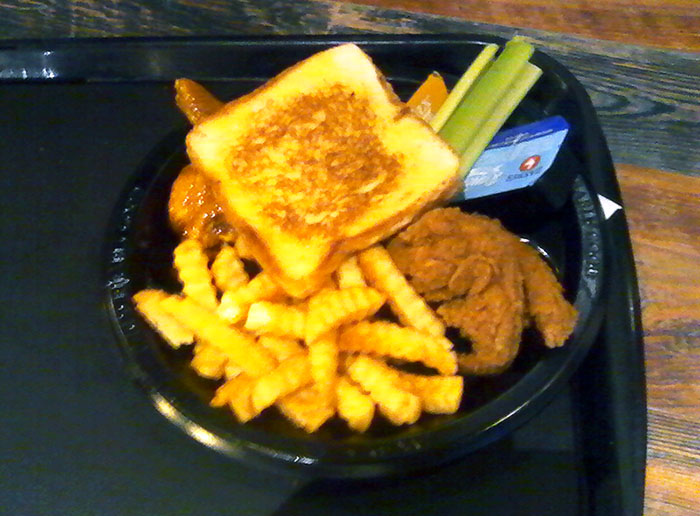 This is gluttonous. I went to Whataburger twice today and now Zaxby's. Once my New Orleans time is done, I am going on a strict diet!
I went back to the KCS yard after this food, but then the port job tied down shortly after 21:00; so, I left Gulfport to head back to New Orleans on US Highway 90.
I stopped in Bay Saint Louis, where, at 21:57, I shot this CSX maintenance-of-way equipment parked across the mainline from the old Louisville & Nashville Railroad passenger depot.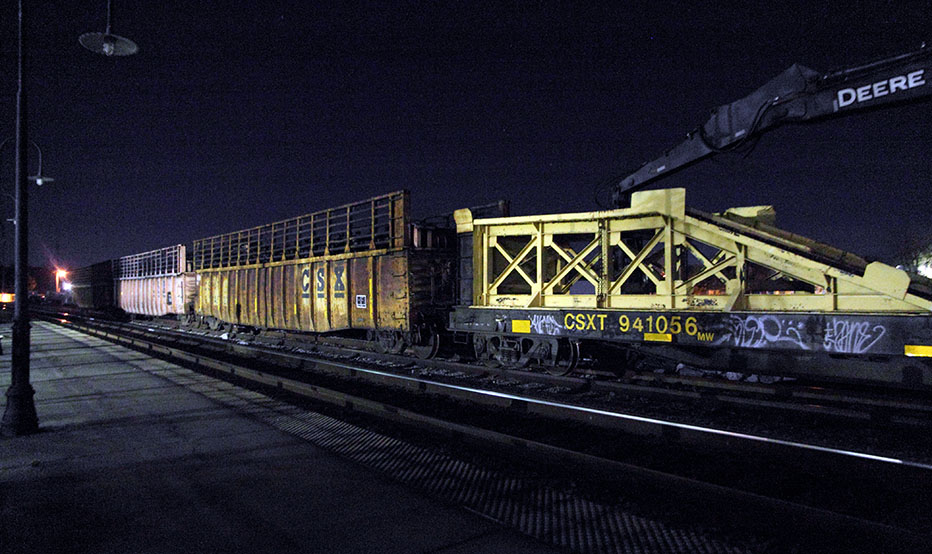 Now, let me get a few shots of the depot in this neat old town.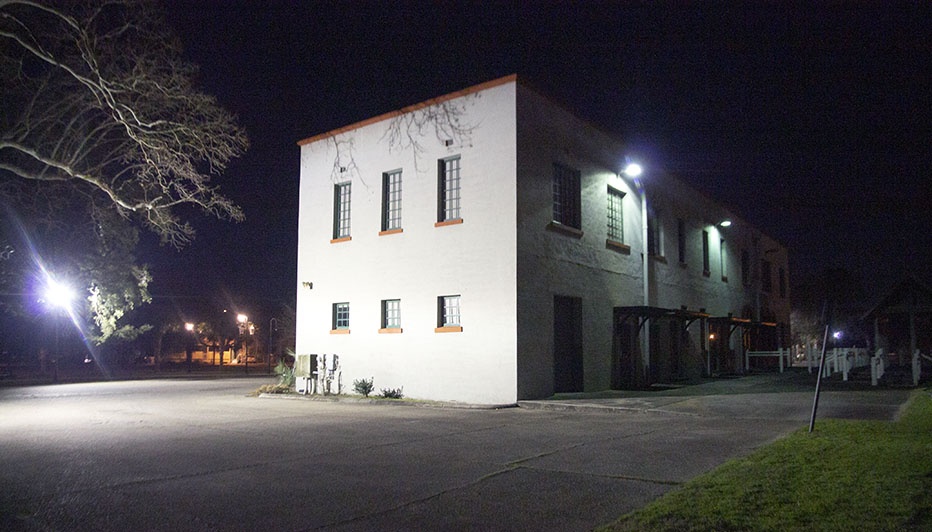 It would be cool if passenger trains still stopped here.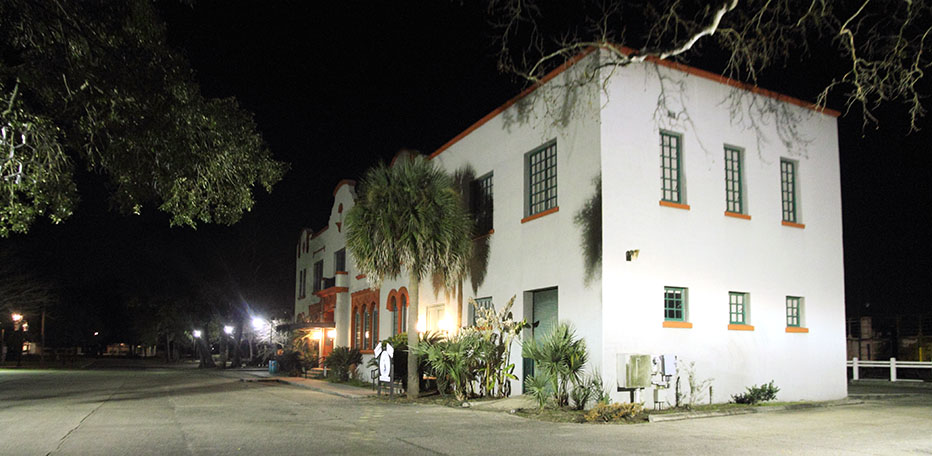 It could happen again!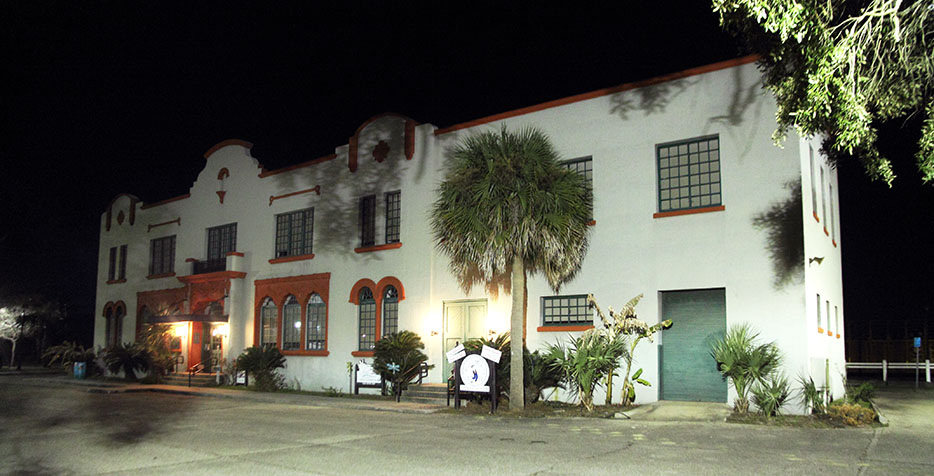 That's all for pictures today. I reentered Louisiana on US Highway 90 at 22:23 and arrived back at the crib in Mid-City at 23:16.
So long, everything east of New Orleans; it's been real, I love you, I will miss you, but I must leave.
Peace,
Jim