This is all so exasperating.
I went to a job interview today, one week after breaking out of prison; this will be one of my last chances to stay in New Orleans. I feel that my time here is coming to and end; well, it already came to several ends before, but it's coming to its last end, and I don't much have the will – or maybe not even the care – to fight it anymore, as I am over this place.
I should have brought camera one trip to job interview, because I saw two trains in a row on the NOGC – well, one on Fourth Street and the other a grain train coming off of the "Lower Coast" line – of which I could have gotten decent photographs; the grain train had an SSW hopper car that still had the full "COTTON BELT" big lettering on the side, and, man, I really miss that.
After the interview, it was time to pack up and head west via going north first; more specifically, I went to Hammond and then headed west on US Highway 190 from there.
I'll tell you why shortly, but, first, I caught a northbound empty Canadian National Railway grain train with a British Columbia Railway locomotive still in a BC Rail paint scheme leading!
Here it is starting to cross Bayou Manchac.
The British Columbia Railway was a neat idea, and we are far from there!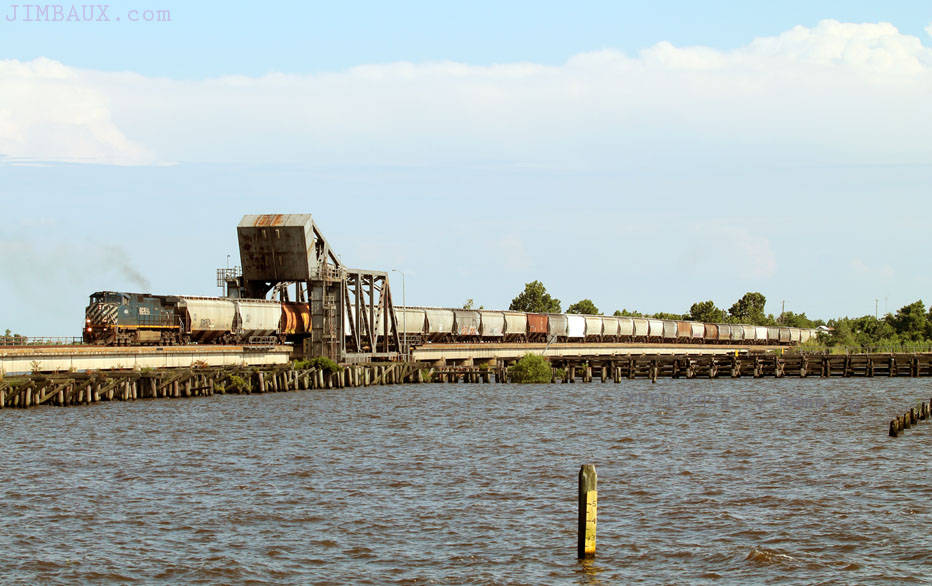 Let's get a close-up shot of that locomotive.
The lens hood then fell into the water in Bayou Manchac; waves then washed it ashore. I guess that I will have to retape it, or something.
Moving really fast, I got back onto I-55 and got ahead of the train and set up for a shot in Ponchatoula, my first-ever train picture in Ponchatoula.

The train was hauling ass through Ponchatoula, rattling cars. I went back south the same way I came in to get out of Ponchatoula.
Oh, there is a Zaxby's in Hammond? That is good to know for future references.
So, here is what I was there to do. I wanted to drive along the CN Hammond District, the former Illinois Central Railroad line between Baton Rouge and Hammond. I had never before driven the entire length of the line.
There was a Weyerhaeuser spur at a railroad location called Sykes, there was a spur with hopper cars west of there, and Corbin siding in Walker.
I didn't see any train on the line, but, in the eastern part of Baton Rouge, I photographed flatcars with what appear to be bridge members on them.
It really bummed me out to see that those brick places are still active by the track on Choctaw Street but no longer receiving railroad service. That really, really bummed me out. It made me think of the Bernadotte Line in New Orleans.
Now, it's time for me to go to downtown Baton Rouge and check out the swollen Mississippi River.
At 1900 as I was taking pictures on the riverfront in Baton Rouge, I heard…
something.
That is all that my notes say!
Anyway, here I am at the river in downtown.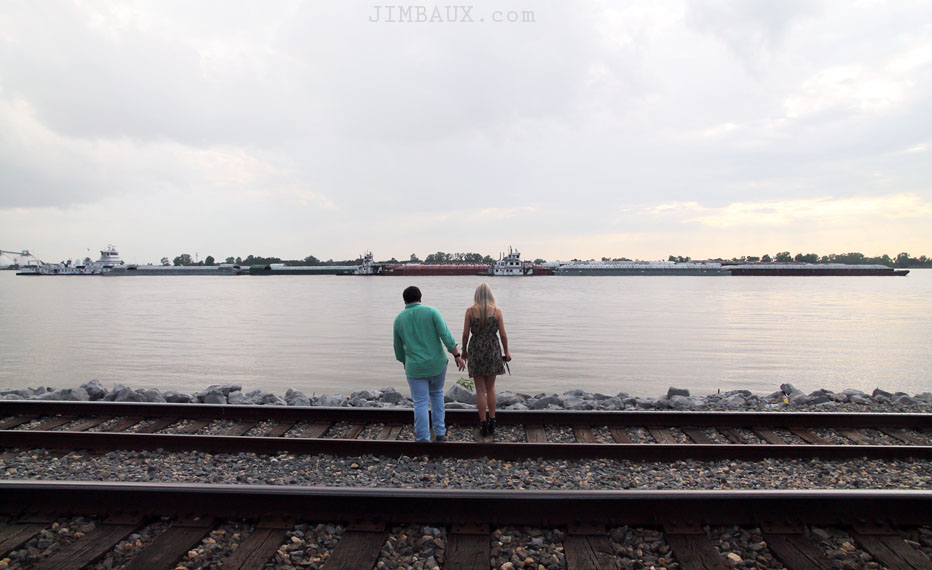 Yes, the river water, normally much lower, was right up there by the track!
The track here is the former Y&MV mainline between New Orleans and Memphis via Baton Rouge and Vicksburg, and the track closer to the river is the lead to CN's North Baton Rouge Yard, and you can see below that we're just north of the beginning (or the end) of the yard lead.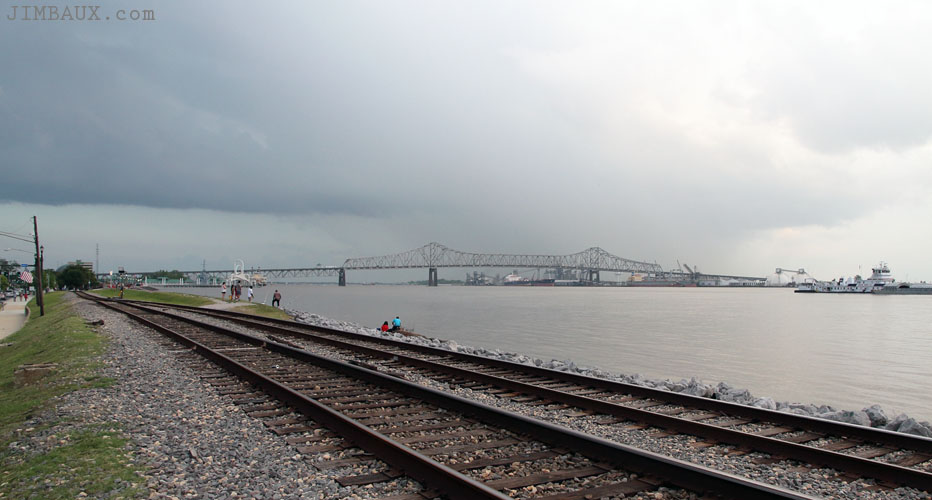 The rain was coming!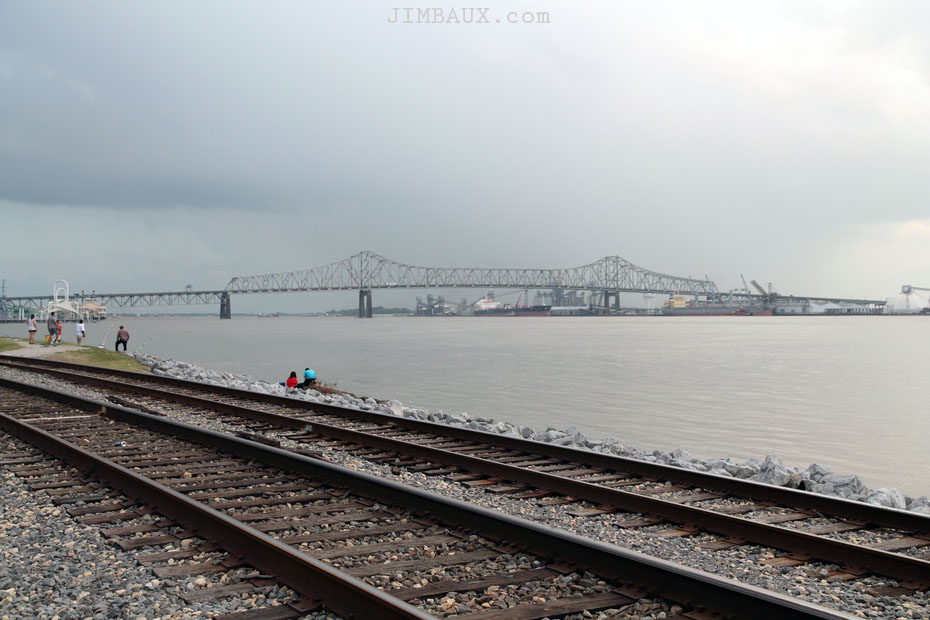 People are fishing, it seems.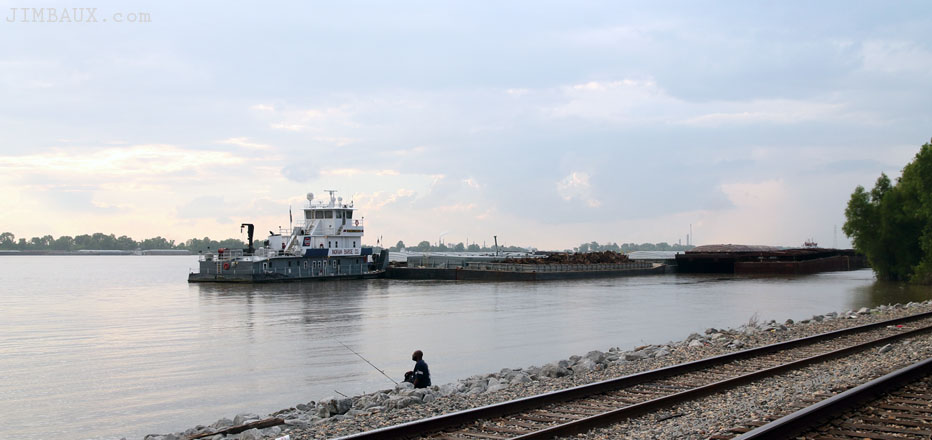 This place has an interesting history, as we are right near the big state capitol building, an interesting railroad history, while I have a brief personal history here more than 15 years ago.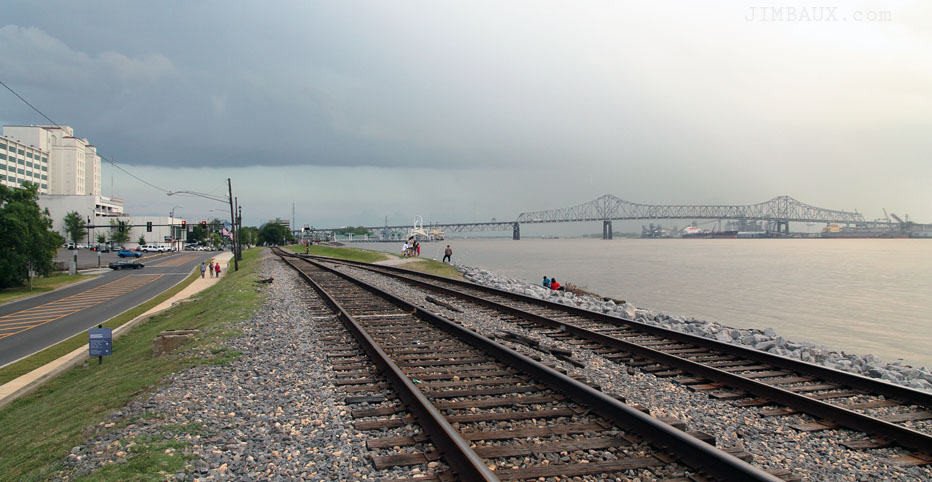 What does all of this mean?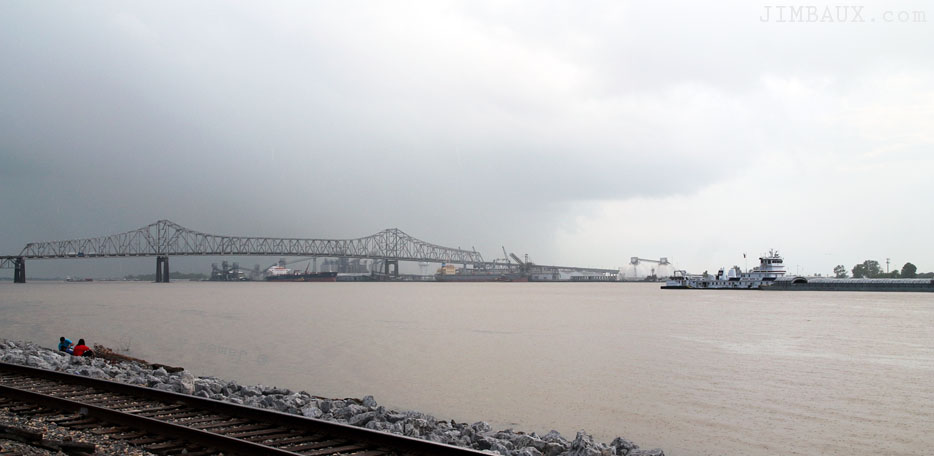 Shortly thereafter, I got onto that bridge, crossed the river, and continued my westward journey.
That's all for pictures today.
This society is sick. We need real change.
We must stop only treating symptoms.
We must start treating problems.
I love you.
Thank you for reading this.
I'll catch you soon.
Peace.
Jim