Jimbaux knows that the more he lives the faster he will die.
No sé
Hi. I don't know what to say anymore, as I am just slowly being killed, having time and my potential robbed from me as I have, for about five years now, been forced to live my life as if I am in the witness protection program, never allowed to actually do what I do best, not allowed to succeed, not allowed to do my best work, not even allowed to publish work that I have already done with my own face, but here are some New Orleans railroad pictures that I got this afternoon of Friday 31 August 2018.
However, I do want to warn you that Patreon has decided that the content on my Patreon page is "adult content." WTF? Are you kidding me? At first, I wonder what was so racy about train pictures or my mild ideological commentary that it triggered this change, but, as some of my Facebook readers have suggested, it seems that the cigarette in Chip Ledet's hand in the lead picture of my post a few days ago triggered this.
About 99.9% of the time when someone says "this is why Trump won," it's a justification for abuse and domination, a dismissal of the voices of the marginalized, but, damn, this kind of crap is (a minuscule part of) why Trump, someone who represents a value system that is antithetical to mine, won, and I say that as someone who despises cigarettes and the immoral usage etiquette of way too many cigarette users. I am an anti-prohibitionist and also in favor of further restrictions on where they can be used; I saw a report recently of a woman in British Columbia trying to get cigarettes banned at her apartment complex because the smoke finds its way into her unit, and I can't say that I am opposed to that, though I also think that colleges are going overboard with banning tobacco use of all kind, even the kind that doesn't involve smoke.
Part I
Anyway, I was out by NS Oliver Yard, and there was a yard job working; so, I decided to hike up the Almonaster Boulevard overpass to get some shots.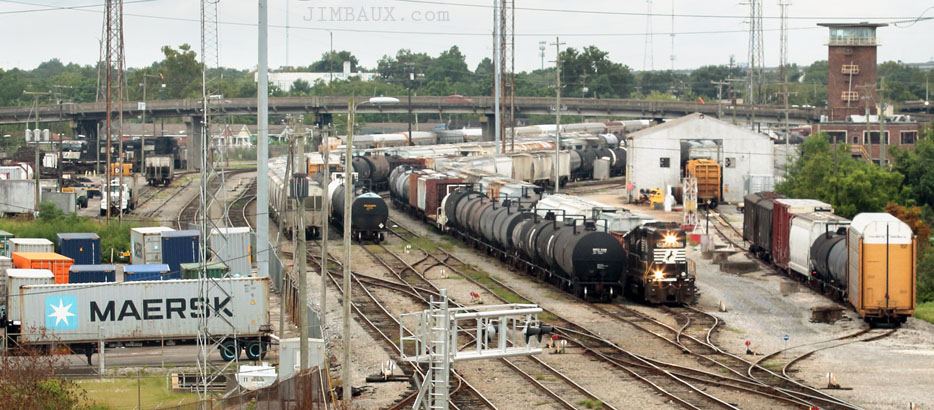 I am not sure that I have ever really done that shot before, and today's post is full of new views!
NS's intermodal yard seemed busier than normal, and I wonder if it is due to increased business due to CSX's recent closing its nearby intermodal ramp.
I then noticed a change. I knew that NS had put this new connector track from the north to the Chalmette Branch, but I didn't realize that the track going from the yard to the branch over the Florida Avenue Canal had been removed, and I didn't see the new road from the yard to the northbound lanes of Almonaster Boulevard!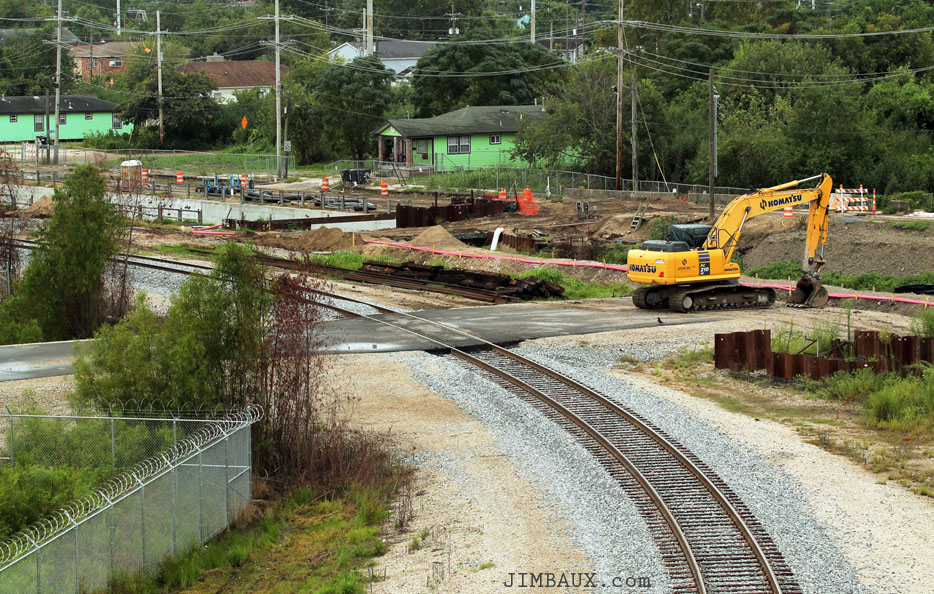 WTF? I suppose that the jobs that are going onto the branch now either back out of the yard and then use this new track or come out of the yard with the locomotive pulling, shove into this track, and then use the new runaround track to get the locomotive on the front end.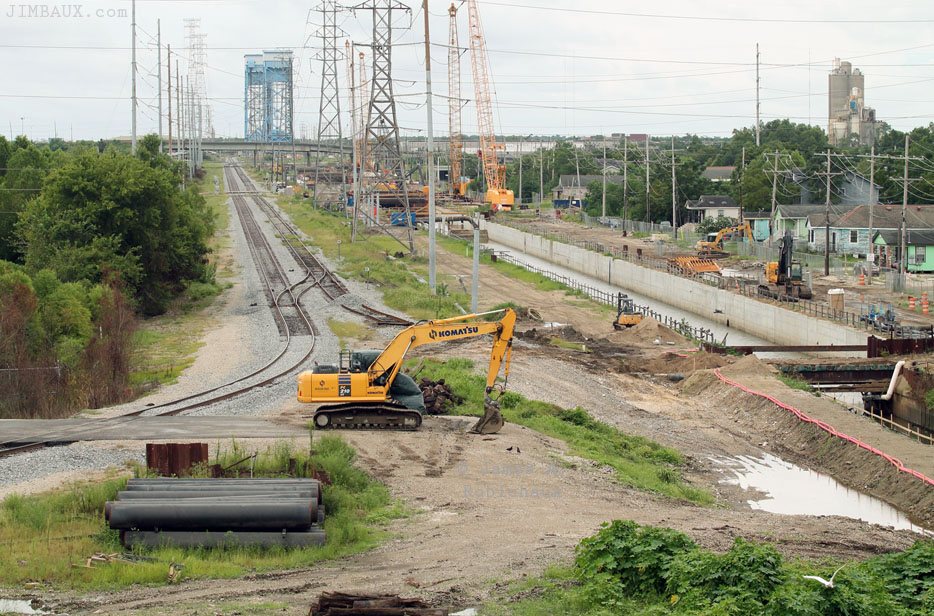 You might be able to better see there that the track across the Florida Avenue Canal from the yard to the branch has been removed, I am guessing due to this big, ongoing drainage project that is happening here.
I heard a horn off in the distance and was hoping that it was one of the trains on the branch returning to the yard, but it was just the NOBP 1505 running light northbound to France Yard.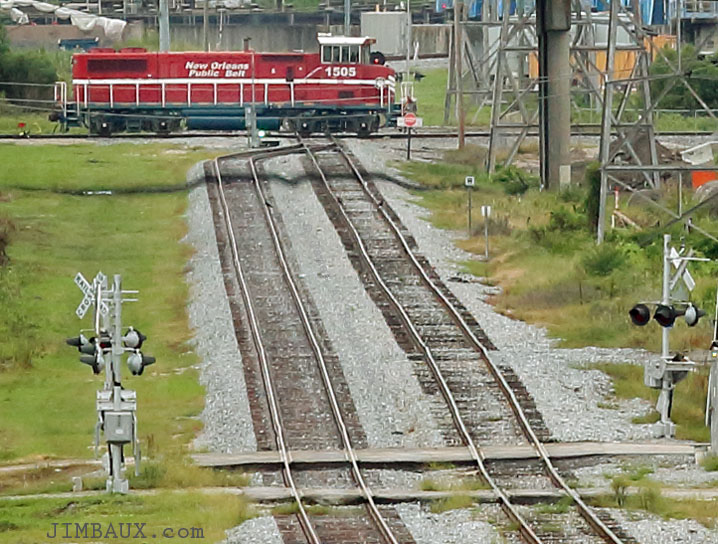 That image, 718 pixels wide, is a full-sized view that has been heavily cropped; I am almost exactly a mile away from the locomotive in the picture!
I was getting hungry, the radio was quiet, and so were the tracks; so, it was time to walk off of this overpass and go to Bud's Broiler, and, before I got to the bottom, I had to get a shot of this, which is new.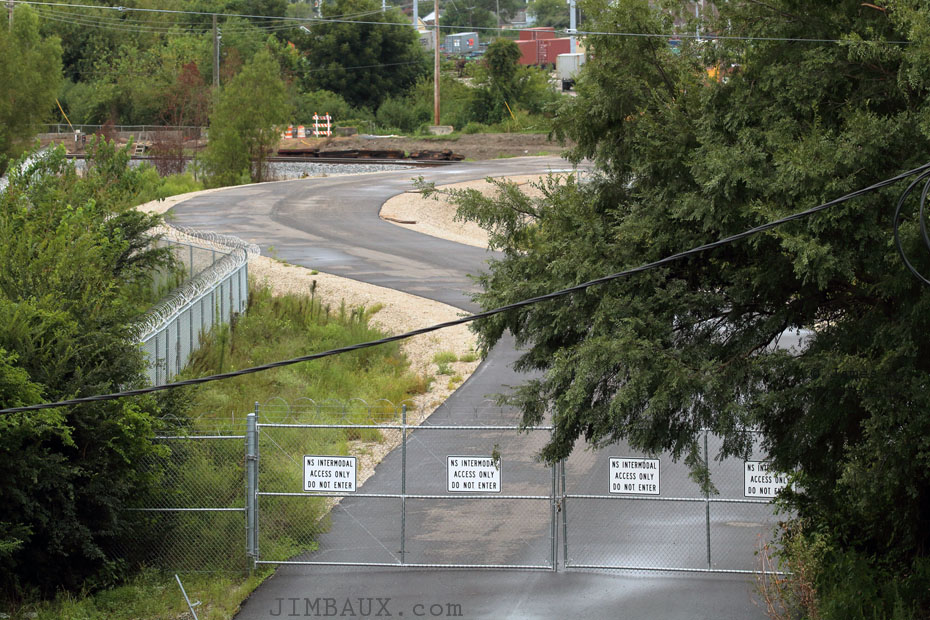 I went down the bridge, got in the truck, and started to drive away, but before I could turn the scanner off and forget about trains again, I heard the crew of train 314 coming on duty and communicating with the tower about making its moves.
But I kept going toward Bud's Broiler.
And the 314 kept talking about moves.
I wasn't satisfied with the pictures that I had already taken, and, because I now feel like I need to post on the blog every decent picture that I take, when I get only halfway decent pictures, I keep striving for more pictures until I get some really good ones so that the post isn't just halfway decent pictures.
And that's part of why I hardly take pictures at all anymore, because my fealty to my fetishes and habits does not allow me to just do this casually.
And that is sick, I know.
But, nonetheless, here we are.
Part II
And, here my hungry self was, back on the Almonaster overpass for the second time this afternoon, getting, an hour and 14 minutes after the previous picture, this image.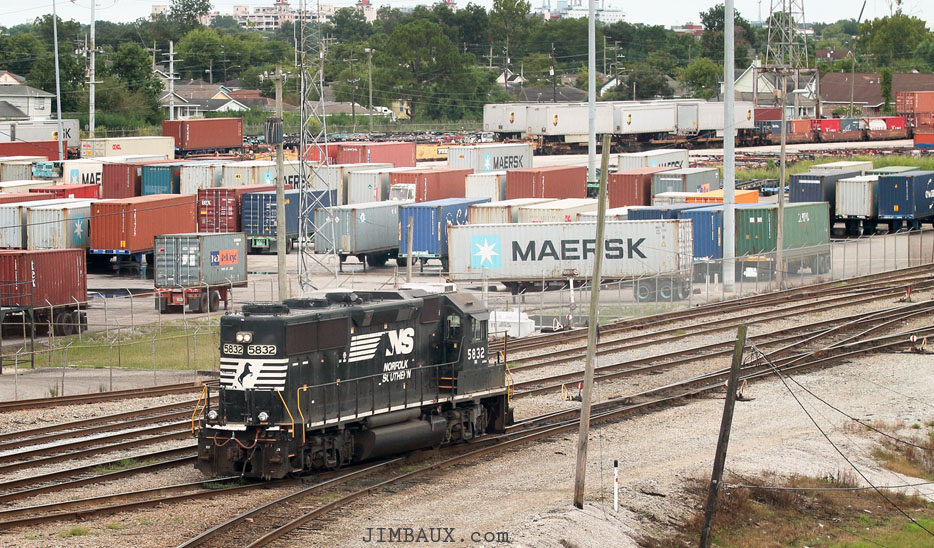 No, that's neither the 314 nor its power, which, as two locomotives (as the train had arrived from the Union Pacific Railroad), had gone into the yard via the south leg of the wye to pick up another locomotive, but I can get some better images of this same yard job from earlier at work.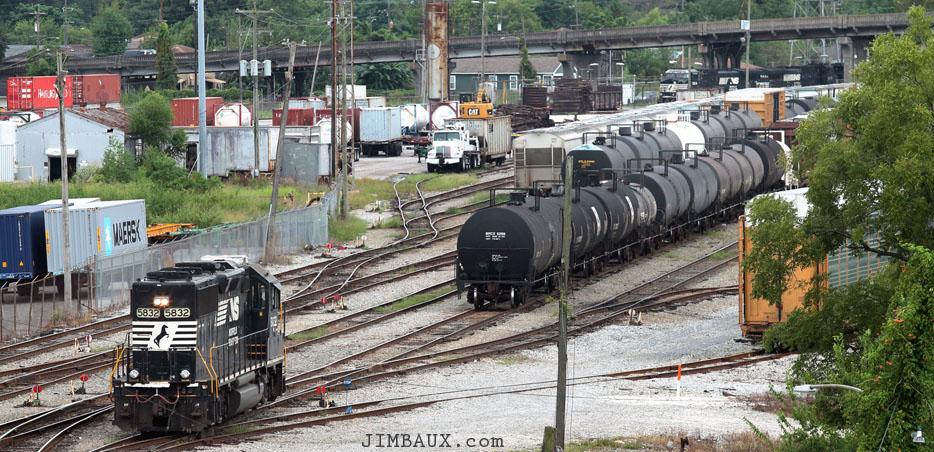 In the below image, you can see in the left background behind a bridge pier (that's the Galvez Street bridge) a greyish locomotive, which is the NS 4004; that's our power set picking up a third locomotive.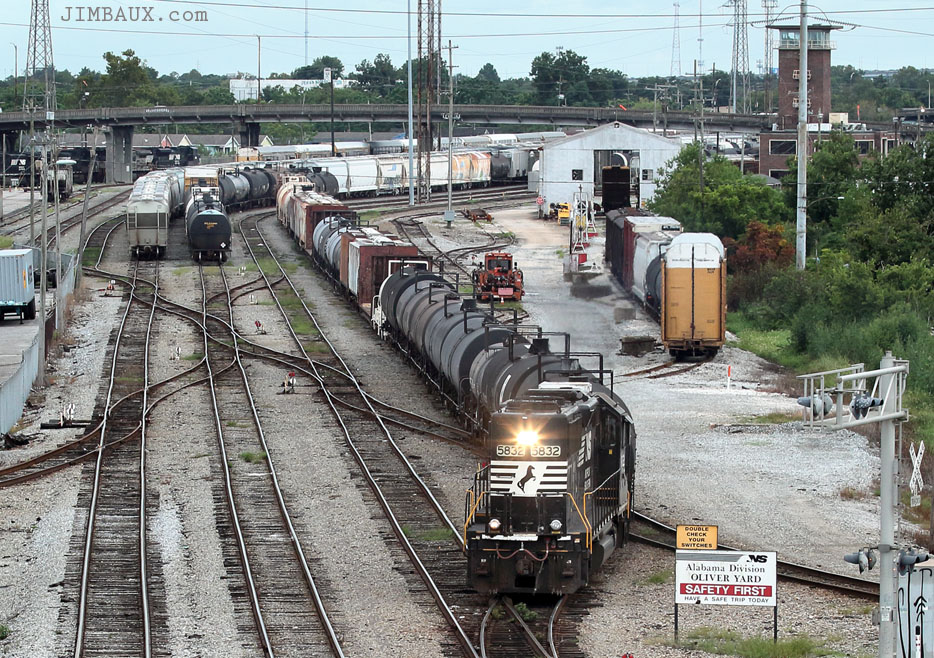 You can see Oliver Tower in the right background next to the yard office.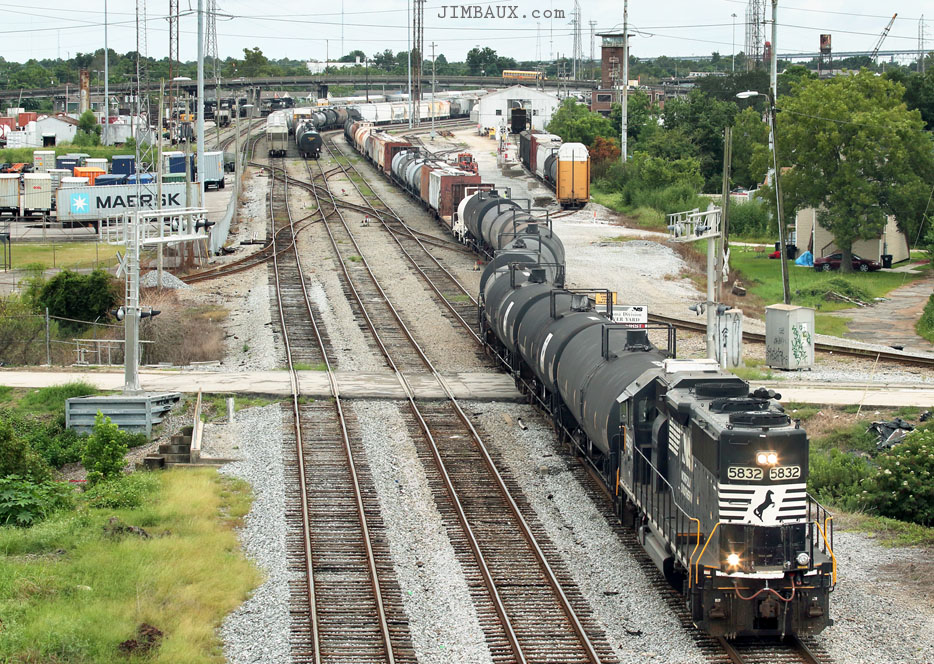 That's not a bad view, and I am astounded that, in all of my years of New Orleans railroad photography, this seems to have been the first time that I have done this view.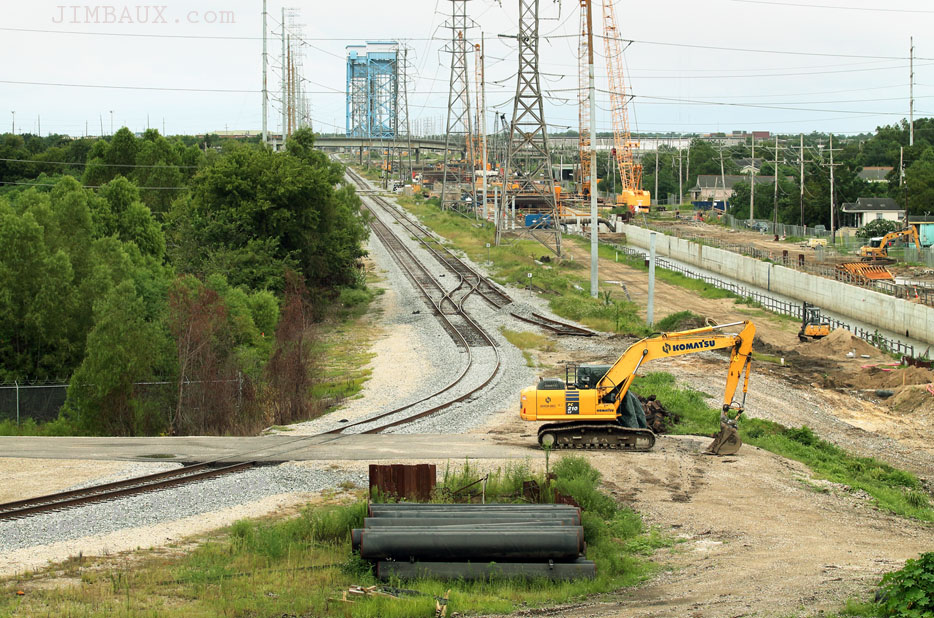 Next, I get a cell phone snap of the yard job shoving the cut of cars back into the yard.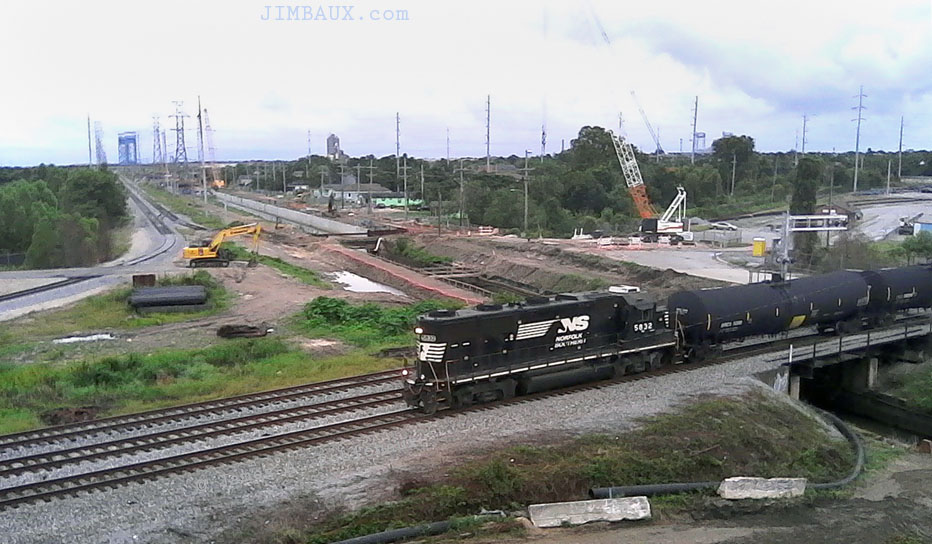 Here comes the power set of the 314.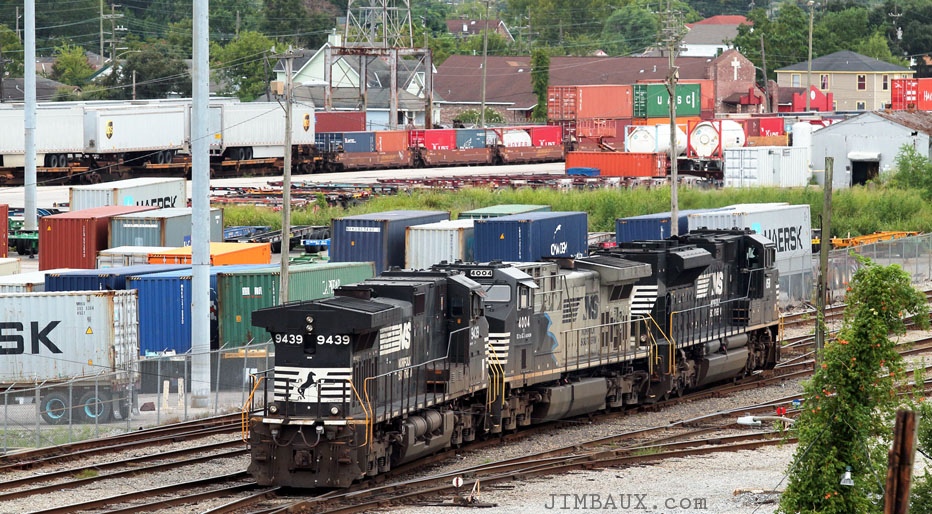 Note the UPS trailers in the intermodal yard; I don't recall seeing that before, as I previously knew only container traffic to come through that yard.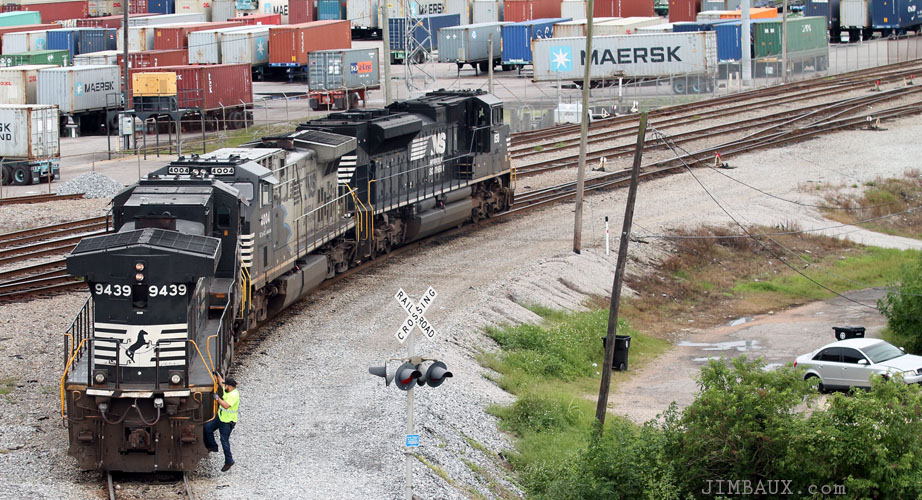 Note the conductor getting onto the locomotive after getting off to align the switches for his movements. I thought about cropping out the automobile and street at right, but I wanted to show that people live right by the yard!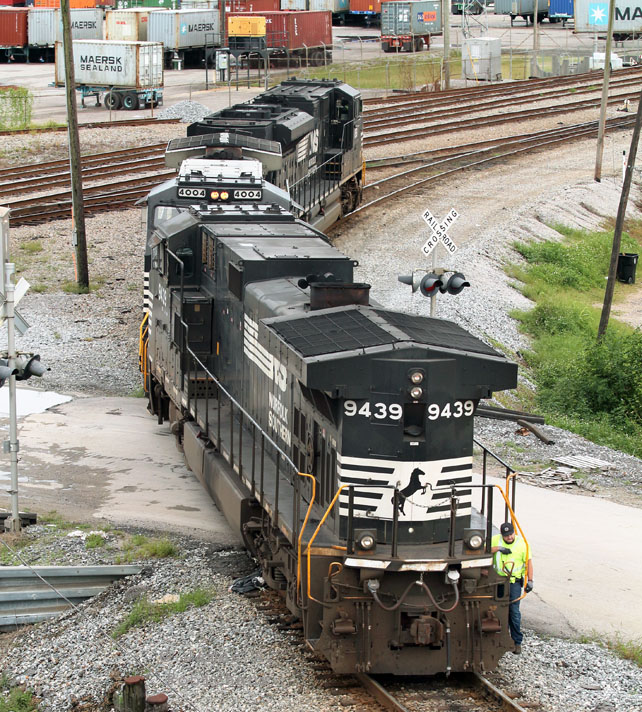 I don't know if the crew brought a cut into the yard when it came into the yard, but here it is going back out to the Back Belt where the rest (or all) of its train that arrived from UP is, though it is there only to wye the power to go back into the yard to pick up a couple of blocks.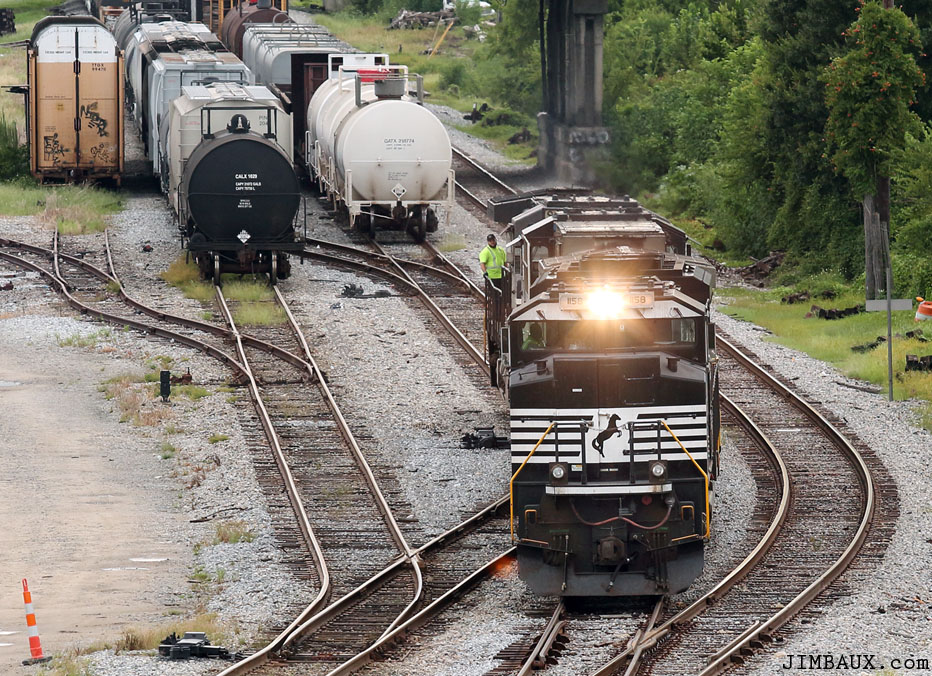 I have no idea why the tack at left, through which the train had just passed, is aligned for the Freight Lead; that's just weird.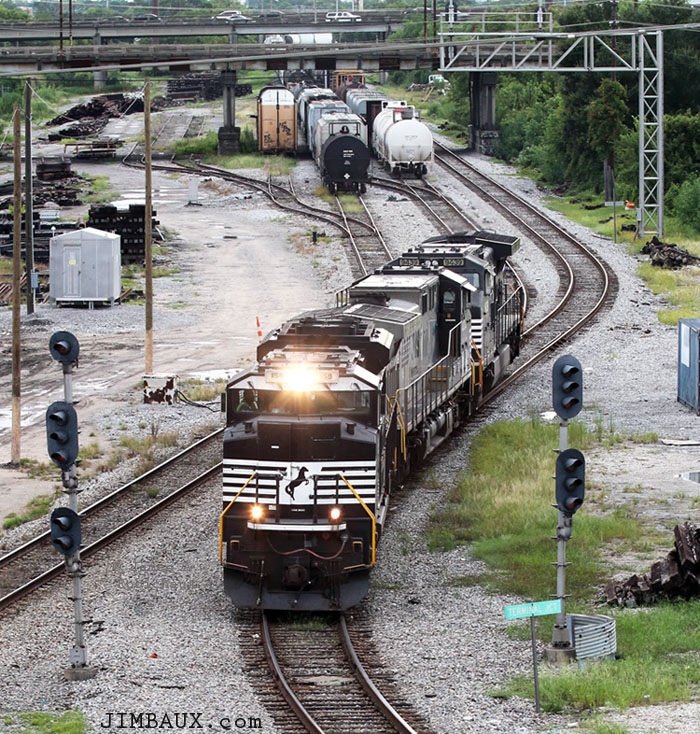 Anyway, that is Terminal Junction, the end of the "Back Belt" line.
Now, the power set is going "around the horn" on the north leg of the wye to the mainlines to then switch direction to back into the yard.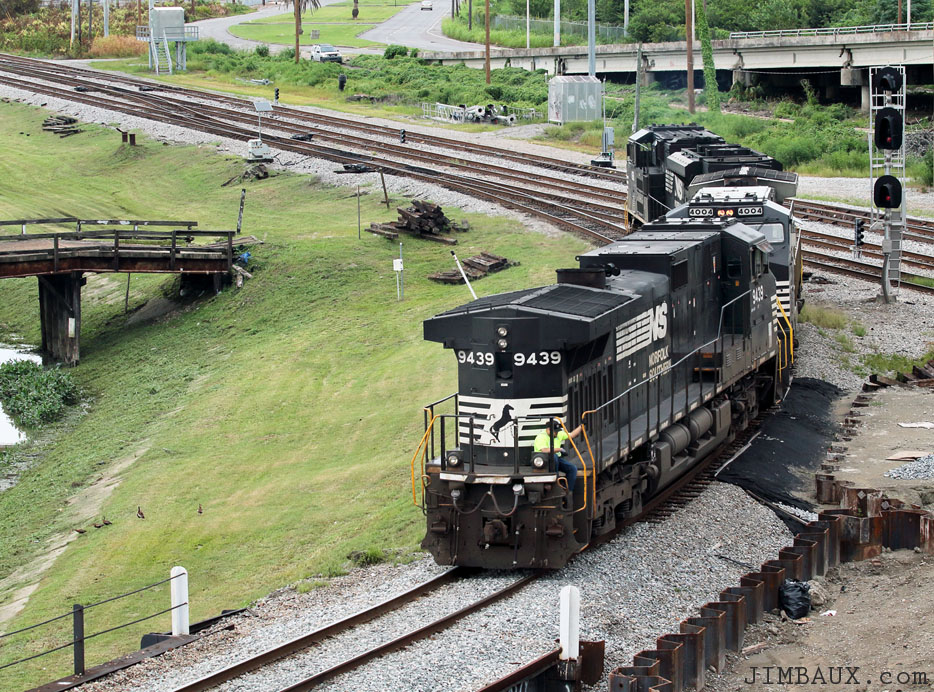 Now, the power set is moving back into the yard, and you can see, in the below image, a good idea of the track layout of this part of the yard.
The conductor (this should be a Meridian-based crew) gets out to line the switches for his movement.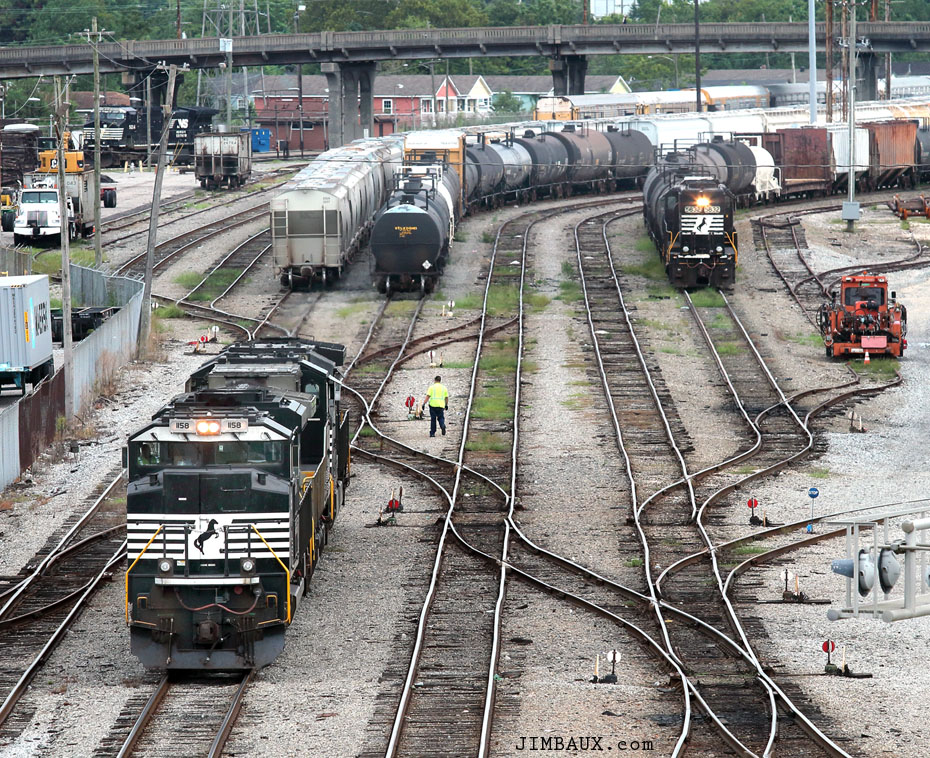 How about a closer look?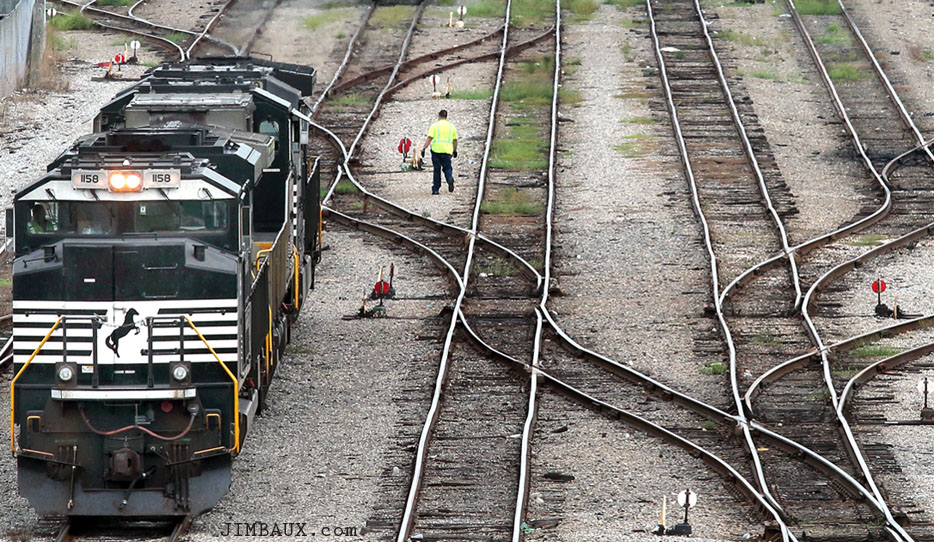 I like that; do you?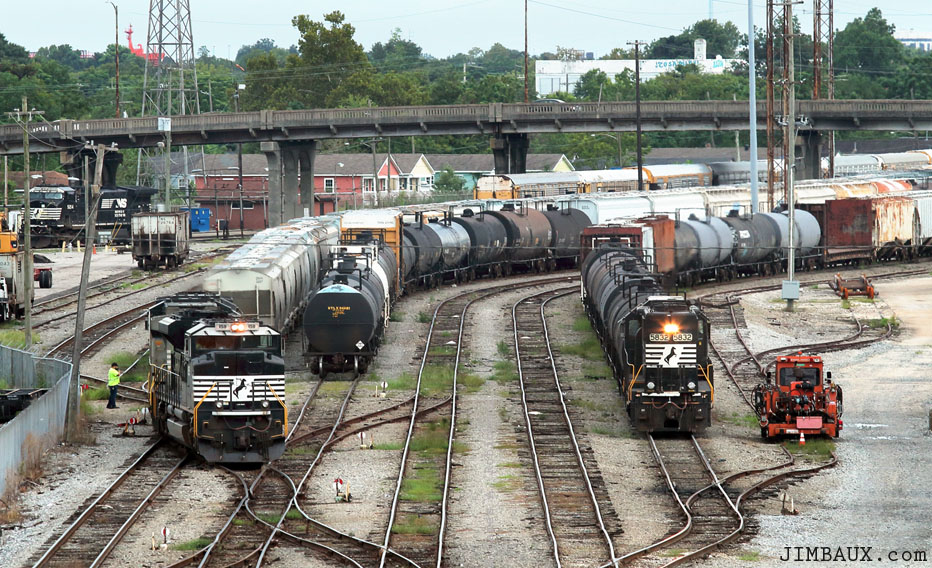 They have to go behind the hopper cars and pick up the cut that you can barely see – see the tops of the tank cars in front of those auto racks – behind the hopper cars.
I didn't know it at the time, but that cut with those hopper cars was the next cut that they'd grab.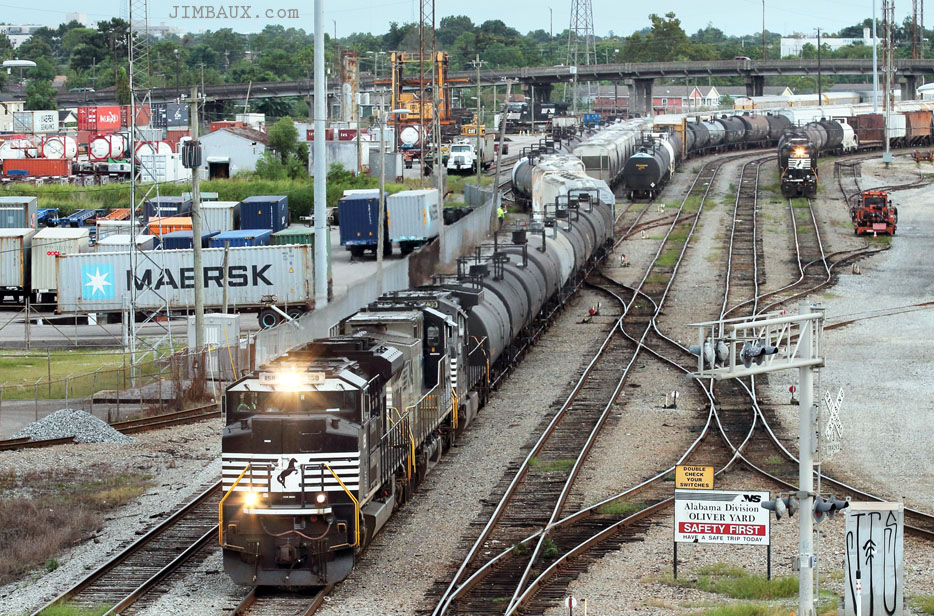 These two shots are a little bit cluttered, but I like them.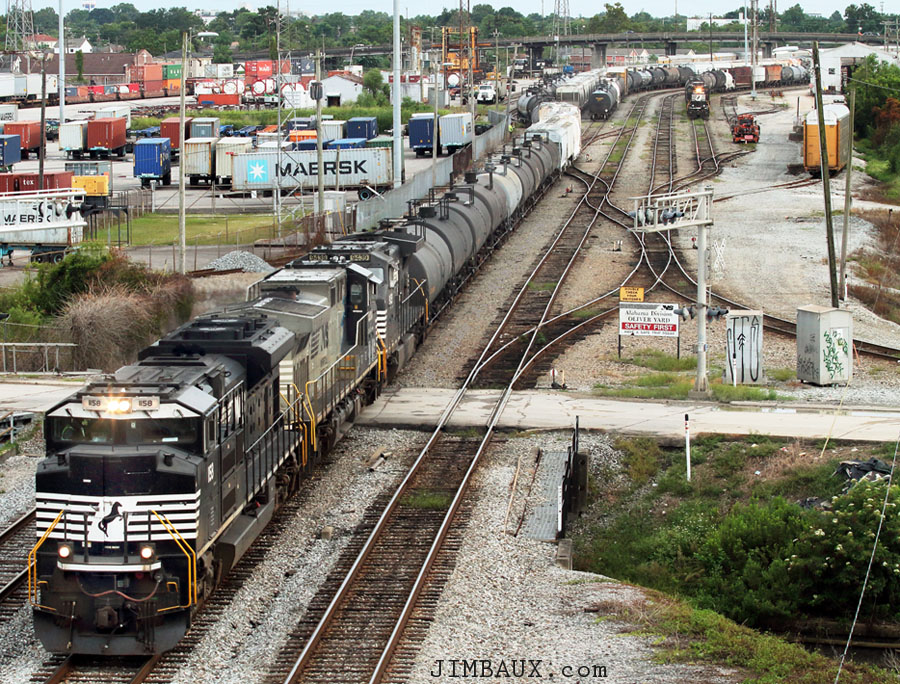 That's a good way to end the photos for the day, it was worth returning to the scene, and now it's time for a Numer Six with no mustard at Bud's Broiler, yahurdmay?
Reflections
So, McCain's big service is tomorrow, and, apparently, both Dubya and Obama are supposed to eulogize McCain. This is where I want to talk both about McCain, my thoughts on him, and the entire McCain phenomenon, and also about Dubya and how I have come to reassess his legacy, due to the passage of time, the Trumpishness, and due to my reading of Dubya's book Decision Points, but I am just tired.
I wrote a little bit about McCain in that recent Patreon post (again, ignore the "adult content" warning, as there is nothing racy there), and I am just too tired to write about reassessing the Iraq war now.
But I do have some thoughts!
But they will have to wait, yet again.
We just need to keep fighting the good fight, and for the best of reasons.
Agreed. Minimum wage laws don't allow people to take jobs that they actually prefer. A #UBI brings pressure on unappealing jobs, making them automate or pay a higher rate. We always will want a UBI low enough that people want to augment income, but they can be more selective.

— Ned_Williams (@Ned_Williams) August 30, 2018
We need to get rid of this garbage, socialistic idea that we need to "create jobs" or "bring back jobs" for people so that they can prove to more powerful human beings their right to exist.
Universal Basic Income will also help us broaden and redefine work and value. It is pro-work in the most fundamental of ways. People will do more of the most important work every day in a more human-centered economy. We will work harder on better things and solve bigger problems.

— Andrew Yang (@AndrewYangVFA) August 31, 2018
Our coercive, feudalistic society is literally killing people, and it is killing me; I could actually accomplish so many wonderful things if I just had a stable source of fuel, and so could so many other human beings.
I want to make it very clear that there is a distinct possibility one or more of the #basicincome recipients will die as a result of the experiment's cancellation, either by suicide or stress. Physicians are warning this and such deaths should be considered as negligent homicide. pic.twitter.com/U9D7l99EKN

— Scott Santens (@scottsantens) August 29, 2018
It absolutely does not have to be this way.
In the meantime, if you are educated, entertained, or are in any way enriched by the content here, and you have the means to help, please consider becoming a patron of Jimbaux's Journal, which you can do for as little as $1 per month at the Patreon page (that will give you that silly "adult content" warning.)  If the total monthly patronage amount was enough that I would be able to survive off of it (it would need to be almost 10 times what it is now for me to be able to survive off of it), I would be able to both create and publish much more and better content here and elsewhere.
Peace out, mes amis.
Jim