Hello.  On Saturday 4 January 2014, Deacon Nitro of Nitro Pics fame and I ventured to Gulfport, Mississippi, in the hopes of chasing the Kansas City Southern Railway's turn that operates from Gulfport to Hattiesburg and back, which I had photographed several times before, perhaps most notably in December 2008.  Things did not eventuate quite as we had hoped or even planned, but we still learned and did plenty on this day.
We arrived in Gulfport at whatever time we arrived there, and we went by the KCS's yard and saw this.

For our purposes, this is both a good sign and a bad sign, and more of a bad sign.  The SD40-2s are the road power for the turn, and they are sitting here at the locomotive facility, not on a train!  The good thing is that we know where they are; the bad thing is that they're not on a train and show no sign that they will be on one any time soon, especially with the blue flags.
So, until our train takes shape and leaves, we can only photograph other things in the area.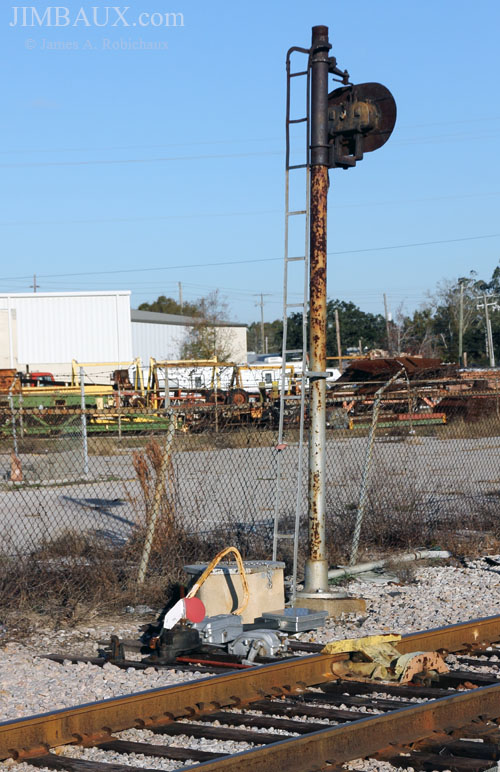 We head south to the former passenger depot, which apparently served both the Gulf & Ship Island Railroad and the Louisville & Nashville Railroad.

In the above image, the CSX mainline is running across the frame of the picture, and the KCS mainline to the port is crossing it; so, the depot is in the southeastern quadrant of the diamond.

It's not a train station anymore!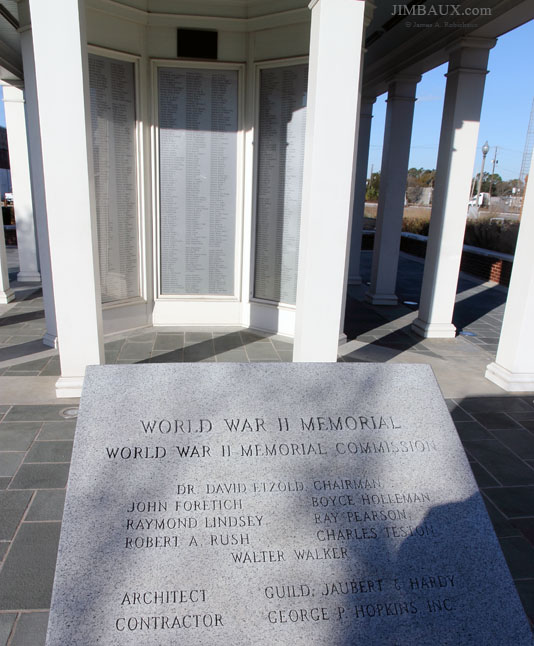 Now, we are looking north, up the KCS.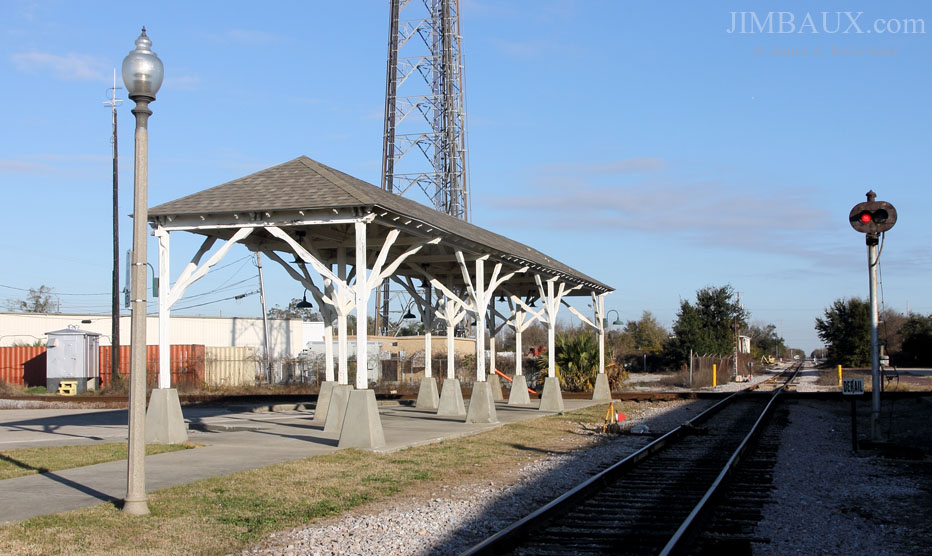 Well, now we are verifying that our SD40-2s are still there, which is not a good sign for our hopes that the turn is run!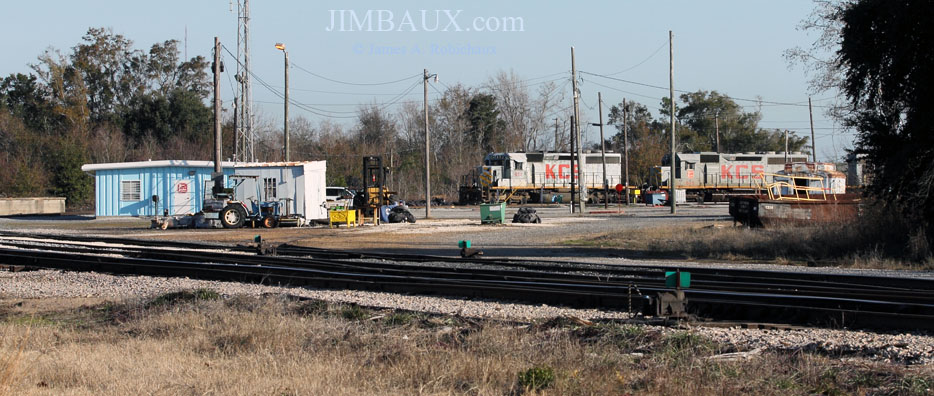 Now, we go and ride by Best Buy, where we see one of KCS's so-called "control points."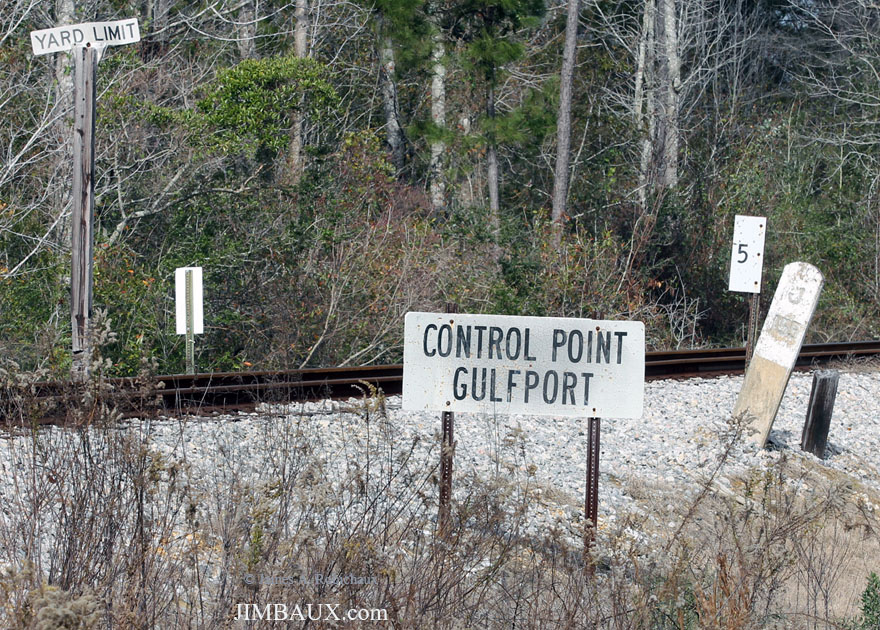 Yes, that is a mess.
Well, now, is our train finally getting powered?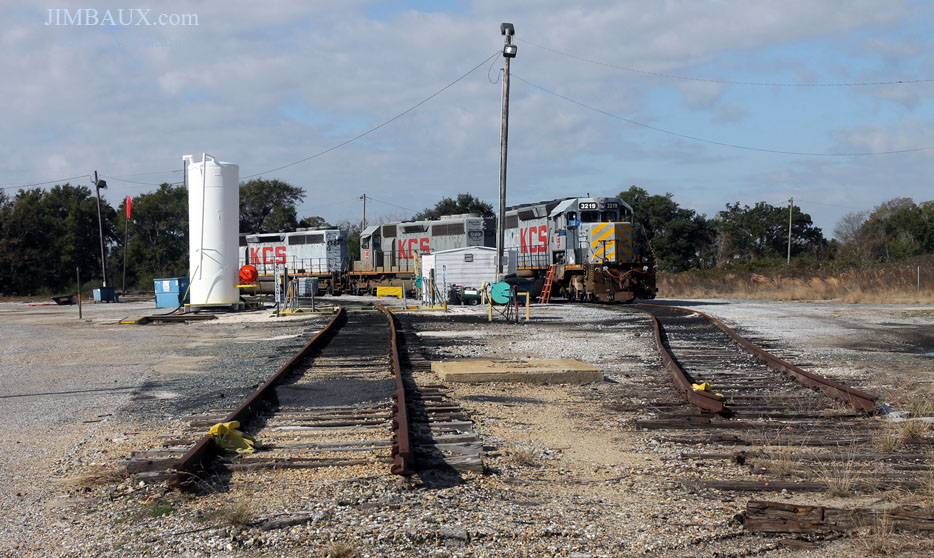 Well, it's nice to see these views, but this is not a very good sign!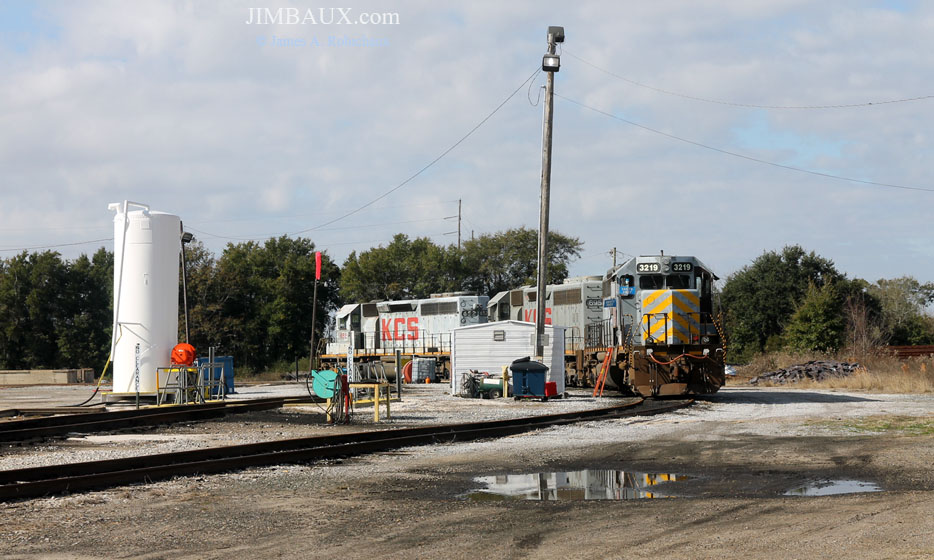 By this time, thanks to some doubts that Tucker had raised long before and that morning as we were communicating via text-mobile, and now due to some fresh humint from the ground that indicated that the train did not run on Saturdays mixed with what we were seeing with our own eyes, we were beginning to accept the reality that this was all a mistake, a misunderstanding.  Now that the trip to Hattiesburg and back to Gulfport could be made in one day, the turn had Saturdays (in addition to Sundays) off.
So, it was time to get breakfast, and since we are in Gulfport, breakfast must be this.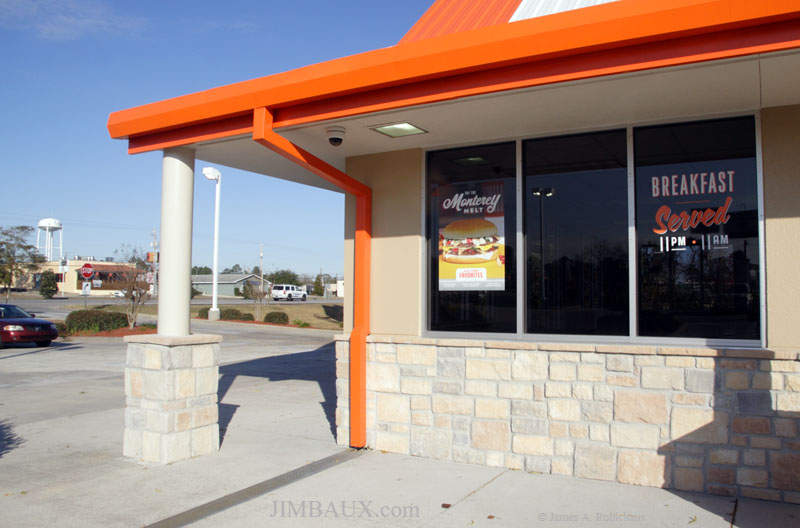 While there, we met (for the first time) David Carter, who had been, per his own after-the-fact description, the source of our "wealth of misinformation" about contemporary operating procedures on the line.  We forgave him (not that there was any ceremony about it), had a good chat with him, and enjoyed the new friendship that came from the situation; had we been out chasing the train, we would not have met him!  He invited us to the hobby shop that he helps manage, and since we were trying to figure out what to do now, that seemed like a good idea now that we had no train to chase.
Here is a picture of something hanging on the wall in the Whataburger.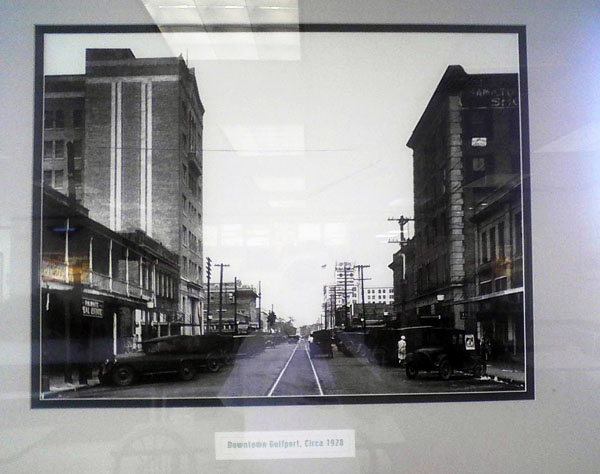 So, we left Whataburger, and then we went south back toward the yard just to make sure that things had not changed.  It was while driving southward that I spied to the east headlights and grey paint, appearing to move in a southerly direction but from the west!
What's this?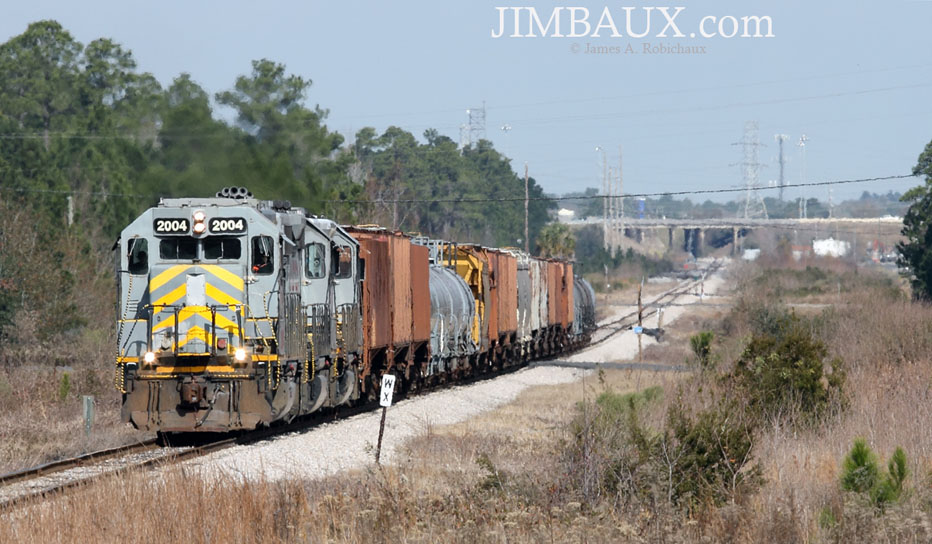 Wow!  Apparently, this is the job down the Delisle Branch, something that I had never seen before and would never see so long as I was chasing the Hattiesburg Turn!
We're very close to the yard here; so, we do not have far to chase this train, but this was still a fortuitous find that would not have been possible had the train that we'd intended to chase today been running, since we'd have been off chasing it instead.
The Delisle Branch – I think that it is officially an "industrial lead" – is a relatively new stretch of track (I think constructed in the 1970s) to a massive DuPont plant near Pass Christian, and it is apparently the major benefit of KCS being in possession of the Gulfport Subdivision that is isolated from the rest of its system; so, given all that I have photographed of the Hattiesburg Turn, it is appropriate that I finally photograph this train, especially as much of its traffic (probably most of it) goes north in the Turn.
Now, here was a treat, a car still in Chessie System paint!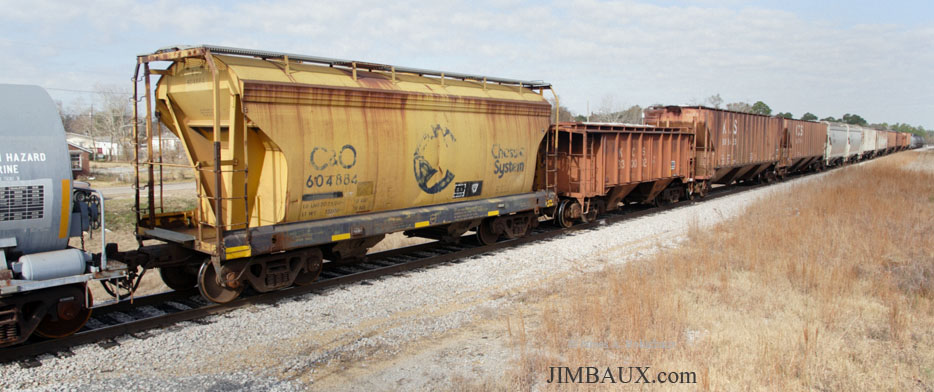 I am of the opinion that the Chessie System paint scheme – especially for locomotives – was one of the best ever.
Now, check this out.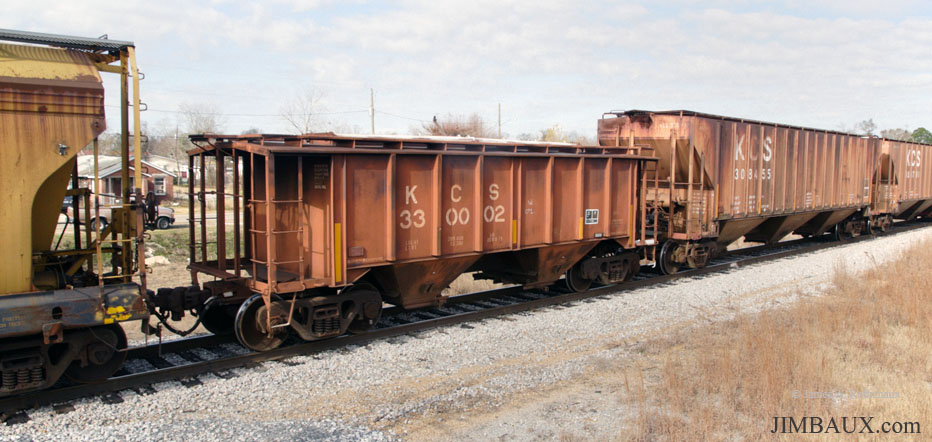 Wow, what is that?  I've never seen a covered hopper car like that, that short; it must be carrying something dense, whatever it is carrying.  It looks to be shorter than the old short cement hopper cars.
Well, let's chase this thing to the yard and see what it does!  On our way out, we pass a former church building that has this tenant occupying it.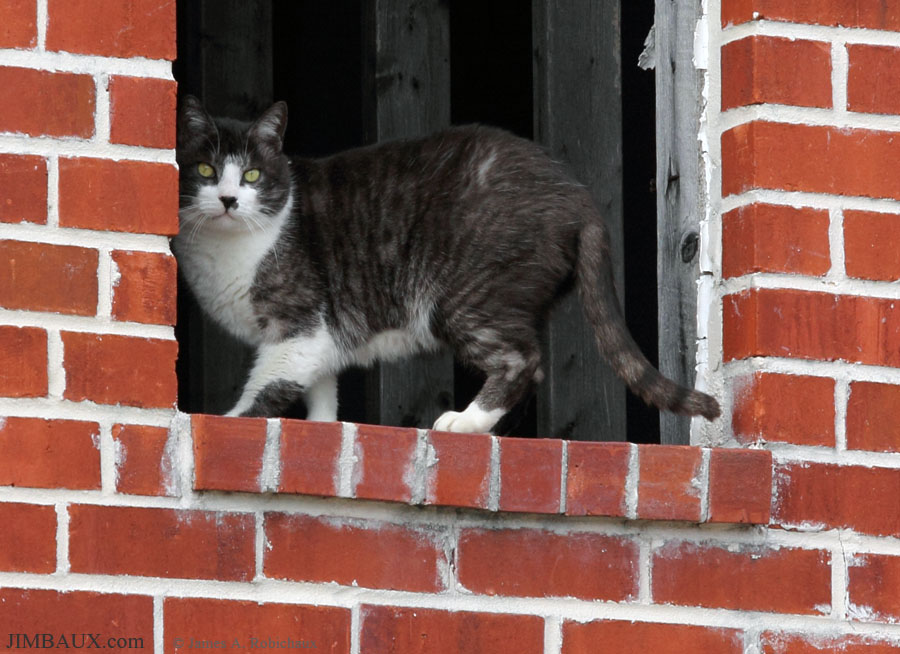 Well, that's interesting.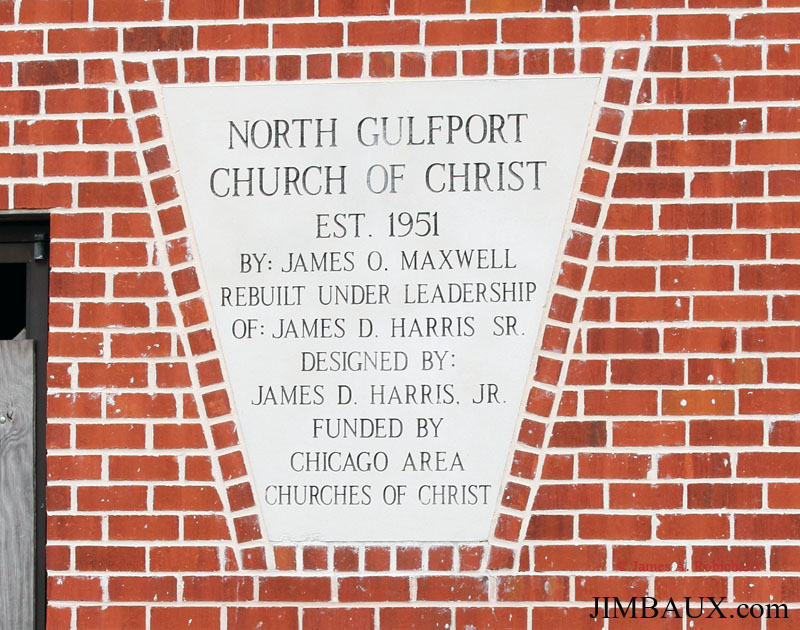 Now, we're at the yard, and we see our train switching its inbound cut.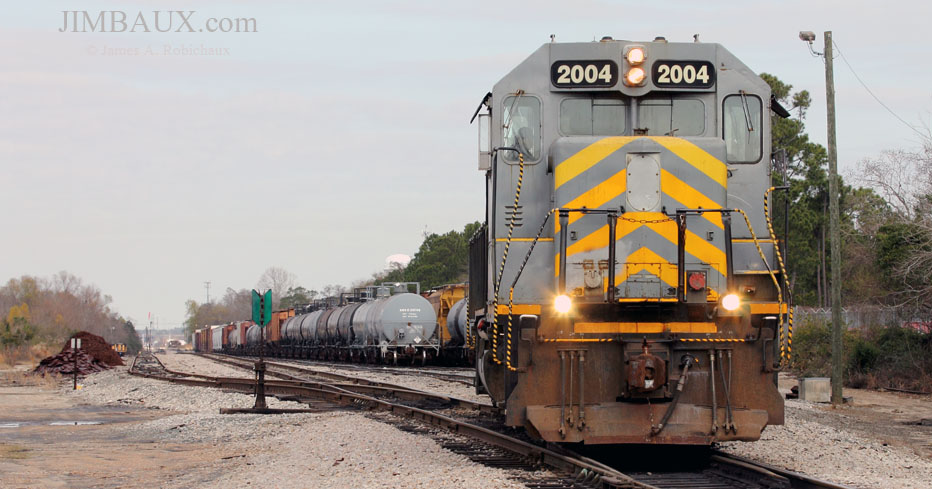 Basically, the locomotives were switching the train that they had just brought to the yard.  It was not clear to us at the time, but we eventually were able to ascertain that the CSX interchange traffic was being switched out.
Check out that old MidSouth caboose to the right in the below picture!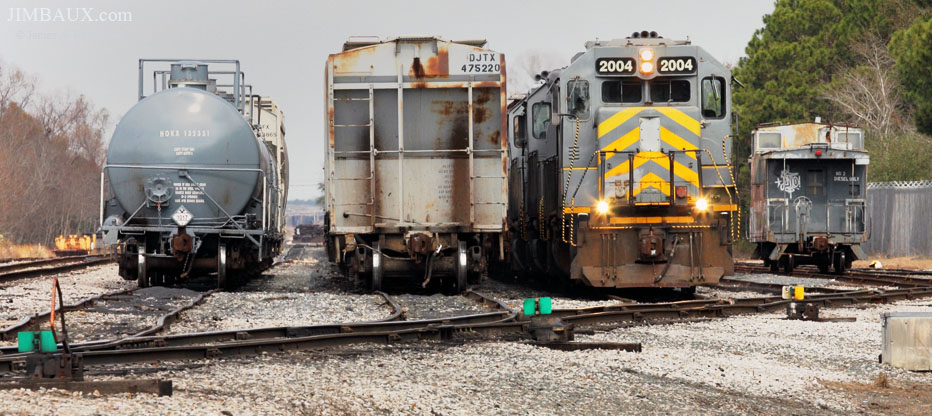 The caboose – it's probably no longer officially a caboose – is apparently used for the reverse moves necessary for spotting lumber cars on a spur across the highway east of the mainline.
Now, the train is leaving with this cut!

We raced to the interchange track at the CSX mainline under the erroneous assumption that the train would go that far.  At the very least, we got this image of the interchange track.

Well, after waiting there for awhile, we realized that that was not going to happen, which makes sense, since there is no place to put the cars this close to the CSX mainline without leaving the power on the CSX-end of the train.
So, it's time for more pictures.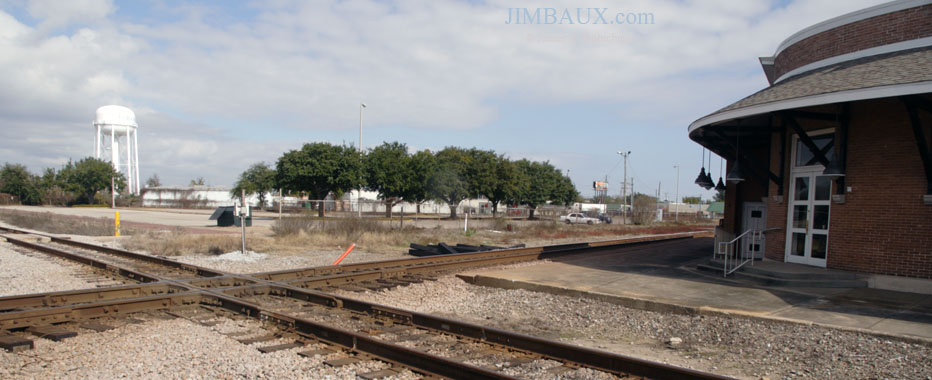 The interchange track is about where that white building is.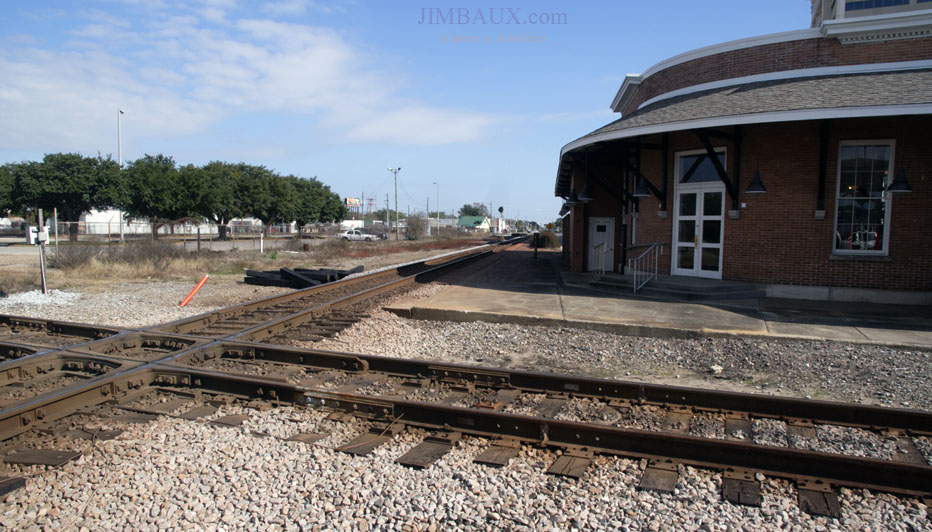 And, then, a train came, though not the kind that we were here to see.

That just, for whatever reason, does not excite me.
Moving north again, we then saw this.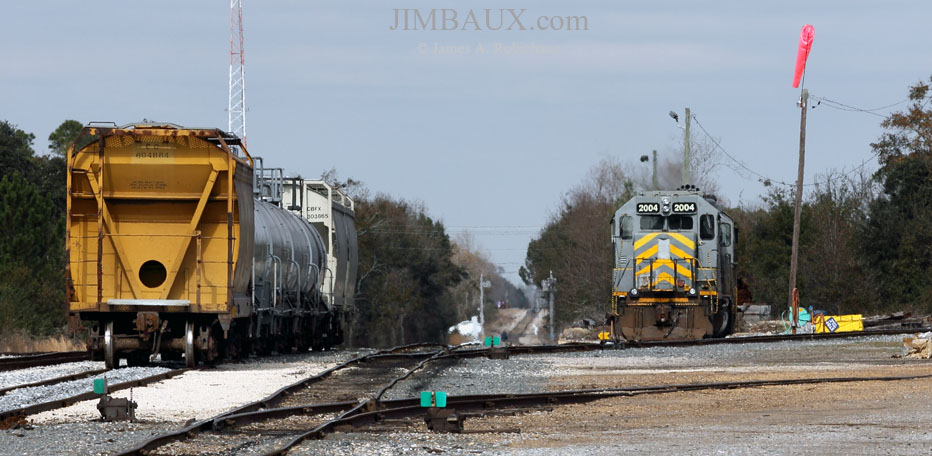 The locomotives appear to be tied down, and where the cars are parked now is apparently where the interchange will take place, where the CSX local will pick them up.
We realized that this was all the KCS action that we would see today.  Despite the disappointment of the turn not running, I consider today a success; we saw some interesting KCS action that we'd have otherwise never seen, and we made a new friend in the process.
Still, it was only midday, and we now had a decision to make about what to do next, but the immediate choice seemed to be to take Carter's invitation to visit the hobby shop, furthering the "new friend" and "new experience" aspect of this day.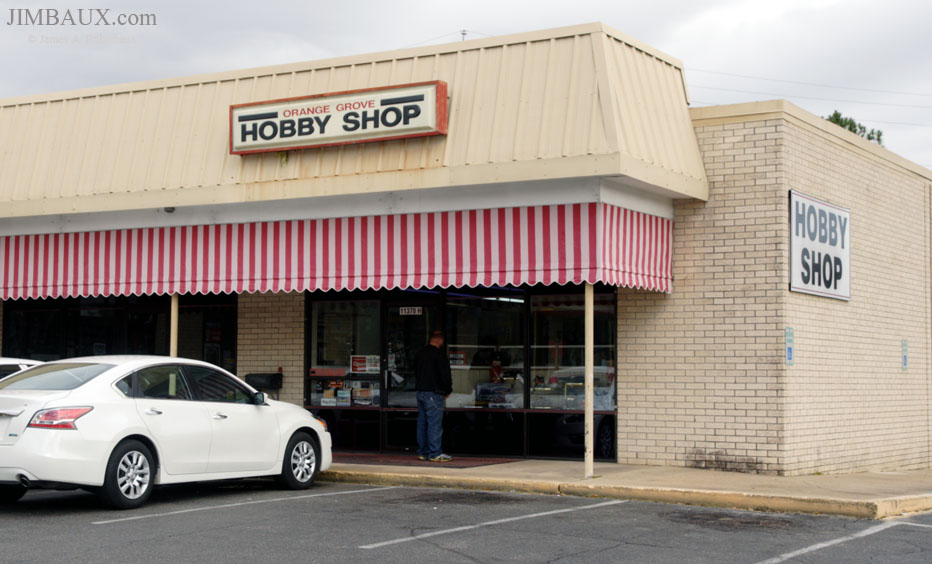 We visited for awhile and saw some models, and then we were treated to a drone demonstration.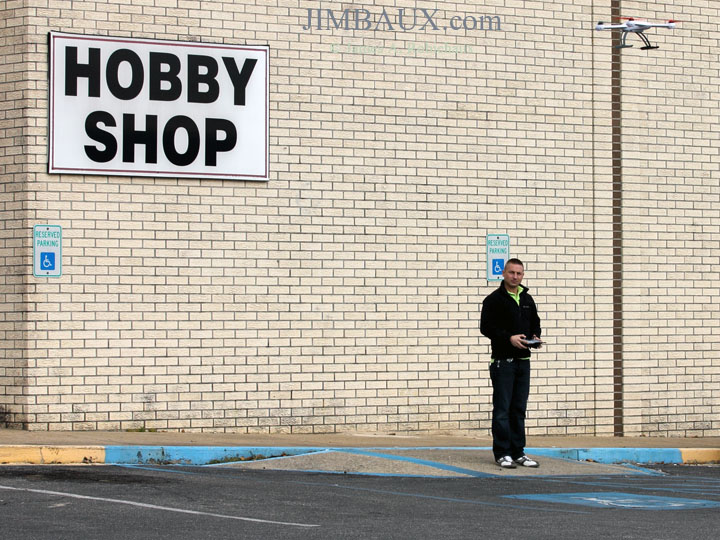 Do you see the drone in the picture?
After that, we really had a decision to make.  We could either hang out around Gulfport, see whatever uninspiring things that CSX would show us and work our way back to Whoadieville via the coast, or we could go north to Hattiesburg anyway like we had originally planned, only without a train to chase.  I indicated to Nitro that I was not strongly favoring either course of action, suggesting that the decision was his to make, but I mentioned how driving to Hattiesburg would allow me to stop and see various things along the way that I'm always too busy to do any other time I am over here because I am focused on the train!  That's one of the aspects of train-chasing that I do not like, that the focus on the train prevents one from being able to photograph or appreciate the things that he is driving quickly past in order to get set up for the next picture; my mother would often tell me when I was chasing the Lockport Branch train that I should visit my grandparents, which I really wanted to do (and really want to do now, especially since they are gone), but if I'm visiting them, then I'm not chasing the train.
Nitro liked and appreciated the idea, apparently already set on visiting Hattiesburg himself like I was; so, off we went, without a train to chase, allowing us to stop along the way.
We stopped at the interesting little village of Howison, with its interesting trees, both magnolias and what appeared to be an oak tree canopy.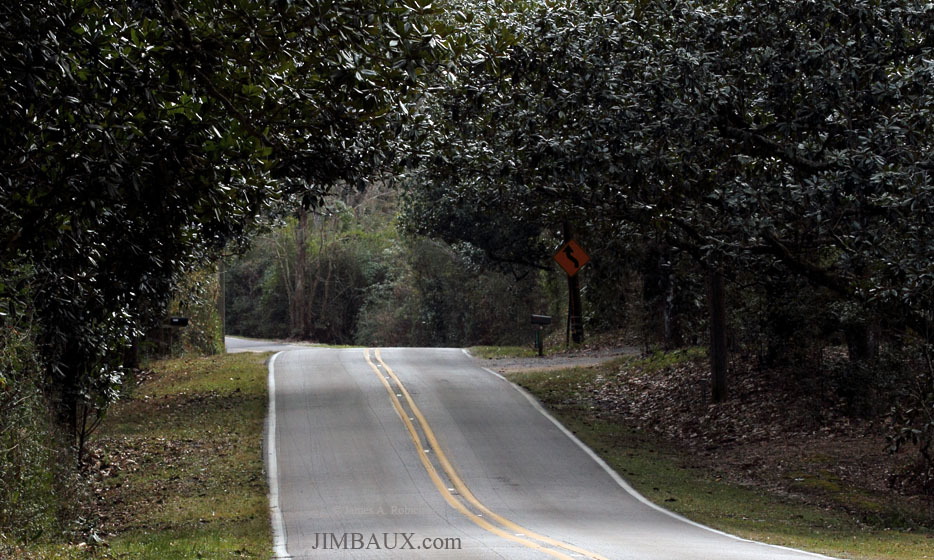 Nitro seemed to like this place.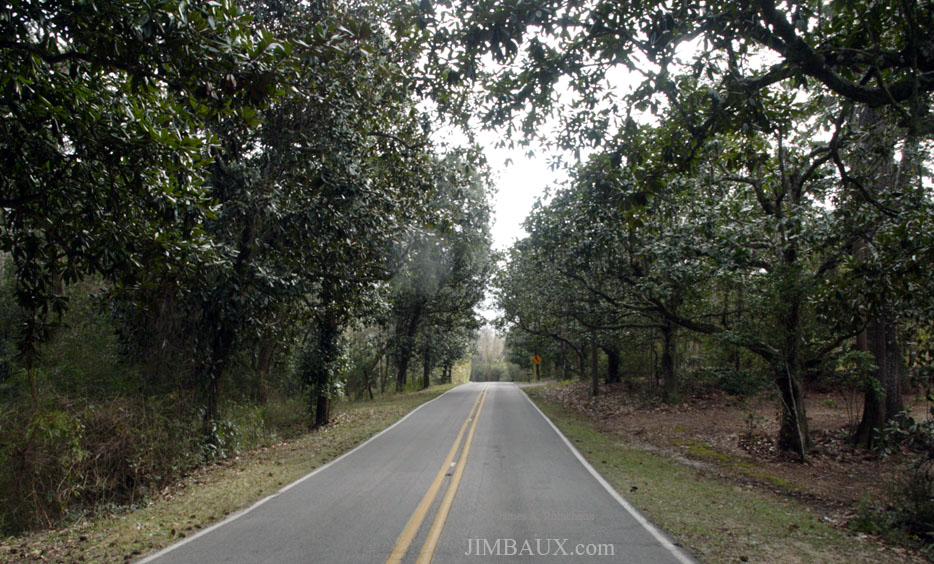 There must be some story, maybe different than the war or military story that normally accompanies such things, for the tree placements here.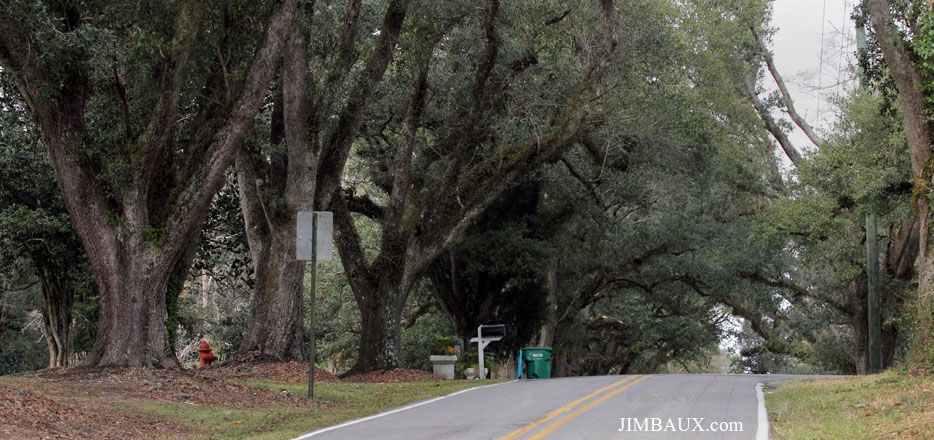 There seemed to be an abandoned house on this corner, a house that showed potential.  The tracks are just a little bit to the east of here.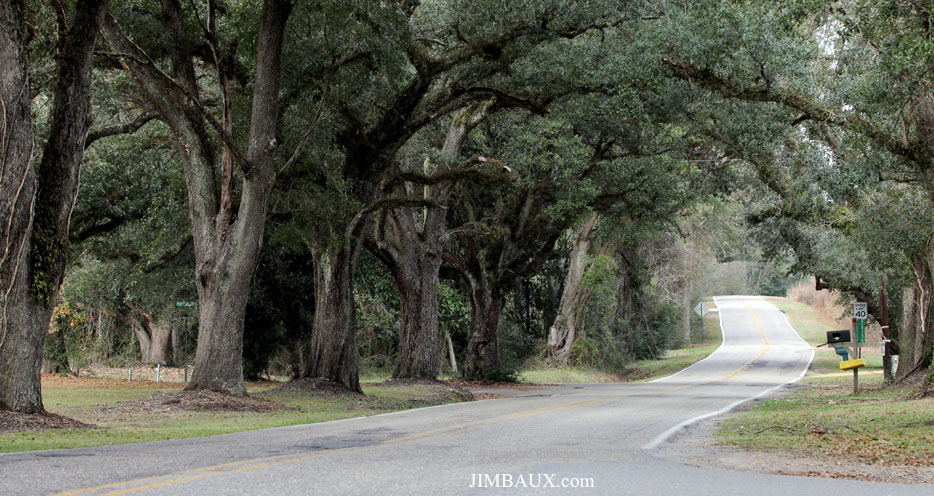 This is a good time to remind everyone that caption information for each picture can be found in the filename, which can be read by holding one's mouse arrow over the pictures.
Now we move north to the city of Wiggins, which is basically the midpoint on our route and on the KCS Gulfport Subdivision.  Here, there are three customers, all forest products producers worked by northbound trains, including a pole producer.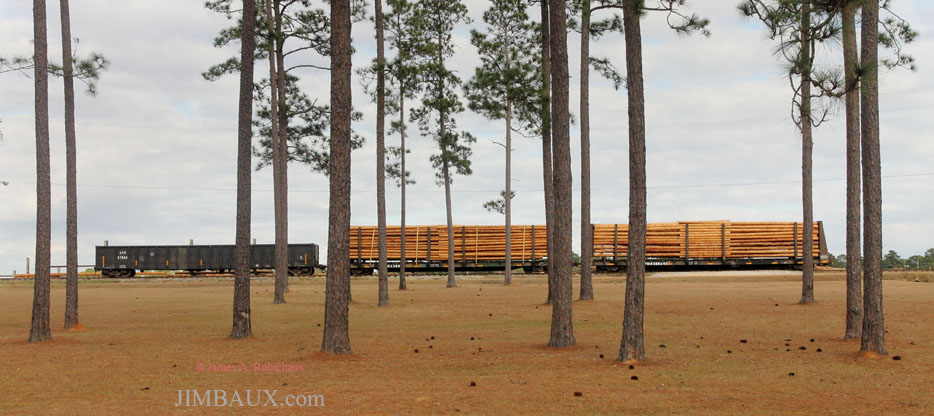 I love seeing loads that are exposed like that!
We went to the city center, just east of the KCS mainline.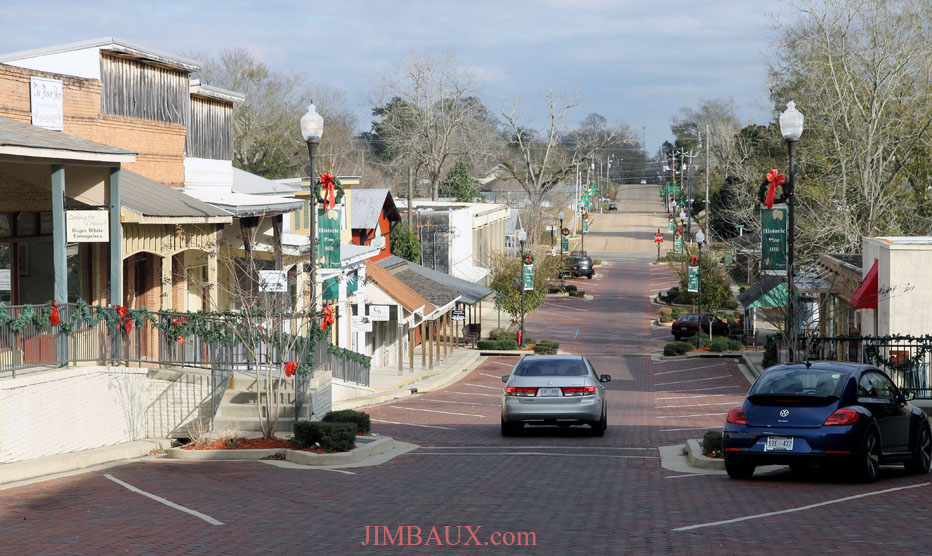 It seems that town has some annual festival of some sort.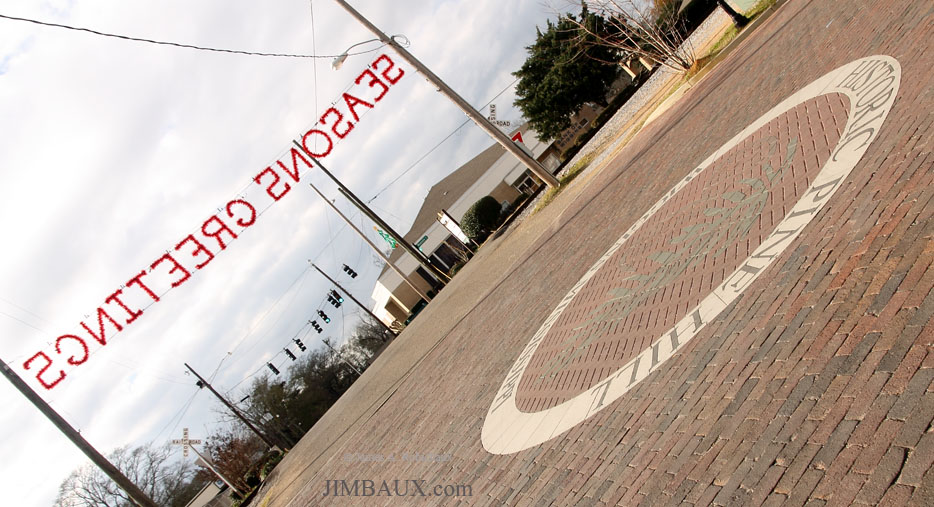 The tracks are close behind me in the below picture.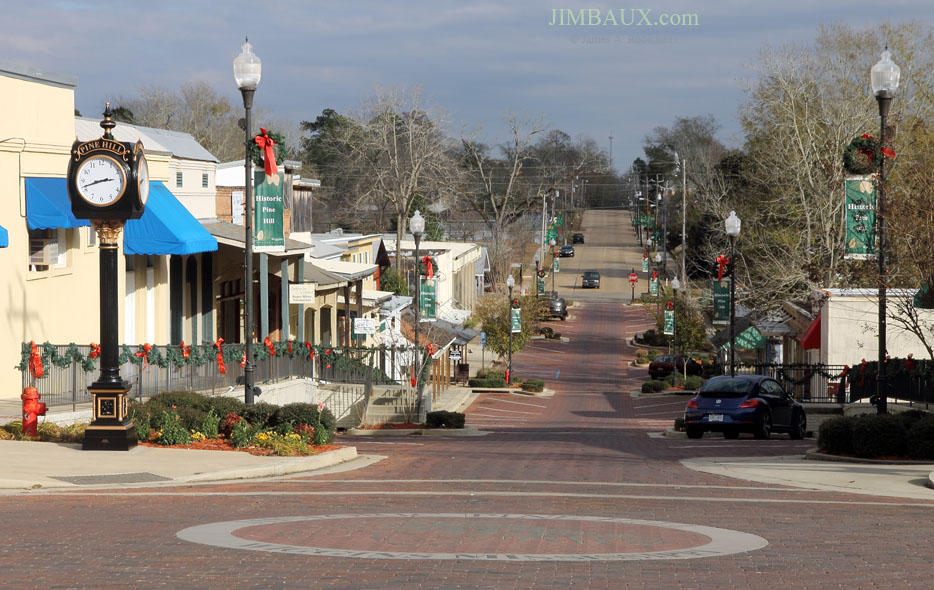 The below road parallels the track.

Well, there is no train here; so, that's enough of Wiggins.  At least I got out of Wiggins this time without having the police called on me, unlike what happened the previous time I was here!
Next, we stop in Brooklyn, just north of Wiggins.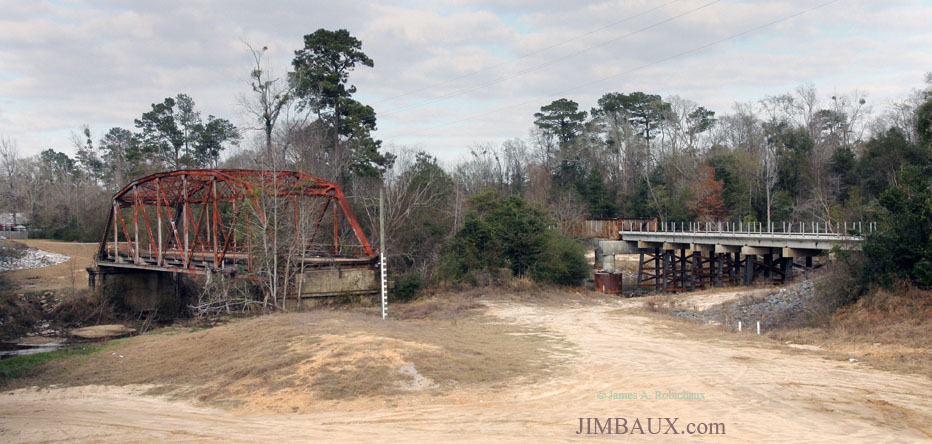 There is this old highway bridge span and structure – marooned, as you can see – next to the newly-augmented railroad bridge.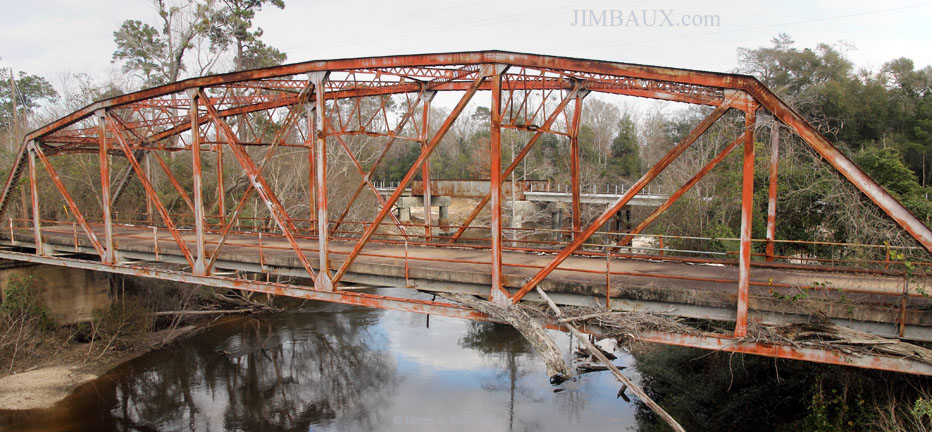 Perhaps there had been high water here recently.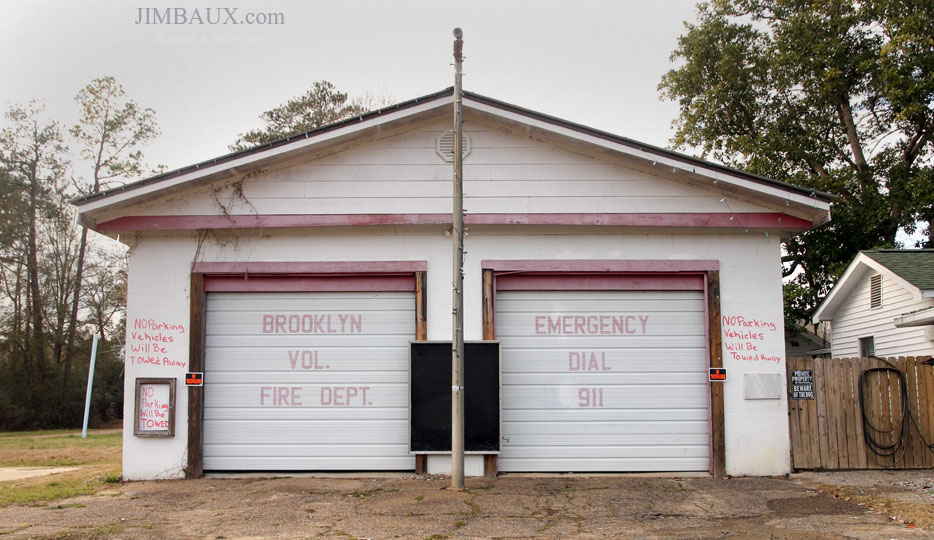 I once went inside that building at the right in the below picture and had to get out quickly due to the thick cigarette smoke!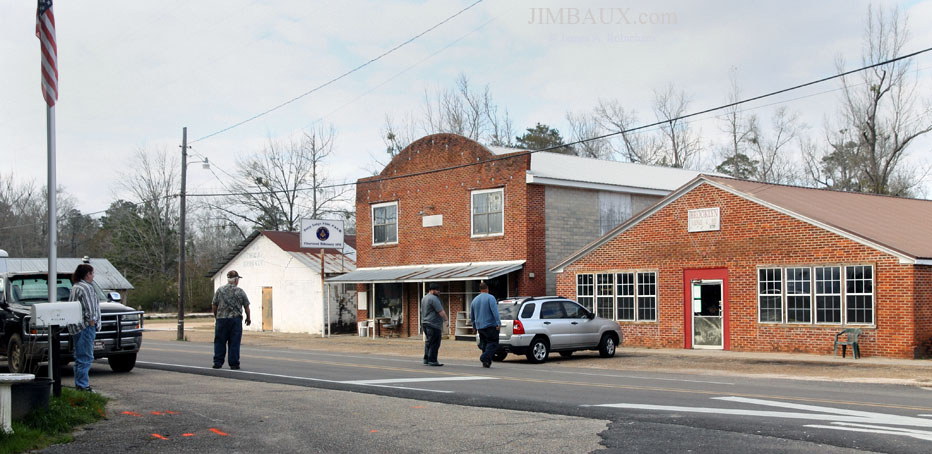 The building in the below images faces the track.

I went inside this place (below) once too.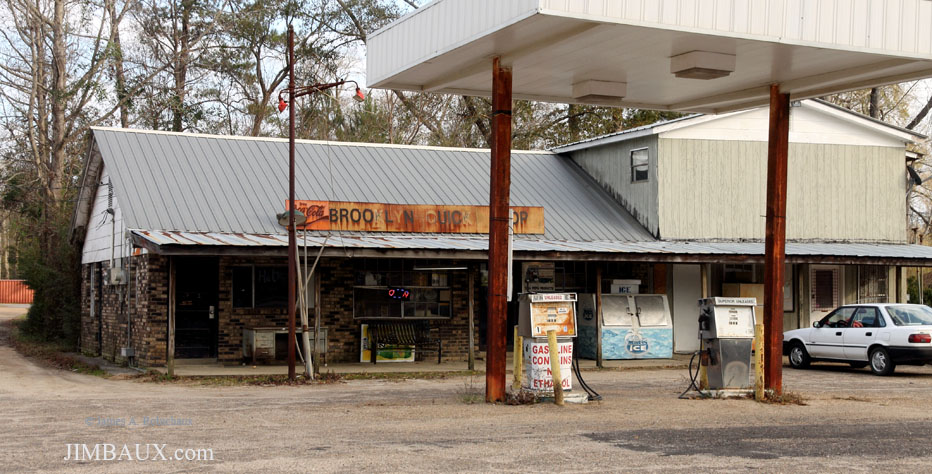 Poking around in these little towns was fun, but we realized that if we were going to be able to see and photograph much in Hattiesburg at all, we needed to get there quickly with what little daylight we had left.
Here we are in Hattiesburg, and we are at Norfolk Southern's yard.

I love the high-nose GP!

There was a long string of old two-bay covered hopper cars, most of them Norfolk & Western.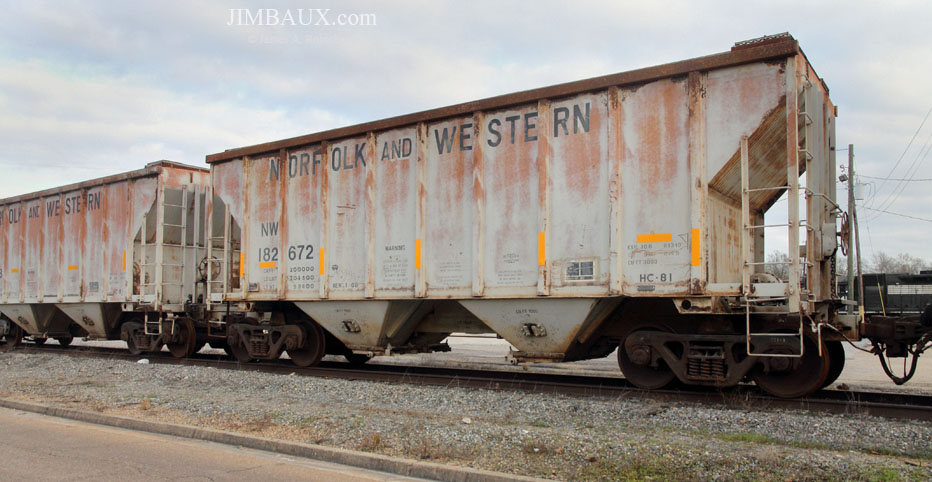 Here is another high-nosed GP50, this one coupled to a GP60.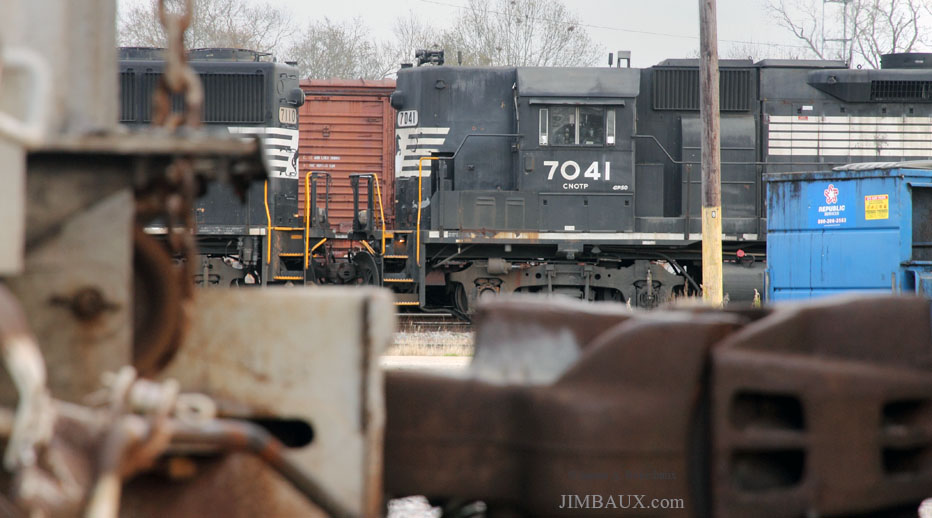 I like that CNOTP sublettering!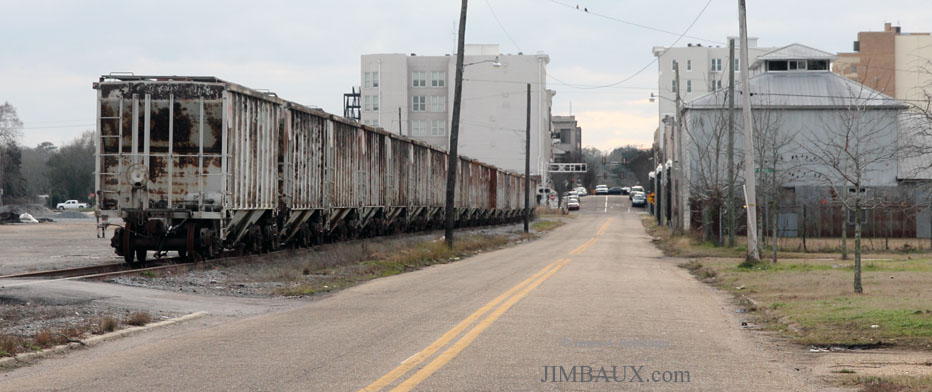 We spent plenty of time around the Hattiesburg passenger depot, which serves Amtrak's Crescent.

In the below view, the track coming from the lower left is the lead into the NS yard, diverging from the NS mainline that is seen in the left background; the track that both of them cross is the CN mainline from Jackson to Mobile.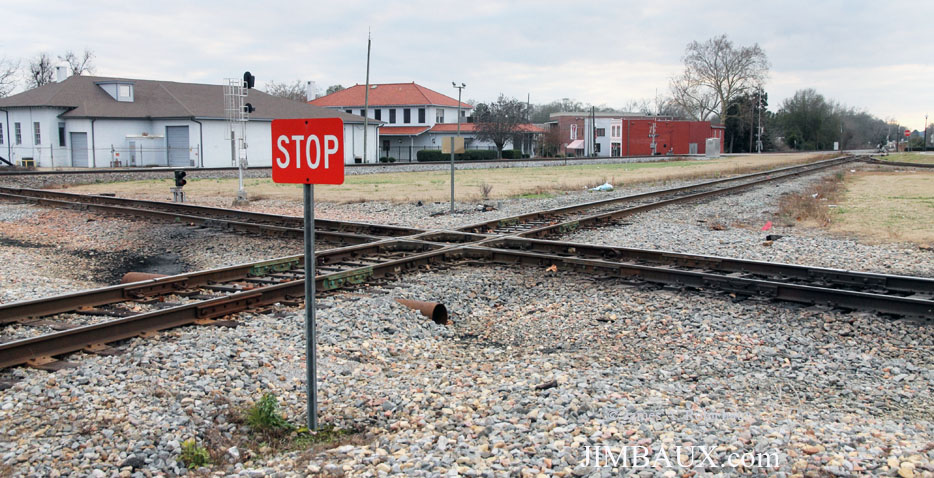 Below is a similar view, but from the NS mainline.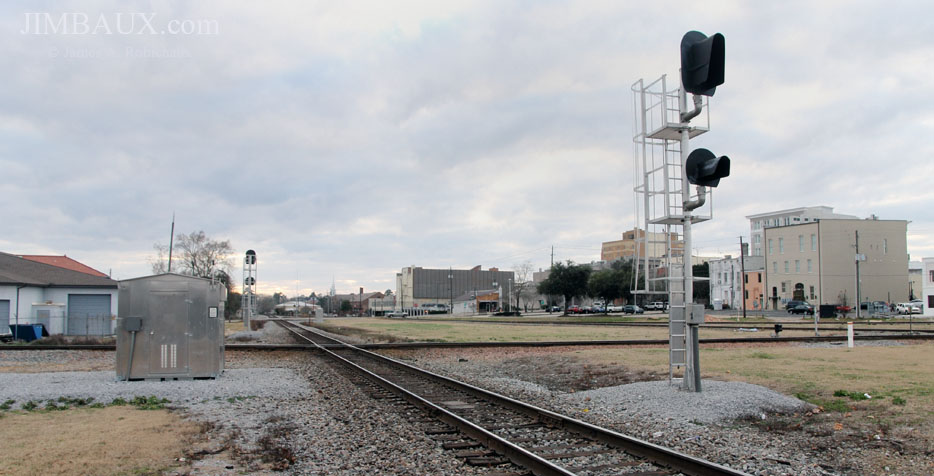 The below view shows the same diamond but from further to the left.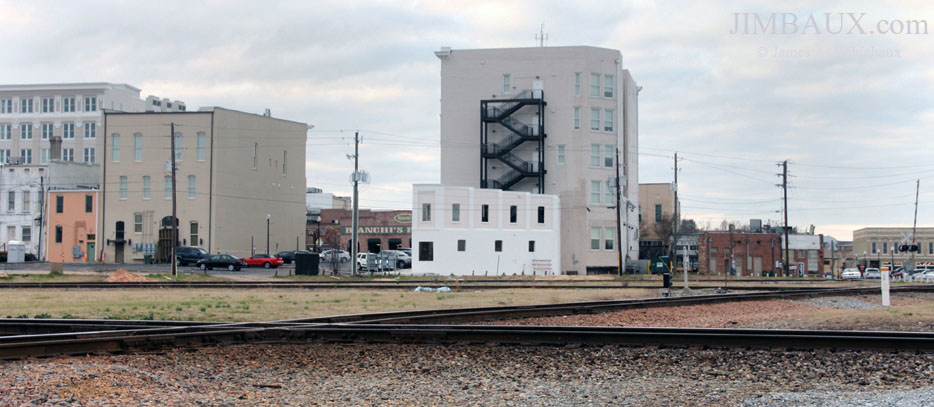 In the background, you might be able to see the connecting track that KCS and the Canadian National Railway use to interchange with NS.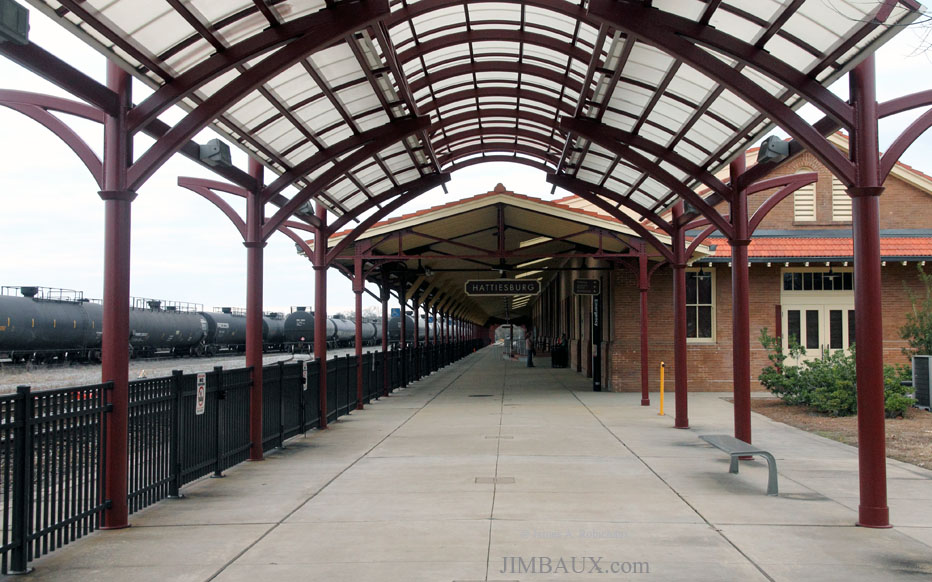 I think that it would be neat if there were a passenger train coming from Memphis, going down the historically-passenger Grenada line to Jackson, then via Hattiesburg to Gulfport on the new fast rails of the KCS!  Wouldn't that be neat?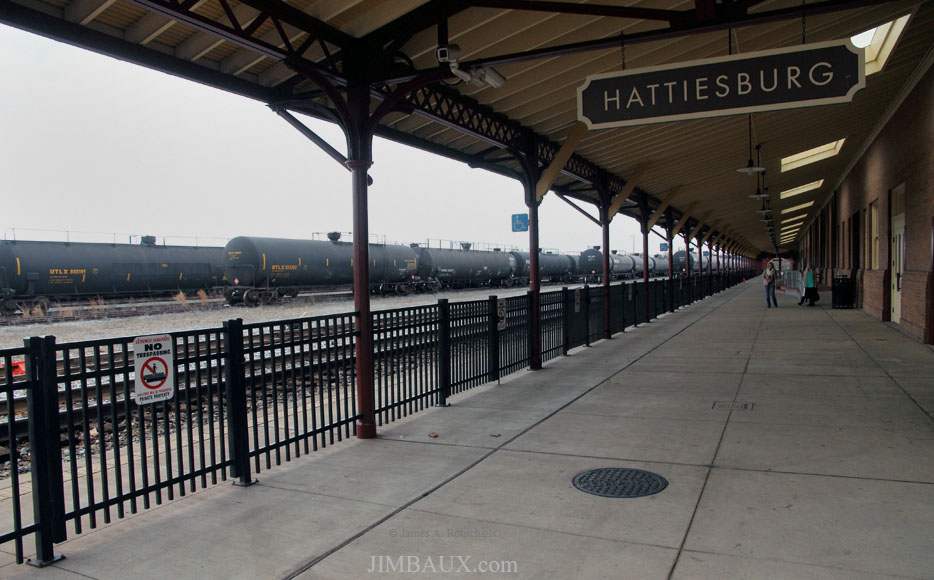 If that were to happen, some loop tracks might need to be built so that this depot could be used without reverse moves needing to happen.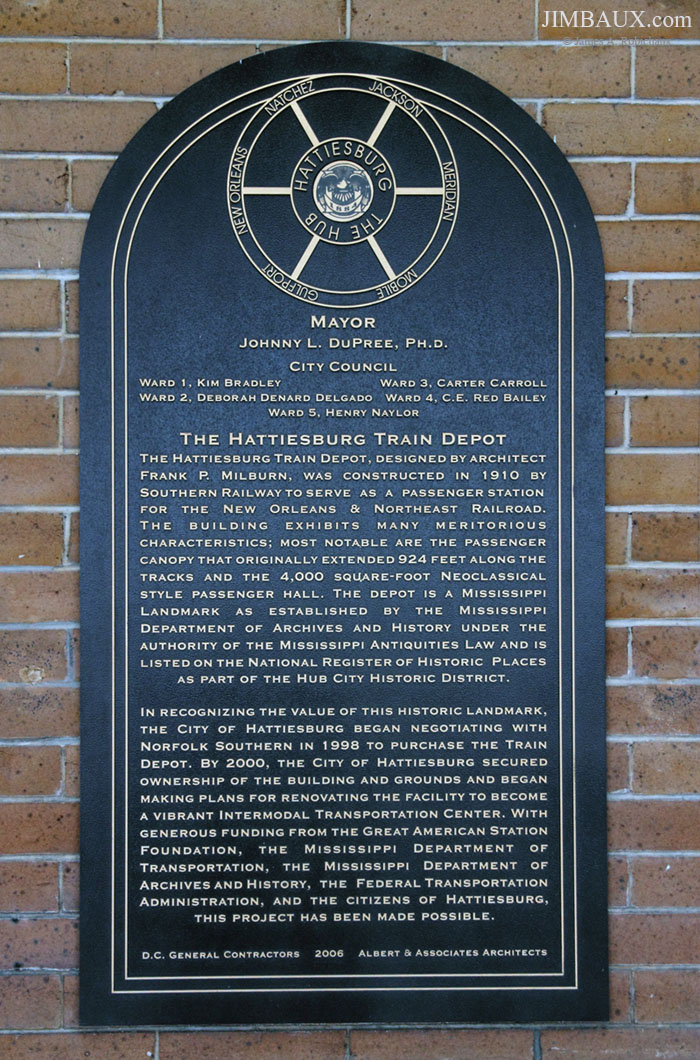 Here's a historic railroad map of Hattiesburg created by the Mississippi Great Southern Chapter of the National Railway Historical Society.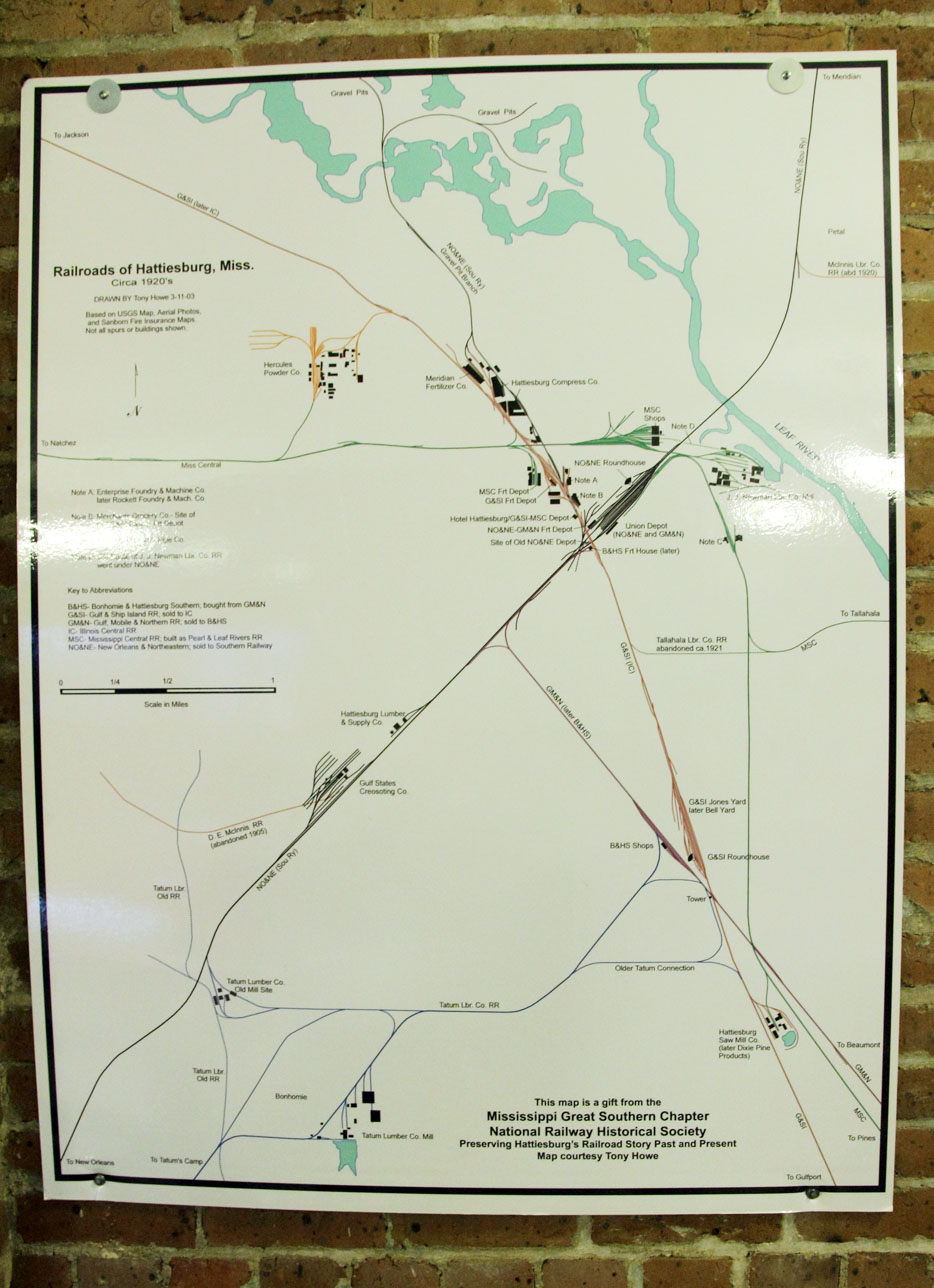 Hard to see much on that map in a small picture, isn't?  Well, you're in luck, because Jimbaux convinced the creators of the map to put a large version of it on the internet!
We are inside the depot.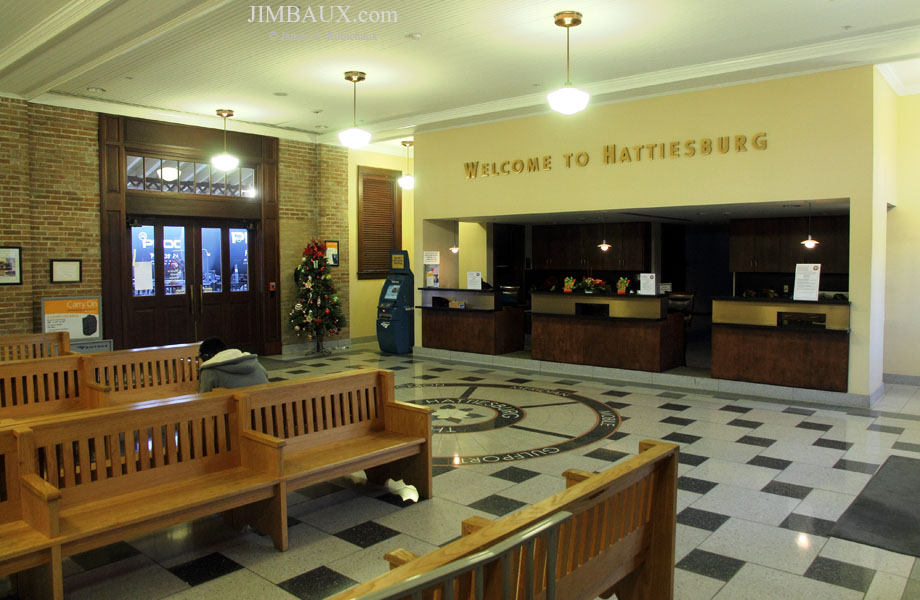 We are outside the depot!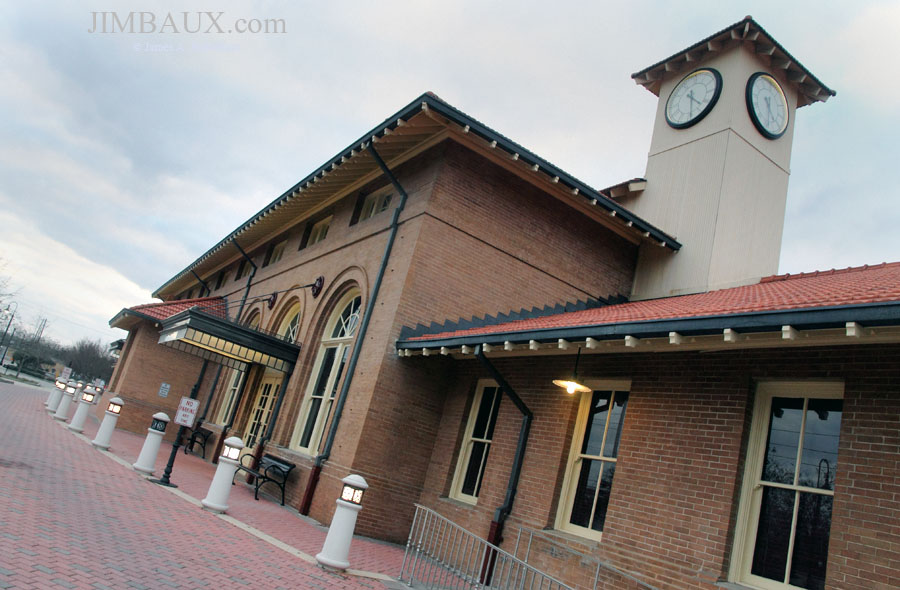 There were some people doing portrait stuff.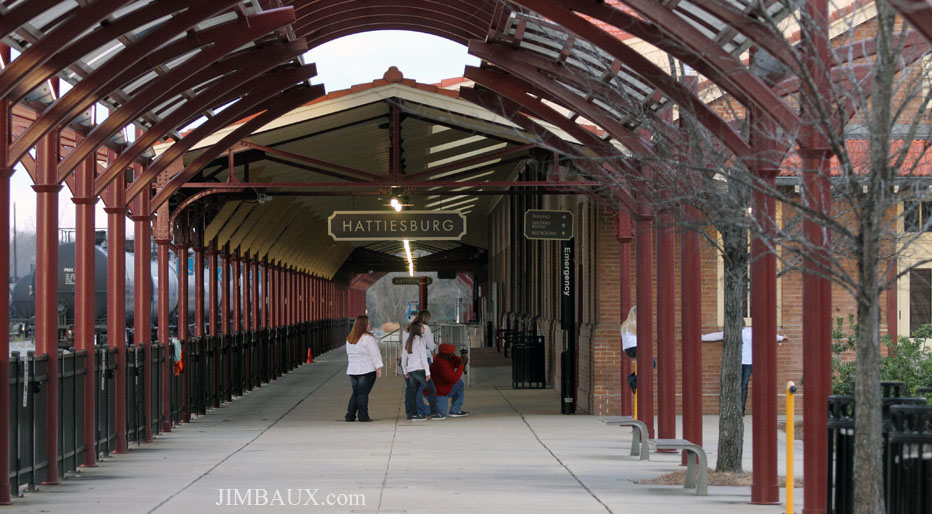 At least they weren't the jerks who get on the tracks and take pictures!
Finally, we see a few scenes of an NS job working the northern part of the yard before dusk.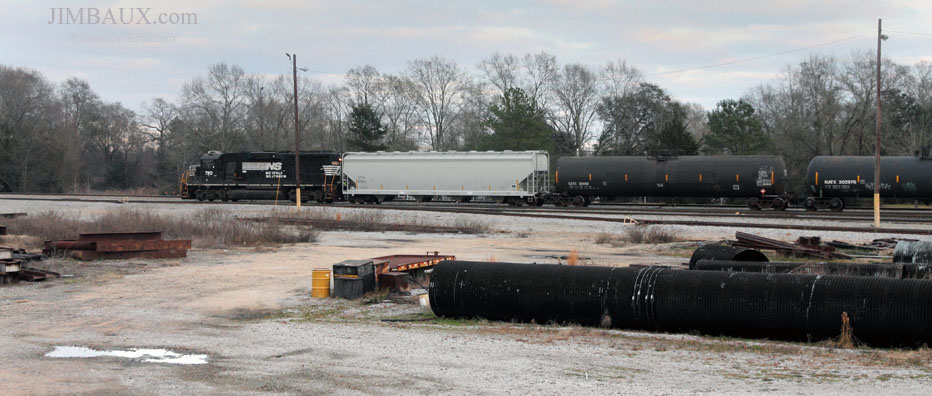 Meanwhile, the high-nose GP50s remain parked.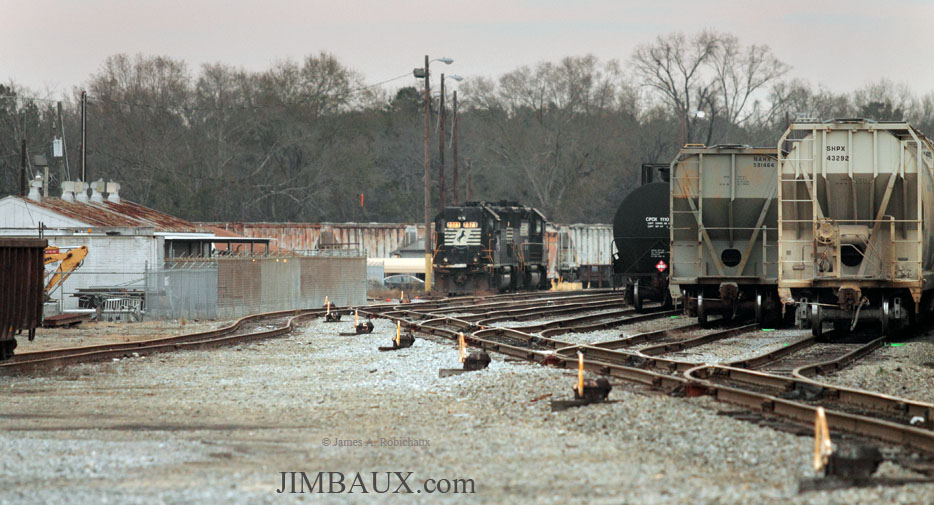 That's about all.  You can check out Nitro's pictures from this day too.
It's time to go home, but, first, it's time for supper, and we tried a Mississippi tradition!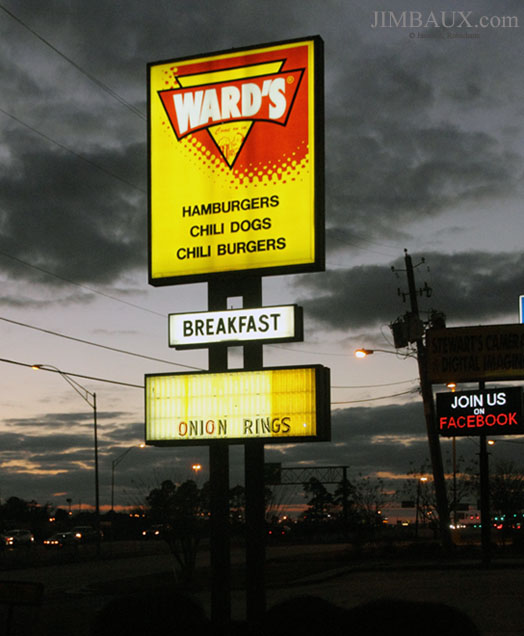 Well, that's all.  It's time for a long – but not that long – ride home on I-59.
Apparently, the fourth of January has, over a seven year period, often been very photographically productive for me.  On 4 January 2007, I took many memorable pictures on one day in northern Mexico, seen in two Mexican states and showing plenty of railroad action and other things. Two years to the day after that, on 4 January 2009, I got many memorable pictures in Acadiana and near and in Baton Rouge.  Three years today after those pictures were taken, an out-of-town visitor and I made many memorable pictures in the area upriver from New Orleans, and we had a nasty confrontation with a sugarcane farmer whose burning field we were photographing!  Two years today after that, I took the pictures that you just saw in this article.
That short period of time that we spent photographing the Delisle Job sufficiently compensated for having come to Gulfport on faulty intel about the Hattiesburg Turn running on Saturday; I'd have probably never come all the way to Gulfport just to photograph that job working for those few minutes on my own, but I'm glad that I have the pictures of it that I have and the operational knowledge that comes with having witnessed all of it, and, not being glued all day to a moving train, we were able to make a new friend.
Today was a good day.
Jimbaux