Whenever Two Or More Are Gathered In My Name . . .
Greetings, dear parishoners, and we've finally determined, that we will publish this month-old Sunday Sermon. 'Twas the warm Sunday morning of June the 3rd, and Jimbaux was up like an early bird, but unlike most times when he goes out to foam, this time, Jimbaux was not alone, for this time his woadie Nitro joined the fun, to get shots of trains under the warm late-spring sun.
So, on this Sunday morning, we practice our religion, perching on some overpasses as if we were pigeons, but we had cameras, and we shot some trains, as the foamy blood circulated through our veins. So, get in your pew, sit down, and don't be nervous, 'cause Rev. Jimbaux and Deacon Nitro will lead today's service.
In life, you have to play the hand that you are dealt, and so it is true on the NS Back Belt. We wanted an eastbound train, going into the sun, but that is not how this morning had begun. Where we first took out our cameras was largely a function, of what was happening over at Terminal Junction. Onto the Back Belt, the BNSF job was emerging, from NS Oliver Yard, it was slowly diverging. When you are given grass, you must make some hay, and sometimes that means shooting the train as it goes away.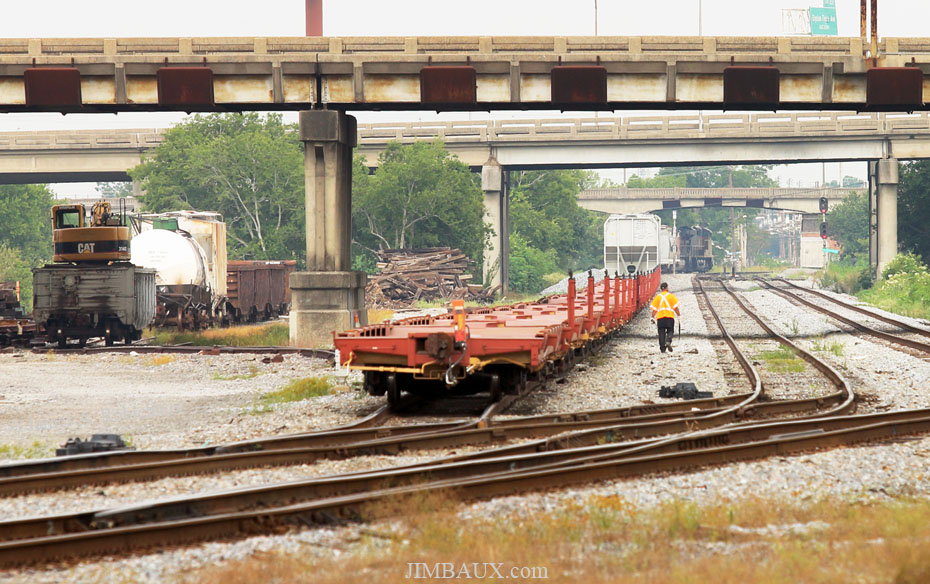 Three overpasses in this picture are revealed: Franklin Avenue, I-10, and Elysian Fields! What you see in this picture is the way the railroads arrange, the BNSF to Norfolk Southern interchange, but now we need to leave because there is an eastbound coming, and to miss a shot of it would be unbecoming.
We went over to the bridge east of City Park, but we got worried when we saw clouds that were dark. The QLIHL came, and we got this shot from a distance, but then the clouds took over as he got closer despite our insistence.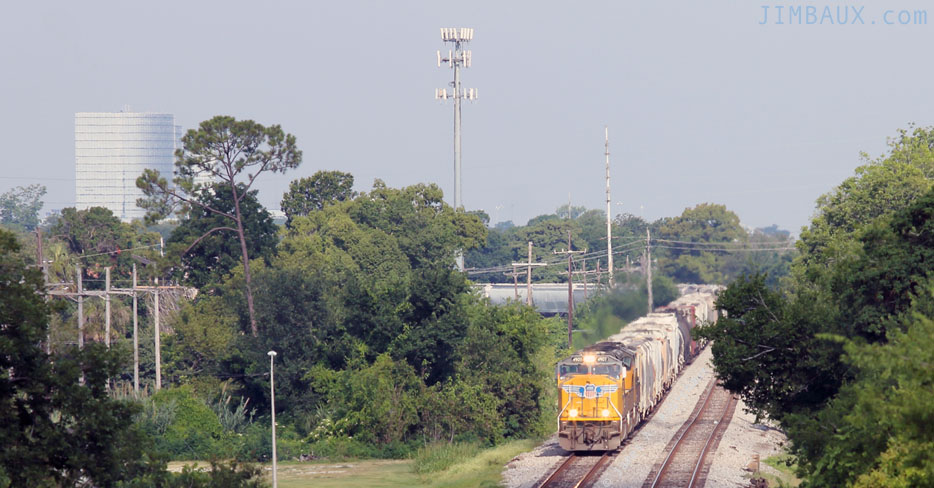 That's part of why I don't like foaming in the spring or summer, since partly cloudy skies can be a real bummer. We decided to follow this train, so from this scene we would depart.  At least we got something, and so we should not be distraught, as we wanted and expected better, or so we thought, but just when the situation was seeming to be malo, we learned that the CSX transfer job would the QLIHL follow!
So, back to the top of the bridge we went, because that's just how this time gets spent. The CSX transfer, as it does on most days, was returning with interchange traffic from CN Mays. For photographing this train, I usually have a strong motives, partly because it runs with some classic locomotives. While waiting for this train, though, it's time point the lens in other directions, and get some pictures with a bit of circumspection.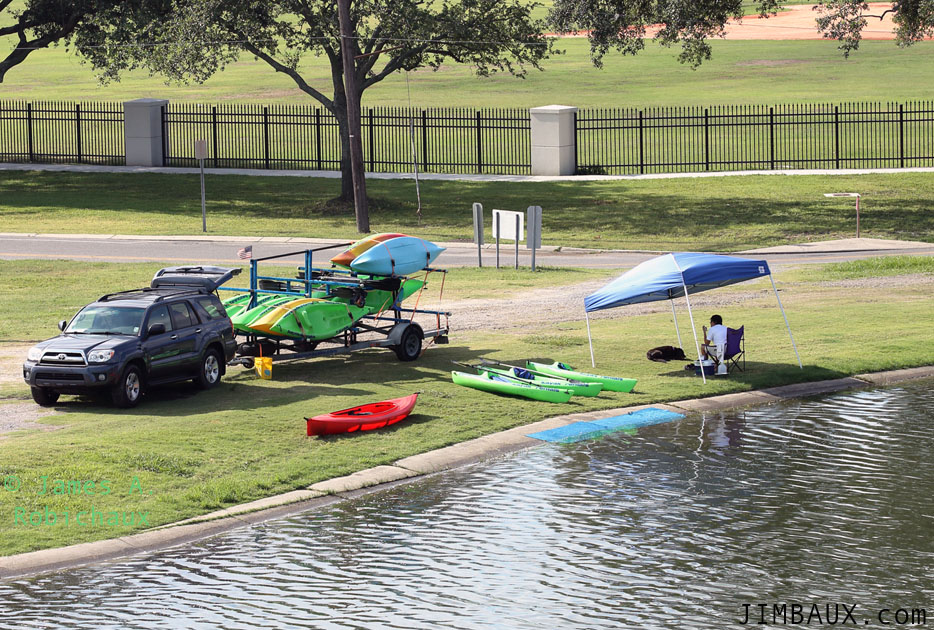 For recreation, people are thereupon, enjoying a Sunday on Bayou St. John. Now we point the camera a little bit lower, and under the NS Back Belt rows a young rower.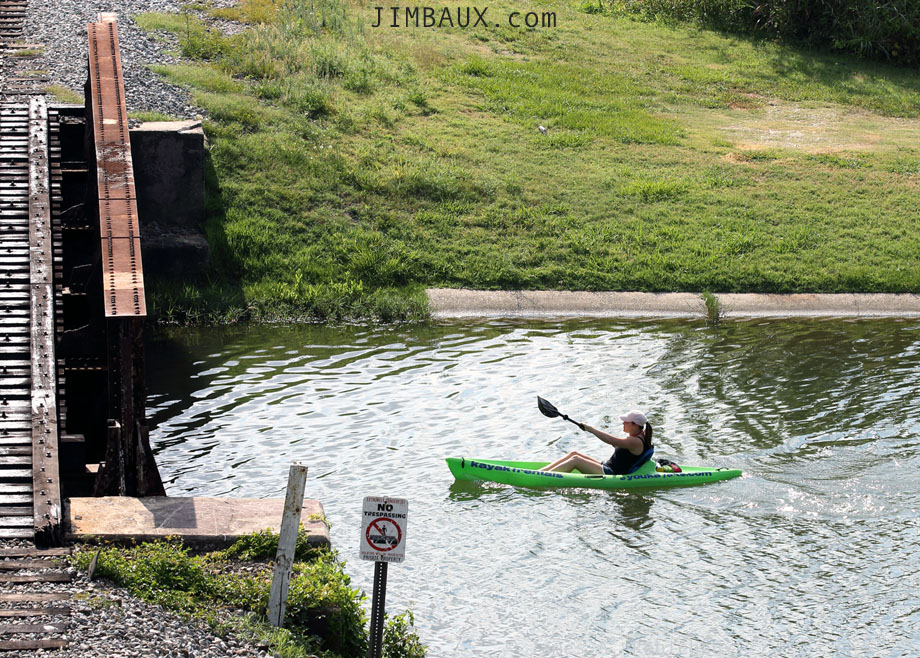 Now if you want to see Nitro, Jimbaux's friend, here he is in front of I-610.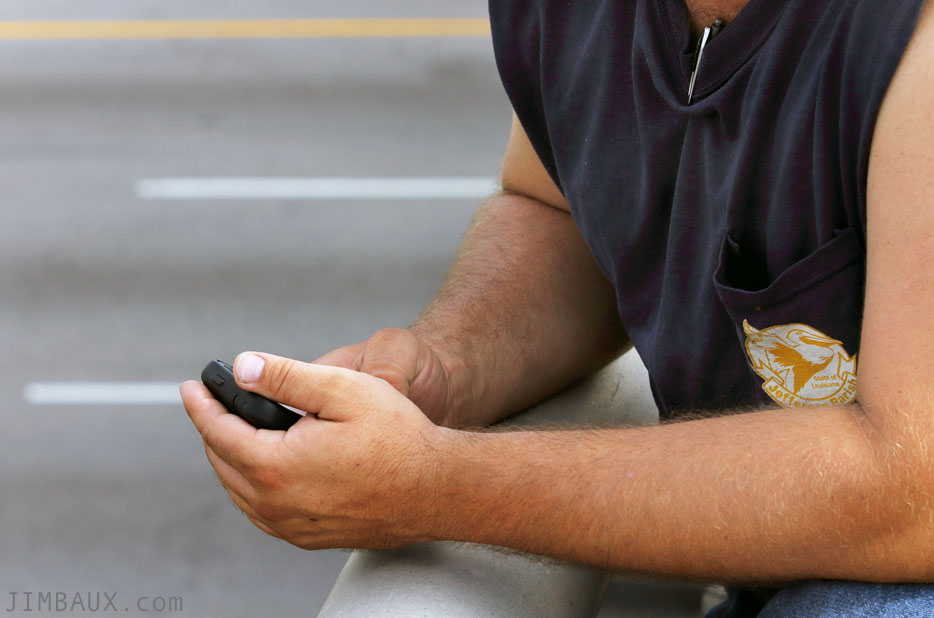 Now before you get out of the pew because your butt is getting calloused, have a look at this self-portrait in the railroad ballast.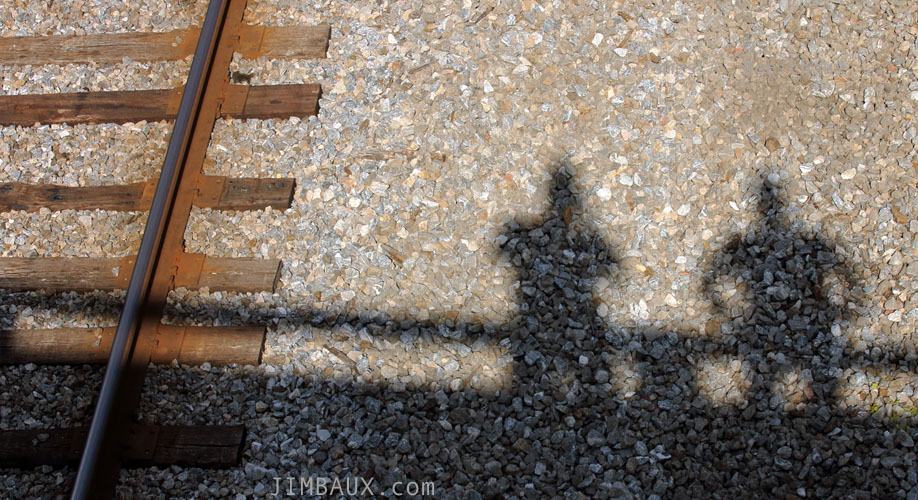 Waiting all this time makes it seem like a mental disorder, but the truth is that this train was slowed by a slow order. So we got one more shot so that it could be shown, that on this bridge we were not alone.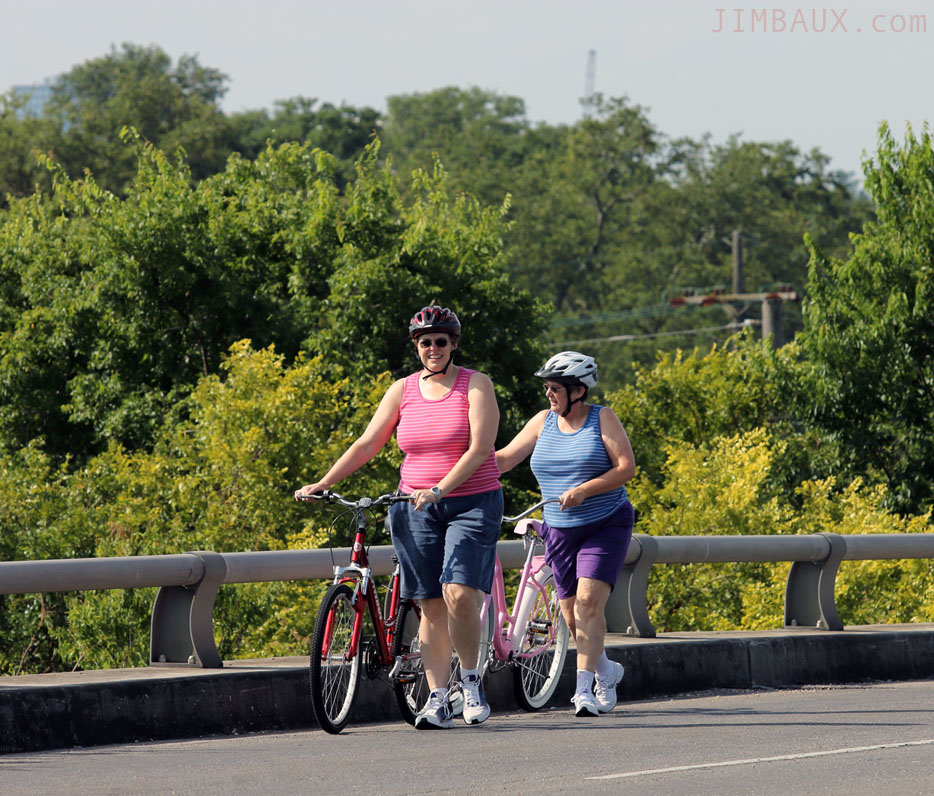 Waiting all this time can be such a pain, but, lo and behold, here is our train! It's the CSX with the CN transfer, just in case from what's already said that you could not infer.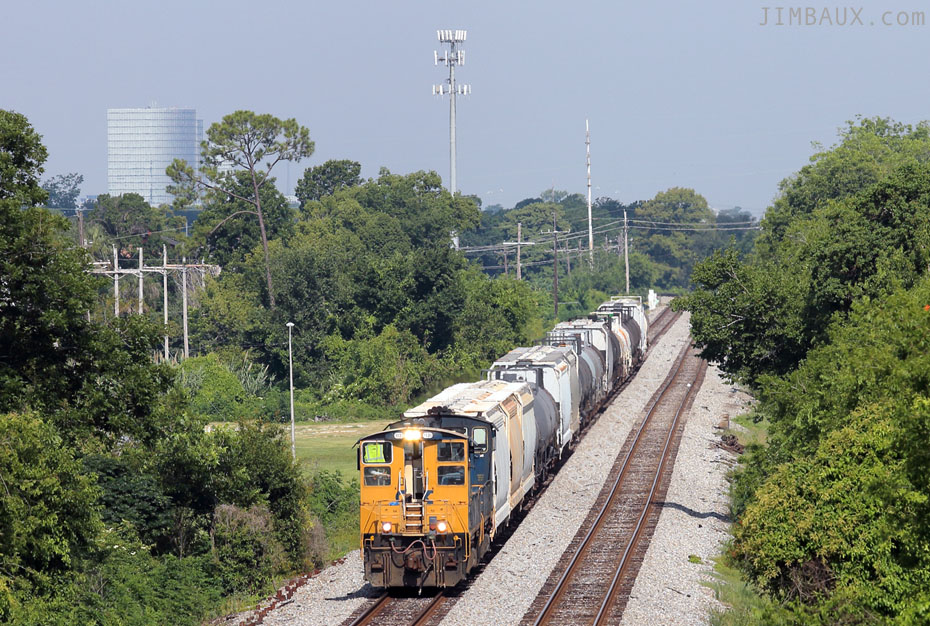 Would the train continue to be under the sky's shrouds?  Well, seconds later as he gets closer, there still are no clouds!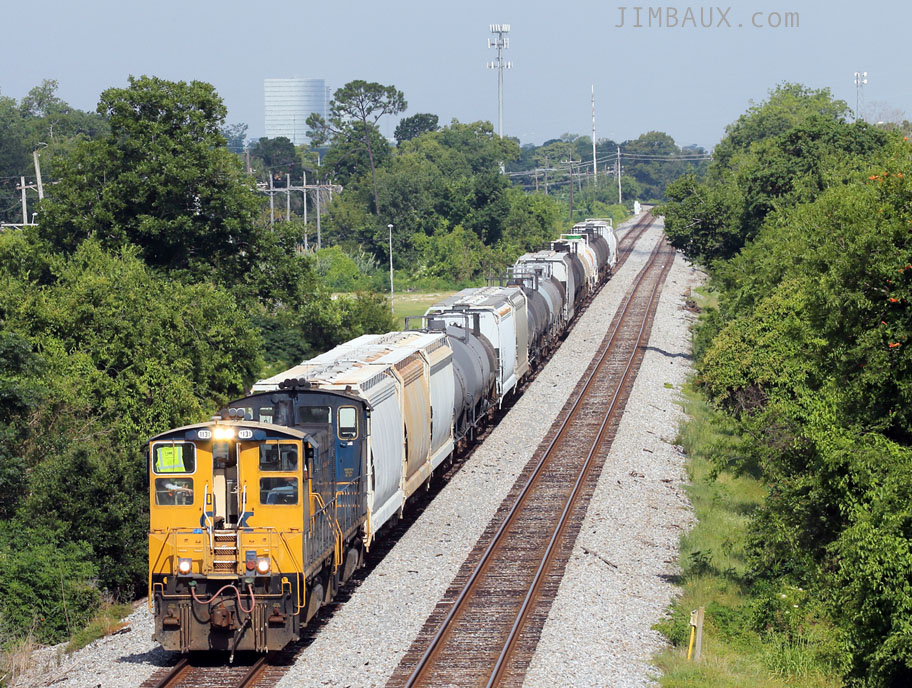 A resounding success the decision to stay has been, and now we must find the QLIHL again. I knew that to get very far would take him nearly an hour, since he'd almost surely have a red signal at NE Tower. With all of this time, our efforts would not be marred, if we swung by to see what was happening at NS Oliver Yard. So, at the yard's north end, we see some GE power, while in the background, you see NS Oliver Tower.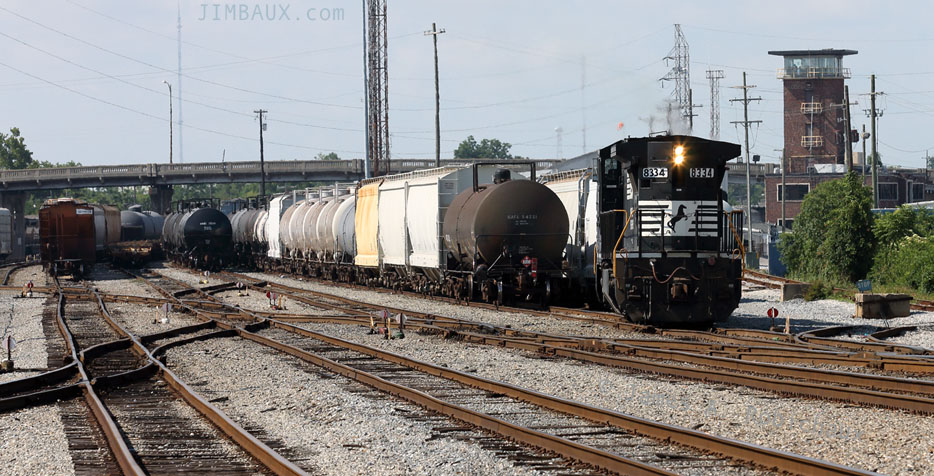 On your mind, which may be confined, you might read this post as you take a break from your grind, and wouldn't you think that it would just be fine, if Jimbaux stopped to take a picture of the yard sign?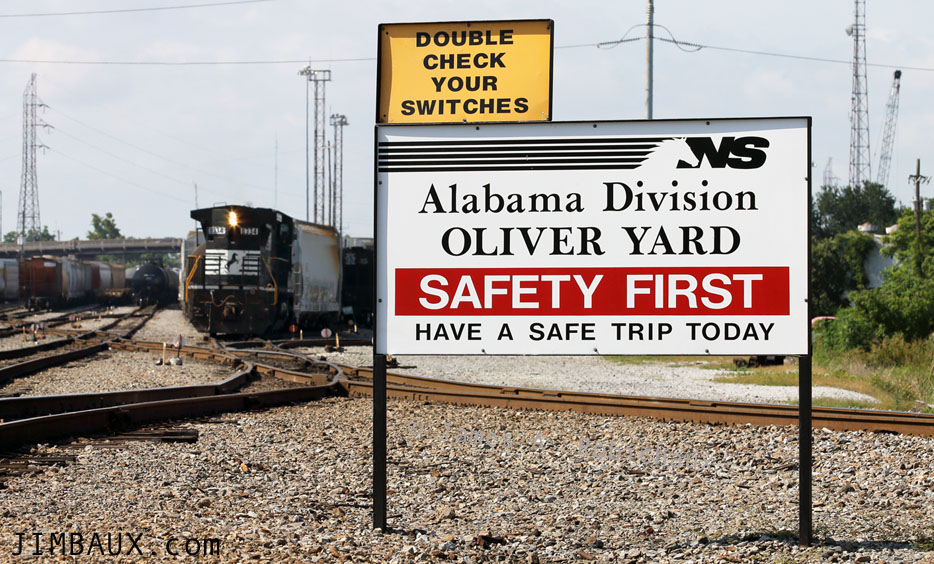 We hear on the radio the NS dispatcher tell, that past NE Tower could move the QLIHL. We were not yet there, but do not despair, for whatever happens, it will be fair. Don't worry about Jimbaux and Nitro, don't shed any tears, because there was a shot that I hadn't done in a few years. It's not a great shot, but I decided to take it, since where I'd rather shoot it, I suspected he wouldn't quickly make it.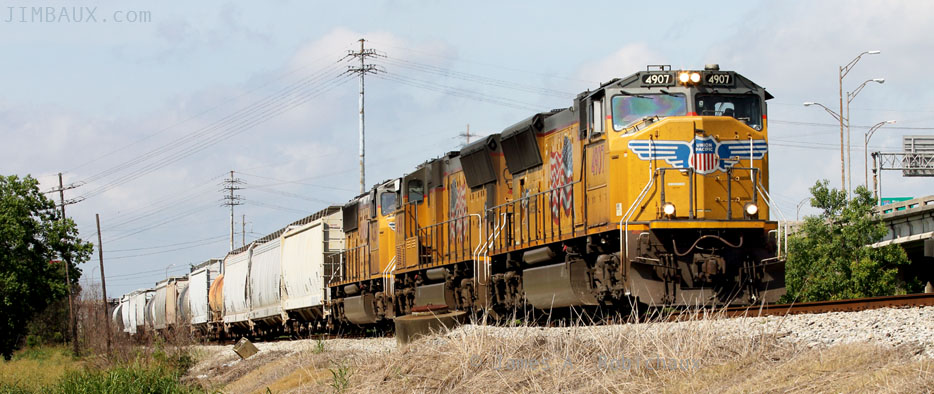 So we quickly went to where a Sunday Sermon is usually complete, the overpass over the track on Alvar Street, but when we got there, a distraction we detected, which is, as you might have suspected, what I had actually expected.
There was another train leaving the yard, and it would get in the way, meaning a well-lit shot of the QLIHL would not happen here today.
This Sunday Sermon was quickly going into the ditch, as a pipe train emerged and had to line switch, not just one, but the other one too, as the good shots were through, and that's what I knew.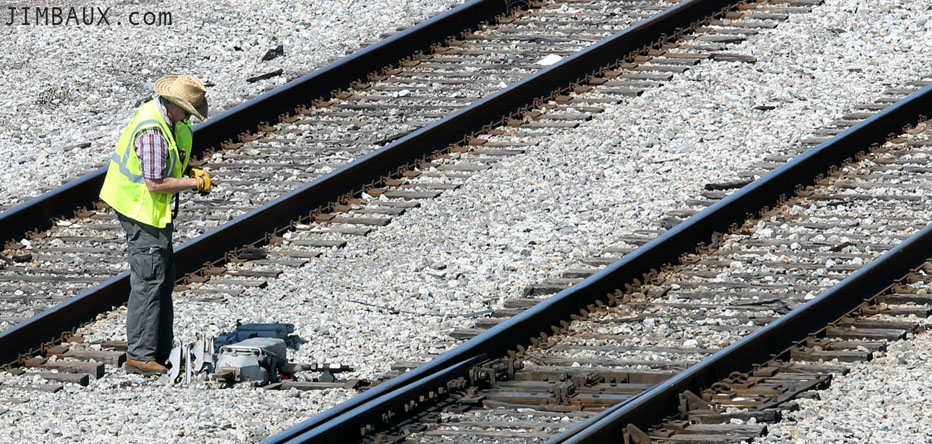 The QLIHL was still in existence, and you can barely see it in the below shot in the distance, but the unit pipe train emerged and slowly rolled to the west, and I told Nitro that to leave and go home would be best.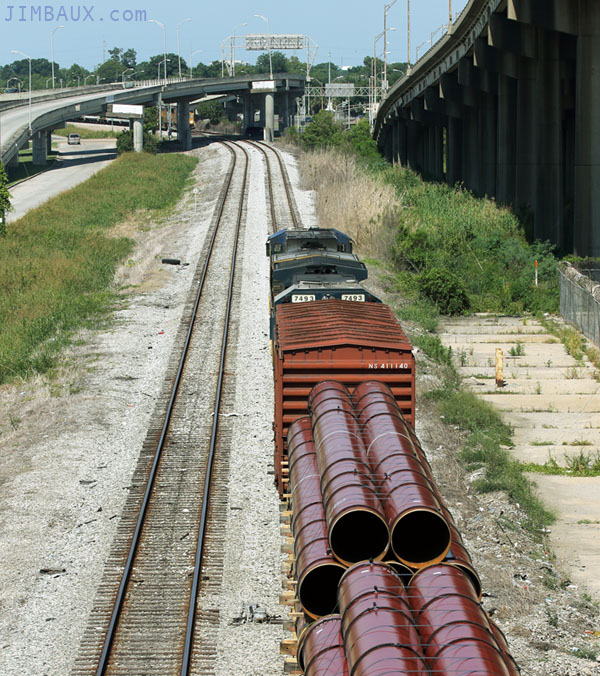 Now, I have a question, and maybe the answer you can type. Can anyone tell us about the markings on that pipe? What do they mean? What do they signify? I got this shot as the train was rolling by.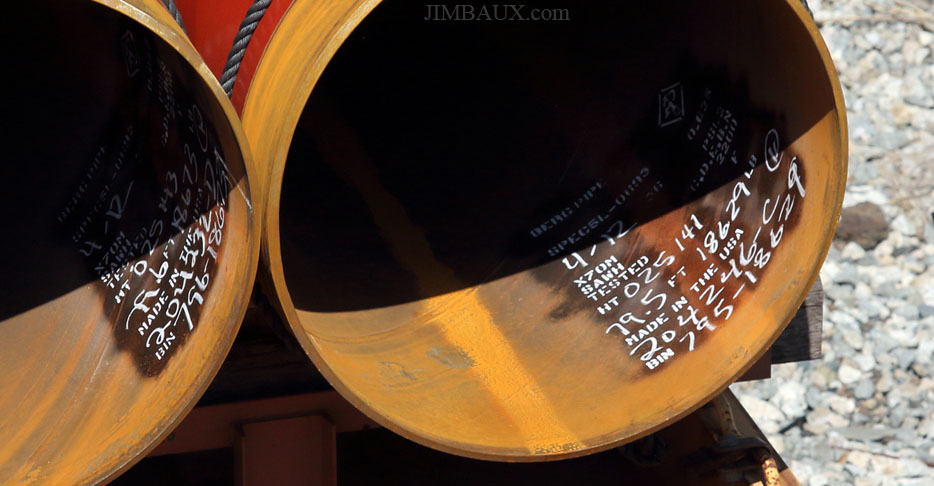 Well, that, my kiddies, is what was determined, and it brings to end, this Sunday Morning Sermon. We hope you've enjoyed it, and we hope you've been uplifted, and we hope from the foamy photographic truth you haven't too far drifted.
Second Section, But Same Train
Jimbaux went home, did some chores, and had lunch, but that he'd see the pipe train again – and in better light – he indeed had a hunch. It's now Sunday afternoon, and the morning sermon is finished, but Jimbaux is driving to bayouland, his efforts undimished.
Get a good shot of the unit pipe train? You know Jimbaux can, especially when among sugarcane fields in the fatherland. Now, where this train is going, you it might perplex, but it was on its way to interchange with Ferromex.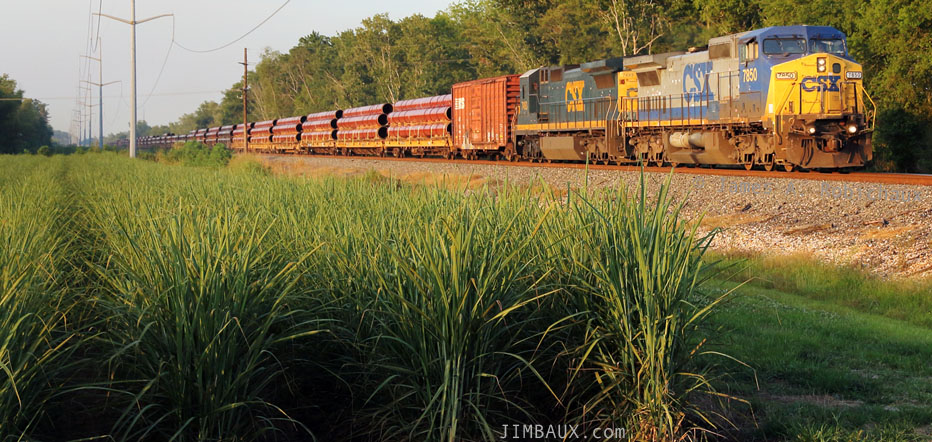 This was the SNOEP-03, originated in Mobile, Alabama, making its way through the sugarcane fields of Louisiana. 'Twas going to the state of Chihuahua to the station of Tarrazas, I guess for a pipeline being built for los paisanos y las paisanas.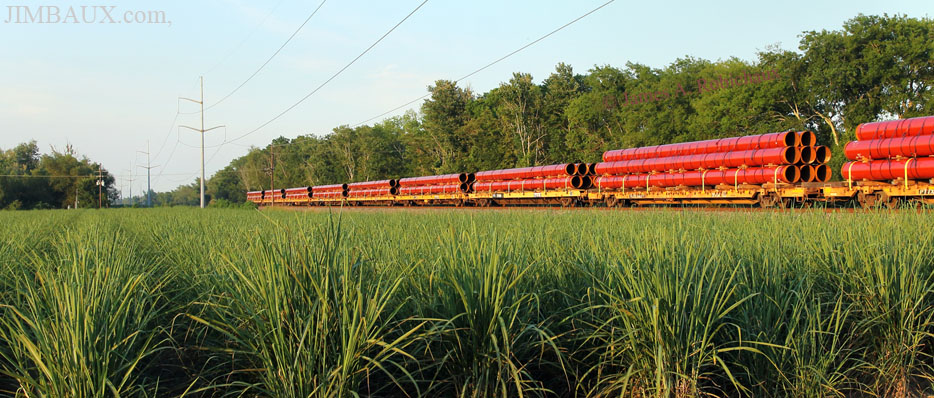 Well, that's really enough of that, I tell you, my friends, as, finally, this unmetered madness ends, but please do not despair, and please do not fret, because Jimbaux brings you the photography, any chance that he'll get.
Peace be with you, and merci,
Jimbaux