[Jimbaux is doing the best he ever did, now go away.]
And I Wonder, Day To Day . . .
Whatever.  Actually, I do have plenty to say right now, but I just lack the energy to say them; I've been very busy lately doing, among other things, challenging people's never-ending stupidity and trying to make them think instead of fear.  There is indeed only so much that I can do.
Whatever
(You're not listening to today's song?)  That said, let's cut the chatter and get right to the pictures.  Someone joined me for this Sunday Sermon outing; unfortunately, his prediction of a very poetic Sunday Sermon from this joint mission will not come to fruition.  I'm much more tired than inspired now.
An Unexpected First Assignment
A dawn reconnaissance mission to the track at Central Avenue alerted us to the departure from CN Mays Yard of a New Orleans Public Belt Railway transfer job headed toward NOPB headquarters.  Well, I can recall that you've only seen NOPB intermodal moves once here on Jimbaux's Journal, and it was back in April and in the other direction in the afternoon.  Foggy lenses vexed us as you can see in this first of two shots, the lamer of the two (so, it does get better!)

Yeah, that's different, isn't it?  Well, what's below is also different, but it's better too!
A New Shot
This is a new shot, but, then again, I've taken several pictures all up and down Leake Avenue over the years.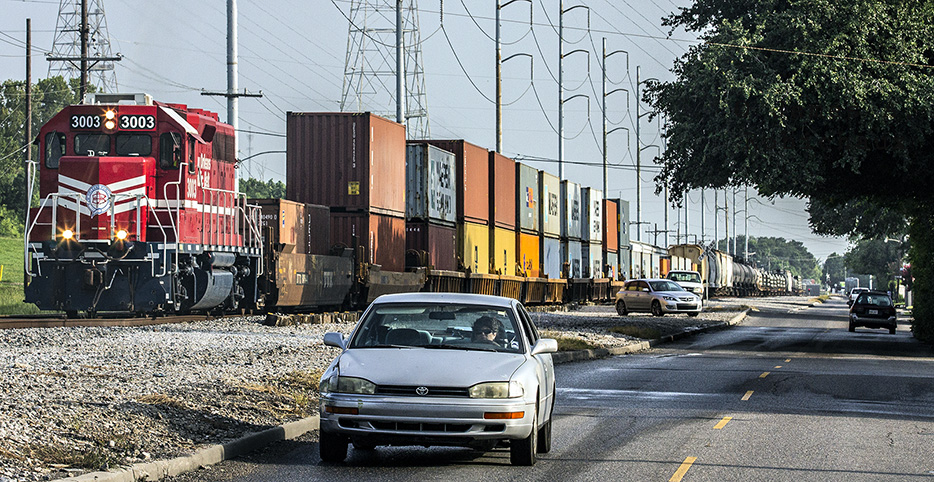 That is a shot – particularly of an NOPB train with NOPB power and containers going to the Port Of New Orleans – that I have tried for a long time to get.
Here is a going-away shot that I grabbed that shows a quasi-iconic scene of New Orleans railroading.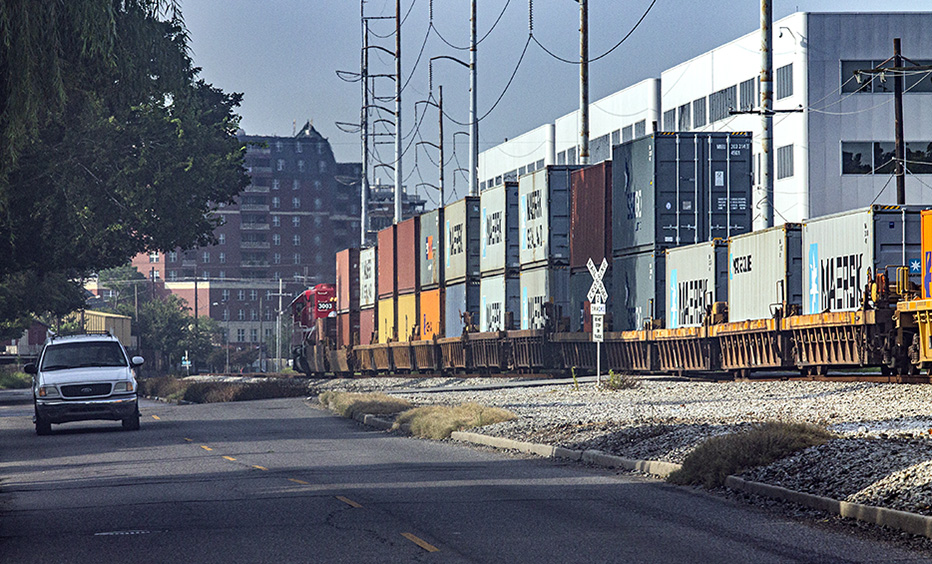 That is the US Army Corps of Engineers building on the other side of the track.
Now What?
From the day before, I remembered passing the KCS yard and seeing that there was something worth photographing there.  Here's the scene at the former locomotive shop: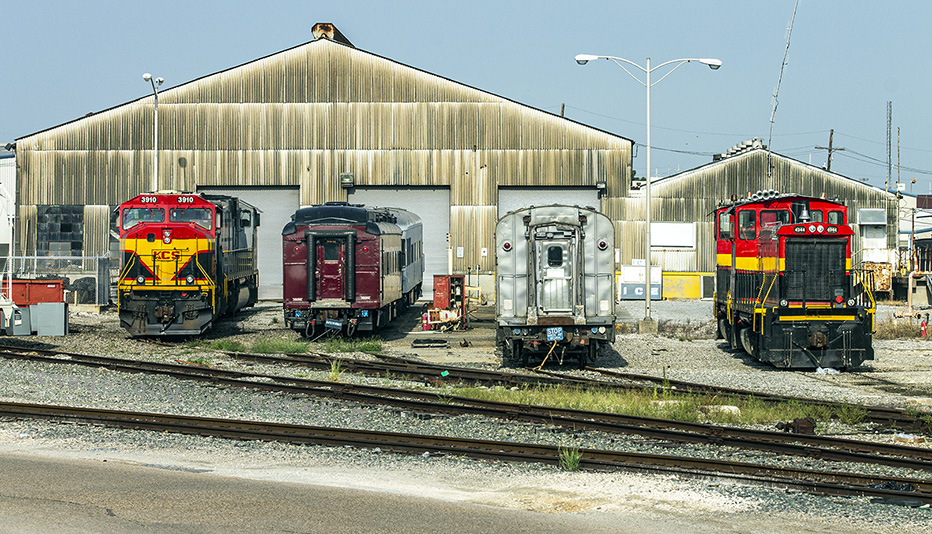 Y'all might remember that Kurt recently captured the old KCS 42 passenger car as it was being delivered to the locomotive shop a few weeks ago.  Well, below is (barely) my first shot of the car there.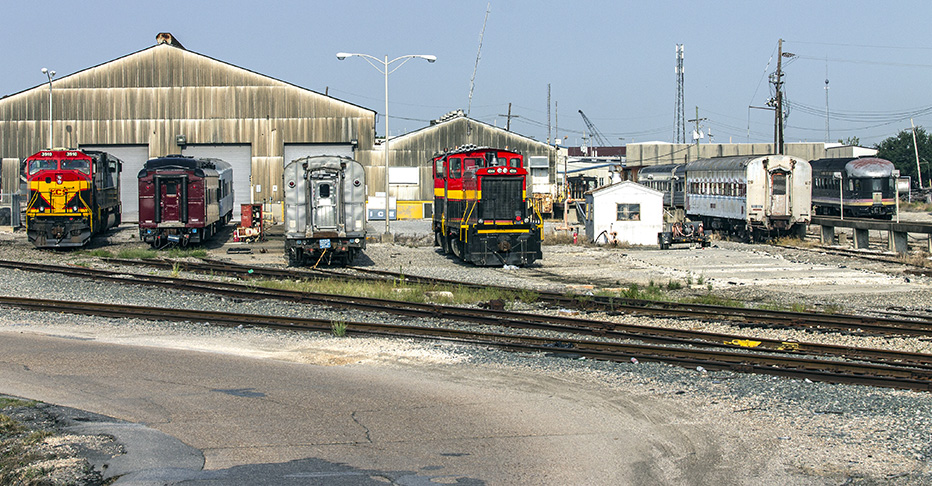 How's that?
The QLINSB
We saw that Union Pacific train QLINSB was on the move through the East Bridge interlocking, and we decided to give chase.  Unfortunately, a parked train on the southbound mainline blocked the Wisner shot, and it's the wrong time of the year for the Elysian Fields shot; so, it was off to Terminal Junction we went.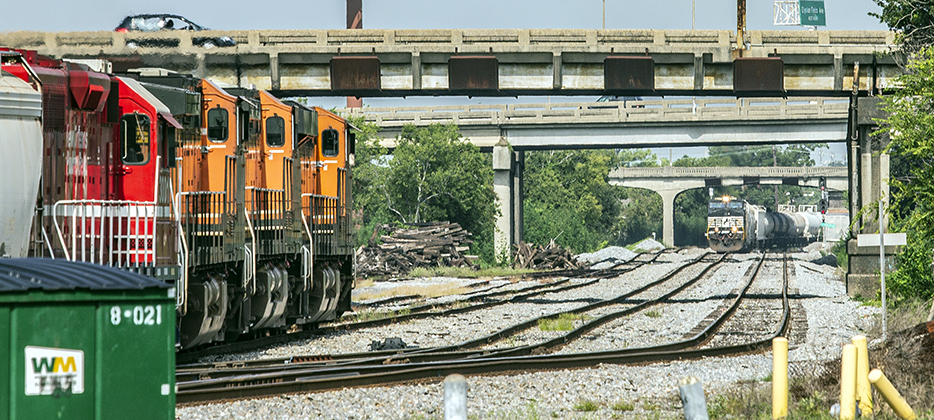 Yeah, that's odd.  Before the QLINSB, which you can see in the background above, arrived, the BNSF transfer job pulled out of NS Oliver Yard, went down the freight lead, and then shoved back into the yard.
Once it got out of the way, we were able to get this shot with the north leg leading to the NO&NE line out of town in the foreground.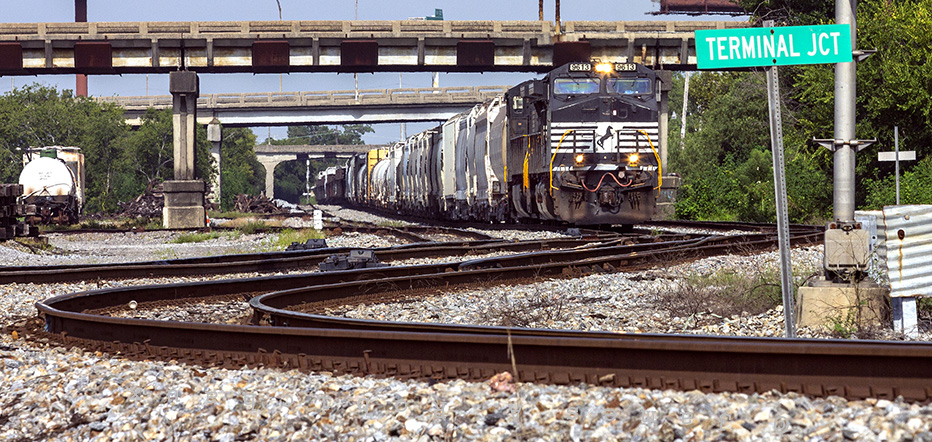 The QLINSB is a daily train originating at UP's yard in Livonia, La., (hence the "LI" in the name) and being interchanged to the Norfolk Southern in New Orleans at the above-shown location.  After an NS crew boards it and does a block swap (at the beginning of the train) from the yard, it leaves town north as NS train 314 to Birmingham, Ala., hence the "B" suffix in the train name.
Okay, dudes, that's enough; it's time to go home.
Encore
As we were leaving, we heard CSX job Y305 with the CN transfer coming, a train you've seen me show numerous times.  Well, since we're here, let's get a shot, but where?
Another New Shot
Lacking anything else, let's go to Orleans Avenue and try something there.  It won't be great, but it will be a shot, and it will be a new shot.

Yeah, that's what I thought too: not really great, but not bad either, and somewhat novel.  Let's try one more time as the train gets a few dozen feet closer.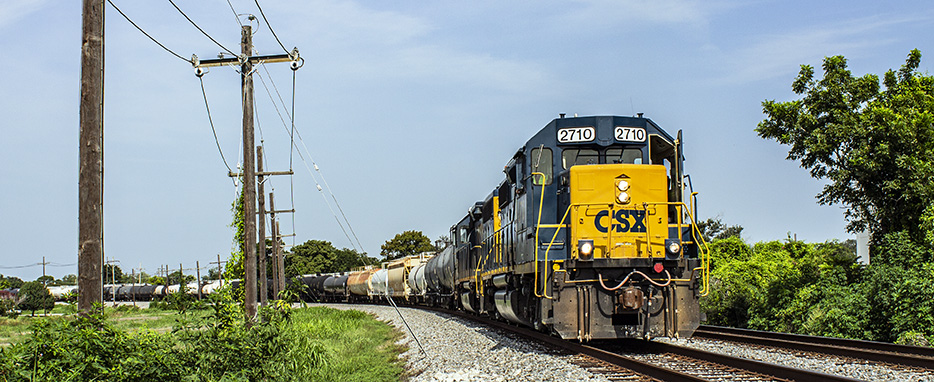 Okay, that really is a wrap.  Let's really get out of here now.
Tidbits
Canada, Learning, And Art
Did y'all see the western Canada picture that I posted a few days ago?  If you read the long description in there, you can understand what I mean when I say that my love of railroads has been a vehicle through which I have learned so much about the rest of the world, and lenses and cameras (and in that order) are tools that I use to share both the love and what I have learned with the rest of the world.  However, it all comes at a cost that is rarely reimbursed.
I'm swamped.  I really am.
Random Observations And Closing
For some reason, I'm not really a fan of Vivaldi's music at all.  I much prefer Paganini, Schubert, and Rodrigo.  Yeah, and y'all thought that I was only about the Godsmack and Staind and a stupid spoof rap song that I did; don't you know by now to not categorize and compartmentalize Jimbaux?
Y'all be good, but don't be god, at least not to anyone else.  I'll see you next time.
Jimbaux