[Jimbaux needs serenity, in a place where he can hide.]
Where Do We Go When We Just Don't Know?
Not only do I associate the Godsmack album Faceless with Rich Mountain, since it was the new thing in my CD player when I went to Rich Mountain in my own vehicle for the first time in June 2003, but today's song, "Serenity" (you're not listening to it?) is extra-special, because I associate it with cloudy coolness on the mountain, as part of 27 October 2006 was.
Now, in light of the events of the past few days (as I type this in October 2011), it has another appropriate meaning.  Rie's death notice was published, and I read it for the first time last night.  I started reading it with dry eyes, but even before I got halfway through it, even my chin was wet.  I just had to put my head in my arms, and then down on the desk and sulk and sob.  I'll write more about that later, though.  I wish I had taken a few more pictures at the reunion last summer.  We have to get through Friday, which will be very difficult, but a chance to celebrate a life well lived, and gratitude for having known someone so special and inspiring.
Rich Mountain!
Man, do I love that place!  The Kansas City Southern Railway has about 30-some-odd miles of something like a 1.67% grade on either side of the Arkansas-Oklahoma border, which makes for some great picture opportunities, especially in fall-color season.
It's too bad that I haven't been there in more than three years.  I need to remedy this.  Anyway, 27 October 2006 was the first day of a few for Jimbaux and pals at Rich Mountain, and here are the pictures!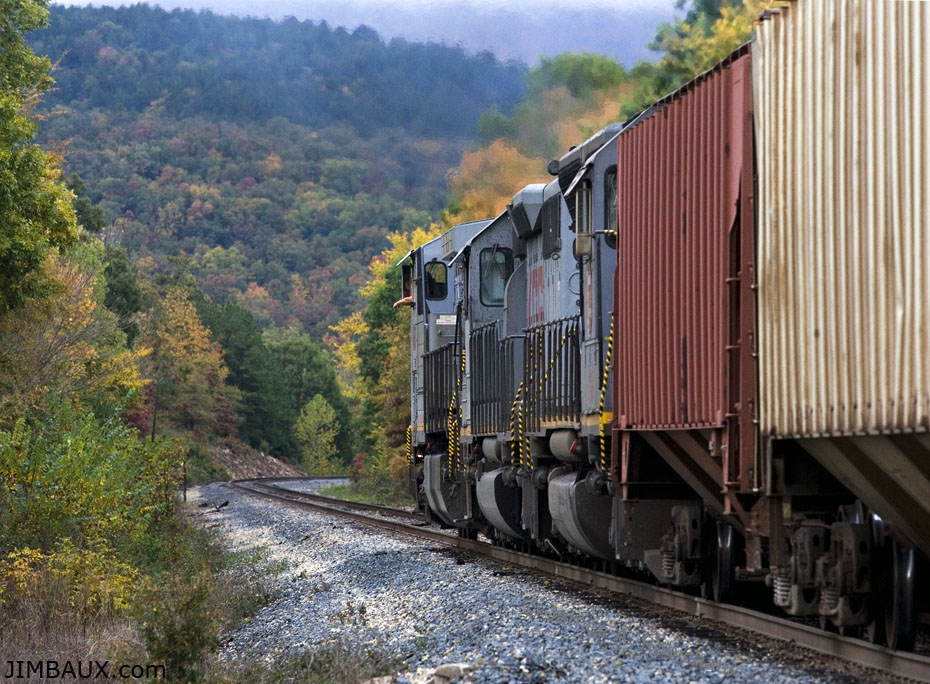 We start the morning with a southbound loaded grain train, as you see, at the detector at Zoe.  Below, you see the rear-end pushers.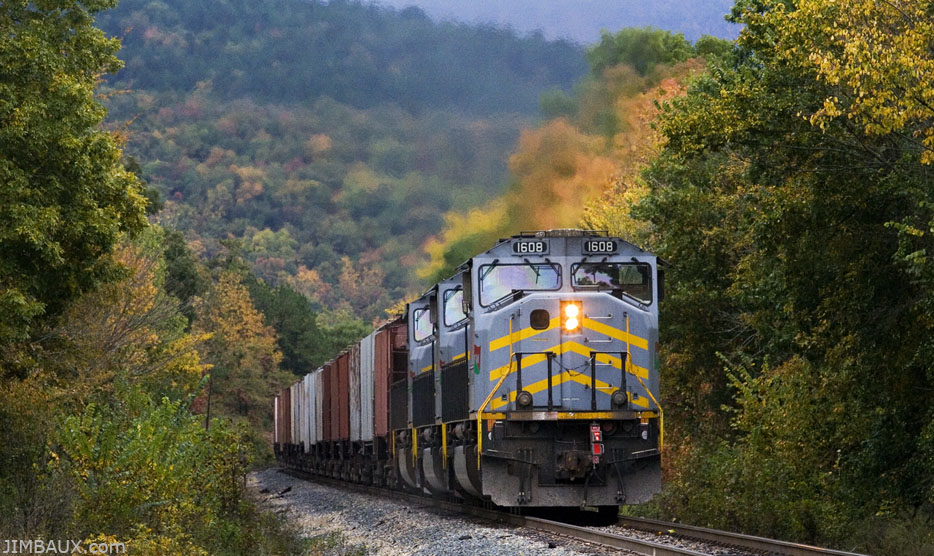 Do you see the end-of-train device on the coupler of the trailing locomotive?
Page
Here's the same train at Page, Oklahoma, the only siding on the grade (unless you count at Rich Mountain proper, where the grade ends), and also a place where there is a brief break in the grade, allowing trains to gain velocity.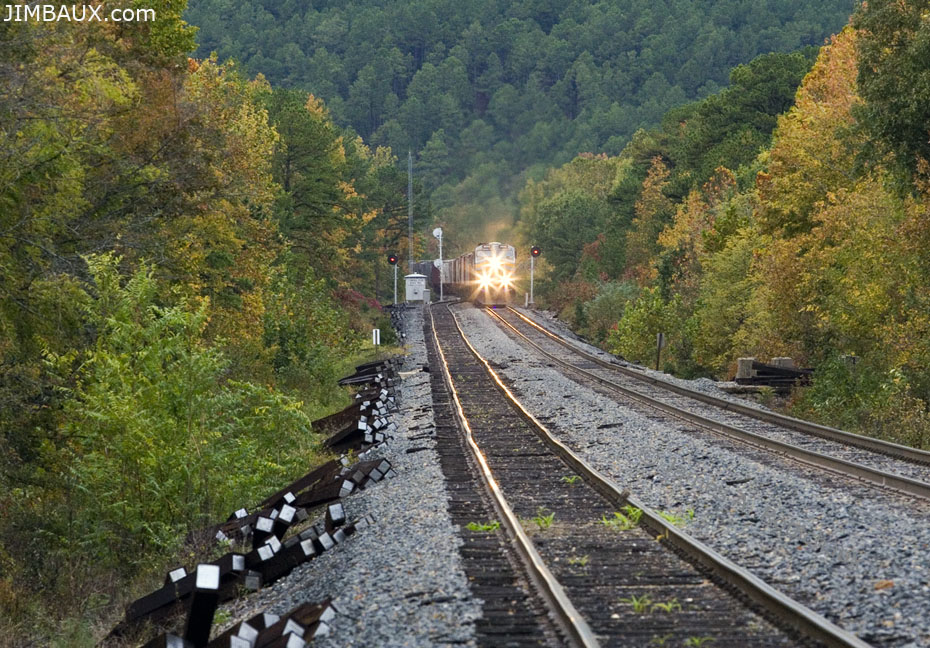 Apparently, there was some sort of tie-replacement project happening at the time.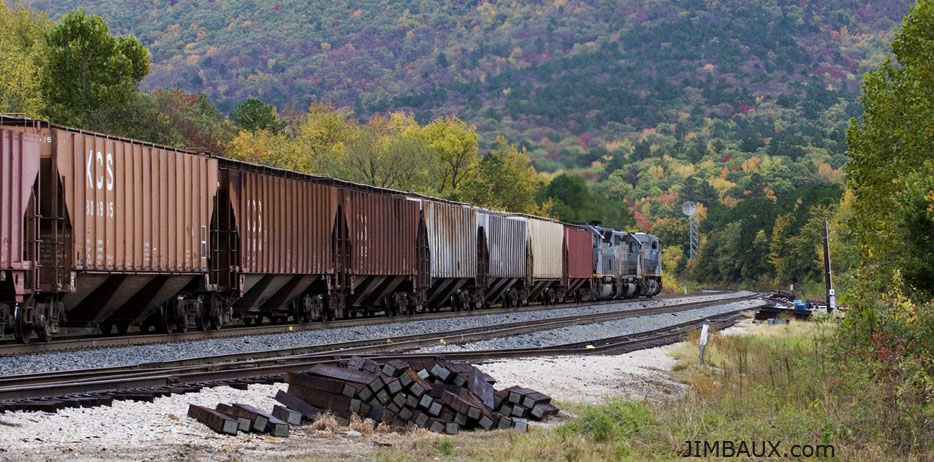 Just like Rie tried to teach me (like she tried with almost everyone else) to not take myself too seriously, Rich Mountain taught me to not hate clouds when photographing.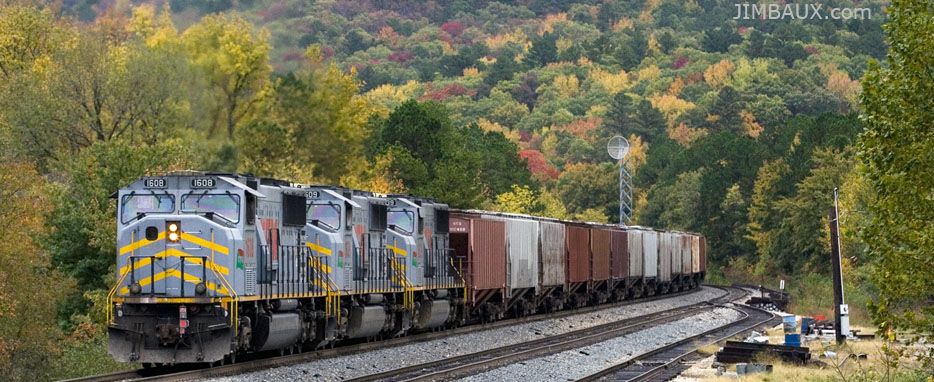 I really think that many of these locations, like I've learned to do with Chacahoula at home on the old SP, cloudy skies are much better for photography than sunny skies.
The Good Ol' H-Train
There isn't a much cooler train on this line than the daily H-trains (H-KCSH southbound and H-SHKC northbound) between Kansas City and Shreveport, doing "haulage" as a super-local making setouts for the local trains.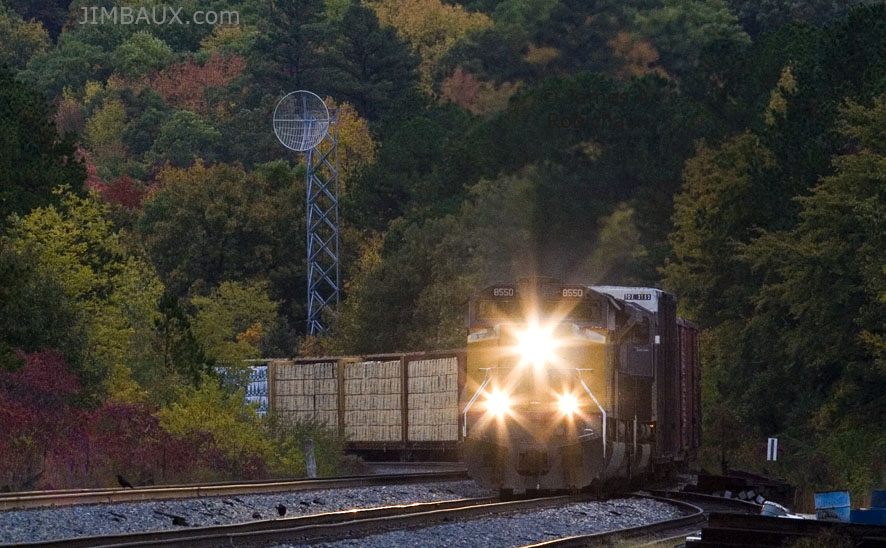 Actually, looking at these shots and how grainy and dark they are, either I did a poor job with accounting for the low light, the camera's processor is lacking, or, more likely, both, since I have the same camera (albeit a different copy) now and do better work with it.  So, will someone please buy me a 7D?  No?  Oh, you want to see more pictures?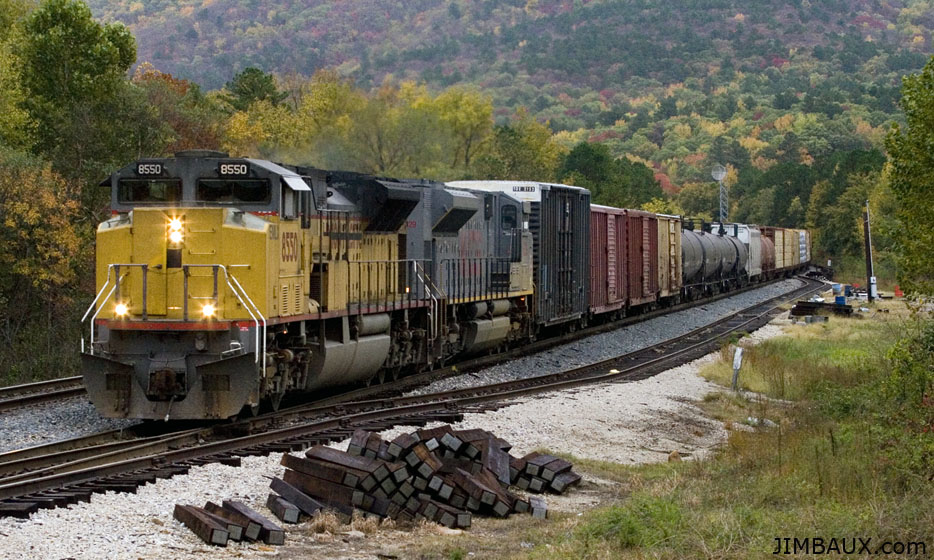 When Jimbaux is on the H-train, Jimbaux stays on the H-train, and he had the South Howe Hill shot in mind, which would come later.  First, this, at another cool location.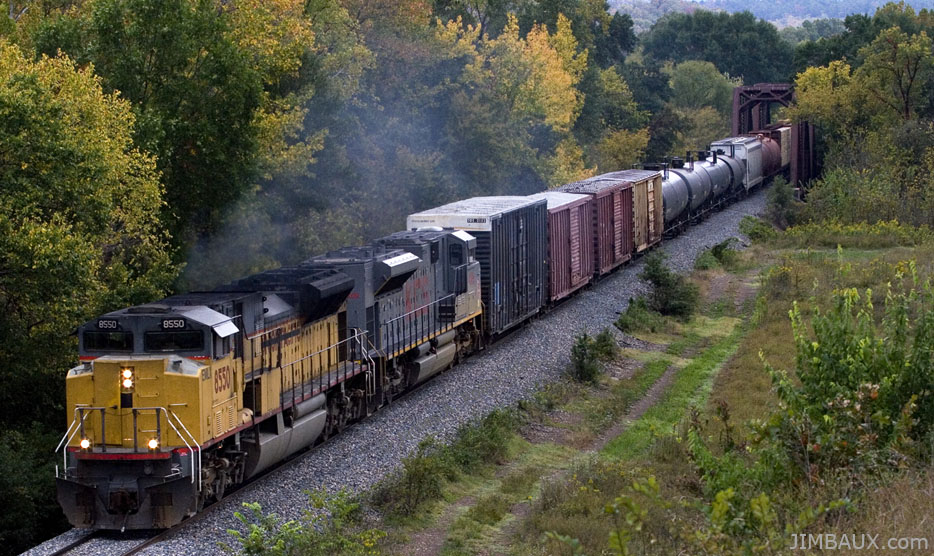 Cool, eh?
Oh, do y'all remember those yellow EMLX pieces-of-junk?  I actually miss them.
I also love how the H-train has (or had, in those days) so many visible loads, really old-timey!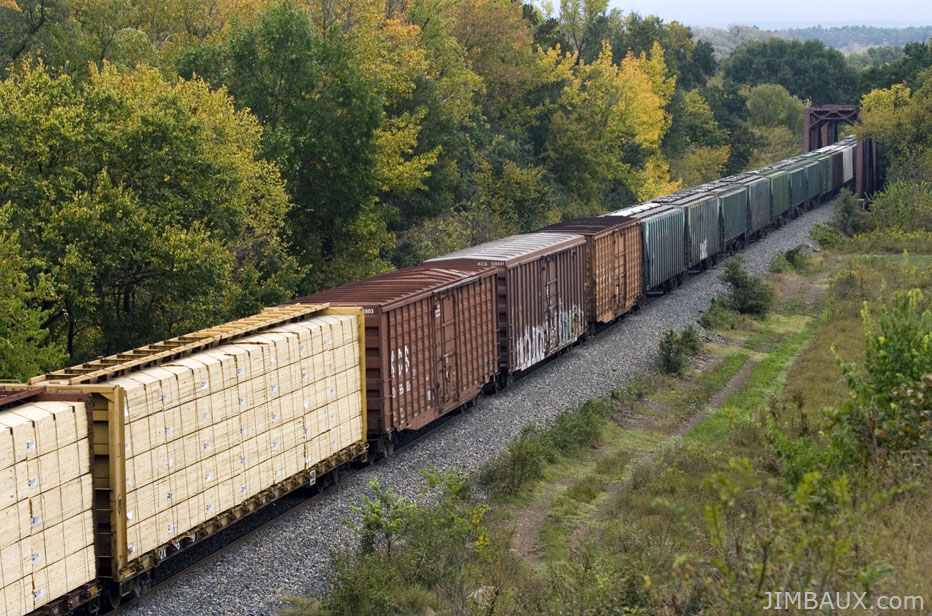 That is locally-produced lumber.  The H-train also has (or had) plenty of railroad-owned cars.
Heavener
So, we chased the H-train back to Heavener.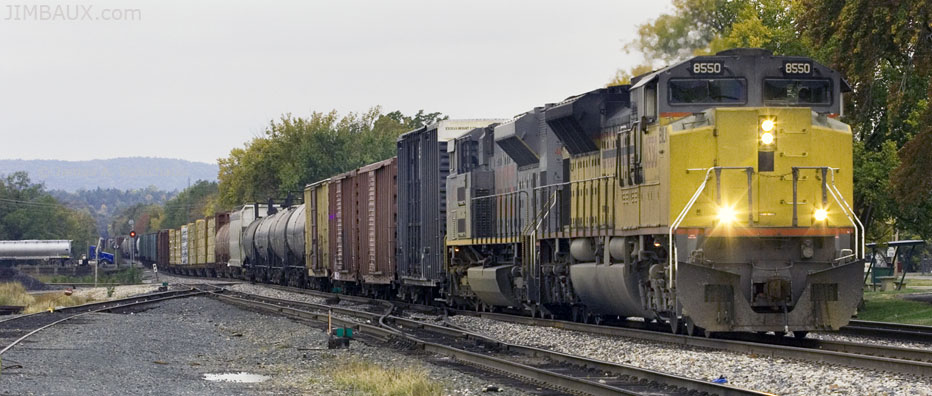 There aren't many cars with the CNW logo left even then.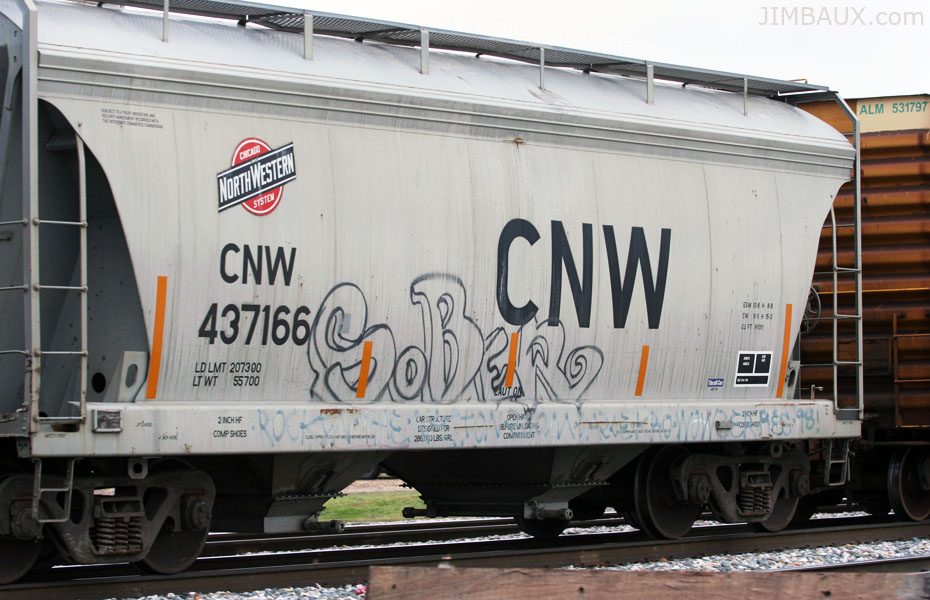 There was a southbound manifest train waiting to leave the yard.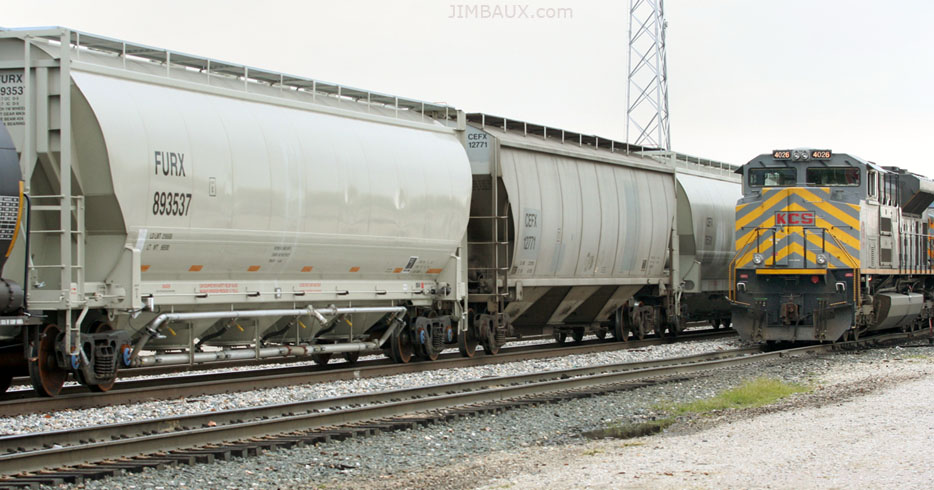 There was Doc, checking out the neat WAMX hopper cars.

The H-train always has work to do in Heavener Yard, meaning it would be awhile before he left town.  In the meantime, let's shoot something else, like a parked coal train.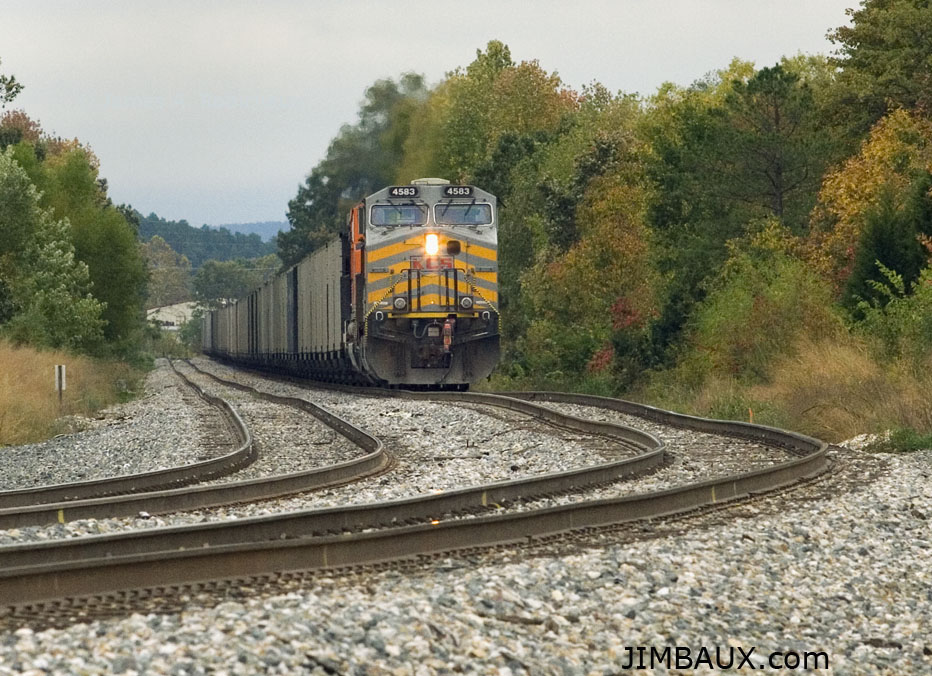 This area was single-track the first time I visited here in 2003.
The H-Train At The South Howe Hill
Oh, yeah!   I love this photo location, but, before the train comes, I will shoot some berries.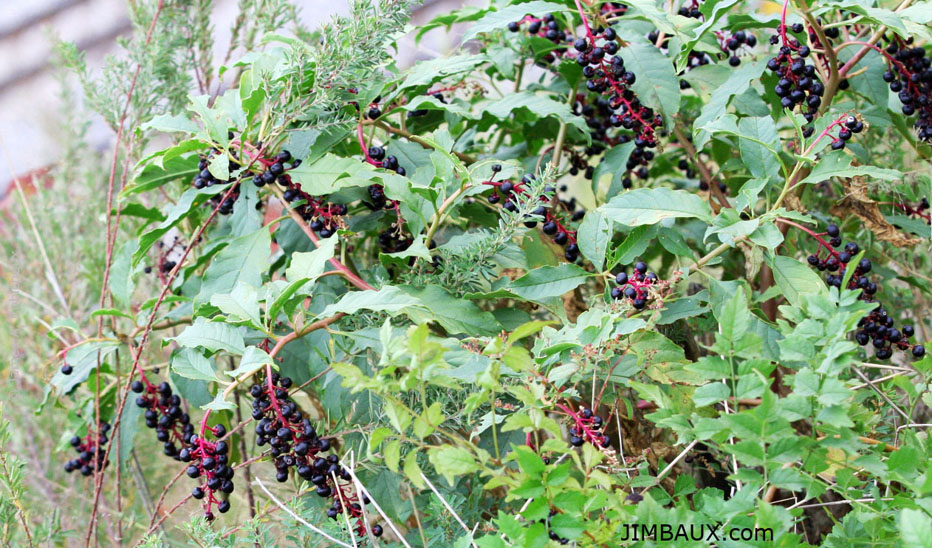 Okay, here comes our northbound H-train, again.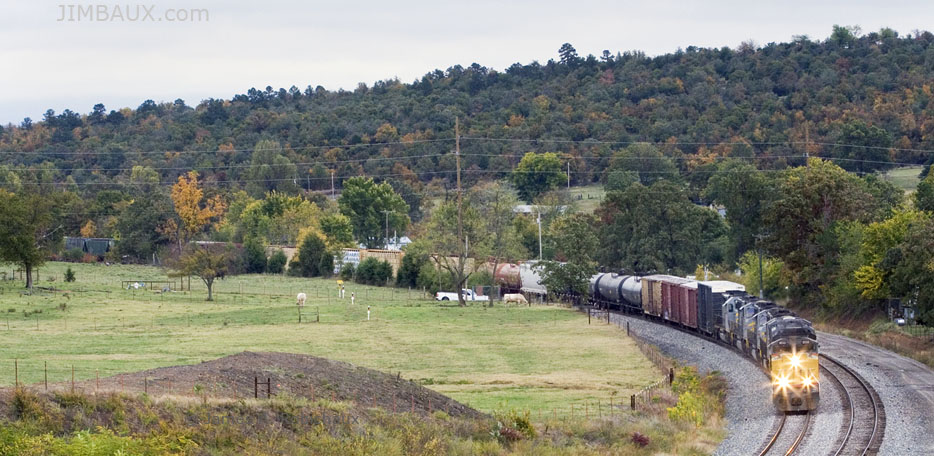 My, it looks like he's picked up some additional locomotives in Heavener Yard!  Here he is rounding the curve, seen from the exact same spot as the above picture.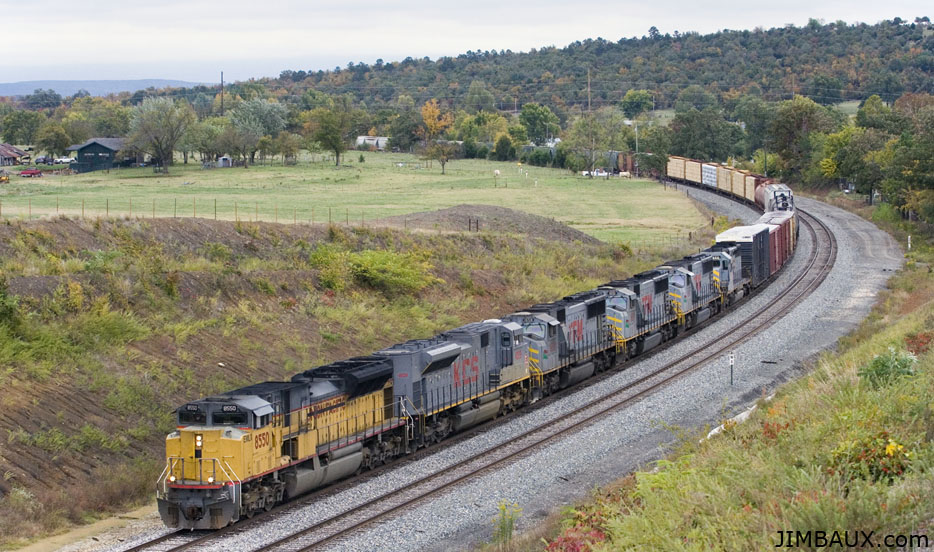 I think that I like the second shot better, I guess due to a sense of motion I see in it.  What think you?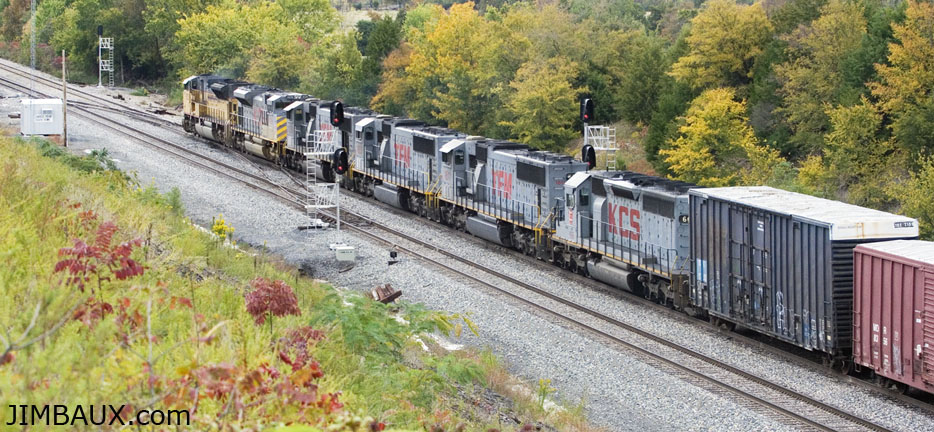 Bye, H-train.
Now What?
There's really only one thing to do now: go back south, go back up the mountain where we were before.  Here is a southbound manifest train at Hodgen, climbing the mountain.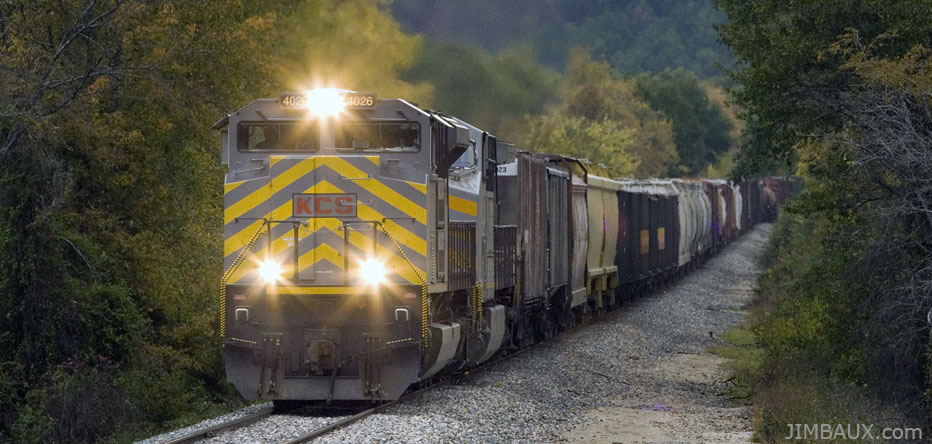 That looks like it was probably an H-train.
Anyway, apparently, there was a meet about to take place at Page, but after five years, even my to-a-fault nearly-impeccable memory cannot tell me if we knew this already or if we learned about this upon arrival in Page, just like I can't remember what or at where we ate that day (other than that it was probably something processed and therefore unsuitable for human consumption, but that's another matter.)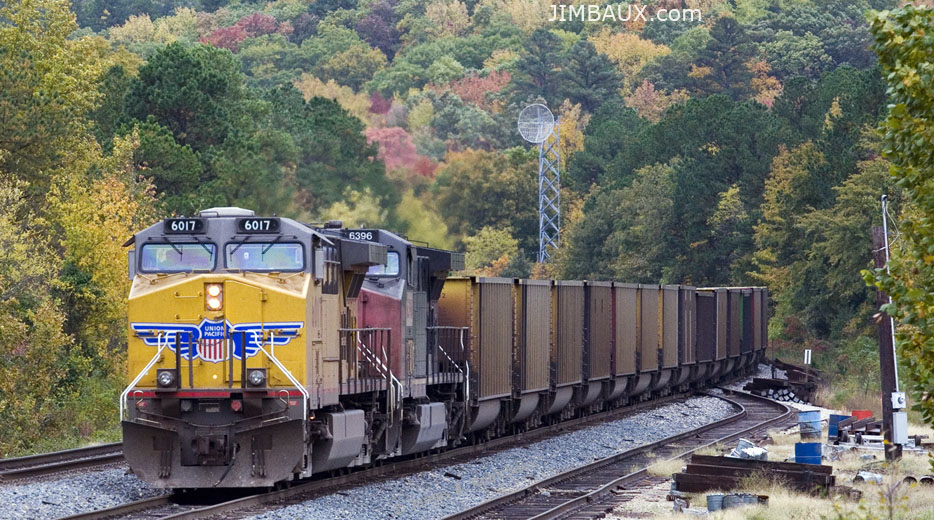 I know only that this is a Welsh coal train because of the Union Pacific locomotives.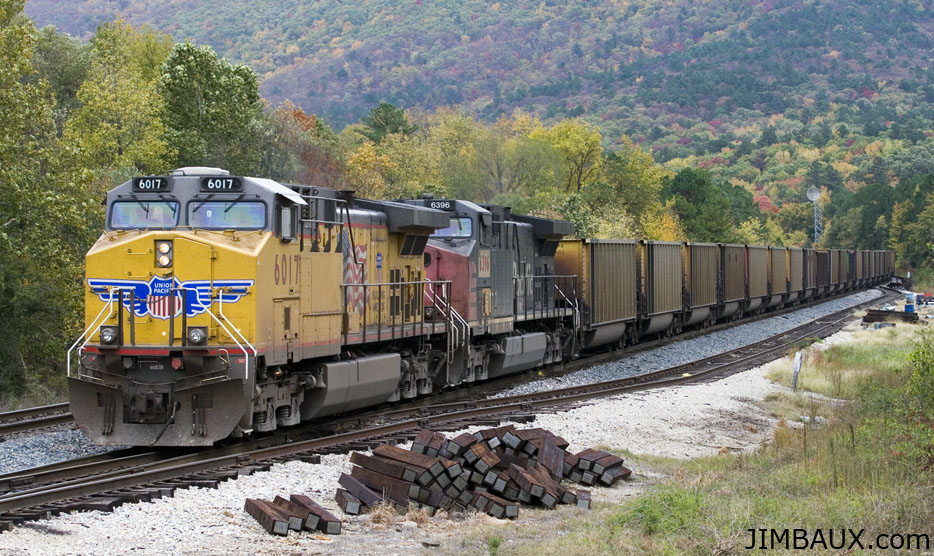 I lost the files where I had the train symbol information for that trip, and I lack the inclination right now (for reasons that I need not explain) to search the all-knowing e-mail archives.
The train seen above will wait on the siding on which it is sitting to wait for the southbound train climbing the hill.
I will await both of them at Blue Cut.

That was the southbound train, and here is the northbound train.

Gosh, that's overexposed.  Let's try again at the river.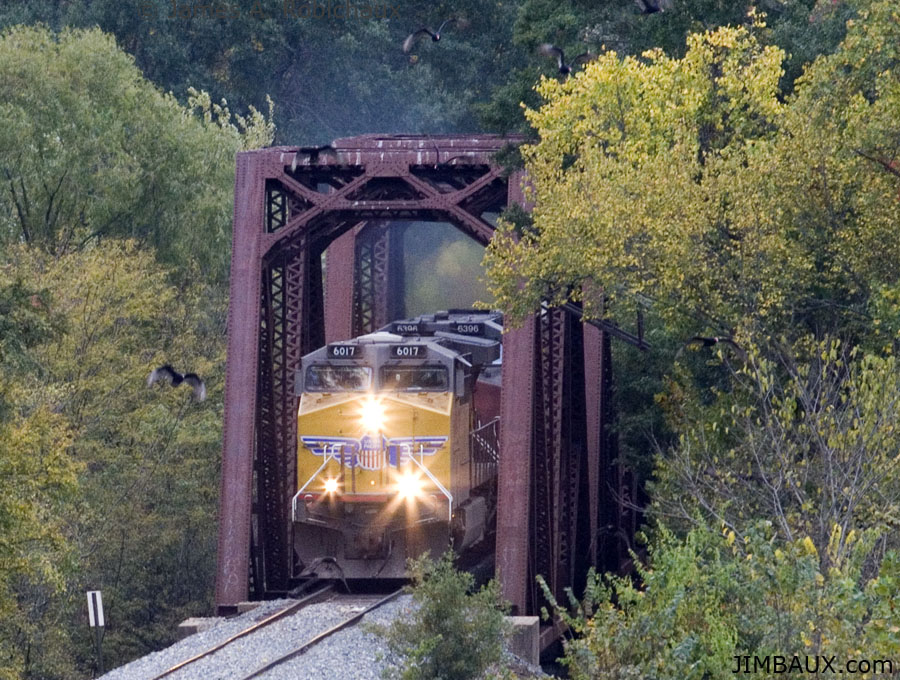 Well, isn't that cute?  Well, this is apparently cuter, if not cool too.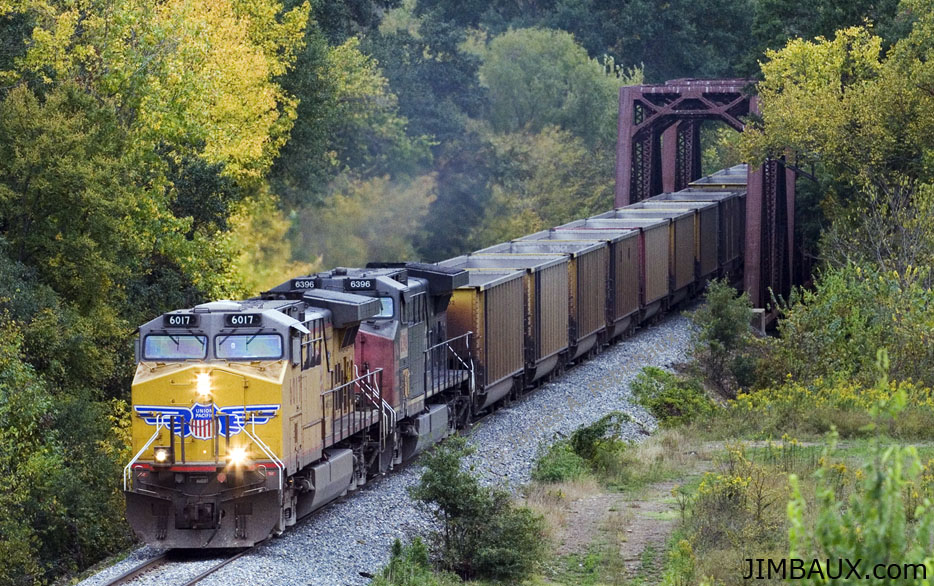 I think I'm satisfied with the day's results.  Aren't you?
ReSomething
(This part is being added in 2016; the essay was originally written in 2011.)
Let's check out the train arriving in Heavener.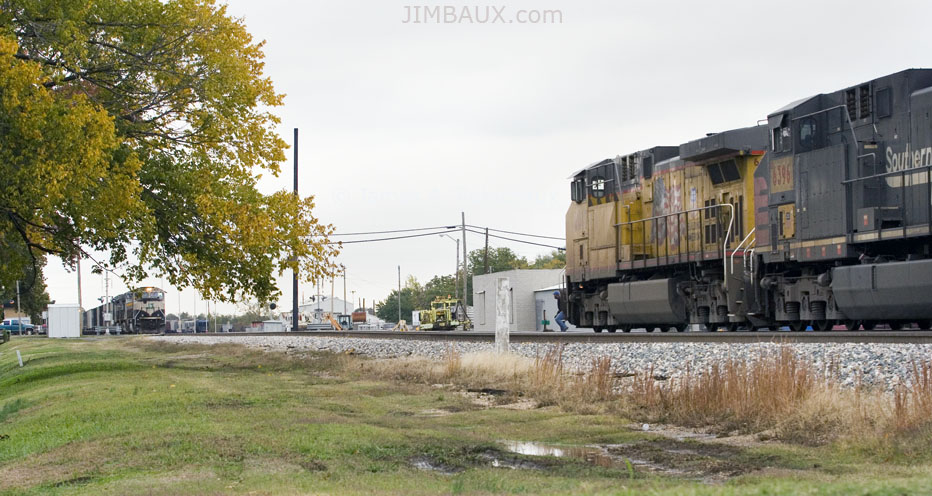 There is a southbound loaded coal train at the yard office.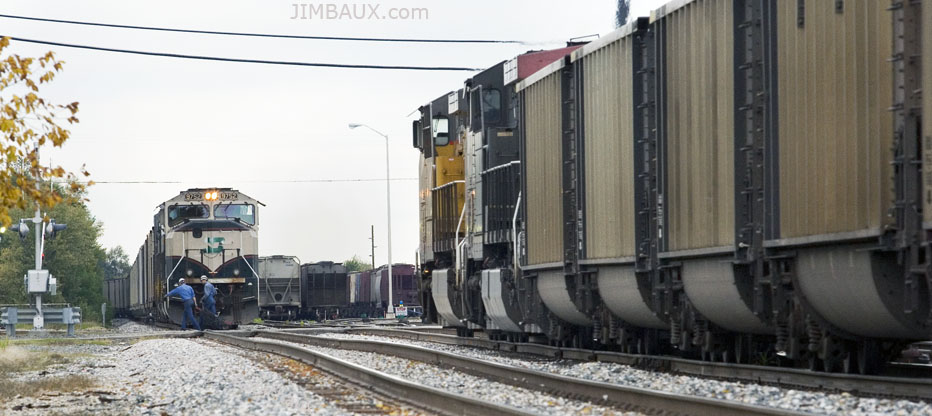 There is the rear-end DPU on the C-WEKC.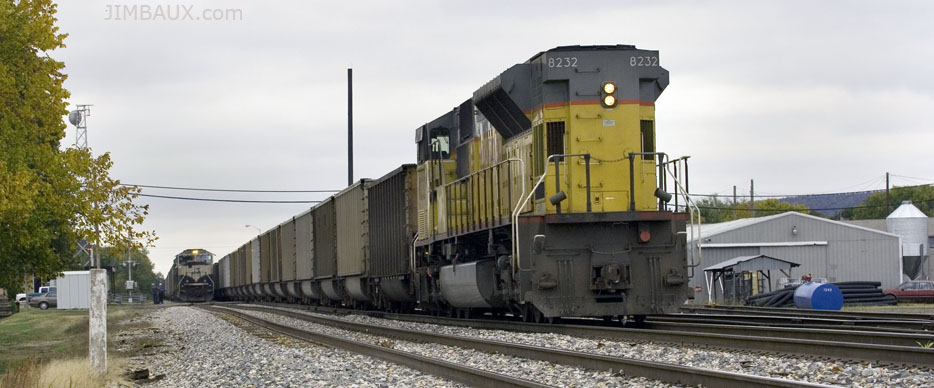 Here are the rear-end DPUs on the southbound loaded coal train.

Okay, was that worth the addition?
Vikings In Oklahoma?
Of note in Heavener is the Runestone Park, east of town on a hill, a neat place with a neat view.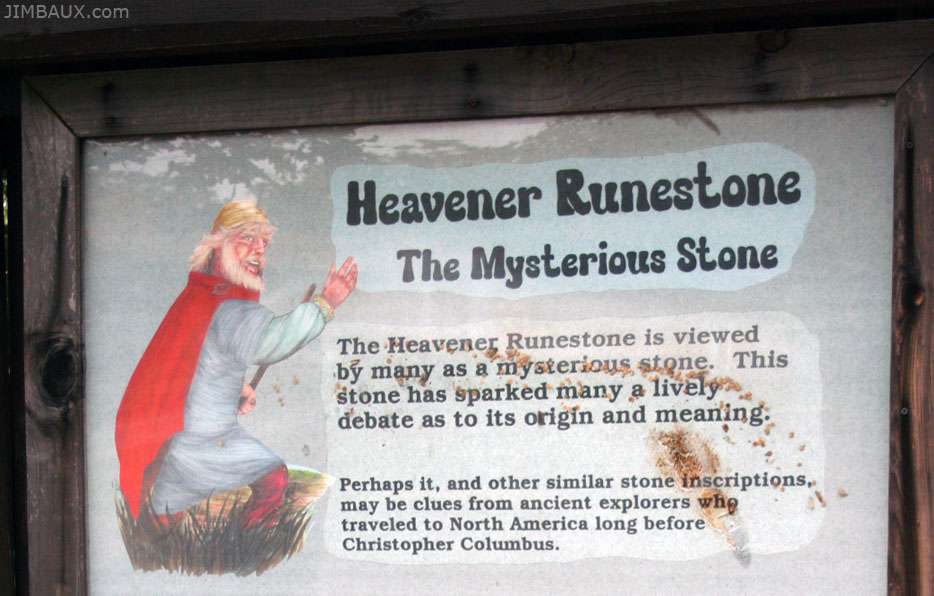 See, some folks believe that some carvings on the hill are evidence that the Vikings came this far south a millennium ago.  Myself, like with so many other things, and even more than I am with other things, I'm really a skeptic about this.  Oh, well.  Trees make more sense to me.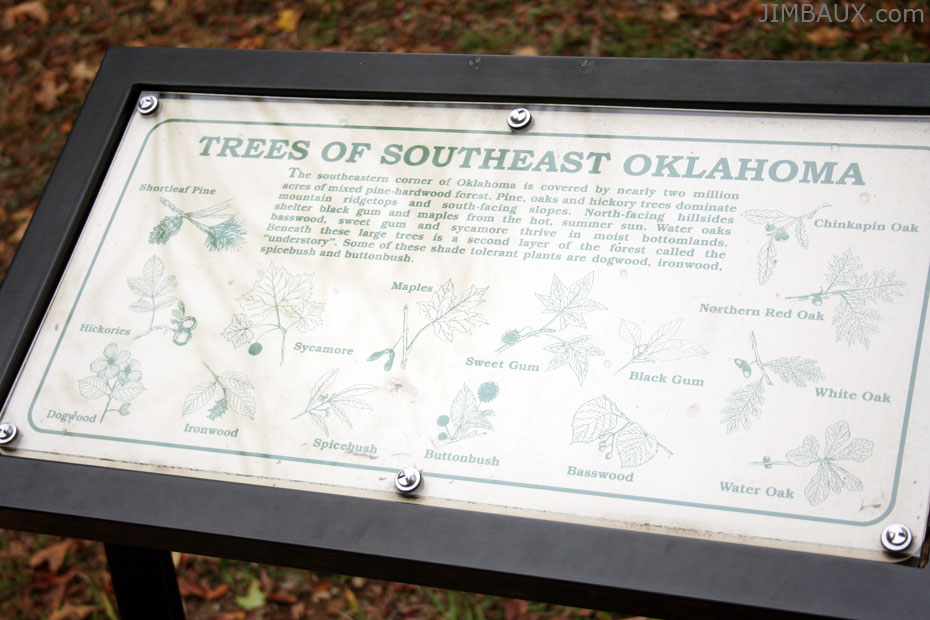 I wish that I were more horticulturally inclined.  I wish that I knew a botanist to befriend.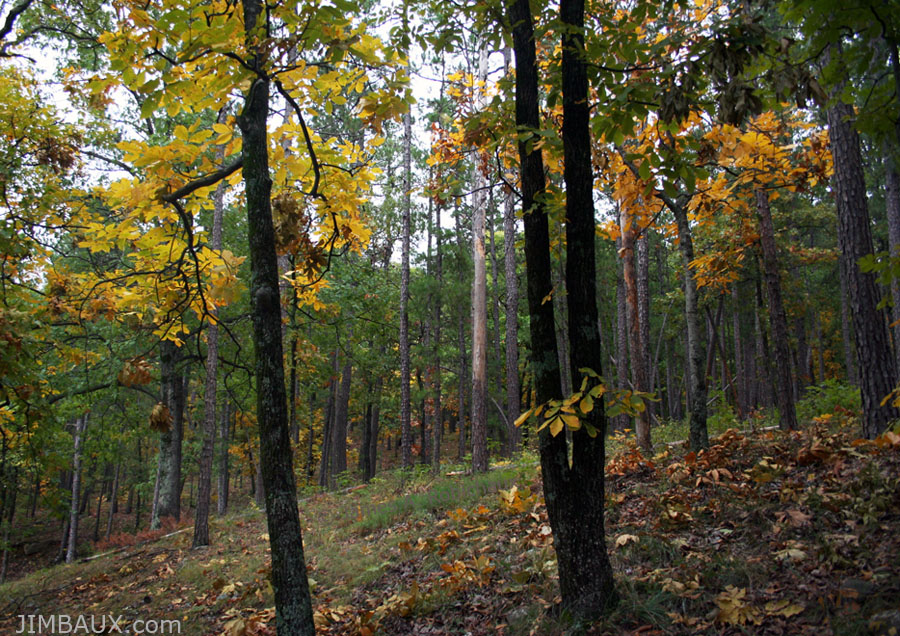 Anyway, here are the  supposed runestones, behind a glass display case enclosing this part of the hill.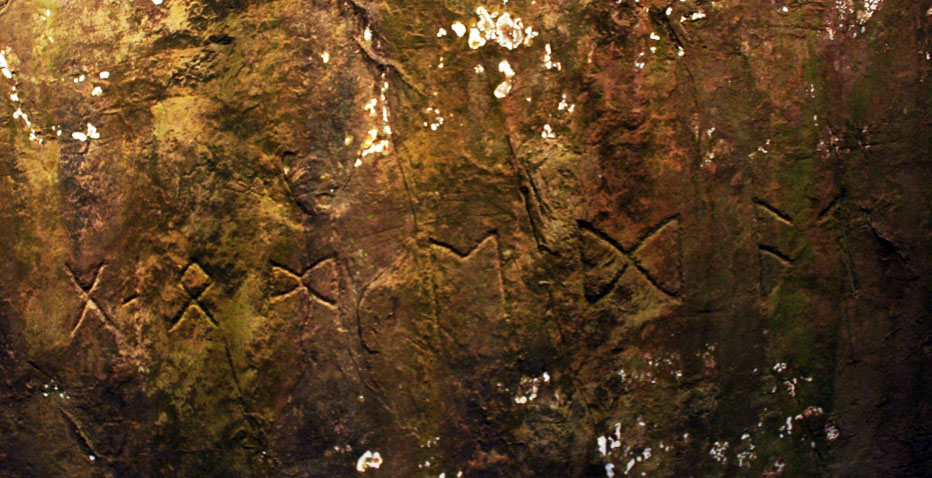 Yeah, that's what I thought too.  They surely do look like carvings, but the supposition that they were carved by Norsemen in pre-Columbian times?  Uuhhhh . . . . .
The View
This is the view of the town from the top of the hill.  I suppose I don't need to tell you were to look to find the KCS yard.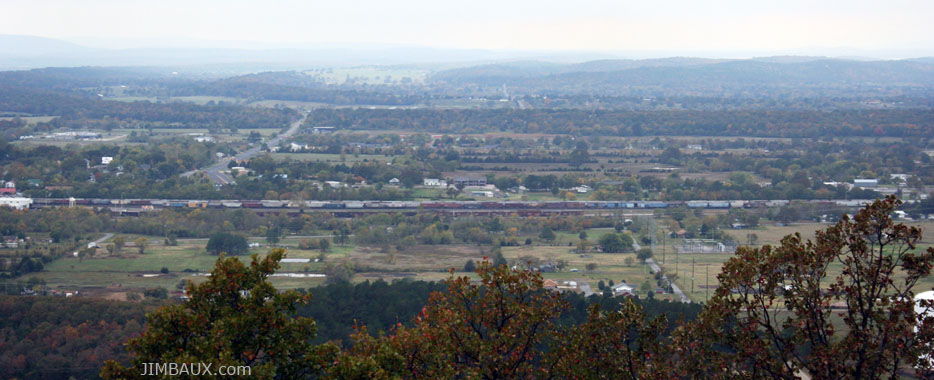 That's enough for one day.  I hope that you enjoyed this journey back in time, and up the mountain.
Merci,
Jimbaux