[If Jimbaux gave you the truth, would it keep you alive?]
You're No Closer To Wrong
I haven't forgotten about my 9/11 project.  Well, I actually did forget to download one memory card of pictures, meaning my earlier count of 55 processed shots for Sunday is now up to 68.  All of the raw conversions are complete, and I've already started final jpeg processing for about four or five of them; sadly, though, that may be all the time that I have for today, as my plans for the remainder of the day today include visiting with family, studying mathematics, and a few cleaning projects.
Convinced On The Inside, Something's Wrong With Me . . .
Well, not necessarily, but today's song is one I really love; are you listening to it?  Here are a few shots I got on Friday afternoon.  We're going to start in Gouldsboro Yard, a place you've seen several times before on this site, but we'll start on the other end of it, where I haven't taken a picture in many years.  On this end of the yard, we're actually in Algiers, which is the portion of the city of New Orleans west of the Mississippi River, but in this case, it's on the south side of the river, as the river is actually flowing about due north at this point before making a sharp turn to the southeast at the French Quarter.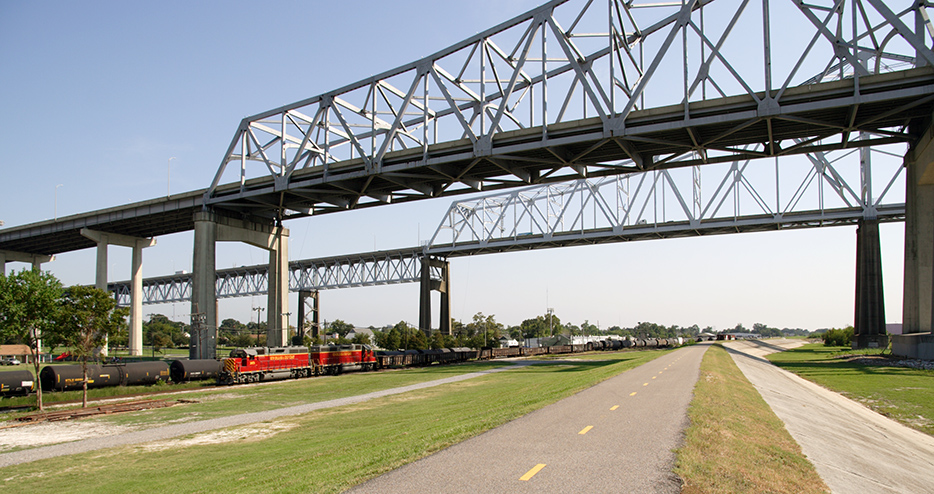 You can see that I am standing atop the Mississippi River levee here.  The power here seemed to be crewless, perhaps having brought in a train off of the "Lower Coast" line, as suggested by the empty pipe gondolas.
Had I had my head out of a warm, dark, and stinky place, I'd have realized that the bridge shadows were on the power.  I surely wish that the power would have been about 80′ to the left, but, oh, well.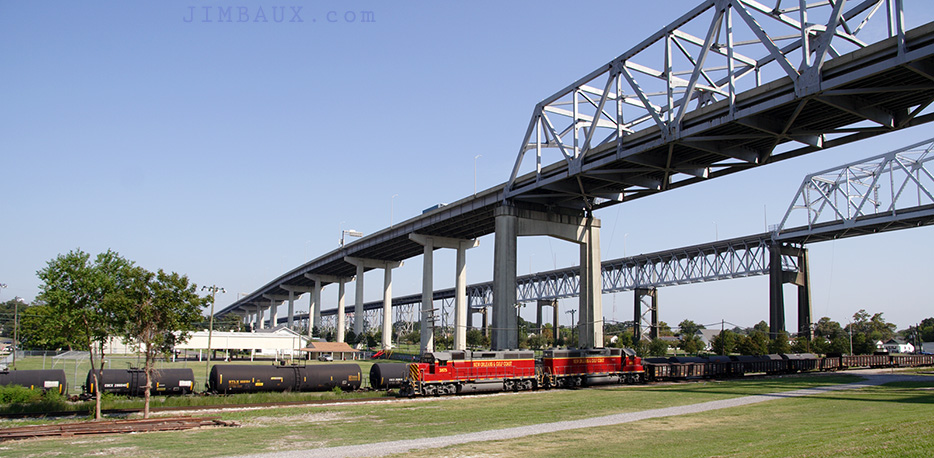 There's a little ball park in the background on Brooklyn Avenue.  That's enough of that.
A Mexican Westbounder
I went to Avondale to briefly check out what was happening there.  I heard the QLINSB (a Union Pacific train to the Norfolk Southern Railway) ask West Bridge Tower for permission to climb the Huey P. Long Bridge.  When I got to Avondale Garden Road, on the other end of the yard, and saw this westbound BNSF train: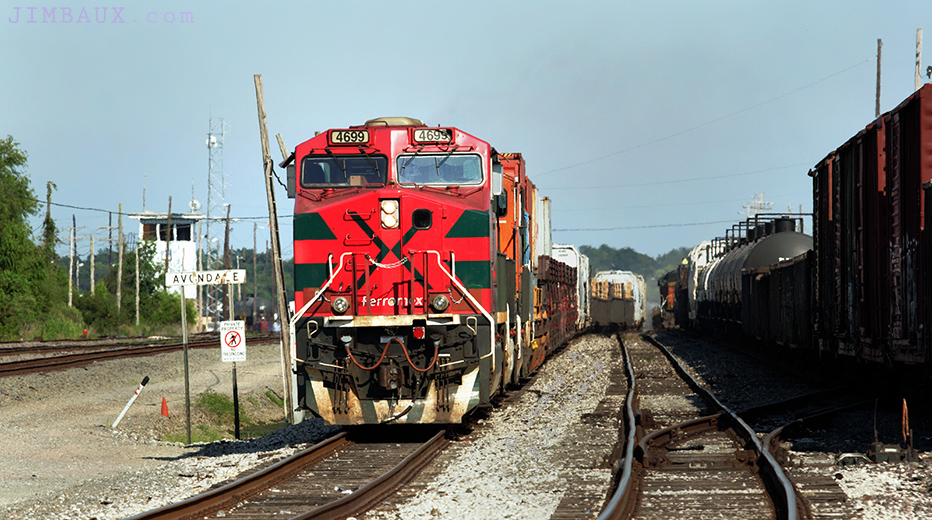 For those of you unfamiliar with railroads, the locomotive leading this train belongs to Ferromex, a major Mexican railroad.  So, it's far from home, though we do see Ferromex locomotives here occasionally.  They're just rarely in the lead, especially when the light is good.  I had not intended to spend much time trackside this afternoon, but after seeing this thing, I figured I'd chase him until the sun set.
Here's another shot of him, showing to the right what apparently is the tail end of the QLINSB just clear of the crossing.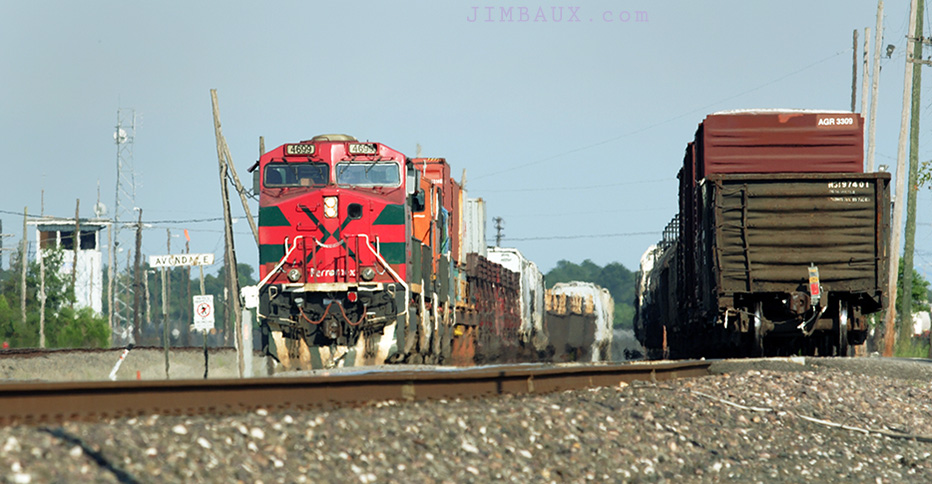 Note in both pictures the Avondale Yard tower in the background.  I don't think that it's actually occupied anymore.  I think that the yardmaster does his work from Livonia via cameras over the yard.
Check Out Waggaman And The MNSEW
So, I briefly went to check out Waggaman (just west of Avondale) because I heard something about an MNSEW, and when I got there, I saw this.

Yeah, that's not quite what I wanted to see.  The train was parked on the Drill Extension track with the Willswood Road crossing cut, meaning it would be awhile before he moved.  Here's the crew discussing its work.
The orange hat of the trainman at the far right signifies that he is a trainee.  Here's the rest of the MNSEW, which arrives on the Union Pacific as Norfolk Southern train 393.

That's really enough for the day.  I heard nothing about the Ferromex-led train, and I was getting tired of waiting.  Chip was still around Raceland with his 40-some-odd cars, including a pickup from MTI in Raceland.  It might be dark by the time the Ferromex-led train moves, especially as MNSEW will almost surely get out ahead of him; so, I just went home and went to get some badly needed sleep.
Adventures In Telephone-Camera Photography
About a month ago, a photographer friend suggested I experiment with taking pictures with the camera that is part of my telephone.  This was similar to what my pal Taylor Davidson told me after my former camera and two lenses were stolen from me back in the spring.  Anyway, I was at a wedding a few weeks ago, and I, unplanned, took out my phone at the reception and took a few pictures.  Here are the results. Let me know what you think, and you might have to "Like" the page to be able to leave comments on it.  (Note that it's not the Jimbaux's Journal Facebook fan page but the more professional, broad page for he who is behind Jimbaux's Journal.)
Hurricane Irene
I've been meaning to pass on these pictures of Hurricane Irene.  Isn't it ironic that this year, the two states seemingly hardest hit by hurricanes and tropical storms (Lee) are Vermont and Pennsylvania?
That's plenty enough for now.  Hopefully, I'll get some 9/11 stuff up soon.
Jimbaux