[You and Jimbaux are still fed lies from the tablecloth.]
You're supposed to read that title as "Martes El Trece, Tren Numero Dos" as I know some of you Americans couldn't quite understand.
Marching Forward Hypocritic and Hypnotic
If you want to talk about superstitions and hysteria inside of people, put aside "security" fears in the 9/11 anniversary and remember that today, Martes 13, (that means "Tuesday the 13th" for you neophytes), is a day of superstition in Greece and much of the Spanish-speaking world.
I've received several e-mails and text messages asking me how Sunday went, wondering if I'm okay, checking to make sure that I'm not in jail.  (I guess they didn't read what I posted on the Facebook fan page on Sunday evening.)  Thanks, everyone.  Eventually, I'll get to your e-mails, but the fact that this post is being made and that there is a fresh picture below should answer those inquiries sufficiently for now until I can get caught up on my growing e-mail and text message backlog and until I can write about Sunday along with its pictures.
This afternoon, I heard the #2 getting permission from East Bridge Tower to climb the Huey P. Long Bridge, and it also was getting landing instructions at NOUPT from Amtrak Clara Street Tower.  So, I figured I'd try to get a shot of it in a location where I had never before shot it; here's the #2 nearing the end of its transcontinental journey from Los Angeles, California: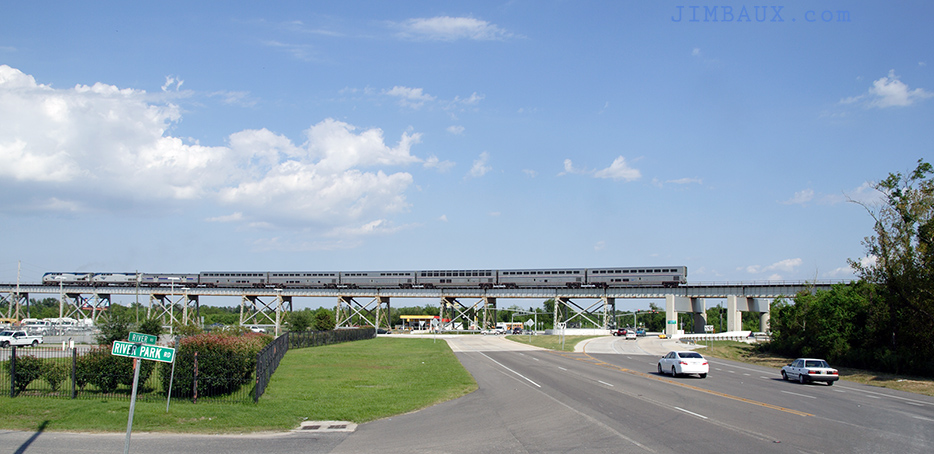 That's all we have today for pictures.
Chip?
I was listening on the radio to hear anything about Chip.  When I was climbing down off the top of my truck after taking the above picture, I heard a horn blaring from a motorist coming from the other direction.  Since I often get this kind of attention from dirtbag motorists, I just ignored it.  However, this was no dirtbag!  As the vehicle passed me, I heard the motorist yell out "Jimmmbaaauuuxxxxx!!!"  I turned and looked to see that it was none other than Ken, the engineer of the Chip local, and a big fan of Jimbaux's Journal!  I tell you, my friends, when Jimbaux goes foaming, a good time is had by all.
I quickly realized that that was a sure sign that I wasn't going to see the Chip Local, since he had obviously already tied up for the day.
Regards, My Friends
I've had two people tell me in the last two days that they admired me for having the "courage" to do what I did on Sunday, standing up for our rights and freedoms that are under assault from this pervasive state of fear, a state of fear that, on Sunday, left another unfortunate victim of bullying and harassment on a Frontier Airlines Flight.  In all honesty, I had great trouble sleeping Saturday evening because of all of the fears of having my rights violated and of false imprisonment for daring to engage in safe, legal, and harmless activities.  Consequently, I started Sunday morning's train-hunting expedition on only about two or three hours of sleep.  I was really nervous, and I was tempted to abort the mission (and catch up on sleep), but I did what had to be done.
I did indeed have an encounter with law enforcement on Sunday, but I also walked away from it without having my rights violated and with my dignity still intact.  I took nearly 300 pictures total, and I have yet to begin to process any of them, meaning it will be awhile before we complete Jimbaux's 9/11 photo series.  You will, as usual, probably like some of the writing too.  Please stay tuned.
Also, if you have any photographs you took this Sunday that you'd like for me to include when I make a post with other people's pictures, please send them to this address:

Thanks to those of you who have e-mailed me too.  I'll get to your e-mails eventually.
Thanks, my friends.  Stand up for your rights.  It's the only way that you will maintain them.
Jimbaux