[You and Jimbaux; we'll all go down in history with a sad Statue of Liberty and a generation that didn't agree.]
"Government, even in its best state, is but a necessary evil; in its worse state, an intolerable one," wrote the polemic patriot and American statesman Thomas Paine.  I totally agree on all points.
I want to thank everyone for reading and participating in my prior posting in which I broke more than three years of silence about the mistreatment and denial of rights that I had at the hands of the New Orleans Police Department, and how it's a reflection of the toxic fear that we have allowed to pervade our society.  The comments that questioned what I wrote, and I'm still getting some via private e-mails, served to show the reasons for the very fears that I had in telling this story in the first place!
NPR's All Things Considered told the story yesterday of some detentions, some lasting several hours, and some involving FBI visits to people's houses, for normal activity including taking pictures at the Mall of America in Minnesota.  You really should read it or listen to it if you haven't already.
Photography Is Not A Crime
I've been busier than a one-armed paper-hanger, am really tired right now, and I've been flooded with e-mails since publishing this story.  I'll share with you something I received this afternoon from someone who says he is a retired police officer and who didn't seem to like (or understand) what I wrote.
So your rights are not the same as before 9 11.
And as I also hate it – it's all for the better of all of us.
Living next to a rail that has a lot of LP gas cars passing I must say I'm again thankful.
Hope you someday get the "big" picture.
This is quite sad.  If the "big" picture is a slow-but-continuous erosion of rights, I don't want to get it.  I respect his position from his experience in law enforcement (experiences that I do not and will never have), but other things he wrote to me seem to suggest that he thinks that I'm anti-law-enforcement.  (I'm not.)  Unfortunately, he doesn't get the '"big" picture' himself.  He doesn't get that yelling at me  – or you – and terrorizing me – or you – into not taking a picture while on public property in a public area isn't going to stop that LPG car from exploding by his house, or exploding by me when I'm train-watching in the wrong place when some attack on rails takes place.  It's sort of like gun control; ban guns, and it'll be the good, law-abiding people who don't want to get in trouble who will be at the mercy of the thugs who aren't scared to disregard the law.  Like I said last time, it's just feel-good action.
Photography is not a crime.  Period.
I was talking on the phone with an attorney friend last night, and he said that there were definitely some 4th Amendment violations in my case.
I plan on replying to all e-mails, including his privately, but I'm quite busy now.
Wednesday In New Orleans
In the meantime, here's the scene out by NS Oliver Yard yesterday (Wednesday.)  I was out-and-about doing my rounds, when I spied the BNSF's daily interchange train to the Norfolk Southern going east on the NS Back Belt.  It's a beautiful, gorgeous, sunny, cool afternoon; how do I render this train that's coming out of the sunlight?  With a new shot as he turns  into Oliver Yard, that is.  Here's the new shot, folks.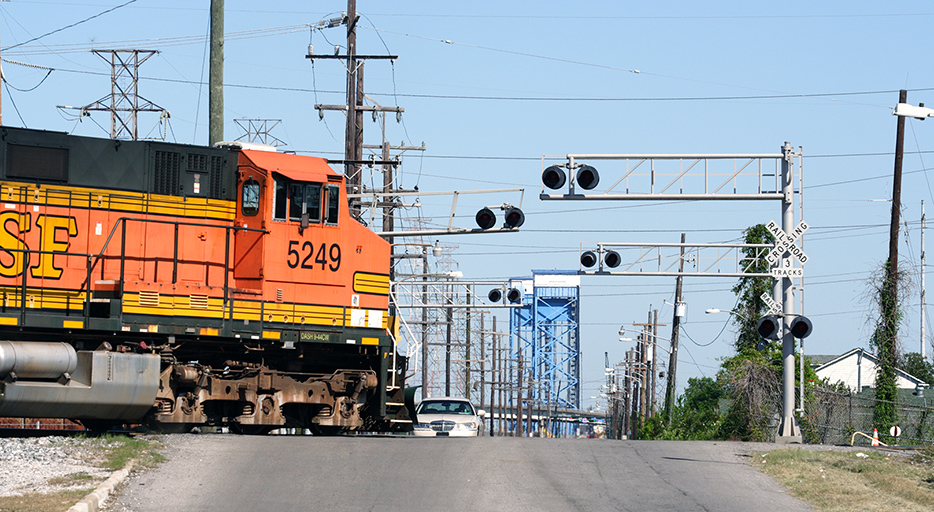 We're looking almost due east down Florida Avenue, and the train is making a 90 degree turn into NS Oliver Yard, crossing Florida Avenue.  The big blue bridge in the distance is the Florida Avenue bridge over the Industrial Canal, but the track of the NS branch to Chalmette goes over it too.
So, do you like the non-traditional view above?  Oh, an NS employee stopped to ask me what I was doing.  I told him I liked trains, and he left.
Here's the rest of the colorful power consist.  I like those NS C40-8s.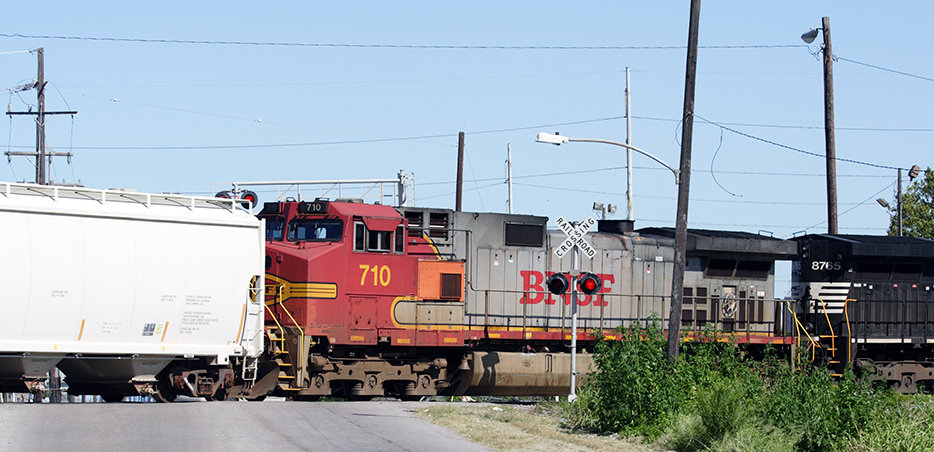 Below, we see the train and the track going over the Florida Avenue Canal.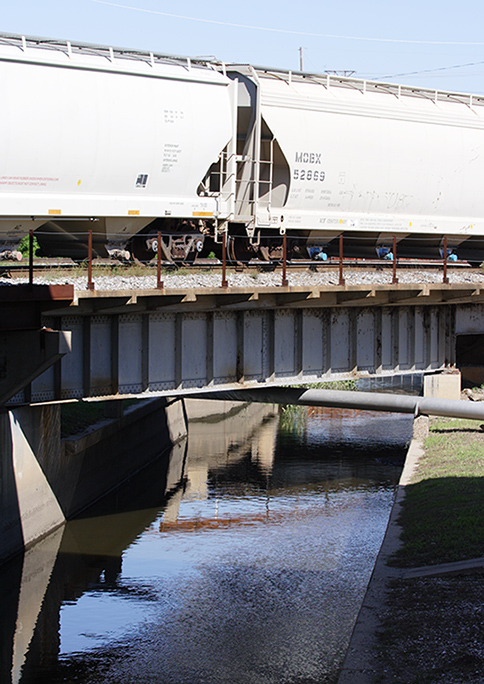 On the other side of this bridge is another bridge crossing the canal perpendicularly.  That's the NS mainline out of town from the yard.
Shotgun
Ah, yes, classic New Orleans shotgun homes on Franklin Avenue.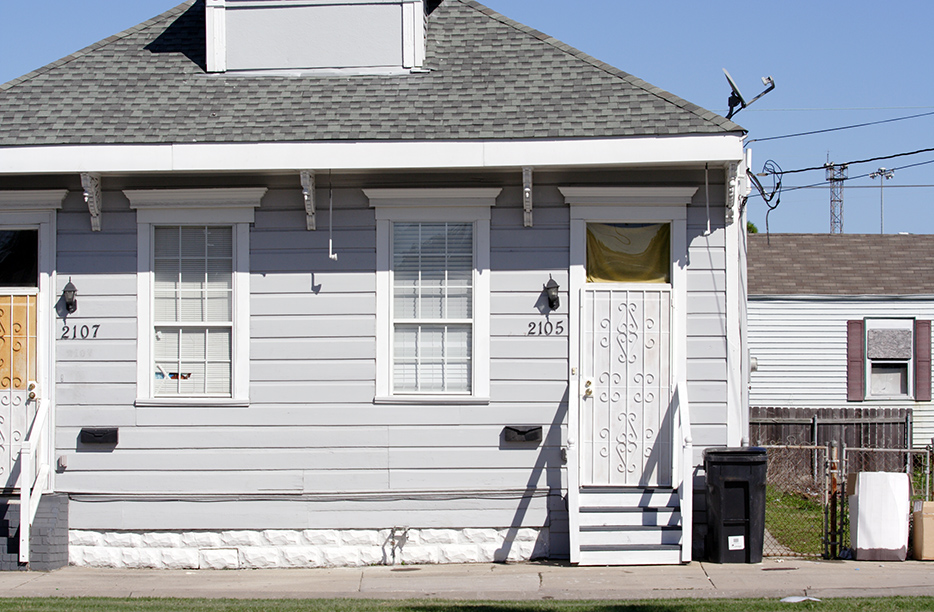 I am rather hesitant to even mention this issue, but Katrina-watermarks, which were impossible to ignore here five years ago, are really hard to find in this neighborhood now.
I intended to post all of this last night, but I ended up passing the evening away with glasses of wine with friends in New Orleans.  Oh, well.
Thursday In Gretna
And since this one picture below isn't really worthy of its own post, especially as I posted something similar a week ago, here's a shot I took rather quickly this afternoon.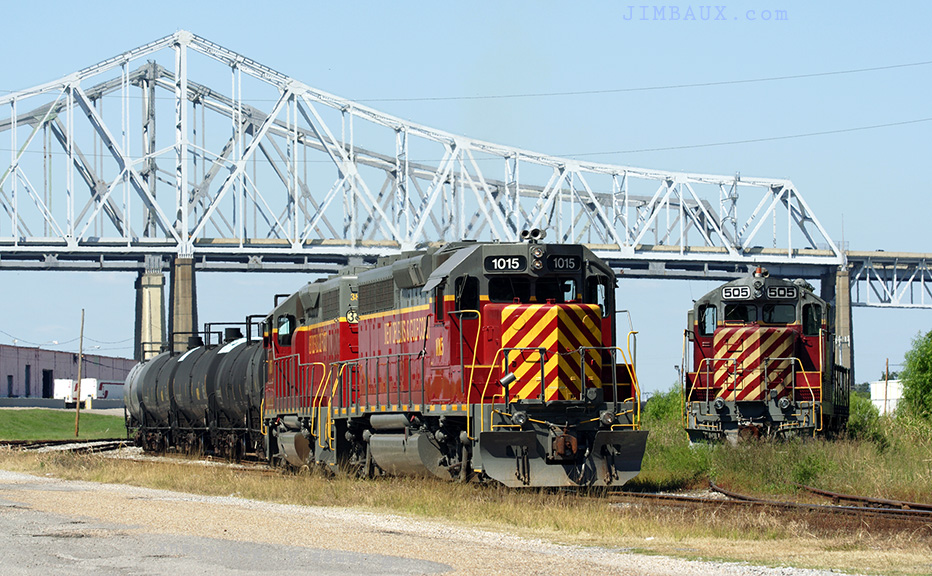 Yeah, I ought to be banned from taking pictures like these, right?  Forget our rights; yeah, I'd rather live in fear and be prohibited from taking such photos, and I'd rather delude myself into thinking that I have a 0% chance of getting attacked than have the current reality of having a 0.00000000000000000000000000000000001% chance of getting attacked, don't you?
That's all the pictures for today.
Grumpy's Poignant 9/11 Essay
I finally convinced my pal The Grumpster to repost in a way that the general public can see it his moving 9/11, One Year Later essay, a piece of writing that really influenced me the first time that I read it in early 2003.  I don't agree with all of his 'political' statements there, as even Grumpy himself describes some of his beliefs as "whacked out," but I do agree with most of it, and it's also a very thought-provoking, moving, touching, piece about his own 9/11 experience and how he chose to allow it to positively affect his life.  Please check it out, and let me know what you think of it.
Be Not Afraid
As I said last time, and as Grumpy implies, the goals of the terrorists are not to kill you.  They have something more sinister in mind; they seek to sentence you to a life of fear, fear of your neighbor, fear of that guy over there, fear of the guy behind the camera, fear that they'll blow up the LPG tank car that passes by your house, fear that will manifest itself in hatred inside of you.  As some of you have shown, they have succeeded in defeating you already.  I had to shake my head when I just saw a reply that said "Isn't bin Laden dead?" in response to my statement that we shouldn't allow bin Laden to win.  Hello!?!?  As this article states, we've given bin Laden exactly what he wanted; he won!
Like I said last time, my disgust over the jingoistic reaction among many Americans to bin Laden's death in May is one major reason of publicizing my abuse at the hands of the NOPD in 2008 and the call to glass this weekend.  See this great piece written the day after bin Laden was killed.
Like Grumpy, I absolutely despised Dubya for exploiting the post-9/11 fear to lead us into an unnecessary, destructive, and wasteful invasion and occupation of Iraq.  Still, amazingly, despite all that, and after all of that, I continue to be surprised that redeeming qualities about GWB are slowly revealing themselves, and I want all of you who cheered bin Laden's death (which, again, was a good thing) to realize this amazing piece of information, that Dubya had "no sense of jubilation" over the death of bin Laden.  You have to have hope that people can continue to change and grow afterall.  Wow!  Isn't that amazing?  What do you think?
As I type this this evening, the reports are coming in on CNN and ABC about an alleged attack plot using truck bombs.  I'm pleased that our security apparatus caught this supposed attack before it happened, but this shows that there could be others this weekend.  It shows that Jimbaux, and anyone who follows his call to get out trackside this Sunday, could actually be killed in a terrorist attack this weekend.  However, unless I see an out-of-place rental truck parked under a trestle or near a fuel tank, I refuse to succumb to fear to do what I love to do and what is my and your right to do.
I know that if I get killed in a terror attack while out taking pictures of trains this Sunday, I will have died a free man.  Please know this as well.  I also know that even though my chances of getting killed in a terrorist attack are much higher this weekend than they have been in a long time, I am still much more likely to die in an automobile crash on my way to and from the different picture locations.  This goes for you too, and for other potential causes of death too.  Remember, again, that the goal of terrorism is not to kill you.  It's to terrorize you.  Don't allow it to do that.
I want to encourage those of you who disagree with me to continue to post comments here on this page as well as send me private e-mails.  This obviously isn't always the most pleasant discourse for either party, but I think that we can all agree that this is a conversation that needs to be had, right?  I appreciate the opinions you express, even those with which I vehemently disagree.
Thank you.
Jimbaux