[Jimbaux knows that who controls the past now, controls the future.]
"History is the version of past events upon which people have decided to agree" is a statement attributed to Napoleon Bonaparte, but even the idea that people "agree" on some version of events is an overly optimistic view, and I need only to point to never-ending debates among various groups about versions of past events and how they should influence decisions in modern life.
For example, did the actions of Franklin D. Roosevelt help us get out of the Great Depression, or did those actions prolonge the Great Depression?  Do you see how even the phrasing of that question leads us into  a quagmire?  It suggests that there is somehow a right or wrong — or right or left — answer to the question, an answer that will be influenced by your interpretation of history, and, as Nietzsche said, there are no facts anyway.  The truth, even if there is a such thing, is probably somewhere in the middle, and, in some cases, there probably is no answer at all, which is difficult for many people – especially those who want the facts to fit into their own ideological narrative – to accept.
Therefore, to 'learn' history from someone is to also be able to trust his ideology, and this is woefully tricky because it reveals the notion of objectivity as being ultimately farcical.  Once in my career as an educator, I was assigned to teach a class with the word "history" somewhere in the course title.  Such subjects must indeed be taught in schools, but I'm not necessarily comfortable with that task, greatly preferring the teaching of geography, political science, and economics, even though those subjects themselves have something of farcical objectivity.
It is a surprise to many that, given my background as a scholar and educator in the social studies, I don't really want to teach a class based the prejudices and on what are sometimes the lies of others who preceded me; it takes some amount of courage and conviction and even boldness, and one must inevitably favor something over some other things.  Take your network evening news for example; the anchor and the network decide that the lead story is important by virtue of making it the lead story, but is that lead story any more (or less) important than something that does not get reported at all?
Having said that, readers of Jimbaux's Journal do know that this site, for all its merit, is all merely someone's opnion, and that the pictures are just as much my interpretation of reality as are my words.  Having said all that I have said here about the so-called social "sciences," it's no wonder that someone like myself who has been so schooled in the social arts, as one can call them, takes an increasing amount of philosophical refuge in the studies of mathematics and physics.  I can more readily believe the formula for acceleration due to Earth's gravity (or that of any other celestial body) than I can believe that Native Americans were savages or that European Americans were not.  I can more readily accept that momentum is a product of mass and velocity than the idea that President Obama should or should not give a press conference about Hurricane Irene. History says he should not do that, but there's one problem with that: history also says that he indeed should do that!  The end result is that I don't care much one way or the other, even as I do understand the effects of the fury of nature.
We see a parked NOGC train under the GNO bridge, a train led by the NOGC 915.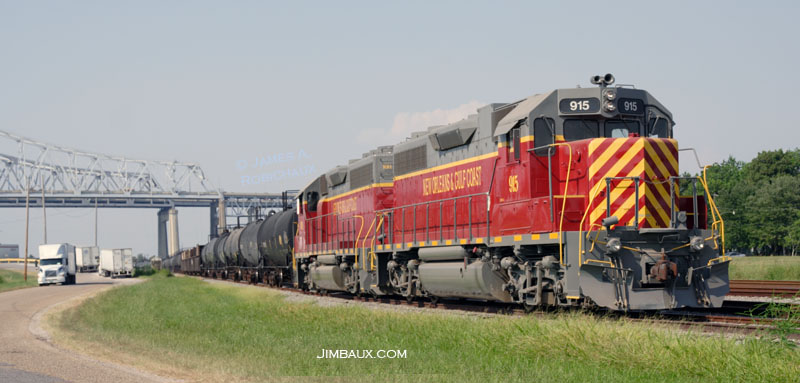 However, something is not "right" in my eyes about the above photo.  The colors seem slightly muted, especially the yellow chevrons on the lead locomotive.  To address this so-called problem, I go into the Hue/Saturation sliders and up the hues by 10 points, whatever those points actually represent.  I don't know what they represent, but here's the result.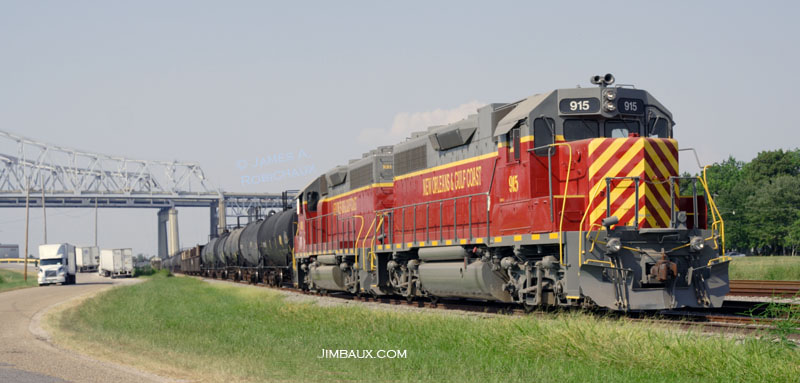 I'm not really sure I like this.  What do we do now?
The Art Of Compromise, Or Goldilocks And The Three Bears
In the first version of the picture, we had too little hue.  In the second version, we had too much.  This time, at five thingies, we seem to have it just right, don't we?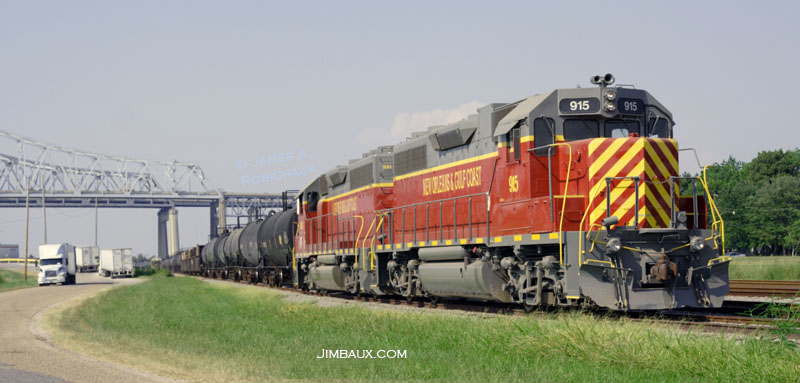 So there we have it.  We have a train on the NOGC at Gouldsboro Yard in Gretna under the GNO Bridge.  Is there anything more to be interpreted from this?  Actually, if you're like a Californian I know, Gretna is nothing more than a place where, during natural disasters, the residents prohibit any destitute person seeking help from entering, and there's nothing more to being a Gretnan than being that kind of cold person.  So is an interpretation.  I guess to people who think like that, "it" is not what it is.
Take CNN's characterization of some of Colin Powell's statements about Dick Cheney.  So, did Powell really "blast" Cheney?  How did that happen?  What did he use to "blast" Cheney?  Really?  Then again, what would you expect from a news organization that somehow thought last summer that showing constant live pictures of crude oil spewing from the sea floor day after day after day after day — pictures that looked the same day after day after day after day — somehow served to inform viewers and aid in meaningful public discourse?  Do the folks running CNN think that millions of viewers are dumb enough to tolerate that kind of treatment?  Doesn't it suck that they're right?
Grumpy recently wrote about how he absolutely despises journalists, and I can totally agree, especially being a journalist myself!  I've already given you one recent example of why, and, indeed, this entire post is on that topic, but I'll offer you yet another disgusting example now.
The headline reads "Teen gets branded a felon for life for robbing a man of 7 cents" along with the first paragraph of the article reinforcing this idea.  It seems that we as readers are supposed to be outraged about this, especially as the poor kid probably knew before he committed the crime that he was only harmlessly grabbing a few coins from an old man.  Yet a read of the short article itself goes to show that writer Zachary Roth was really making a cheap shot — unless he was genuinely falling for the defense's argument — with the fake outrage in his own lead.  (It's possible that you need to cut him a break from the headline itself, since he who writes the story is usually not the one writing the headline.)  The same article goes on to state that the defendant beat the 73-year-old man to the ground, and took whatever he could from the man — meaning had there been $70,ooo instead of $.07, this felon would have still taken the money.
The fact that this kid physically assaulted an elderly man seems to be left out of the disgusting fake outrage shown by the editors, especially when in the same article they report that the kid assaulted the old man and beat him to the ground!  I'm pleasantly pleased and surprised that most people commenting on that article seem to get this, especially as comments sections of articles on major news sites are often prime showcases of human stupidity.
Nothing Is Real
And as for the images posted today, some would say that the first one is the only true picture, but such a statement is based not only on the phony presupposition that my camera gear (or any camera gear) functions as the human eye does, but, much broader than that, that the human eye renders the "truth" unlike other ways of seeing!
On that liberating note, remember that if you like what you see here and you're not already on the Facebook fan page, click on the icon below while logged into Facebook and click the "Like" button to receive site updates.
Dick Cheney's recently-published memoir is what kindled the recent diatribe between him and Colin Powell.  Wolf Blitzer of CNN opined that memoirs are usually self-serving.  Given all of the picture interpretations that I've given here as well as promoting the Facebook fan page for Jimbaux's Journal, does that mean that it would take merely a gentle nudge to put Jimbaux on the same level as Dick Cheney?  Use the comments section for its purpose; inquiring minds want to know.
Jimbaux