[Jimbaux feels betrayed . . . stuck in your ways.]
Dudes.  Howdy.  I'm tired as hell and yet unable to sleep.  Pray tell, why?  I see no logical reason for this; so, I can only ascribe it to some form of divine punishment for some sins I inherited.  If you think these two pics are lame, then my pain will also be your pain.  Hey, I've suffered a lifetime of others projecting their useless, toxic guilt onto me, and I'm just paying it forward, okay?  Cool.
I'm Not Dead (Not Yet)
Since it seems like it's been forever since my last post, I figured I'd crank out something quick and random for you punks, aye a'ight?  A'ight.
Have I mentioned I've been busy?
New Orleans and Saskatchewan
And those two places belong together about like a clump of cow manure belongs in your bag of pretzels, but despite that, I present the two together in the same post to you now!
20,000
What we see below is the 20,000th picture taken with my camera.  It's Labor Day 2007 in New Orleans, and I'm drenched in my own perspiration as I capture the Union Pacific Railroad's QLIHL (Livonia, La., to Hamlet, NC) crossing Louisa Street.  The train is on CSX tracks and is less than a mile from arriving at Gentilly Yard where the UP crew will get off and a CSX crew will get onboard and switch some cuts around. 
I would advise the xenophobes among you not to pay too close attention to that second locomotive, lest I have to some some vitriolic comment that you'll choose to post here.  Ah, yes, as Saint Jude told me on the telephone on Friday, I do indeed have a dark sense of humor.  Chalk it up to that original sin that was projected onto me for years when I was far too young to know what was hitting me.  Bah, here's the picture.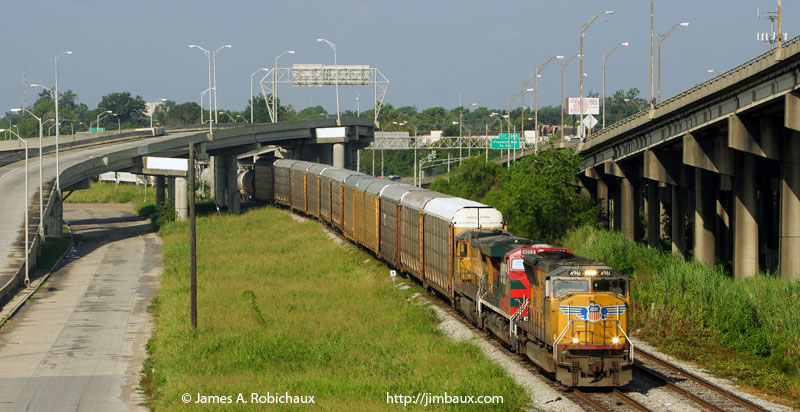 You whoadies and foamers will note that I got this shot from one of my favorite foam hangouts in the Big Easy.  I actually do miss that particular spot.  Are you hearing me Porkchop?  Uncle Cracker?
Palliser's Triangle
In my efforts to completely confuse you (in a way that entices you to return for more), I take you far from New Orleans but still on the North American continent to the semi-arid high plains of Saskatchewan.  My pilgrims and I had just exited the United States out of the northwestern corner of North Dakota when I snapped this picture of the southernmost reaches of Saskatchewan.  What?  You don't see any terrorists in the picture?  Neither do I.  Anyway, this was the best that I could do from a moving vehicle.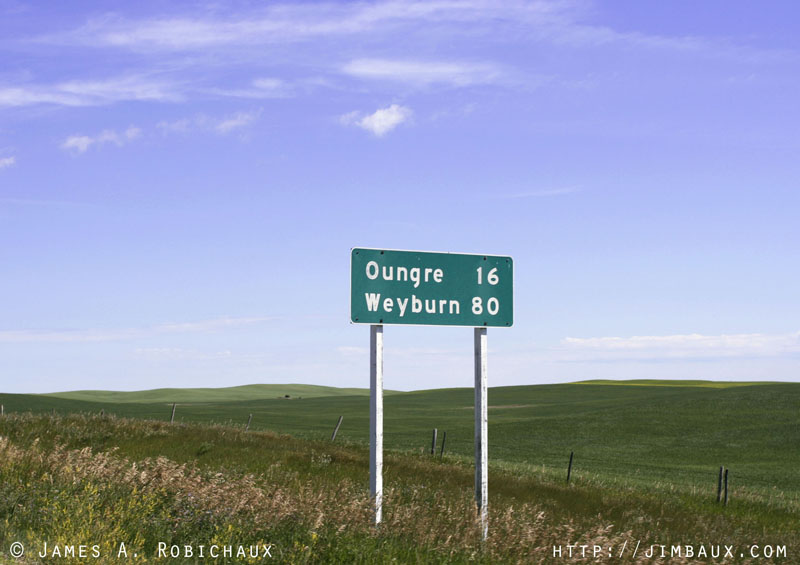 My Saskatchewan pal Jerome – who moved to Alberta in his 20s and still lives there – should appreciate this picture, as he did my North Dakota shots from the previous post.  Y'all check out his site and tell him Jimbaux sent you, a'ight?
That's enough pics for now.  I need to try to get to sleep so I can awaken in less than three hours and start my day.  Oh, those of you arriving at this post via Facebook may be confused by the timing, as I normally post links to the Facebook fan page several hours – or even a day – after I first publish an article.
All For Now, But More To Soon Come
I'm actually in the middle of working on a very soulful post here on Jimbaux's Journal, a post I hope you'll like, and it includes some of my long-awaited but never-before-seen shots from the other side of the Rio Bravo.
Introducing PBx.
For those of you interested in golf, my fellow bayou boy from back home Paul has decided to finally unveil his thoughts to the public about sports and such.  Now Jimbaux doesn't give a hoot about golf, but Paul and I go way back.  If you like what you see at his site, make sure you tell him that Jimbaux sent you, a'ight?
Smile
This video sent to me today by a friend made me smile.
Got To Go (To Sleep, Hopefully)
It's time for me to roll over and try to sleep again, my dear Jimbauxlings.  I hope to post more soon.  In the meantime, remember that life is not always what it seems, or something like that.
Jimbaux