In this photo essay, published in September 2023, I will do two things. The first is that I will share some scanned film, scanned 35mm color slides, that I took in the first seven months of the year 2003, two decades ago this year, minus the June 2003 trip (because those pictures are already in that post.) The second is that all of this counts as a preview and-or introduction of some content – scanned 35mm color slides up until the time that I went digital in July 2005 – that I will share here over the next two years.
You might recall that, starting in December 2013 and continuing until the summer of 2014, culminating in decennial retrospective blog posts of my summer 2004 experience in Mexico, I posted blog posts of scanned slides.
I am now posting many more of my scanned slides, all pictures that I took, even though I have not had any slides scanned since March 2014. I may buy my own film scanner soon, but the upcoming posts of scanned slides for the next year or two here will be of slides that were scanned no later than early 2014.
Compared to what is possible today, so many of these scenes are quite fascinating indeed!
Now, while the non-inclusion of pictures that I took on my June 2003 road trip makes sense, given that I have made a separate post about that trip, why I am I stopping the pictures in mid summer of 2003? The answer, quite simply, is due to the volume of pictures, the increased volume of pictures, one "train season" picks up in the fall.
So, starting in October, I will have monthly vicennial retrospective blog posts that will last into 2024, ceasing once we get to the pictures that I have already posted from the spring of 2004 and then resuming only in December. I may have a few pictures from early 2005 after that, to be published in early 2025.
So, here we go! Here are scanned slides from 2003.
Friday, January 10th
Here we are on my favorite railroad branch in the world. My true favorite railroad branch of all time was abandoned in April 1998. That was the Napoleonville Branch, later, the Supreme Branch.
This is the Lockport Branch. As I type this, the rails are still there, but there has not been a train here since the spring of 2009. For a train to run here again, some serious vegetation-removal efforts would have to be made, and the track would have to be repaired.
However, back in 2003, Valentine Paper was still open, still receiving paper and clay slurry by rail, and the Louisiana & Delta Railroad train out of Schriever served the branch usually thrice weekly, usually Mondays, Wednesdays, and Friday.
These two images are from Mathews, Louisiana, on the eastern bank of Bayou Lafourche.
The above image is at Farm To Market Road. The below image was made a few minutes later at Amerada Hess Road.
This was such a neat branch, not just because it had that oh-so-authentic rustic feel of a jointed-rail track through sugarcane fields but also because the cars were interesting. Valentine Paper was not a paper mill. It was a paper finishing plant. Practically all of the boxcars that arrived there were loaded, carrying spools of paper that were rejected by other mills that were sent to Valentine to be processed into stuff like wrapping paper.
That means that there was a variety of boxcars, like the Ontario Northland Railroad boxcar in this train. You'd see boxcars from all over the North American system, particularly Norfolk Southern family cars, CSX family cars, Canadian National Railway family cars, and cars from shortlines.
I really miss the Lockport Branch.
Friday, January 24th
I love this shot. This is one of my earliest good telephoto images, taken with a Spiratone 400mm lens that was gifted to me by an acquaintance who no longer used it. Here we are at Schriever, near the western end of the yard, and the Union Pacific Railroad local train – the Chip Local, the LLS51 – with SP 7128 as power is westbound on the mainline passing an extra BNSF Railway freight train.
The extra BNSF Railway train was originating in Schriever and was apparently clearing out a freight backlog along with some Maintenance-Of-Way cars. It would leave for Lafayette hours after this image was made.
Saturday, February 22nd
We are on my first trip to Rich Mountain, a trip that changed my life, that affected my travel patterns for the next decade. Here is a southbound Kansas City Southern Railway manifest train climbing Rich Mountain, at Howard, Arkansas.
I am not certain that these two images from this day were taken in the order that I am presenting them. I am just guessing.
I didn't drive my automobile on this trip. I rode with this man, who changed my life.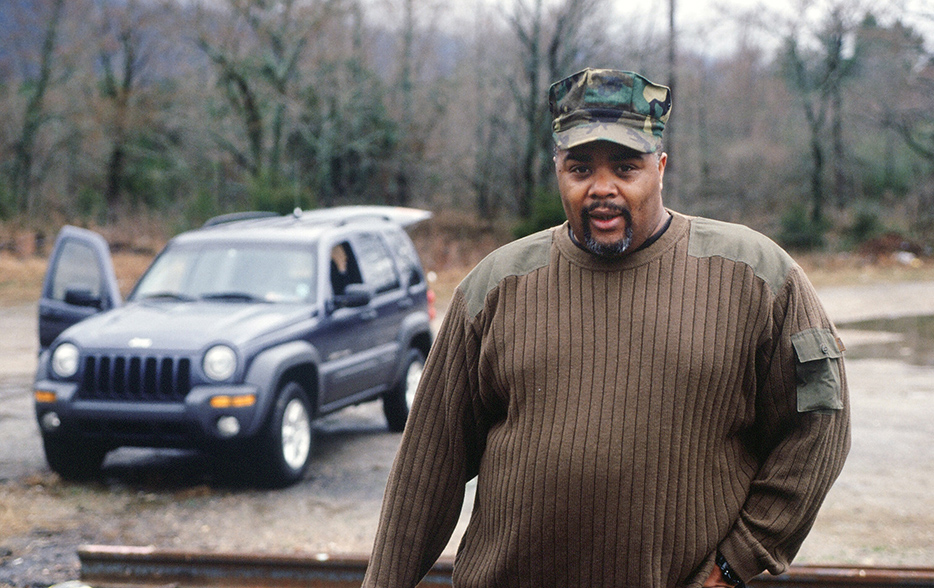 That is Shawn Levy, who died one decade, one month, and a few days after this image. He invited me to ride with him, I agreed to go with him, and it changed my life. It turned me into a KCS fan, and it meant that so many of my travels in the next decade would follow the route of the KCS.
Sunday, February 23rd
The next day, we are on our way home, and, when we were once again at Howard, Arkansas, we saw snow!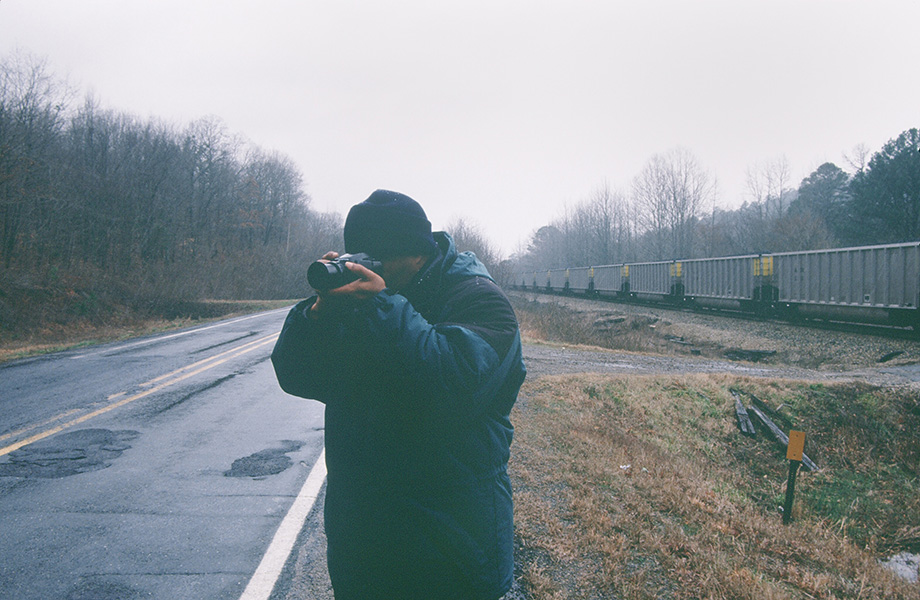 Shawn was taking pictures of the snow.
After the trip, someone I met on the trip introduced me to a blog, a railroad photo blog, that changed my life.
Sunday, March 30th
This was an early version of my Sunday morning worship services. As I recall, I was supposed to have been at literal church, but here I was at Schriever.
That was one of the Mountain Laurel locomotives. It was church in a way, just without the community.
Saturday, April 26th
I saw it!
I saw a big, loaded Louisiana & Delta Railroad pipe train moving on the old Midland Branch to the Port Of Iberia!
With Kevin Scanlon at the controls, LDRR 1501, a CF7, all by itself pulls 48 cars loaded with pipeline pipe under US Highway 90 and down the Midland Branch bound for the Port of Iberia on the Pesson Spur.
The train had arrived in New Iberia via Union Pacific that morning, and the Louisiana & Delta Railroad wasted no time putting its own locomotive on the train and taking it to the port to the pipe-coating place, and the crew, with Londunn working the ground, shoved 12 cars (as many as can be spotted at once) into Bayou Pipe Coating. The locomotive came back to the edge of the property, and the crew shut it down.
The train originated at a place called "Napa Pipe" in northern California bound for Bayou Pipe Coating in New Iberia, and was UP train S-SUIB (Special- Suisun-Fairfield, CA, to New Iberia, LA)
The UP train arrived on the Lafayette Subdivision from Alexandria via the Lake Charles Subdivision and, as such, had to run the power around the train at Iowa Junction before heading east.
At some point during this time, I got myself a Nikkor 80-200mm/f2.8 lens, though I don't know if this image of the L&D pipe train was taken with it. It may have been taken with an old Spiratone telephoto lens.
This was an exciting and memorable day for me.
Saturday, May 3rd
Something that I did often in the spring of 2003, particularly once I got the new telephoto zoom lens, was make weekend – usually Saturday, usually Saturday morning – runs up along the Mississippi River to scope out and photograph the trains that ran in that area, the Union Pacific's Livonia Subdivision on the western side of the river and the Canadian National Railway's Baton Rouge Subdivision on the eastern side of the river, exploring territory different than my familiar Lafayette Subdivision around Schriever and Raceland.
Such was the case at 08:27 CDT on the morning of Saturday 3 May, as I was on the southern side of Plaquemine catching this southbound UP manifest train with some narrow-nose lead locomotives.
That locomotive architecture is just special.
Foaming on the Livonia Sub, with its CTC, was frustrating given how the Lafayette Sub had made me accustomed to hearing track warrants being issued and relinquished.
Sunday, May 4th
I would ride by the front of the church before mass to see what priest would be making the mass, so that I could answer the question of "who made the mass" if asked. I very vaguely remember doing that this morning, and I less vaguely remember that I arrived at the depot at the sacred place and hopped atop the truck to get this shot with no time at all to spare, perhaps because I was trying to figure out which priest would make the mass on this morning.
Yes, there must have been a bridge project happening nearby.
Saturday, May 24th
Once again, it's a Saturday morning in the spring of 2003, and I am out by the track along the Mississippi River, this time, on the other side of the river, along the CN, where we see CN train M316, the super-local train that moves local shipments between Geismar and Mays Yard in Metairie, with stops at Destrehan and maybe Reserve, moving southward under the Sunshine Bridge.
I think that these locomotives had been KCS locomotives.
I was spending all of these resources chasing these trains because I knew that the cool locomotives would soon go away – and also because I didn't know how to make better use of my resources.
And I used even more resources on this day. I am not exactly sure how the rest of the day transpired, but records indicate that I met Alabamians Tom and Melissa Overall at Schriever but also photographed a train later in the day at Raceland.
At about 19:08, I photographed this parked UP train MAVBT on the siding in Raceland with a clean Southern Pacific GE B30-7 in the lead!
It had about nine locomotives but only about 40 cars!
The next day, I chased the Geismar Run with George Spicuzza, meeting him at his house. I got my first afternoon pictures on the Valley Line that day. So, this was quite a foamy weekend for me.
The June 2003 Trip
I have written about this trip and published the pictures already. So, check that out there.
Tuesday, July 1st
Finally, on the first day of the second half of the year, we are back where we started. We are back on the Lockport Branch, like in the first pictures in this post, just a little bit more than a mile south of that first picture, as we see the southbound train with three loaded boxcars behind the LDRR 1850 going to Valentine Paper.
This is a railroad branch that was and remains near and dear to me, for it served my ancestral homeland. This is the Lockport Branch, built by the Southern Pacific railroad or one of its predecessors, starting at Raceland, milepost 40 of the Sunset Route mainline, and extending about 14 miles down the eastern bank of Bayou Lafourche to the community of Valentine at what was actually an extension of the branch originally built to Rita, the community across Bayou Lafourche from the city of Lockport that is the namesake of the branch.
After the closure of the Valentine sugar mill in about 1979 and the closure of the Georgia Sugar refinery in Mathews a few years later, the only customer of significance – the only customer that did enough railroad business to justify keeping the branch open – was Valentine Paper, a paper-finishing plant that had originally been built adjacent to the Valentine sugar mill as an effort to convert bagasse, a byproduct of refining sugar cane, into paper or cardboard products. This experiment didn't work out that well, but the plant became a facility that recycled paper made at actual paper mills – often rejected by those mills due to defects – into specialty paper products, like the kind that would wrap the food served to you when you buy prepared food, like at a restaurant or coffee shop.
This process made observing trains on this branch generally less interesting than on branches that served traditional paper mills but more interesting in one very specific way. There were no cool loaded pulpwood cars or woodchip hopper cars on this branch, but the selection of boxcars often was more interesting than what one could find on trains that served paper mills!
Traditionally, boxcars that served paper mills came almost exclusively from the one railroad company that served the mill, because, for traditional railroad shipments, the originator of the shipment provides the cars for the shipment. For an example that is also in southeastern Louisiana, nearly all of the cars that you see coming from the paper mill at Bogalusa are Canadian National Railway family cars.
However, because Valentine Paper took loads inbound in boxcars and almost never shipped by rail, the boxcars that went there came from anywhere on the continent! The most common boxcars on the Lockport Branch were of the Norfolk Southern Railway, CSX, and various shortline railroads, and, frequently enough, there were CN cars, too, on the line.
After struggling for a few years, Valentine Paper was acquired by Dunn Paper in 2005. Unbeknown to the employees of the mill who were relieved at the sense of job security that the acquisition bought, Dunn Paper's intention was to learn the process that happened in Valentine, apply it at one of its other facilities, and then close Valentine.
That happened. Two years later, Valentine Paper closed for the final time.
I got plenty of pictures from the last railroad delivery to Valentine Paper.
In this picture from happier times only a little bit more than four years earlier, back when boxcars looked cooler than the boxcars of today and back before the Genesee & Wyoming corporation made its paint scheme much less attractive by painting the running gear and fuel and air tanks of the locomotives black instead of that nice grey, LDRR 1850 and the Louisiana & Delta Railroad's Schriever Job – the SC1 – is southbound on the branch at Clotilda Plantation and crossing Barker Road with three loaded boxcars, one Railbox car and two CSX cars, bound for Valentine Paper.
I miss it dearly, and being so far removed from it makes me feel old.
Epilogue
Anyway, this look back to what was, at the time of the publication of this essay, more than 20 years ago is also a preview for what will be presented here on Jimbaux's Journal in the next few months. I went digital in 2005, and, over the course of the next two years, you will see additional scanned slides from that time.
It really was a different time back then. So much of the information that accompanied the pictures presented here and that will accompany the 2003, 2004, and 2005 images shared here over the next two years came from posts that I and others had made on an old e-mail forum that I was fortunate to be able to still access in 2023. This was the "social media" of its time, before what came to be known as "social media", before Twitter, before Facebook, and before even MySpace. We on those forums really thought that we were avant-garde, and I guess that we were; Facebook and text messaging have been the primary killers of those groups, but I think that the fact that trains have just become boring since then, too, is a factor.
I don't have much else to say. This is supposed to be a big emotional post for me, but I am struggling to find the right words here, as I often do.
Oh, well.
Jim