Maybe It's More That Photographs Can Be Currency
This is the story of debt and of settling a debt, though maybe also establishing further credit, using photographs.
I really cannot share the details now, but I hope to do so at some point, because it's supposed to be about a pleasant surprise for someone.
After I handed someone pictures for a debt that she did not realize that I had incurred, I went to the tracks.
This is Elks.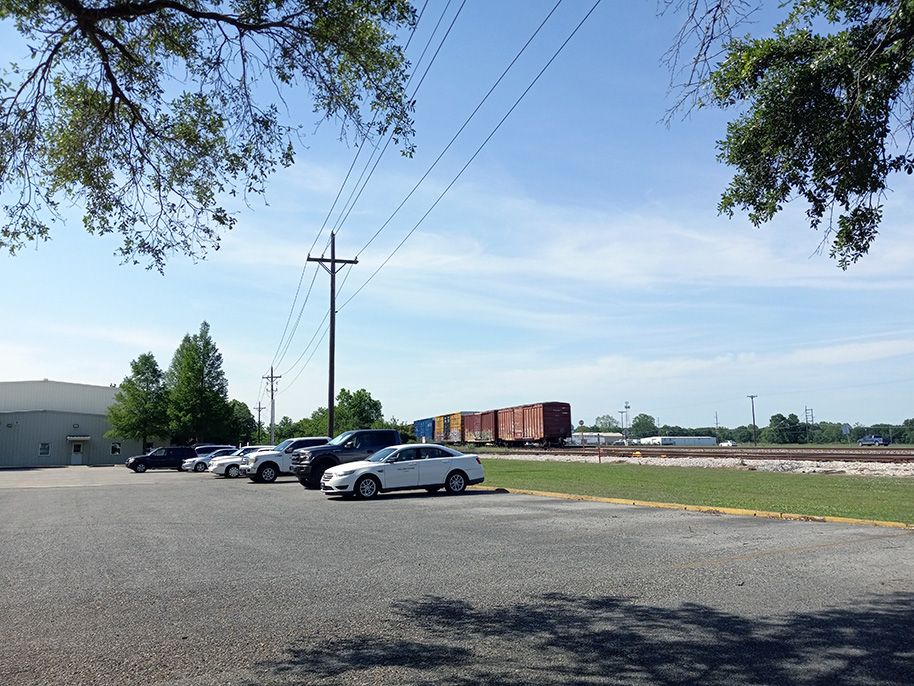 Yes, there is nothing special there; so, let's go to New Iberia, where some somewhat special things are happening!
Okay, wait, let's then go to the Port Of Iberia, where, too, some interesting things are happening.
Some pipeline pipe that was coated here not recently and that has been sitting here for a long time is being loaded onto flatcars for the Louisiana & Delta Railroad to move to the mainline.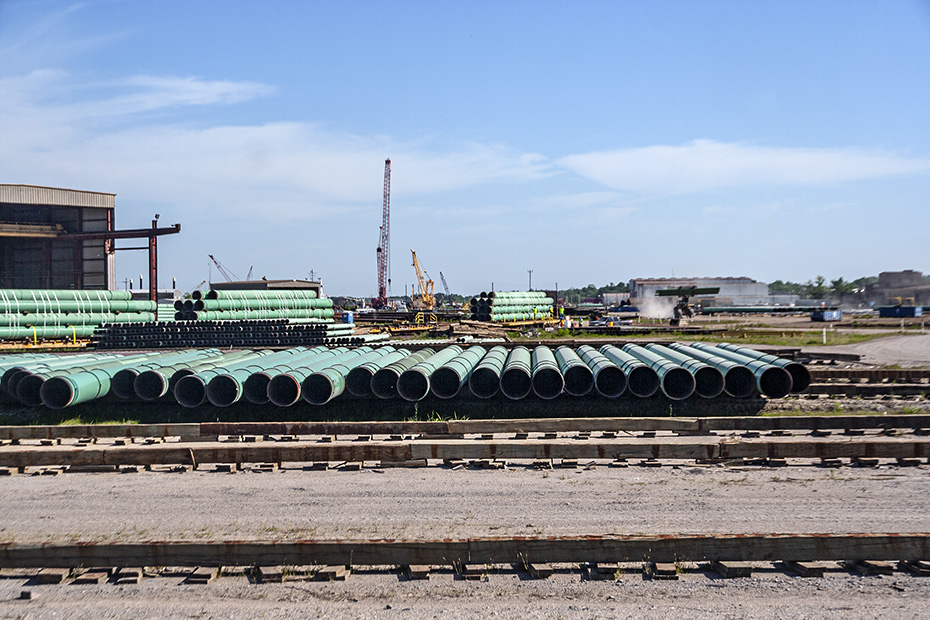 I am told that this is pipe that was intended to be used in the Keystone XL pipeline.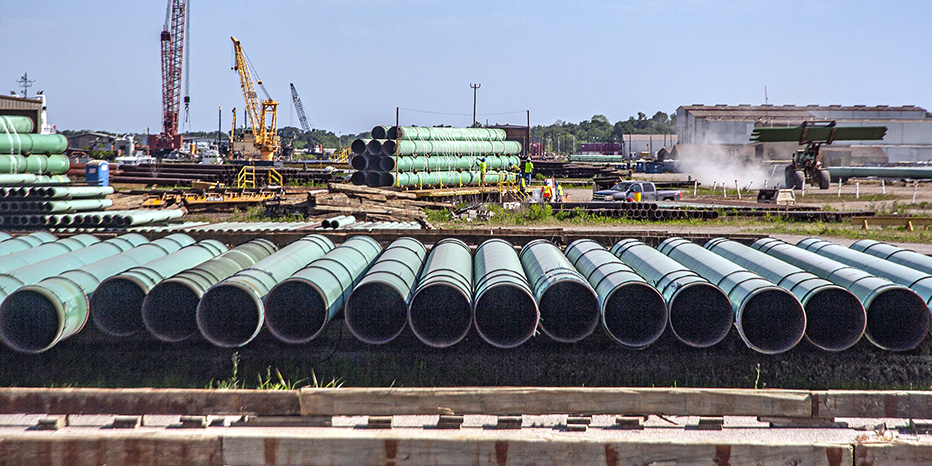 I hope that you can see why, barring a new paradigm, even railroad workers around here – and across the continent – feel threatened by decarbonization.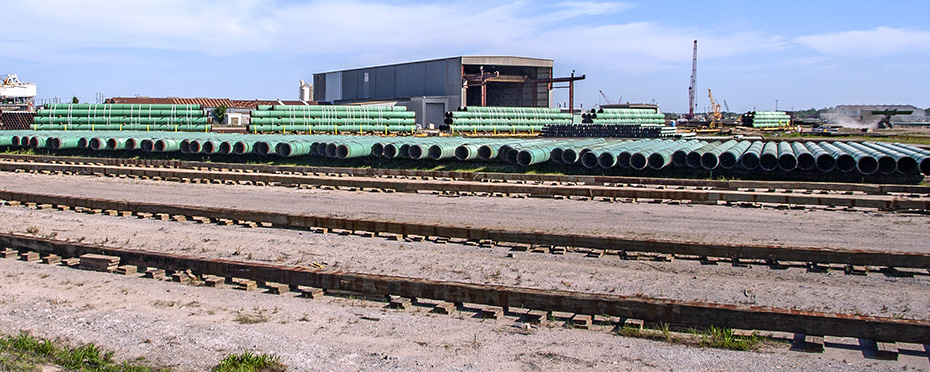 It doesn't have to be this way. We can have a new paradigm that is based on fundamental economic truths, but too many of the advocates of decarbonizing don't understand that.

I have made it my mission to address this problem.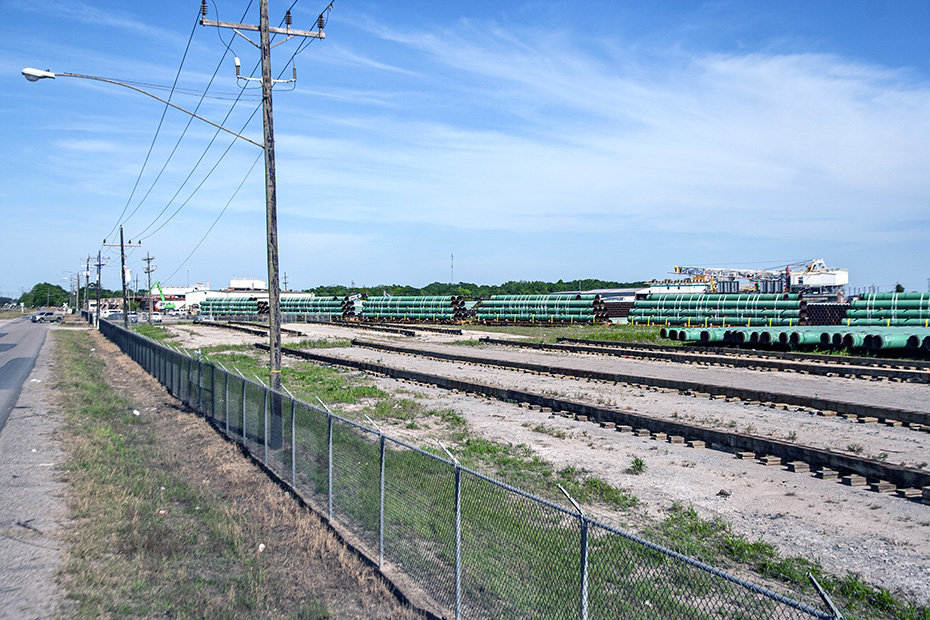 Anyway, here are some pictures of this interesting railroad customer.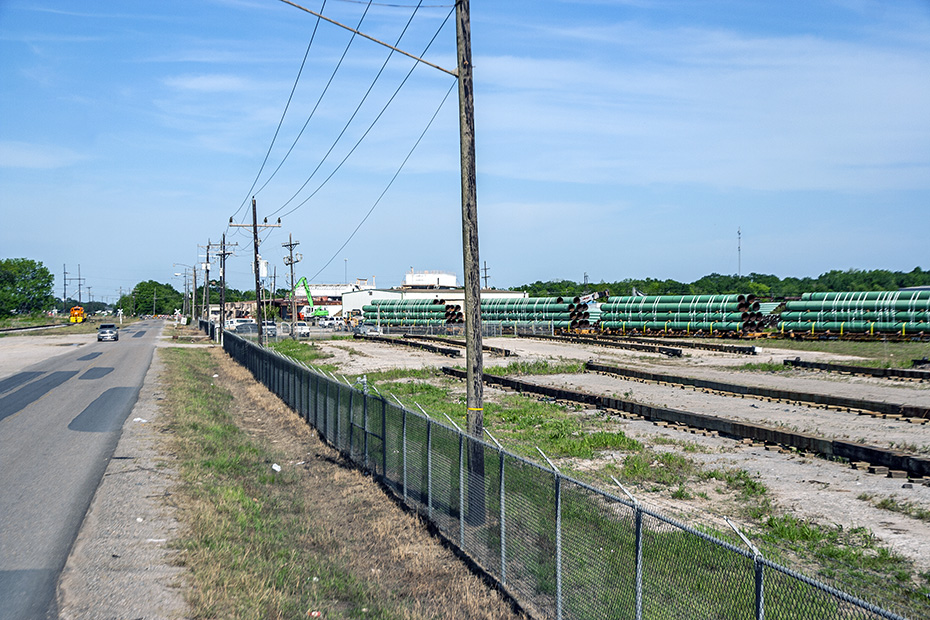 You can see the LDRR 1709 parked on the Pesson Spur to the left in the above image.
I am not the least bit surprised to see the 1709 here, since I learned last time that it is not PTC compliant.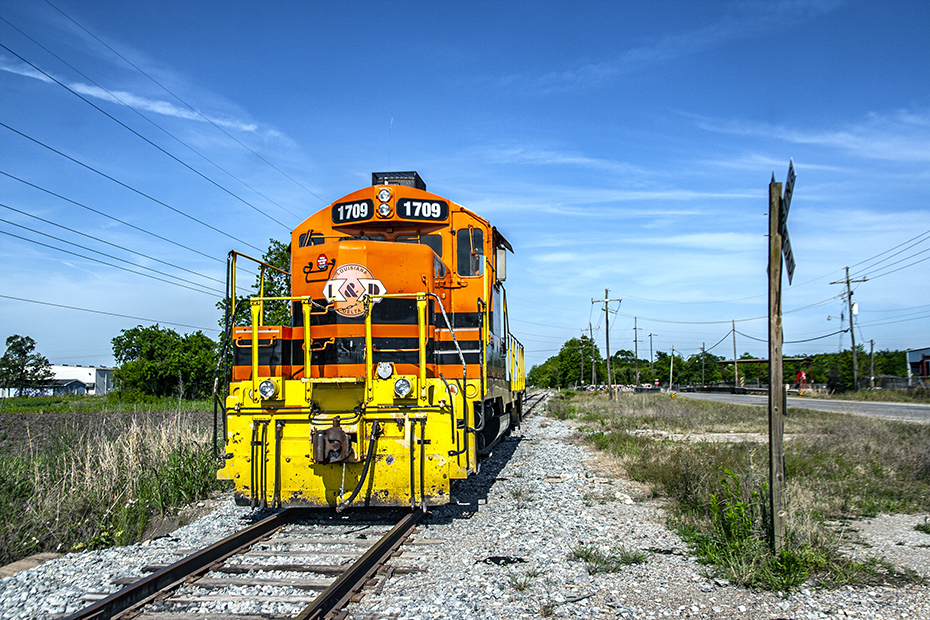 There are no railroaders here right now, but the locomotive is here positioned for when a loaded string of flatcars needs to be pulled and replaced with another empty string of flatcars.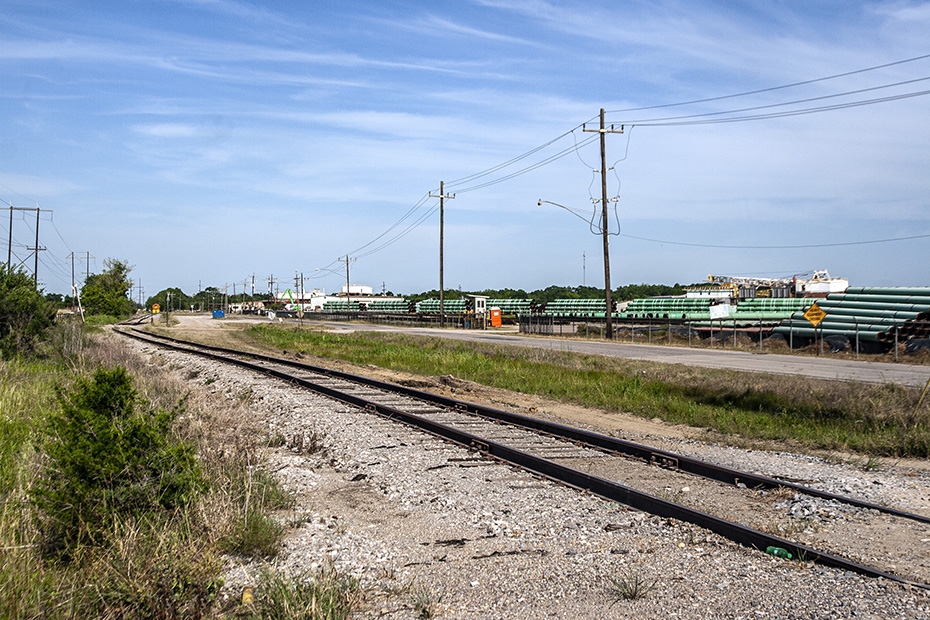 Then, I guess, they will be taken together in one train to New Iberia for interchange with the Union Pacific Railroad.
I went explore the land west of the Port Of Iberia.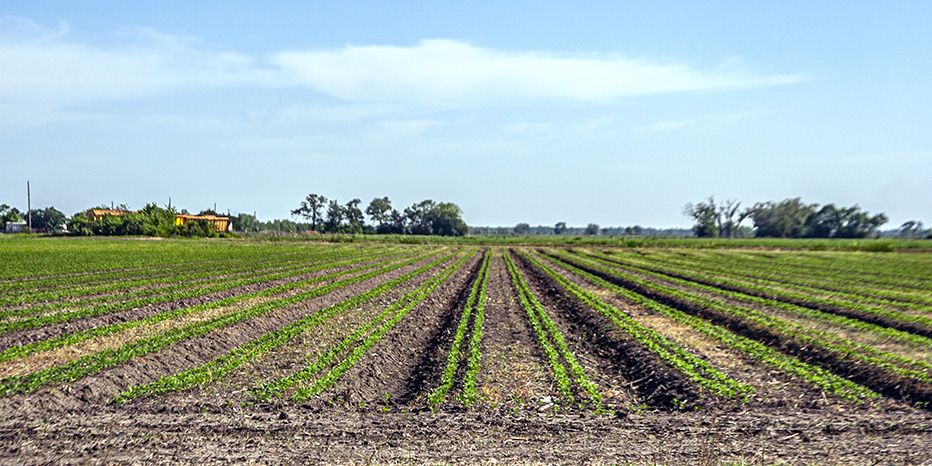 Man, something really is wrong with my 18-55mm/f3.5-5.6 lens.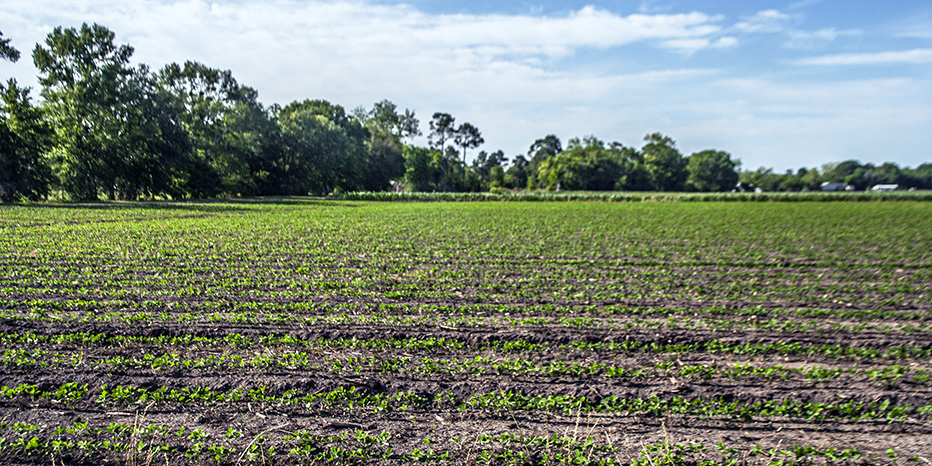 Here, next, I am at Emma, an interesting place.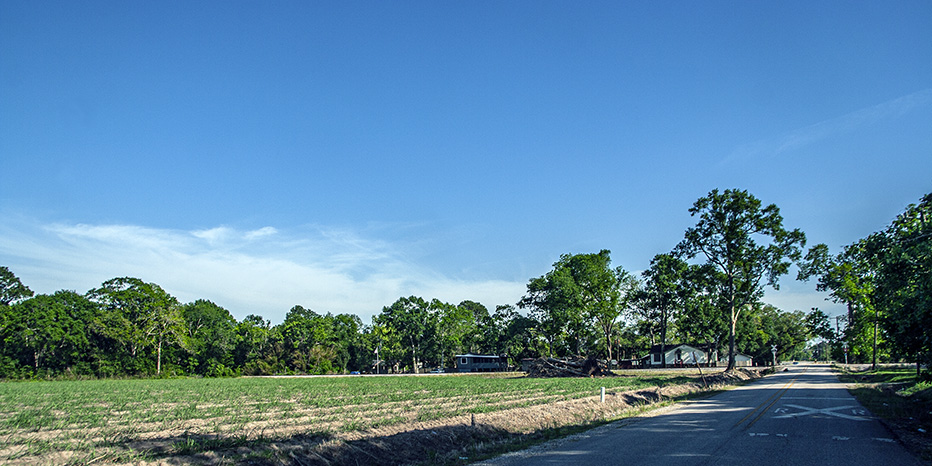 I think about how trains here look.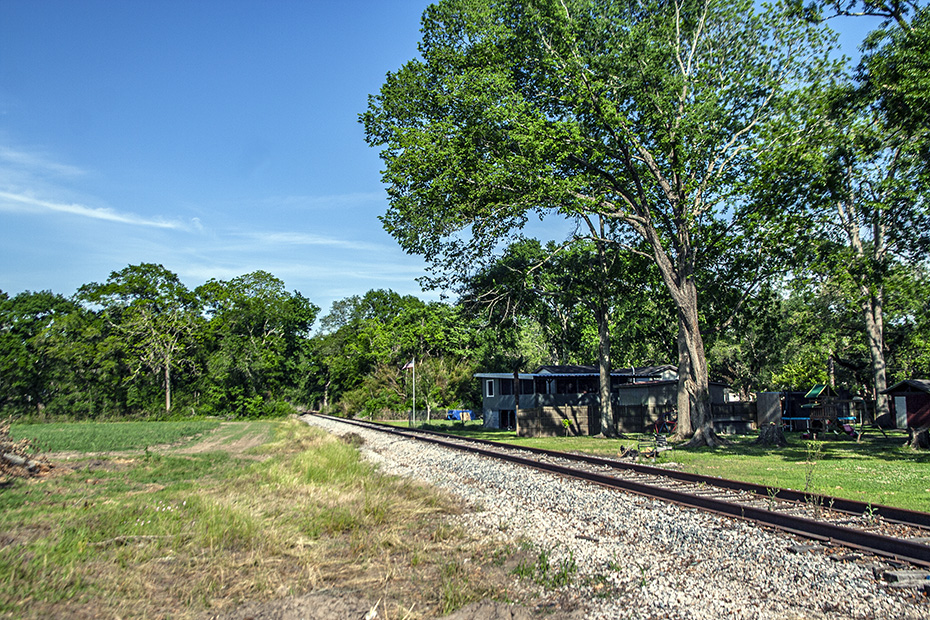 In the below image, I am at the crossing of the Midland Branch looking toward the Salt Mine Branch.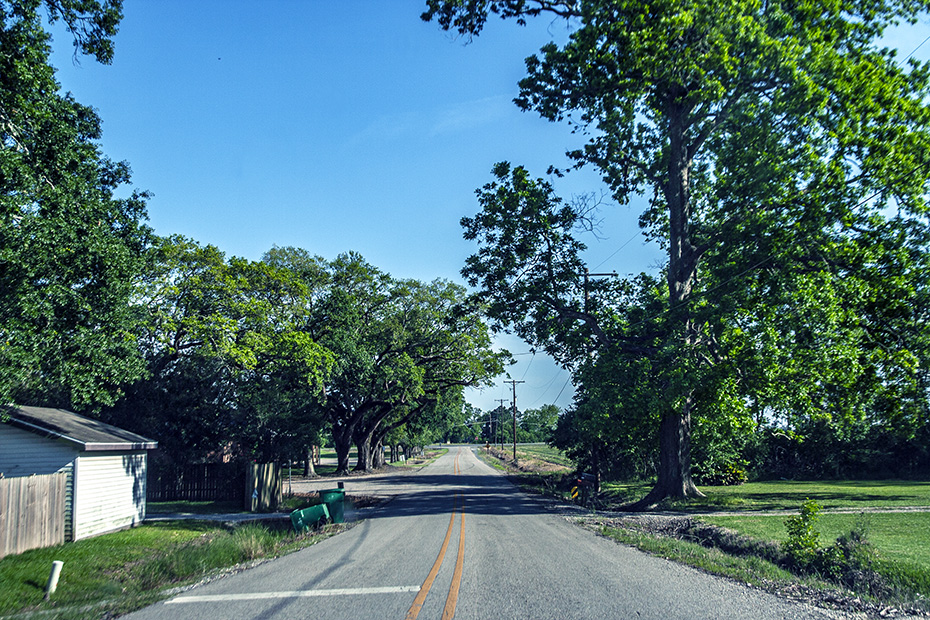 This next view looks westward on the Midland Branch, now the Abbeville Branch, where there has not been a train in a long time now.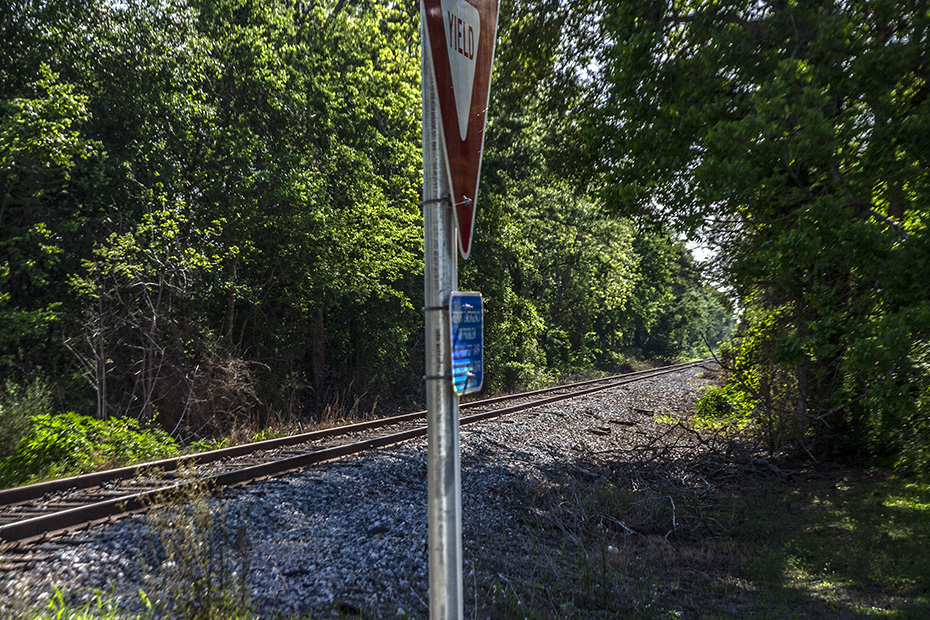 Okay, now, really, we are returning to New Iberia.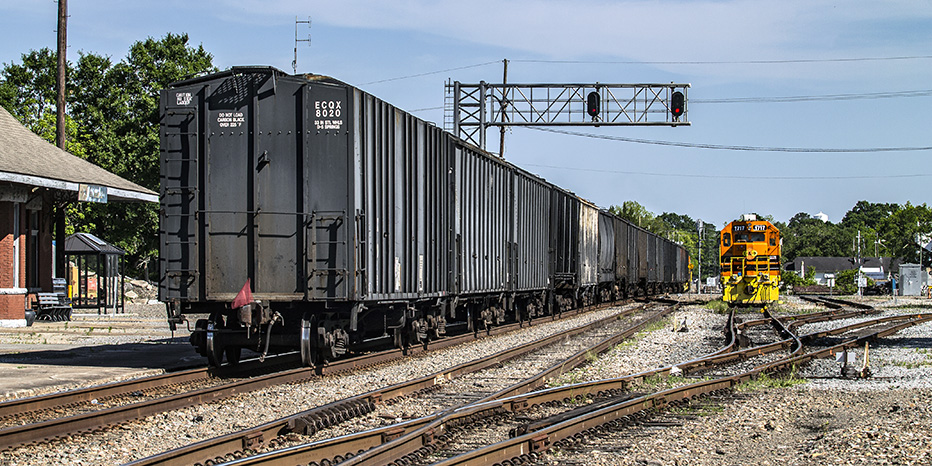 This is either a transfer between the MoP yard and the interchange yard or a train to Baldwin, probably the former, due to the lack of an EOTD on the last car.
Here is the view northward along Railroad Avenue.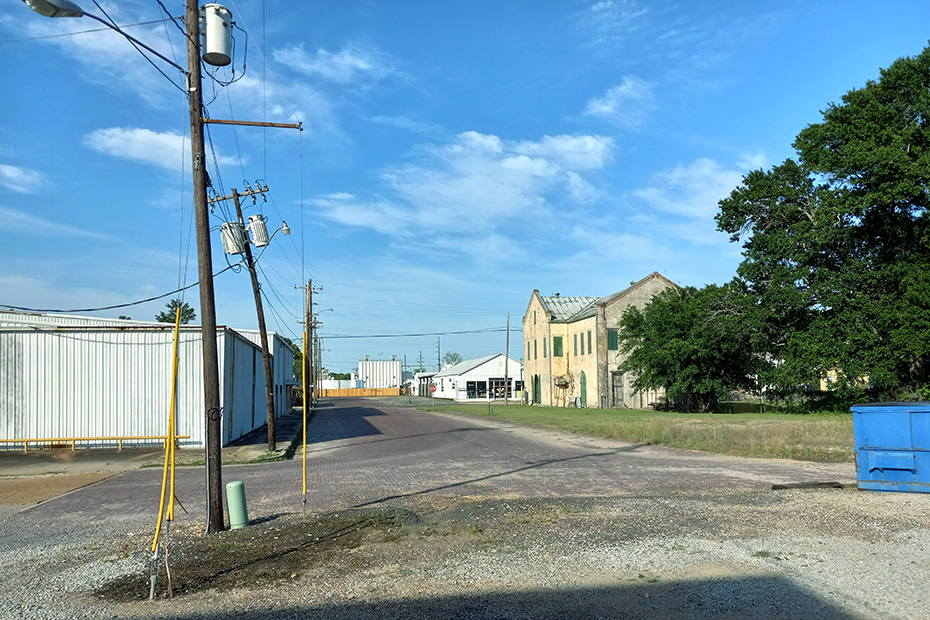 There was once a spur track down that street!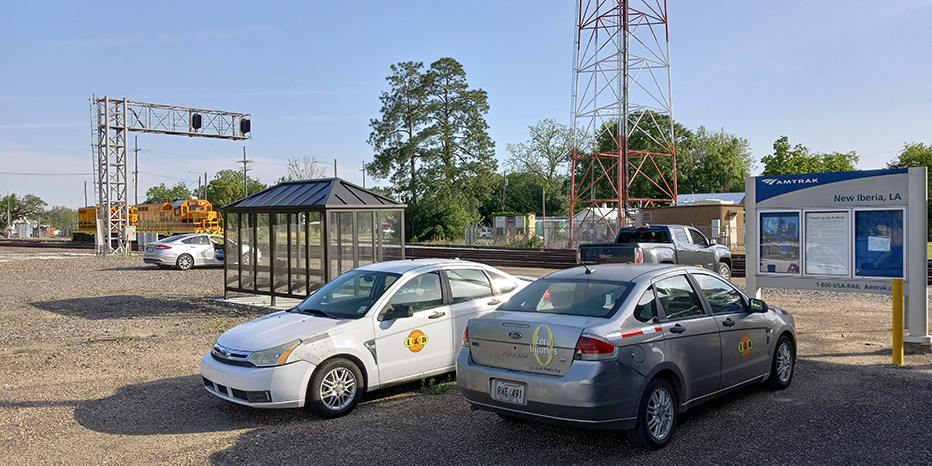 Also, as you can see, there was once a freight house right here.
I find the Railroad Avenue spur to be neat!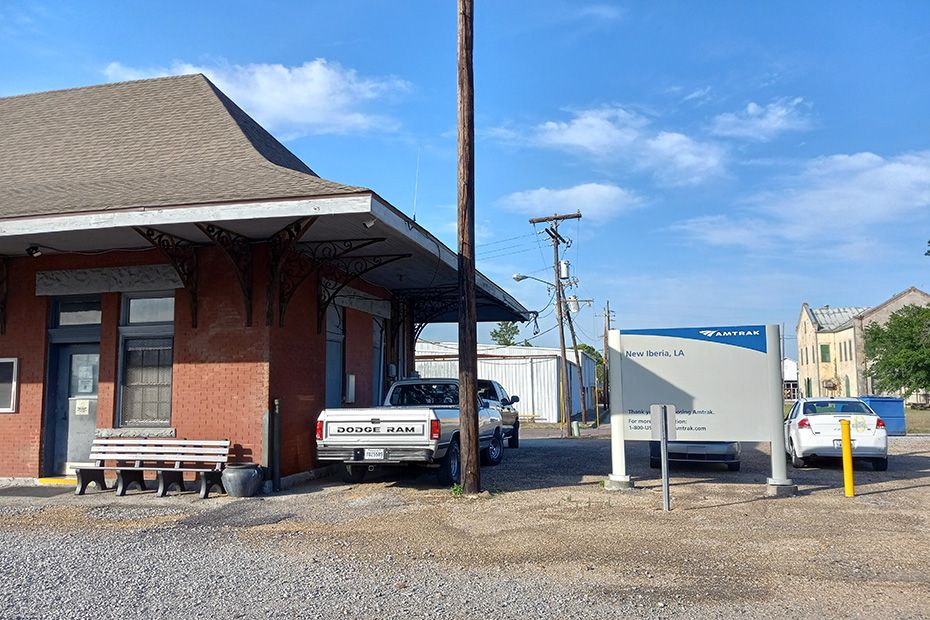 Anyway, about 20 minutes later, the NI1 job arrives back in town from Jeanerette.
Peartree and CV have this new guy Chase, a cool dude from Virginia, working with them today.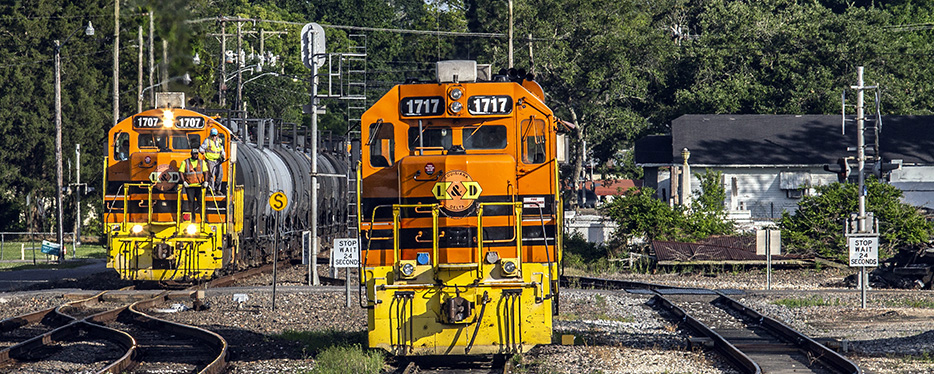 You see Peartree and Chase getting out of the cab here. They said something over the radio about the crazy guy standing on top of his truck at South Corinne Street. Guys, don't you recognize me? I've been driving the same automobile for ages!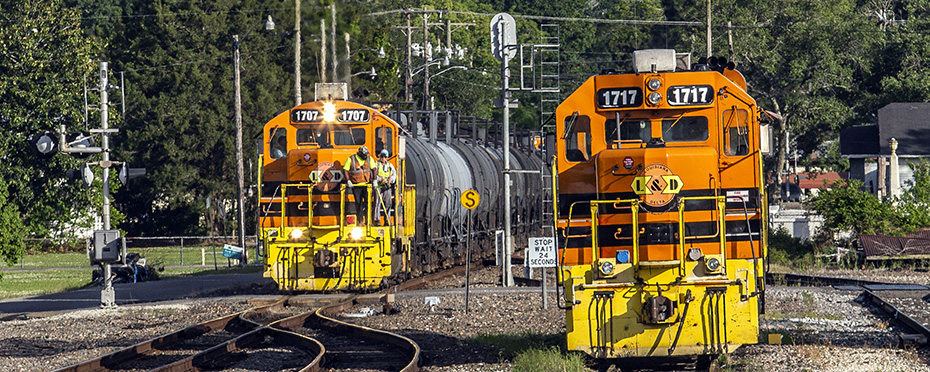 They are going to open the switch for the siding to let their train into it and then close it behind them.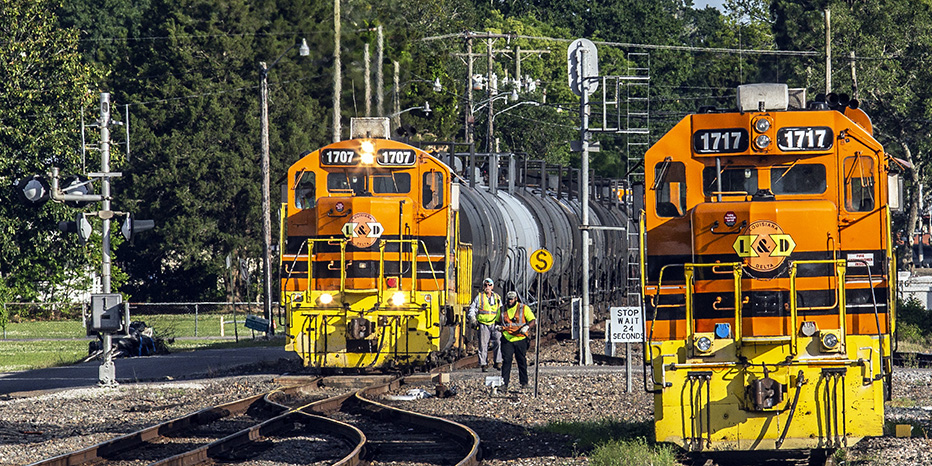 These tank cars would be from either the Patout Enterprise sugar mill or the Quality Liquid Feeds Jeanerette Loading Facility.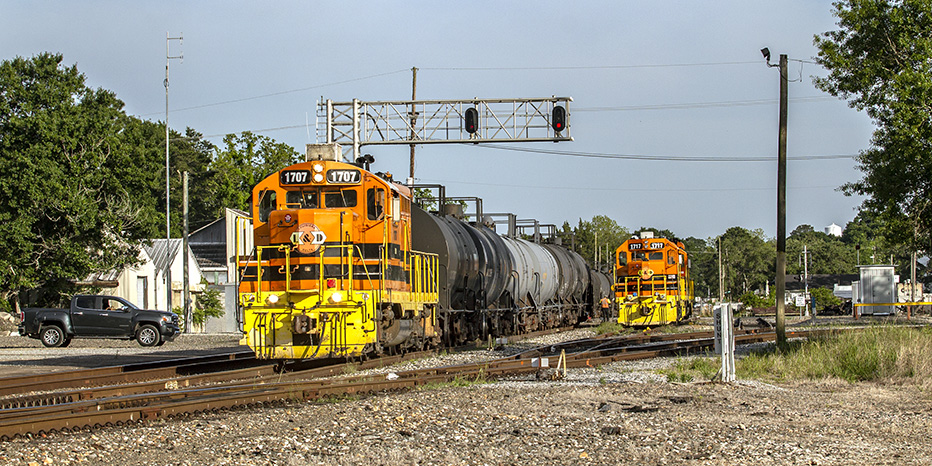 There's Chase, looking at me like at least one of us is a terrorist, but he's actually a nice dude.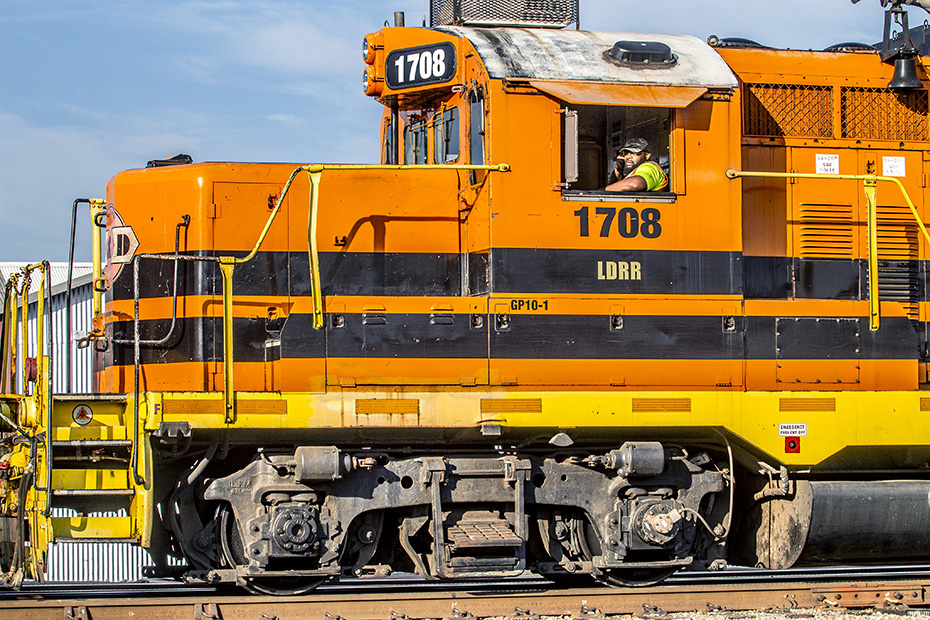 I just hung out by the depot and waited for them to return, rather than go to the interchange yard myself.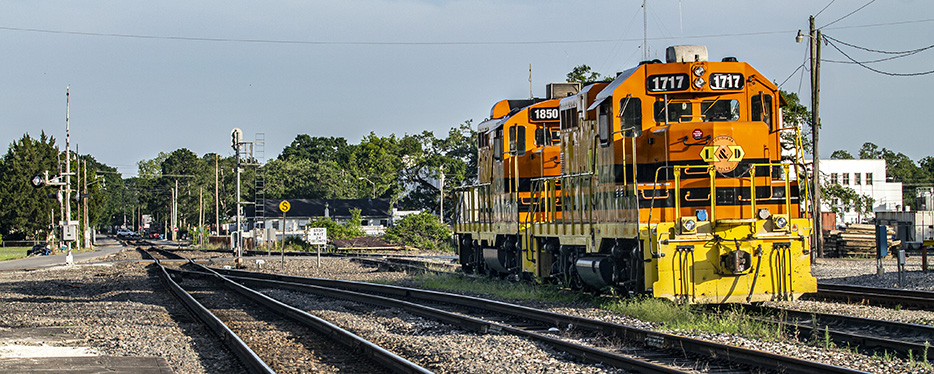 The 1717 is, now that the CF7 era is over and that the LDRR 2009 has left the property, my favorite locomotive on the L&D roster.
Well, 28 minutes later, after yarding their train, they are back.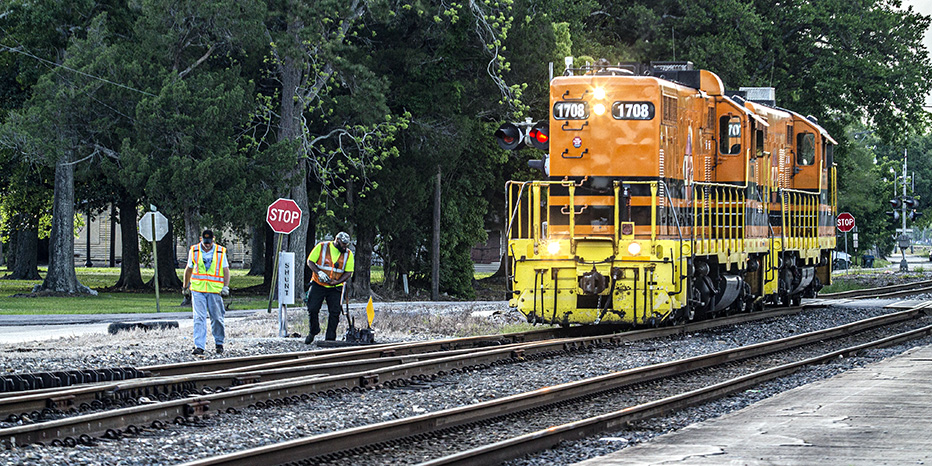 There is CV.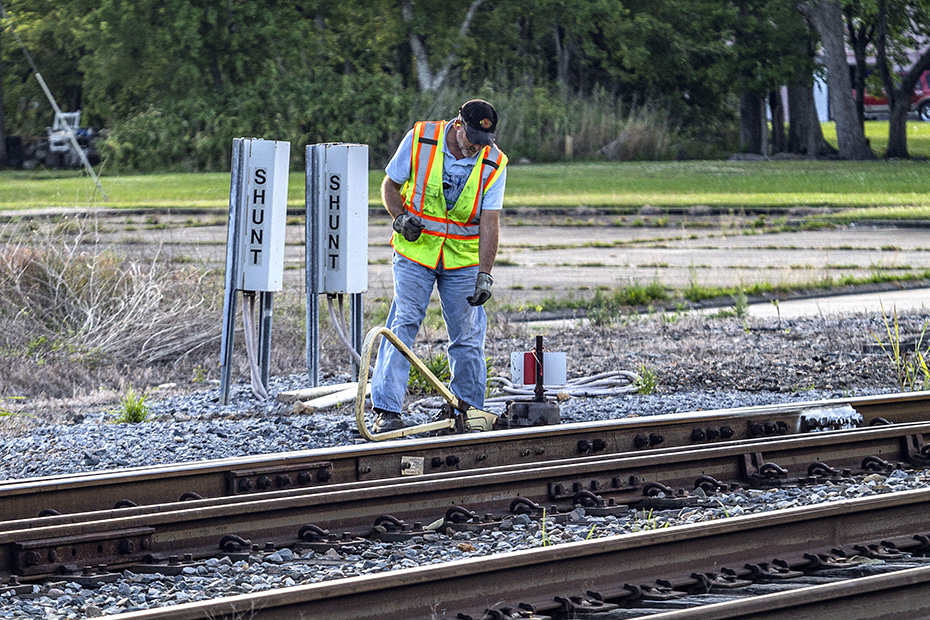 Scenes like these play out every day on the L&D, a railroad of my youth.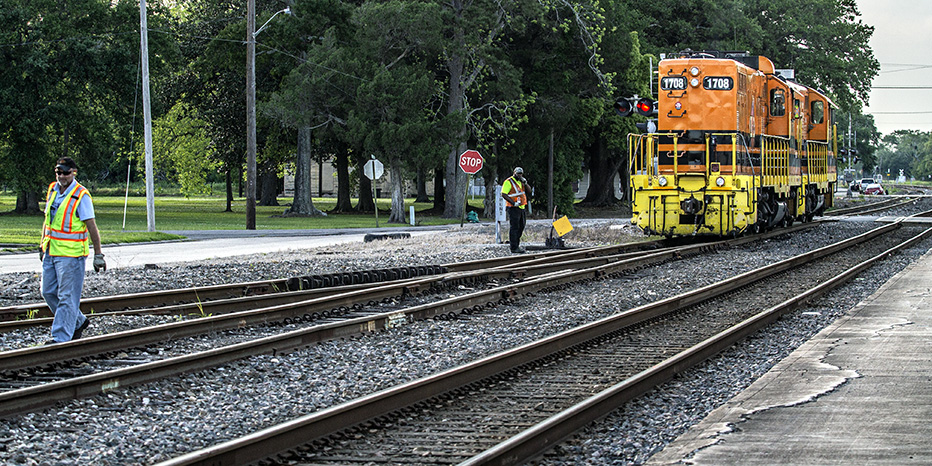 I feel a weird pity for people who don't like trains, even as I think that my hopeless obsession with trains is debilitating to me.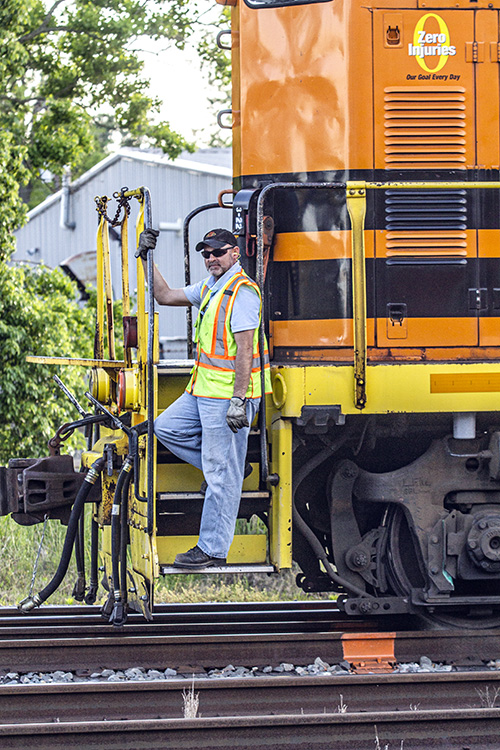 Hey, look!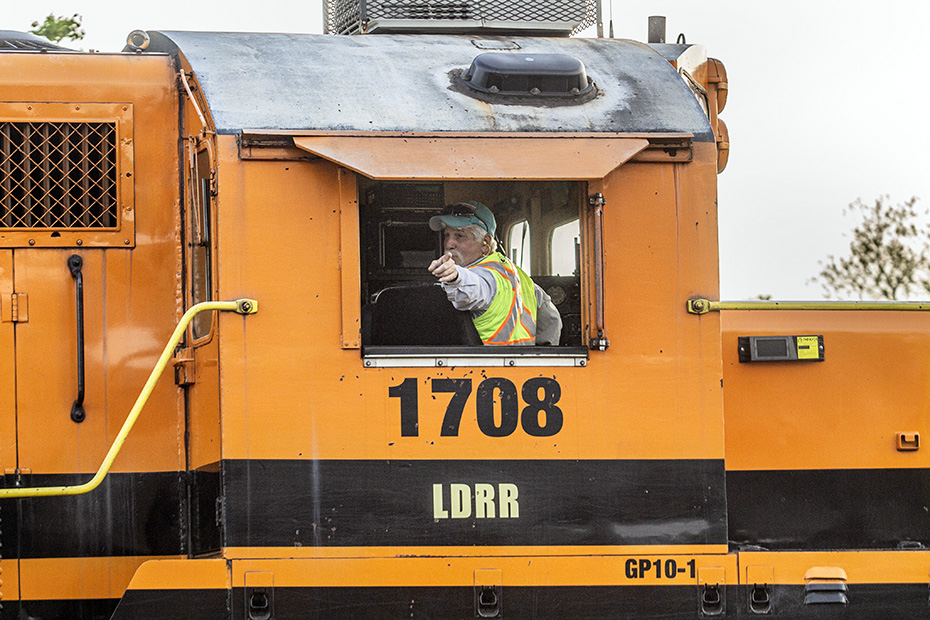 It's Peartree, doing two of the things that he does best: railroading and being a cool dude to people photographing trains.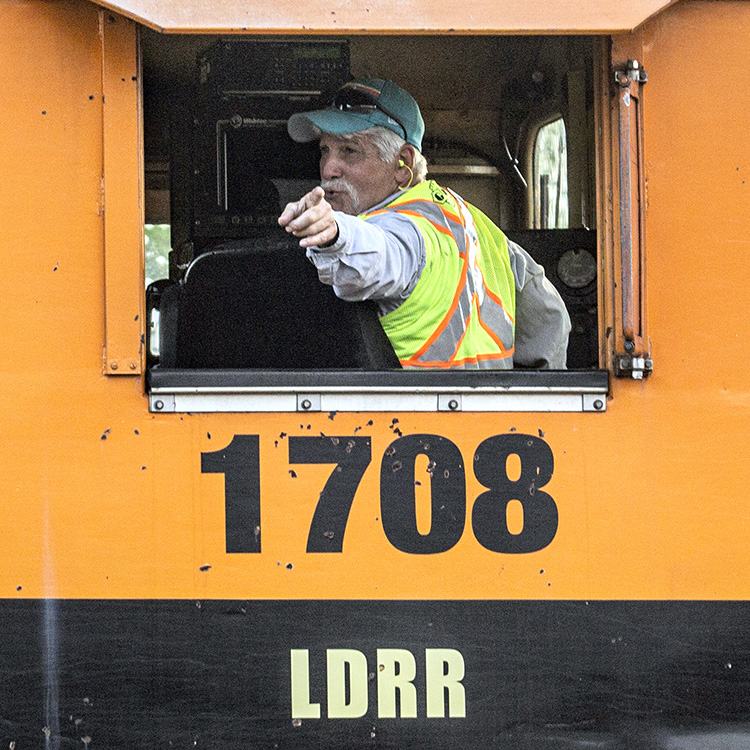 This is a classic railroader portrait.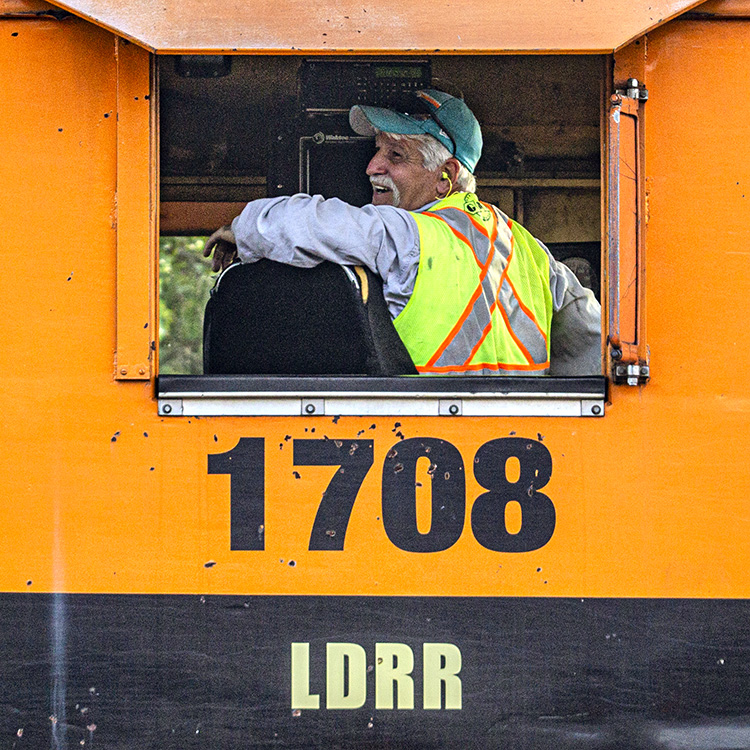 They tie up the locomotives on the locomotive track.
Can you believe that a guy who went to work for Southern Pacific in 1973 is still railroading in 2022?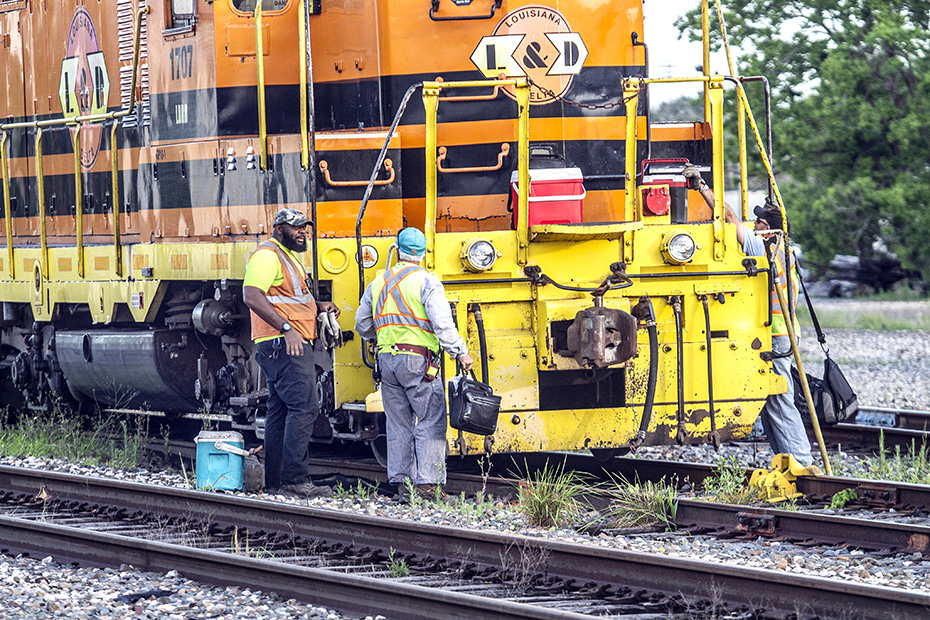 Peartree is that guy!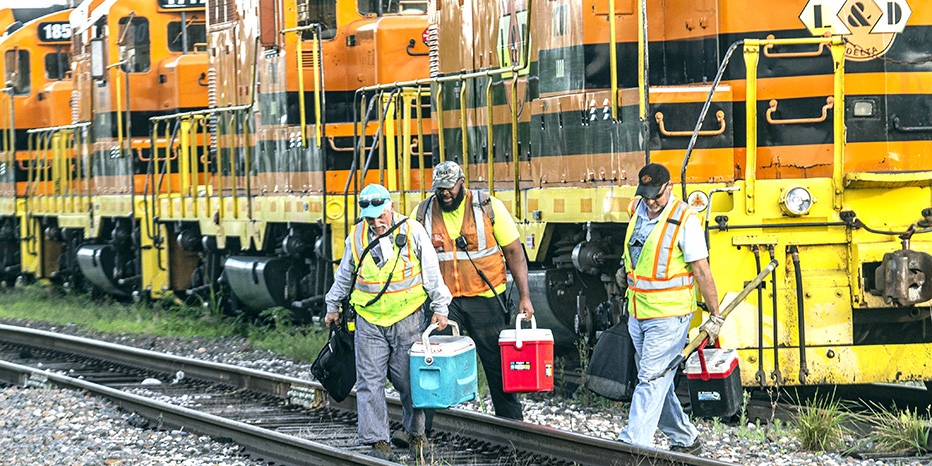 The day's work is done, and they are coming to the depot.
Chase had worked for the Norfolk Southern Railway, albeit in maintenance.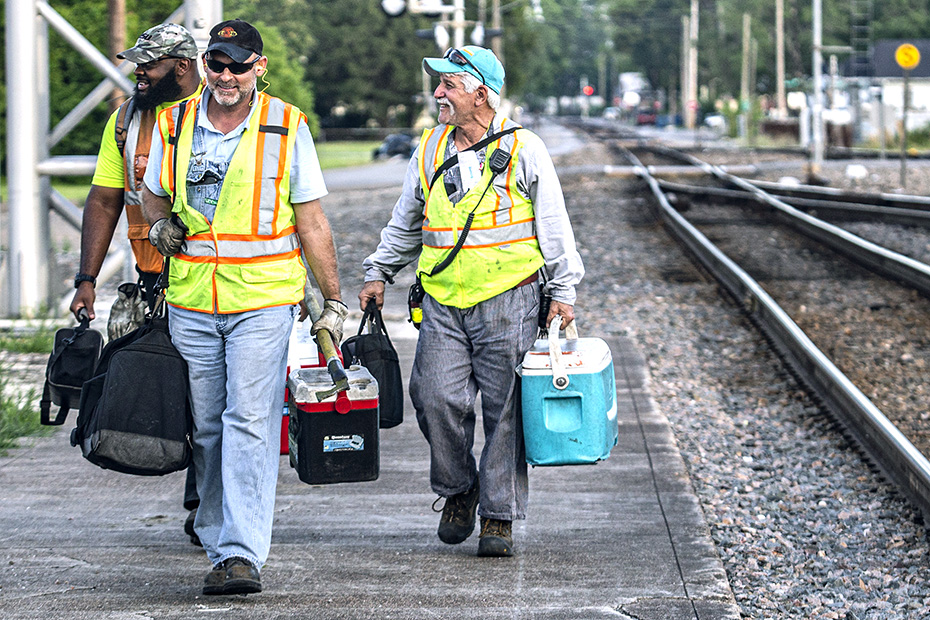 Folks, this is how the products that we consume get to us at all.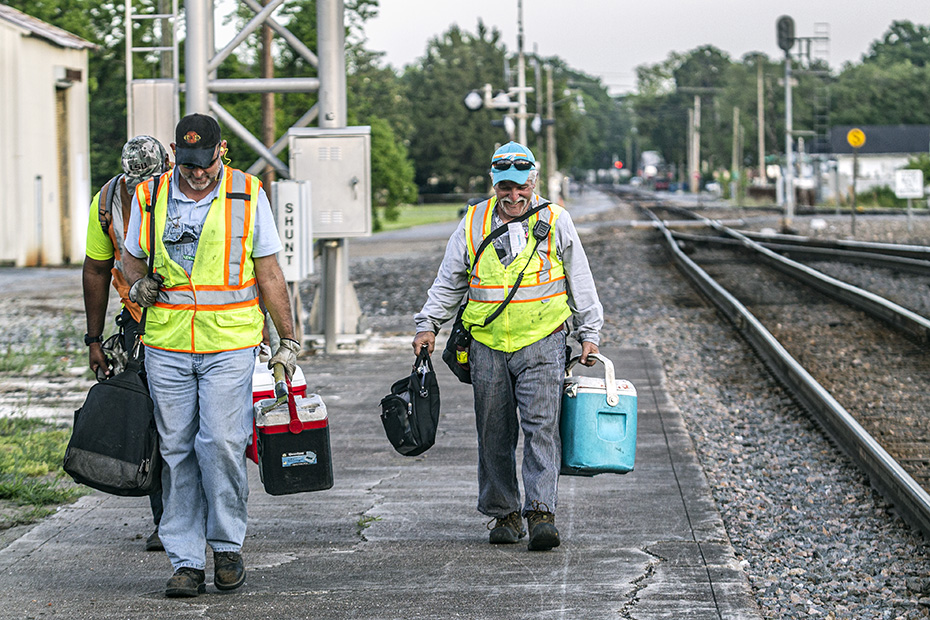 And these are just three of the persons who help make that possible.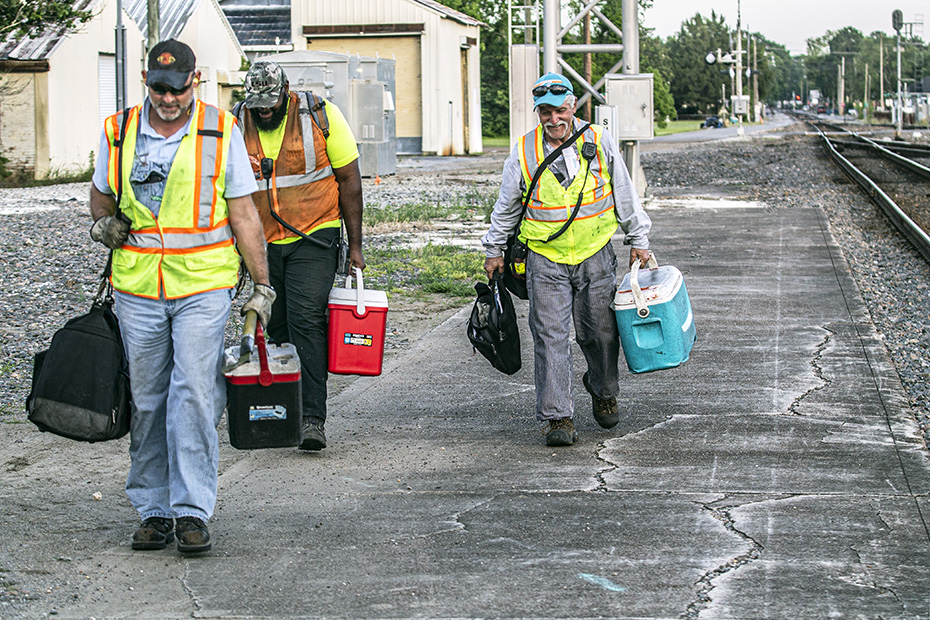 They enter the office in the old depot.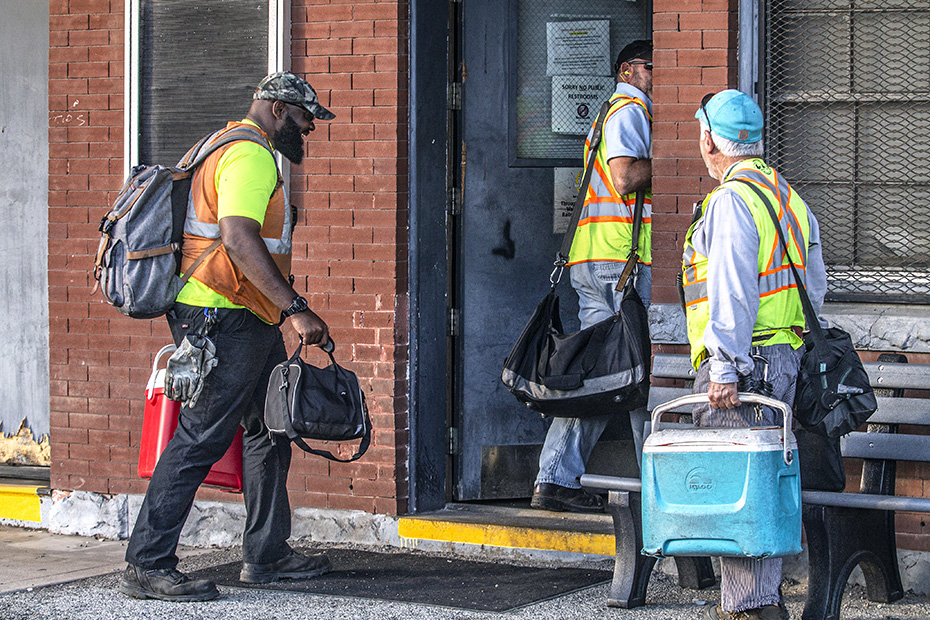 They hang out by the door to watch Speedy m.u. guy arrive with a bunch of carbon black.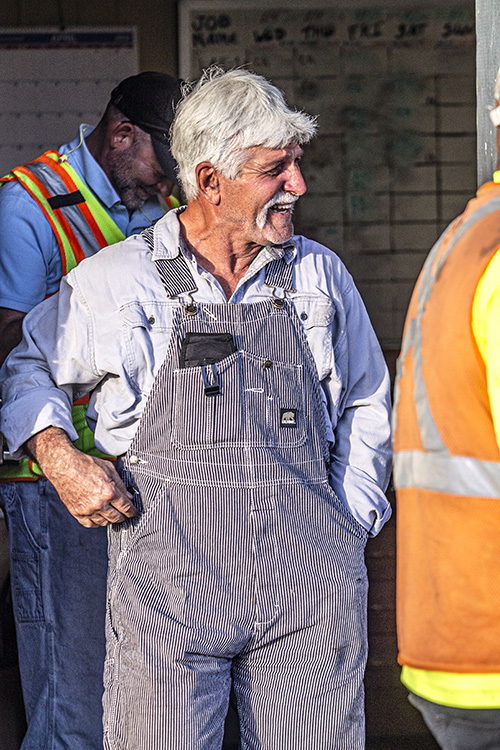 Here is the carbon black going through the scale track to be weighed.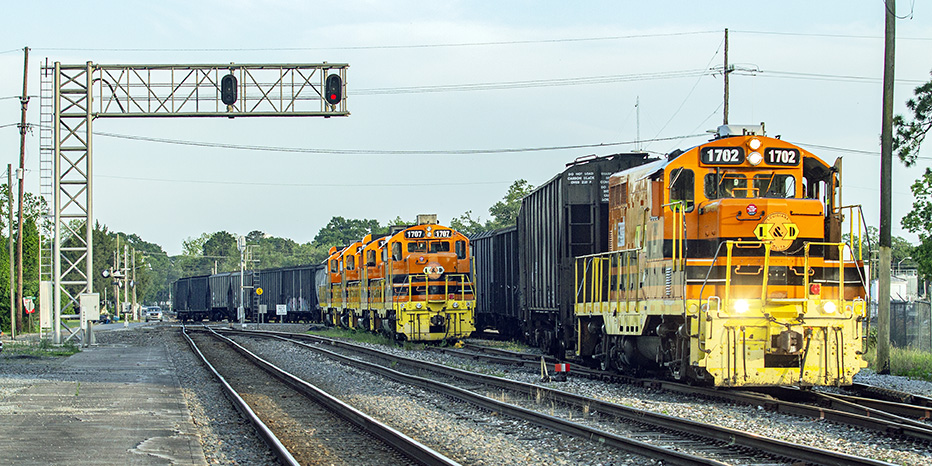 I had thought that a night job handled this move, but maybe that has changed, unless the schedule is just out of whack.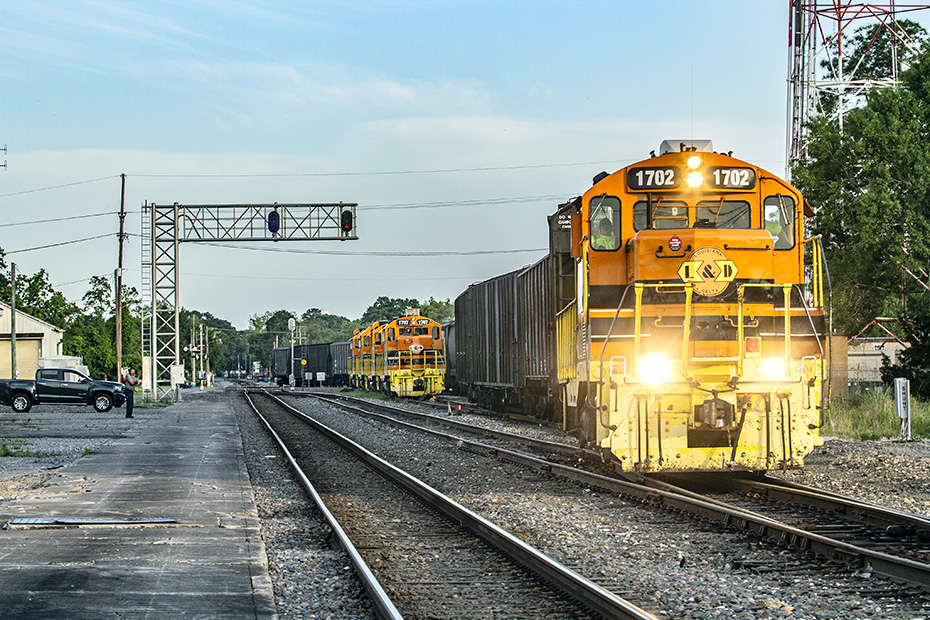 Oh, well, that's that, I guess. That's my last DSLR-camera picture for the day.
I stayed there and chatted with Joey. Apparently, there was an eastbound BNSF Railway train coming.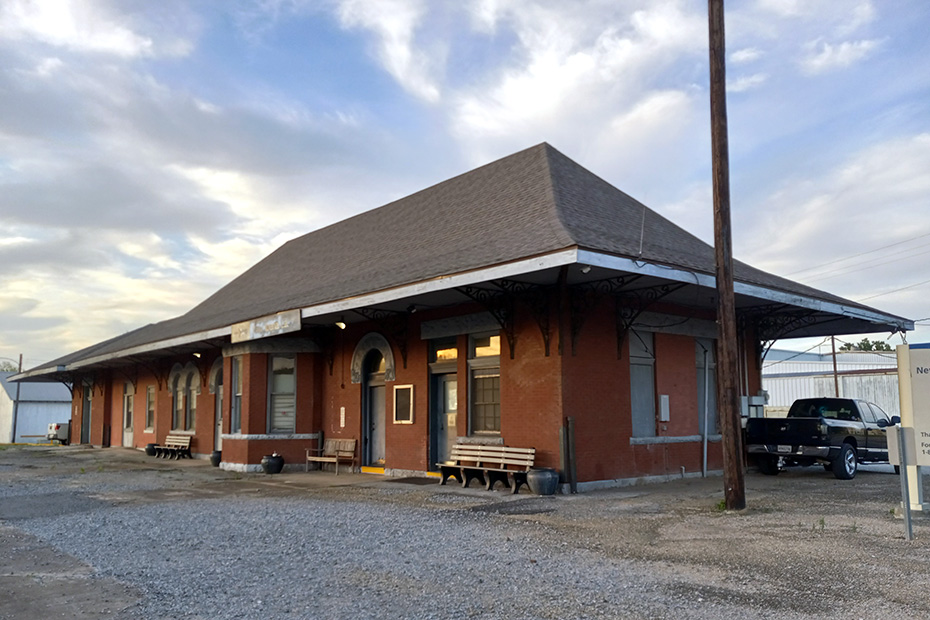 At 19:17 CDT, it arrived.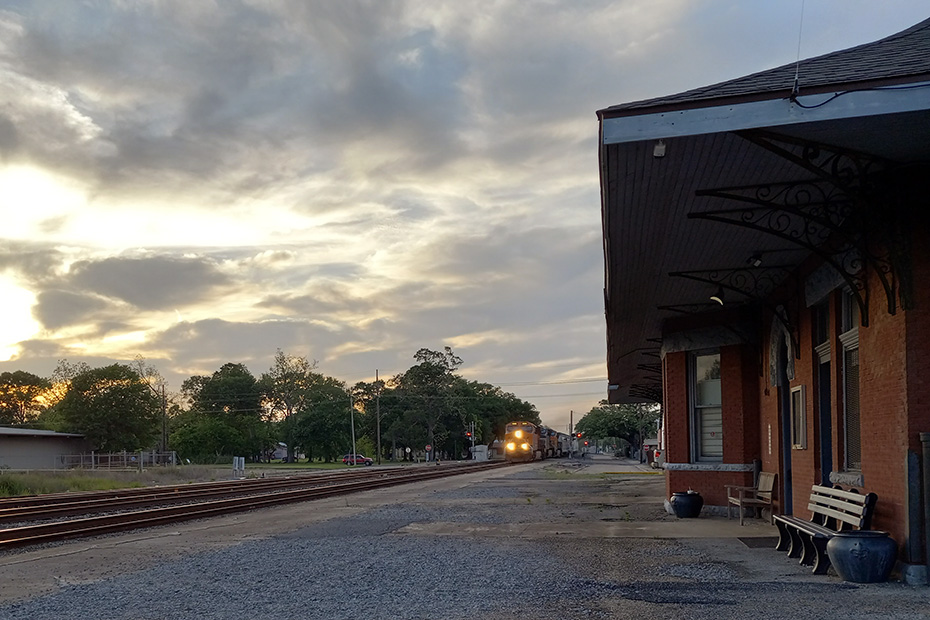 The color balance in these shots is not bad for a cell phone!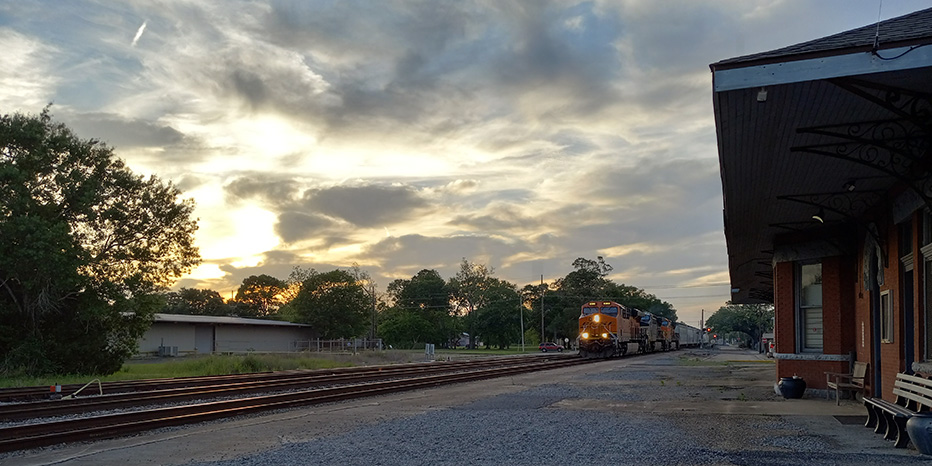 Still, shooting in RAW would have been better.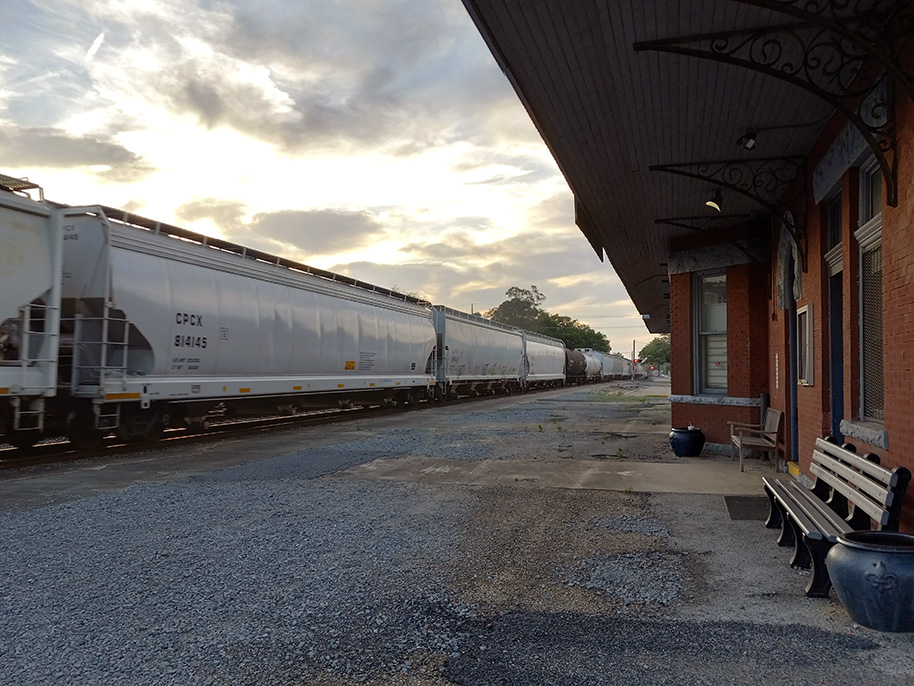 Anyway, modern trains are rather lame.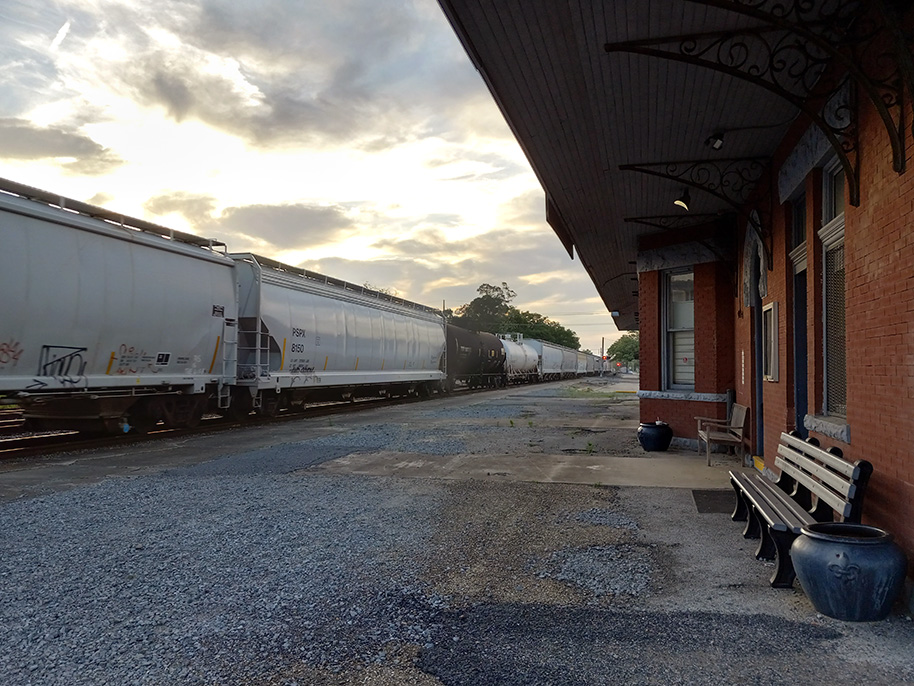 That's about all for today.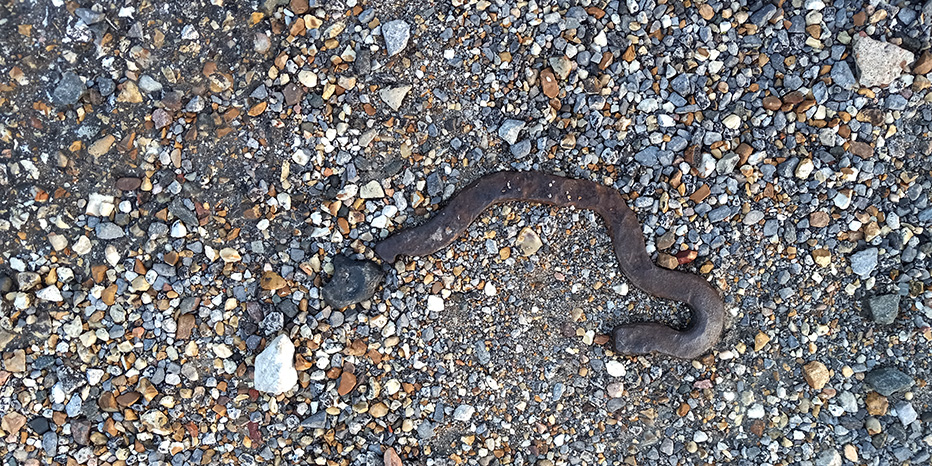 One day, after he retires, Peartree will know of the debt to him that I paid today, but it's not like debts cease, and that's good!
That's all.
Jbx