My life changed due to a cometic force that entered my life in April 2010 and left it only a few months later.
I was still lying to myself and to the world, or, more forgivingly, I just didn't know who I was, and I was, as I have been saying for these last few sampler essays from early 2010, trying to be something that I wasn't, which isn't always a bad thing, because trying to be someone you're not helps you know who you are, provided, at least, that you care about knowing such a thing.
Thursday The 1st
On the first day of the month, I was at the Heritage Plaza getting my swole on, and I got this shot of the 17th Street Canal.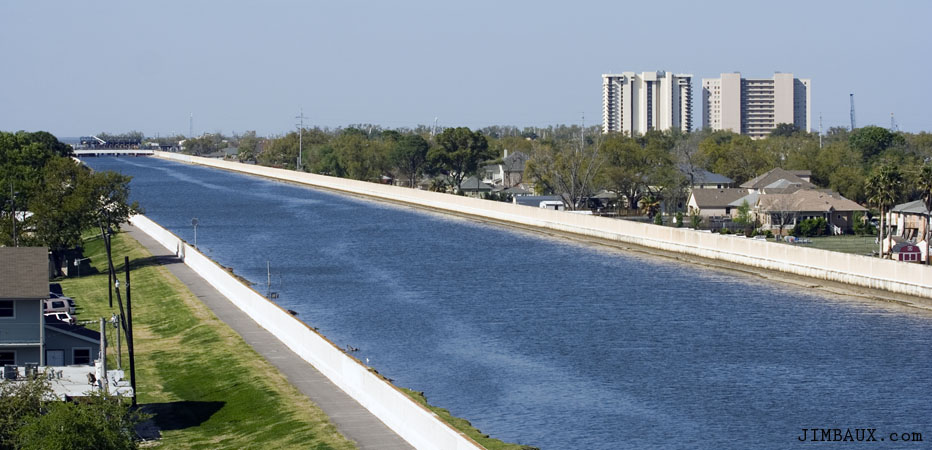 I am in Metairie, and you're looking northnortheastward across the 17th Street Canal into New Orleans, which means that the part of the levee that tore apart after Katrina is on the other side of the canal that you can see in the image.
Sunday The 4th
Peradventure and per custom, on Sunday The 4th, I was in bayouland, and I stopped to get a shot of the Valentine pontoon bridge over Bayou Lafourche.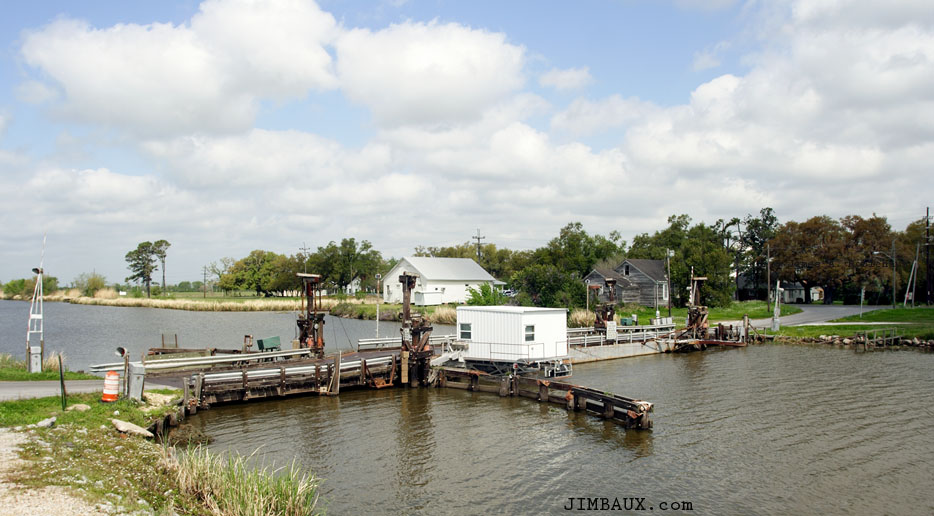 I miss the trains there, and I miss my grandparents, who were alive, but not for long, when that picture was made; my grandfather was born right across the bayou here.
Friday The 9th
On Friday The 9th, I was on my way to the weight room downtown, and I passed by these anti-Jindal protestors at Lafayette Square.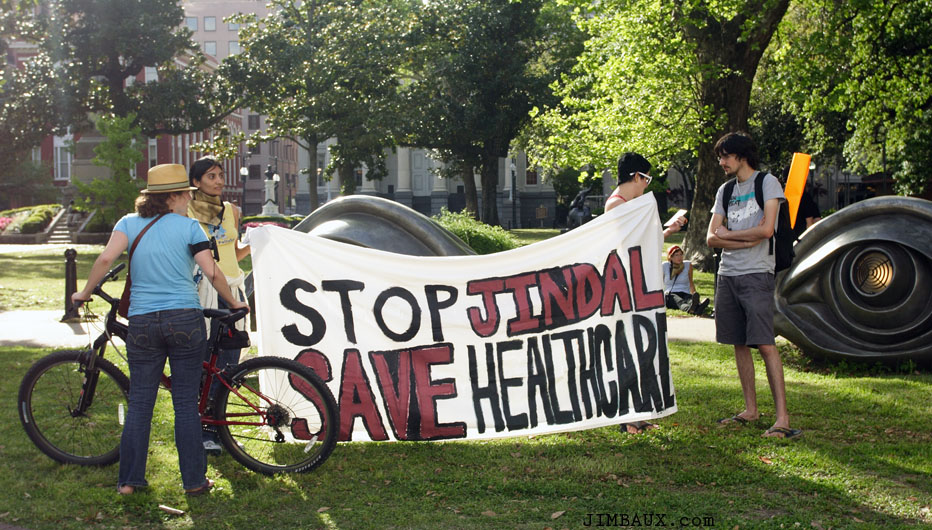 I really didn't appreciate at the time how terrible a person Bobby Jindal is and how repugnant of an ideology that he represented; I had yet to really be awakened, but that cometic force that would come into my life 18 days later would plant seeds for my awakening.
Saturday The 10th
The next day, I went down to the French Quarter for French Quarter Fest, where I took many photographs, including this one of a performance from Dragon Master Showcase.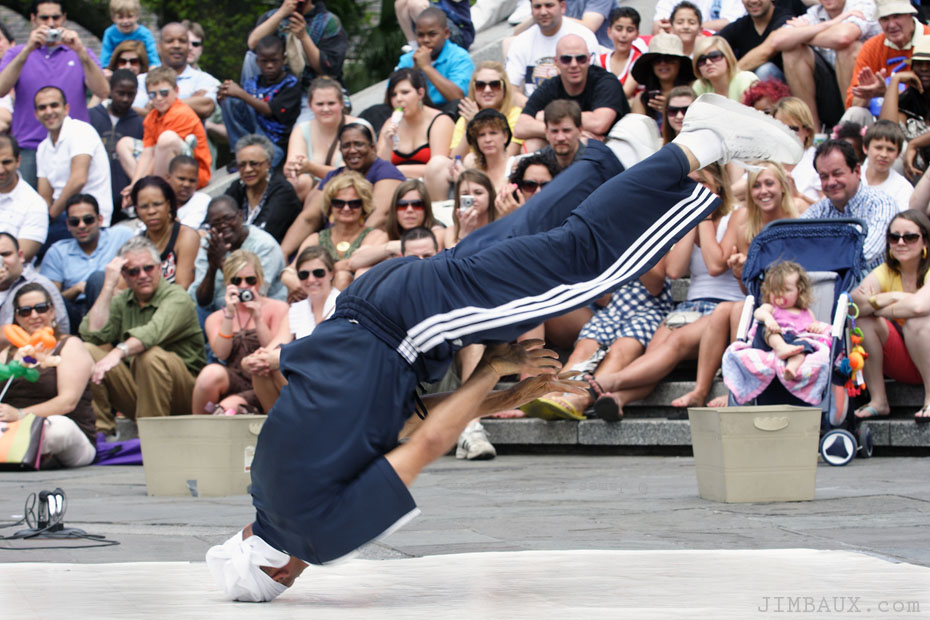 I was doing the only thing that I could do well in the situation.
Friday The 16th
On the afternoon of Friday The 16th, I was in City Park.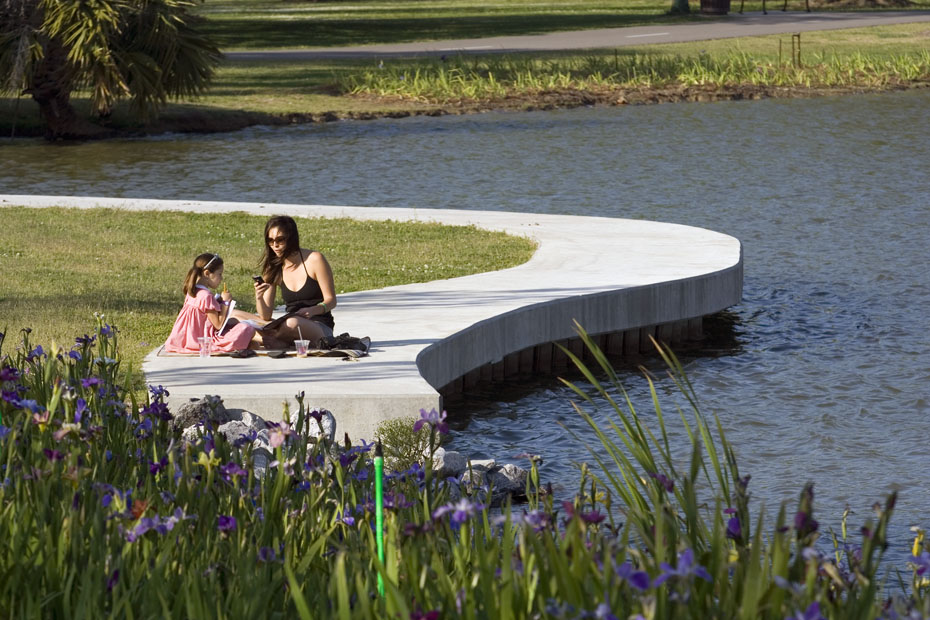 I think that that walking trail was new.
Sunday The 18th
I wish that I had realized the meaning of what I was seeing here when I saw it.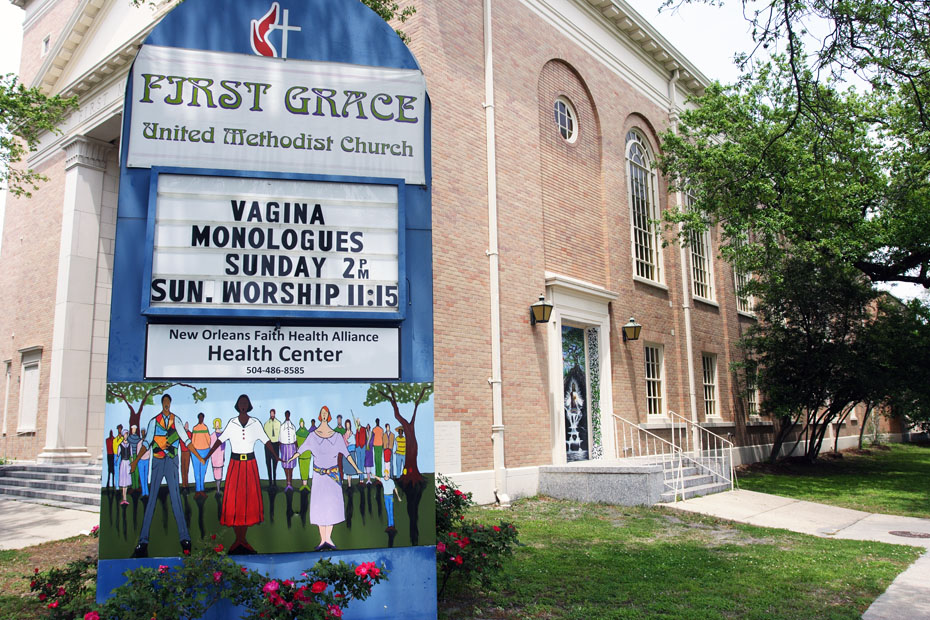 What I do remember is a TEA Party stooge whom I know – yes, this was the era of the so-called "TEA Party", as you might recall – making a stupid comment.
Wednesday The 21st
On Wednesday, there was the Louisiana Philharmonic Orchestra's "Swing In The Oaks" thing at City Park, and, as some wannabe "journalist," I went 'cover' it for the publication.
I was so lost.
It was the last week of the month, my spring break week, that things really got real, really got to the core of who I am, who I always had been, and who I would become.
Monday The 26th
This wasn't just another trip – my second already of the year – to the Kansas City Southern Railway's Gulfport Subdivision. There was, under the guise of friendship, what I only later realized was a reactionary poison accompanying me.

That is the northbound KCS Hattiesburg Turn. Prior to this day, nearly all of my images of the KCS Hattiesburg Turn had been of its southbound run. Prior to the line being rebuilt from jointed rail a few years later, the train would work northbound on Mondays, Wednesdays, and Fridays, and would work southbound on Tuesdays, Thursdays, and Saturdays.
I had been wanting to get out there in spring, before the weather got too hot but while the light was already favorable for photographing northbound trains, for a long time, and my schedule at the time as well as the train's schedule at the time meant that my spring break week was the only time that I could do this.
So, I got some good pictures that day, but the thorn in the side of the memories of that day is the accompaniment by someone who would reveal his true colors a little bit more than five years later – but, in retrospect, a warehouse full of signs were there all along – once they were activated by the menace who, thanks to people like that old friend, found his way into the most powerful position in the world.
Events have ways of clarifying events that preceded them, making you think, "oh, that is what all of those things that I had my whole life seen other people do and heard other people say mean."
And so it is.
And so there I was.
Tuesday The 27th
There are no pictures to show from Tuesday 27 April 2010, and even the pictures in my head from that fateful day aren't all that clear, but a chance encounter that evening as I was out with an old friend – who, oh my god, also turned out to be a gotdamn reactionary – in bayouland changed the course of my life.
The best that I can say now is that she and my own behavior with her collectively held a mirror up to me, forcing me to face plenty of things about myself and prompting me to learn.
Who I am today has been profoundly affected by that experience, and, as much of a mess as my life is now, I shudder to imagine what it would be – or who I would even be – without the experience.
Five years to the day later, a violent thunderstorm blew a train off of the Huey P. Long Bridge in Jefferson. God really has a weird sense of humor.
Wednesday The 28th
This day was anticlimactic. I returned back to Whoadieville, and, on the way there, I grabbed this shot of a parked westbound BNSF Railway train at Avondale.
I really don't know who I am.
That is all for the pictures.
Thursday The 29th
The next day, Thursday, The Cajun Porkchop would help me move some of my largest items from my crib in Mid-City, which I needed to vacate by the end of the month (yeah), to my new crib in Broadmoor.
My claim to be a Mid-Citizen, which had meant plenty to me since a fateful night six years to the month prior, was shattering.
But my own insecurity could not handle that truth.
So, back to living a lie, a new lie, I would go.
April really is the cruelest month.
I will see you in May.
Jbx