The Duke and I ventured north from the crappy city, after doing our duties there, for a diversion. We went to Dequincy, a neat junction place on the Kansas City Southern Railway, the first time that I had been there. Unfortunately, we were greeted with a few racist signs in Dequincy; I have to remember that going that far north and that far west gets one completely out of the Cajun-Creole-Bourbon-Isleño coastal belt.
Oh, well.
We then went east to Kinder, a place that is at the junction of two former mainlines of the Missouri Pacific Railroad, the east-west former Gulf Coast Lines mainline and the line between Saint Louis and Lake Charles, all of which is now owned by the Union Pacific Railroad.
At Kinder, we saw the southbound train seen in the image below. It's either the Lake Charles Turn or the MAXEW.
It has hit me recently, and I think about this as I explore MoPac country, that we are now at a point in time in which the time between the merger of UP and the Southern Pacific railroad and the present day is nearly twice as long as the time between the MP-UP merger and the UP-SP merger.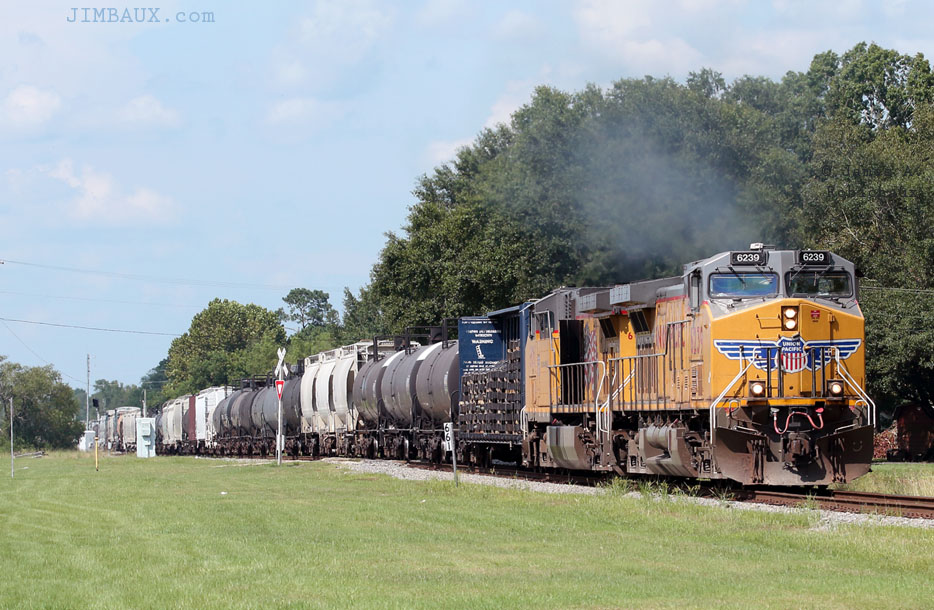 It makes me feel old. It also shows how the experiences of one's youth leave indelible impressions. I didn't know the MoPac. I grew up with the UP in Louisiana, and I didn't learn until later, really after the UP swallowed my beloved SP, that the UP had really not been in Louisiana for long, that it was something else before that.
Wow.
C'est la vie.
Merci.
Jim