This is the story of my afternoon adventure photographing TFM trains (Transportación Ferroviaria Mexicana was a Mexican railroad created in the mid-1990s when the Mexican railroad system was privatized, it was 49%-owned by the Kansas City Southern Railway, and it became the KCSdeMexico in 2005 when KCS acquired it in full) north of Monterrey and having an encounter with authorities because of my "sospechoso" activities on Thursday 08 July 2004.  Most of the text description below comes from part of an e-mail that I sent to friends and family three days later.
Trains And Locals
Since it was sunny to the west, and since I had not gotten any outstanding train pictures since I've been here, I decided to try my luck and head north of town in search of shots.  Now, it has been rather difficult to get train pictures here due to several factors with which I will not bore you now (despite boring you with the overall story.)
Actually, one of the factors is the considerable distance between where I live (and the location of campus) and where the railroads (at least TFM, which is apparently much busier than Ferromex in the Monterrey area) are.  At about 16:15 on Thursday afternoon, I was sitting in the computer lab finishing some work.  I saw that the western horizon looked almost cloud-free.  So, I decided a trip to the north of town would be in order.  (I live on the southern fringe of town.)  This time, I got a good start, unlike previous times.
What do I mean by this?  Well, around here, since we are at the western fringe of the Central Time Zone, the lighting doesn't get good until after 17:00.  Since I had a considerable amount of driving to do to get to where I needed to be, I decided at around 16:15 that it would be a good time to depart, taking advantage of all available useful lighting once I got there, rather than piss away good light by spending it getting there, like I had done previously.
I arrived near the belt line junction north of town right next to the Auto-Pista (toll highway) and inspected the scene; this was a drive of some 25 or so kilometers.  If I remember correctly, there were some parked northbound trains there.  Hmmmm.  Methinks there is a southbound to the north???  Great; that's just what I was hoping for!  A few weeks ago, while out reconnoitering, I spied a really awesome broadside shot out on the Auto-Pista.  I needed a southbound for it to work properly.
So, I decided to head north in search of the southbound that I thought was coming.  Some clouds showed up, but for the moment they didn't get in the way of the sun.  I proceeded farther northward out into the semi-desert along state highway 1, a narrow two-lane highway.  While some might call it "God-forsaken" land, there is a stark beauty to the landscape in this area, and I have really enjoyed my travels in there.  My destination was the peaceful grade-crossing on the road leading to the TFM Salinas-Victoria intermodal facility.  This is probably the most decent "train-watching" spot I have yet found.  The word indicating the activity is in quotes because I am in no way implying that it is a good photo location.  However, this was where I would take my first pictures of the evening.
As luck (or "fortune" or "fate" or whatever) would have it, there was another northbound train, this one approaching the crossing.  Despite being a bit dusty, it was sunny; so, I pulled the truck up to the stop sign at a safe distance from the tracks, busted out the 80-200/2.8, attached it to the camera, climbed on top of the truck, and popped a few shots of it as it slowly crossed the road at 17:20.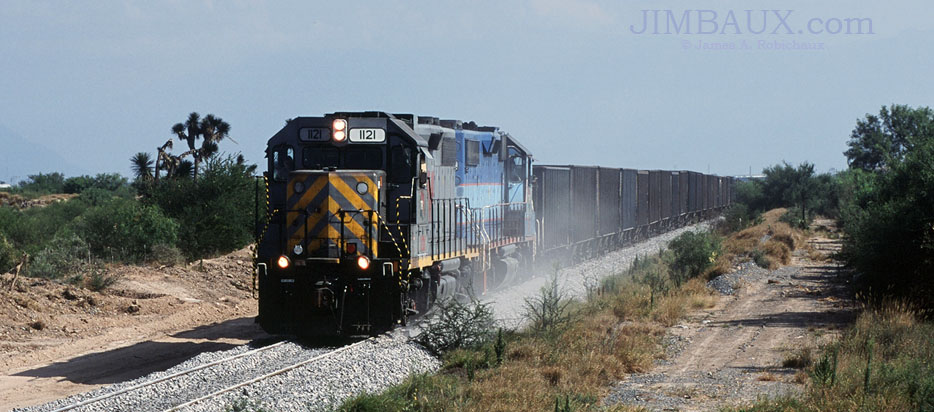 The lead locomotive was TFM 1121 in gray.  The second engine was a high-nosed two-tone blue GP!  If only it had been leading.  The train was made up of all open-top hoppers.  What didn't register in my brain until I saw the same exact train the next day was that this was a ballast train; also, you will see this same power set and a much better view of that high-nosed two-tone-blue locomotive in a few days.  Apparently, there was some MofW work going on in the area, which turned out to be the making of double-track for this line, as my 31 December 2006 pictures show.
Here is one more shot of the train.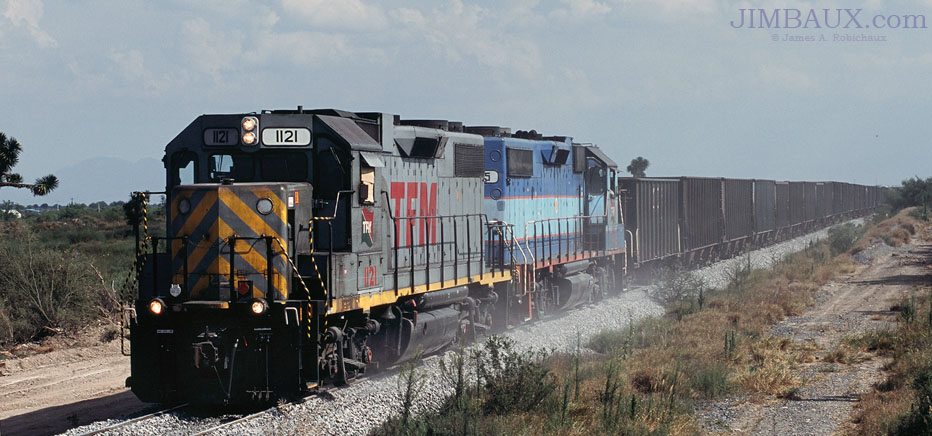 Not being content with repeating the same shot, I decided to head south in search of a new shot of the next northbound train.  I ventured off onto some gravel road called Magueyes, or something like that.  There was a northbound  train parked in the siding just a few hundred feet south of the crossing.  Better still, it had a TFM SD70MAC on the point.  Sweet!  I haven't yet gotten a photo of a train with one of these leading.  Now's my chance.  (For those of you not well versed in railroading, an SD70MAC is a certain model of a locomotive, and it, especially the TFM variety, has proven very elusive for this photographer.)  So, I found a spot on a one-lane dirt road paralleling the tracks a few hundred feet north of the crossing, and I parked there.
Now, here's where the excitement level increases a notch.  And, for those of you who don't give a damn about trains, this is probably the first part that you'll find interesting.  As I was parked there waiting for this train to pull, a pickup truck with a bunch of locals in it passes by slowly.  I had to maneuver my truck onto a grassy dirtpile to let them pass.  There was barely any clearance, but they got through.  They continued creeping northward until they got about 150 feet or so north of me.  Out of my rearview mirror, I could see that they had stopped.  After a few minutes of this, I started to get nervous.
Oh, crap!  Am I about to get robbed by bandits?  Were they calling accomplices so that another vehicle could come from the other side and block my only escape route?  Methinks it might be wise to get the hell out of here!  Then again, maybe they're just concerned about who I am and are calling the cops to make sure I'm not up to trouble.  How dare I succumb to all that stereotypical thinking from the naysayers back home about how foolish I was not only to go to Mexico at all but to drive my own vehicle there!
In any case, I put the truck in drive and got out of there, hoping that the train would stay put long enough for me to trick these people into losing interest in what I was doing and leave the scene, that way I could go back just in time to photograph the train as it resumed movement.  When I got back to the highway, I turned northward (left) to go back to where I had been earlier.
It wasn't very long before I noticed flashing red lights in my rearview mirror.  Well, whoever it is must just need me to get out of the way so that they can go tend to whatever emergency is happening down the road, right?  So, I pulled off onto the side of the road, and the truck with the flashing lights followed me.  Dammit!
Actually, if this is related to the truck full of locals that I had just left, it's probably a good sign that they were not out to harm me.  I put the truck in park and rolled down the window.  I knew what was happening.  Two men wearing black pants and white shirts and holding hand-held two-way radios got out of the truck and walked towards my window.  I thought at first that these were la policía, but they were not dressed in the traditional uniforms.  The white shirts were pull-over shirts with insignia sewn onto them.
The first "cop," after he shook my hand, asked me some really long version of '¿A donde vas?'  At least, that's how I interpreted it.
Anyway, I said, "Lo siento.  Yo hablo solo poquito español."  Right about this time, the other "cop" notices the hologram vehicle registration sticker on my windshield, indicating that I was a foreigner.
Since I had trouble understanding what they were asking me, I started answering questions that they hadn't asked.  Being almost positive by now that I was being pulled over because of my lurking on the dirt road earlier, I explained what I was doing here.
"Yo soy un entusiástico de los trenes.  Yo quiero sacar fotos de los trenes."  I showed them my camera and big lens to prove such.
The first officer immediately got on the radio and relayed what he had just learned.  I pulled out my copy of the October 2003 issue of Trains magazine with the cover story on Mexican railroading.  I brought this magazine with me to México in anticipation of something like this happening.  (Many of you know that although this is the first time something like this happens to me in México, it has happened many times in los Estados Unidos Americanos.)
Then, the first officer asks me, "What is your name?"  Yes, he said it in English.  Rather than try to tell them my name, I pulled out my driver's license, which, to my great surprise, they had never requested.  I handed it to him and told him my name.
Then, he fired off some sentence to me really fast, to which I replied, "¿Por favor, puede habla más despacio?"  On his second attempt, I was able to notice some form of the word "saber" (to think, to know), "gente" (people), and "malo" (bad).
What he had just said, and the fact of their presence, led me to conclude that those folks in that truck who I feared might have been bandits were indeed simply concerned local citizens.
The cop then said some other sentence that included the word sospechoso, which means "suspicious" (adj.) or "suspect" (n.).  By now it seemed that everything was cool.  Those people who reported me were probably just as scared of me as I was of them.  I was beginning to do more explaining (the best I could in Spanish) of what I was doing, but, humorously, the cops didn't seem interested.
They had determined that I was no threat, and they were not interested in chit-chatting with me.  They got in their truck and left.
I left too.  Since I knew I would now be safe there, I went back to the previous location to get a shot of the train that I hoped hadn't moved yet.  To my great displeasure, the train beat me to the shot, probably by less than a minute.  Dammit!
I did the only thing I could.  I spun around and headed to the north, trying to get a shot of it from the road to the facility.  To make matters worse, the sun ducked behind a cloud.  So, I took no photos.  I don't even remember what kind of train it was.  The train passed me south of the facility at 17:56.  The two locomotives were TFM 1652 and KCS 611 (very filthy).  My records indicate that I saw the 611 on a northbound train on the international bridge in Laredo on 31 May.
I knew there was another northbound train behind him.  So, I returned to the scene of the 'crime' to finally get a shot from there.  I parked the truck in the weeds, watched for snakes, put the little lens on the camera, climbed on top of the truck, and at 18:07 popped a few shots of the auto parts train.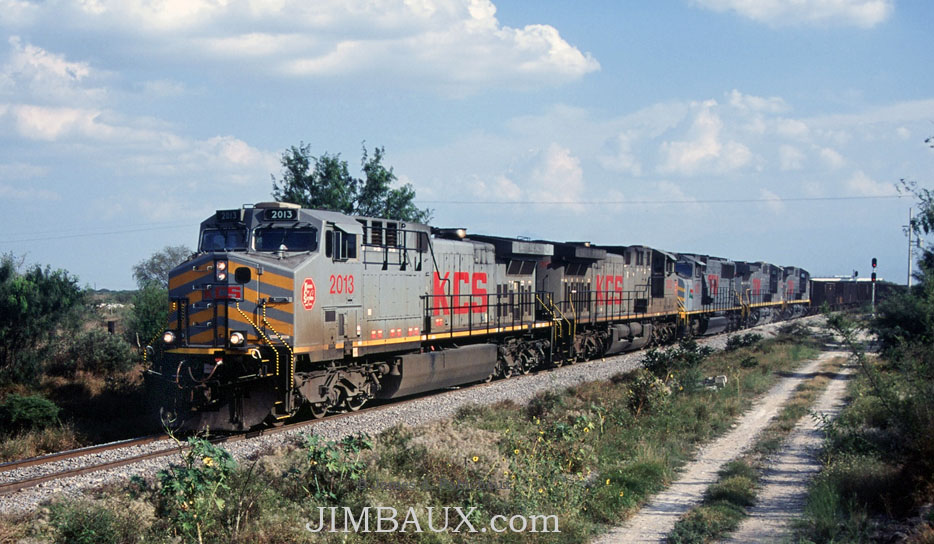 The train had five locomotives, the first of which was KCS 2013.  The atuoracks on this train appeared to be loaded with crew-cab Dodge trucks.
Now you can see what I mean about the very narrow "road" alongside of which I was parked.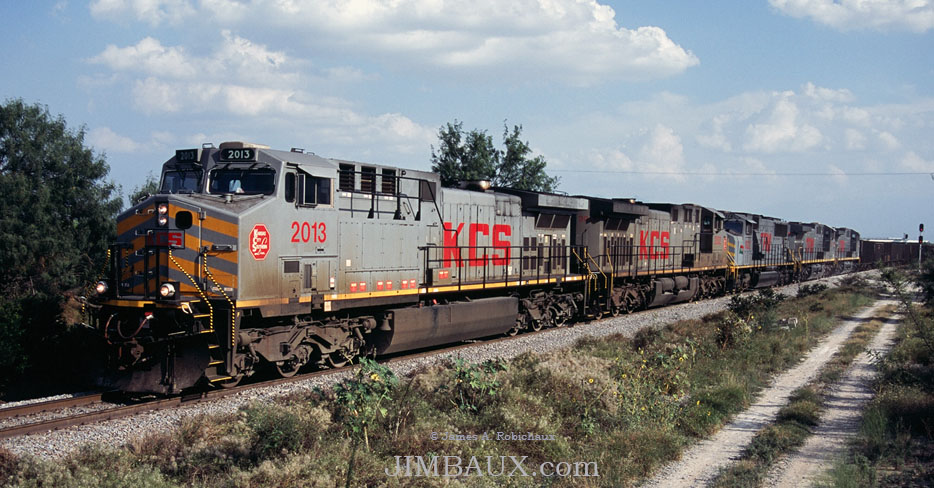 I headed south to see what else I could find, fearing (correctly) that there would be no southbound train for me this day.
I found a local led by the TFM 2249 working at the junction, about to serve the metal place south of Puente Escobedo.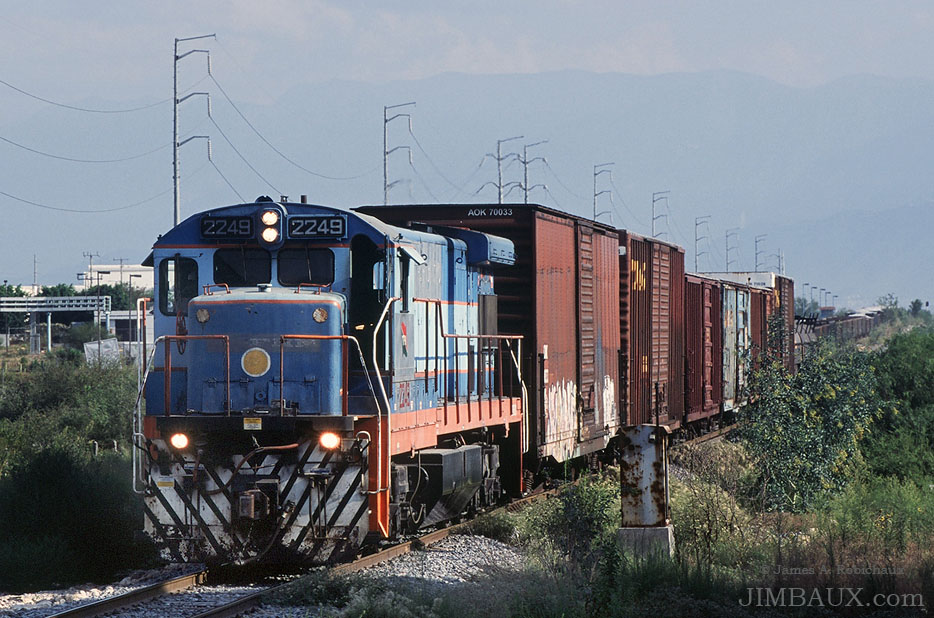 Wow!  An old C-boat!  I haven't seen one of these things in years.  I took a few shots of him at 18:24.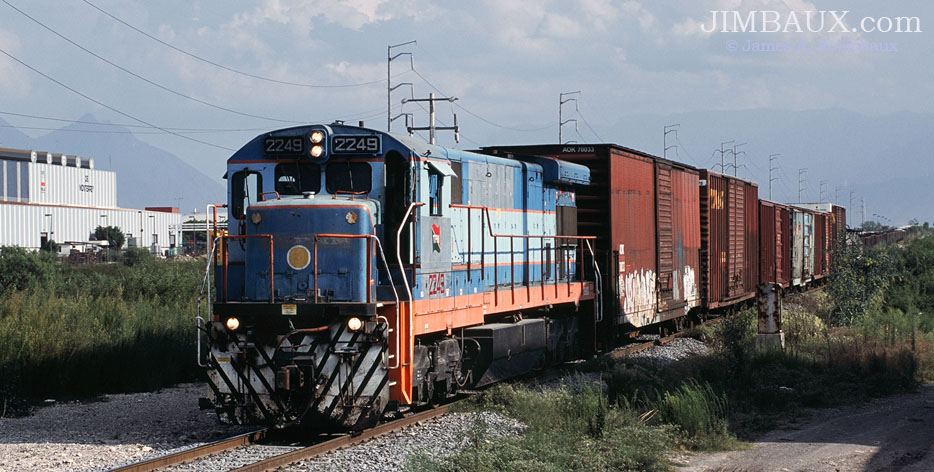 This locomotive model, the GE C30-7, was no longer being used in the United States except on maybe some shortlines and regional railroads by the time this picture was taken.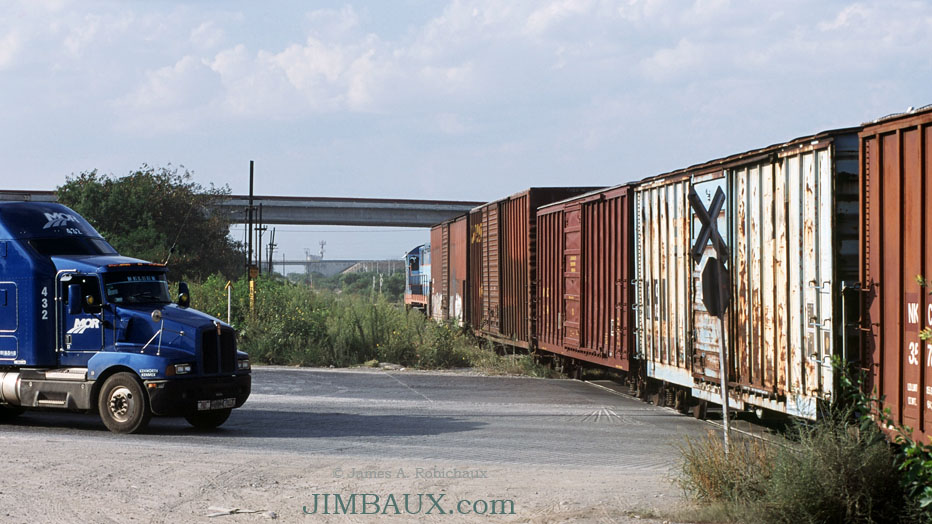 Soon, the clouds conquered the sky, giving me an excuse to put an early end to this expedition.
It wasn't bad.  I photographed three trains in as many locations and got pulled over by cops.  Despite my displeasure about screwing myself out of the shot of the train with the SD70MAC leading, I thought it was rather productive and memorable.  Besides, it's about time I get pulled over for something other than "No tienes placa"; I got pulled over several times – like maybe six or seven – that summer for not having a license plate on the front of my truck.  Louisiana only has one license plate, but every Mexican state requires its citizens to have a plate on both ends of the vehicle.  I would guess that, by far, most American vehicles in this part of Mexico are registered in Texas, which requires a plate on each end of the vehicle.  Regardless, the hologram sticker on my windshield indicated foreign vehicle registration; the times that I did get pulled over for not having a plate, I just pointed to the hologram sticker, and, in most cases, that was all that it took to convince the law enforcement person who pulled me over to let me go.  The few times that that was not all that was needed, I simply said that Louisiana only has one plate for vehicles.
Regarding my encounter with the concerned locals and the security officers, I later learned from my ferroaficionado friends that a local child or some local children had been kidnapped by Americans (possibly from Alabama) in the area where my encounter happened.  I then figured out something that I had seen on the local television station, some pictures of the child or children and of grieving parents; since I had great difficulty understanding Spanish on television (again, I'm one of those unusual people who can speak a foreign language better than he can understand it), the story of what had happened did not register with me when I saw the television report.  When I returned to Mexico for my December2006-January2007 trip, I had an encounter with the Mexican Army for taking pictures of its "campo" in Monterrey on New Year's Day.
Four years to the day after these pictures were taken in an area that to me and most of you is very much southern, I was far to the north in eastern North Dakota where I chased a train from Fargo to Grand Forks.  Just like for this day's pictures, it was an after-class adventure, as I was at a seminar to which I had applied in 2004 but did not get a position, hence my decision to go to summer school in Mexico; that those two experiences happened in the order in which they happened is a good thing, I think.
Class
I'm not exactly sure when the next picture, the one seen below of my Spanish class in its final days, was taken, but it had to have been taken after the 8th, after all of the above pictures were taken, but before the 14th, when my next pictures were taken, but I am including it here since it has no other place to really be and since it was at the end of the roll of film on which the above pictures were taken.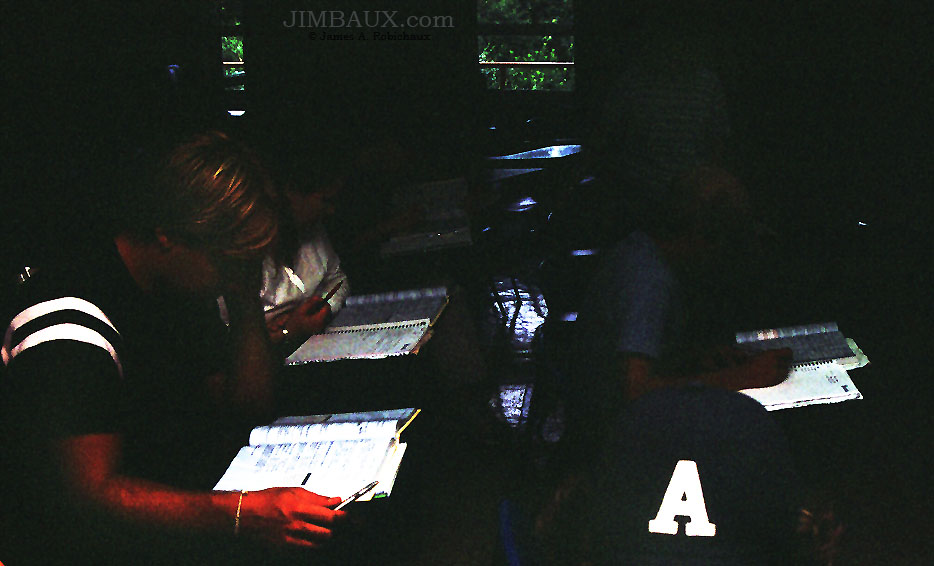 Damn you, film!
That is Jonas from Sweden at left and Adam from Houston at the bottom right in the hat.  Just on the other side of Jonas is Kelsey (sp) from Virginia; she was married, and her husband was in Monterrey too, but I don't remember if he was taking any classes.
That's all for now and for the next six days; six days from now, on July 14, the five-day grand finale of Jimbaux's 2004 summer in Mexico will begin.  The next episode will show a really neat historical location in Monterrey and more train pictures.
Stay tuned.
Jimbaux