The early afternoon of Sunday 29 January 2012 finds Union Pacific Railroad train IAVLB emerging from the siding in Baldwin, Louisiana, on the BNSF Railway's Lafayette Subdivision, formerly of the Southern Pacific Railway, and appropriately, therefore, a patched SP locomotive – UP 6345 – is the sole power leading this intermodal train (hence the "I" prefix) from Avondale (hence the "AV" origin station code), just outside of New Orleans, to Long Beach, California (hence the "LB" destination station code.)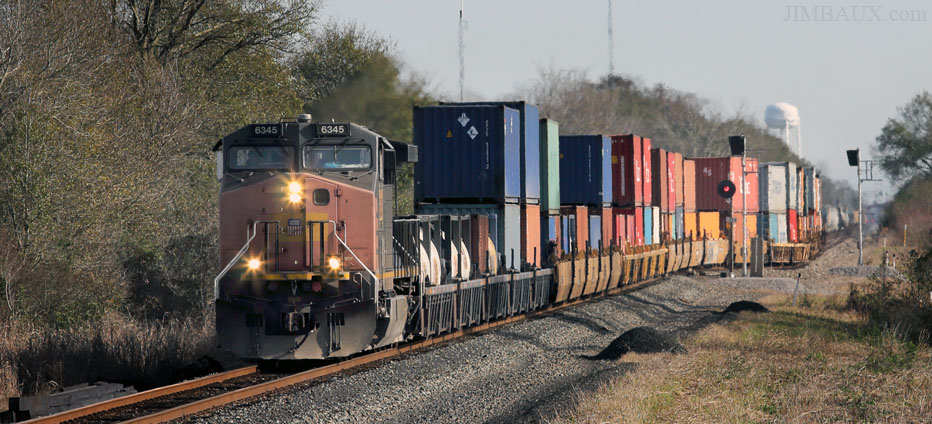 Jimbaux himself was returning from a glorious and memorable weekend of family in Acadiana, but he momentarily turned back to look from where he had come, where the IAVLB was going, off into the great distance, the west.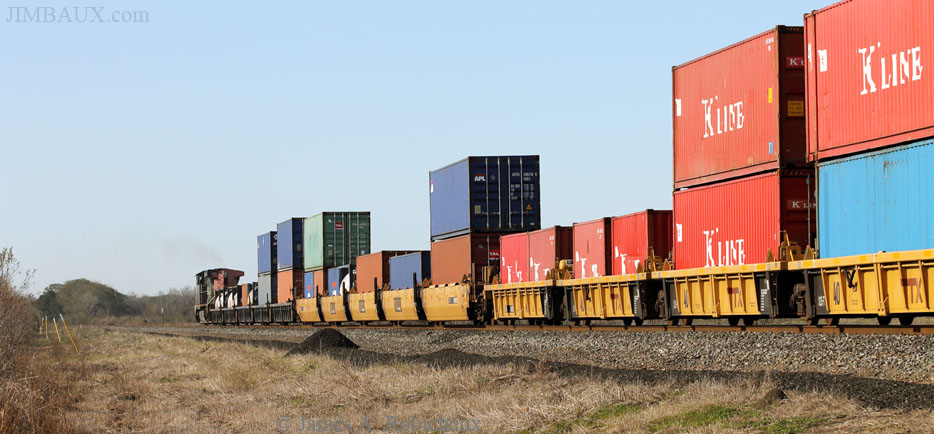 Great forests, plains, deserts, and mountains, this train would see over its 2,000-mile journey to the Pacific Coast via Lafayette, Houston, San Antonio, El Paso, and Tucson, and the containers would then cross the Pacific.  Now, this short train was passed, leaving Jimbaux in its wake, while Jimbaux gave the train the same treatment after taking one more picture.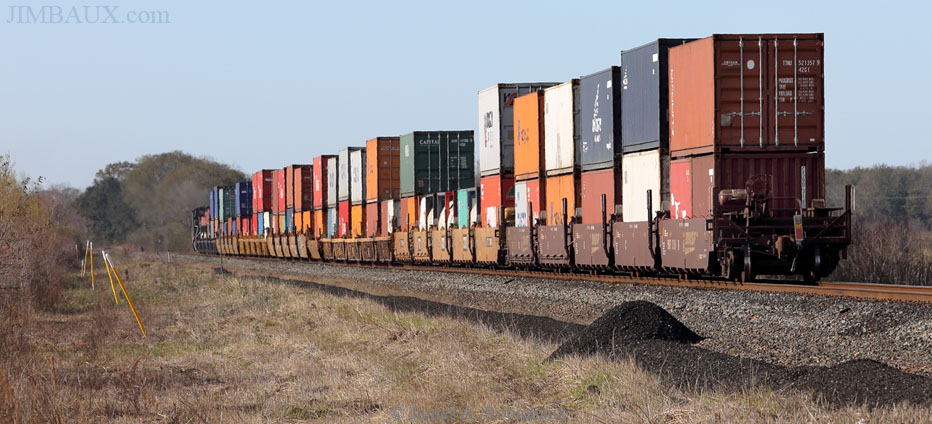 Each has his own path, his own destination, often well unknown, but the paths of each can and do often cross, allowing one to observe, engage, and somehow attempt to "know" the other.
Yet, Jimbaux at this time could not foresee that his path would lead him back to the area of the iconic and charming Bayou Teche only a couple of moons later, where he served a tour of duty for much of the rest of the year, one for which he is grateful; and slain and injured police officers and their families could not foresee the tragedy that would take place not far from this location almost a year later, an event that has made national news.
Yet, despite tragedies and hardships, Jimbaux remembers the peace and serenity of the fleeting passage of the IAVLB west of Baldwin on that memorable mid-winter afternoon.
Merci,
Jimbaux