[You save Jimbaux from all that he is.]
The End Is Near, In The Thick Of It
Don't you hate when you have so much to say but can't or don't say it?  I had so much to say to go along with this now-week-old Sunday Sermon, but I've forgotten plenty of it and don't really feel like writing the rest.  Oh, well.
To Need No One's Help, To Need Only You
(What, you're not listening to today's song?)  Just when I essentially get caught up on my backlog of recent stuff, I add to it, and I'm now of the bedgrudged (or maybe begrudging) opinion that I should no longer make attempts to clear out the recent backlog of pictures by processing them and posting them here on Jimbaux's Journal.  It's just taking far too much of my precious time, what little of it isn't consumed by other responsibilities, and I'm far behind on so many other of projects and life goals.  I hope that you like what you see and learn here since then, especially the smiling Chip picture from Wednesday, but don't be surprised if things slow down here (as they actually already have, since this is the first post in two weeks.)
Unexpected . . .
Despite what I had hinted at the beginning of that weekend, I actually was able to get out briefly on the morning of Sunday 22 July.  Most of the other plans and responsibilities that I had fell through.  What else is there to do than go to Alvar Street and shoot CSX's Y305 returning home with the CN transfer from CN Mays Yard?

Are you getting tired of this yet?  If you are, maybe the opportunity of which I took advantage of shooting from the other side of the track due to the high-cirrus clouds will allay that jadedness.  Is this better?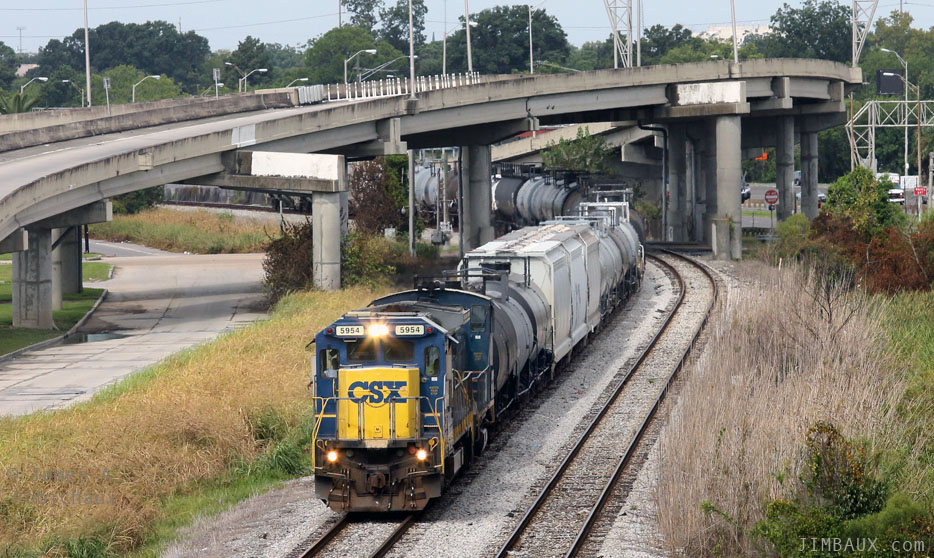 Well, it's different, and different is good.  The dodge tool came in handy here, as it did in the following two shots as we widen our view as he gets closer.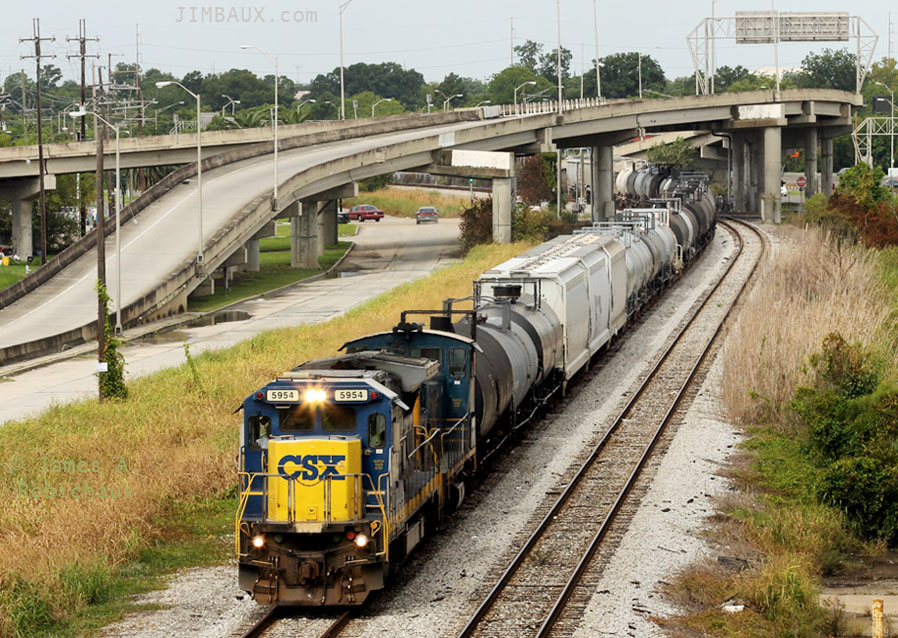 How's that?  Do you still think that I'm on the wrong side of the track?  If not, aren't high clouds a great thing??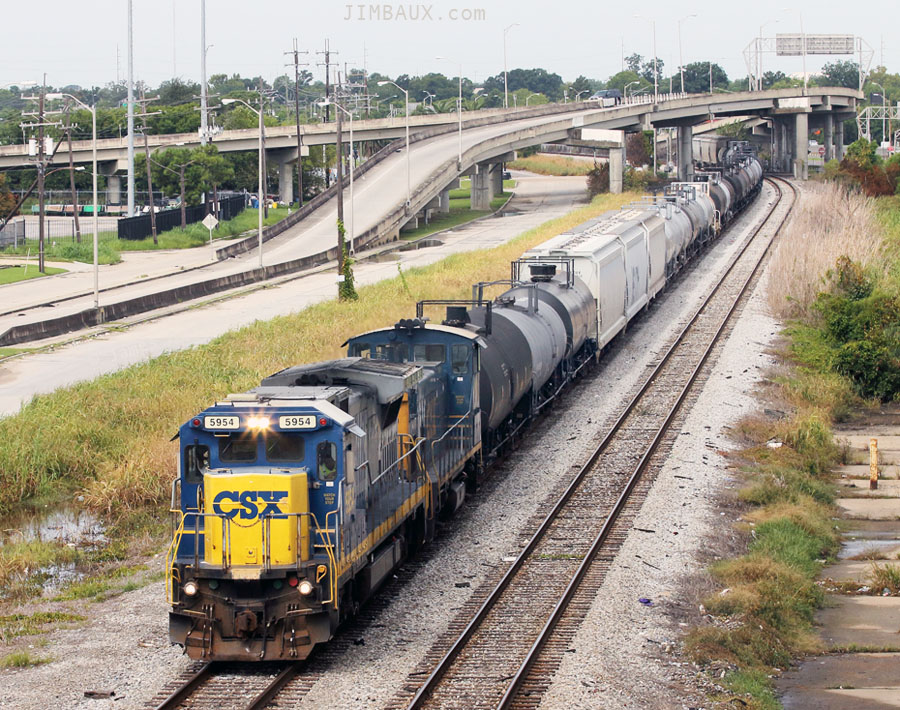 I knew that the KLBNO was right behind this train, and I therefore elected to stick around instead of getting out of the heat and going home.  There was a CSX yard crew aboard the KLBNO (I believe due to a swap with a UP crew at Marconi), and the Y305 crew radioed to the crew behind it about the "cameraman" at Alvar Street, saying that he didn't know if the cameraman worked for CSX or WWL or whatever.  The crew on the KLBNO said he'd make sure that he'd "brush 'em" for the camera.  Yeah, okay.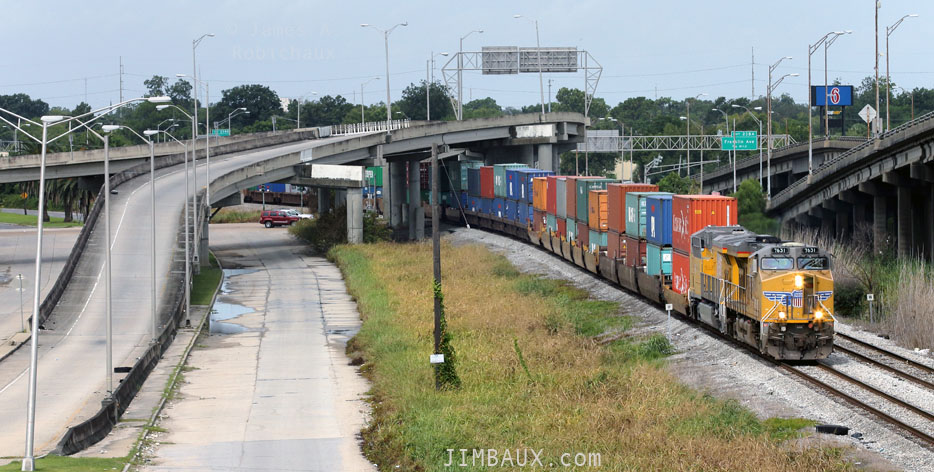 Well, perhaps the air conditioner was broken in the lead locomotive.  Anyway, let's continue on our recent discussion on how changes in perspective can allow us to see new things, as is the case below.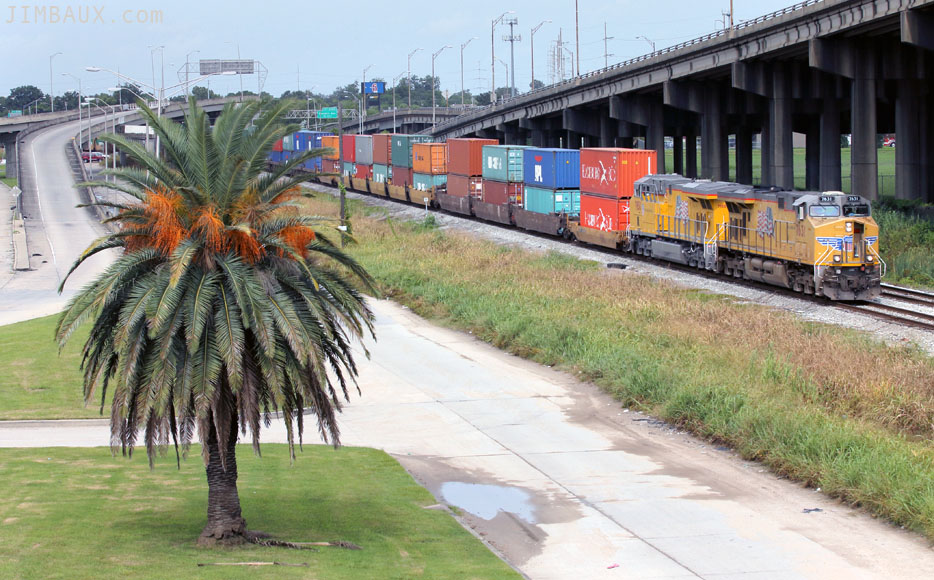 Whatever.  Let's run back to the other direction to get one more shot before getting out of here.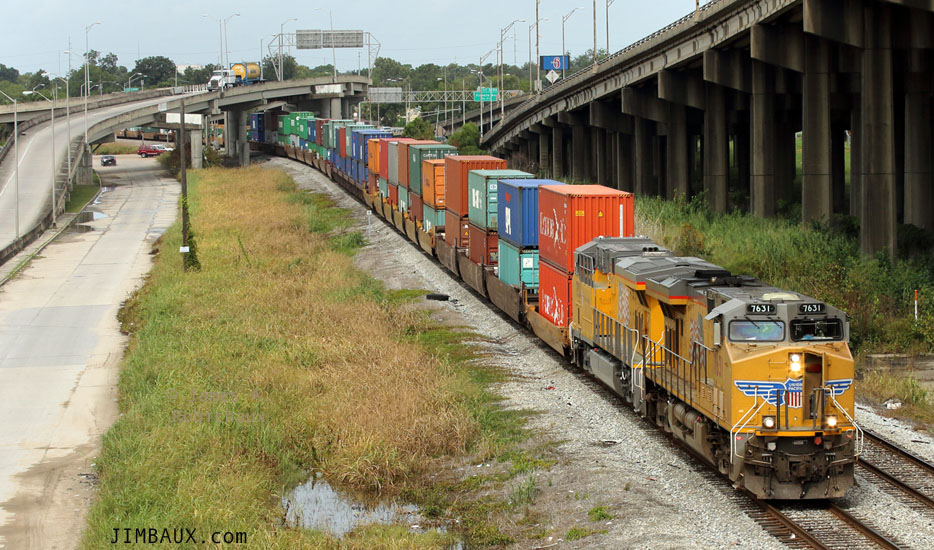 Union Pacific train KLBNO is a maritime (i.e., international) intermodal train originating at the Port of Long Beach in southern California, making a setout at Avondale (about 12 miles southwest of here), and being interchanged to the CSX in New Orleans with the containers bound for Atlanta.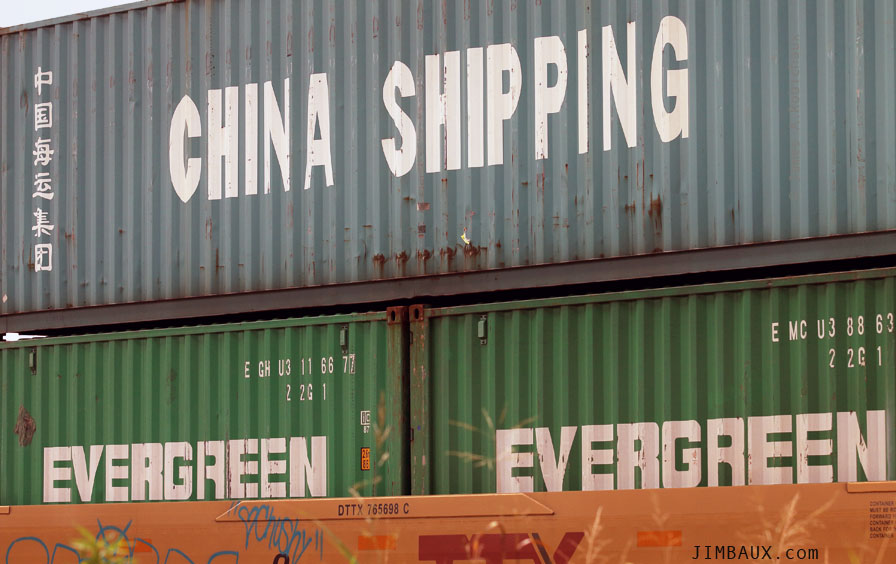 Here's what the overgrown roads and overpasses of New Orleans look like as we leave NS Oliver Yard.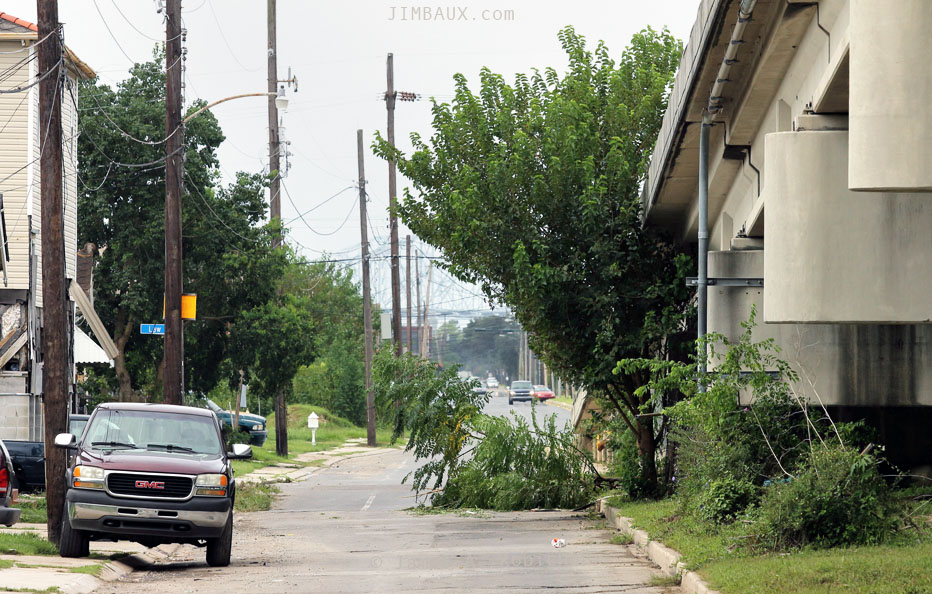 Oh, you might have seen Kurt's pictures of the old KCS 42 round-ended passenger car and an accompanying critter locomotive from Gloster, Mississippi, to Pete Messina's passenger car repair facility in the old KCS locomotive house.  Here's a shot that I took of the critter sitting on the old TOFC track.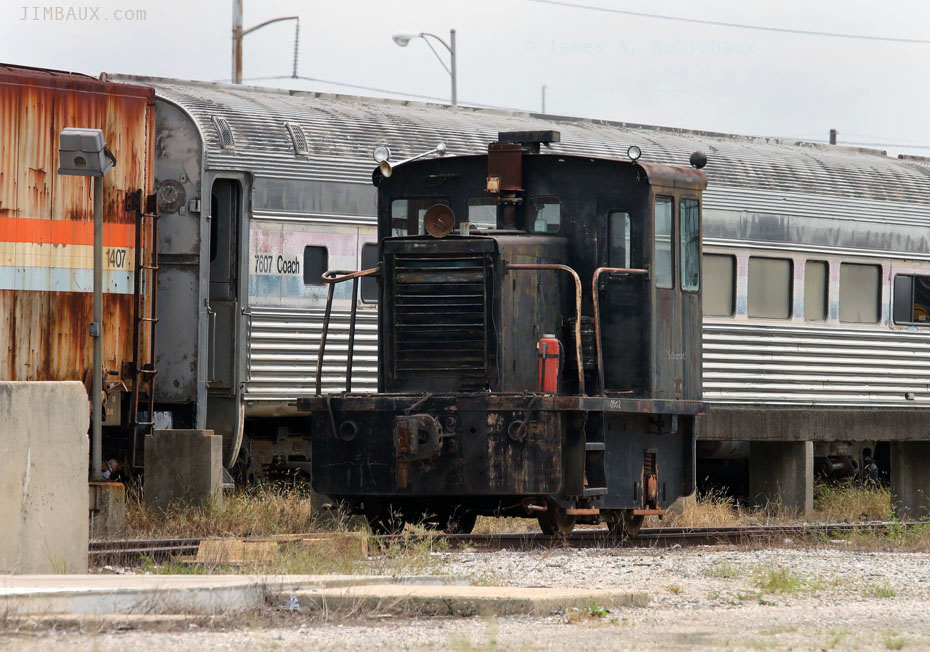 And below is a wider view showing the north leg of the wye in the foreground.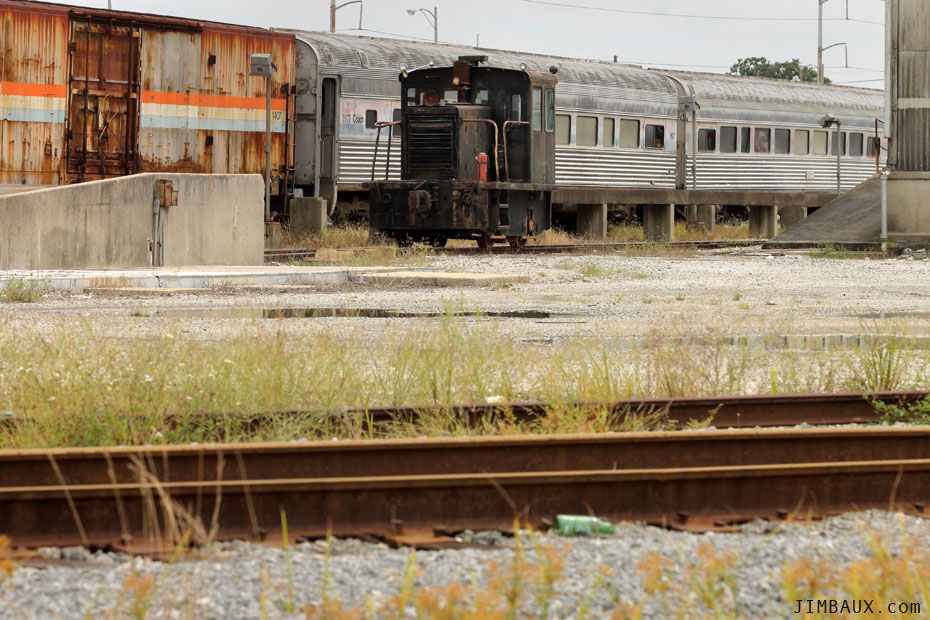 That's really all there is to this Sunday sermon.  Oh, well, actually, at around 14:00, I went to lunch with Saint Jude at Reginelli's on State Street and Magazine, and I got this one shot before.  It is Sunday, afterall, an artificial creation, but an institution nonetheless.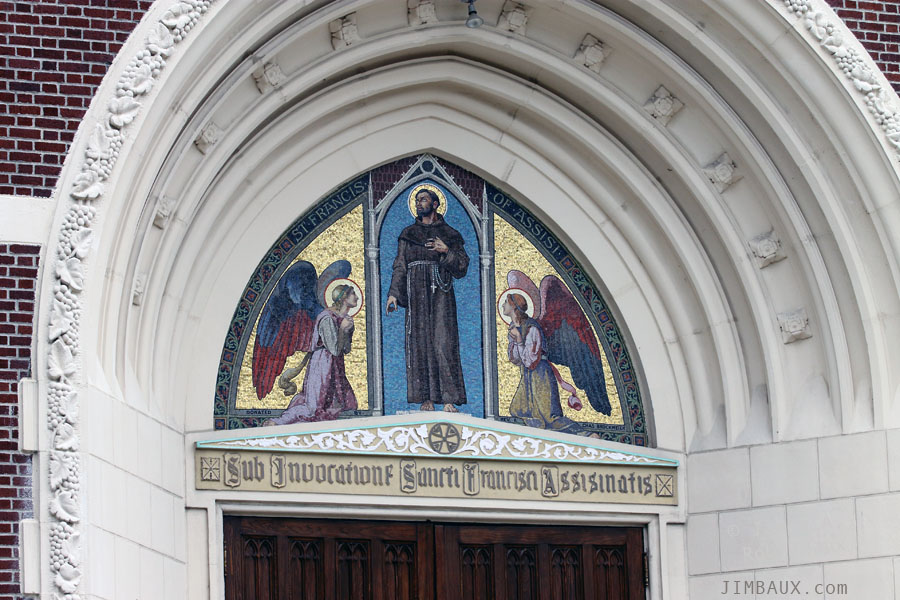 You know, though not being much of a prayer person, the Prayer of St. Francis of Assisi is my second favorite prayer.
Well, really, that's enough for now.  Maybe I'll have more to say later.
Thanks.  Go in peace, or something.
Jimbaux