[Jimbaux had high hopes, and they're up in smoke.]
"Both of your grandfathers were generous to a fault, " my father recently told me.  "They'd give you the shirt off their backs."
I'm not sure why I'm  even mentioning this here, other than that I am reminded of how a complete stranger rescued me from a bind two days before I took these pictures; these pictures were all taken Wednesday 10 August 2011.
I've Got Master Plans By The Dozens
I returned to the scene of the stupidity for a couple of reasons.  I wanted to see if I could shoot the westbound Sunset Limited (Amtrak's New Orleans to Los Angeles passenger train) from the Wyandotte Bridge and maybe shoot Chip going through there westbound too.  As it eventuated, not only was I not quick enough to catch the #1, but Chip had actually beat the #1 to Morgan City!  That's rare; he must have done no work since leaving Avondale.
You've Got High Hopes . . . But They're Wasted
So, while I was there, I returned to the scene of my stupidity two days before, hoping to find the fender that I lost, as I mentioned.  The fender was nowhere to be found.  Either it disintegrated, drifted off somewhere, gut buried in the mud, or fell off of my truck sometime after I left the scene that day before getting to Boeuf.  Oh, well.
Anyway, a cousin wrote this to me in response to Part 3 of that stupidity:
My picture of the day would have to be the one you neglected to take…..
You and your truck in trouble then rescued.
Where was your camera at this point??????
.
That's a good question.  The simple answers are that I was too preoccupied with trying to get my truck out of the hole, and that once I got out of the hole, I was both so relieved to be freed and so eager to catch back up with Chip (who had exited stage east) that I didn't think about it.  However, when I returned to the scene two days later, I recorded this image: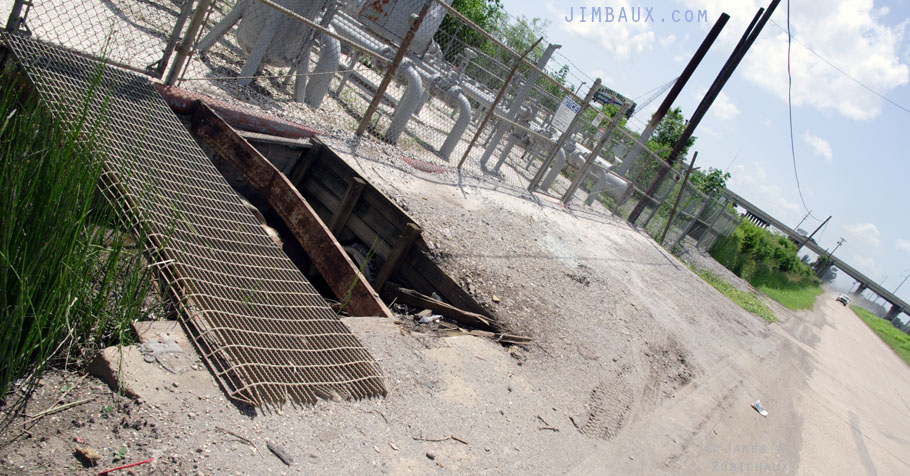 Keep in mind that it was much wetter here two days before.  Yeah, my front right tire fell in that!  See that tire track on the right?  See how it just abruptly ends?  Yeah, Jimbaux has his not-so-brilliant moments.
Dirtbag Central
Looking in the other direction, I thought I'd get a shot of one of the signs leading to one of the local strip joints.  Isn't this special?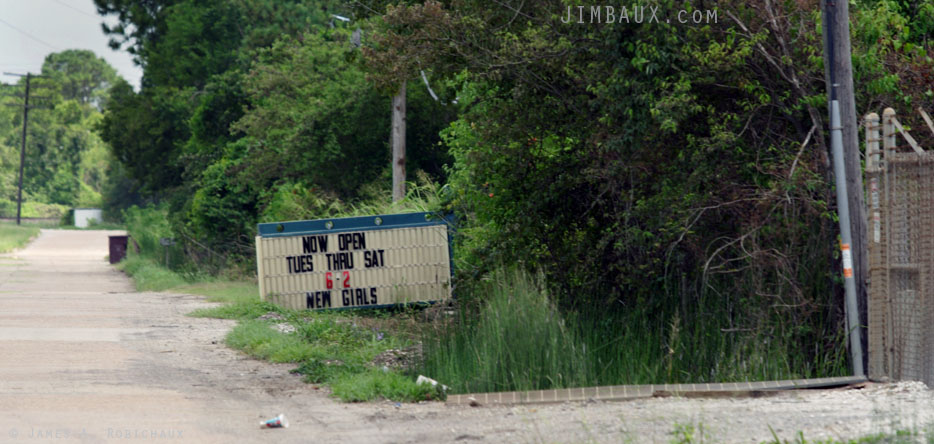 "New girs," eh?  I guess the local dirtbags have gotten tired of the 'old' ones that were there.  Oh, yes, I am indeed being judgmental here!  I'm not a Victorian prude at all, but I'm not cool with the sexual objectification of strip clubs regardless of which direction it's going.  It's just stupid.  Call me whatever you wish.  To quote old Marshall Mathers, "I am whatever you say I am."
Our Daily DYTCSX
So, we start with some of the same old song and dance (dance?  as in, the "new girls" at the strip club?) from the last time with Chip running around his train in Morgan City just past (west of) the Wyandotte Bridge so that he can come to the pipe yard to do his work, and just like then, a train will get by him while he's waiting, only this time, it's an eastbound.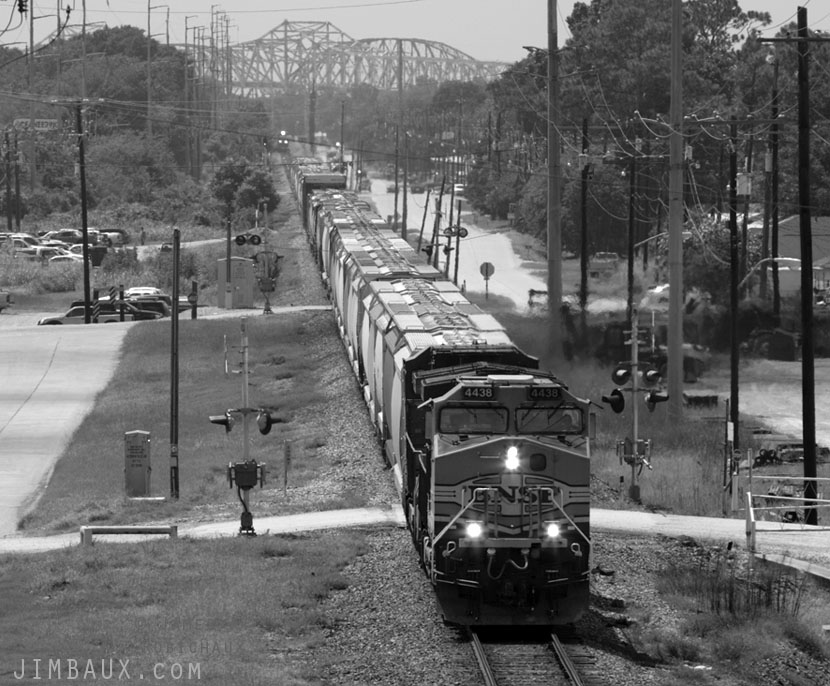 Do you see Chip's headlights in the far distance behind the DYTCSX?
The DYTCSX originates at BNSF's newly-expanded yard in Dayton, Texas, and terminates in CSX's Gentilly Yard in New Orleans.  It handles all of BNSF's CSX-bound traffic this far south.
Those of you who have paid attention to the saga with the New Orleans Public Belt Railway over the last year may have heard that the BNSF has announced that the NOPB really can't win its business back since it spent so much money upgrading a yard in Texas so that it wouldn't have to deal with the NOPB.  Dayton is that yard.  In the meantime, the major railroads have submitted plans to operate the NOPB.
Here's another view of the DYTCSX.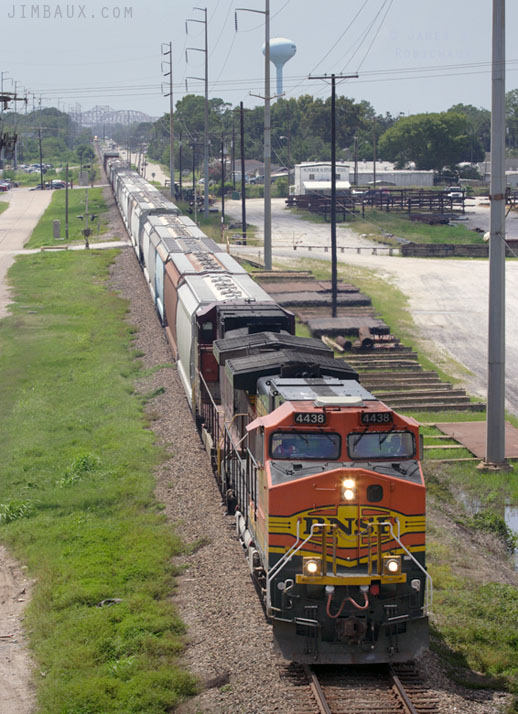 And here's a going-away shot as some BNSF track work crews clear the track to let the train pass.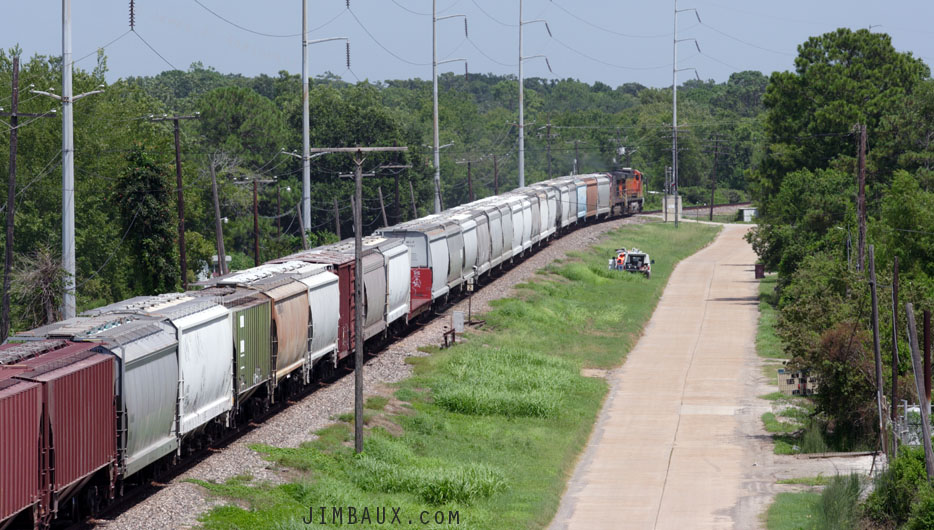 Remember how the parking lot at Southern Scrap Recycling got full of water two days before?  Look at it now!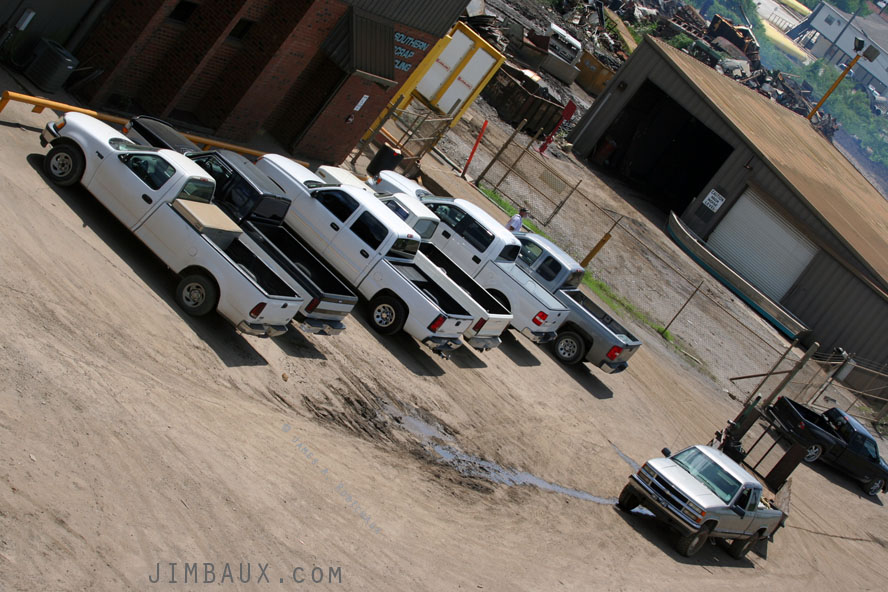 Interesting how quickly a scene can change, can't it?
Chip Time, Ya Hurd May?
Now it's time for Chip to show up with his joke of a train.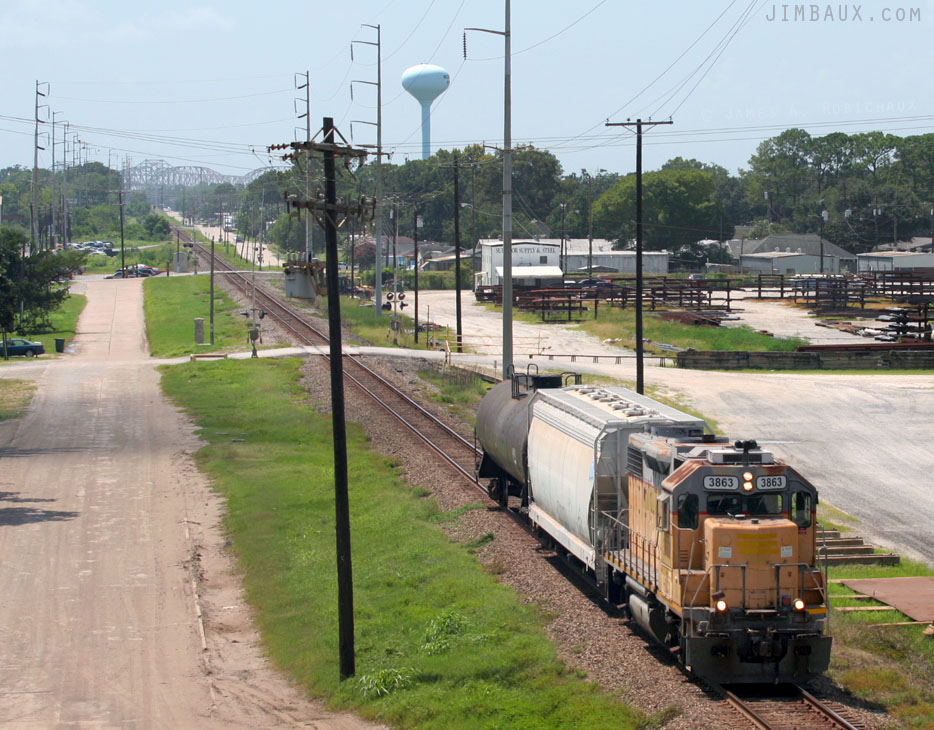 Yeah, I think I oversaturated the shot or upped the hues too much.  That's what I get for taking pictures in the middle of the day at high noon when the sun is high and the lighting is therefore harsh.
Here's a better shot of him entering the pipe yard to get those four gondolas you saw him spot there two days before, or you would have seen him spot there had I not stupidly got stuck right as I was about to take those pictures, as he leaves his joke of a train on the mainline.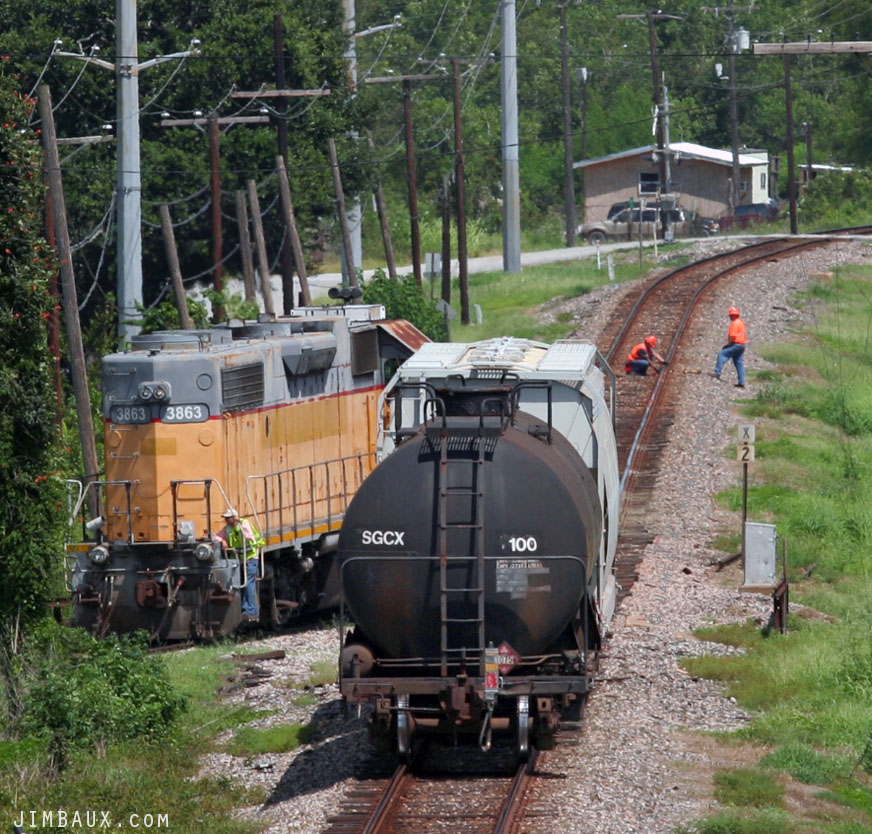 You can see those BNSF guys working in the distance ahead.  Yes, they were in radio communication with Chip about track occupancy.
Here we see the HLCX 3863 approaching his pickup.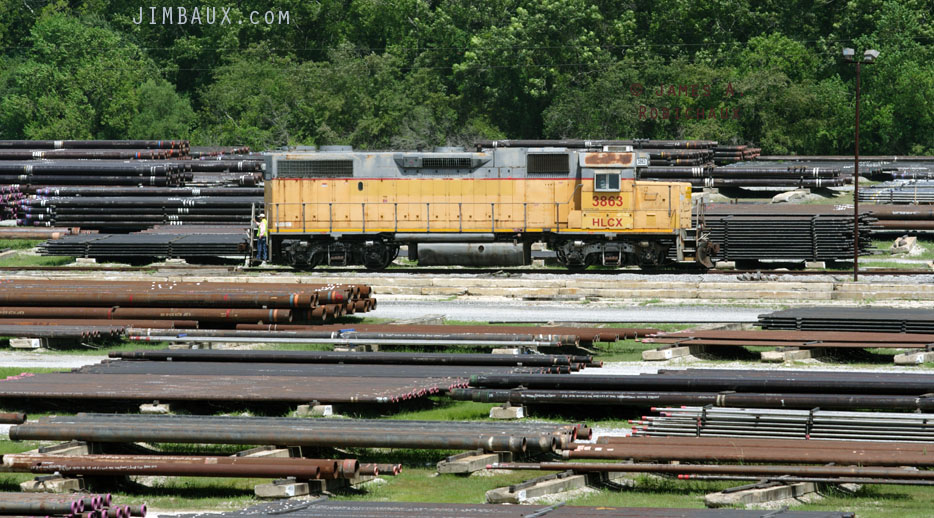 In the below shot, we see him coupling to his pickup.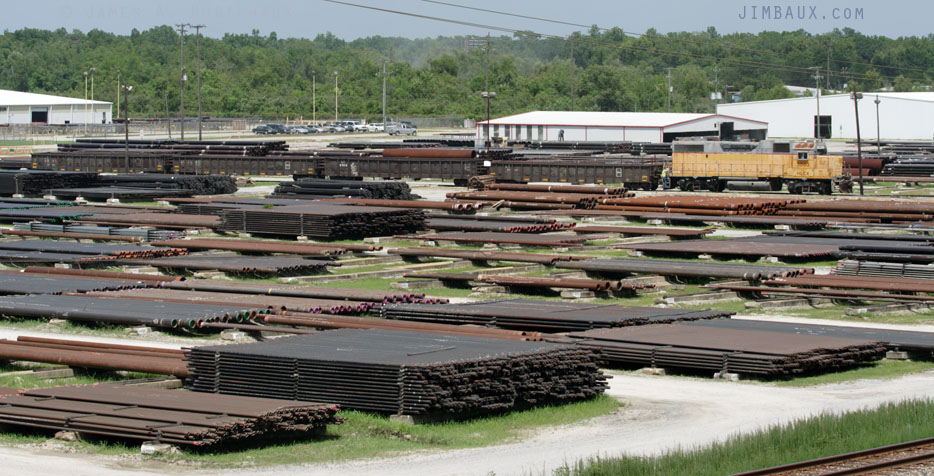 I could have composed the above picture much better by leaving more of the mainline in the foreground; you only get to see a tiny piece of it at the bottom right corner.
Now, he's pulling the pickup back onto the mainline:

And now that the new part of the train is on the mainline, Chip lines the switch for the mainline so that the power and the new part of the train can back up and couple to the rear two cars.
After this, the train took off to the east, and fast!
It Gets Much Better After This
It really does.  I'm not kidding.  I get some of my best shots in a long time of both of the trains you see here today an hour later to the east of here.  However, we'll have to save that until Part 2.  In the meantime, any comments are welcome in the comments section.  Remember that the e-mail address that you chose to use to make a comment will not be displayed; only your name will be displayed.
So Sayeth Dupe . . .
See the comments that former Southern Pacific Railway conductor and superintendent Ray Duplechain left at the bottom of the prior post.
All for now . . .
Jimbaux