[Jimbaux heard the Shenandoah calling.]
A New Day Has Dawned!
Long ago, I imagined using that headline upon getting better photo gear; the opposite is the case here today.  My dearest Jimbauxlings, I continue to be grateful to all of you for the continued support you've given me  in the wake of having $3,000 worth of photo gear vanish.  If you haven't read that article and the follow-up, please do so before you read this!
I Miss Her
I won't lie.  I miss her.  She was my constant companion for nearly six years after I became a widower when my Nikon N80 crapped out six years ago, forcing me to spread my wings and go digital.
Eventually, I know I'll end up with something better than her, and I know I lost her partly because I didn't treat her right and protect her well enough.  She really was my constant companion, though.  When it seemed like the whole world was against me, she was there for me, at my side, in my hands, hanging from my neck or my shoulder, as I sensually pressed her buttons, working her like she worked me, and, oh, did she respond in such beautiful ways!  It was love indeed.  All you have to do is dig through the archives of Jimbaux's Journal to see for yourself!
It's difficult for me, I'll admit, and I did get wet eyes while on this Wednesday outing, thinking about what I've lost with her, but you'll soon see that, even without her, this trip ended up being a great day.
Getting High
Hey, dudes!  It was 4-20, but instead of getting high on some weed, Captain Jimbaux and First Officer Bernie headed west to the higher elevations of the Shenandoah Mountains, and it was Bernie who essentially lent me his point-and-shoot camera.  He wasn't too keen on my 06:00 departure time, either, saying to me that I was making him "wake pretty damn early for a vacation day w/o the promise of snowboarding or getting laid."  Yeah.
Like Old Times
On the way there, we stopped at The Plains, Virginia, so that I could visually verify that the railroad that we were following was indeed the Norfolk Southern.  It was.
Overshooting A Target
My goal was to visit and scout out Front Royal and find the NS intermodal facility there, which, I have since learned, isn't actually owned by NS.  Not only did we never find the intermodal facility, but we were so immersed in conversation that we overshot Front Royal at first and ended up in Strasbourg.
Come On, Let's Get The First Shot Out Of The Way
So, we decided to take highway 5 back to Front Royal, and we crossed the South Fork of the Shenandoah and got these shots to start the day.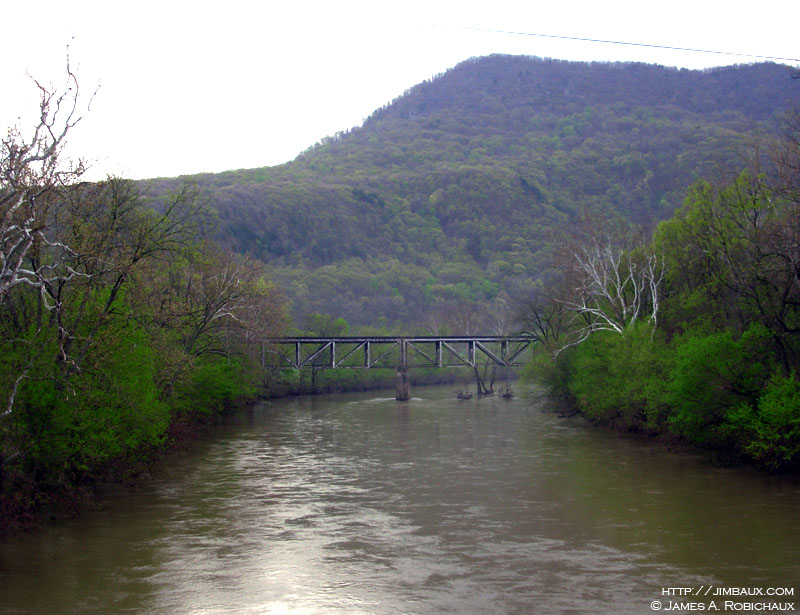 Well, that wasn't a great way to start the day, but I promise you it will get better!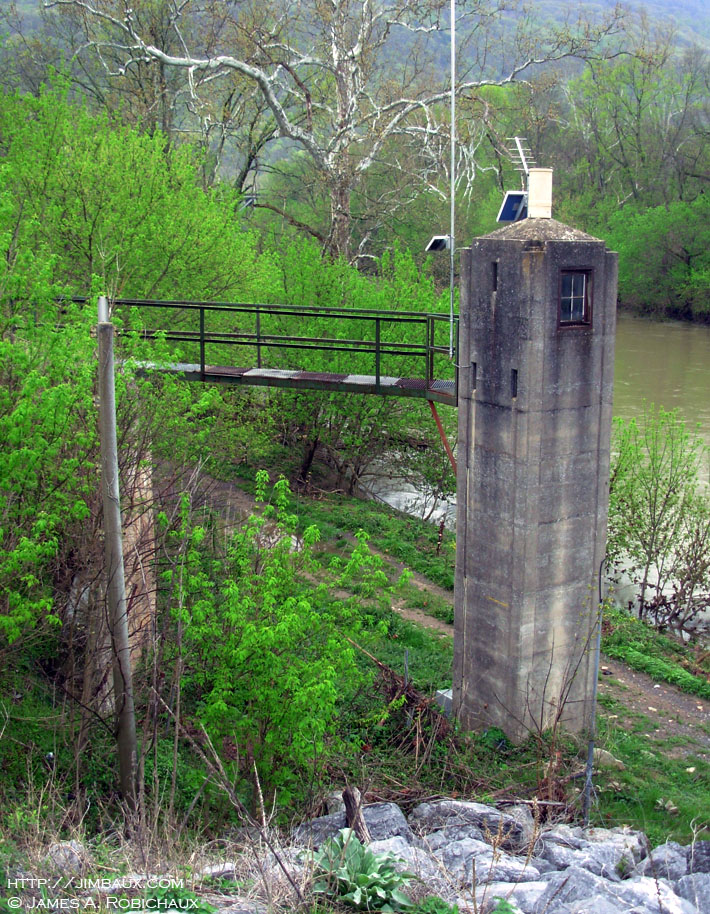 Bernie explained to me that this area was the stomping ground of the Army of Northern Virginia.
Front Royal
We finally get to Front Royal, and, loving bridges as I do, I got this shot.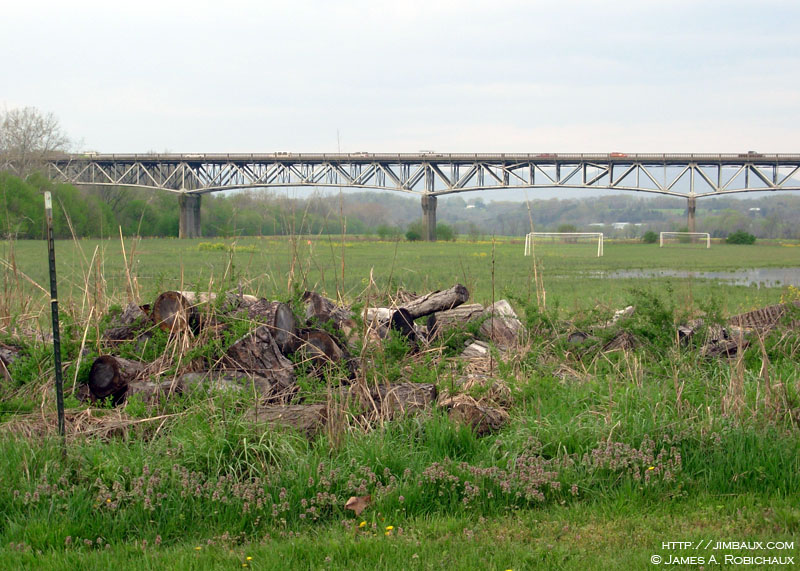 As best as I could tell by our reconnoitering, two NS lines cross in Front Royal.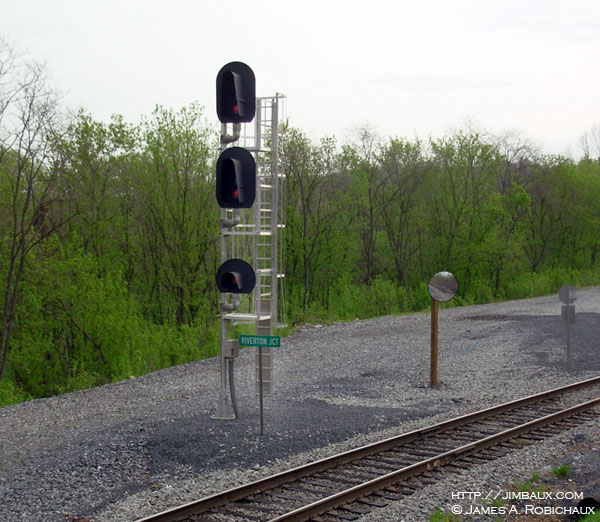 From what I have been able to tell, this arrangement of track is somewhat new, like maybe even less than a year or two old.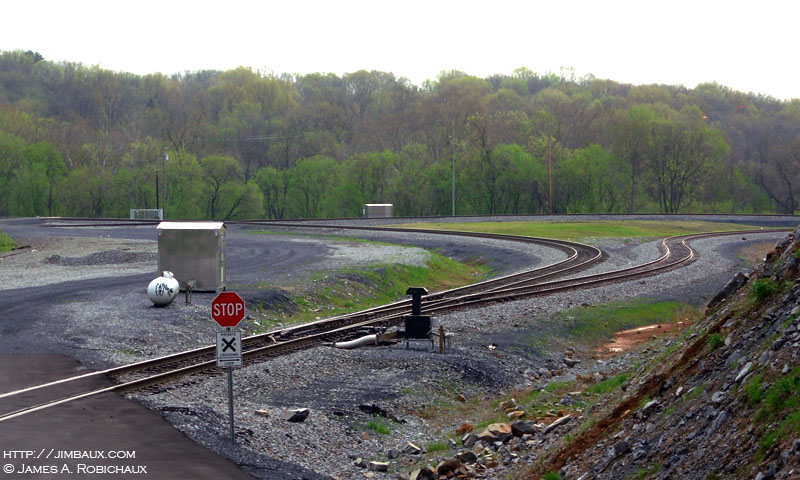 Can anyone explain this?
Our First Catch Of The Day!
While we were eyeing Riverton Junction, commint revealed that there was a local leaving Front Royal for the south, that he was on his way to Riverton to do work, and that he'd eventually return to Front Royal, leaving the obvious question of whether or not he'd head south from Riverton before turning back north.
The trick, though, would be to find this guy, and we still looked around at the junction.  Can anyone explain the track arrangement here?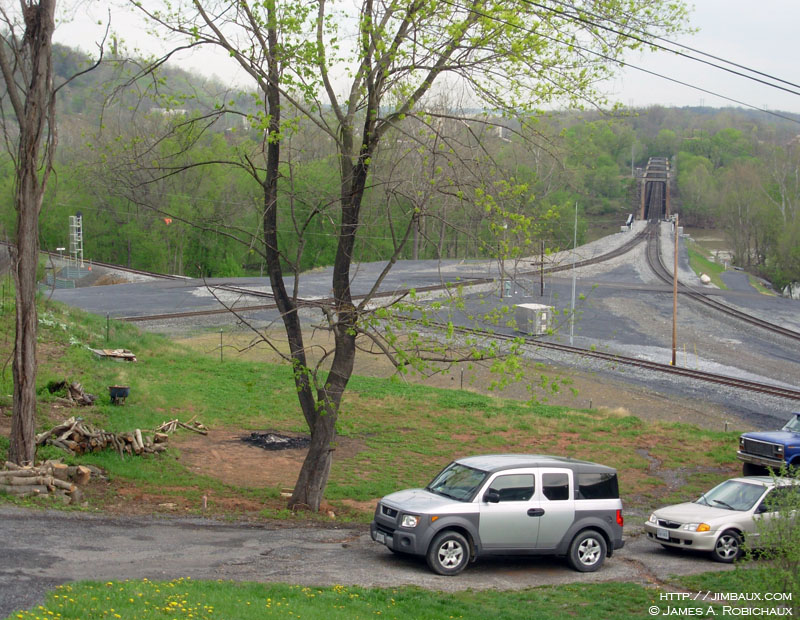 I was waiting for some the residents to come out and yell obscenities at me, but it just didn't happen.
Found: One Lousy Local Train
We got to Riverton, and as suggested by commint, we found our train, which, as I recall, identified himself as 93V (meaning that the "93B" in the picture filenames is wrong.)  Here, Bernie checks his phone while the conductor (or breakman) opens up the derail so that they could grab one gondola.
And, below, the locomotive couples to the gondola.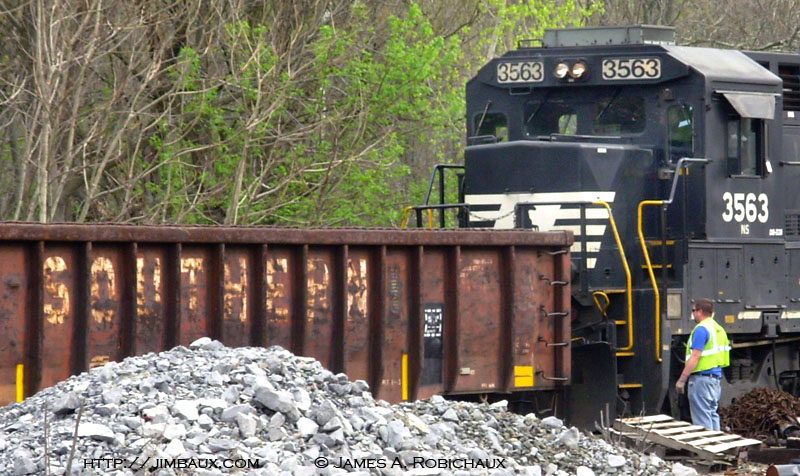 Apparently, there was some Maintenance of Way activity in the area.
That's It?
I was surely hoping he was headed south to do more work, but it wasn't to be.  When I saw the conductor put the FRED on that gondola without running around it in the siding, I knew we'd have to head back north to get a shot of him, but at least that meant that he'd travel through some areas that were now somewhat familiar to us!
The Best That I Could Do
One huge life lesson in the last year for me has been acceptance, just knowing that even if something didn't turn out right, you did the best you knew how to do at the time.  The shot below is not at all what I call great, but it was the best that I could do given the cloudy skies, ignorance of other shot possibilities, and reduced quality of equipment compared to what I'm accustomed to using.
That wasn't too terrible, was it?  This shot needs to be rotated counterclockwise a tad bit, but I lacked the will to do that.  I'm sorry.
Now what?  After a few failed attempts at finding shots, we made our way to a bridge just south of Front Royal.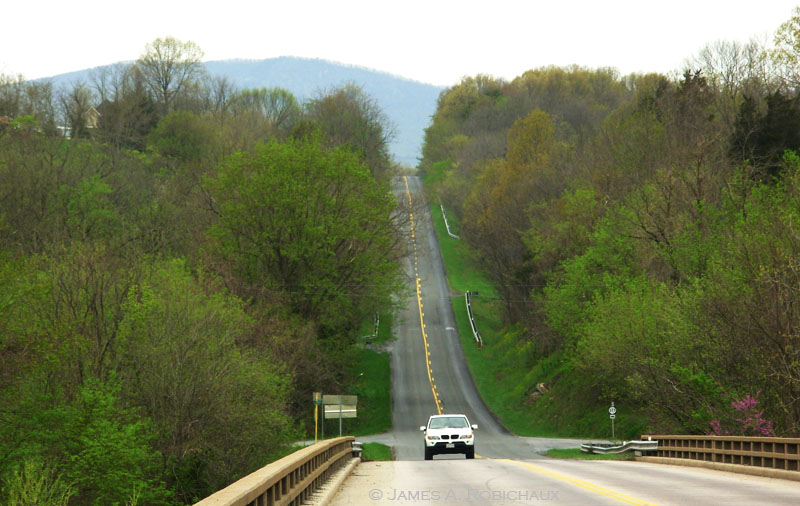 Bridges are cool!
Your Eye Is More Important Than Your Equipment
Remember what my friend Taylor said as I quoted him in the prior post?  Read it if you haven't, okay?  I just have to roll my eyes everytime I hear someone say something like "I'm going to get a nice camera like you so I can take nice pictures like you."  Yeah, whatever.  I know people who have better equipment than I had, and yet they still wouldn't have had the imagination to do this:

Nice, eh?  That's my shot of the day.  Either that, or this one taken a few seconds later: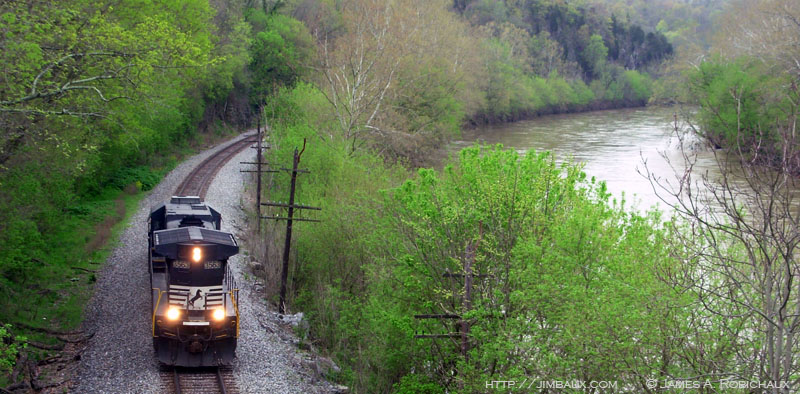 As Taylor said, the most important thing is the mind's eye, and I'm quite proud of the two shots above, both of which were taken with a cheap point-and-shoot digicam.  I can only wonder how much better they'd have been if I had my good lenses (and the camera necessary to use them.)
A Parting Shot
The autofocusing in the below shot failed me, but at least we get to see that this gondola was indeed loaded with what appears to be MofW scrap.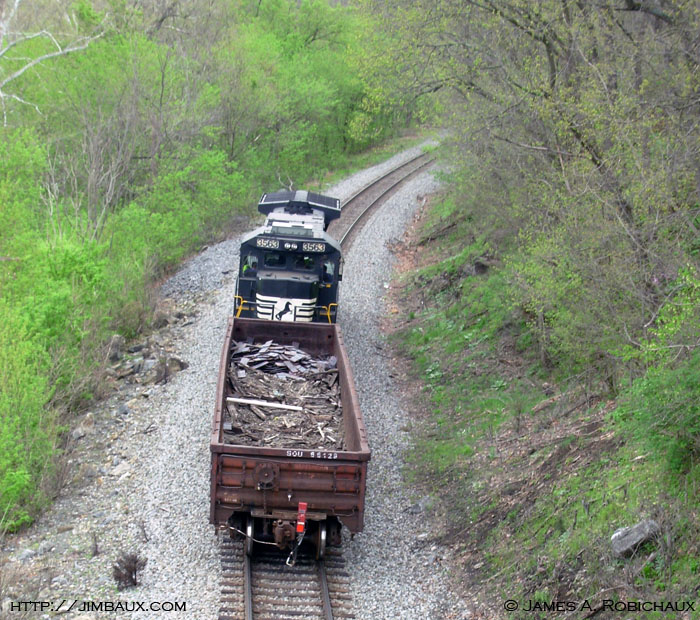 Actually, before we go, we need to get a few more bridge shots.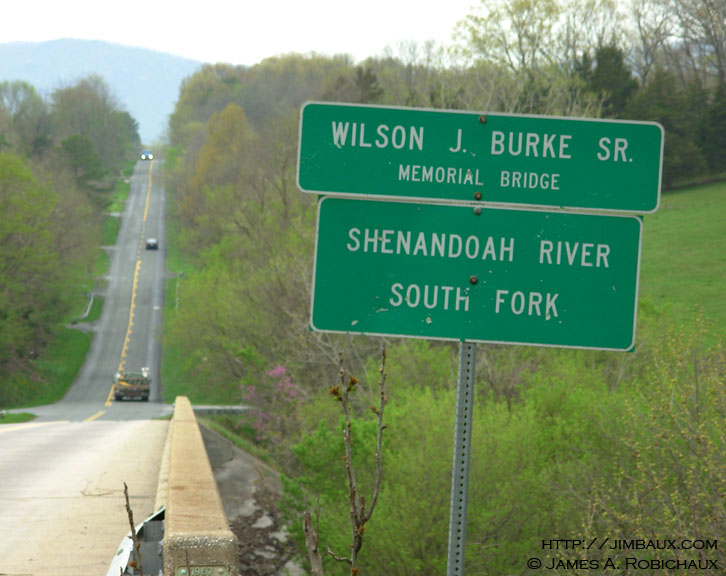 That was cool, I guess.  We get this bridge's age too.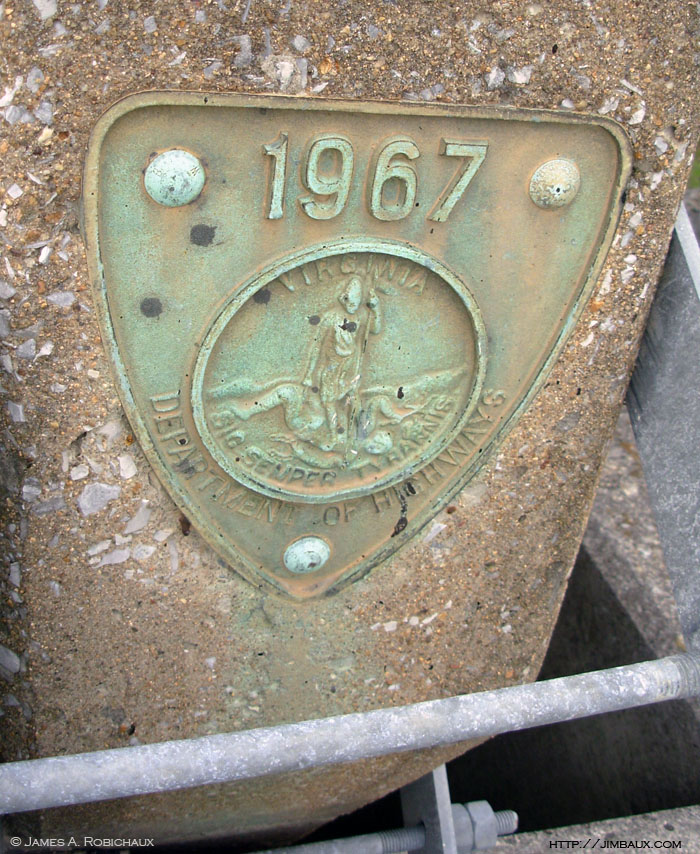 Well, check this out, mes amis!  Remember how I said that I had scouted out a few locations before settling on the bridge shot?  Well, I shed blood in the process, quickly racing up a couple of hills between the highway and the railroad only to have to hurry back down to get back in the truck and find more shots without being beaten by the train.
Like that Van Halen song says, you'll get some leg for sure!  Here's Jimbaux, unchained.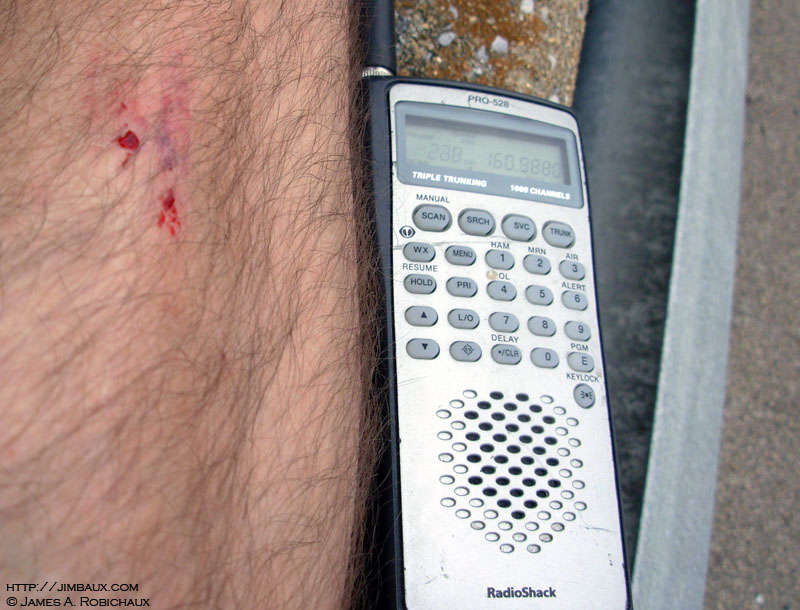 Life is short; foam hard!
Letting Go
Letting go is a big thing in life, and you must keep your eye on the big picture.  Since our goal was to get to Charlottesville, we decided to let this train go, and turn back on our southward journey.  On the way south, we saw this.
. . . . and this . . . .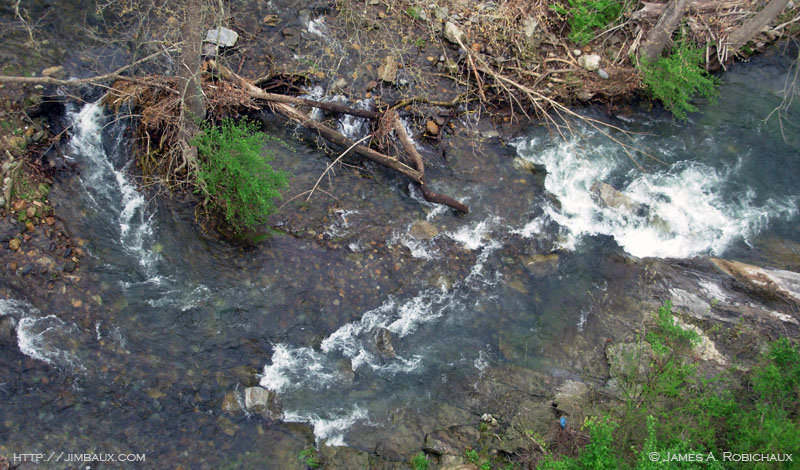 That's all for now folks.  Part 2 will come soon.  Remember, post anything you'd like in the comments section.  You may use a fictitious name and a disposable e-mail address.  Also, remember the Facebook fan page and the @JimbauxsJournal handle on Twitter.
Merci!
Jimbaux