Bernadotte and The Berrie
Today is Monday 9 September 2019, and am headed back west from New Orleans to Bayou Vermilion, after a workshop for a new job on Saturday and after a strange encounter at the Tchoupitoulas Wal-Mart; there have been shades of the year 2012 in my life in the last few days, including that encounter, a text message from The Gentle Giant referencing an apology, and my pictures on the North Bend branch a few days ago.
Yeah, we'll see how this job thing goes, but I guess that I'll be spending more time in New Orleans in at least the near term.
Early on the morning of Monday 9 September 2019, I go out for a walk, and I pass Bernadotte and see that a boxcar has been set out some time in the last 48 hours.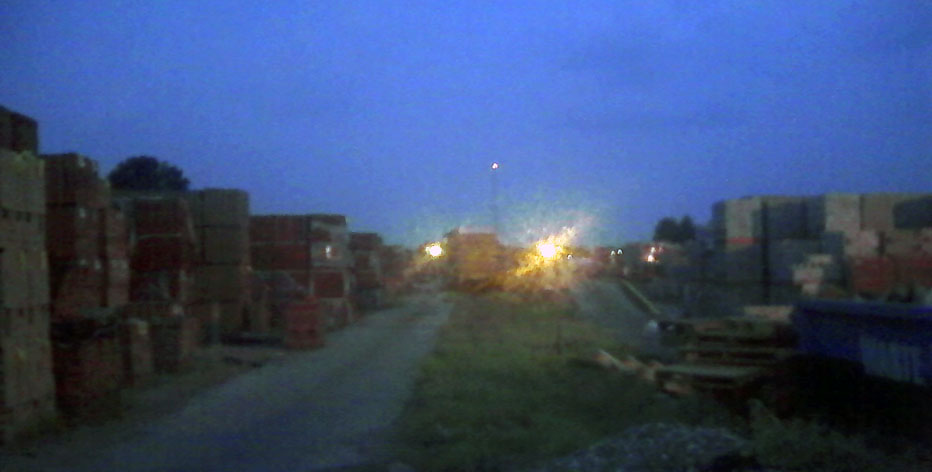 I wish that I could have seen this place in its prime of railroad activity.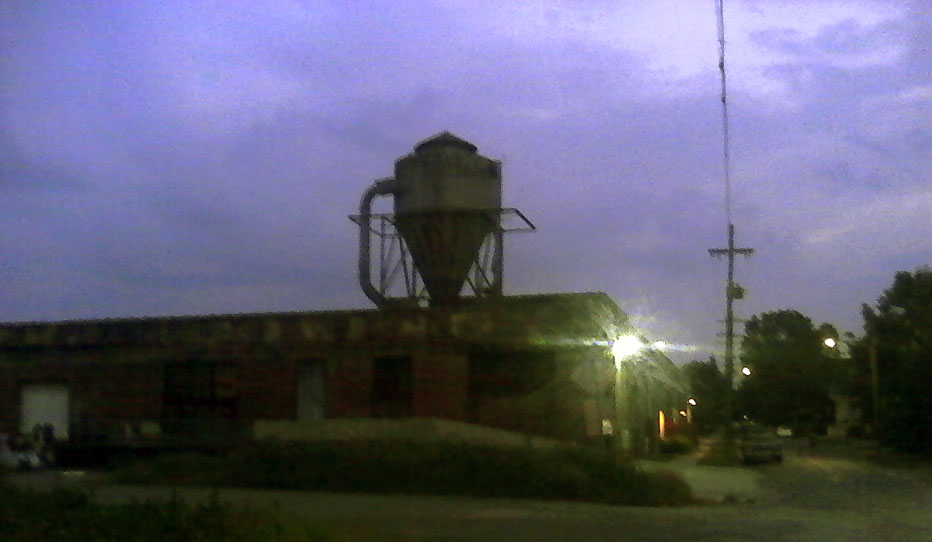 I had to make an emergency stop at The Bean Gallery, and I had no money on me.
Thinking about this from a home perspective, there are public toilets at NSU, and, if they ere closed, there were places to go outside.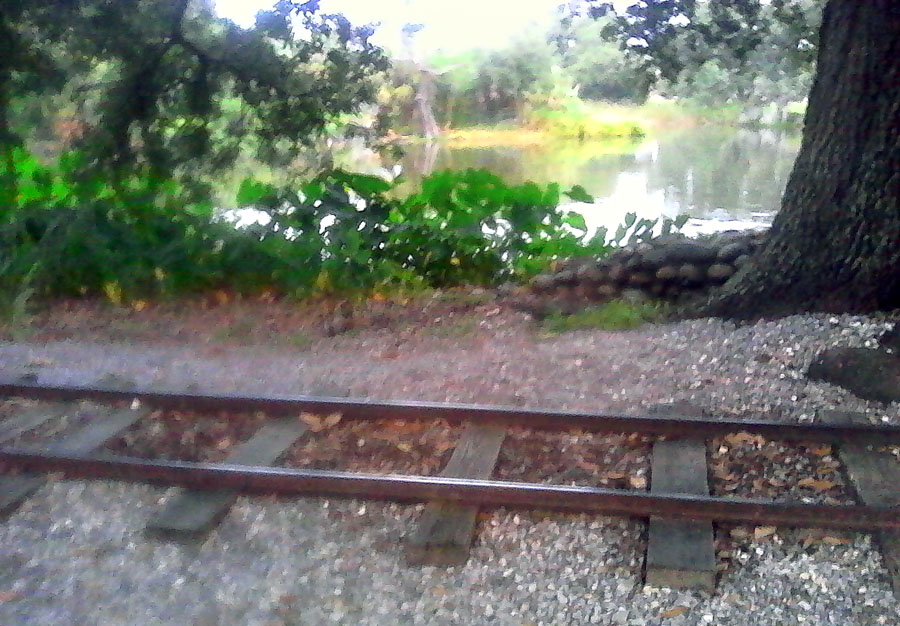 I want to be important to somebody.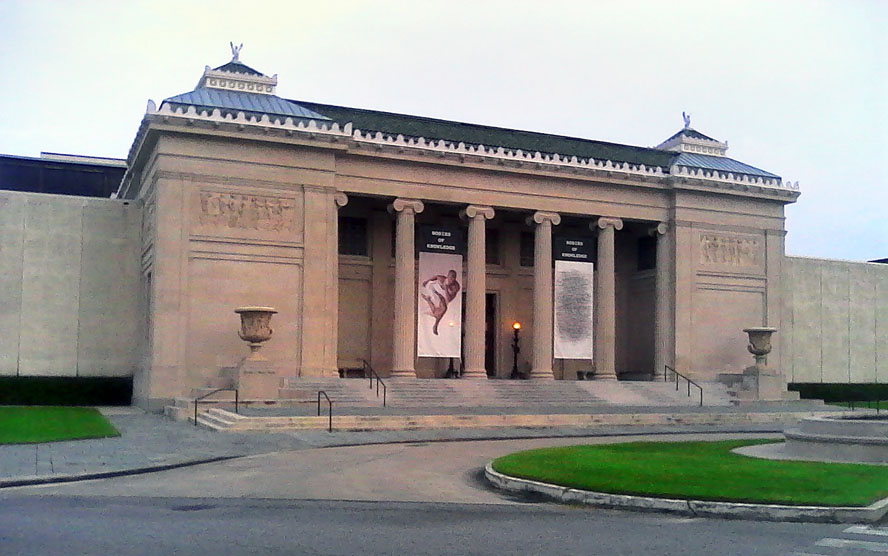 Here I am back by Masonry Products.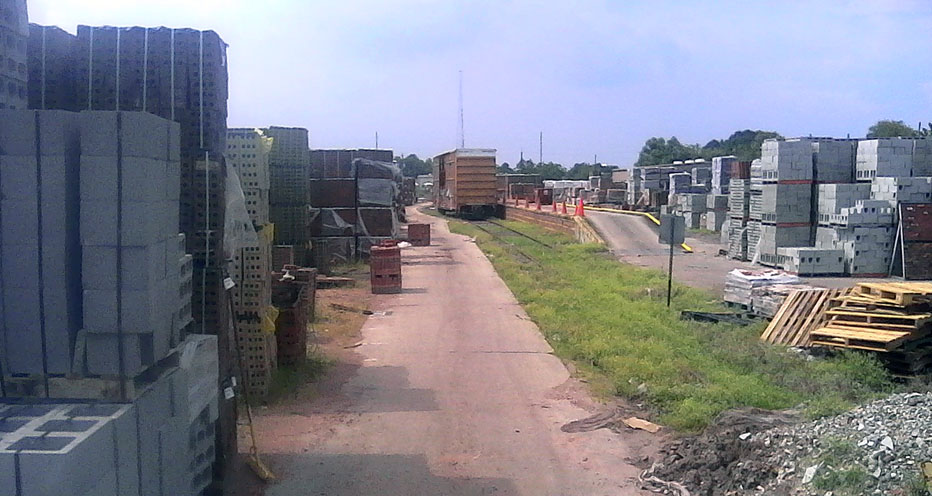 Well, it's time to get back to the crib so that I can again head west.
At 15:44, as I was coming into Raceland, I heard the dispatcher take the UP 1015 West verify that the west side and switch Schriever have been restored to the normal position, over.
Sweet! There is my train, but I am a little bit far behind him.
Here I am in old Raceland, thinking that I have time to stop and grab a picture, photographing some potash hopper cars by the post office.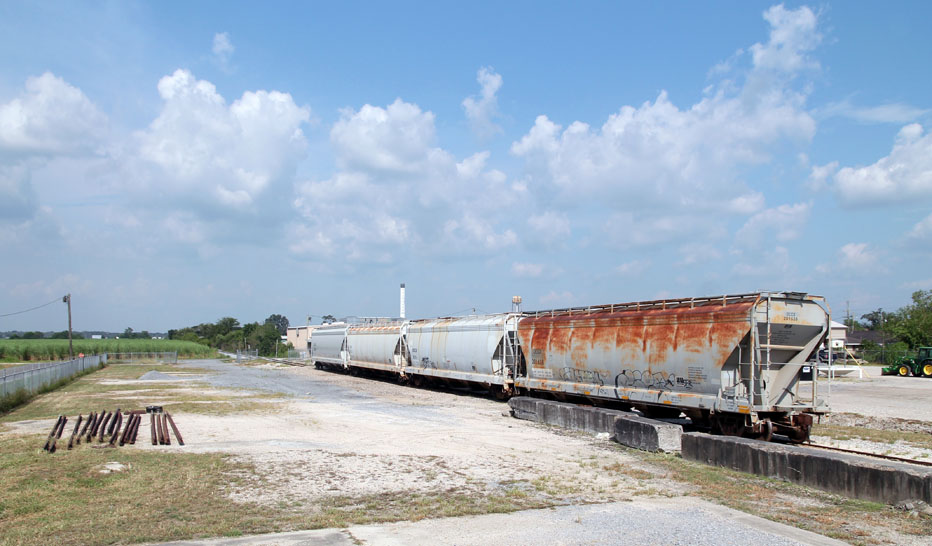 Raceland isn't what it once was, at least for me.
The last 24 hours have really been shades of 2012 for me, but I said that already. That was a consequential year in so many ways for me.
At 16:05, the train got a track warrant from milepost 69 to milepost 103.
I got to Ricohoc, just passed the Wax Lake Outlet, and I wasn't sure where the train is. Maybe I passed it in about Morgan City, or maybe Berwick, but I do not know!
This is frustrating!
So, I keep going ahead. I guess that I'll do my Bayou Sale at Garden City. The fact that I heard FRED chirps in Morgan City and haven't heard them since is further evidence that I have gone way ahead of the train. But I still don't have proof!
At 16:47, I arrived at the western end of the Bayou Sale siding, and although there is still no sign of the train, I have just figured out that I can't still be behind them, because I am near the end of his limits, and, if he was that far ahead of me, he would have called to releases track warrant by now.
Ten minutes later, we have confirmation in the form of a train.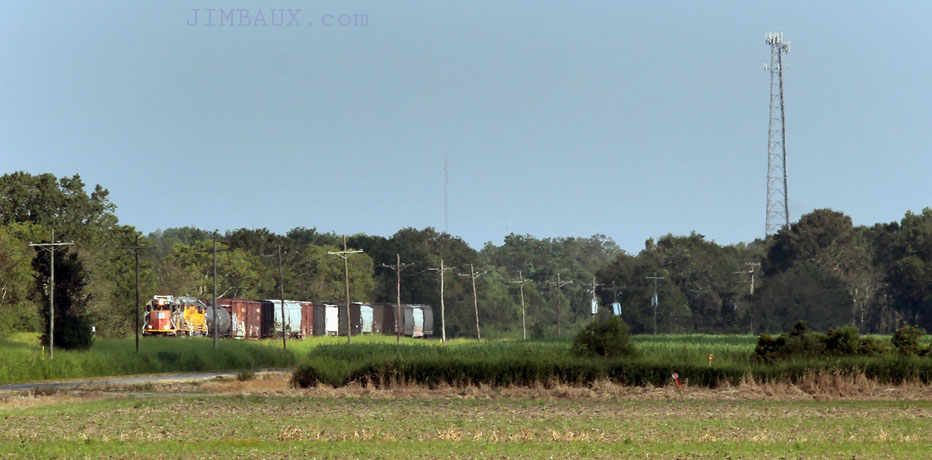 Yeah, that's not a bad view.

Except for the graffiti that I hate so much, I think that I like this down-on-the-ground-level view – even though the sensor is about 11 feet above the ground – better than the traditional overpass view here.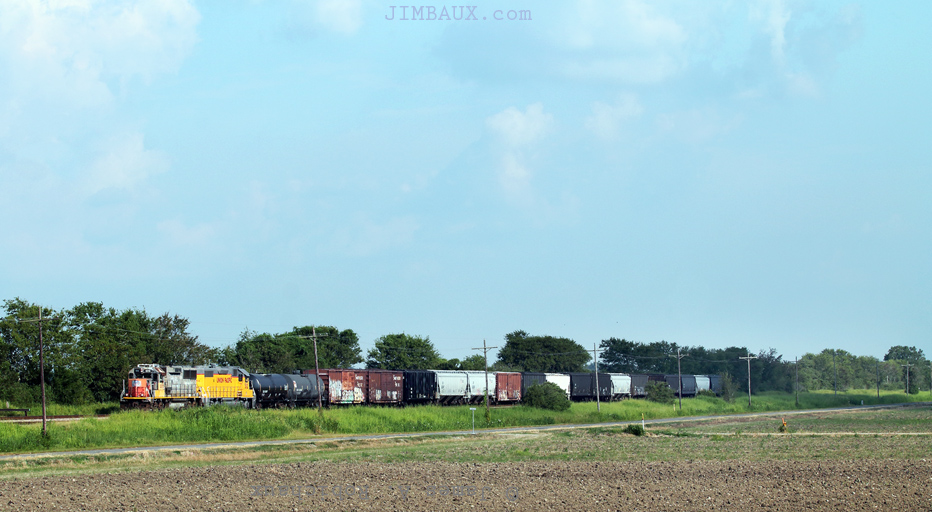 The train has 19 cars, about half of which were carbon black hopper cars and four of which were UP family hopper cars for the rice mill in Abbeville; it had a couple of neat SP boxcars, too.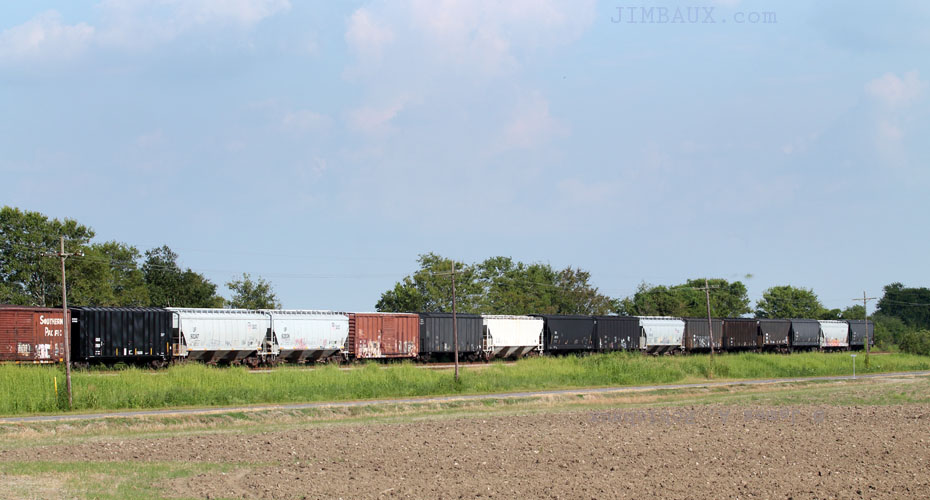 Finally, at 17:18, I get to grab this train at my new Moreci Road shot, which I was trying to do four days ago the first time that I did this shot.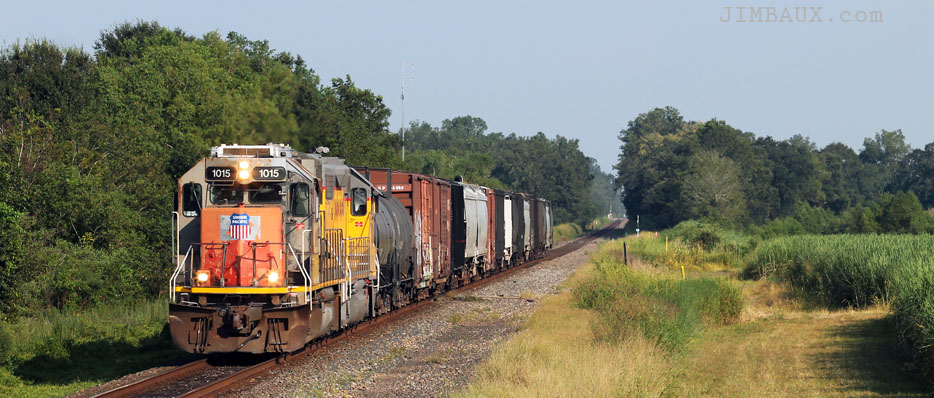 I really liked the way that the train look through the viewfinder.
Here is a cropped version of the above image.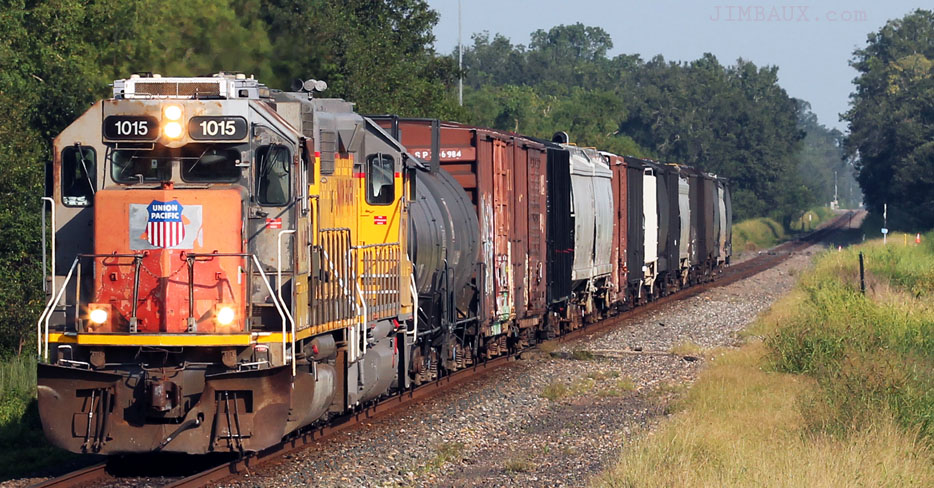 That paint peeling is sad, but the other side of the locomotive looks better. I imagine that this thing gets a coat of Armour Yellow soon, though.
Well, now what?
Do I just give up chase here or try to power through the mess of traffic in New Iberia to try to get some shots of him before he ties down?
You know the answer.

Yes, we're in New Iberia, past the depot but before the interchange yard, and the next image is of the train past the interchange yard and preparing to shove into the yard.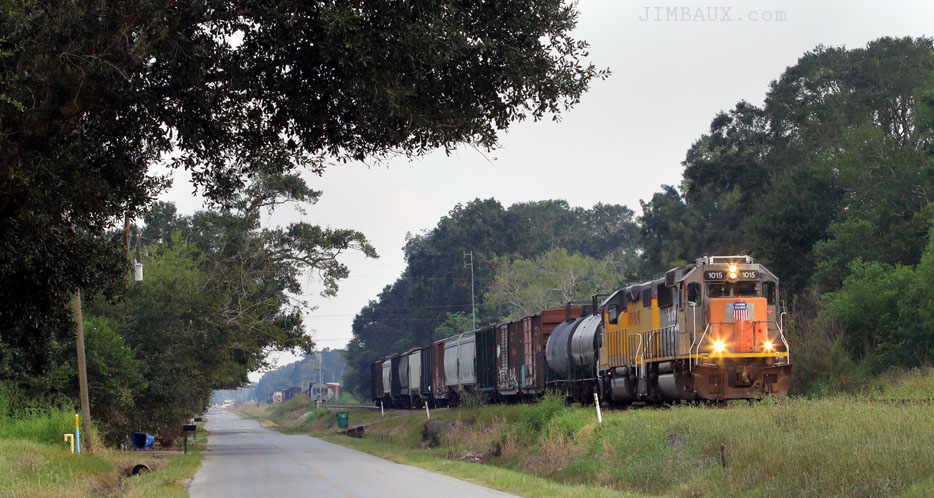 I guess that today's chase is a success.
So, I then learned that I had missed the train to Abbeville while I was chasing the New Iberia Turn today, which is to say that a train to and from Abbeville was run today. I think that I did okay that way, because I like the pictures that I got today, and I have gotten plenty of pictures on the branch lately already.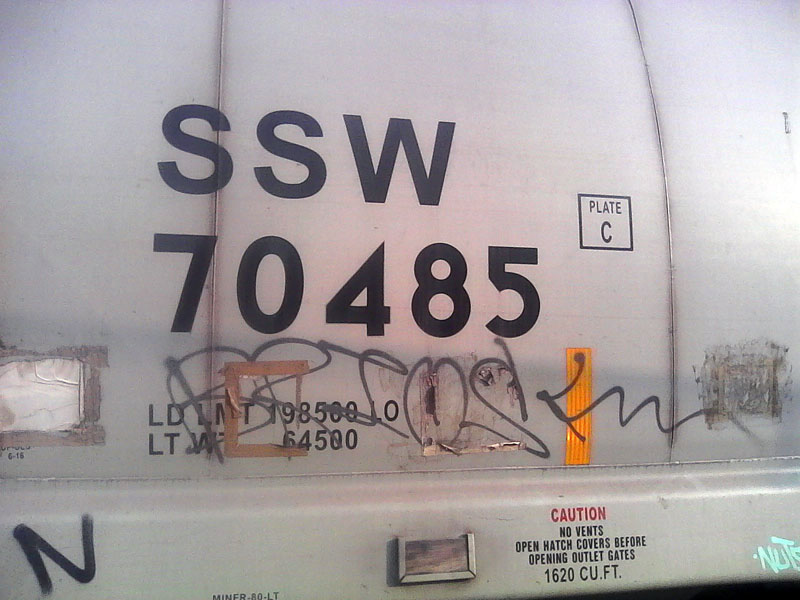 The way that I knew that I there had been an Abbeville Branch train today was that these three loaded hopper cars and two tank cars attached to them were sitting south of Pershing Street in New Iberia.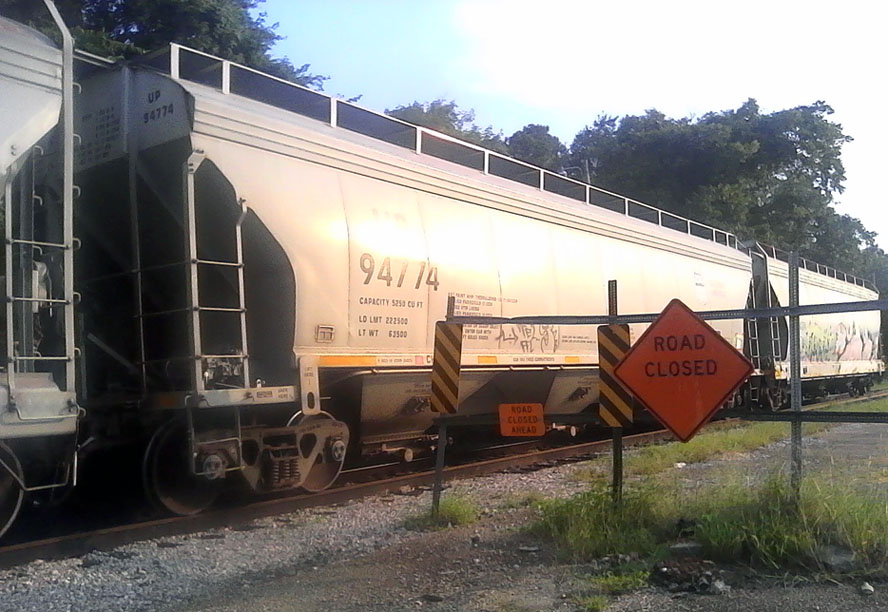 So, two runs in one week is a relief! Maybe this branch has a future afterall!
The temperature at 18:45 in Abbeville is 91 degrees Fahrenheit. Global warming is terrible.

There are six hopper cars at the mill right now, I think all of which were brought today.

Okay, that's enough for today.
I am so tired!
I went to Dairy Queen, because of course I did.
Peace.
Jim