Jimbaux is convinced on the inside something's wrong with him.
Today is Thursday 1 August 2019, 10 years to the day after BobE and I saw, chased, and photographed Canadian Pacific Railway trains east of Kamloops, British Columbia.
With tears in my eyes due to a feeling of hopelessness in life, I left the homestead at 16:11 CDT bound for New Orleans, where I will spend at least a couple of days, but my progress was soon delayed when, as I was scoping out the Abbeville Branch, I saw a headlight at South John M. Hardy Drive.
Well, then! By going to New Orleans, I won't miss the Abbeville train after all, and this satiates my curiosity of when the line would be served again after it was served one week ago today.
I got set up at South East Street, a shot that I don't think that I have ever done before, for my first shot of this train.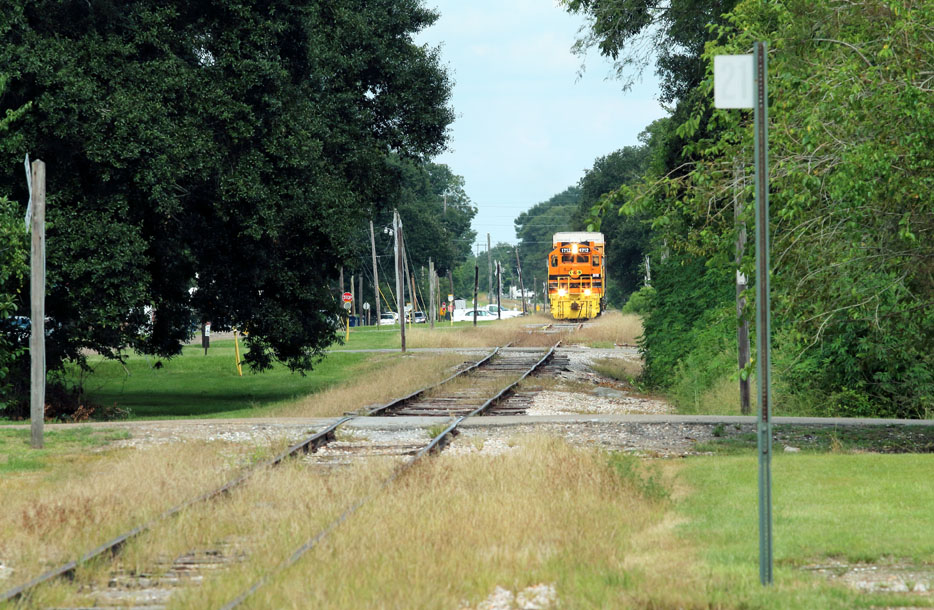 That is milepost 21, rather faded, like so much on this railroad; the end of the branch is almost exactly a half of a mile from here.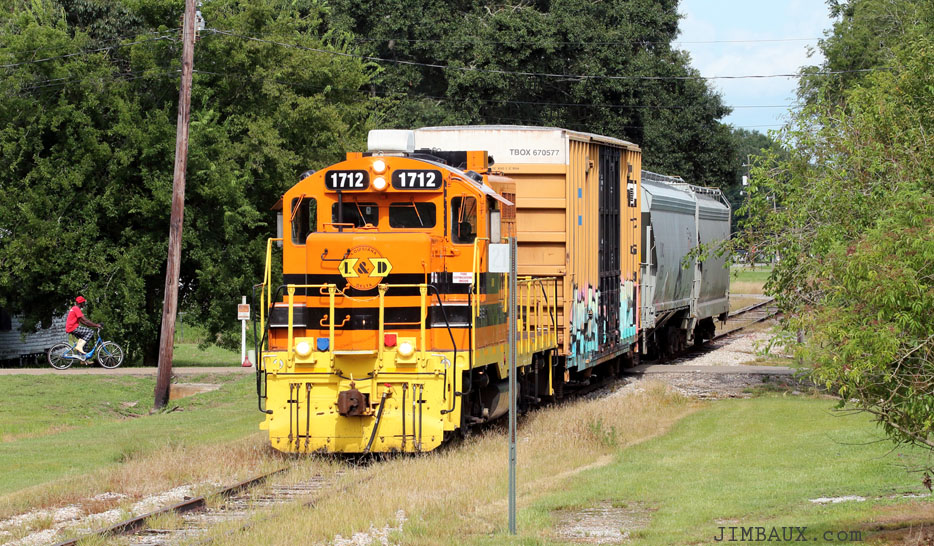 Hey, what the hell? That is not the shiny new fresh-out-of-the-factory boxcar that was left at Erath last week!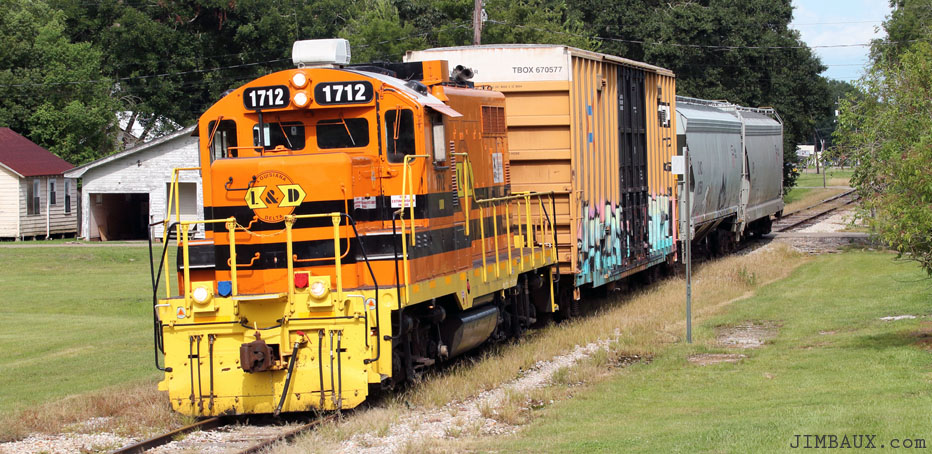 Yes, that track is that bad. See a cropped image of that image, and note the lack of parallelity between the vertical lines on the locomotive and the vertical lines on the house.
Yes, I know that "parallelity" is not officially a 'real word'; I don't care.
Anyway, our train arrives at the runaround track by the rice mill.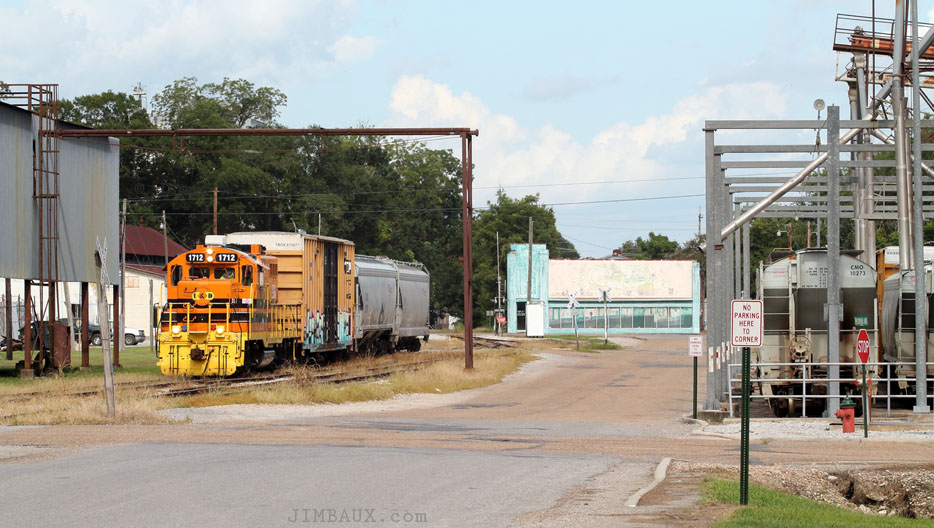 You can see at right the cars brought to the mill last week.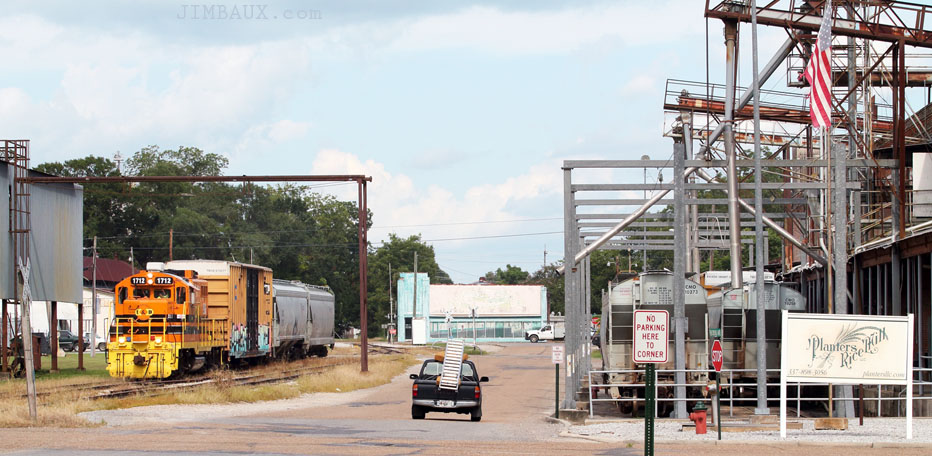 I guess that the first-in-first-out rule was not followed today, if the boxcar set out at Erath last week was left there while this other one, unfortunately tagged, was brought.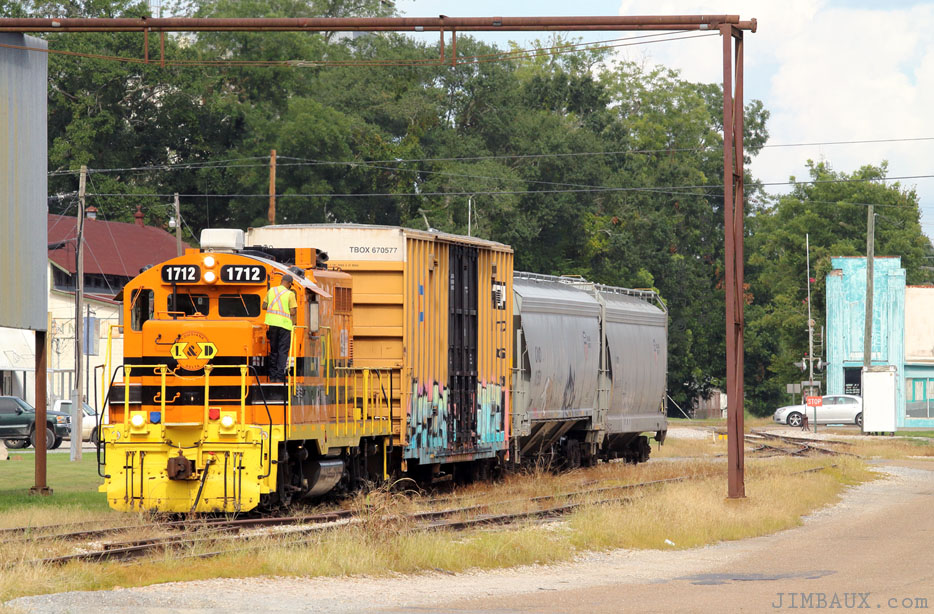 Oh, well. It's a somewhat silly rule, and most railroaders know it.
Anyway, the trainman prepares to line the switch so that the locomotive can run around its inbound train and go and pull cars from the mill.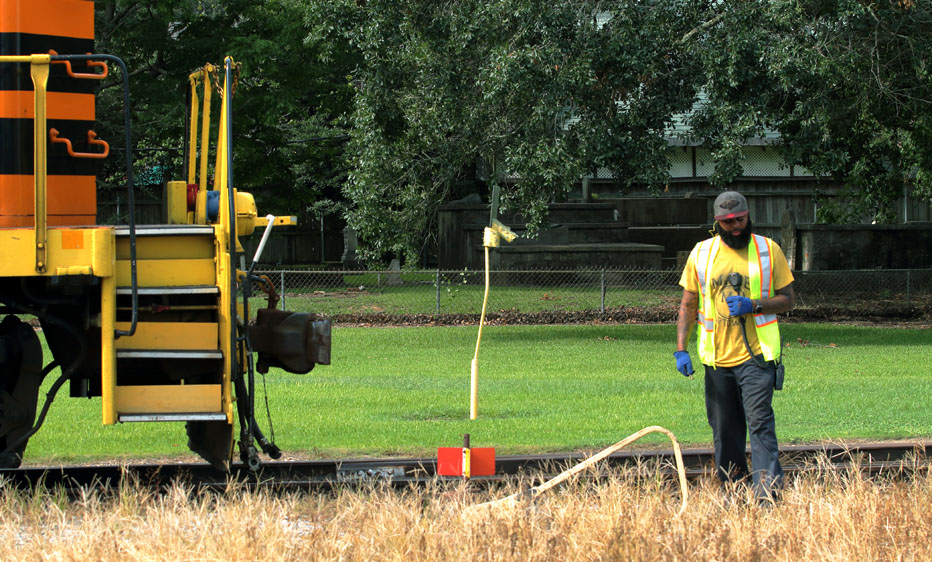 Below, in a view northward on South Jefferson Street, you can see the 1712 enter the mill, and you can get a tiny glimpse of a yellow boxcar that it will pull.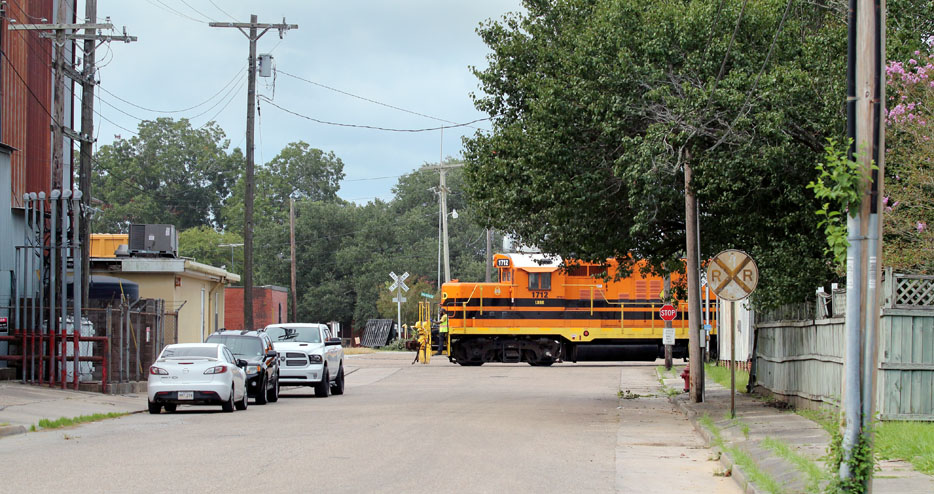 Now, it is switching the mill!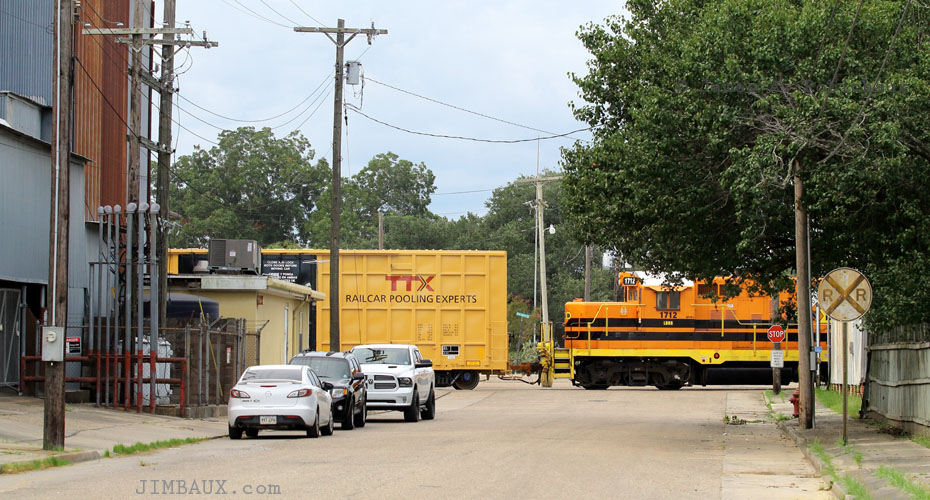 I like in the below picture being able to see so much of the boxcar through that shed area at left.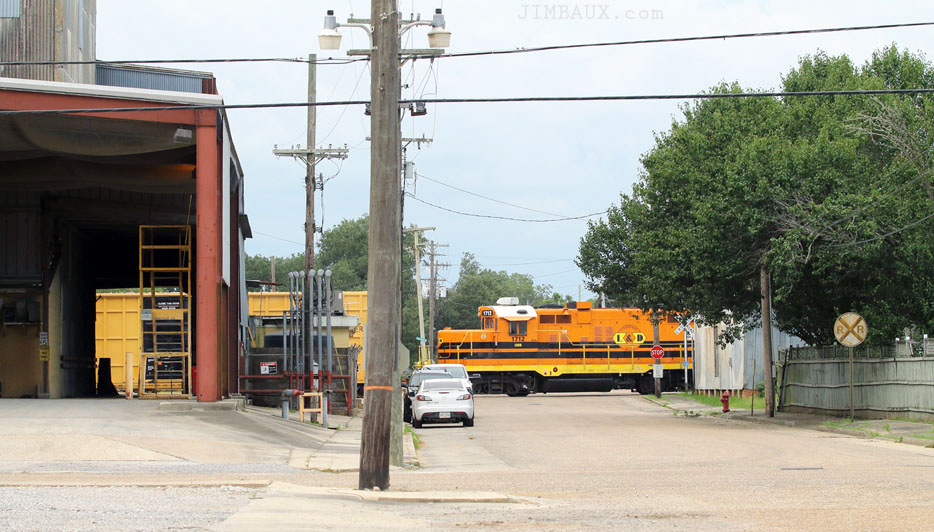 I move north to Railroad Avenue to get a closer view.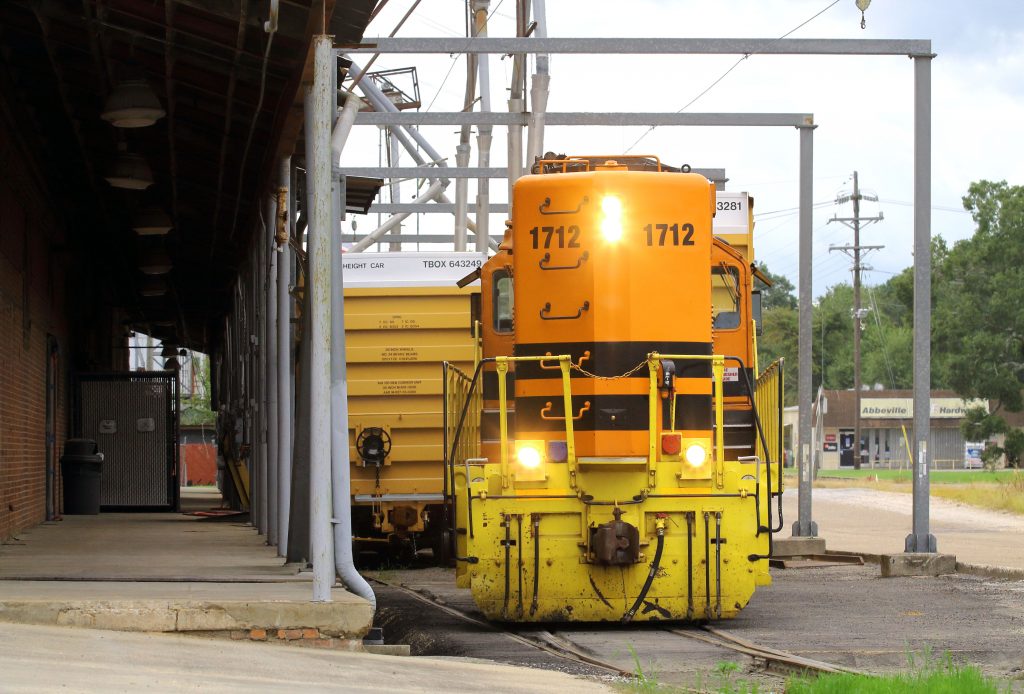 Even though it is very tight, I like that view.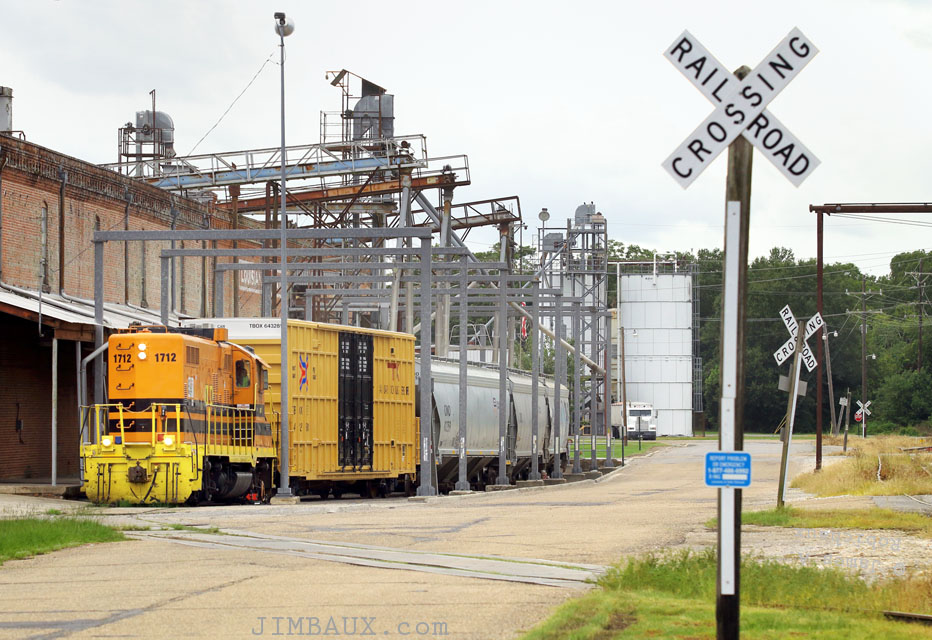 There were three boxcars and three hopper cars there, all brought last week.

I like he crossbucks in this view.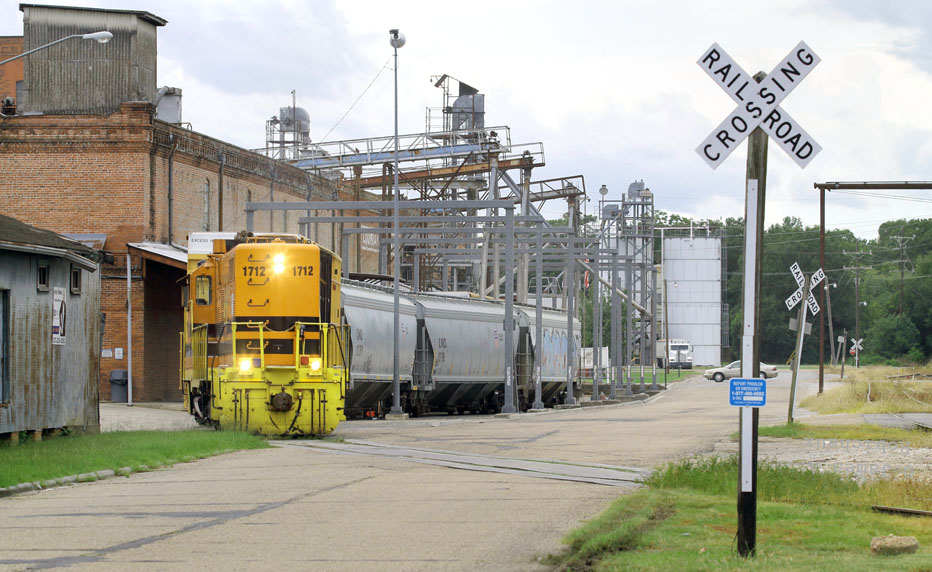 You can see his inbound train at right.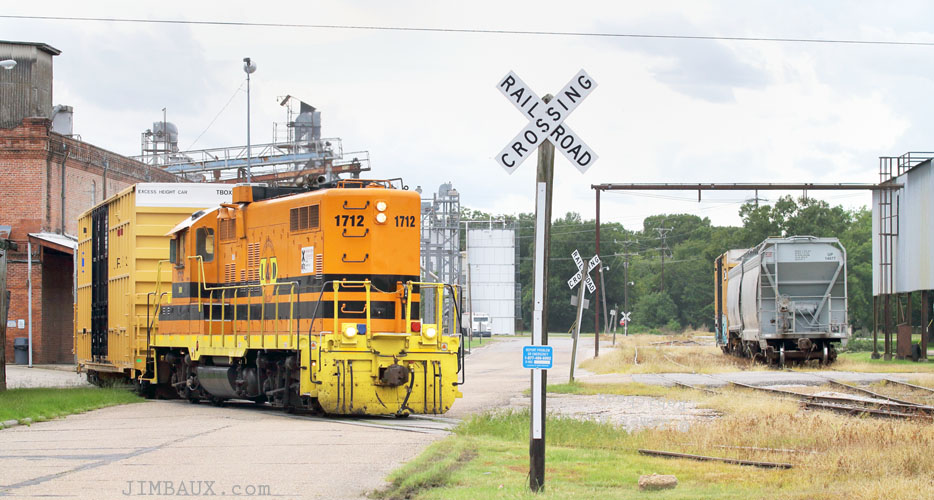 Well, it looks like only one of the three boxcars – all built last month – brought last week was loaded.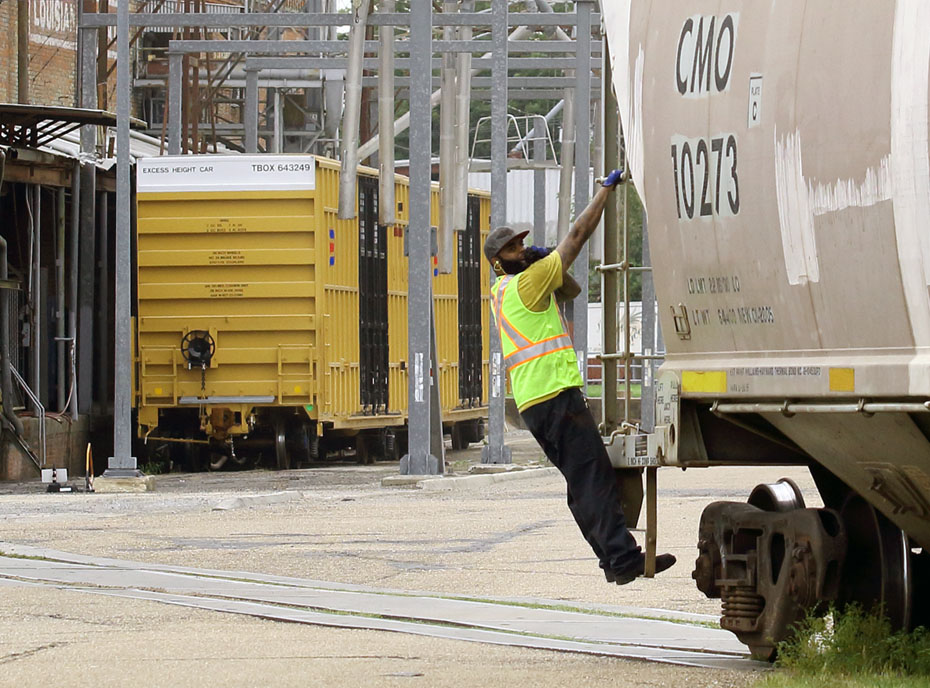 That explains why only one boxcar was brought today, while the one sitting at Erath since last week must have been left there.
The crew is putting the outbound cars in the runaround track.
Below is a cropped version of the above image.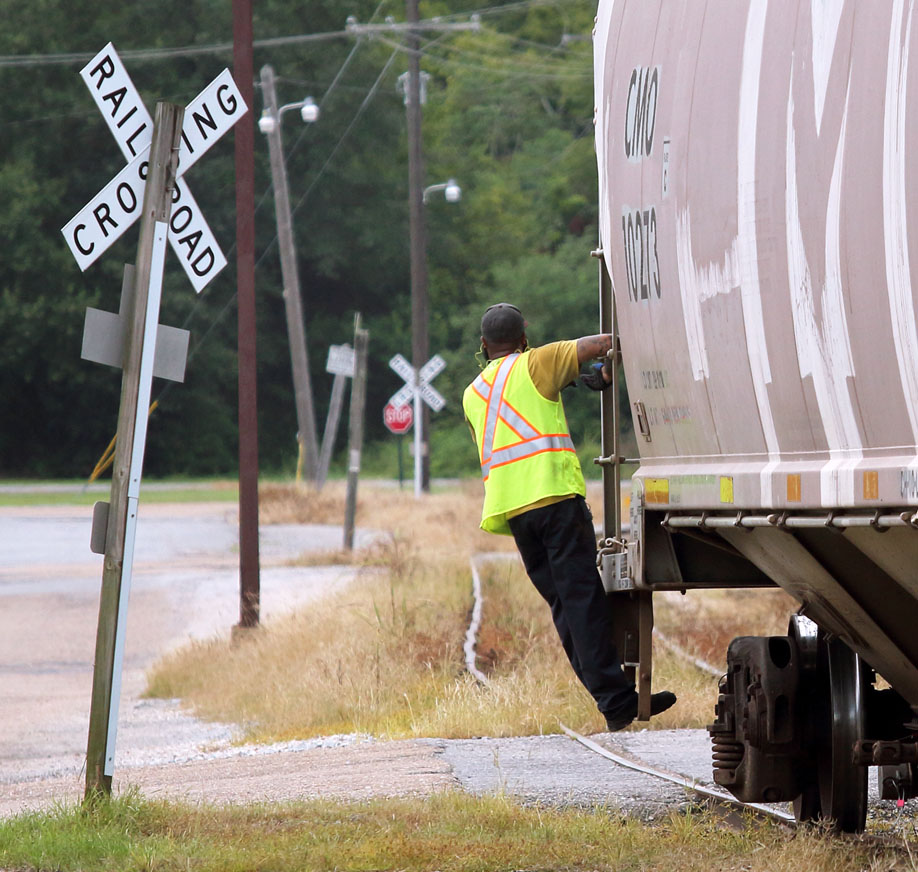 I am not sure which one is the actual runaround track, and I am not sure that it matters, though the one on the left would more likely be it, but I call both tracks between the switches there the runaround track.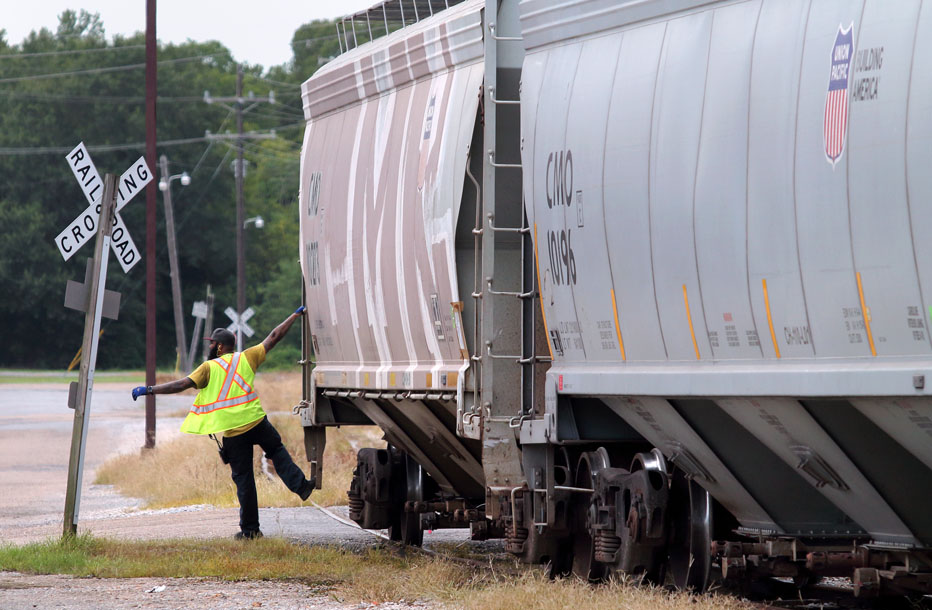 Below is a cropped version of the above image.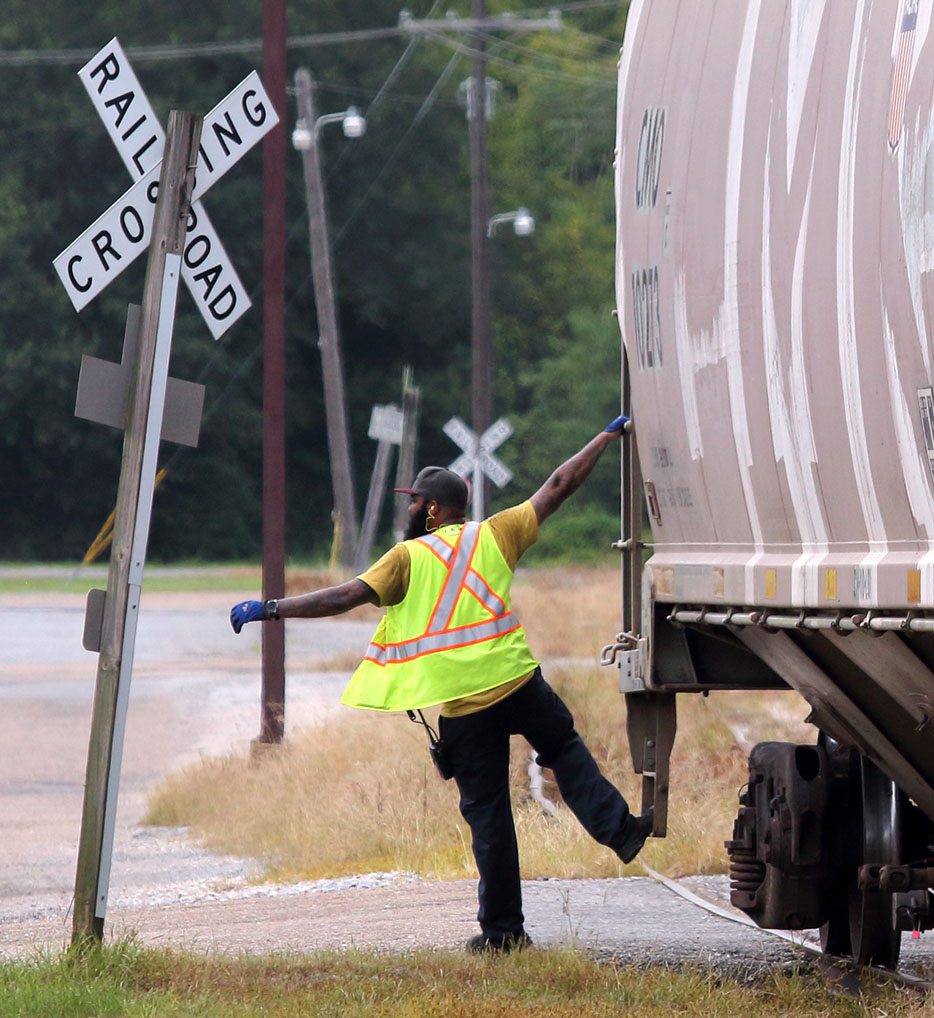 The derelict structure at the right of the scene below was the hull loader. Rice hulls were shipped by rail from here, I guess for animal feed, but that practice did not last long into the L&D era.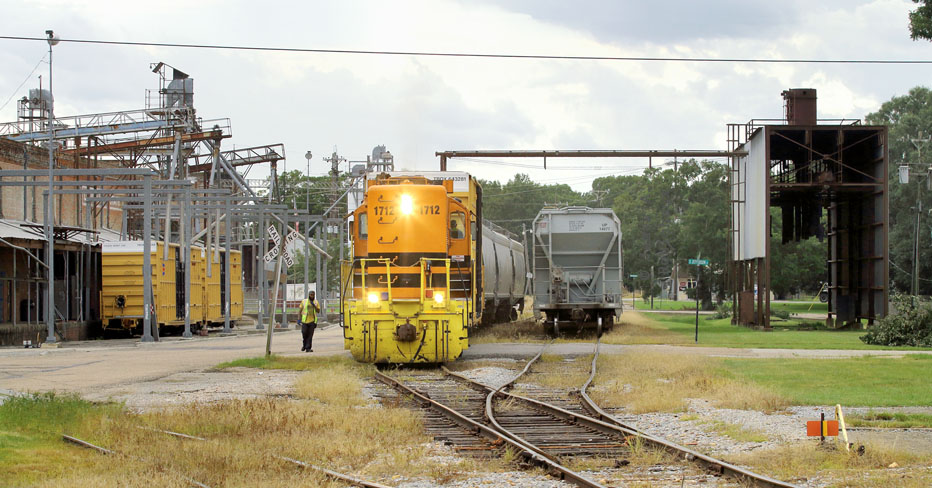 In the scene below, the 1712 is, after having pulled from the mill and potted at left the cars that you see at left, is now pulling the cars that it brought to town.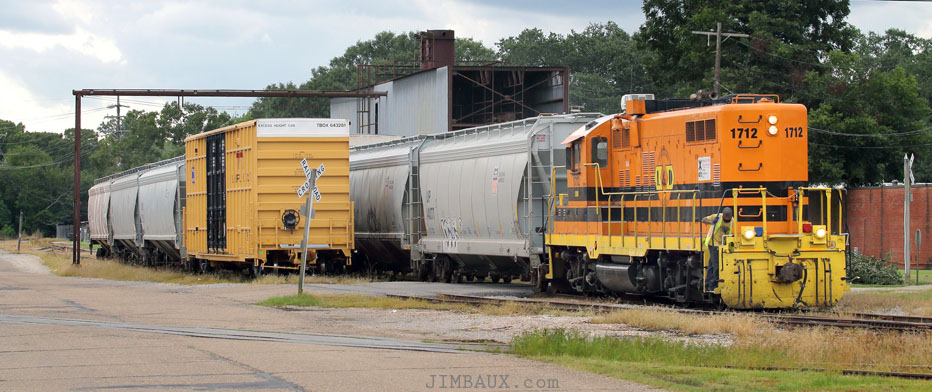 I like that scene. It hides the tagged boxcar!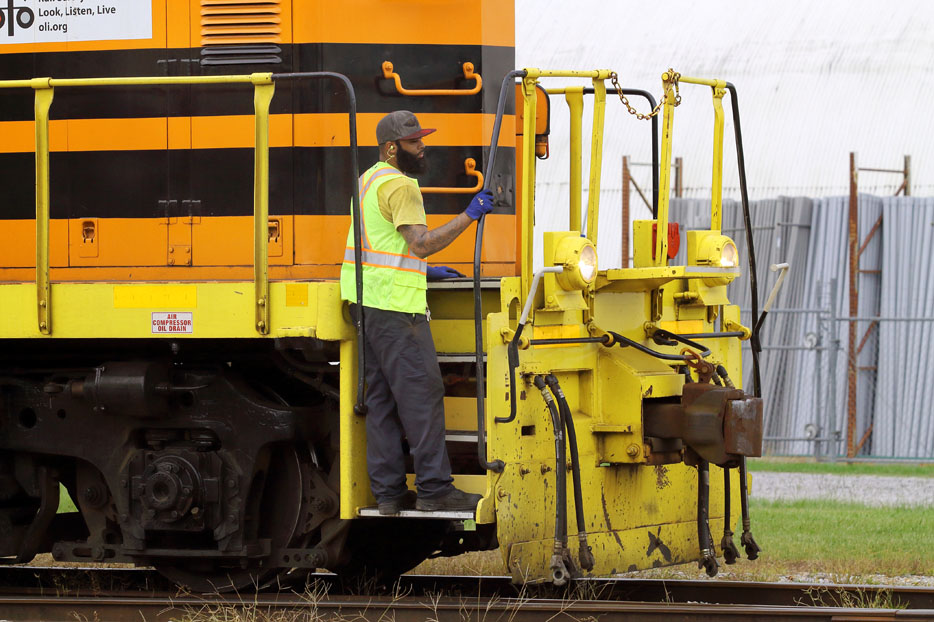 Now, the 1712 and crew are spotting the empty cars.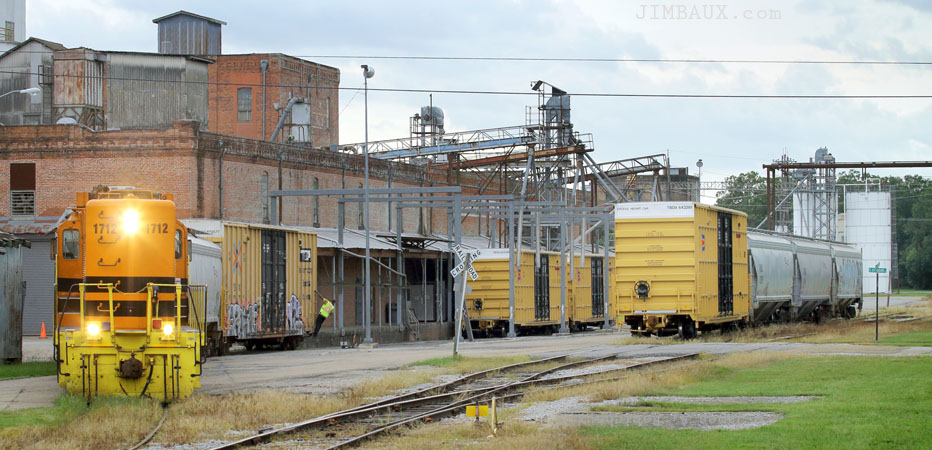 The old mill building is neat, isn't it?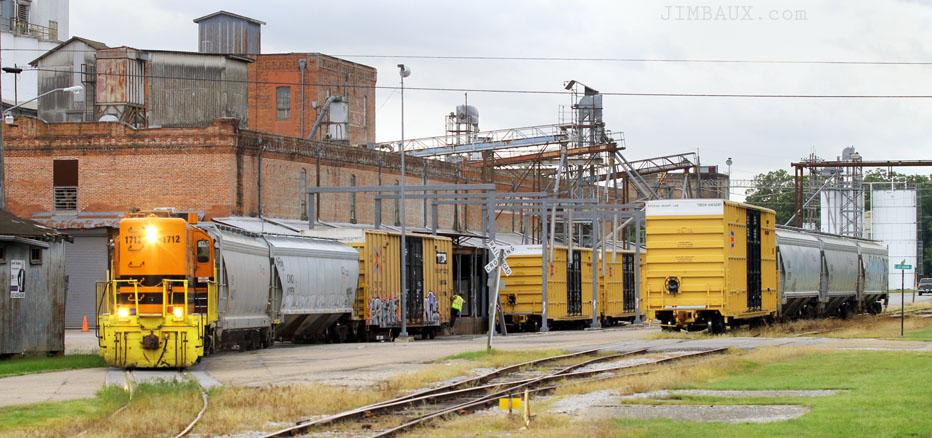 I like the way this railroad scene looks, but it doesn't look as good as it did 15 years ago when my pal Porkchop shot a neat-looking train on this line.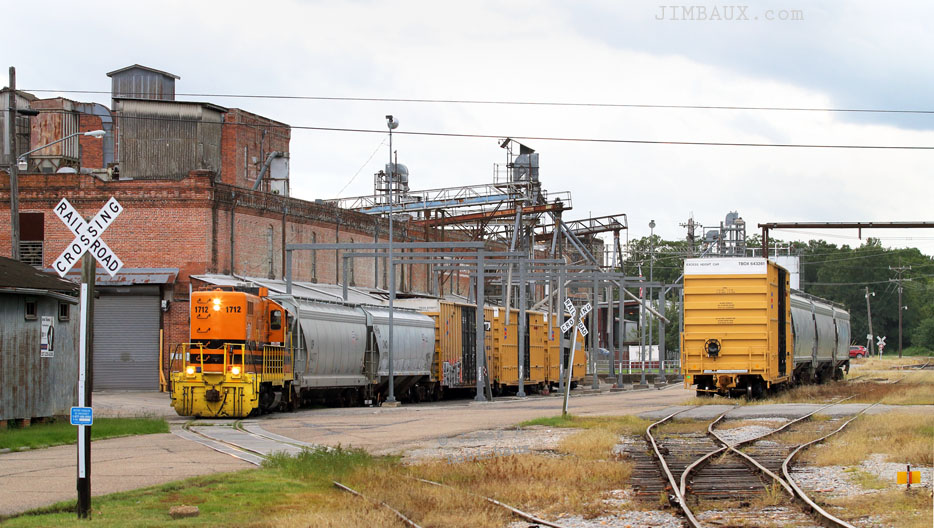 Let's get a closer view.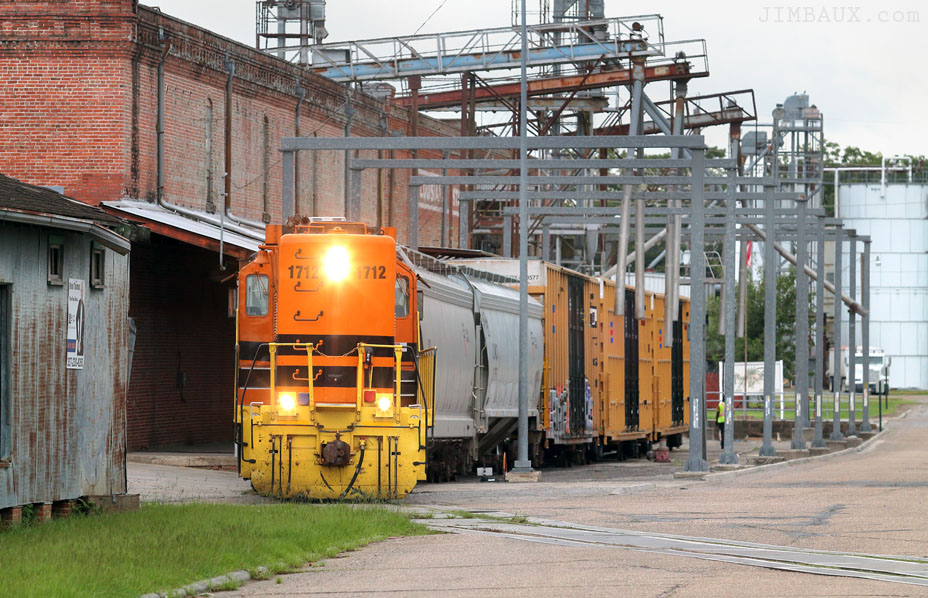 The lighting isn't great, but I am working with it.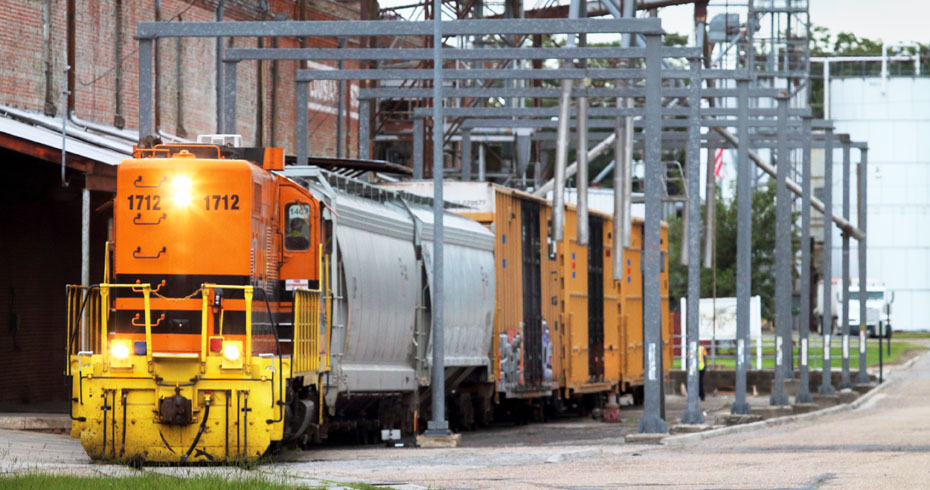 Oh, am I being repetitive again? I really need to stop this!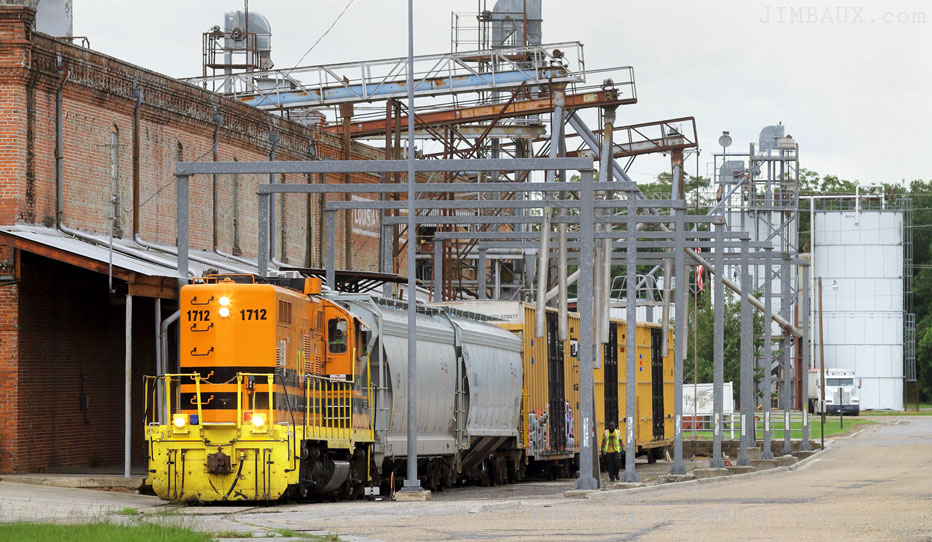 Okay, so, the boxcar that the crew brought is being put on the close track with he other two boxcars not loaded yet from last week, and it looks like the hopper cars will be put on the side track.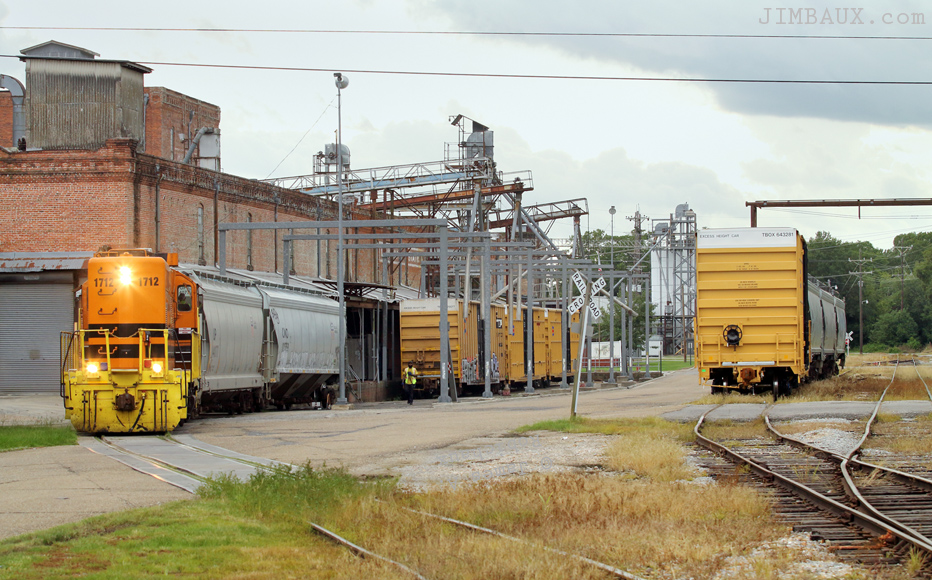 Yes, that is what is happening, and it couldn't much be any other way, since the boxcars can be loaded only from the close track.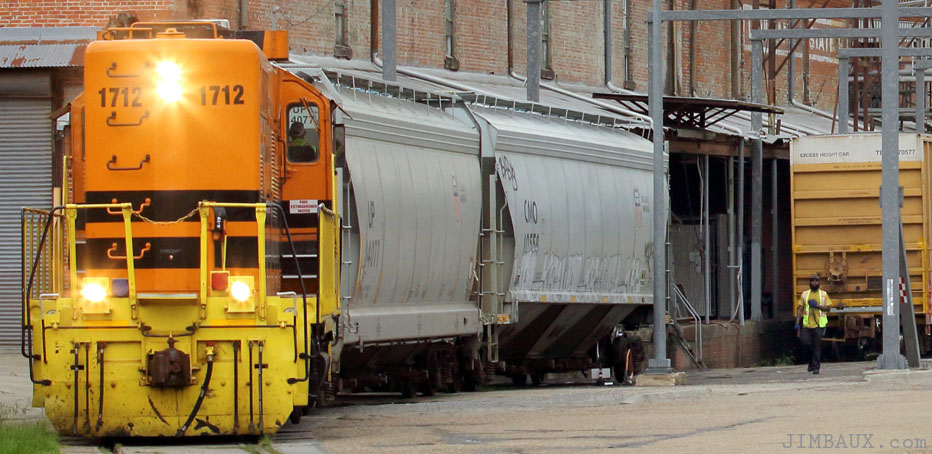 Okay, now, the switching work is done, and, in the below image, the locomotive unseen past the right edge of the frame is about to couple to the outbound train at right.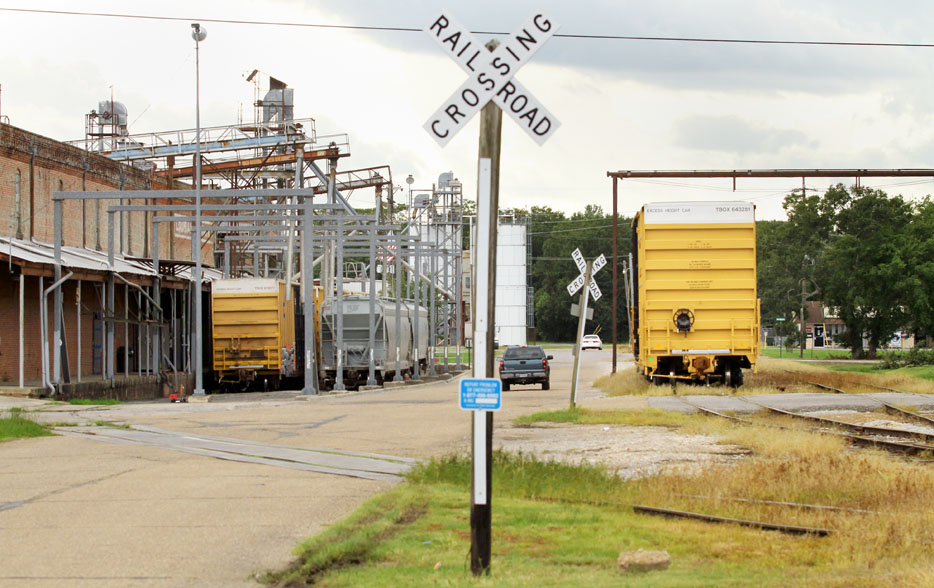 Well, it's now time for me to leave the mill area, since the train is about to do that, and I resume my eastward journey, covering some territory that I already covered about an hour before.
I got set up at Massena Street to get the tree canopy view of the train crossing Schlessinger Street.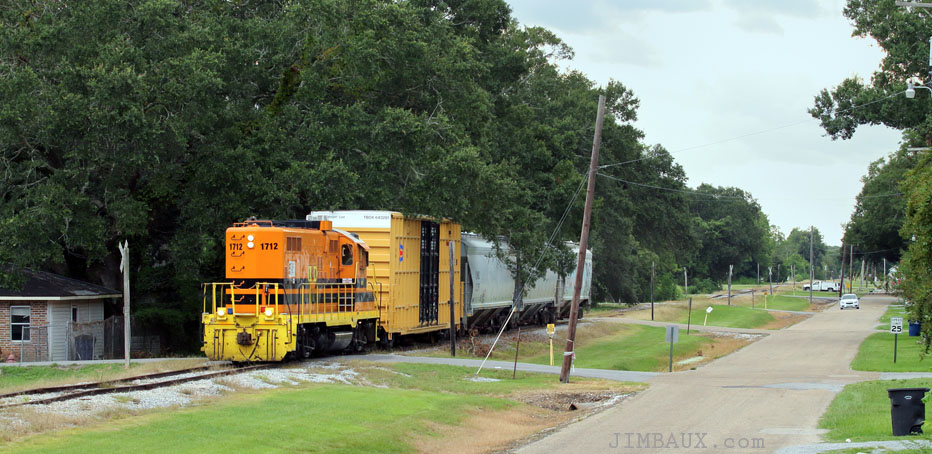 I rather like that view. Do you?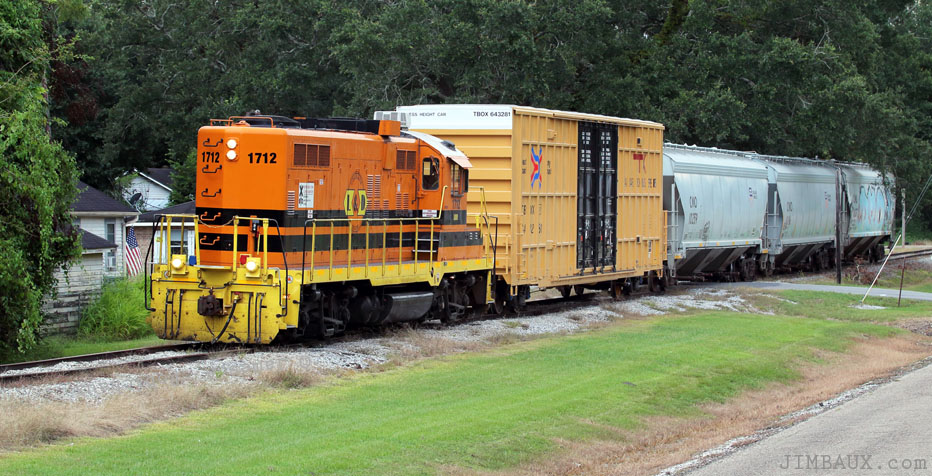 With the lighting being funky, and with me going in that direction anyway, I decided to try something different at South Hospital Road.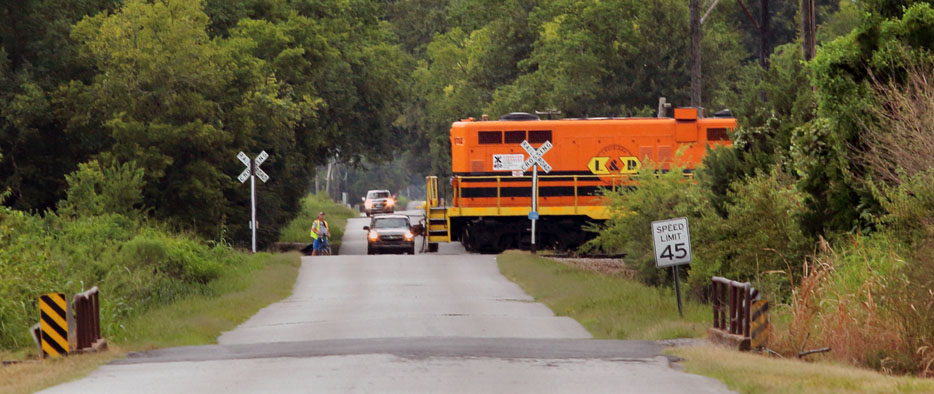 I guess that this works.

It's worth the almost-zero effort that it took.

I like it.
There are two tank cars at Coastal Chemical. Surely, the train will stop and grab at least one of them.
Well, no. It did not.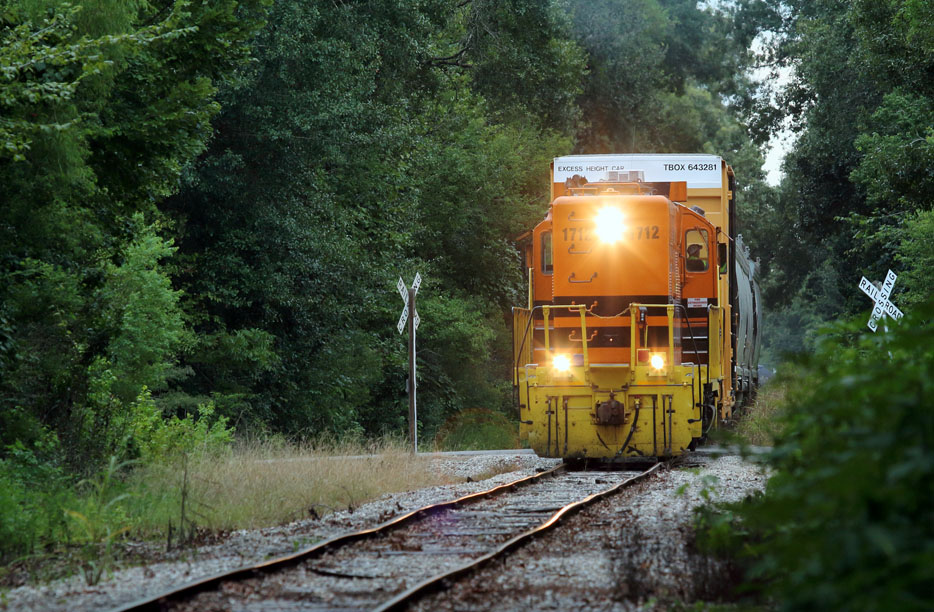 Some mysteries were solved when I arrived at West Erath.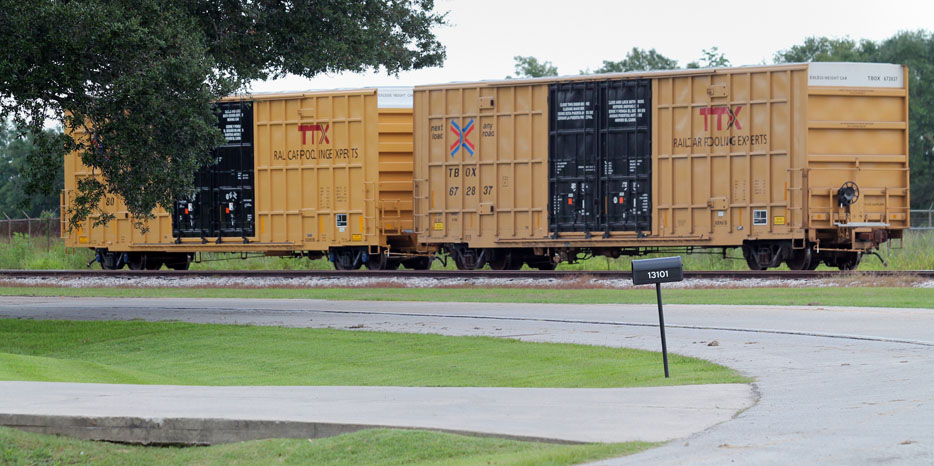 Okay, wow, so there is another boxcar. This track is used to hold cars bound for Abbeville industries (today, that's just the rice mill and Coastal Chemical) that can't yet take them.
As you saw a week ago, the boxcar on the left – built last month – was set out there one week ago; presumably, the train that we are seeing today set out the boxcar at right on its way in earlier this afternoon.
I tried my highway-swoop shot at West Erath today, but it didn't really work.
I need to get a chainsaw and clear that vegetation from the northern side of the track.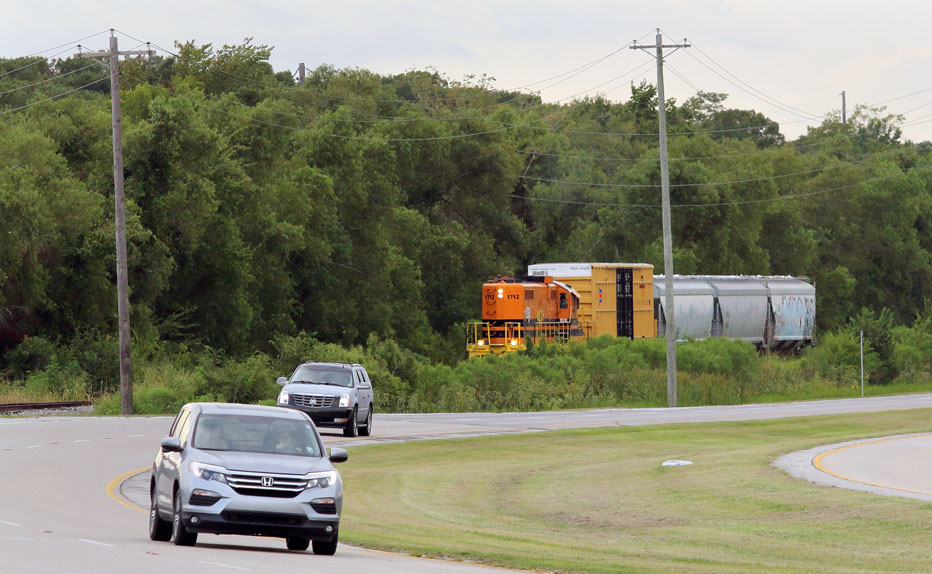 I guess that this isn't so terrible, but I don't know what to think of my color-correction work.

Y'all come back!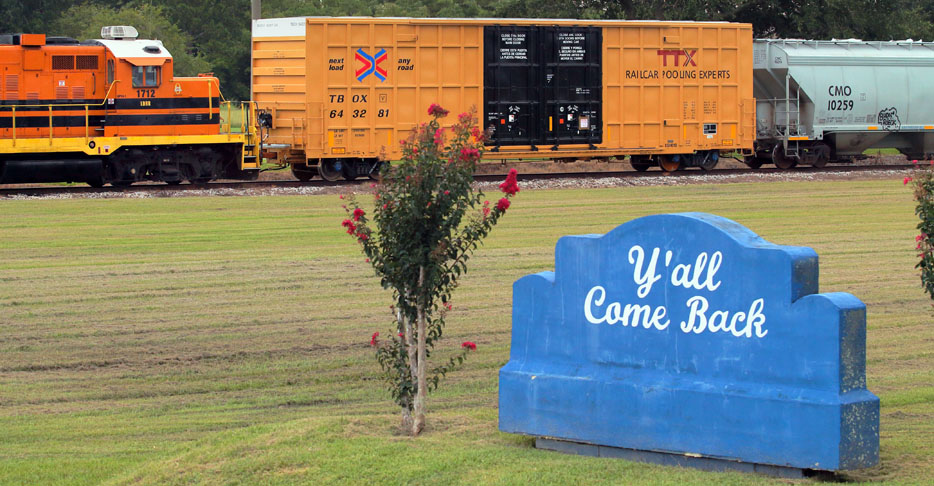 I am quite tired and hungry. I have a long drive to New Orleans ahead of me, and I will be tired and dirty and the hot once I get there. I am looking forward to taking walks in New Orleans in the next few days if the weather permits. I feel so sad.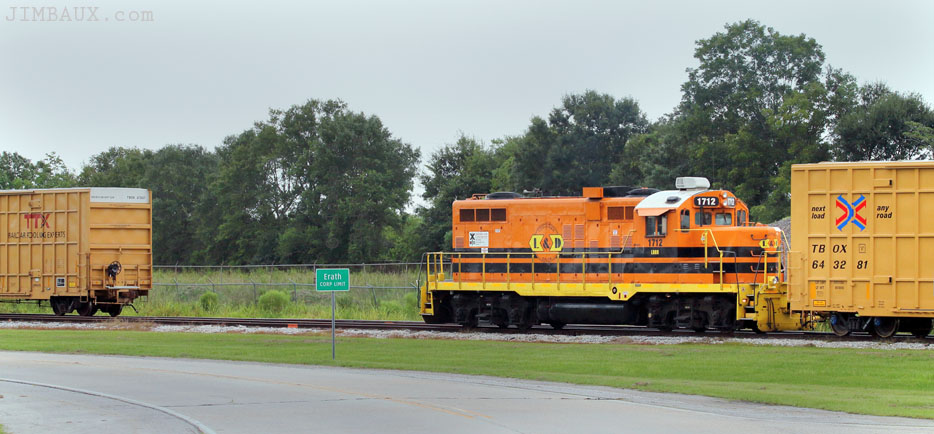 The light is fading, the opportunities for good shots diminish past here, and I really need to get moving and get to New Orleans.
So, I set up for a grand finale here at South Myrle Street in Erath.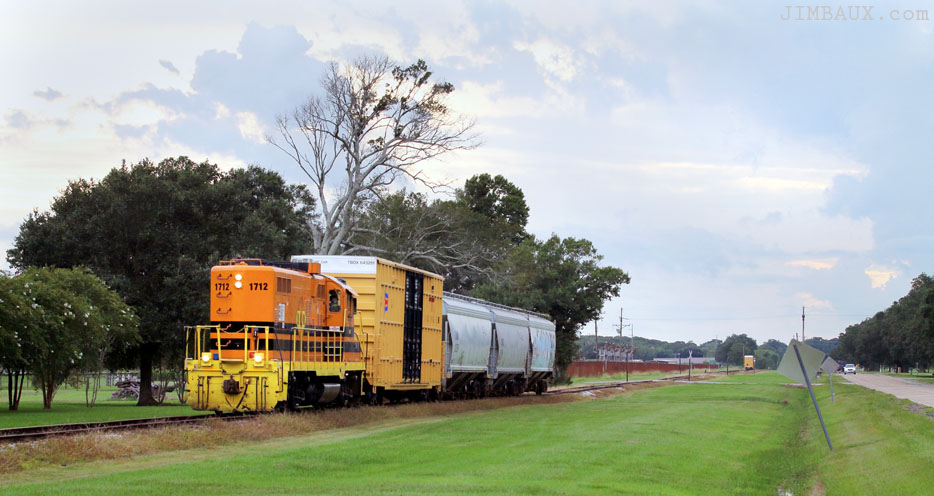 I really like this view! It's neat on its own, but seeing the boxcars in the distance is an added treat.
Let's see a cropped version of it.

Okay, that's enough of this train for me. I have to break off.
More than 2 hours after I left the homestead, I am finally really leaving the area. Now, I will be getting onto Highway 90 soon to go to New Orleans, which means it'll feel like I am going home, which will make me feel more hurt. I have nobody to talk to about this.

An hour later, I arrive in Berwick, and, oh, look at what I see in the siding!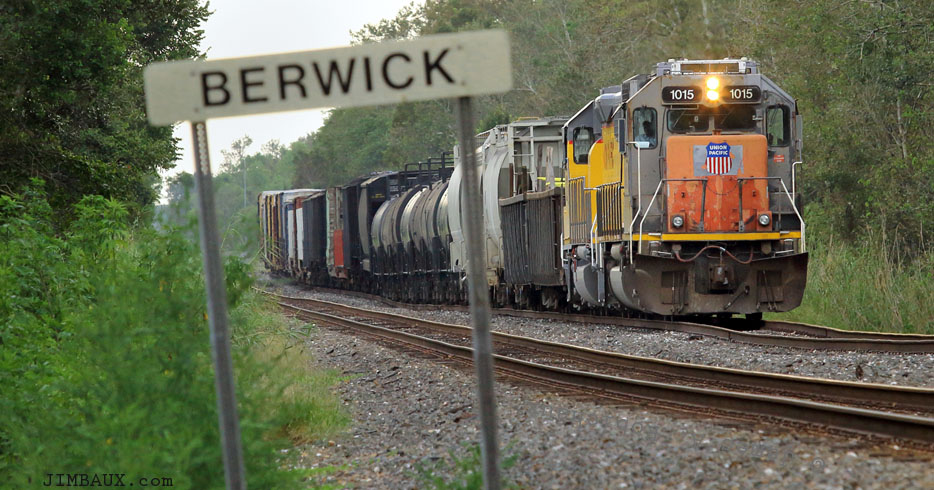 That is the Unoin Pacific Railroad's New Iberia Turn eastbound sitting in the siding and Bewrick, but, just as importantly, look at that lead locomotive!
I didn't even know that there were still any patched Southern Pacific railroad GPs still on the UP roster!
I guess that it is waiting on a meet with an eastbound train. So, especially since the fact that it's about to be dark means that losing plenty of time here is impossible, it might be a good idea to wait here a little while to see what happens.
In the meantime, here is what appears, I guess, to be some damage from Hurricane Barry.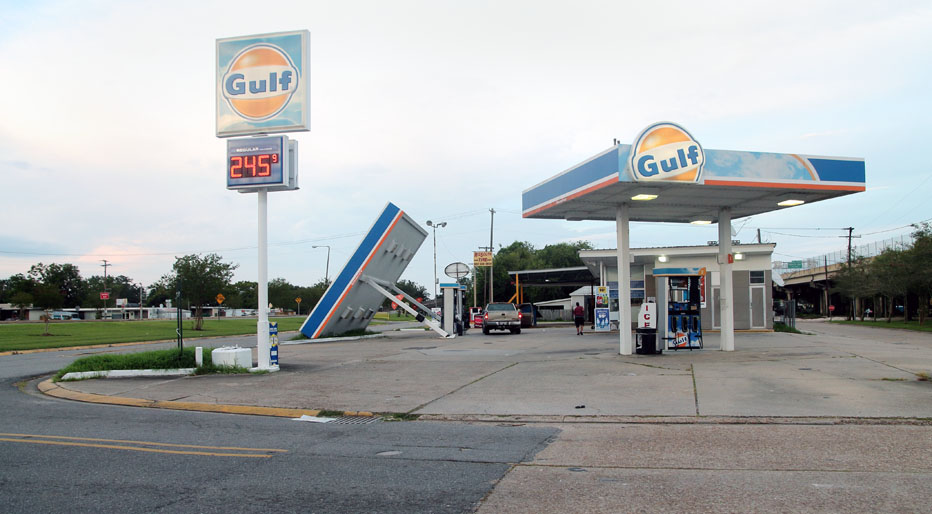 Old Berwick is neat. It's too bad that the place is doomed.

About 12 minutes later, at 19:36 CDT, the expected westbound train – BNSF Railway's M-CSXLAL – passes me at Seventh Street.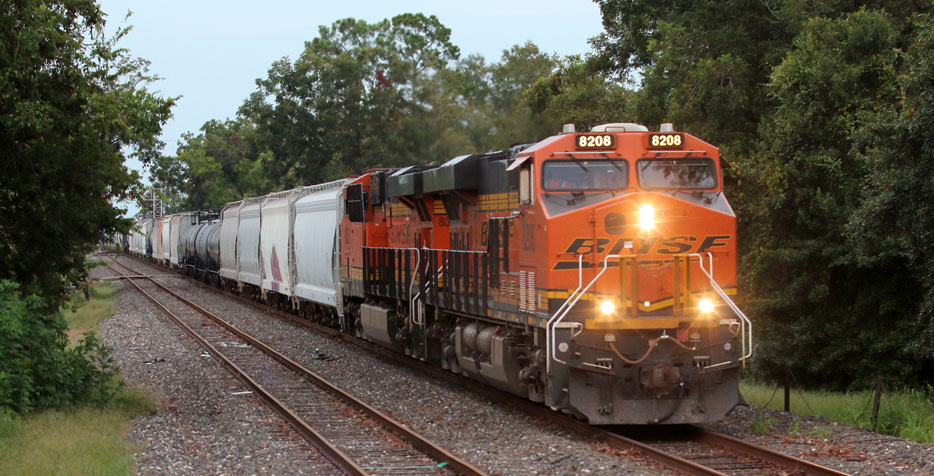 The engineer opened the window as he passed me and smiled and yelloed "heeey" at me. It was Engineer Sean!
He was surprised to see me, I guess. It really has been a long time since I have seen him. I was thinking before his train showed up, after I had heard something about a BNSF westbound train over the radio, that I don't think that I have even photographed a BNSF Railway train in 2019 (but, actually, I did, once, on March 8, or twice, if you include non-moving trains, as I shot a couple of jobs in Lafayette Yard on June 10.)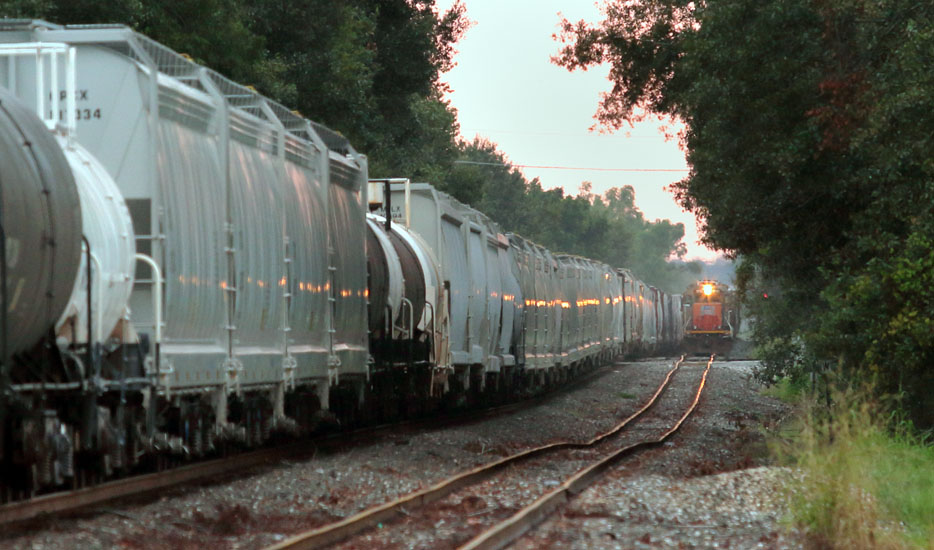 The westbound train clears my position early enough that I was able to safely get across the track for a better shot, and, at 19:57, with no light to spare, I got this shot that is a great way to end our afternoon adventures today.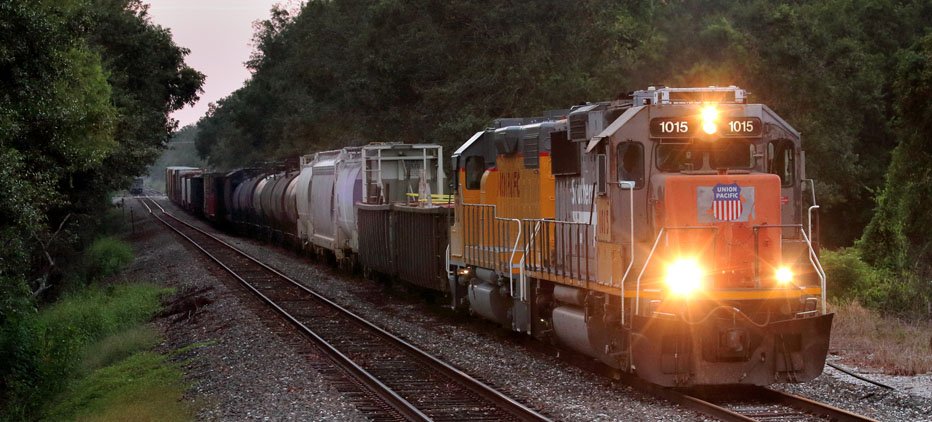 The engineer looked down at me, as I was atop my truck, and kind of halfway grinned after I smiled at him.
While I want to end a day of images with a good image, and the above image, while dark and grainy, with too much headlight blob, is still good enough, I have to get some shot of this clean, fresh UP 512.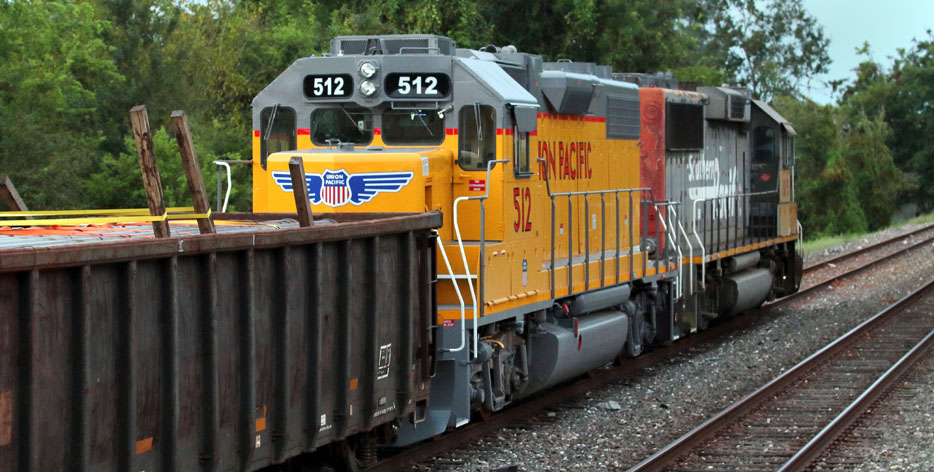 I hated the UP for a decade after it took over my beloved SP, the railroad of my youth, but, in the last decade, I have come to appreciate it, and the UP paint scheme applied to spartan cab units, now with those nose wings, is really cool, as long as it's fresh and clean.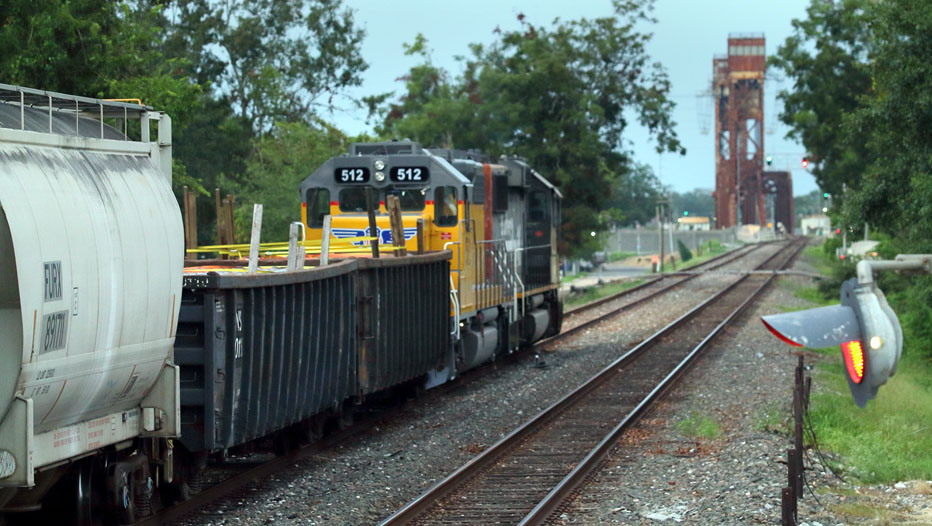 That is all for the DSLR pictures today.
Passing the Chacahoula exit without taking it hurt.. I won't ever get over this. This isn't like losing a romantic partner, losing some persona;l relationship with any embarrassment from it. This is losing my home, this is losing what I had, what I actually had.
I'm still hungry. I think that I'm stopping in Gray to get something to eat.
I did.
I stopped at the Taco Bell in Gray, which may not have been a great idea. For one thing, the food has not left me feeling good. For another, leaving the Taco Bell to get back onto Highway 90 require me to go north on Highway 24, as if I was going to Thibodaux, and then crossed Bayou Terebonne, and then head back south. I think about Mrs Dotty. I feel bad.
Around Des Allemands, I heard FRED chirps. So, something is active out there.
I am getting all the feels right now being back in the Des Allemands. Me talking into this tablet reminds me of that prison job.
At 21:32, I am back at the pad in New Orleans. I love this place, still.
The rain started just before I arrived.
After the rain stopped, despite being rather tired, I went for a walk.
I walked the Lafitte Greenway, which is the right of way of the old Norfolk Southern Railway Bernadotte Line, for a distance.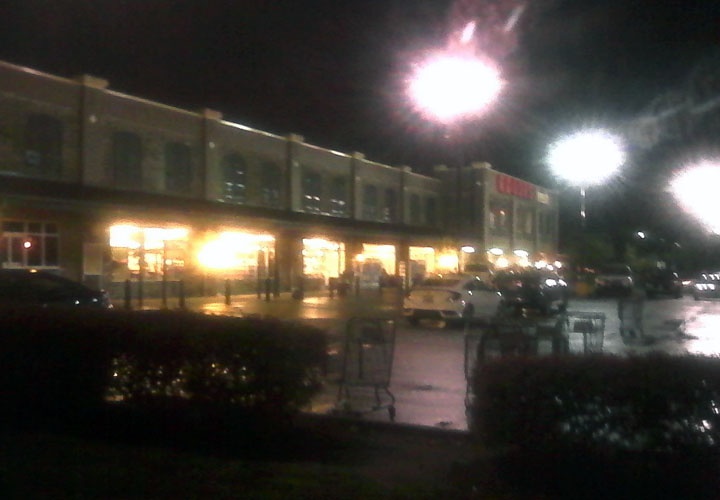 That is our neighborhood Rouse's supermarket, which, sadly, is owned by Trumpers.
Riccas is an iconic architectural hardware place in Mid-City.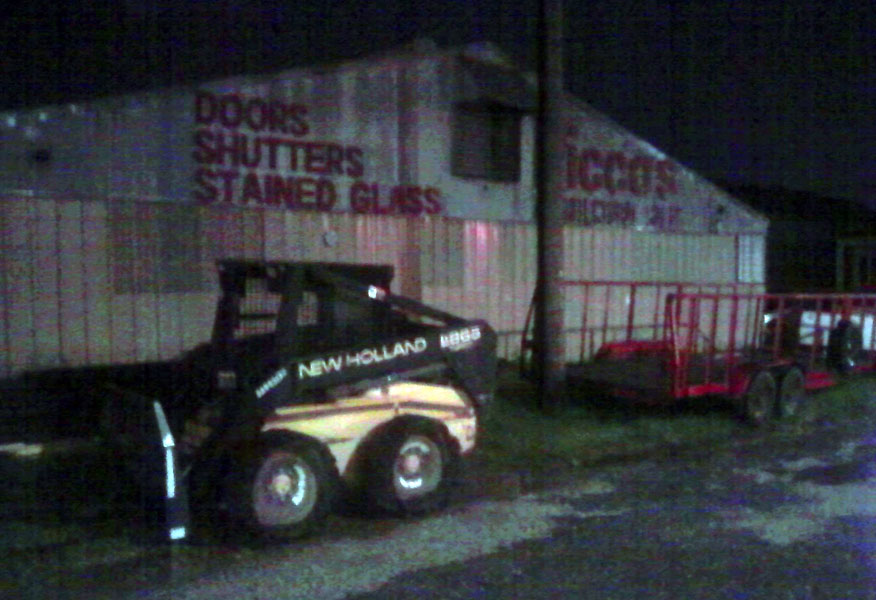 There were no cars at Masonry Products, the last remaining customer on what remains of the Bernadotte Line. That, too, makes me sad.
I then walked southeastwardly toward Bienville Street.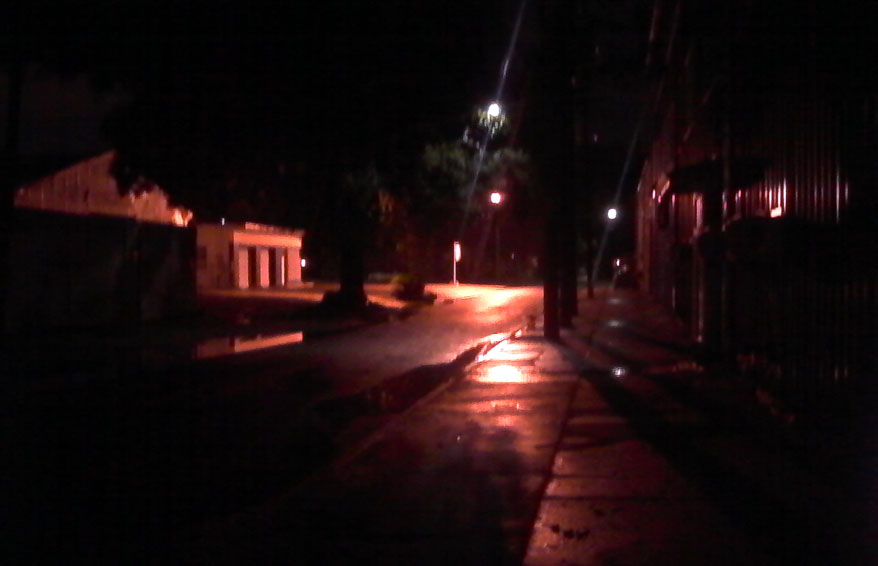 I like Bienville Street. It has character.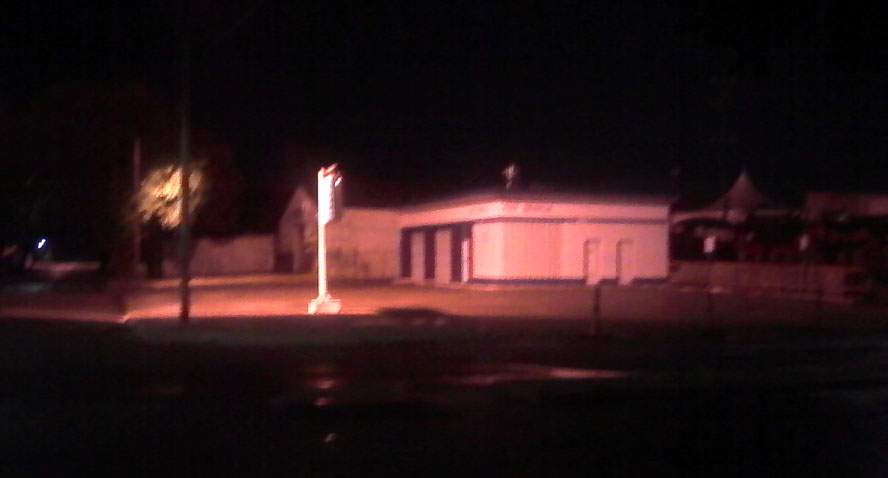 Still, I guess largely because I myself have changed, even more than the city has changed, don't feel the pull that this place exerted on my 15 years ago when I decided to try to move here.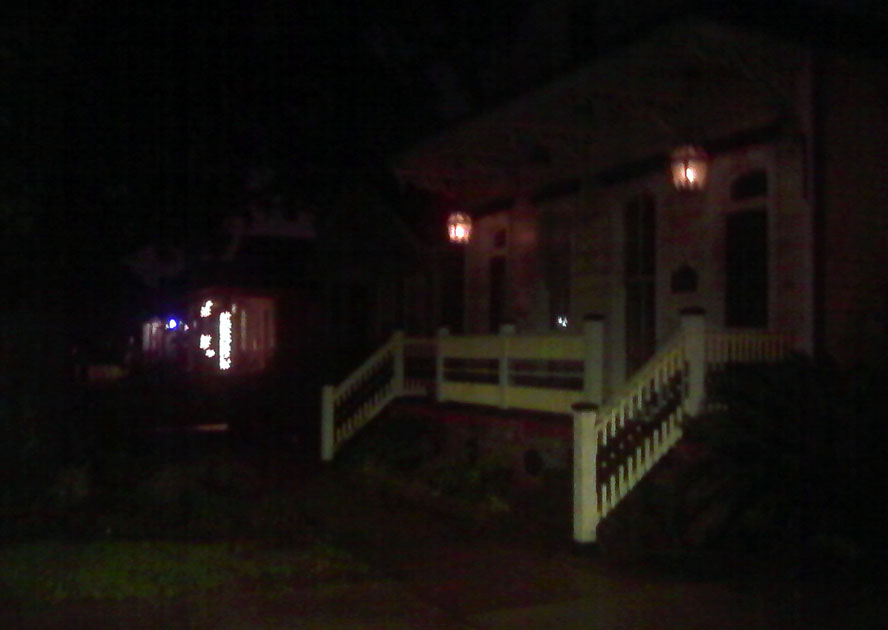 The Duke and Nonc once took me to this restaurant, Liuzza's. It's good.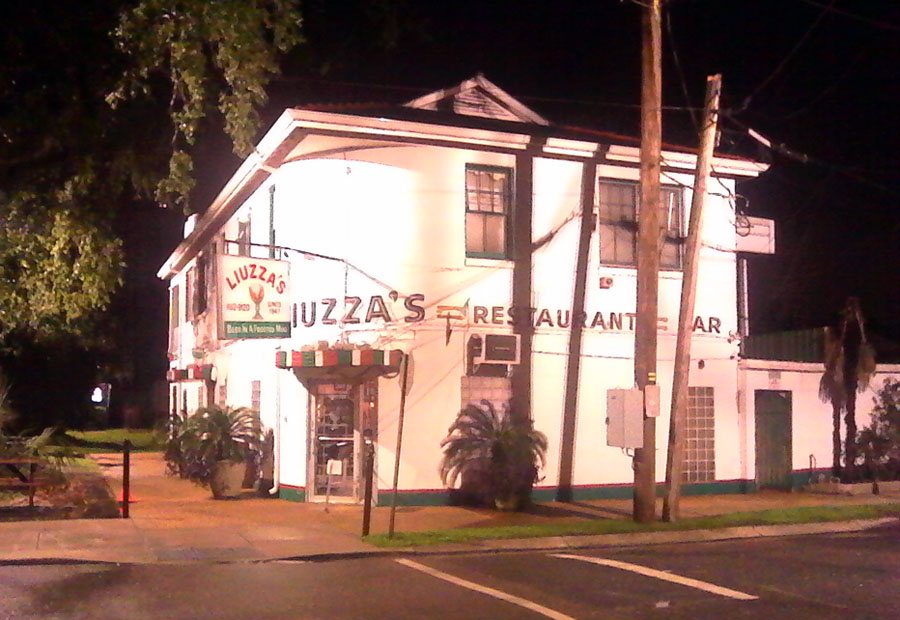 Well, that was fun, and it's really been an interesting and colorful few hours in various parts of southern Louisiana, but I need to get to the crib and shower and get some sleep.
Thanks.
Jbx