Jimbaux doesn't care any more.
Hi.
Why Do I Still Do This?
I have a few train pictures for you, taken in New Orleans on the afternoon of Friday 13 July.  After the pictures, I have some other things to discuss with you; I wish to discuss site news, introversion, and some ideological matters.
I hope that you liked the return post 10 days ago, after the site had been down for as many months!  So, today, I got out and took pictures for the first time since April.
Damn, It's Hot
I wonder why I still do this, or I wonder why I picked this afternoon to break the drought.  These are not my best pictures, but I think that they are nonetheless presentable.
I ate a late lunch at the Popeye's on the corner of South Carrollton Avenue and Earhart Boulevard; I had not eaten there in a long time.
There was black smoke hanging over a portion of the Ninth Ward.  I thought that something was on fire somewhere in the area around Florida Avenue and the Inner-Harbor Navigational Canal.  I wanted to see what was happening on the New Orleans Public Belt Railroad in that area anyway; so, I figured that I'd get some pictures of some industrial building on fire.
As it eventuated, what I saw was heavy smoke coming from the stacks of NOPB 2008 dragging, all by itself, a big cut of cars into the yard from the south.
Figuring that this was a really long train due to the tremendous huff of noise and smoke that the 2008 was emitting, and figuring that that meant that this was the KCS-to-CSX transfer train running underpowered, I scurried to get to Alvar Street to set up a shot, but all that I was able to do was this.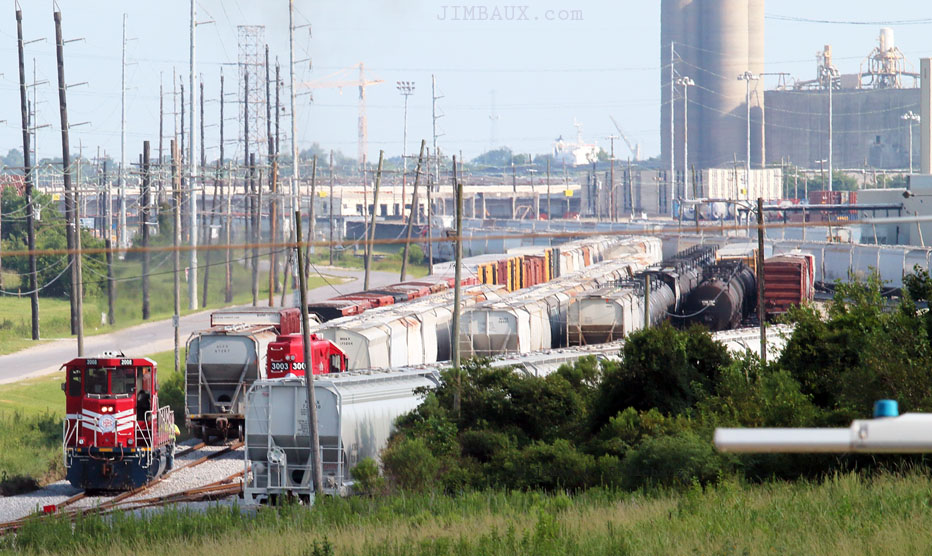 I guess that that's not a bad view of the yard, but I could do wonders here with a drone!  Are you going to help me get one?
Oh, gosh, what in the hell am I doing up here?  I am too old for this crap!  I am going to get killed up here on this overpass taking pictures, with all of these automobiles zooming by; I don't remember this road being this busy, but may it's because it is Friday afternoon and because Gentilly is being repopulated.
Anyway, the NOPB 2008 broke off from the cut of cars with which it arrived and then ducked into the yard.
Shooter
In the meantime, there was something interesting approaching from NE Tower, and, even though the light wasn't optimal, I figured that I'd give it a shot.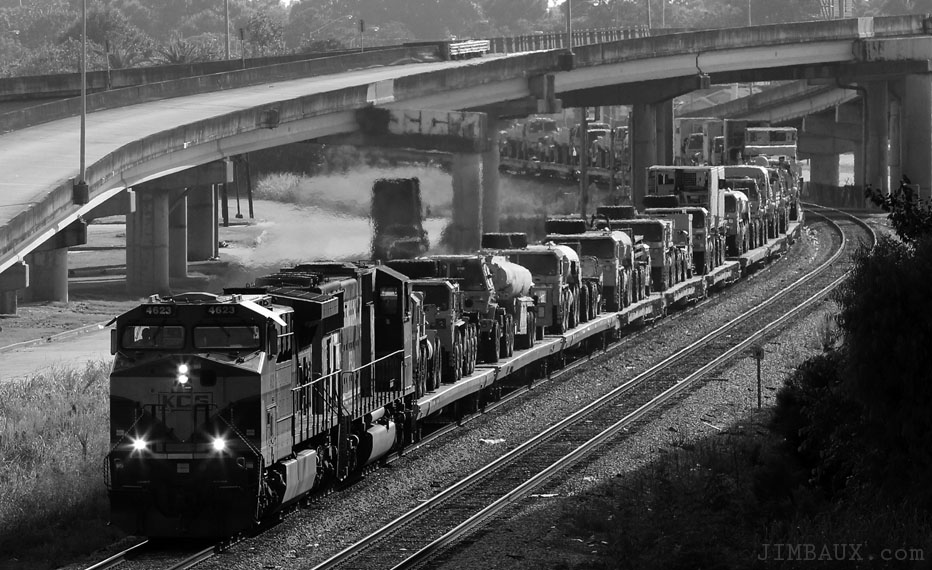 Hey, look at that, a CSX Railway military train fresh from delivery from the Kansas City Southern Railway – almost certainly coming from Fort Polk – making its way across Louisa Street to my position at Alvar Street.
Did you know that Lee Harvey Oswald lived in a house on Alvar Street in New Orleans?  Yeah, make what you will of that, it being a frequent location of my pictures.
I will present two versions of the next image, one in color and one in greyscale, as I don't know which to pick.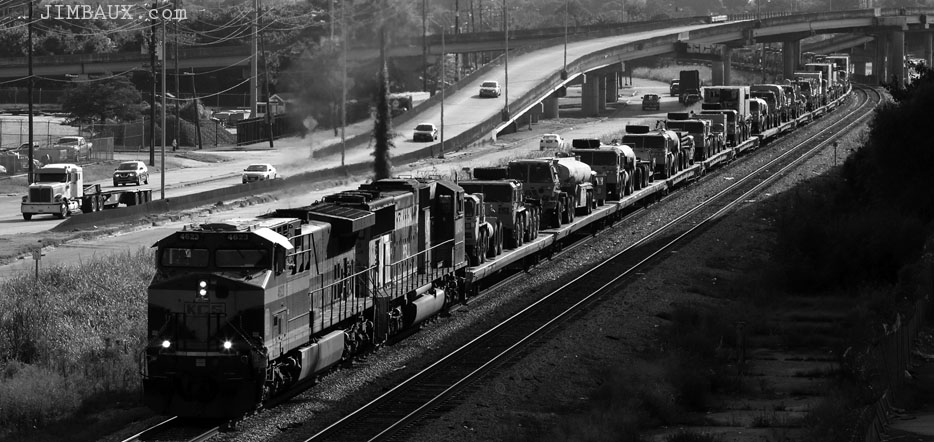 Tell me which one you prefer.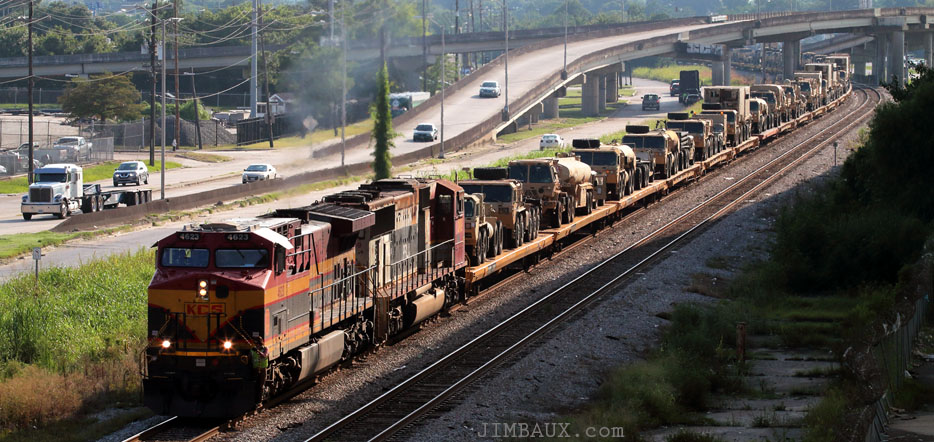 After that, I went back by France Yard and saw the NOPB 3003 pulling the NOPB 2008 south.  Figuring that they were going to the river, I got set up on Poland Avenue – and walked past Kat Huff's house – to set up a shot, but, after a long wait and no train, I went back north and found the pair parked at Claiborne Yard.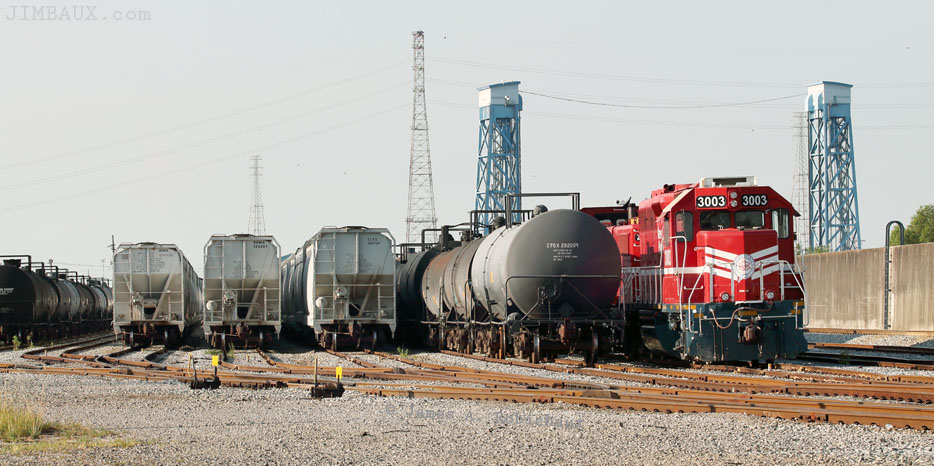 Well, that's a new shot, something that I have never before done.
And that's how we end this day, after my camera fell – or was yanked – to the gravel after the strap got caught on my trailer hitch as I was walking around the truck.
I was tired and sweaty.  I was going to go and hang out with Sarah and Sonny, but I was just too damned tired and gross.
Can't Even
I have so much more to say, but it's taken me long enough to get this damned post out.  It sucks having to lie every day in order to eat.
So, I'll talk more about the site news, about my reading of George W. Bush's book, and about part of how I came to be an advocate for unconditional basic income next time.
For now, though, I'll just leave you with a few thoughts.
I recently observed in a high school classroom a poster that had "Even Einstein asked questions" written on it.  I am disturbed that an educator would think that such a poster is sensible.  Apparently, the thought is that "even" someone as smart as Einstein would feel the need to ask questions, as opposed to the reality that his questioning nature was how he became successful in the first place.
As Einstein himself noted, "I have no special gift; I am only passionately curious."
That idea has always resonated with me, and I hope that it resonates with you.
That's all for now.
Thank you.
JBX