[There are many things that Jimbaux would like to say to you, but he doesn't know how . . . ]
Here are some pictures of trains taken in New Orleans (or nearby Metairie) on Saturday 28 March 2009.  They are generally my typical fare, not too great but not terrible either (well, they wouldn't be presented if they were really bad), but they include one new shot and one not-so-new shot of a neat train.  They include BNSF, Union Pacific, CSX, the New Orleans Public Belt Railroad, and the Kansas City Southern Railway.
Anyway, we start on the New Orleans Public Belt Railroad at France Yard with our "one not-so-new shot of a neat train," a switch job bringing a cut with those neat cylindrical hoppers into the yard.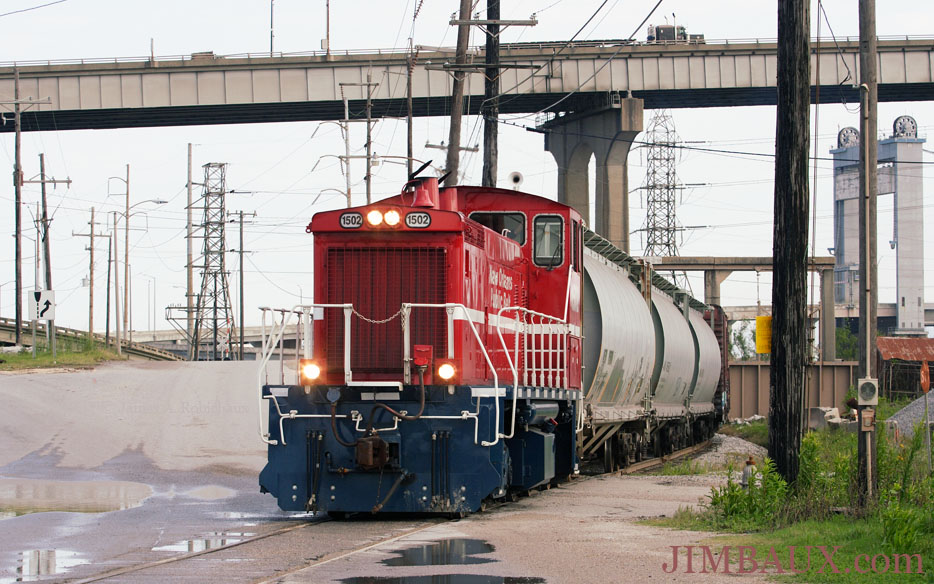 Isn't that neat?  I think so, and I think that those puddles of water augment the image quality.
Next, we move over to People's Avenue west of NE Tower on the CSX, as I had been alerted to the approach of the ILBNO, which is seen here.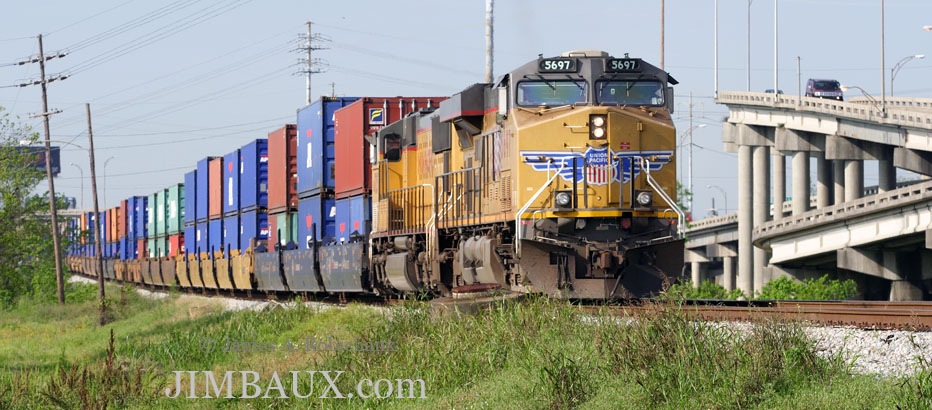 Union Pacific Railroad train ILBNO was a maritime intermodal train from Long Beach, Ca., to New Orleans, hence the name, but the containers were not removed from the train at New Orleans.  They went to Atlanta on the CSX.  So, the train is seen here on CSX rails about a mile from being delivered to CSX's Gentilly Yard where a CSX crew would board what would then become CSX train Q192.
A few weeks after this picture was taken, the ILBNO was 'promoted' to being the KBLNO, the "K" prefix being for a more high-priority intermodal train in UP parlance, even though it is the same train as the ILBNO was.  In early 2013, the KLBNO's traffic that the UP didn't set out in Avondale (in other words, the traffic that went to Atlanta, that you see in the above picture) was rerouted through Memphis, and the Avondale traffic was put in a new train called the KLBAV.
Back to France Yard, we see the NOPB 1502 doing some switching.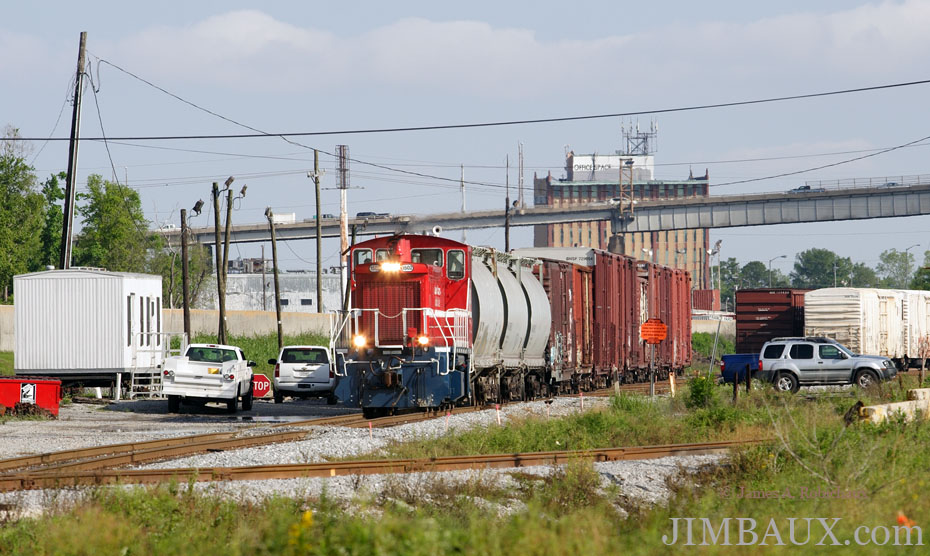 One hour and two minutes later (I have no idea what I did during that time), we are on the NOPB's riverfront trackage in the far-western part of the city where we see a BNSF job (or maybe an NOPB job with BNSF power, but I doubt that) heading west to the Huey P. Long Bridge.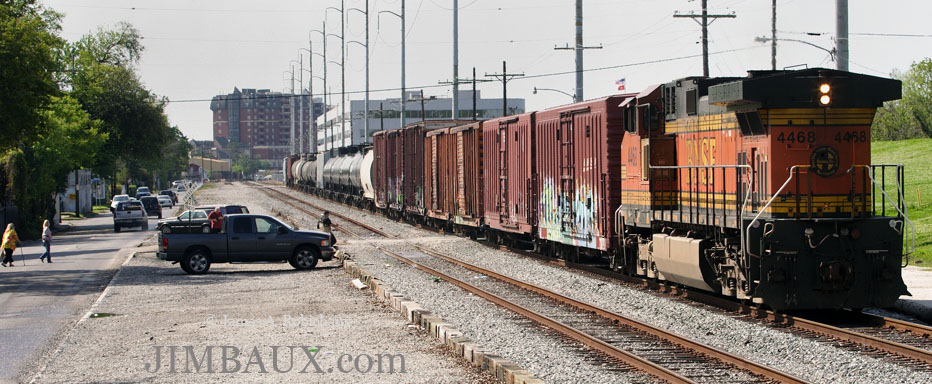 There were once two more tracks there at the left where automobiles now park.  (Cooter Brown's is a great place to drink beer and watch trains.)  One was an Illinois Central Railroad track, and the other was for the KCS.
Speaking of the KCS, seven hours and four minutes later (again, I have no idea what I did during that time, but it probably involved going home), we're just outside of KCS's yard where we see the Norco Dodger arriving.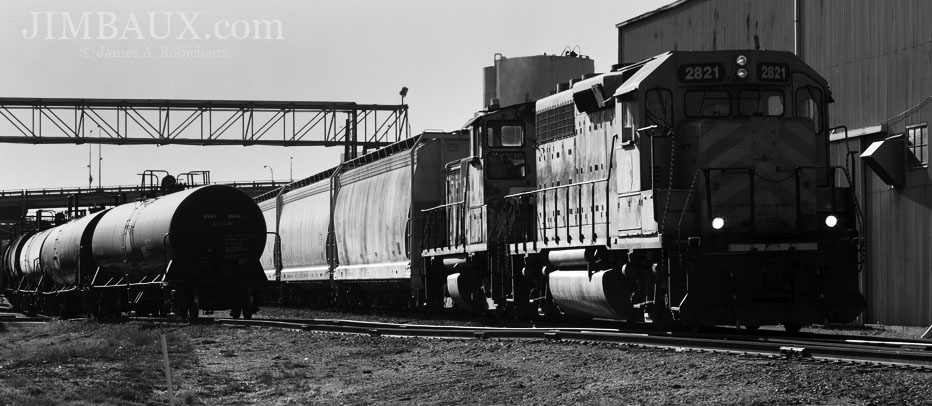 Yes, that was a little bit harsh.  Oh, well.
An hour and 21 minutes later (no, I don't remember what I did in the meantime), we are closing the day at Shrewsbury where we see a CSX-to-UP manifest – either the Q601 or the Q605 – passing under the Causeway Boulevard circle-in-the-sky over Airline Highway as it prepares to climb the Huey P. Long Bridge.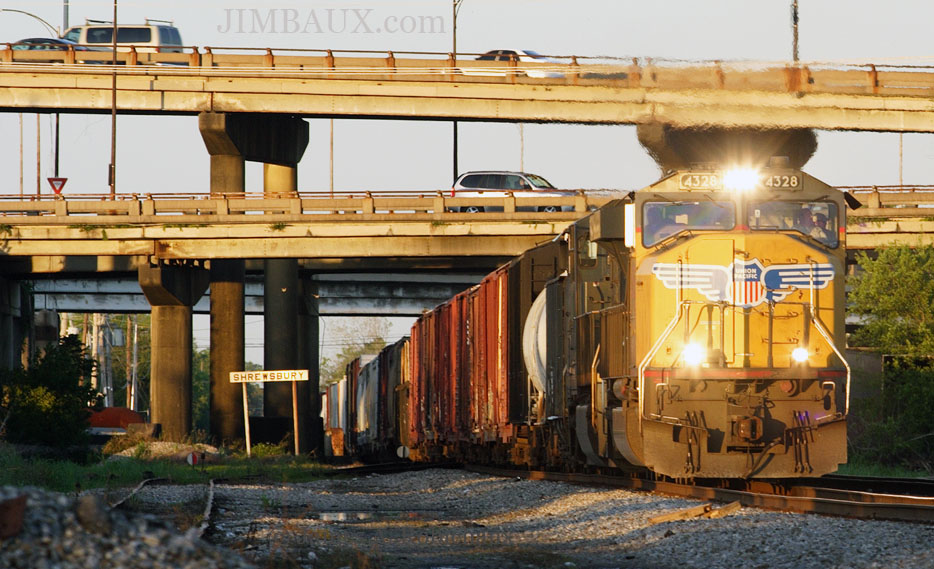 About where that station sign is is where the KCS mainline once crossed until being removed in the 1980s because KCS trains led to so many automobile traffic problems; the KCS now accesses its own yard and other railroads in New Orleans via the Canadian National Railway line between Frellsen Junction and East Bridge Junction.
That's all; I did get some interesting pictures the next day that have a human interest element.  Stay tuned!
Jimbaux