[Jimbaux has had too much of a good thing.]
Too Much Of A Good Thing
Brace Yourselves For A Long And Wild Foamy and Photographic Ride
Holy mother of GP40s and interchange trains, do we have a ridiculously long and profligate Sunday Sermon today!  You'd better make a trip to the toilet before you get too comfortable in your pew for this Sunday Sermon, because you'll be here awhile, not because of the amount of words but because of the amount of pictures, by far and away the most ever for a Sunday Sermon; furthermore, not only is the quantity of shots in the post crazily high, but many of them are of high quality and are original shots.  Also, though there are many pictures here, the picture-to-text ratio is actually very low, even for Jimbaux's Journal, meaning that for a post with this many pictures, it shouldn't take you a ridiculously long time to chew through it.
I felt terrible again on Saturday afternoon, but the great thing about that is that I was unable to sleep past dawn on Sunday, meaning we'll be able to start our Sunday Sermon early enough to have really good light.  It also means that we'll be able to bring the sermon to an end long before the light gets bad after we get a few shots.  Yes, this should work, especially since in my fatigue the night before, I had crashed without even taking a shower, meaning that I walked out the door Sunday morning already slimy and gross and stinky.  This won't be a problem, though, since we'll only be out for an hour or so, get a couple of shots, and will come home rather quickly and get a good shower, right?  Little did I know . . .
Here's Something You Don't See Every Day
We will start on the eastern (southern) end of CN Mays Yard, and we will start with a reminder of why we should not even be out taking pictures in the first place.  It's really hot, and my gear, having spent all night as I did in splendid air conditioning, really begins to sweat profusely once it meets the hot and humid Louisiana late-spring morning air.  This shot, which I took within two seconds after wiping the fog off of the front of the lens, still needed plenty of work in post-processing to make it presentable.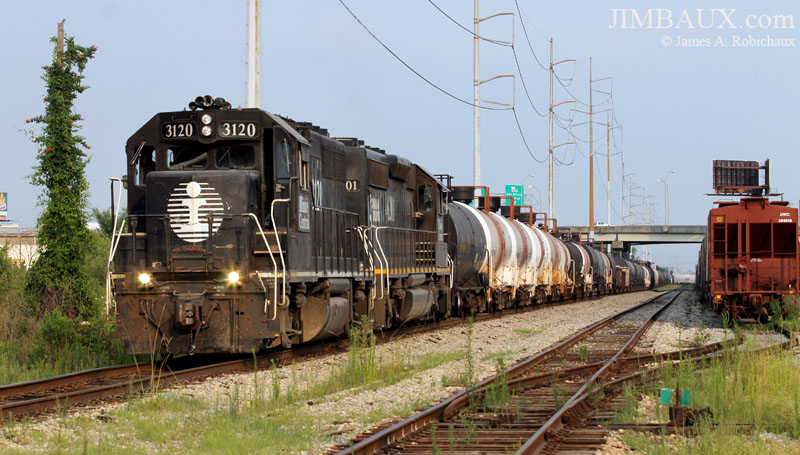 Right after this shot, the glass fogged up again.  Anyway, isn't that neat?  An unmolested Illinois Central Railway GP40? More than a dozen years after Canadian National Railway bought that railroad?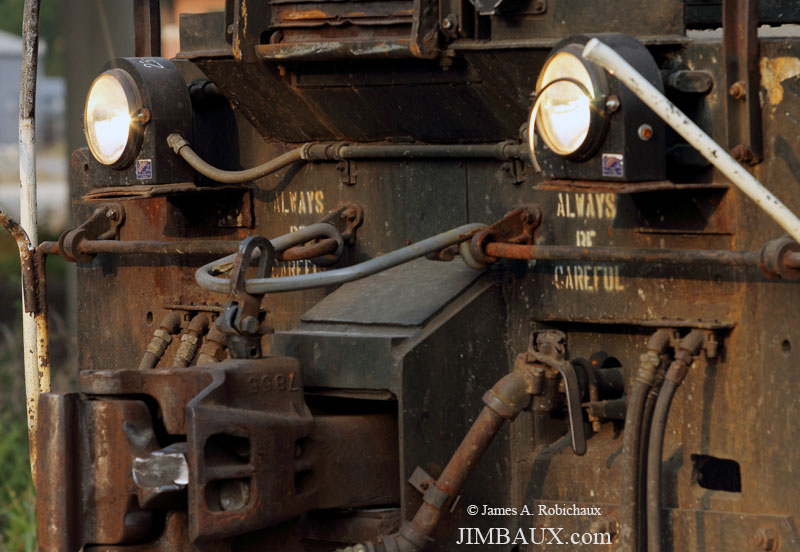 Since I knew that this was just a yard job – since I know that there's no reason for CN to have a train leave its yard in this direction (other than the rare and nocturnal Poydras Turn, with only a handful of cars) – I knew that he'd be shoving back and that I'd have a chance to get the shot that I really wanted once the lens warms.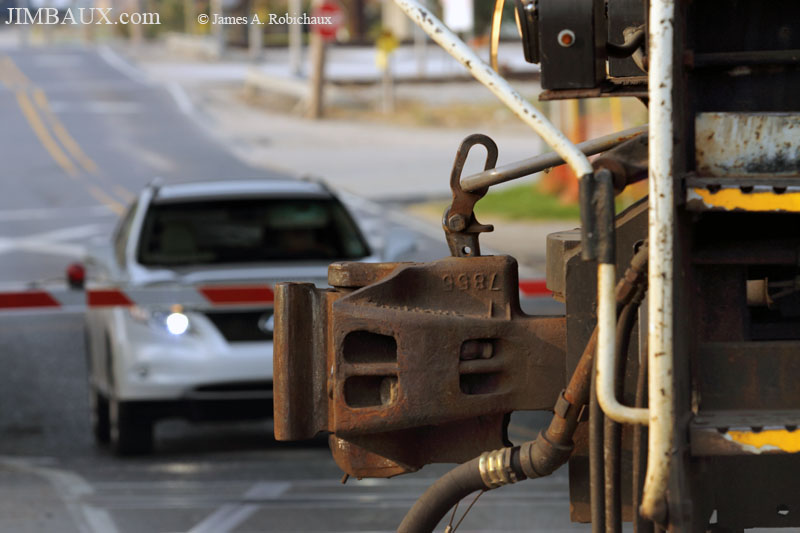 If you come to New Orleans and you're only interested in a high quantity of trains, Central Avenue is the place to be.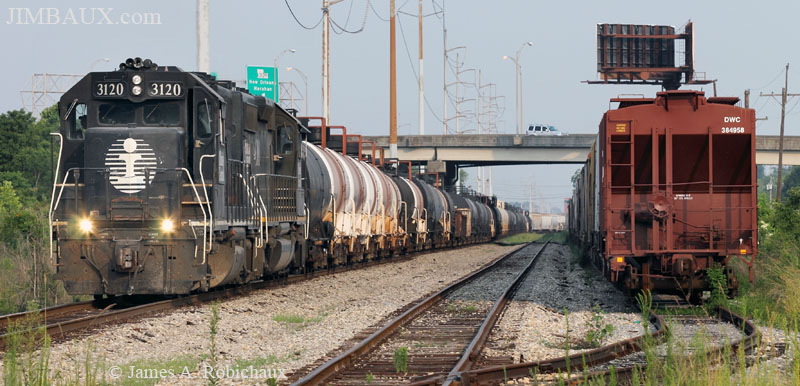 This may have been the L516 (well, the cars from it, at least, as a yard job was working this cut), which normally arrives more than 12 hours before this.  There had been a derailment on the CN "Valley Line" the previous afternoon which significantly delayed 516′s progress in getting to Mays, and you'll see plenty more evidence of this shortly.
Before that, though, it's time to head over to the KCS and see what's happening: nothing.  However, there were some interesting pieces of rolling stock parked in front of the former locomotive house.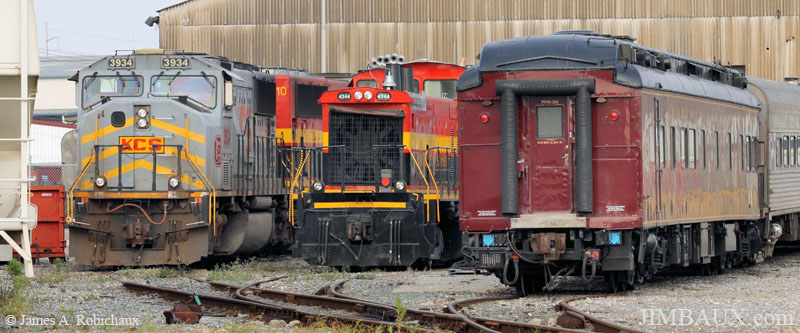 From left-to-right, we see power for the Baton Rouge Turn, yard power, and the Norfolk Southern 32, on which Pete Messina's shop in the former locomotive house had performed some work.
On my way there, I saw NS's transfer to the CN parked at LaBarre.  I decided I'd go to the KCS first before going get a new shot of him, but that was not to be, as he started moving (probably now that that CN job that you've already seen was out of its way), and I could only get to Shrewsbury with no time at all to spare to get this rather lame shot.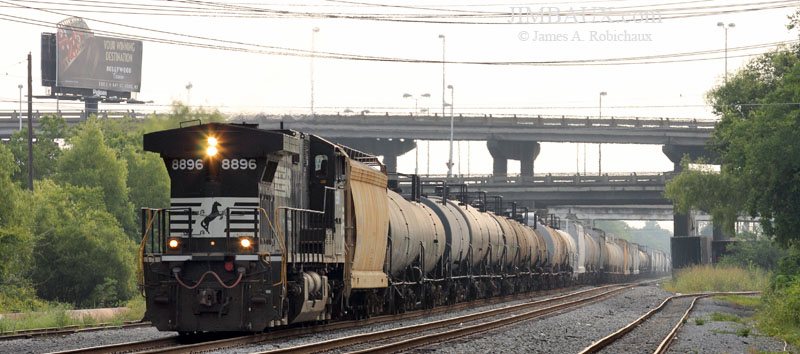 See that track on the right?  That's the KCS track into the KCS yard, and that's the main way that KCS accesses its yard.  The former KCS mainline used to cross the NS Back Belt there until it was removed about 30 years ago.  Now, all KCS trains ride the CN rails for several miles between Frellsen Junction (near St. Rose) and here.
Crew Change On The NS Back Belt
About the only thing that was happening on the NS Back Belt now was a CSX train Q601 arriving at I-10 for a crew change.  So, having nothing else to do – that's not entirely true, not at all true, actually – I decided to get some shots of the live crew swap.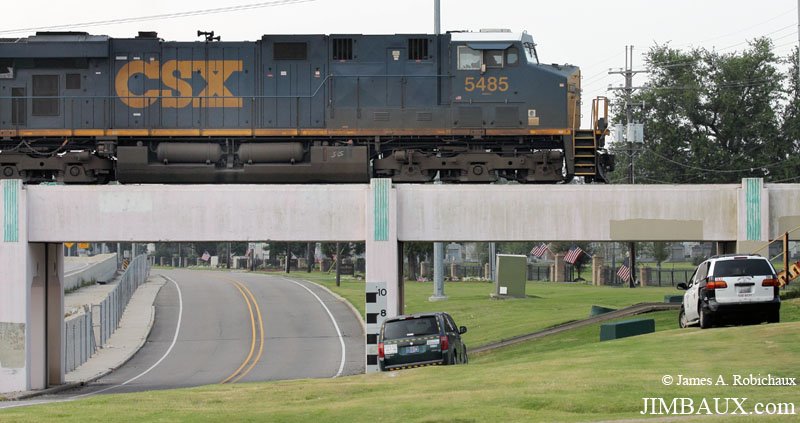 Yes, kiddies the track is owned and operated by Norfolk Southern, this train is a CSX run-through train, and the crew sitting in the van at the left is a Union Pacific crew that will soon take it across the Mississippi River to UP rails at Avondale, with the train in the process becoming UP train MCXEW bound for Englewood Yard in Houston.
The van at the right is there to pick up the CSX crew.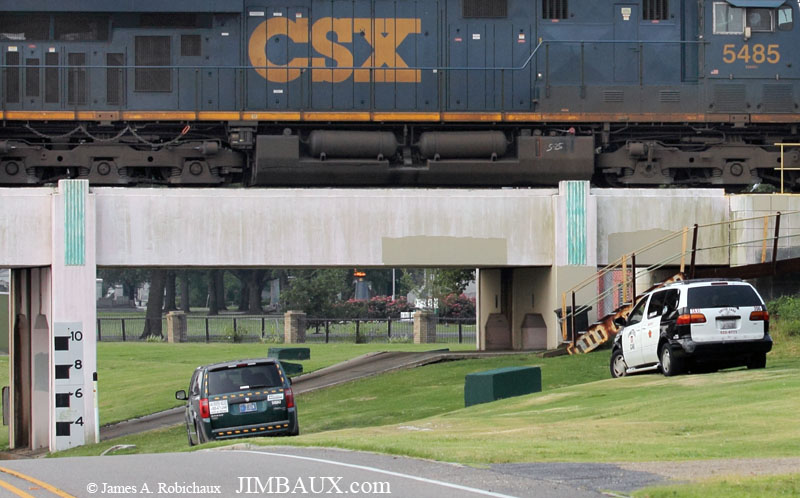 I didn't even think that I was either close enough or conspicuous enough to be noticed by the subjects that I was photographing, but it looks like this UP crewman was responding to my presence as he emerged from the van.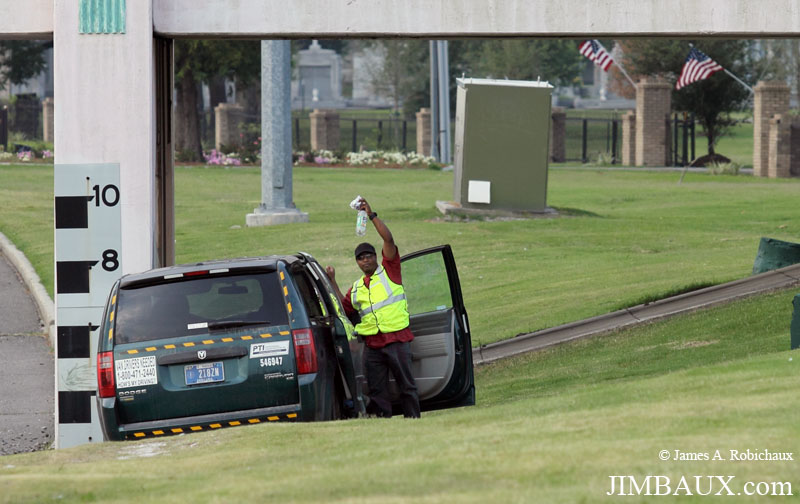 Maybe more crewmen around here know me – or know of me, to be specific – or even know about Jimbaux's Journal than I realize.  I guess that's a good thing.  Anyway, with apologies to the other UP crewman shown swigging the drink below, it's the only shot that I got that shows both pairs of crewmen next to their respective taxis.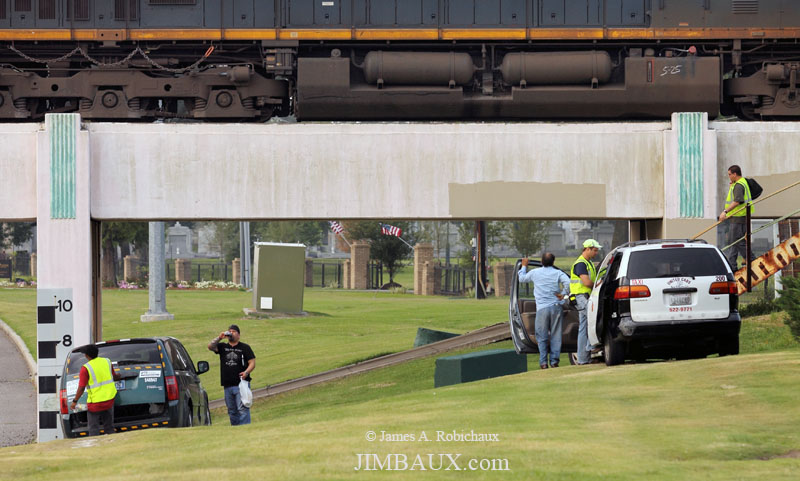 Well, that's interesting, isn't it?
There's Something Not Right Here
Check this out.  Remember how I mentioned that there had been a derailment on the CN the day before that significantly delayed L516′s progress?  Well, just to show you how important that train is in terms of what CN and NS interchange in New Orleans, here's what the NS job looked like on its way back to Oliver Yard.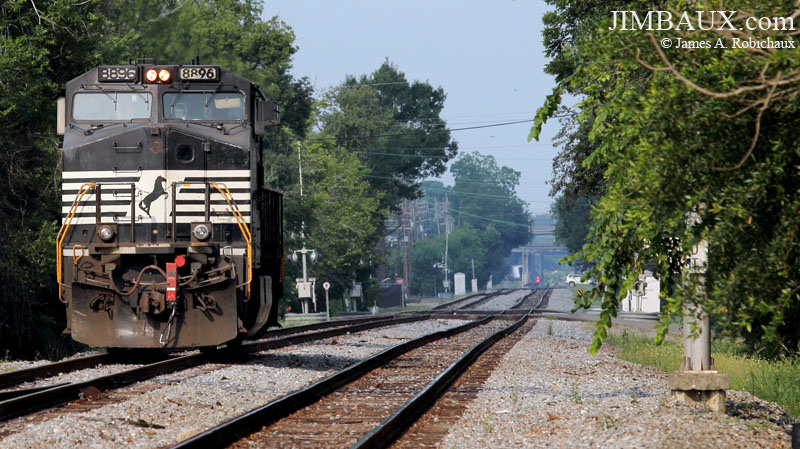 Yeah, so any time that you see that NS-to-CN transfer train here – and you've already seen it several times on Jimbaux's Journal – essentially all of that arrives or leaves on L516 bound for places from Destrehan to Baton Rouge.  Here's one more shot, this one showing the signal bridge, something that I'm sure that my woadie The Mid-City Marine will appreciate.  Y'all check out his rrpicturearchives profile and hound him to update it, a'ight?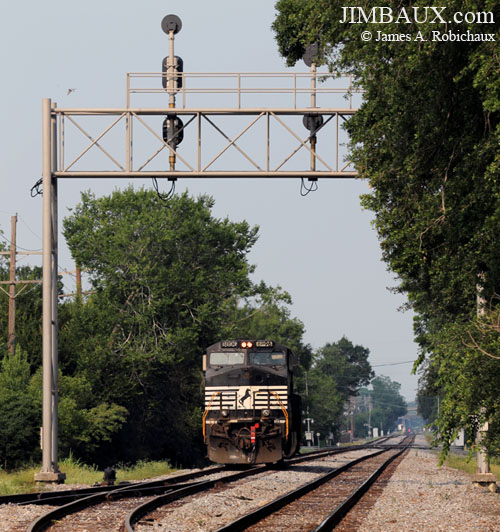 This is actually a new shot, one I've never done before (even though I've shot from the other side of the track here), but the astute observer will notice that this shot really wouldn't work if there were an actual train behind the locomotive here.
Well, that certainly is enough of that.  It's time to call it a morning and hit the shower and go do more important things.
Not Quite
Well, before we go home, maybe we can swing by Central Avenue to see what's happening there.
Hey, look at what we have here!  This is the Kansas City Southern Railway's train M-SHCX, the KCS interchange train to the CSX (which is, by far, KCS's biggest interchange partner in New Orleans.)  Here's where the KCS crew gets off of the train, and, yes, we're on CN rails here, and, yes, of all of the shots that I took while standing here at this time, I intentionally include the one with the CN container moving on the overpass above the train.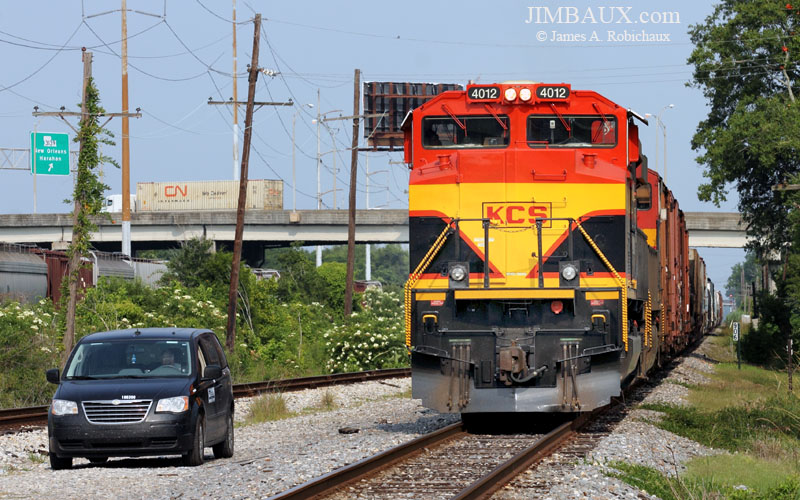 Okay, maybe if the NOPB crew was getting on this thing right now for its trip across town on the New Orleans Public Belt Railway then I'd stick around and get some pictures of that, but I really need to get the heck out of here and go home now.  It's time to call it a morning.  I'm thankful to all of you for checking in here to see the pictures.
Jimbaux, You Cannot Escape . . . . And, Speaking Of The NOPB . . . .
So, I went south on Central Avenue to put this foaming stupidity behind me when I saw headlights approaching from the east.  Dammit!  I really don't have time for this, but I do wonder what this could be.  I had a suspicion that this was the NOPB job with the rarely-photographed-by-Jimbaux GP40s for power on its way across the river to Avondale for BNSF-and-UP interchange, and I waited along Central Avenue just to make sure, by seeing this: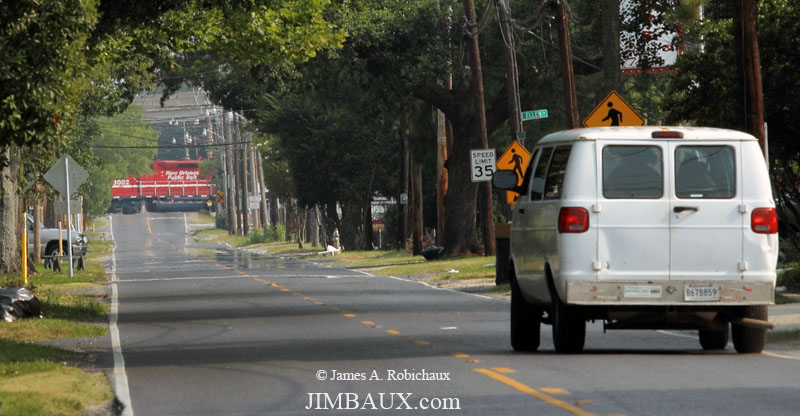 The beginning of the Huey P. Long Bridge is just to the left of that crossing.
You know, not only do I rarely photograph these NOPB GP40s, but I get the distinct impression that many Jimbaux's Journal readers really like seeing NOPB power, probably because it's such an oddity to them.  So, maybe I should figure out a way to photograph these things going up the river to please my readers.  Yes, Darth Vader, I know that "it is your . . . destiny" to photograph these things and post them to the net.  Well, let's go find a shot.
A New Shot
I've never really done this shot before, at least not good and not with a telephoto lens standing this far away, but let's pop off some shots of cyclists and runners on the levee while waiting.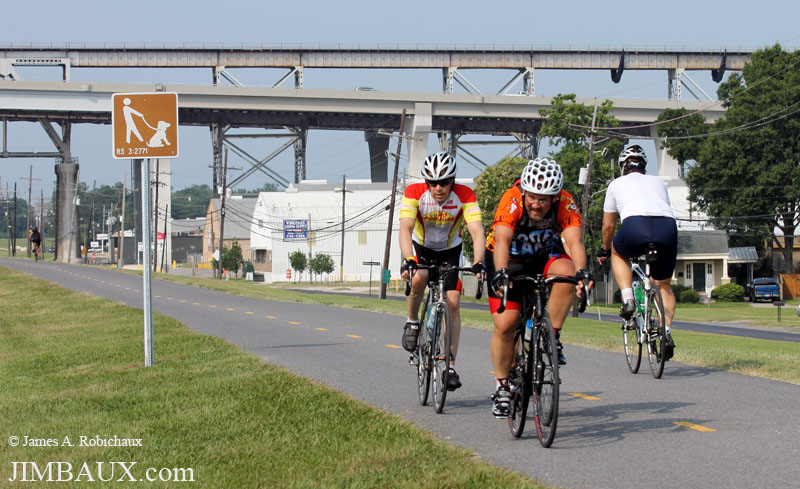 This is intolerable.  I need to home.  It's hot out here.  I stink.  I'm filthy and slimy.  I need a shower and a life.
Bad Luck Bear?
Since the train still isn't here yet (I wonder what's taking it so long), let's get another shot of these people so that they'll think I'm a terrorist.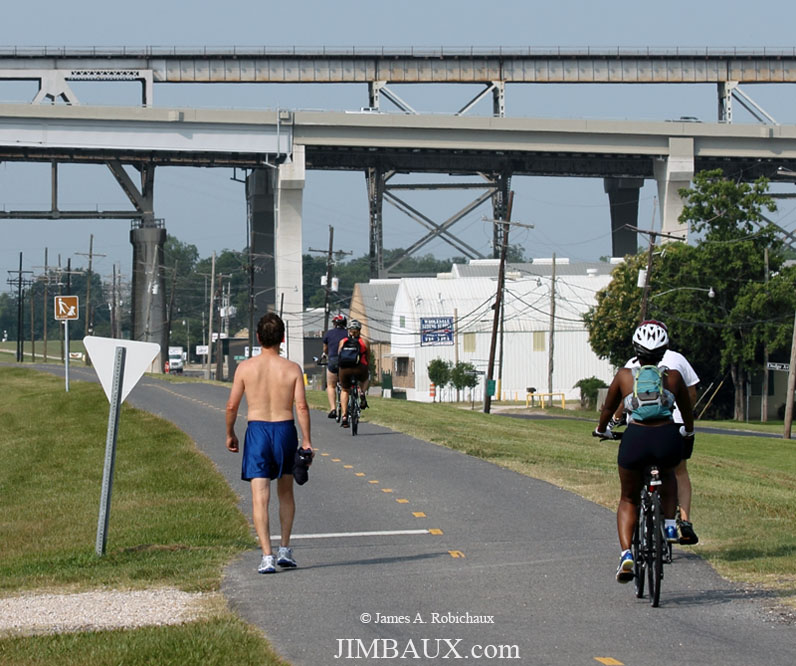 Just so you can see how I've infected you with bad luck, go ahead and download the above shot.  Once you have it in a folder, check the dimension and see how tall the image is as measured in pixels.
You're welcome.  Now my bad luck is yours too.  Nero would be proud.
In the meantime, let me pop off one more shot so that people will think I'm a stalker if they don't already think I'm a terrorist.
The Fuzz And The Foam
That sounds like it would be a good title for my first rap album, but it really refers to something that is happening in the right portion of this next image.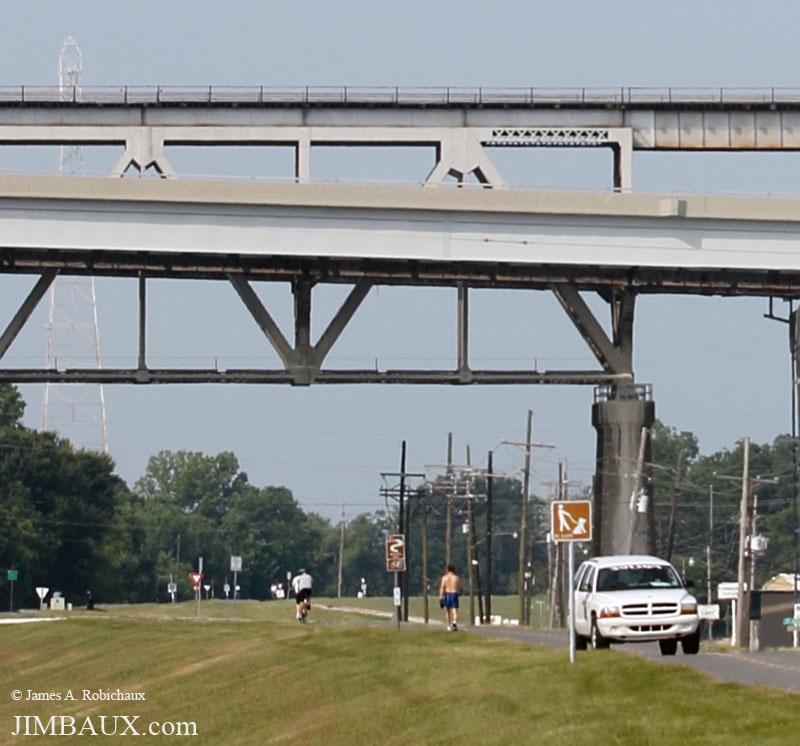 Oh, boy!  Here comes the East Jefferson Levee District Police, no doubt in reference to the troublemaker with the camera, right?  They don't talk to me when I'm walking and jogging on this levee (yes, I actually do that), but that's something that people are "supposed to do," or something like that.
This Did Not Go As Expected
When you feel the need to confront someone taking pictures and you want to know why he's taking pictures, that's exactly what you should ask him, because that's the only way you should really get an answer to that question, and that's the only way that you will get an answer to that question from Jimbaux.  You don't say, "what's the problem?" and you don't say "who're you with?" and you don't say "who are you doing that for?" because if you ask Jimbaux those questions, you will get – and you will only get – the best possible answers that he can give for those specific questions, which means you'll still be thoroughly confused, and you will not have helped either of us.  The fact that you don't know how to ask a photographer why he is taking pictures or what he is photographing is not that photographer's problem.  So, don't get all pissy if you actually get answers to the specific questions that you ask; that's the only common courtesy that the photographer can give you.  You're going to die one day, I'm going to die one day, and everyone that you and I know and love will indeed die one day; life, therefore, is far too short to not say what you mean and mean what you say.
Fortunately, these officers knew better and knew how to ask a simple freakin' question.  That's why the answer that they got – the first words to them that emerged from Jimbaux's mouth – was "I'm about to photograph the train that's coming up the bridge."
Going Places And Meeting People
Have you ever been questioned by two police officers before only to have them tell you that one of them is merely a reservist and has a full time job at one of the big railroads in town and have the other tell you about how he was a member of the Washington, DC, chapter of the National Railway Historical Society?  Neither had I until this day, and I doubt it will ever happen again, but that's just what happened here!  As it happened, I was approached and questioned by a couple of off-duty foamers who were wearing badges and sporting pistols.  Especially considering past events, isn't that downright hilarious?
And A Good Time Was Had By All
So, they pulled the police SUV off of the top of the levee out of the way of cyclists and joggers and got out to chit chat about trains and such, never asking me for ID or anything like that.  This NOPB train seemed to be taking a long time to get up the bridge.  In fact, checking the EXIF data, the shot of it crossing Central Avenue earlier was taken 14 minutes prior to this shot.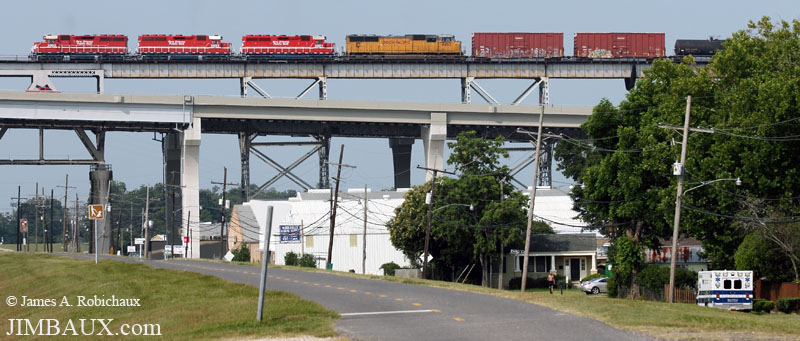 The officers were to the left of me in this shot as we had all cleared out of the way of the runners and cyclists.
Here's a bit of wider view.

Since I usually foam alone, and since that isn't always the best way to do it, it was good to be able to talk and share stories with a couple of guys interested in trains and such.
Here's one more shot of the NOPB job as the front end nears the superstructure.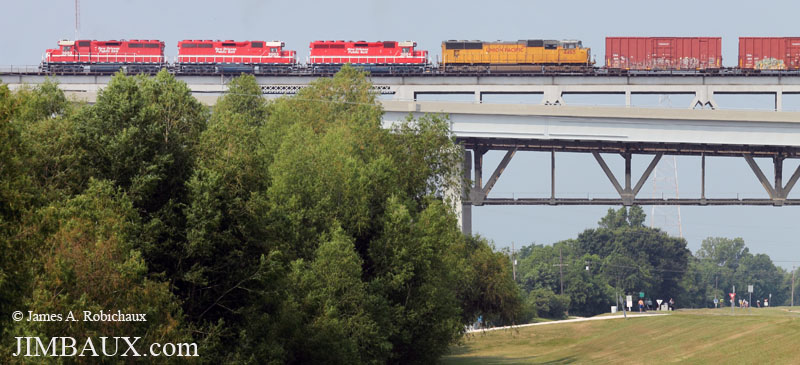 Before the NOPB job could get through the superstructure, the QLIGN comes creeping down the other track, and what's that tucked in behind the UP power?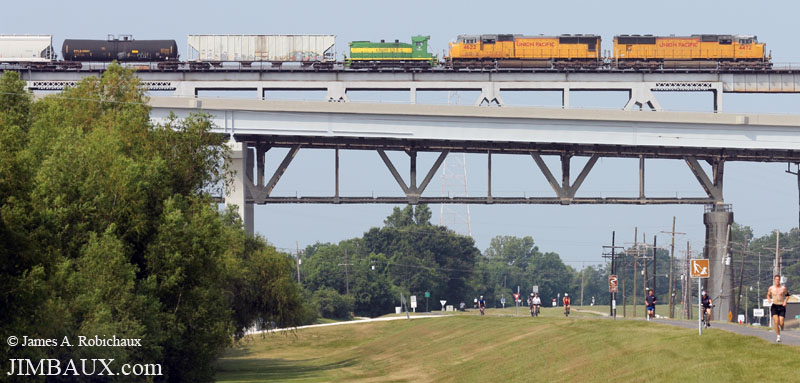 That little switcher locomotive is the RTEX 1369 on its way from San Antonio, Texas, to Monroe, Georgia, for use on the Great Walton Railroad there.  Check out The Mid-City Marine's shots of that railroad.
I had not seen the QLIGN in awhile.  The "GN" station code for its termination station is CSX's Gentilly Yard in New Orleans.  It's one of five interchange carload trains built at UP's yard in Livonia (hence the "LI" origin station code), Louisiana.
A little while later, a third officer shows up, Officer "Monica" seen at right in this cell phone camera picture.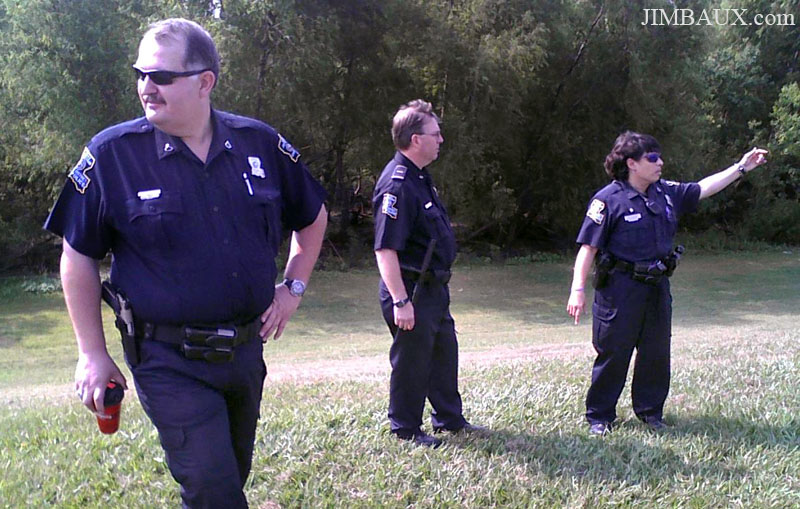 They joke about her matching purple accessories, including purple marked gun magazine clips, purple pens, and these shiny metal – but purple – things seen here.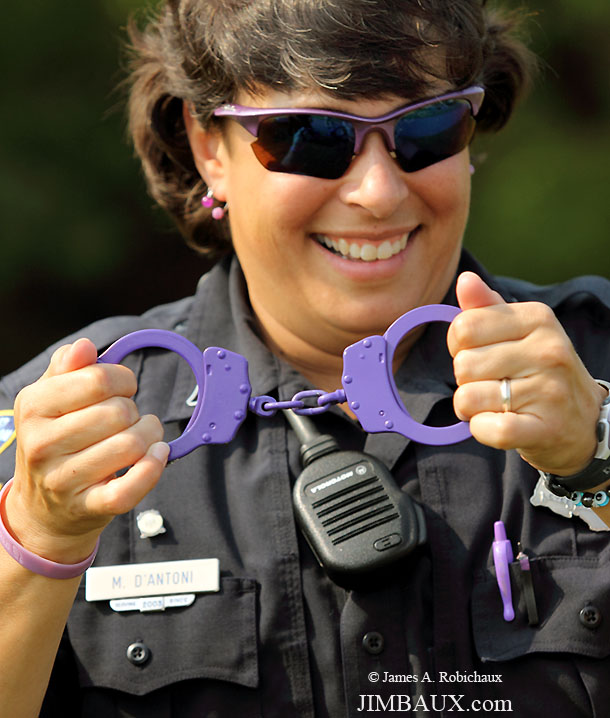 The party soon disbanded with my business card now in the possession of the officers (and, if you guys are reading, I hope you're enjoying this), and I proceeded to get a little bit closer to the train which was now parked, I believe due to a parked train just ahead of it.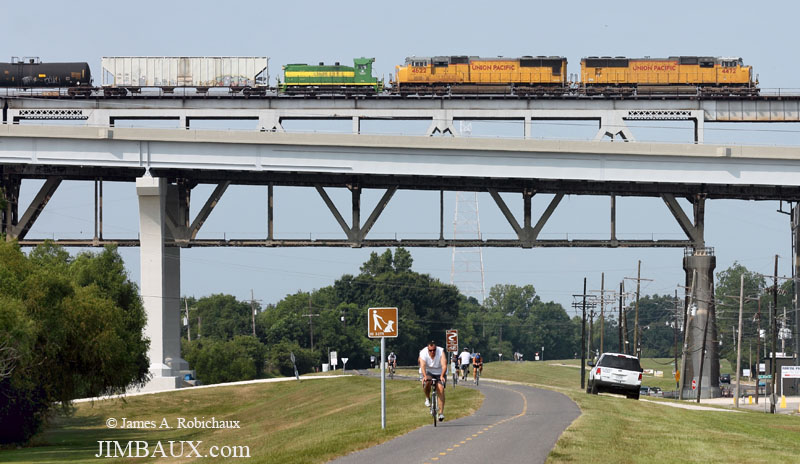 Yes, that's Officer D'Antoni's vehicle on the levee.
I really need to get out of here and go home, but let me get one more shot here, this one a bit different with the cyclist in focus and the train a bit blurry.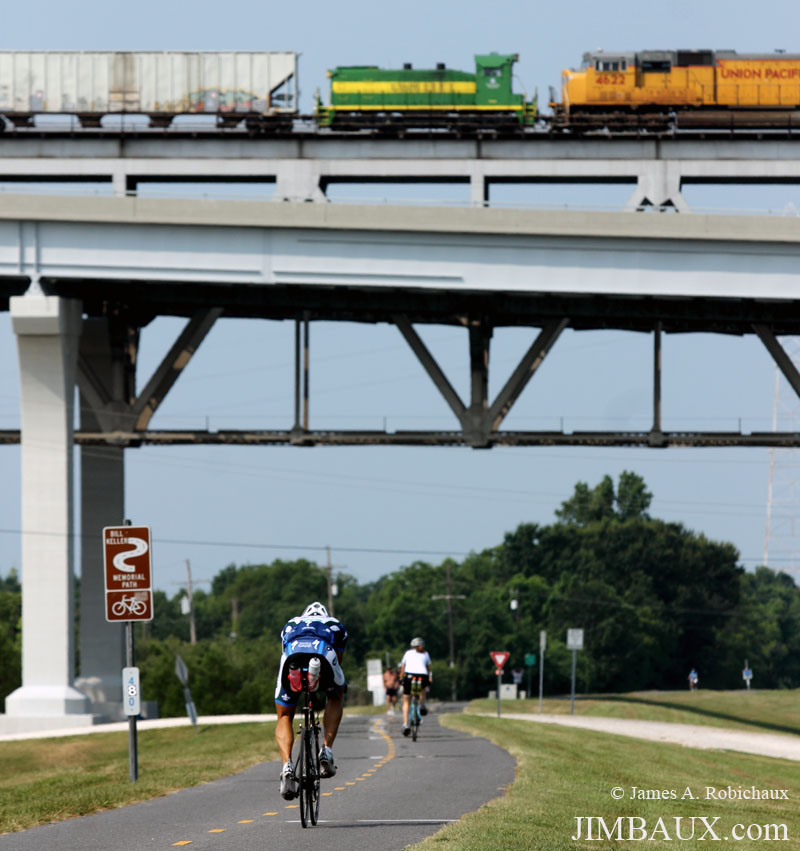 Okay, really, now it's time to go home.  I'm getting out of here.  It's time to call it a morning and get back to normal life and weekend chores.
Not Again!
Well, let's just make a quick run back up Central Avenue just to see what's there, okay?  This won't take long, but what's this?  Dammit!  I was not expecting this.  Well, now I'm stuck on this side of the track, and the MCXEW that we saw earlier is coming!  When will I get out of here and go home?
Not Until The MCXEW Passes
You've already seen some views of the crew change and interchange for the MCXEW earlier in this post.  Now, here's a view of its head end crossing Central Avenue and beginning the climb up the big bridge, the superstructure of which you can also, look closely, see in the below picture.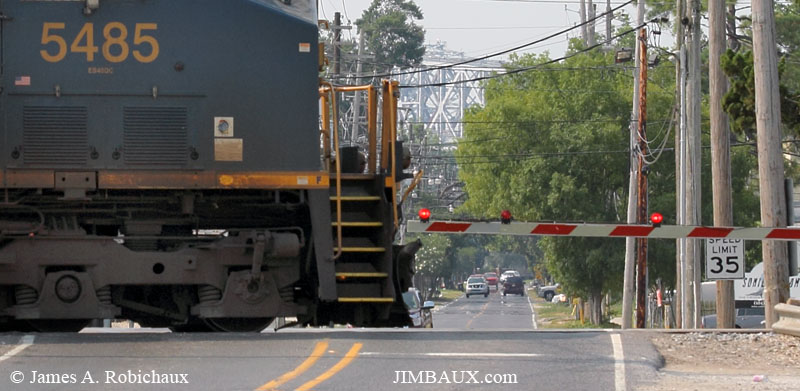 Isn't that a neat view?
Well, we see the M-SHCX again, this time from the other side of the track – the better view of the two sides – and without the crew van there, but what is that vehicle?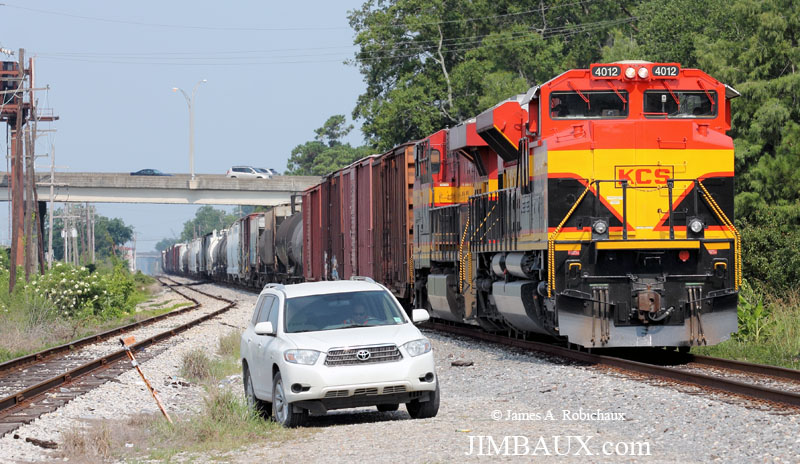 Yes, that's the NOPB trainmaster's vehicle.  You can see that the NOPB crew is now aboard the train.  Well, it would be really cool to get some shots of this thing as it makes its way to Cotton Warehouse Yard, but I need to get out of here.  Let me just get one more shot that takes the crew van out of the picture.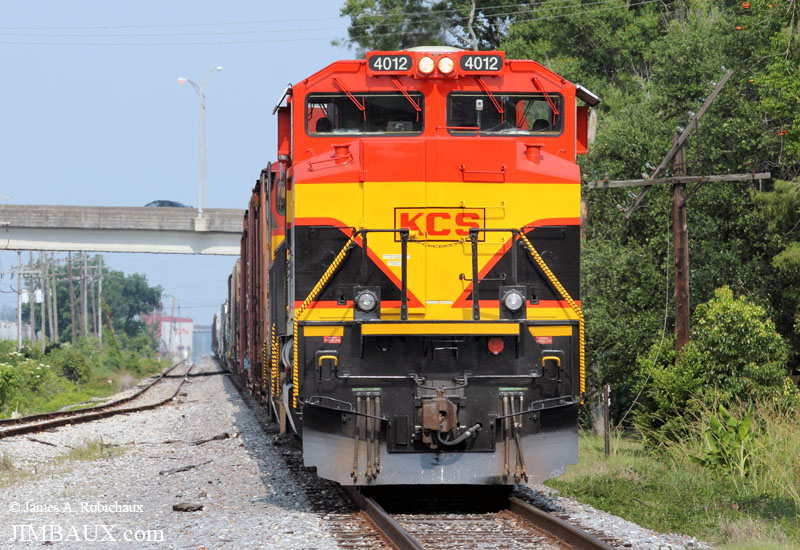 How's that?  Do you see CN Mays Tower in the background?
Classic Old Power
Continuing with the theme of classic old power being seen and photographed today, there was this oldie-but-goodie seen waiting on the MCXEW, only this thing doesn't have traction motors, flanged steel wheels, or couplers.
Neat, eh?  Anyone know what year of a model that might be?
Anyway, here's a view in the other direction showing the train crossing Central Avenue, and remember that the bridge, the superstructure of which can be seen in the background, begins just to the right of the crossing.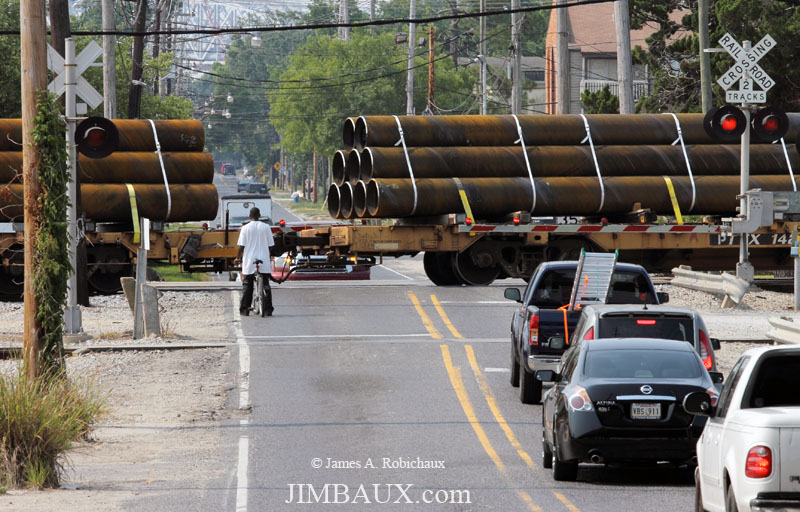 Okay, really, now I need to get the heck out of here.  This foaming stupidity will be the death of me, and it's also damned hot.  Did I ever mention that I absolutely hate summer?  Well, I wasn't BSing you, and it ain't even summer yet.
The MCXEW is gone, and now I just need to get out of here, but now there's the matter of this train-less CSX yard-job train with the CN transfer.  Yes, you've already seen the NS job return from the CN with nary a car due to the L516′s lateness, and now it's time to do the same with the CSX job now that the MCXEW is clear of the junction.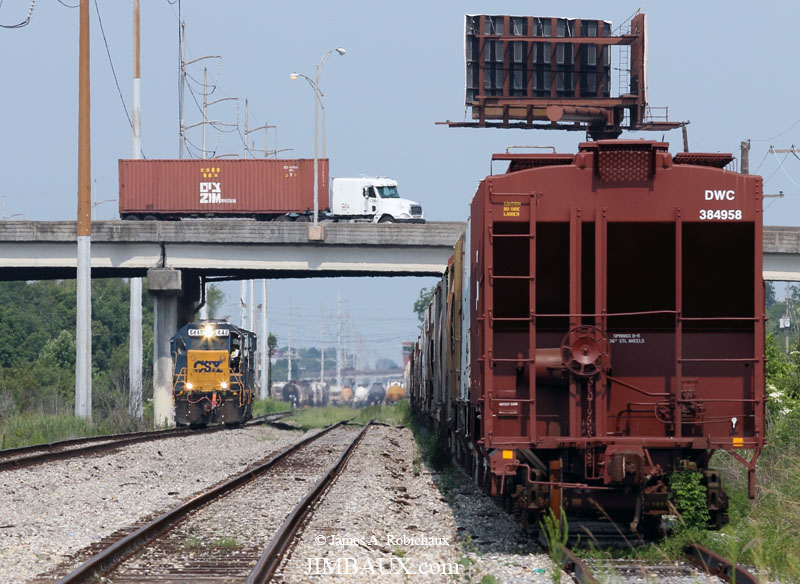 You know, that brakeman looks like JME.  Sorry, but at this resolution, you really can't tell, and there are only a small handful of you who know who JME is anyway.  Heck, I barely know who he is.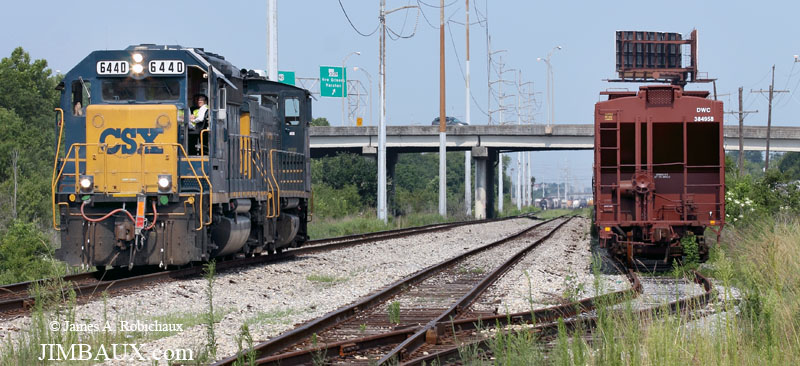 Why are you still reading this?  Haven't you gotten tired of this madness by now?  Why I do this is beyond me, especially when I have so much else to do.  An obsession it is indeed.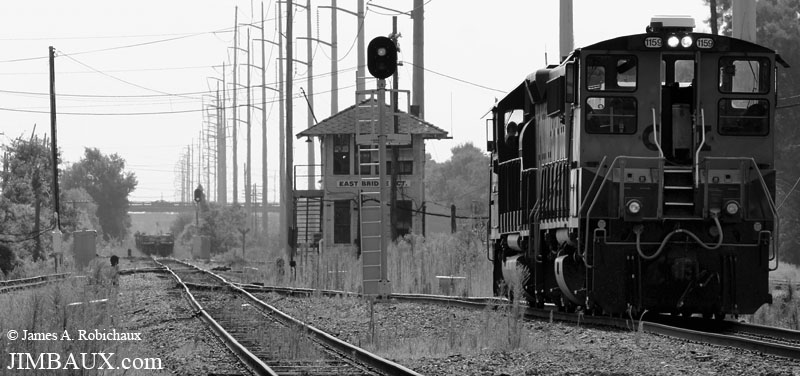 Will someone please wake me up from this stupidity?  Oh, wait, that someone is I, and I can't do it until I decide to do it.
Of course, now that that train-less CSX job has passed, it's someone else's turn!  Look, not only is the train-master vehicle gone, but now the ditchlights are on too!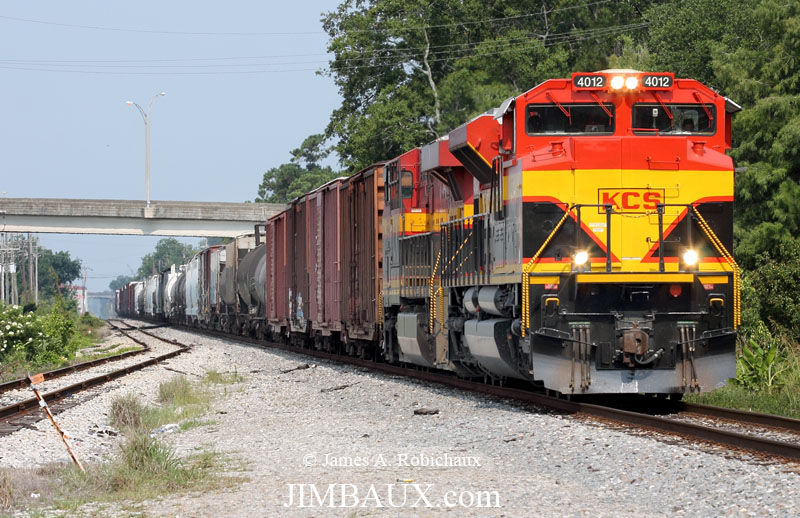 Well, I could go shoot this thing down by Southport Junction like I did a few months ago or by Cooter Brown's like I did a week before that, but I've said repeatedly today that this sermon needs to end, and, this time, I don't be frontin', son.  Hell no.
Shower And Air Conditioning
That's what I did, and I needed it badly.  I also took that time to write and publish the brief "Hazy Dawn At Chacahoula" post that seemed to be spread around a bit in non-foamer circles.  I did plenty of other chores at the crib, but I eventually needed to head west, because Moose was back in town, visiting from the Big D.  Y'all might remember that we met up out in LaPlace and Reserve for an afternoon back in October.
Duran Duran?  What the hell?  I'm not quite in the mood for that.  Hold on while I change that.  Ah, yes, Chevelle; that's much better.
Anyway, Moose and I met up in LaPlace for chicken wings, drinks, and stories at the Chili's by Airline Highway where we had a lame waitress, but neither of us had plenty of time to visit after that, after we discussed grand master plans, and by the time I left, it was damned near dark.  I had no time to visit The Cajun Porkchop this time, but I did hear an L519 get permission to go from Destrehan to Reserve.
Second Section
Will This Never End?
Jimbaux, did you just say that you heard the L519 get permission to go from Destrehan to Reserve?  Does that mean that there are even more pictures here?  Dammit!  Yes, you're not the only one sick of this, but the Bonnet Carré Spillway is between Destrehan and Reserve, and it's been a few years since I did the northbound shot on the spillway, partly due to the fact that it's essentially impossible at times of year other than spring and summer not so much because of the directions that the trains are running but because of the time of day that trains in that direction go.
Another New Shot
The first thing I did, though, was try to get a new shot of it in a place where I've never photographed before, and that's what I did.
Yes, kiddies, while being a ridiculously gluttonous Sunday of photography, at least Jimbaux is doing shots in places where he's never done them.  There's always something new to find, something new to explore photographically.  I still have plenty to learn both in terms of photography and in terms of the railroads in this area.  If I ever get to the point that I feel like I've mastered either, it would be time to give up both and do something else.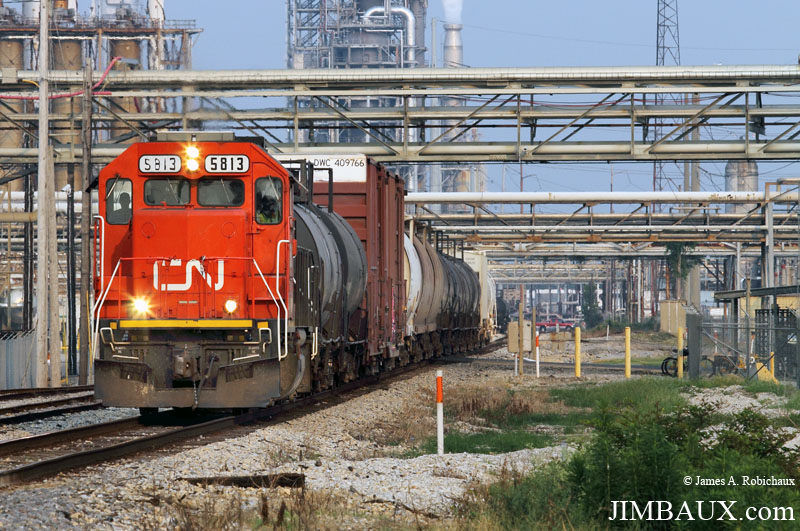 Well, that is a bit different, isn't it?  Still, it's time to move on.  I have to tell you, though, that it was a real chore to get these shots at this location properly rotated.  I went back and forth with them and still don't think that I did it correctly.
Dammit!  How many damned shots of the L519 at Goodhope Street in Norco do we need?  Sheesh!!
That's ridiculous, and that's just enough of that.  It's time to get out of here and hurry to the spillway.
The Bonnet Carré Spillway
That's where we are, my friends, and this is CN train L519, which El Chico Norco tells me is an extra local, probably carrying cars from L516 to be set out at Reserve since that train doesn't have time to do all of that work.
I got to the spillway with absolutely no time at all to spare, and I had to do some work in post-processing to get rid of the haziness from the dust storm that was spawned by my own menacing driving through the spillway to get these shots.  Don't try this with your mother's sedan.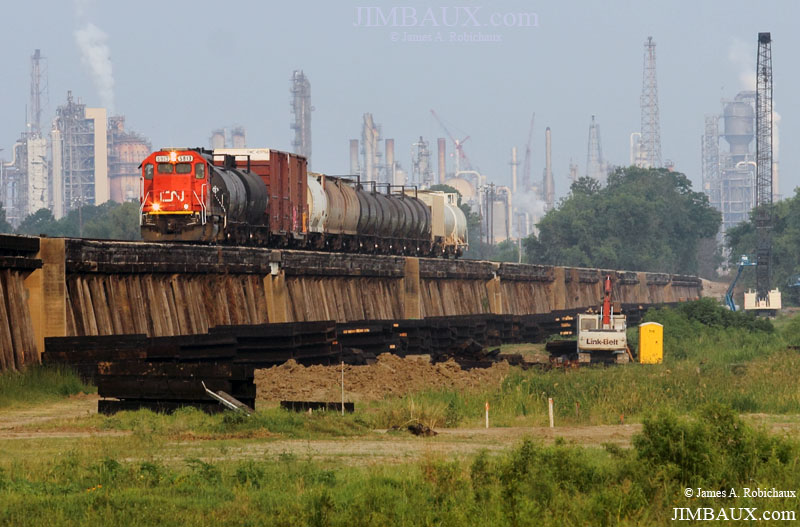 Why did Joe run off to Fire Lake?  I still can't figure that one out.  Yes, I know that he was the one afraid to cut the cake, but I still don't know why that is even true.  Also, how do you expect me to tell old Aunt Sarah that Joe ran off to Fire Lake when I don't even know why he was afraid to cut the cake.  Does anyone know?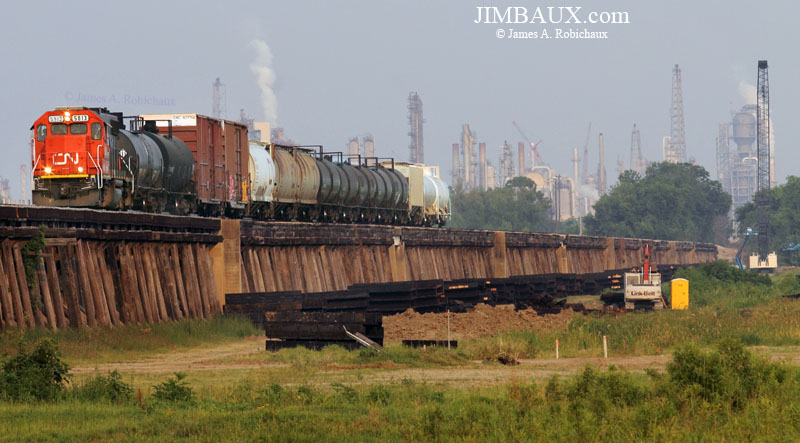 You know what I can't stand?  These so-called "photographers" who show you a set of pictures with many of them being of the same train taken from the same location with the train's position only changed slightly from one shot to the next.  Don't those idiots just piss you off?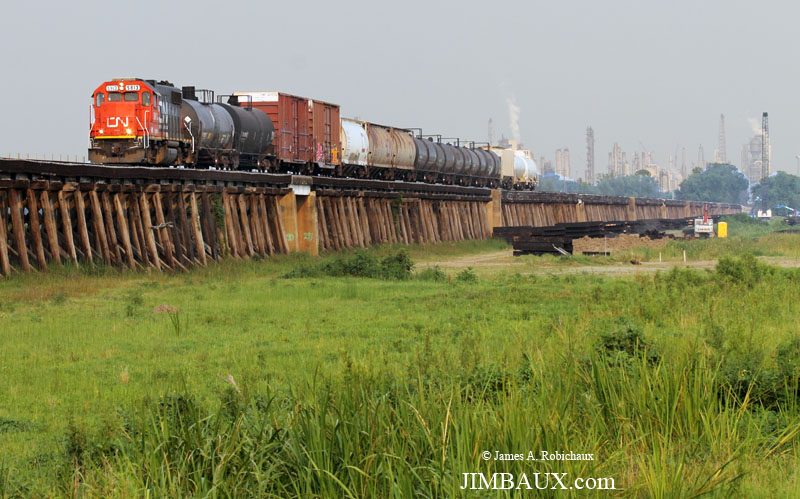 I mean, what a waste of time and space these idiots fauxtographers are.
Dammit!  Holy hell, Jimbaux!  How many damned shots of the L519 on the spillway do we really need to see?

Why are you still reading this?  Haven't I permanently scared you away from Sunday sermons?   I mean, I like ice cream, but I don't want any more of it if I've already eaten a half-gallon of it in one sitting.
The conductor was waving and smiling at me, though this shot doesn't really show it, as it was taken after he had exhausted most of his effort on that.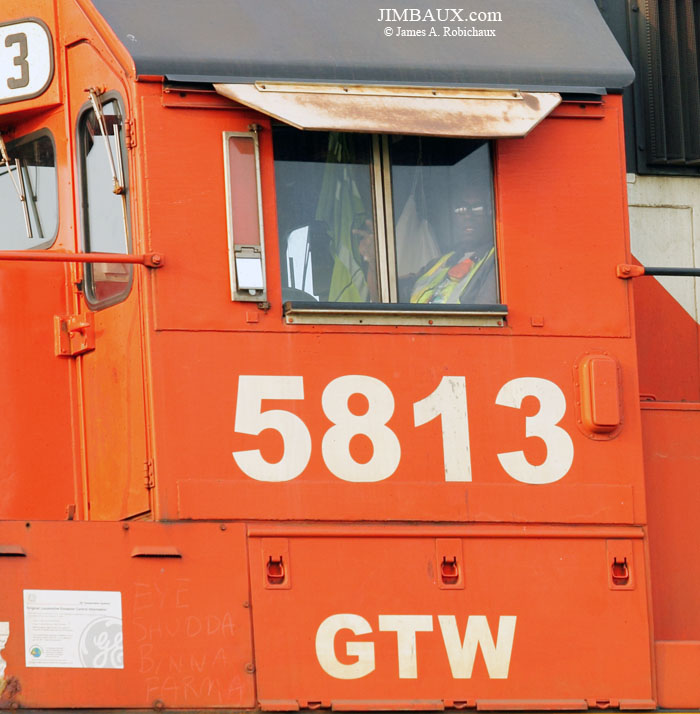 It's really time to bring this madness to a close.  Let's just have one parting shot of this 15-car train before we get the hell out of here.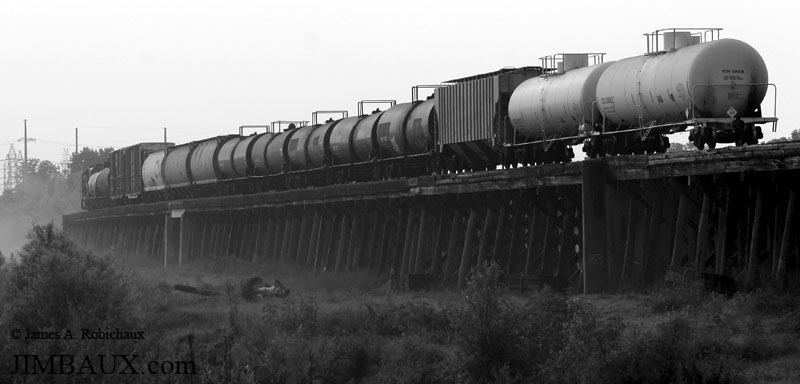 Okay, thanks, that's enough.
On the way out, though, I had to grab a shot of the sunflowers.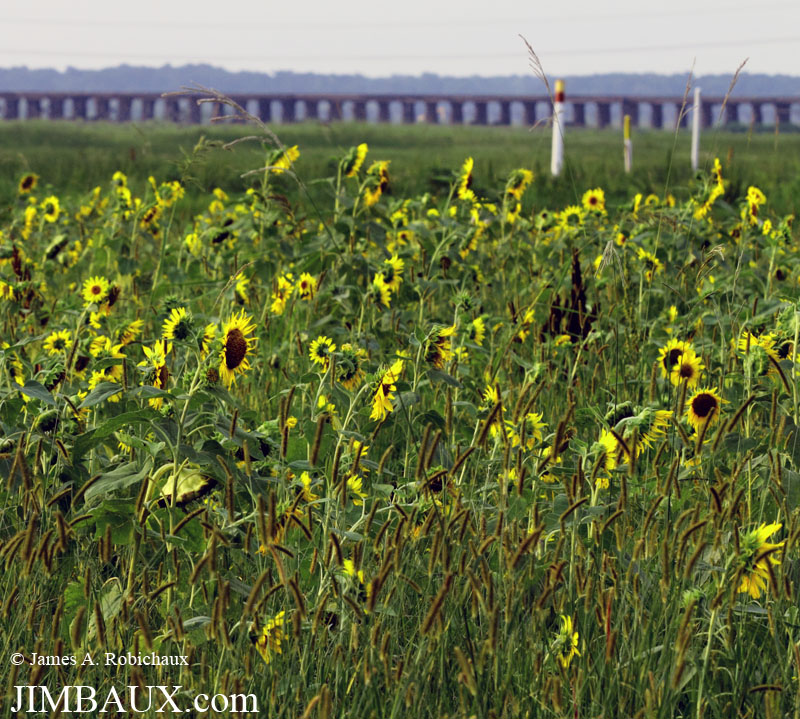 A better (maybe) and larger version of this image was posted to the internet that night, though it seems like the internet is about to implode, as slow and cluttered as it's been lately.  However, I would not be surprised if you are about to explode after reading all of this, and if you're not already sitting on the toilet right now reading this, you probably need to make a trip there after digesting this gluttonous feast of shots.  Isn't that one of the deadly sins?  Well, I can tell you that because of this, we will redeem ourselves with a more lean Sunday Sermon next week (which I am in a position to know because it already is next week, this post being delayed so long because of its gluttonous quantity of shots.)
For those reasons, I won't take up any more of your time, and I'll conclude today's sermon by imploring you to do as I say and not as I do and don't be so damned greedy.
All for now . . .
Jimbaux