Creatures of the swamp rise as does the sun at Chacahoula.  The warm haze envelops the Cajuns starting their day, or, more often, passing through this travel junction of a hamlet, rolling fastly down the highways, and perhaps even stopping for fuel and breakfast at Wilson's, the only retail establishment in this small village on a spit of relatively high land in an otherwise low and swampy area of northern Terrebonne Parish.
The people are not the only things moving this morning, though, as the ground begins to rumble in a place with land far too spongy for anyone to be able to feel a normal earthquake.  No, this is not the sound of plates shifting, unless plate steel is what we mean, but the MNSEW carries plenty of forms of steel out of central Alabama.
The crossing bells start ringing, and the motorists at the major crossing in town, still not fully awake in their morning commutes through the swamps, stop to allow the MNSEW to pass (and, please, take a step back, as this image looks much better if you are standing about 8′ away.)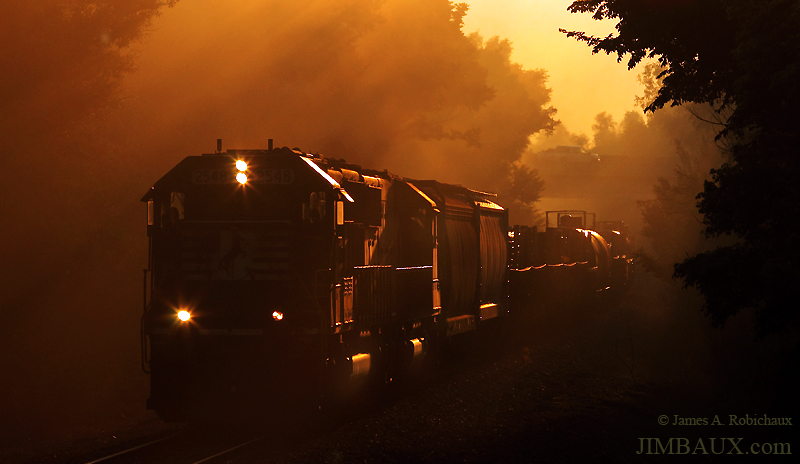 Steel on steel, wheel on rail, while the photographer is already vexed by the drenching late spring heat, even at dawn, although this day is not bad, the maintenance of the MNSEW's velocity becomes progressively unnecessary, as it must stop to wait for several minutes at the Bayou Boeuf Bridge a dozen miles to the west, as cypress trees and oak trees, alligators and turtles, surround the steel coils and steel pipes.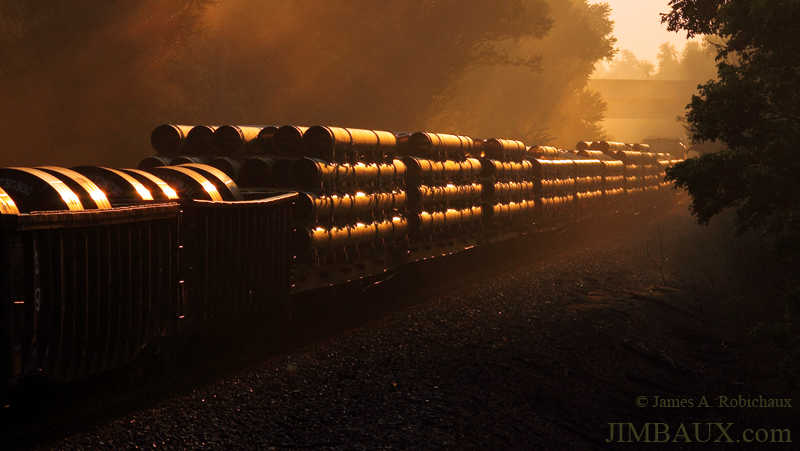 And, soon, very soon, the tail end of the MNSEW, which had arrived in New Orleans as Norfolk Southern train 393 and was delivered to the Union Pacific there, would leave Chacahoula in its wake, the wind it generated being soon overcome by the stifling thickness and perpetual stillness of the southern Louisiana spring-summer air, the natural default state of things, even as the motorists, this photographer included, went about their day and about their lives.
Jimbaux