As someone who so frequently photographs trains and seeks and conveys information about them – and as someone who has made a name for himself by doing this – I not only have little reason to criticize the actions of railroaders, I even furthermore am incentivized to omit publicizing less-than-flattering information about them.
While some may think that I am lacking journalistic integrity by the fact that I try to omit things like safety rule violations from railroad photos, I'm also following the journalistic credo that a good reporter does not betray his sources, for if he does, those sources of information will, unsurprisingly, quickly dry up.  Furthermore, especially when some of these rules can be enforced in such a draconian manner (even if their existence is justified), while you may not think that it's my place to cover up for rule violations, it really is not my place to expose them and get the crews in potential trouble either.
Just in the last two months, there have been at least two cases in which I've gotten some otherwise great pictures that showed some obvious (to me and to railroaders, even if not to the general public) rule violations, and, despite the quality of these photos, I've chosen to either not publish the photos at all, or to deliberately publish them in a manner that hides the rule violation, a way that makes them look different than they would if the violation had not been in the picture.
And Yet . . . .
It is therefore with great seriousness and reservation that I am choosing to publicly admonish the actions of a specific railroader (whose name I do not know and do not want to know) for an incident that took place on Madison Street in Gretna, Louisiana, on Friday 14 October 2011, but this post really isn't about him at all, and it isn't so much about what he said, but it is, rather, about the dangerously pervasive mindset behind what he said.  Let me be clear: what happened is not remotely related to the aforementioned operating rule violations that I take steps to hide when I am witness to them.  This is a case of ignorance and fear.  It is also, unfortunately, something of a global issue, and I've written in the past about how I try to not do what most people do by turning specific issues into global issues.  Had this incident been the only one of its kind I have ever experienced or ever heard of happening to anyone, it would not warrant such a long post as this, but this has happened too many times to too many people.
There's Something Not Right Here
The first thing that caught my eye about this railroad move – we can hardly call it a "train" – is that it is light power, which I had never seen running down Madison Street before, and I was wondering why a locomotive was leaving Gouldsboro Yard with no cars, no train.
The second thing that caught my eye was the presence of a trainman in the conductor's side of the cab.  That's unusual too, since, due the presence of sections of street-running and a couple of movable-span bridges, the conductors of trains on the NOGC actually ride ahead of the trains in a truck to make sure that there are no obstructions in the street-running sections and to open (or close) the bridges for railroad movement.
The third thing – what came out of the conductor's mouth as he passed me – was the most noteworthy.
The trainman sitting on the conductor's side (in the below picture, that's the left side, for you railroad neophytes) was about to reveal to Jimbaux that he (the conductor) was a terrorist, a charge that may seem extreme to many reading this, and I know that this post is likely to cause controversy, but I will explain more in this post.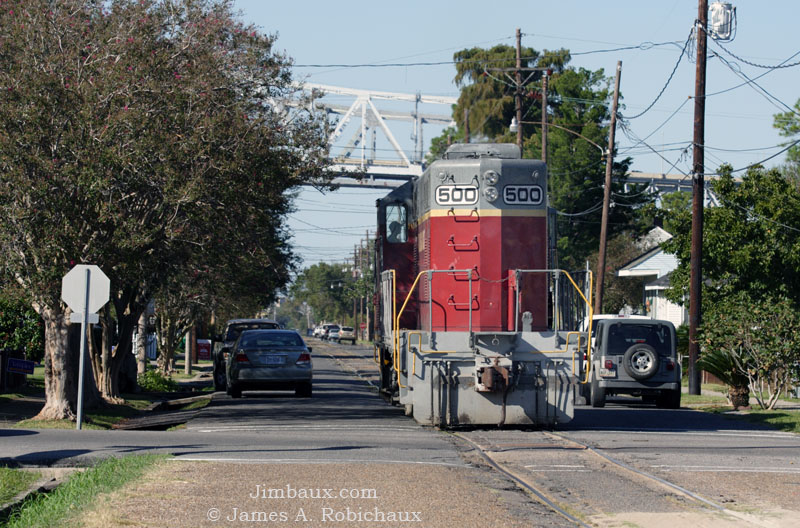 This is not only a typical scene along this railroad and this street, but photographing scenes such as these are a typical activity for Jimbaux, as I've been photographing this railroad since the spring-summer of 2005.  I had not the remotest of problems with any of the crewmen until this day.
I saw this "train" – it's not even a train, just being a mere locomotive moving down the track down the middle of the street by itself – and quickly got set up on the river side of Madison Street to photograph it, parking my vehicle no differently than any of the other vehicles that you see parked along the street here.  Here's one more shot just before the kid in the conductor's seat revealed his terrorist identity to me.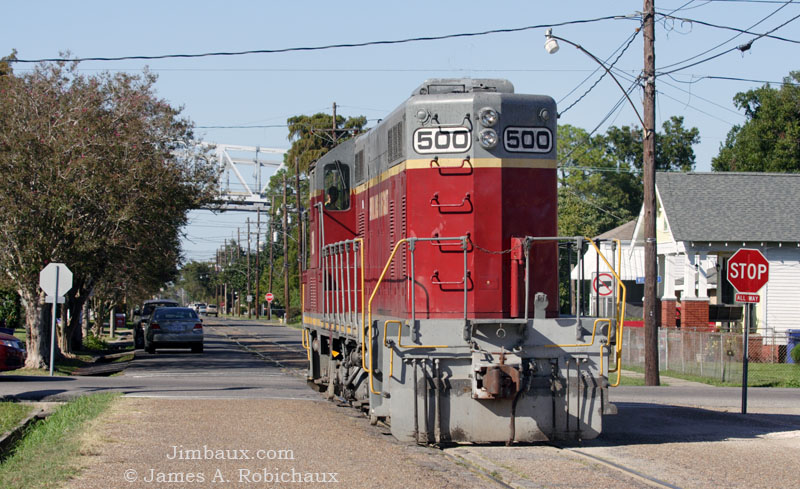 As the train neared my position, the conductor turned around, stuck his head out the window.  At this point, I was only imagining that he was about to say to me something very similar to what I often hear from railroaders at work: an inquiry about how they can see the pictures I'm taking of their trains, a simple "hey" or some such, or some good-natured joke.  Sometimes, railroaders throw water bottles at me with notes with their e-mail addresses taped to it, wanting to see the pictures that I'm taking.  Others are frequent subjects of my work, like the increasingly famous Chip Local, with the veteran railroader smiling for so many of my pictures.
No such thing happened here.
I was shocked at what I was told.
"Hey, Buddy, You Know That's Illegal?"
What?  Is this a joke?  I looked back at him with an "are-you-serious?" look on my face and slowly nodded my head from side to side, as if to say, "Uuuuhm, no."  He responded quickly, as he faded from view, by nodding his head quickly up-and-down, as if to say, "oh, yes it is!"
I was shocked.
Really?
Are you serious?
Are you seriously that dumb?
Or, equally dangerous, do you seriously think that I'm that dumb?
Furthermore, in the era of the internet and everyone being a journalist, do you really think that you're going to get away with telling that to someone pointing a telephoto lens at you?
After I regained my senses and got over the shock of what had just happened, I decided that I needed to show this terrorist that I was not going to be terrorized by him into not doing something that is safe, legal, harmless, and something I love to do; so, I popped off this going-away shot of him.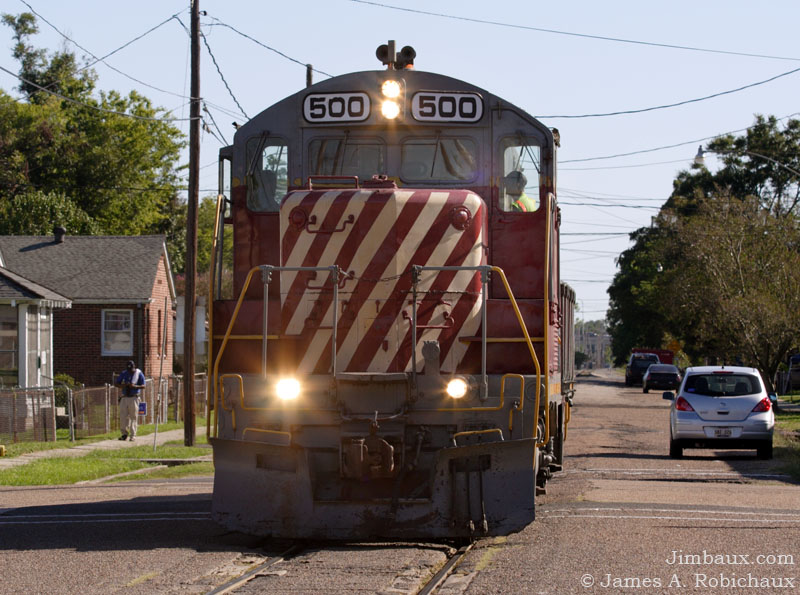 Now, surely, there's some ambiguity to the trainman's statement.  "Hey, buddy, you know that's illegal?"  Just what exactly is "that" in this case?  What is illegal?  Was it the photographing of the train?  Or was it how and where I was parked?  That can't be.  Look at how the other cars in the street are parked; that's how mine was parked.  So, if I'm in violation of the law, so are they, but if it's the photography that's his problem, that also means that any of these people who take pictures off of their front porches are also breaking the law.
Right after the locomotive passed me and this terrorist tried to scare me by what he told me, two men walked outside of the elementary school next to which I was parked and asked me what this trainman had told me.  I told them what happened, handed them my business card, and left.  They seemed to have no problem with how my vehicle was parked!
What To Do Now?
Especially since this was merely light power, I had no inclination of chasing this "train" any further than this, but even if it would have been a normal train, chasing it to an area where the light is good this time of day requires driving farther away from my destination (after shooting the picture) by driving into a heavily-trafficked suburban area full of stop-lights, something I just don't normally feel like doing.  (Keep in mind that many of the pictures that you see here on Jimbaux's Journal are taken while I'm making a very slight detour in my daily rounds that have nothing to do with trains or photography; I usually don't get out just to go take pictures with no other purpose for the outing.)
However, this clown asked for it, there are much greater things at stake now that getting a decent picture, and after being told what I was just told, I really had a point to prove, didn't I?  Afterall, although, as I've written plenty before on this site, I'm not one to make things into global issues, this incident is not an isolated incident, and, as the 9/11 Project has shown, this has become something of a cause célèbre for yours truly.
So, I got to Stumpf Boulevard, but they tied the locomotive down right there, which explained both the light power move as well as why it had two trainmen aboard.
The tying down of the locomotive was very backlit, and I normally wouldn't be inclined to take photos; I didn't here.  Not until right after it was too late did it dawn on me that I should have gotten out of the truck with the big lens and camera and at least pretended to take pictures of them if, for no other reason, to affirm the right to do, as I urged people to do when I asked for others to get trackside on 9/11.
I was quite upset by this disrespect displayed to me.  I was supposed to meet some colleagues for Friday afternoon libations shortly after this incident, but I was too enraged after what had just happened.  Actually, the pictures I took above were some of the first of nearly 1,000 pictures I took that day, as I ended up photographing two football games that night.  (If you're interested in what I shot that night, here's a link, another link, yet another link, and a fourth link still!)
Terrorism?
I know that this post will cause controversy, if not for me calling out a railroader, definitely for me referring to him as a terrorist (at the time.  I will not say that he is one today, as forgiveness has been a big theme in my life in the last year.  For all that anyone knows, he may have realized the stupidity of what he did, but the fact that what he said reflects a broad, pervasive mindset is what necessitates this post.)
Some will rather shallowly say, "how can you put this guy on the same level as a mass-murderer like Osama bin Laden?"
Those who would say such things apparently still don't understand what I wrote in September about how we really don't seem to understand what we are saying – and what we mean – when we talk about terrorism or label people as terrorists.  Please read the paragraphs under the "Terrorism Does Not Kill Anyone" subheadline in my 9/11 request.
Got that?  The goal of terrorism is not to kill people.  The goal of terrorism is to sentence its victims to a fate worse than death: life in fear.  This conductor was trying to scare me into not doing something that I love doing, something that is safe, legal, and harmless, and something that, apparently, results in images that many of you enjoy seeing.
I know that it will cause controversy that I referred to the crewman as a "terrorist," but he did try to scare me into not taking pictures, and that kind of thinking is downright dangerous, which, if left unchecked, and as common as it already is, does indeed scare me.  Remember that Agent Bell said that had he not come onto that bridge in 2008 to "rescue" me from the NOPD, I might have been taken to jail or had my equipment confiscated.
Stupid Irony
What's even more ridiculous about this incident is that as a railroad enthusiast, an educator, and a journalist, I am one who often glorifies or at least finds the beauty in railroads, an industry whose place in the minds of most in the general public is only negative, with things like blocked crossings, noise, wrecks, and such, and who often fail to realize that trains move because of demand that they create.
The New Orleans & Gulf Coast Railway has been cited in local media reports several times in the last few years, and none of it is positive.  I frequently find myself being an apologist for this railroad (like how I'm an apologist for all railroads, but especially this one) that often pisses off the general public in this area, but especially in the incorporated and politically powerful city of Gretna, which recently passed some ordinances about citing trains for blocking streets.
Go ahead and read this July article from The Times-Picayune about the issues with the NOGC and motorists in Gretna, and then read the craziness in the comments section.
Department of Homeland Stupidity
If both the Tea Party Movement as well as the Occupy Wall Street movement didn't convince you that this country is full of dangerously crazy people who fail to soberly see the bigger picture, read the comments section of that article.  It's not only full of comments critical of the railroad, but it's also full of stupidity.
Perhaps the two silliest examples are the commenter who wants Gretna to sue the CSX, and the commenter who complains not only about Zatarain's getting railroad shipments but also the train waiting for Zatarain's to unload the cars while it blocks the street!
First, what does CSX have to do with this?
Second, not only does Zatarain's not get railroad shipments, but only in very rare and specific circumstances does a train wait while one of its cars is unloaded; the only place on the NOGC that that might happen is at the end of the line at the grain elevator in very rural Plaquemines Parish (in other words, where it won't block any public crossings.)
So, so long as I'm not doing something that endangers train movements or its property, that railroad really should not try to piss me off.  I'm about its only non-shipper, non-employee ally, and I'm 'armed' with a camera and two blogs.  After firefighters couldn't get to a small fire around 2nd Street a few years ago because a parked grain train was blocking their way, a small fire turned into a big one, and took an entire house down.
There's also this article in The Times-Picayune a few months before in which the writer talks about how Gretna's historic district is "constantly besieged by trains."  Constantly?  How about three or four per day, not counting the sporadic grain trains, which, actually, are the longest trains, but, again, they are sporadic, meaning that weeks can pass without one being in the area.
Larger Issues
This is actually the same dynamic found in the modern, developed, industrialized world of incredible comfort and convenience of the phenomenon of people being out of touch with where their food – and, by a not-so-big extension, their other energy – originates and how it gets to them.
These people in Gretna sitting in their gasoline-burning cars with plastic interiors coming back from the store with their plastic-wrapped goods in plastic bags are upset because their my-way-right-now routines are temporarily interrupted by trains carrying petrochemicals, and yet they fail to realize that their ways of consumption are the very reasons for the existence of these trains in the first place!  As that very appropriate Rolling Stones song says, "And I shouted out, 'Who killed the Kennedys?' when, afterall, it was you and me!"  Indeed, and the same is true for an oil spill in this area last year that got a little bit of media attention.
I could write so much more about that, but that's a topic deserving of other posts, and it's not the point of this post.  The reason why I write it here at all, though, is that I, of all people, am a person who understands this dynamic, and I have the ability and the space to write about it, the platform to educate about it, and yet someone who works for the railroad chooses to harass me when I'm not on its property and am not interfering with its operations.  Irony?  I think so.
It Gets Better (Or Worse), And What If Local Media Knew About This Runaway Tank Car?
A few years ago, a railroad photographer friend in the area took a picture of an NOGC movement on Madison Street, and he mentioned in the caption of the picture that he posted to one of the railroad picture websites that takes submissions from subcribers that the locomotive went out into the street to pick up a tank car that had accidentally rolled out of the yard onto the street!  That's no joking matter, and to protect any crewmen from getting into trouble – and you can imagine that they themselves might have felt guilty enough for it considering the seriousness of what could have happened – I quickly e-mailed the friend and pleaded with him to remove that information from the caption.  He understood, and he removed it right away.
That's yet another reason why it so ridiculous that a crewman would try to intimidate me the way that the guy this guy in the above pictures did, and it's the reason why, with some reservation, that I'm publicizing for the first time about that tank-car-rolling-into-the-street incident, which is probably at least five years old.  Can you imagine in established local media outlets knew about this?  Given what already gets published in The Times-Picayune about the NOGC, I don't think that the reporting on a runaway tank car would have been flattering at all.
A Feeling Of Betrayal
When you're one of the few – if the only – apologists (outside of an organization) for an organization that receives only negative press and only negativity from the public, it adds insult to injury when you get treated as I did by someone within that organization, especially when I was doing something that would glorify the organization.
To be sure, I don't for a moment think that the actions of this conductor reflect the policy of New Orleans & Gulf Coast Railway nor its parent company Rio Grande Pacific Corporation; I'll give NOGC and RGPC the benefit of the doubt, not having any reason to not do that.  Still, it's kind of like defending a friend who not only won't do the same for you but then also spits on you: that's kind of how this feels to me.
What's really stupidly ironic about this incident is that this railroad movement is also even more public and in a public place than most railroad movements, and it also isn't even a train!  It's just a lone locomotive, not even pulling one car, not even a train.  It's also in the middle of the street!   How much more of a public area can this be?  Do any of the people living along this street break the law anytime they take a picture off the front porch?
A friend who is a trainmaster for another railroad not around here said, "And yes, it's even more hilarious since the location you were shooting from could not possibly be more of a public place."
What if I had been some docile teenager (the kind of teenager that I once was) shooting pictures of trains for the first time?  This guy might have scared me – terrorized me – into not doing something that it safe, legal, and harmless, and that is my right.  I used that word "terrorized" for a reason; when this kind of behavior comes from overzealous law enforcement, or in this case, a railroader, who has just disgraced the neat little railroad for which he works, it's really the same thing as the more common form of terrorism.  Either way, you're cowed into not doing what you want to do, not doing what is legal and harmless.  The result is almost the same.
Support From Other Railroaders
Since this incident took place, I've been discussing it with some friends and one foamer I've never met in person bit with whom I correspond before I publicized this story, and the weight of this story is one of the big reasons why it has been delayed so much.  An engineer (the railroad crewman kind) in the New Orleans area said, "oh, no, you've got to publish this," when I told him how this was far different than a simple matter of rule violation in a photo.
A trainmaster friend wrote to me, "It just shows that that guy (conductor) has some need for power or authority, and he thinks he is able to get it by telling you that you are doing something illegal."
Yeah, it's not going to stop me from taking pictures – in fact, it's just going to get me to take more pictures of that railroad and its employees – but there are larger issues here, and telling that to anyone is just inexcusable.  I'm not personally offended that it was said to me.  I'm just outraged that it was said to anyone at all, though being the recipient of it made it worse.  Again, I often hesitate to turn things into global issues, but this is one, as we have seen; as Martin Luther King Jr. said, "injustice anywhere is a threat to justice everywhere."  So it is true here.  Who said it and to whom it was said really are not important; what's important is what was said.
It's interesting to note that the comment above came from a trainmaster friend.  Like the NOPD officers who nearly took me to jail and illegally seized my camera gear, trying to show off to management may be part of the motivation here.
This Is Not An Isolated Incident
The 9/11 Project should have proven that, but read what TAB wrote to me:
There was an instance of something like this in the Port of Albany(NY) a while back. One of the guys on the D&H list was down there taking photos of an ethanol train when he was challenged, loudly and obnoxiously, by one the crew-I believe it was a CSX crew, who said, among other things, "this is an ethanol train, it's hazmat, taking photos is illegal….." etc.  The guy was totally stupid – the first rule of moving sensitive products is never tell anyone what you have. Loose lips sink ships!!
The amount and pervasiveness of bad information is stunning, especially from those who should know better.
In some ways it's comforting to know that you're not alone, but disturbing that it happens at all, and that so many have bought into it.
Right, and I didn't always care either, but the reason why the Jimbaux of today just can't blow this guy off – like one of this trainman's coworkers at the NOGC told me I should do (probably because he doesn't want his own boat rocked) – is because this is that same ignorance that led the NOPD to abuse me, and, apparently, that department hires idiots of the likes of this guy on the NOGC, and don't forget what Agent Bell said to me on 9/11, that had he not intervened on that fateful day in April 2008, some even worse abuse could have happened to me than the stupidity that did happen.
We get the government we deserve, and if we have trainmen who are of this persuasion, then it means that not only are there people in the general populace that are this way, but also that influential people like lawmen and even legislators, people we're supposed to be able to trust, are like this as well, and I think that it's really dangerous.  Remember that someone with Exxon tried to take my film from me in October 2001.  Putting these things together, and as an article in the recent issue of Trains suggests, these are not isolated incidents, and not limited to railroad photography.
Again, what if I was more docile (like, again, I was as a teenager, and like many other good people are) and would have really been scared away from taking pictures?  What if that was the reaction he would have gotten from 10 consecutive foamers before me?  meaning that since I'm breaking that trend, I'm somehow an troublemaker for daring to not bow down as others did before, daring to continue to take pictures on a railroad (in the middle of a city street) where I've taken pictures since 2005?
"Railfan Platforms" Get No Support From Jimbaux
That's also why I'm a very queasy about these so-called "railfan platforms" or "railfan pavilions" found in certain cities.  The general story is that it is a sign of communities being friendly to railroad enthusiasts, but it doesn't take much for me to see a dark side to it.  Given what I have already written on this site, and the comments that many of you have left in the comments section, what really scares me about the idea of and the existence of designated railfan platforms is how it could lead to the idea that that's the only legitimate place to watch and-or photograph trains, that anyone who does it elsewhere is suspicious, a troublemaker, or irreverent.
I can just see now some police officer, railroader, property owner, Joe Q. Public, confronting me when I'm parked on public property alongside some highway, me telling him that I'm merely photographing trains, and him telling me that there's already a designated area where I can do that and that I 'should' go there.  Nope!  That scares me, though.  Even without the existence of such things, I've already been told in some cases something to the effect of, "you can go watch trains at X location if you want to watch trains."  Bring railfan pavillions into that, and it almost becomes state-sponsored, because if the state is designating an area from which to watch trains, one could imply that it is therefore making all other places off-limits.  No!
Here's what a railroader-foamer friend wrote to me about that:
Yes, I feel EXACTLY the same about railfan areas/platforms/pavilions.  It gives the inaccurate notion that these are the only legal and acceptable places to partake in such activity, which is wrong!  Even at [location removed], where I used to wander all over that place taking pictures, people now say (I'm speaking of foamers and train people) that "you need to stay on the pavilion".   So yes, I totally agree with you, that while some in the foam community think they are a good idea, I think they are a terrible idea!   You're killing yourself by supporting them!
Indeed.  This will never be a problem out in sparsely-populated areas, but if you happen to be in a town that happens to have a "railfan pavilion" – the existence of which has nothing to do with your liking trains – and you chose to partake in the activity on public property, say, a half-mile from the pavilion, you might be viewed as a potential troublemaker.
If some cop has to come and question me out by the tracks somewhere, he might add into it some indignation that he had to take the time to respond to this call when his community has already spent money investing in a railfan platform somewhere else.  It's a guilt-trip thing, like as if I have some obligation as a rail enthusiast to patronize that park.  Nope!
Don't Take This Lying Down
The Mid-City Marine told me, "You really should contact NOGC and let them know about what happened.  Maybe they will tell their employees."
I indeed plan on doing that!
"Hey, buddy"?  I actually don't want to know this trainman's name, though his transgressions do need to be addressed to him personally.  At this point, the only people who need to know his identity are also the only people who can figure it out, given the date, time, location, and locomotive number in these pictures.  This issue and this post are really not about this conductor at all, nor are they about Jimbaux.  They are about the mindset behind his actions, and had this been the first time something like this had happened to me or the first I'd have ever heard of such a thing, it would have been a peculiarity as opposed to something that is a broad, pervasive issue.
Some of you might think that I've made too big of a deal out of this, but, as I've reported several times, this is not an isolated incident, and it's not really about this trainman either but the pervasive mindset he, like too many, has.
I'm sorry that publishing this piece took so long, but it needed to be published.  I really not only wanted to get it published before Thanksgiving, but I also wanted to get published what will soon follow before Thanksgiving, as gratitude is such a big theme in upcoming posts.  If you aren't already on it, keep up with Jimbaux's Journal by joining the Facebook fan page so that site updates will appear in your news feed.
The weight of the subject of this post is one of the major reasons why publishing this has taken so long; this was not an easy piece to write.
Forgiveness Is Virtue
Regardless, it is my hope that in a future episode of Jimbaux's Journal, I'll be able to report that I shook the hand of an apologetic former terrorist working for the New Orleans & Gulf Coast Railway!
Your thoughts, positive, critical, and neutral, are welcome in the comments section.
Thanks.
Jimbaux