[Jimbaux would like to warn you that your time is going to come!]
What's good, mis paisanos?  Y'all havin' a good time on Independence Day?  Hey, kiddies, leave the fireworks alone; you guys are too young to handle that stuff, which is why you need to let your parents, who have been drinking all day, mess with the stuff!  Ah, I'm such a patriot, ain't I?
Contrary to what you might think from the lack of updates since Thursday, I'm not dead.  I've actually been busy as hell, far too busy for this blogging silliness.  Anyway, I was actually fully intending to get a post cranked out on Friday, and much of it is already written, but an invitation by Melanie to go hang out at the pool with her and some of her friends precluded that.  Furthermore, I thought about completing that post and publishing it today, but it's on the subject of a whole bunch of photographic and technological madness, and I wouldn't want to overload your minds with something like that on the day that we celebrate Thomas Jefferson and his podnuhs signing off on a big "Bite Me" message to King George III, now would I?  Ah, I'm such a patriot, ain't I?
When In The Course Of Human Events . . .
. . . I land at the Key Bridge connecting Georgetown and Rosslyn at dawn on a Friday morning, I take a picture, which is what we see here.  If you want to see much better pictures I've taken at this same location, please look here!  Anyway, it's the crack of dawn just a few days after the summer solstice, and there are already some rowers in the Potomac River this morning.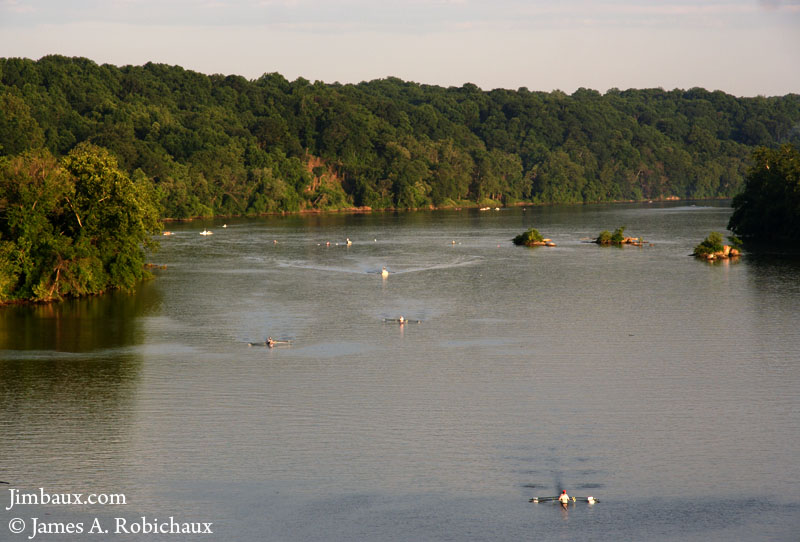 I shot this picture off the top of the Key Bridge looking almost due west.  Contrary to the impression one would get from looking at this picture, we are in a very urban area here.  In the background and at left, you see the Commonwealth of Virginia, and at the very right, you see the District of Columbia.
Super Siete
I just had to pass along this great picture I saw of a train led by a GE Super 7 still in FNM two-tone blue and with KCSM paint over it leading a train into the United States across the international bridge in Laredo.  As many of you know, I was at this same location myself in 2004.  Actually, on Indpendence Day of 2004, I was in Mexico still, probably sitting in a classroom, possibly followed by foaming.  I don't know.  Maybe I'll scan some of my film from that time and post it.  I don't think that there is a paint scheme that looks better on GEs than this one, and I almost wish that KCS would just ditch the "Southern Belle" paint scheme for this one instead!
Please remember that if you like what you see here, join the Facebook fan page!
Oh, well, my peeps, that's really a wrap.  Both you and I are out of time today.  Stay tuned, though, for the content should get interesting here soon as I do have a large backlog of pictures from the last week.  Remember, if you don't succeed in blowing your hands off this evening, there's always next year!
Jimbaux