[Jimbaux walk up in da club like . . . . zoom.]
I was trying to figure out what I was going to do Saturday, and I figured I'd just jam out on the guitar with some pals, but then, on Friday, WashingTina alerted me to the Capital Pride parade that was to happen on Saturday.
Parade?
Having lived several years in New Orleans, I've photographed plenty of parades, and, by that, I mean photographing the parades themselves as well as the activities that surround them.  I've photographed the Irish Channel St. Patty's Day parade, the Krewe of Endymion Carnival parade, and even the oh-so memorable once-in-a-lifetime Saints Super Bowl Victory Parade along with the equally memorable Buddy and Bobby Brawds parade before the Super Bowl.  However, perhaps the work of which I'm most proud was what I did just a few days before I left New Orleans this January when I photographed the Martin Luther King Jr. Day Parade shown here in Part 1 and Part 2.  Perhaps the ideological cause of equality attached to that parade made it seem meaningful, which brings us to the Capital Pride parade this past weekend.
This Is Gay
No, really it is, and that's just okay.  The Capital Pride parade is a "pride" celebration for the LGBT community of the Washington area, and plenty of people attended.  Since I hadn't photographed such an event in awhile and even missed the Memorial Day parade the week before (it was really hot that day, and I felt terrible anyway), I knew I needed to get out and photograph some event.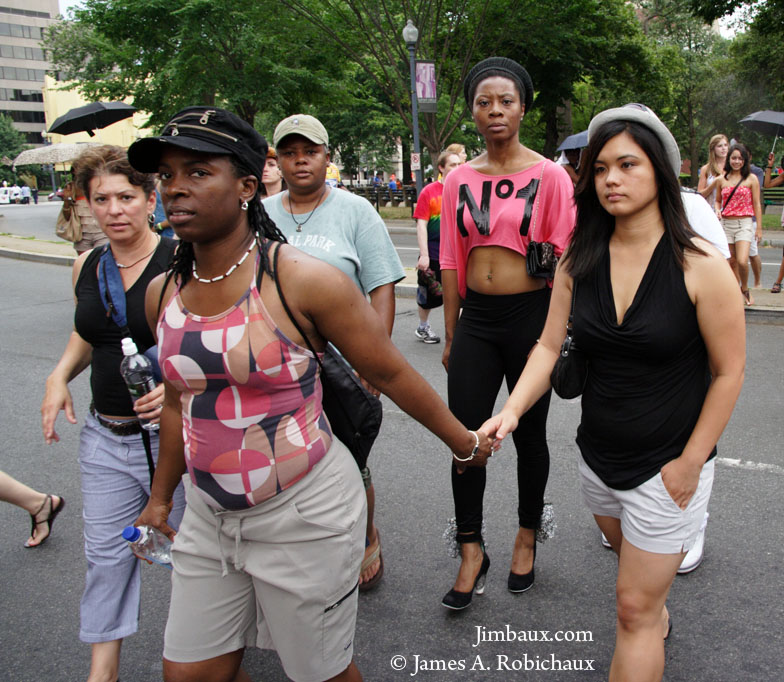 Dupont Circle, where I made my landing on the scene on Saturday, has historically been the gay area of DC, and it is overall a very bohemian place where I myself was with my guitar last weekend entertaining crowds with another guitarist that I had just met.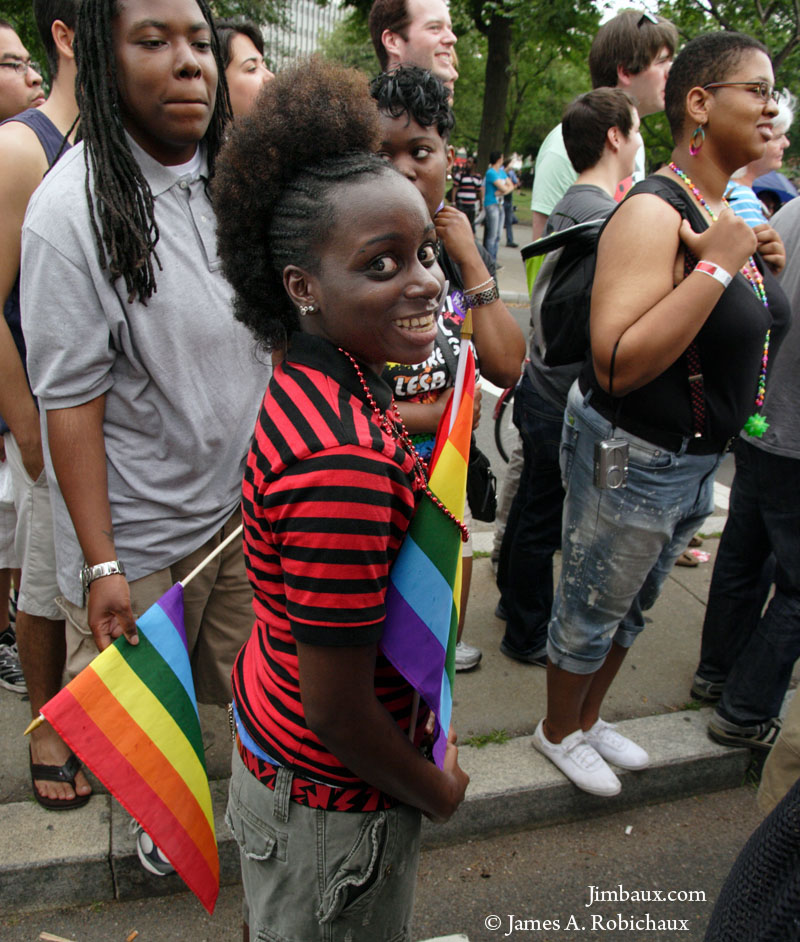 Everyone in these pictures has a story, and everyone in the pictures is someone's son or daughter.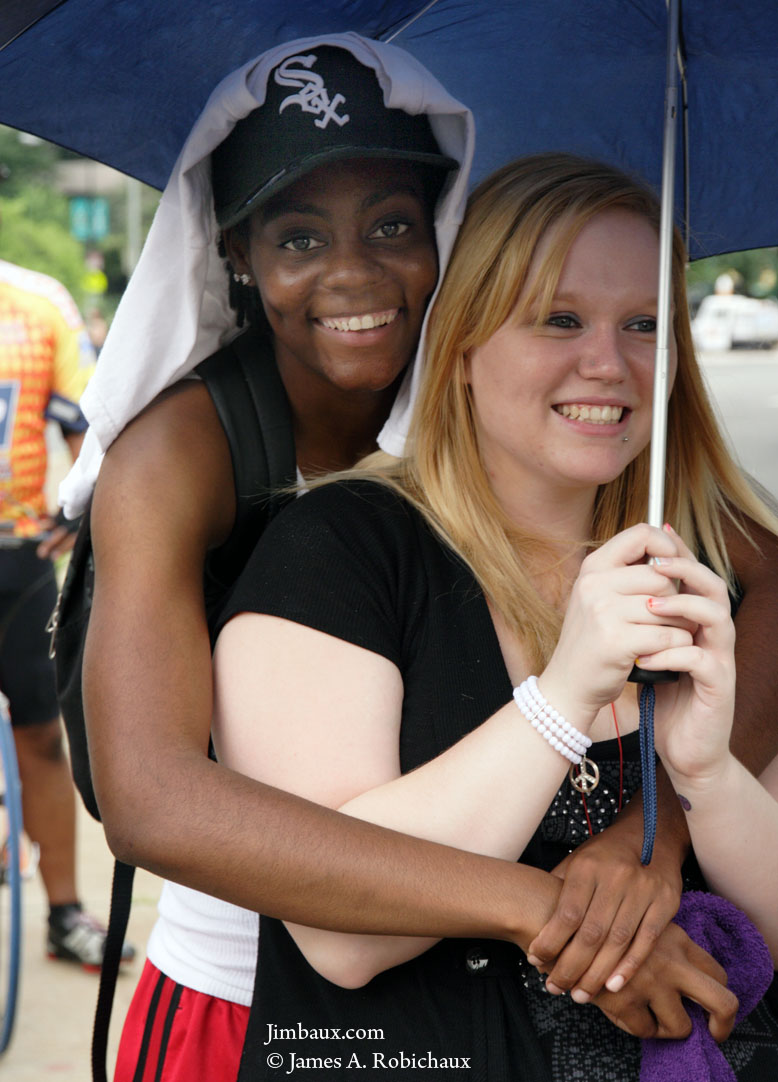 The young lady at right in the above and below pictures is Sammie McClellan.   I asked her and her friends what brought them out to the parade.  This is a question I typically ask interview subjects at events.  "We're gay," was the first answer I got.  I had gotten that impression already, and one doesn't need to be gay to attend the parade, as there were plenty of straight folks (yours truly included, even though I only stuck around long enough to get these pictures) there.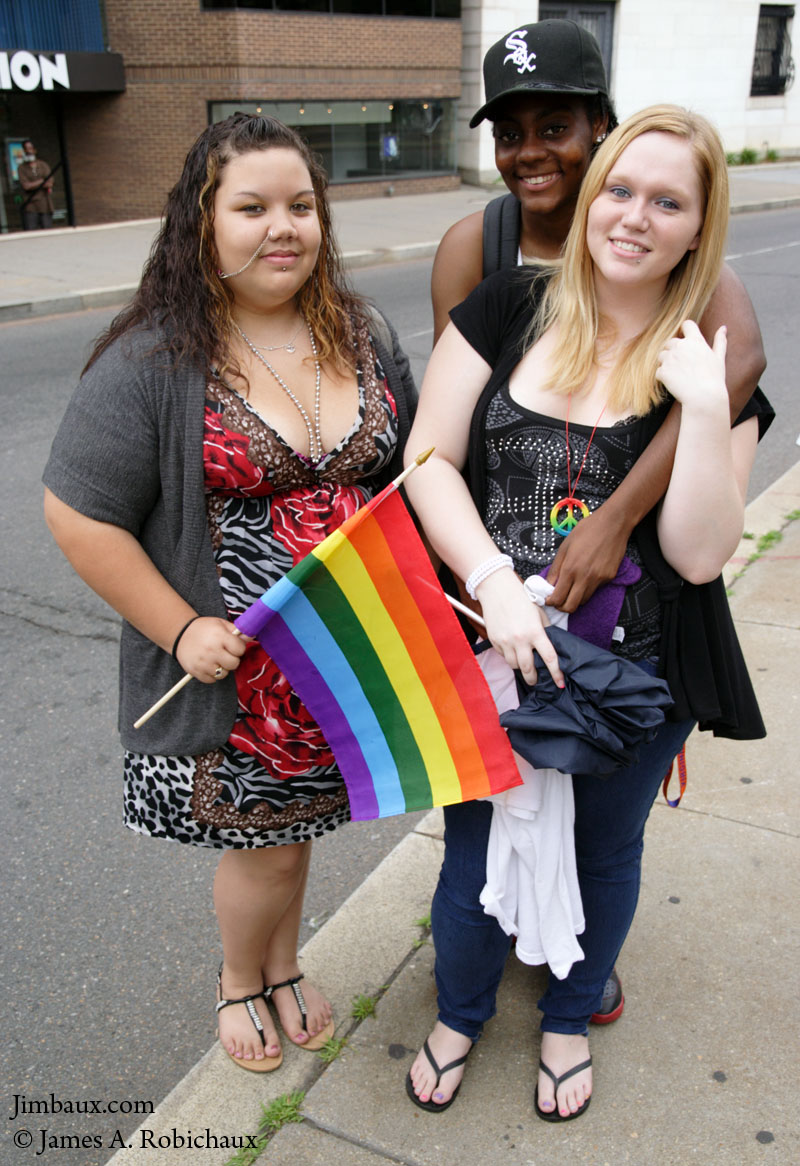 "To show pride, to see the gay people, to represent," she added.  I had somehow expected a more in-depth answer than that, but upon some reflection, I realize I was wrong to expect anything more than that, that that's a good enough reason to be out there.  I've never been a big parade person, which makes it difficult for me to "let go" and understand why others "let go" and enjoy things like parades.
That Crazy 15-85mm/f3.5-5.6
Yeah, somethings not right here.  You photo nerds probably notice it in the picture below.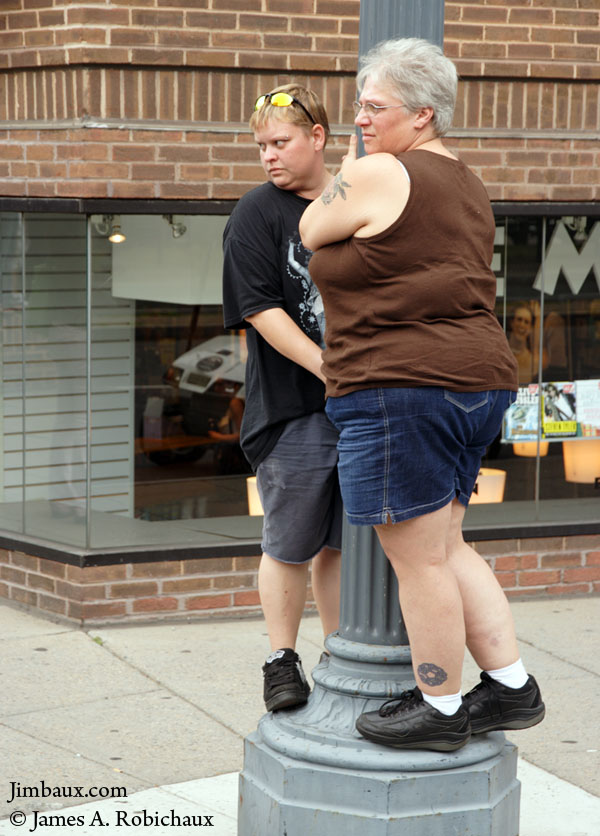 Yeah, notice that?  Notice how the bars in the windows in the background seem to be perfectly vertical?  Yet the post isn't?  WTF?  Is barrel distortion vexing me again?  Or could it be that the post is really leaning?  Whatever the case, however, I likely did not ensure that the optical axis was perpendicular to the wall.  Yes, I'm a lousy photographer.  Oh, well.
You Probably Get Told This A Lot  . . .
I'm probably not the first guy to look at this woman and think that it's too bad that she's gay.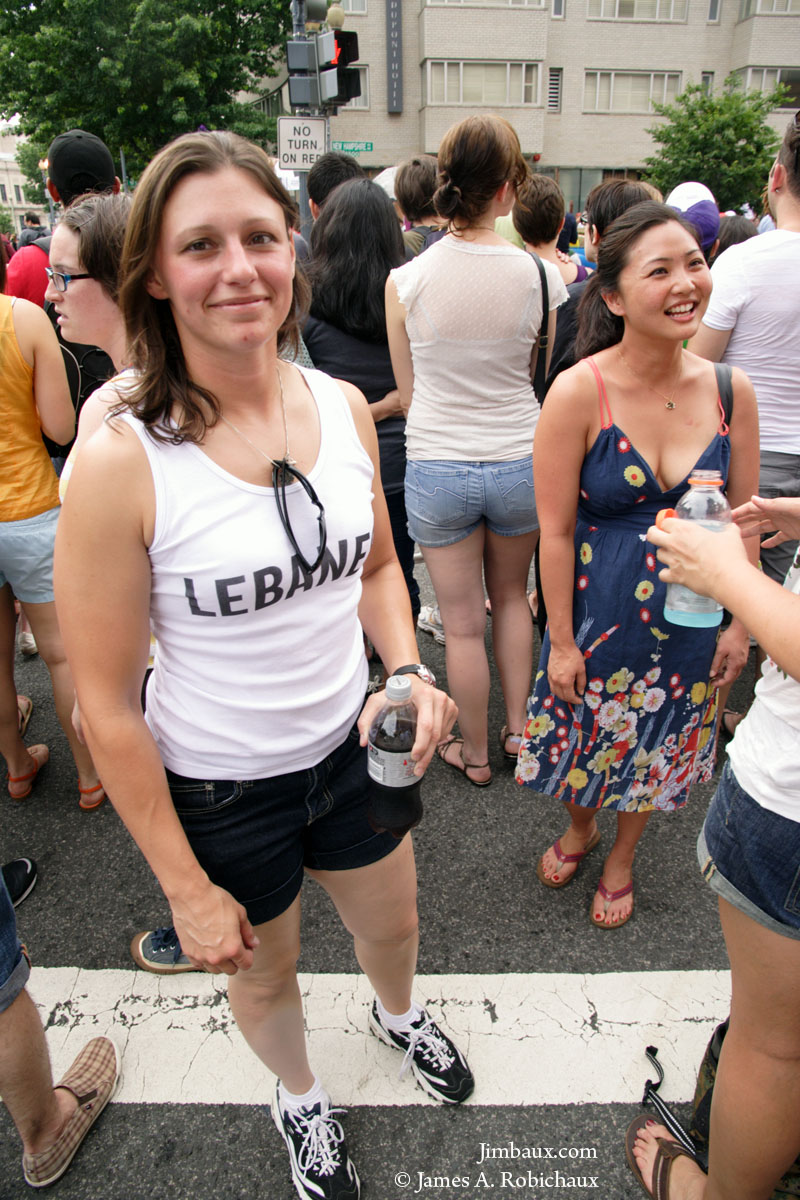 I was reminded of the difficulties faced by LGBT people when I asked this woman if I could use her name with my pictures in this post.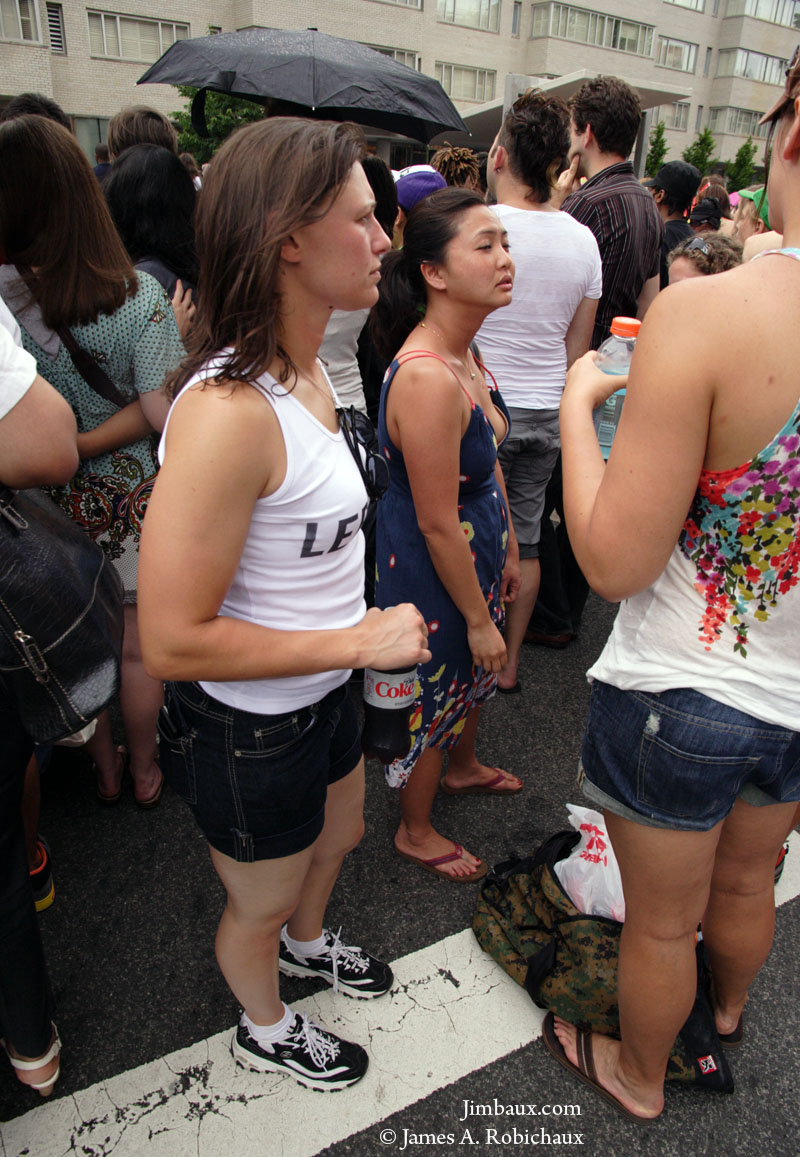 Her response was that she wasn't  fully "out" at work and other places.  Wow.  Isn't it ironic that she can come to a "pride" parade and show her pride but can't fully be herself in other places?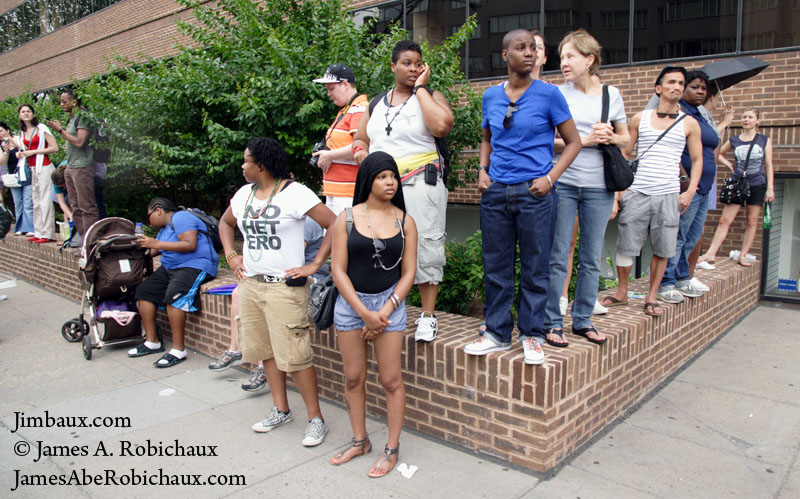 These ladies were getting a nice view on New Hampshire Avenue.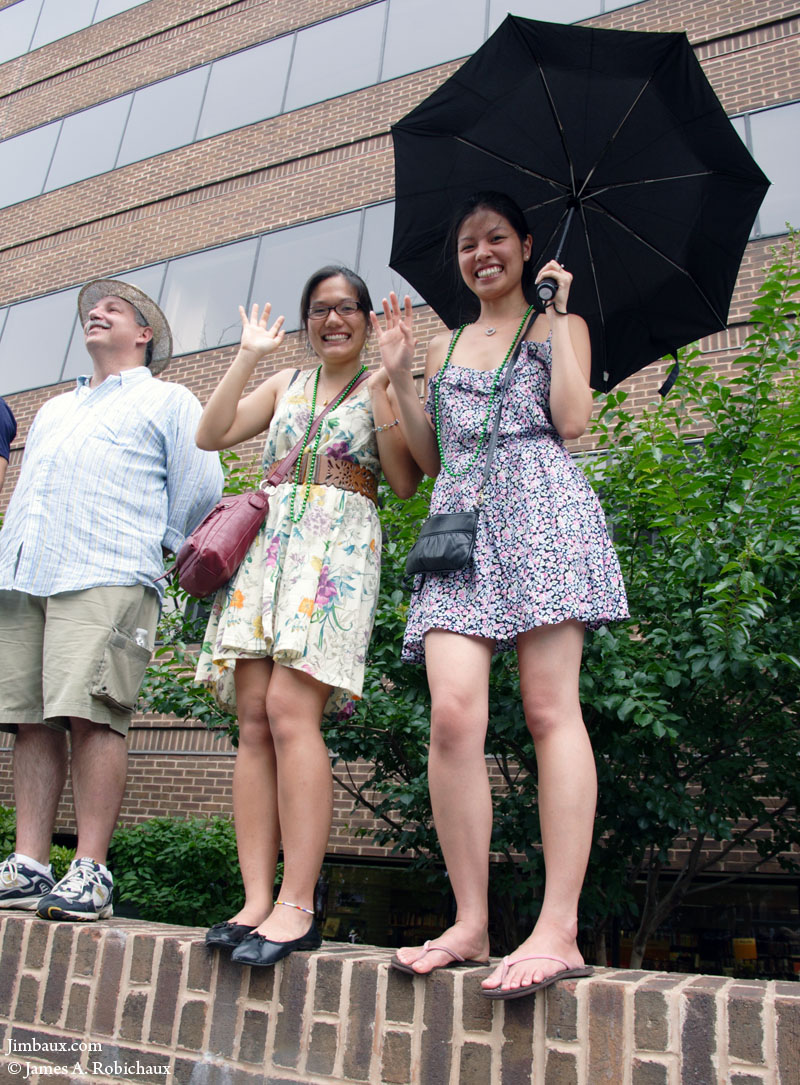 Oh, gosh the Metro was ridiculously packed with people that afternoon between the parade festivities and a DC United game.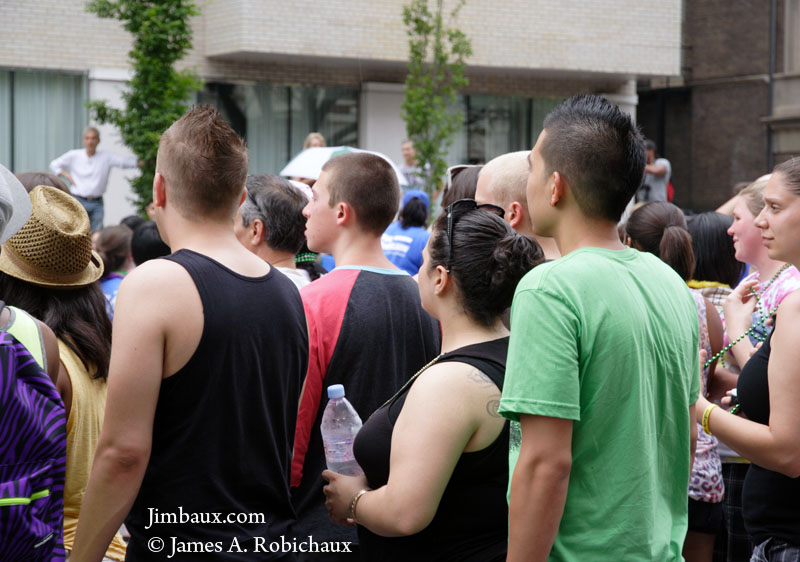 Now, that doesn't look like Louisiana below, does it?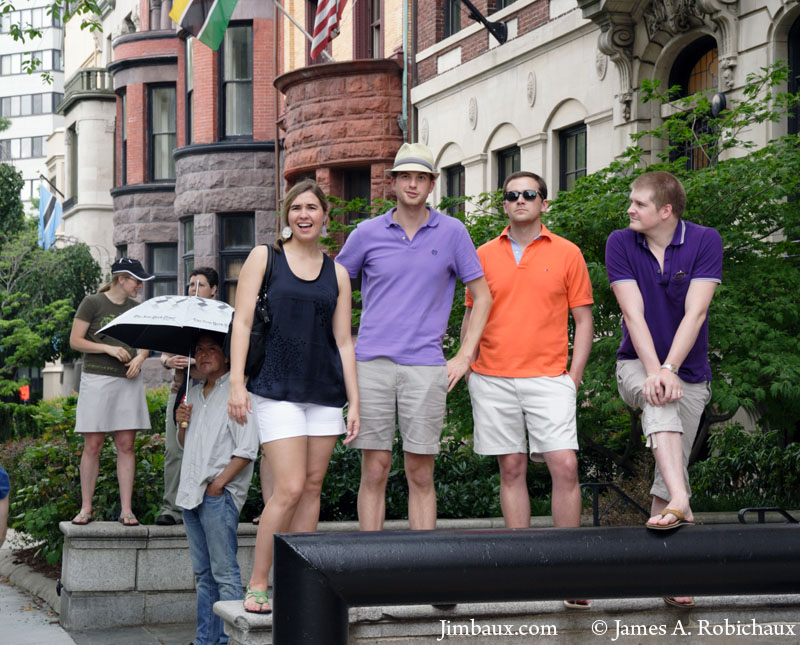 It was warm and humid too, having been after a morning rain that morning.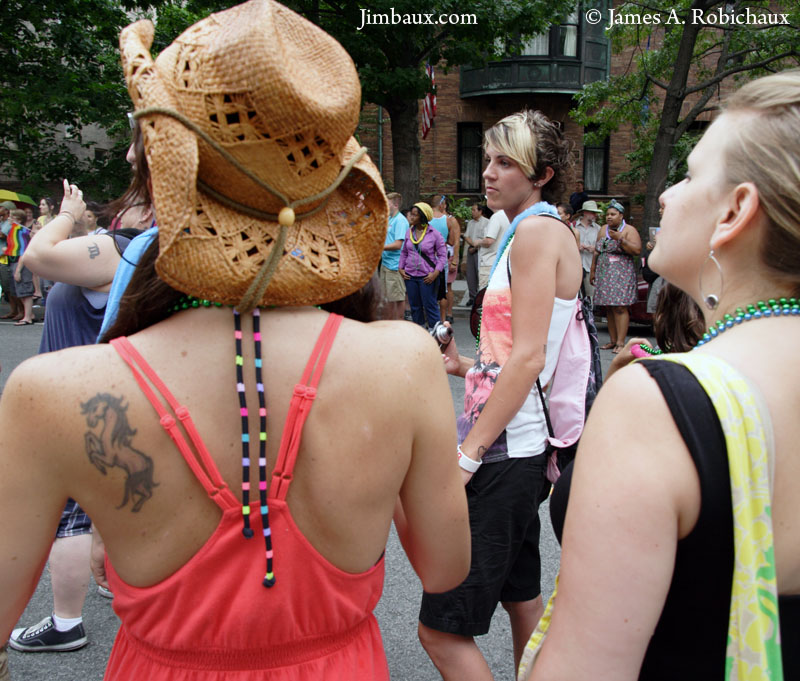 If these pictures look plenty different from my other parade pictures in the links I've placed at the beginning of this article, I'll remind you that I lost my beloved 70-200mm/f2.8 lens when I had $3,000 worth of gear stolen in April.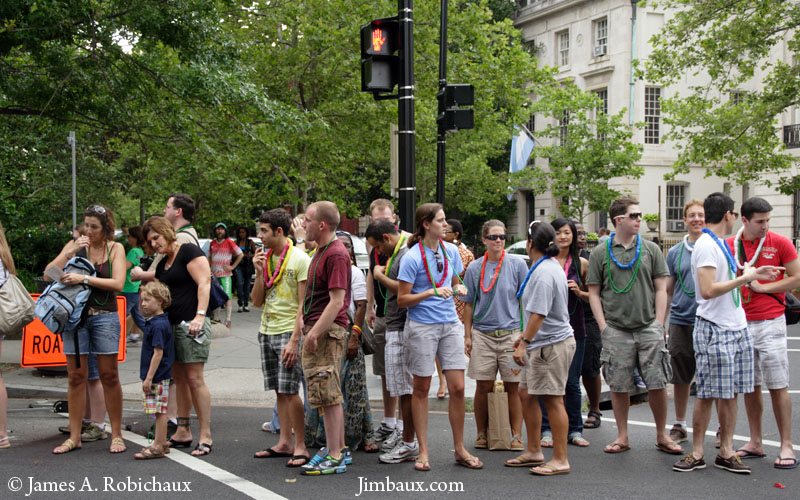 Here's a lovely couple having its picture taken.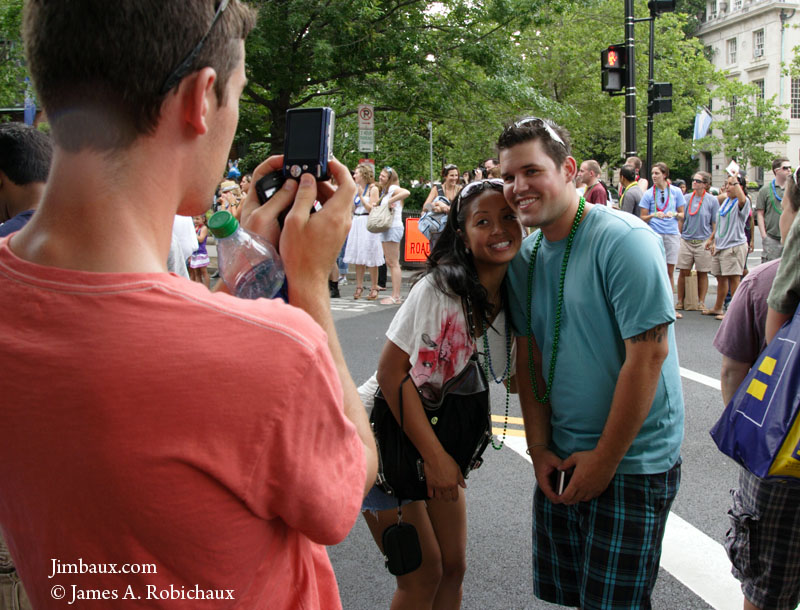 So, I would have cropped the above picture differently, but what's up with that flare on the back of the dude's head?  What other faults does this weird lens have?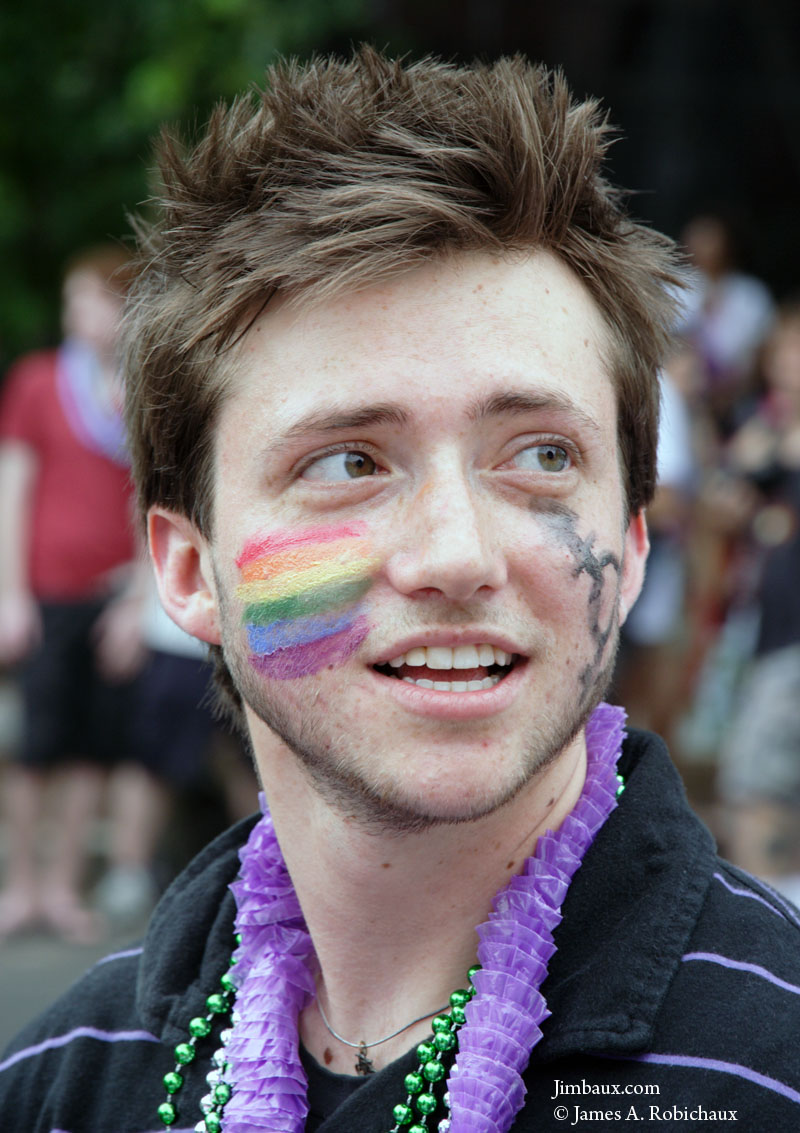 This guy told me his name, but I must have recorded over it on my stupid recorder because I can't find it.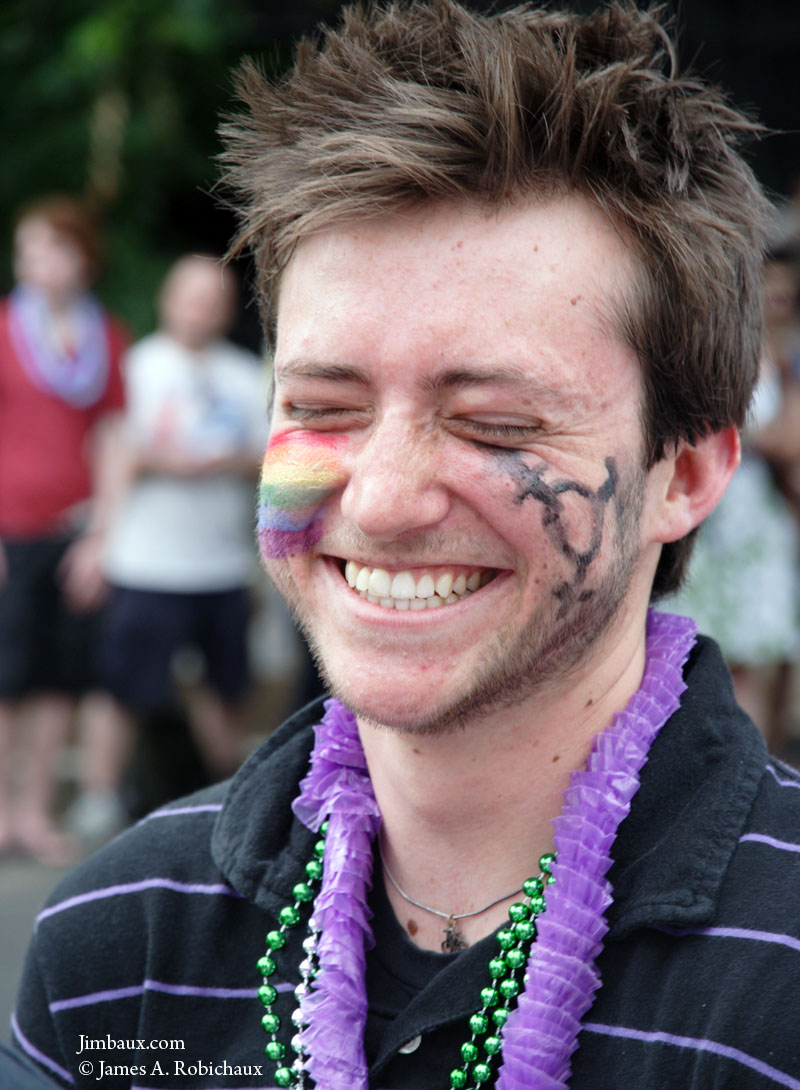 I generally don't like posting three similar pictures of the same person, but this was an interesting photographic subject, showing particularly what the 15-85mm/f3.5-5.6 can do at the 85mm end.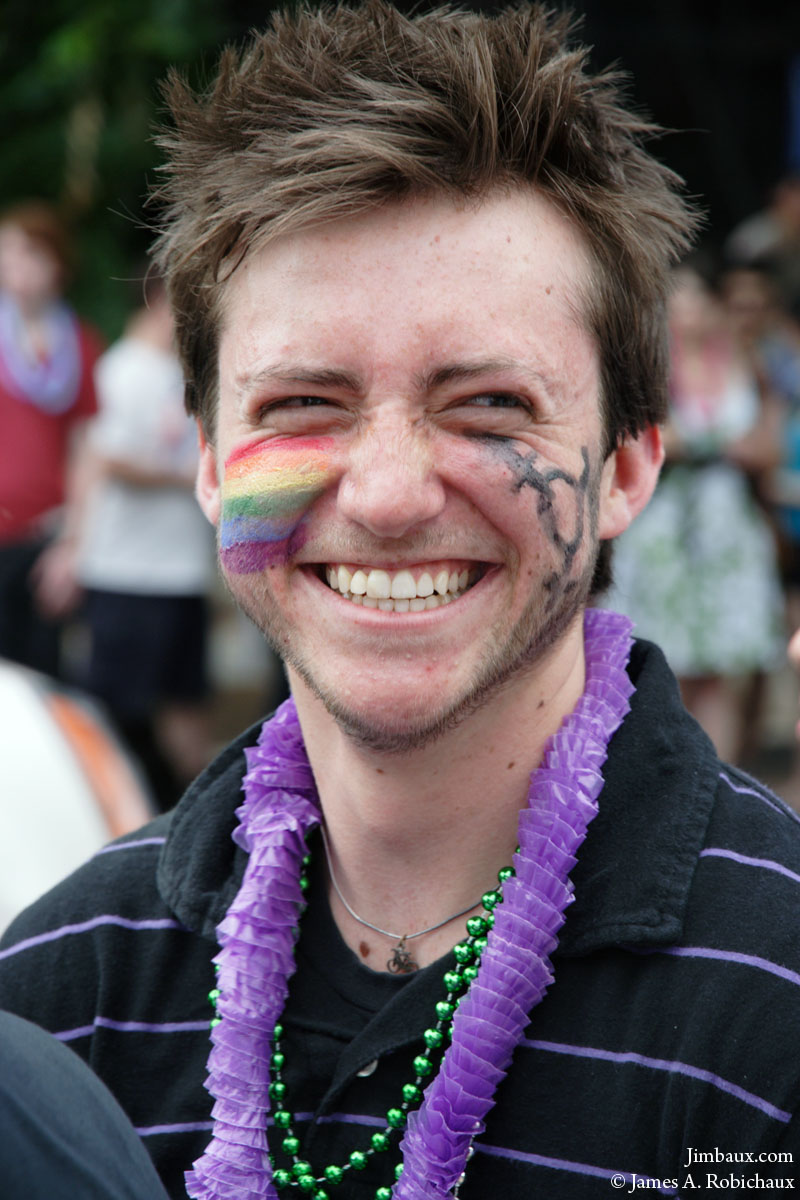 Neat, eh?  I was afraid that the focus wouldn't be good with it, especially after my results in foaming in Front Royal a week before.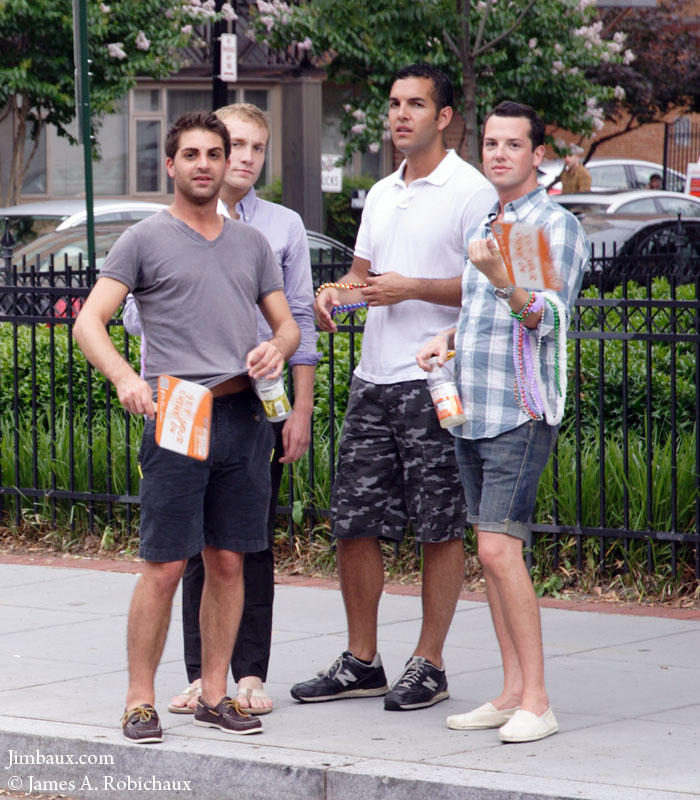 Speaking of  foaming, I couldn't help but think as I was taking these pictures and even now that I'd rather be foaming.  As I wrote last time, not being able to easily get up and go easily foaming is starting to take its toll on me, and I'm wondering what to do about it.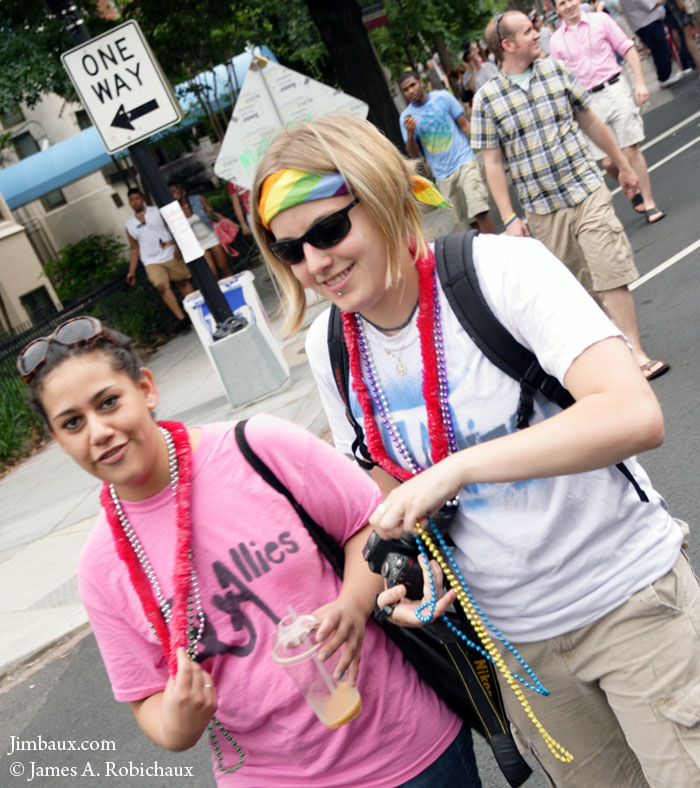 In all honesty, that's one of the biggest things I miss about New Orleans: the ease of going somewhere in the city and finding a train.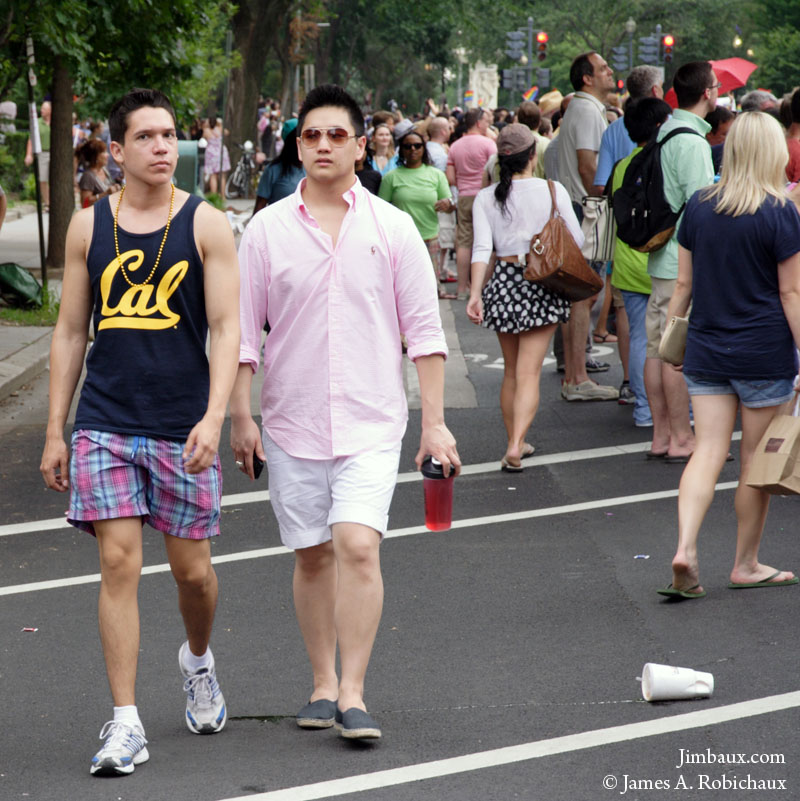 Anyway, back to this; like with most parades, the politicians found their way into the Capital Pride parade.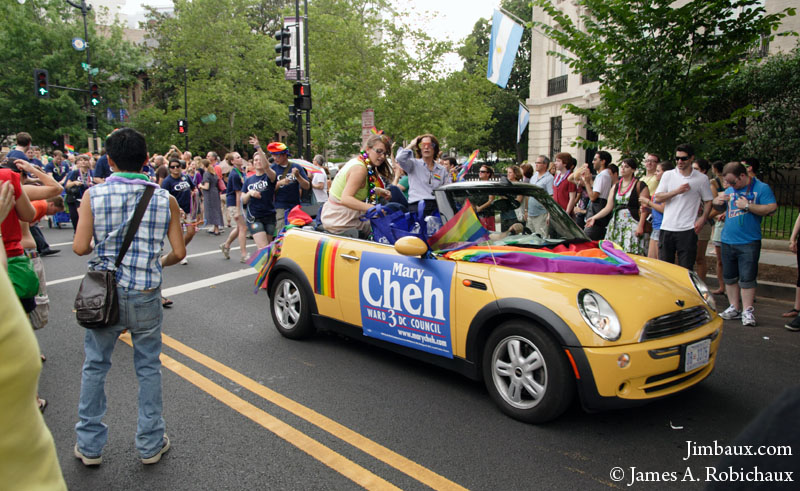 That's all I have for now.  I hope that you have enjoyed this.  Part 2 will come soon, whenever I can finish working on the shots.
If You Like What You See Here . . .
Please remember to join the Facebook fan page for Jimbaux's Journal.  You can also follow this site on that blue-bird microblogging site at @JimbauxsJournal .
Y'all Know That I'm A Rapper Too?
Yes, and before I can fulfill the many requests that I have to create and publish another rap song, I need for "Write It Down" to get big.  So, those of you haven't already done so, please post "Write It Down" to your Facebook wall and show it to everyone you know!  It's a parody of "Wipe Me Down" by incarcerated Louisiana rapper Lil Boosie, who is also the composer of today's tune.
Need  . . . . Trains . . . . Now . . . . . . . Help Me!
Like I said, I really need some foam time.  I just saw that this video was posted of some action on the western side of Baltimore.  Maybe I should try to get out there.
All for now.
Jimbaux