[Jimbaux would like for you to remind him that we'll always have each other . . . when everything else is gone.]
Never before has the song on a post on Jimbaux's Journal been more relevant than the one today.  I almost didn't put it in the usual brackets like I have today, and it is essentially necessary for you to click on the above link to listen to the song – "Dig" by Incubus – for you to fully appreciate the subject of this posting.  You may have to click the button to skip the advertisement for the song on YouTube.
When Everything Else Is Gone . . .
It was one year ago this evening, 17 April 2010, that I heard this beautiful song for the first time as I was working as a wedding photographer for a wedding on Bourbon Street in New Orleans with MQ.  As much as I've liked Incubus for a long time, it's a surprise that that was the first time I remembered ever hearing this song.  It sounded like Incubus, and I checked the DJ's playlist that night to get the song's title.
We All Have A Weakness . . .
Considering what has transpired in my life in the last year, and even the last few weeks, the lyrics, and, eerily enough, even the video to lesser degree, which I saw for the first time as I prepared this post, are very appopriate.  The song strikes me with a weird mix of pain and hope, of fear and optimism, of regret and gratitude.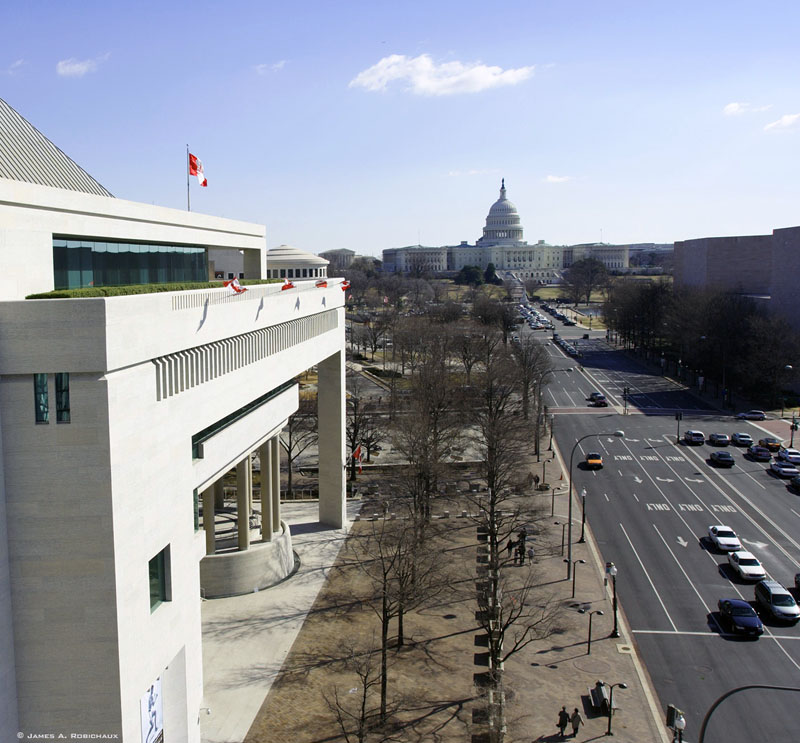 Here are the lyrics to the song, "Dig".  You can follow along here.
We all have a weakness
But some of ours are easy to identify.
Look me in the eye
And ask for forgiveness;
We'll make a pact to never speak that word again
Yes you are my friend.
We all have something that digs at us,
At least we dig each other
So when weakness turns my ego up
I know you'll count on the me from yesterday
If I turn into another
Dig me up from under what is covering
The better part of me
Sing this song
Remind me that we'll always have each other
When everything else is gone.
We all have a sickness
That cleverly attaches and multiplies
No matter how we try.
We all have someone that digs at us,
At least we dig each other
So when sickness turns my ego up
I know you'll act as a clever medicine.
If I turn into another
Dig me up from under what is covering
The better part of me.
Sing this song!
Remind me that we'll always have each other
When everything else is gone.
Oh each other….
When everything else is gone.
What digs at you?  Who digs at you?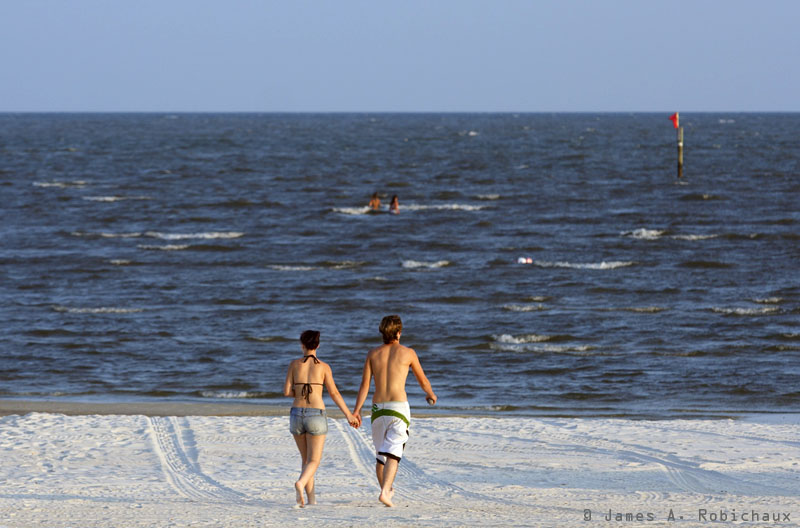 The pictures that I'm presenting in this post are merely random pictures from around the word including back home as well as here in DC.  Just hold your cursor over each picture to read the filename, which will give you information about the picture's location.
We All Have A Sickness . . .
Boyd writes of "weakness" turning his ego up.  We do all have a weak side, and I have indeed had to face mine.  The weak side is fearful and nasty.  Boyd seems to know this.  Do you?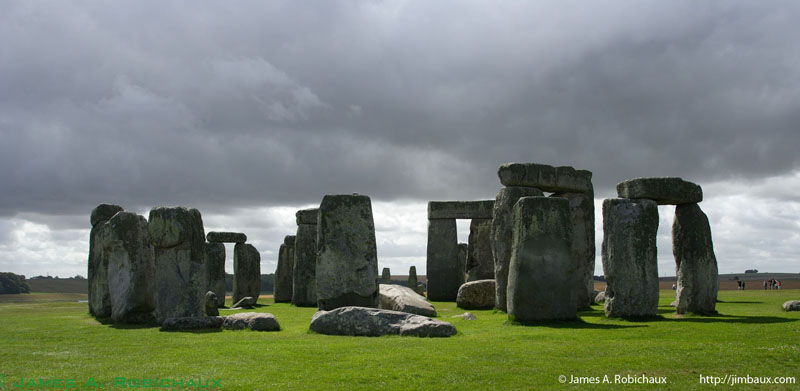 Ten days after I heard this song a year ago today, something else would happen in my life, a divine angelic intervention that led to a nasty confrontation with my weak side, but something that needed to happen and was long overdue.
My Photo Gear Is Gone
Boyd's message that "we'll always have each other . . . when everything else is gone" is even all the more relevant in the last few days, as it now seems that I've been the victim of a robbery.  You likely won't see any fresh pictures here on Jimbaux's Journal for a long time.  My camera bag along with my camera gear and my school backpack are gone.  So, in the meantime, the only pictures posted on Jimbaux's Journal will be old archive pictures, like this one from when I went to Minneapolis in July 2009 to visit a former girlfriend.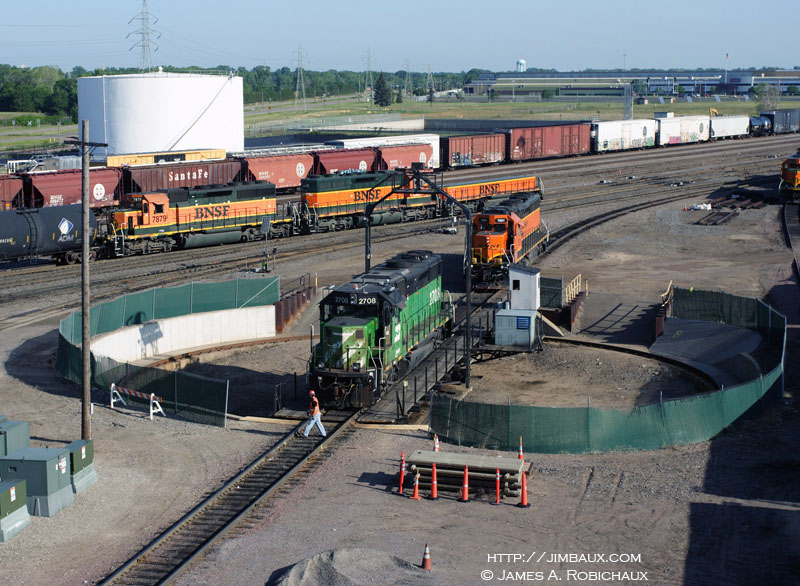 Coincidentally, I spoke to her on the phone about a week ago for the first time since the fall, and after she updated me on her life, I spoke to her about some of the issues I've faced.  Weirdly, but not surprisingly, it was more open communication than when we were even dating (which partly explains why we're no longer together, I now see.)  Isn't it such a huge irony that a man who is so known for his ability to communicate had such trouble communicating with himself?  Is it not wonderfully reassuring that he's figured this out?  meaning that you can too?
When Everything Else, Even My Sacred Camera Gear, Is Gone . . .
A few close friends with whom I've spoken in the last few days have expressed some surprise at how well I seem to be taking the unfortunate and sudden theft of all of my camera gear, my camera being an extension my arm – or my eye.  I've chosen to not be angry about this.  Honestly, though, had this happened a year ago, I would not have handled it nearly as well.  Today was a beautiful sunny cool day in DC, and there were plenty of times I wanted to take my camera out and shoot pictures, but I couldn't.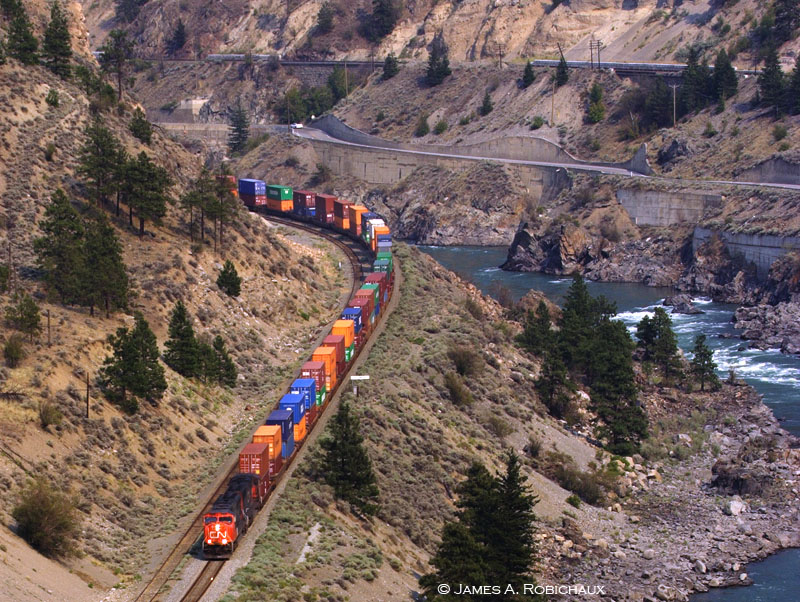 Western Canada is such a good place, but Incubus, the group that sings today's wonderful song, is from California, leading me to 'dig' out some of my great California shots from that free-spirited place.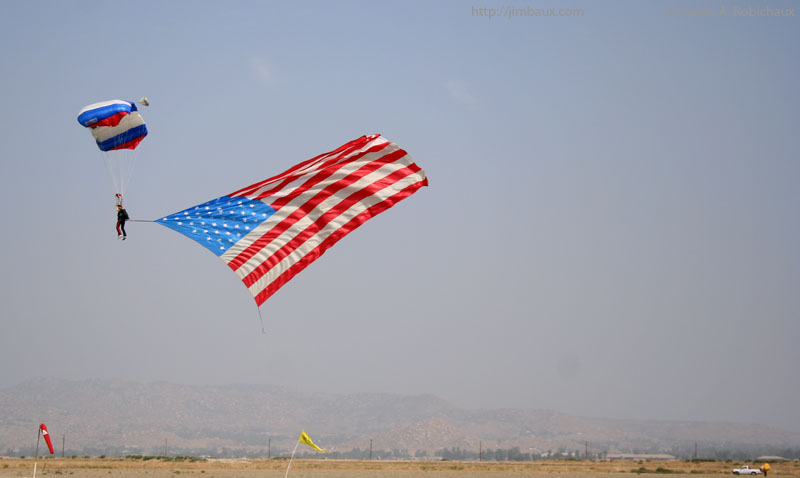 There's a possibility that I'll be offered a job as a magazine photographer soon.  If that happens, I'll find a way to get a new camera in my hands (unless the publication has its own equipment for me, or whoever else gets hired, to use.)  Here's another California shot.  Do you dig it?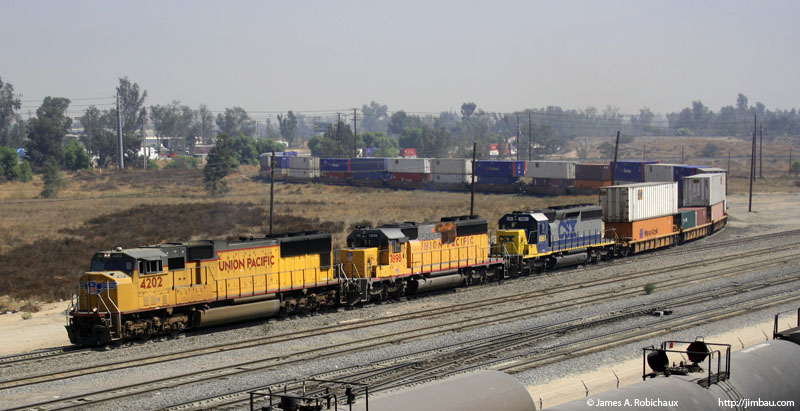 One thing that I've learned recently is that I'm far from being the only well-educated intellectual youth here who is underemployed.  There are plenty, and I've met so many of them.
If I can't find meaningful and stable employment here within the next few months, I'll have a tough(er) time paying for school here, meaning that I may eventually get sucked back into the Louisiana crab bucket from which I emerged.  If that happens, that's okay.  Remember, my friends, that we'll always have each other, when everything else is gone.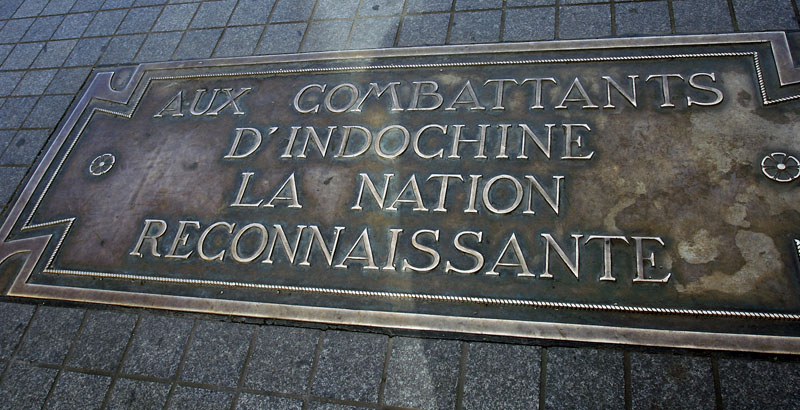 With the above picture, you might recall my "Peace, Place, Family, and Identity" article from January, shortly after I arrived here.
Eyes Are Better Than Places
Some of you might wonder why a man who has been fortunate enough to visit the places you see in these pictures seems to still struggle with battling fears and demons.  Actually, I hope to inspire others who have fears to deal with them, but I remember how some of the teachers with whom I've worked often were puzzled at how some of the gifted and talented students struggled with emotional issues, as if they "have it all" and therefore don't suffer.  It's a double-edged sword, my friends.  A person's best traits can also be his worst.
My point, though, is that finding new eyes, as I've learned the hard way by finding new eyes, is far more  important that the opportunity to travel to the places you see shown here.  If you wish to find new eyes, though, you must face your fears, not be afraid to fail, and therefore not be afraid to try.  I'm working on that myself, and I've very recently been humbled to learn that my own efforts at finding a new eyes have inspired a friend to do the same; she applied and got accepted to graduate school, and she credits me and my moving and going back to school as her inspiration to do something she's wanted to do for so long!
Don't wait for life, my friends.  Waiting for life is itself a death.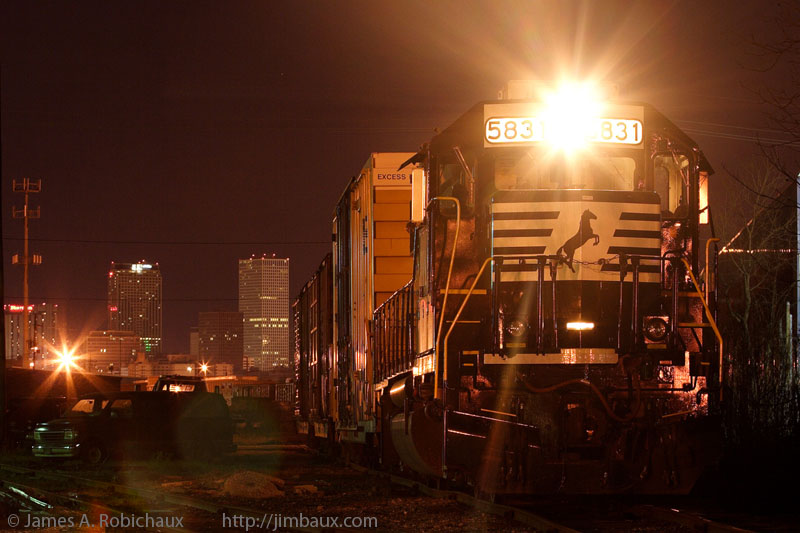 Ah, New Orleans!  Ah, Mid-City!  Ah, NS Bernadotte Line at night!
Here is a live version of "Dig" in 2007.  It's very pretty, isn't it?  Does the song dig at you?
When Sickness Turns My Ego Up . . .
. . . I know you'll count on the me from yesterday, and it doesn't matter where that is.  I'm attracted to people who inspire me to be a better person, or, more specifically, as the lyrics in this beautiful song say, "dig me up from what is covering the better part of me."  That means that I don't have to "be" a better person; I just have to find the "better part of me" that's already there, buried by weakness.  Does this make sense?
And I'll be a better man whenever I return to Louisiana, and I don't know when that will be, but that's okay.  As much as I felt the need to leave and go to a new place, at least I'd get to reunite with my old whoadies, and I was talking to my friend Macks this morning about the lost camera gear.
Here's a friend's child preparing to attack me during Carnival 2009 on Bayou Lafourche.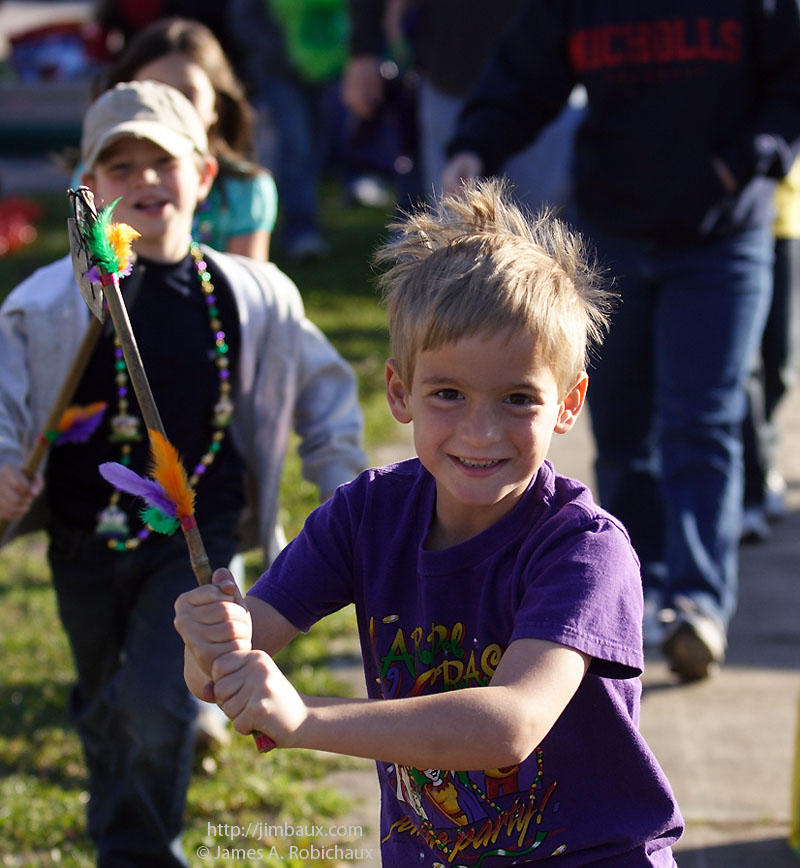 Fun times indeed!
We All Have Someone That Digs At Us . . .
Fear stemming from early childhood has made me unwilling to share all of who I am with people, and I now see how terribly destructive that fear has been.  The more I share here, the more peace I find in my heart, and I hope that it helps you.  I've been inspired by friends I've made here in the last few months, like K and C who share of themselves (even if it may be too much.)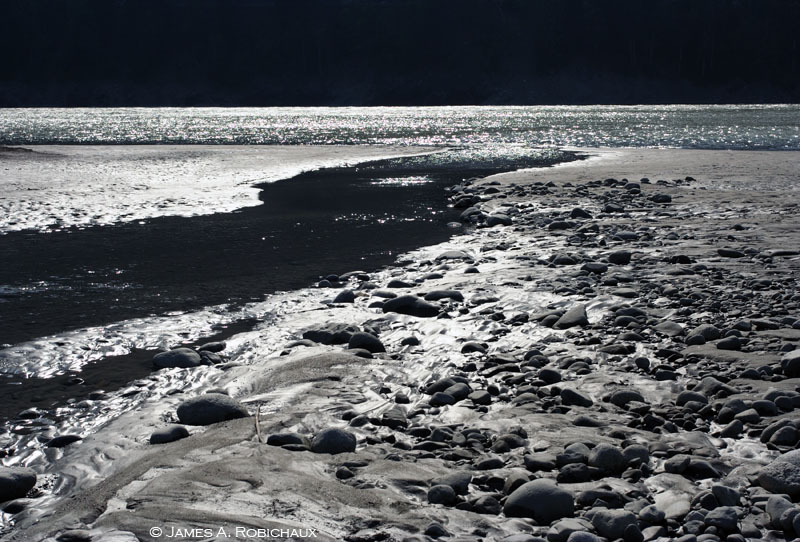 That was a very "Dig" like experience, standing in that cold Canadian river with my now-gone camera gear in my hand, snapping the above picture and so many others.
Look Me In The Eye . . . And Ask Forgiveness
And as Gandhi said, only the strong can forgive.  Less than a year ago, Jimbaux was too weak to forgive, but he neither realized this nor realized that he was the one who needed his forgiveness the most.  Only the strong can forgive, and I have gained plenty of strength recently.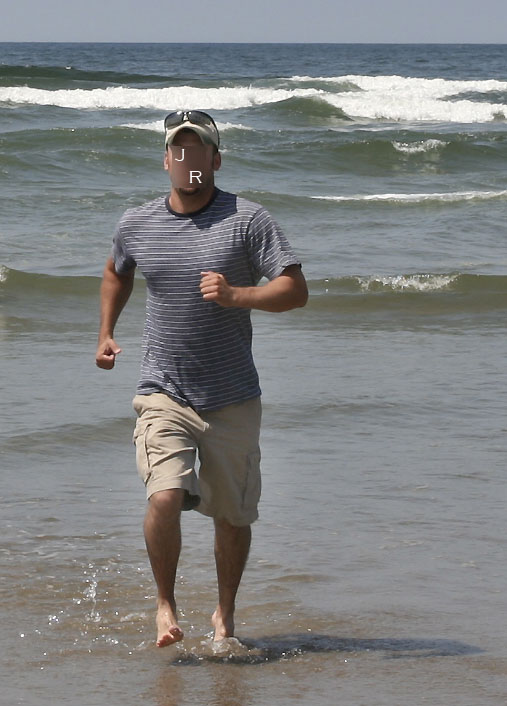 Sorry, ladies, I'm still quite cagey, but many bloggers don't want their faces public!
Semper Reformanda
You must be committed to constant self-improvement, and that was part of the genesis of the Protestant Reformation.  Below, we see Saint Paul's Cathedral in London, both an example of reformation and of allowing disasters to reshape ourselves and build anew!  This was a post-reformation church built after a terrible fire wiped out this part of London in the 1600s.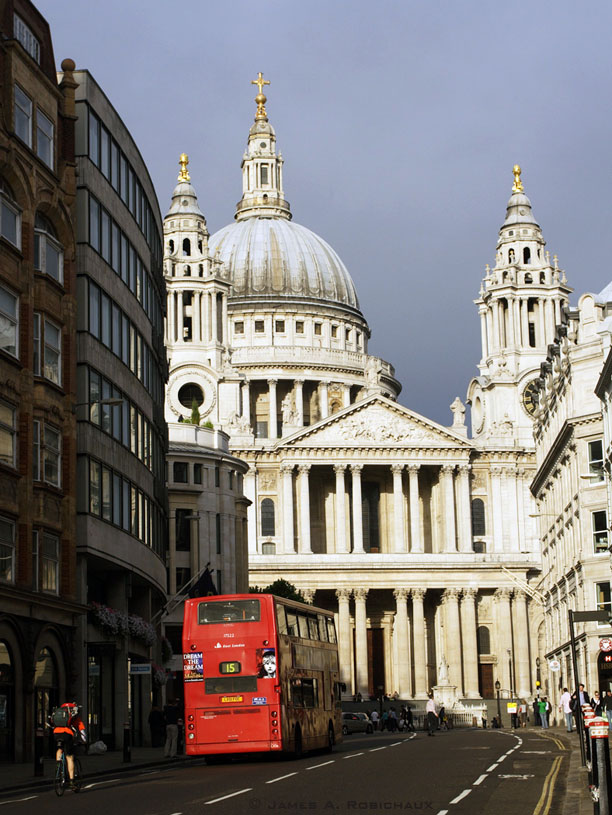 My paternal grandfather visited this church in the spring of 1944, and he had to take cover in the basement as German bombs started falling from the sky during his visit.  Less than a month later, he was participating in his seventh bombing mission over Germany when his plane was shot from the sky.  Of the 10 men in his flight crew, he was one of only five to make it to the ground alive, and he spent the last 10 months of the war in a German POW camp.
The Better Part of Me
I refuse to allow myself to be consumed by anger toward some unknown person who stole some important tools that are such a big part of my identity (I was very spooked and very angry when my old truck was burglarized in New Orleans five years ago last month), but I also refuse to allow myself to be destroyed by self-hatred for not protecting my equipment better.  Those were both tendencies of mine, but I'm overcoming an addiction to anger, and the glib way I'm discussing losing my gear, surprising as it is to my friends, is a cause for celebration after this unfortunate event!
Rich Mountain, seen above, is such a beautiful place, and I want to return there.
Music And Forgiveness
Perhaps losing my camera gear was a divine message instructing me to increase my focus on guitar and music, something I've really wanted to do after neglecting it for a decade.
Goethe referred to architecture as "frozen music," and the Eight-Century Arabic poet Rabia Basri, a woman who was a sex slave for much of her life, said that "music allows us to forgive."  Ponder that as you think of my possible divine message about the guitar as you look at this modern architectural wonder in Paris: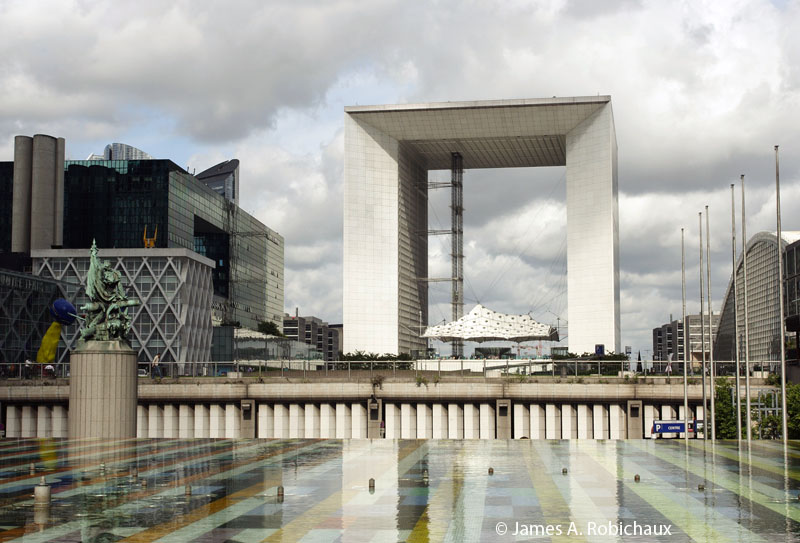 I'm looking forward to a much-needed, stress relieving road trip to Charlottesville in a few days with my pal Bernie (whom you 'met' here) and whoever else might come.  I wanted so badly to take pictures on the trip, but I've decided that not only will I still go but that I'll also have a good time.
Since I'll be cameraless indefinitely, posts here on Jimbaux's Journal will become increasingly sporadic as I only have old stuff to post and can't make new stuff.  Still, if you like what you see here, please join the Facebook fan page to be alerted to site updates and follow me on Twitter at @JimbauxsJournal .
My friends, my camera gear may be gone, but it won't kill me, because, as Brandon Boyd has told us in his beautiful song, we'll always have each other, when everything else is gone.
Remember that!
Peace.
Merci boucoup,
Jimbaux