I know I've already made a post today, but I'm already tired of those cheesy New Iberia pictures on the lead article on the home page.  It's Friday afternoon, and I have other stuff to do.  Actually, that's an outright lie, but there is indeed some truth to it.  Anyway, I'll shut up and get on with the day's lesson.  Hopefully, it will be beneficial for some of you, especially those of you who are into photography.
Depth Of Field
Depth of field is an important concept to master in photography, and anyone who wants to use the "photographer" label for himself/herself needs to understand it and how to use it – or, specifically, how to control the equipment to alter the depth of field, but, beyond that, an understand of how to use the technical knowledge to achieve the aesthetic ends that the photographer has.
Anyway, to illustrate what shallow depth of field looks like, we again (like the last post) go back to 2006.  This time, it's July, and we're at a silver mine in northern Idaho.  Have a look at this, mes amis: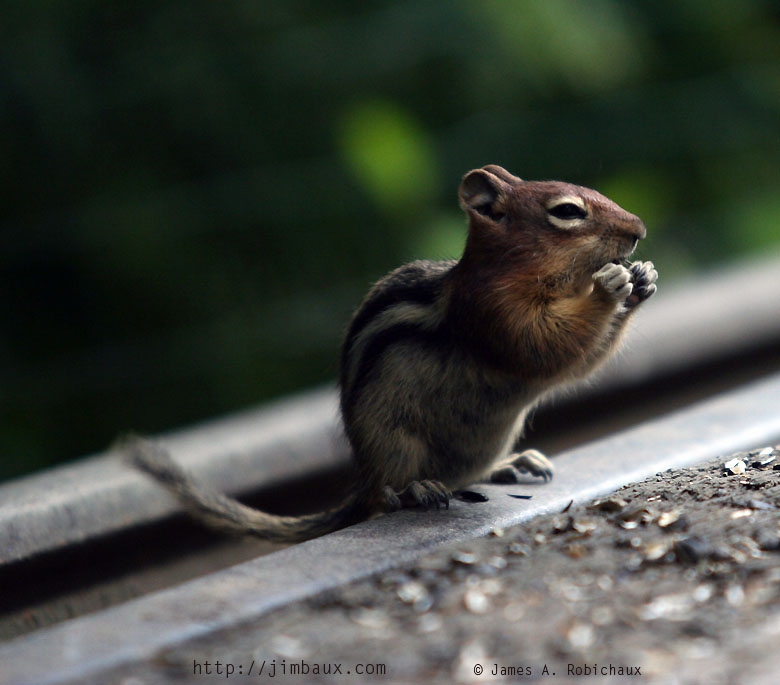 Do you see the shallowness of the depth of field?  Do you see how there seems to be only one distance from the camera that is totally in  focus?  Do you see how that particular distance is at the chipmunk's face?
The wider the aperture setting on one's lens, the shallower the depth of field.  In this case, this picture was taken at f/2.8, the widest that this particular lens could go.
But, Why?
So, dear Jimbaux, why did you use such a shallow depth of field for this picture?  Don't you want more of the chipmunk to be in focus?  This is a case, my friends, in which your hand is forced by circumstances.  In this case, the setting here was very dark, and other than shooting at f/2.8, my only other options were to have slowed the shutter speed or to bump up the light sensitivity, both of which would have risked creating unsatisfying results.  (Mind you, my camera is an ancient piece of junk with one of those ancient compressors.  Anyone want to buy me a 5D Mark II?)
Any questions, class?  Post them in the comments section if you've got them!  In the near future, we'll look at more animal pictures from northern Idaho, but probably not the kind that you are expecting.  In the meantime, if you like what you see here on Jimbaux's Journal, make sure that your friends know about the Facebook fan page.
You've Got Questions
Don't forget to submit your questions here: AskJimbaux @ Gmail.com.
I may go and photograph the protest tomorrow outside of the Egyptian embassy.  Take care, my dear Jimbauxlings.
Jimbaux